Une collection des meilleurs thèmes d'actualités WordPress pour les sites d'information, les blogs, les portails et autres sites Web axés sur l'information.
Les sites d'informations vont et viennent, mais il en existe plusieurs qui deviennent extrêmement populaires. Par exemple, The Verge a été fondée il y a moins de 3 ans et est devenue un acteur dominant de l'actualité technologique avec des millions de visiteurs mensuels. Il existe plusieurs autres sites d'informations importants utilisant WordPress, tels que TechCrunch, Engadget, CNN, Forbes, Reuters, The New York Times, etc. Ils sont hébergés sur un hébergement WordPress VIP, créé pour gérer des millions de visiteurs mensuels. C'est un hébergement Web optimisé par Nginx, géré par l'équipe Automattic, afin de fournir la meilleure expérience utilisateur et le meilleur temps de disponibilité possible.
WordPress est une excellente plateforme pour les blogs et les sites d'informations. et grâce à ces thèmes, vous pouvez créer la prochaine grande chose. Les auteurs de sites Web et les blogueurs en herbe peuvent utiliser ces thèmes pour n'importe quelle niche de nouvelles telles que la technologie, les commérages, la politique, les sports, les jeux et bien plus encore. Tous les thèmes énumérés ci-dessous sont hautement personnalisables avec des options de couleur illimitées, des dizaines de polices, des widgets personnalisés. Nombre de ces thèmes sont dotés d'un générateur de page par glisser-déposer permettant de créer facilement des portails d'informations uniques et professionnels.
Journal (Le plus populaire)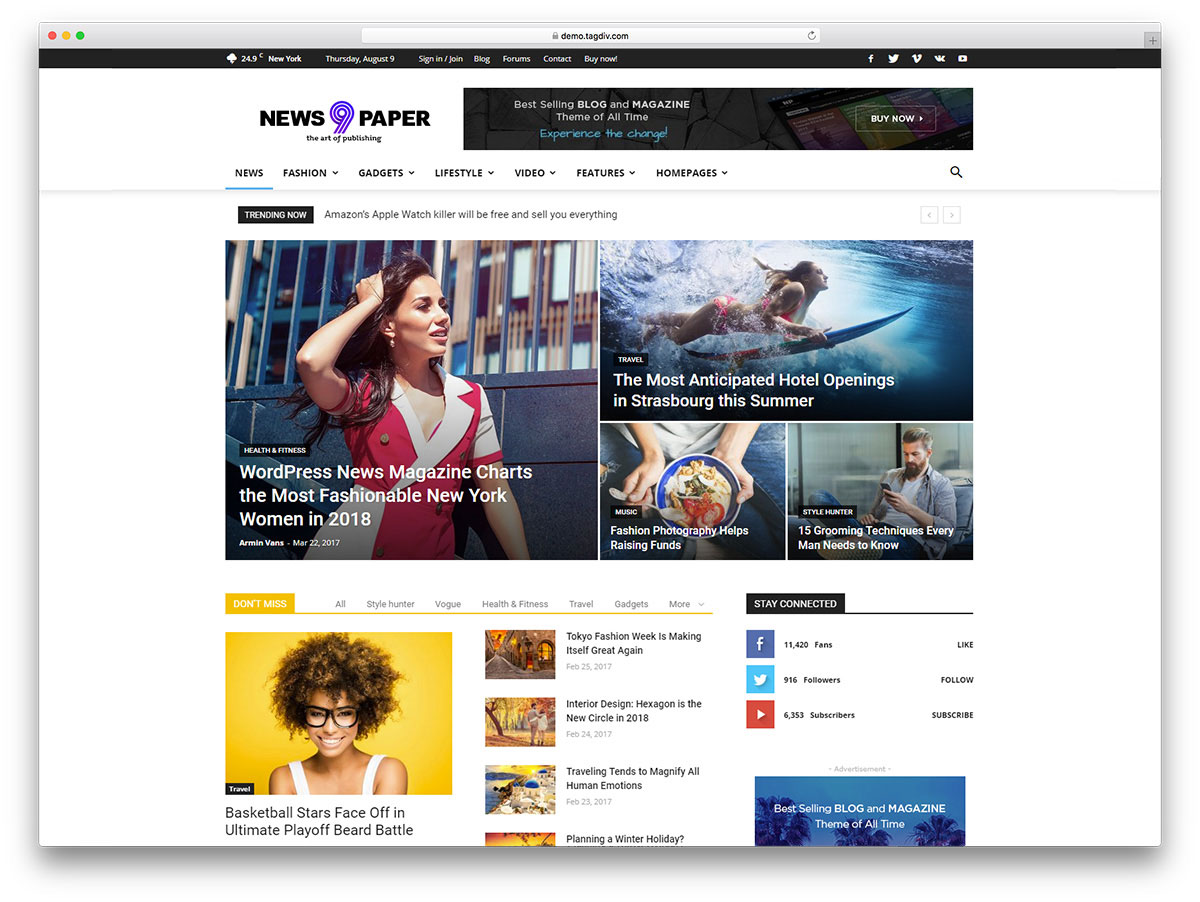 Le thème Journal est excellent pour les nouvelles, les magazines, les sites de publication et de révision. Il s'agit du thème WordPress News le plus vendu, avec plus de 65 000 achats et plus. Newspaper est fourni avec tagDiv Composer, un constructeur de pages front-end. La dernière version publiée, Newspaper 9, introduit désormais la bibliothèque tagDiv Cloud, qui contient plus de 420 superbes modèles prédéfinis pour les articles, les catégories, l'auteur, les balises ou les 404 pages. Avec cette étonnante bibliothèque et le tagDiv Composer, vous pouvez glisser et déposer tous les éléments et les personnaliser au début, pour voir instantanément les résultats. C'est tellement facile de construire des pages et de mélanger des éléments.
Le thème des journaux vient également avec une flexibilité inégalée. Il présente un design élégant, des démos uniques, des traductions intégrées, un système de publicité intelligent et aucune compétence en matière de codage. Avec l'installateur «démo en un clic», il était extrêmement facile de commencer à créer notre site Web de test. Le thème est fourni avec un générateur de pages intuitif, TD Composer, et contient plus de 100 éléments personnalisés. Cet outil est étonnamment facile à utiliser et très rapide. En outre, vous pouvez utiliser les modèles préconçus pour modifier vos articles sur le front-end.
Le thème des journaux est plein de surprises agréables. Tt a de nombreux agencements d'en-tête et de pied de page, ainsi que d'innombrables combinaisons incroyables de Big Grid. Encore mieux, Newspaper inclut des codes courts Big Grids avec une prise en charge de toute la largeur. Les 5 variantes de l'élément Flex Block peuvent vous donner des designs incroyables et donner à vos publications et à vos pages une flexibilité immersive.
En outre, il existe de nombreuses fonctionnalités et paramètres, mais nous ne voulons pas vous gâcher le plaisir. Nous allons simplement souligner le code propre du thème, les possibilités de conception illimitées et la vitesse de chargement rapide des pages. Google AdSense est prêt et prend en charge les annonces réactives et adaptées aux mobiles. Il utilise les meilleures pratiques de référencement propre.
Gillion (Article Tendance)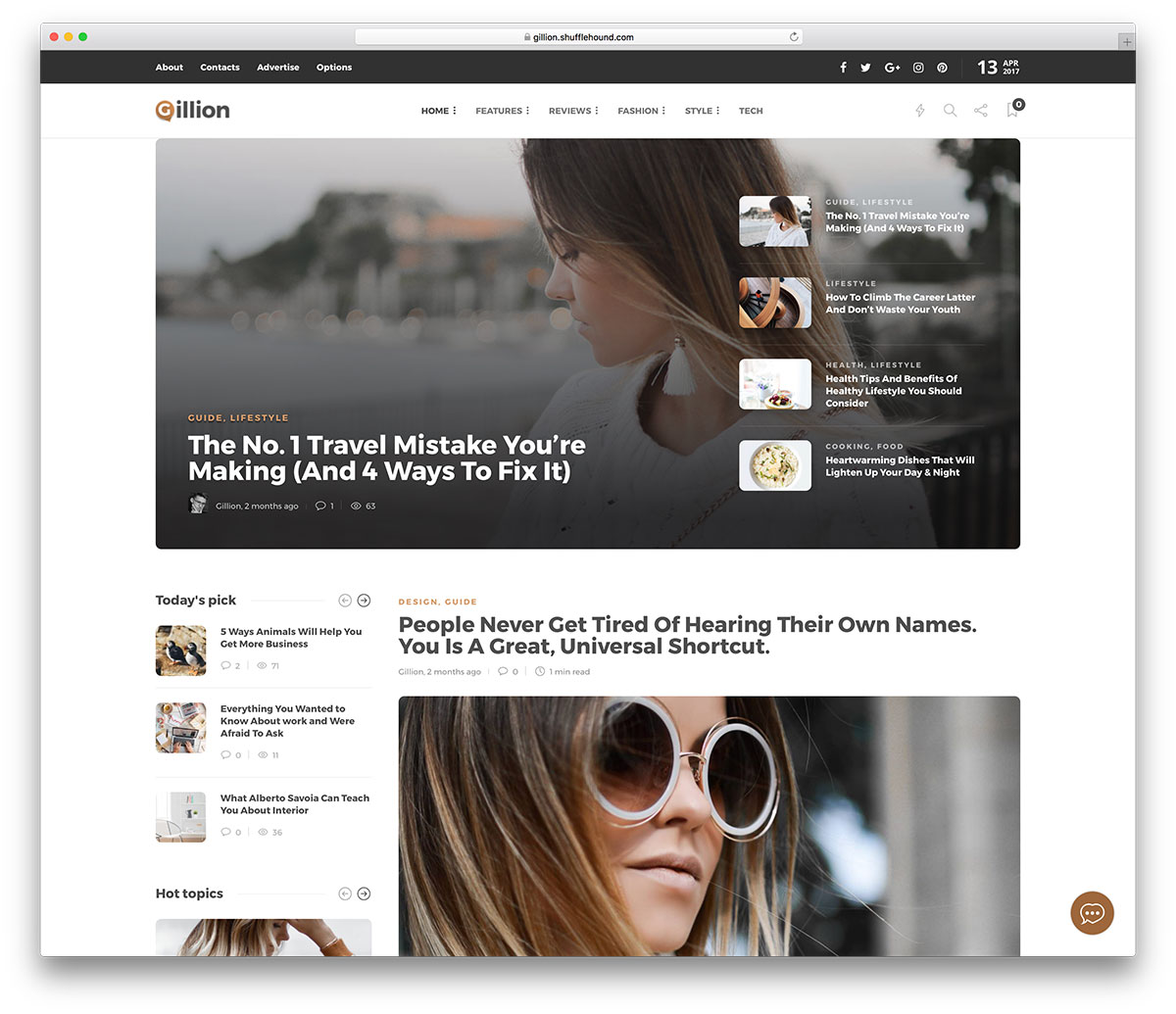 Gillion est un lieu esthétiquement éclectique, visuellement saisissant, dynamique et interactif. Blog WordPress et thème de magazine, spécialement conçu pour être utilisé comme thème pour toutes sortes d'agrégateurs d'actualités, de magazines en ligne spécialisés et de contenu spécialisé et de sites Web de critiques en ligne, mais particulièrement efficace dans le rôle de gestion d'un site Web d'informations. Ce thème garantit que votre contenu est diffusé de manière attrayante et attirante, afin de maintenir l'intérêt du public et de le fidéliser. L'espace publicitaire idéalement situé sera rapidement rentabilisé en revenus réels pour vous et votre projet d'actualités.
Gillion rend également votre voix forte et claire au-dessus de la foule des équipes de nouvelles hurlantes en ligne, avec une interface utilisateur épurée et soignée avec des tonnes de créations à la une pour répondre à vos besoins, vos colonnes, votre espacement et votre disposition idéale. En outre, plusieurs en-têtes, widgets et barres latérales sont également disponibles avec une personnalisation illimitée pour rendre votre expérience de site Web d'actualité moderne et attrayante. Gillion est l'endroit où les choses chaudes sont à la mode. Êtes-vous prêt à faire bouger les choses?
Divi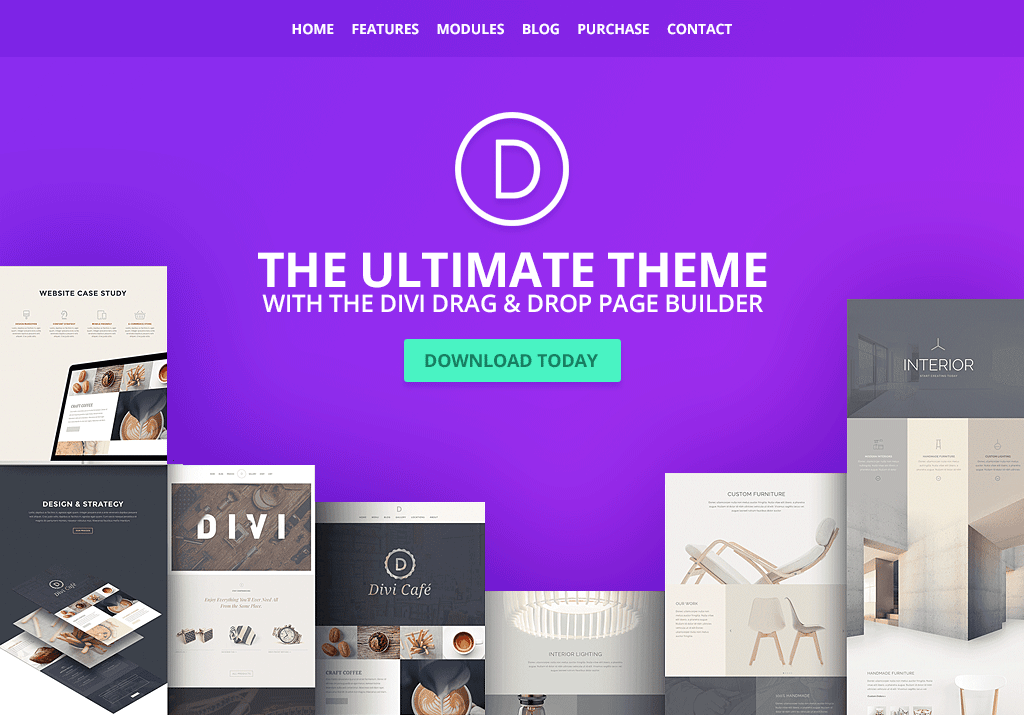 Plus d'infos / Télécharger
Soledad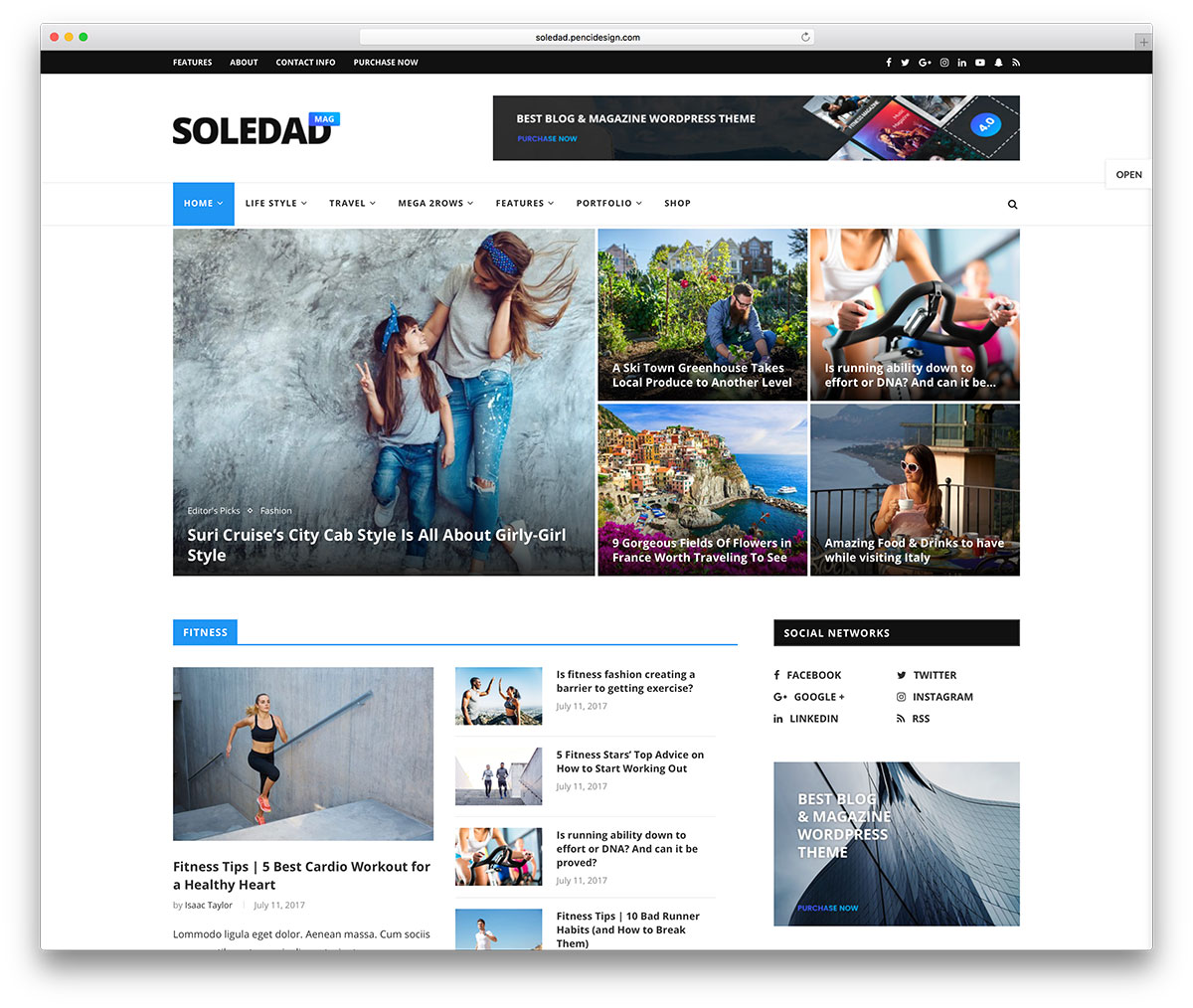 Soledad est un thème très clair et résolument ouvert sur le monde, le rendant tout à fait compatible avec une gamme d'applications et d'utilisations diverses, des magazines en ligne sophistiqués aux blogs ravissants et accrocheurs, en raison de son expérience utilisateur hautement personnalisable, des effets graphiques extrêmement raffinés. et des mises en page étonnantes, expressives et franches à votre disposition dès le départ, rendant le processus de création de site Web rapide et sans douleur avec des résultats de qualité professionnelle à chaque fois.
Plus de 250 options de personnalisation puissantes sont à portée de main. Votre blog ou magazine Soledad sera toujours complètement unique et différent, ce qui en fait un site Web mémorable qui fidélisera les utilisateurs. Ce thème contient également plus de 100 curseurs et combinaisons de blogs différents, ainsi que 250 sites Web de démonstration uniques, ainsi qu'un arrière-plan vidéo haut de gamme au format HTML5, une intégration WooCommerce prête à l'emploi et bien plus encore, faisant de Soledad un thème idéal pour gérer gamme de divers magazines d'information. Essayez Soledad aujourd'hui!
Gridlove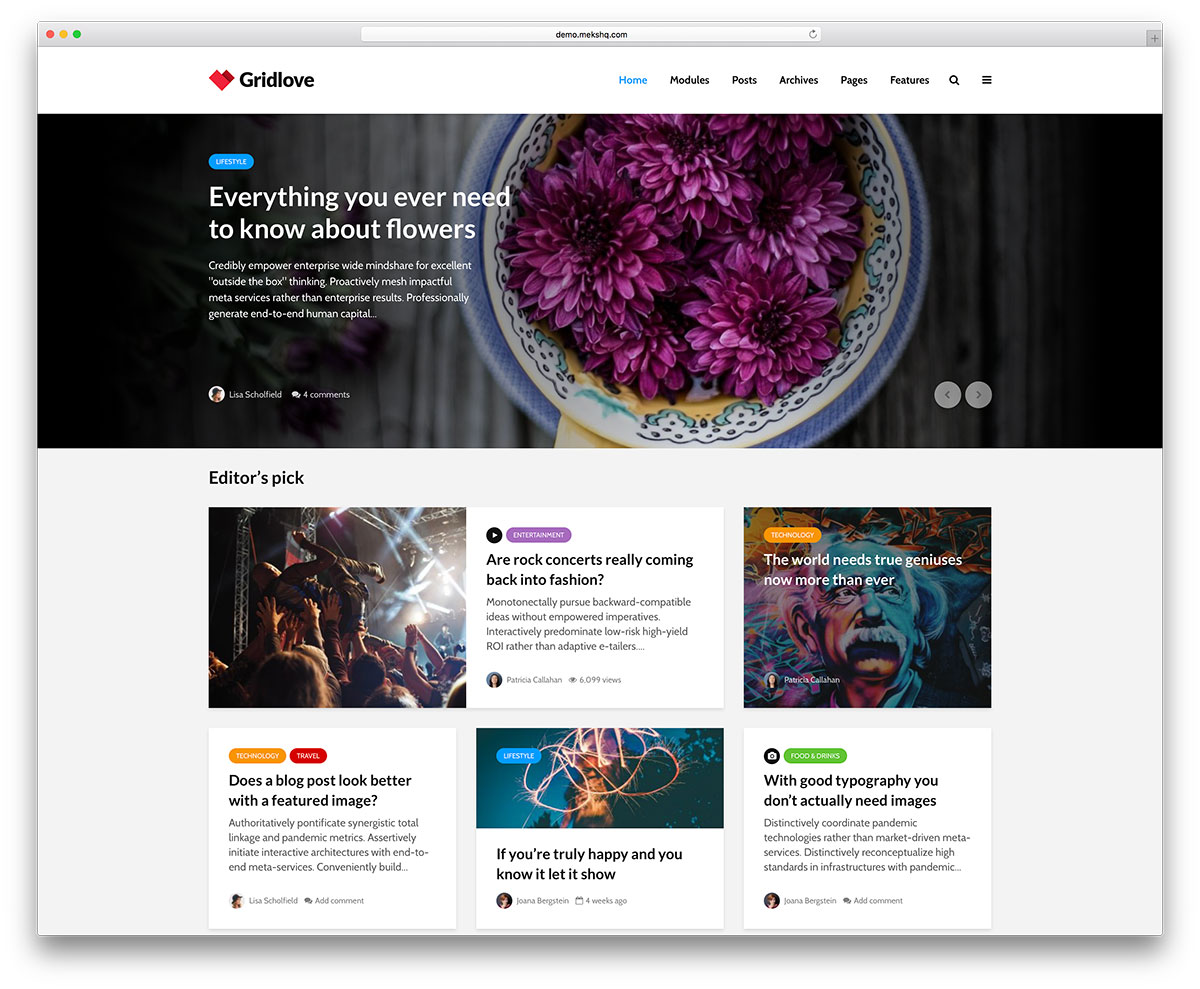 Plus d'infos / Télécharger
SmartMag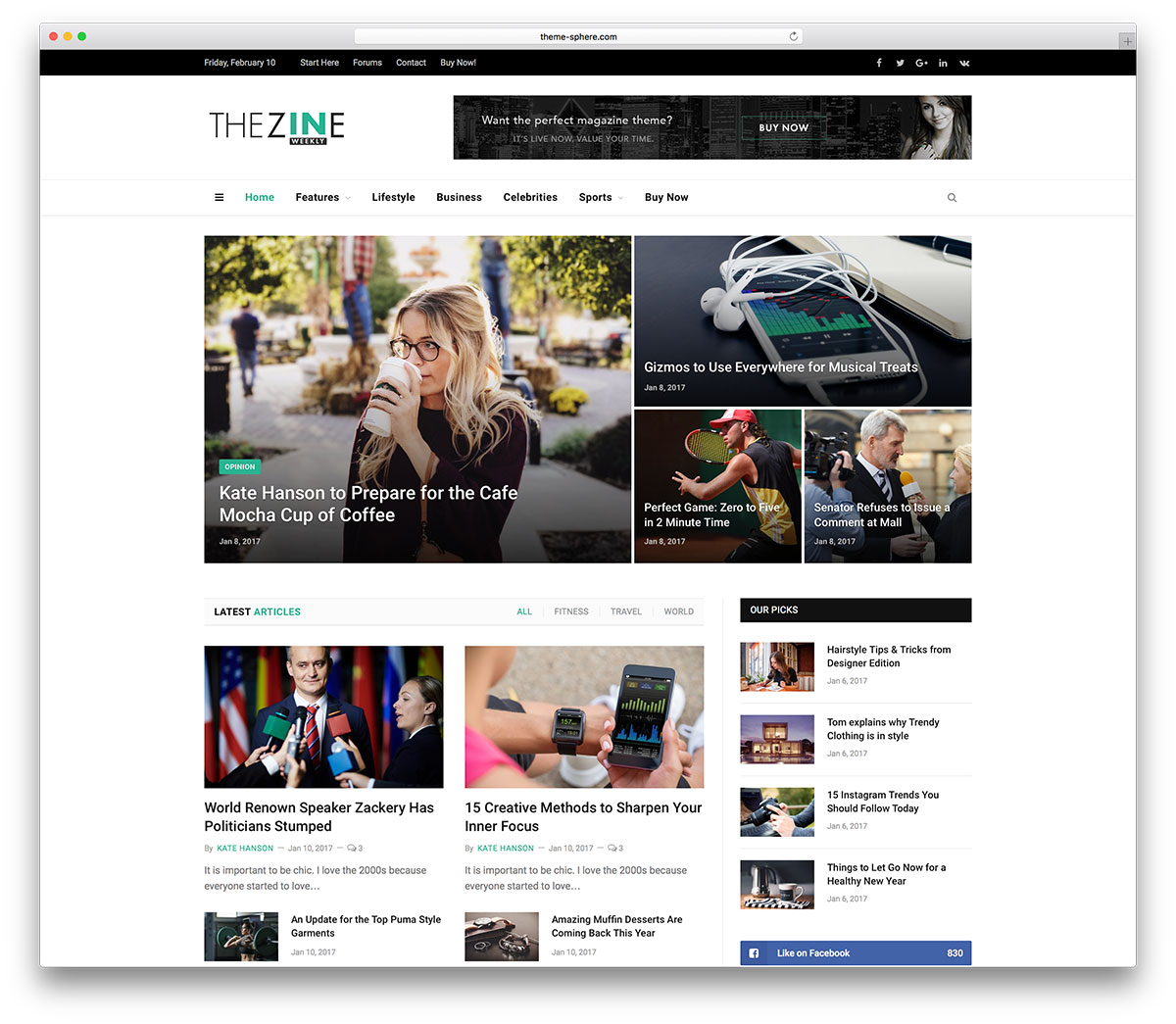 SmartMag est un thème de site Web de magazine WordPress polyvalent, éloquent et réactif. Ce thème est une plate-forme puissante pour créer des sites Web de magazines sophistiqués en un éclair. Vous n'avez pas besoin de savoir quelque chose sur le codage avec SmartMag. De magnifiques sites de démonstration sont à votre disposition. La personnalisation est également facile et intuitive. Un constructeur de page par glisser-déposer adapte chaque mise en page. L'image de marque se fait sans effort, tandis que des tonnes de widgets pratiques simplifient la création de magazines. Vous pouvez même créer des magazines spécialisés ou de niche en un instant. Catégories dynamiques personnalisées, navigation multi-pages et bien plus encore.
Ce thème comprend également les styles et types de messages modernes, les diaporamas de contenu transparents, etc. Présenter votre contenu dans SmartMag lui donne une apparence nette et fraîche. Le curseur Révolution maintient votre audience en contact avec votre contenu. Adapté aux mobiles et réactif, SmartMag regroupe des menus dédiés pour une navigation plus facile. Les MegaMenus intelligents vous permettent de créer d'impressionnantes expériences de navigation en quelques clics. Des tonnes de fonctionnalités impressionnantes permettent aux sites Web de vos magazines d'entrer dans le 21ème siècle avec style. Vous pouvez également déployer facilement des dispositions en largeur ou en boîte via les paramètres du panneau d'administration. La compatibilité bbPress vous permet de configurer des forums pour votre projet sans effort. Laissez-vous tenter par SmartMag aujourd'hui et jetez-y un coup d'œil!
Courage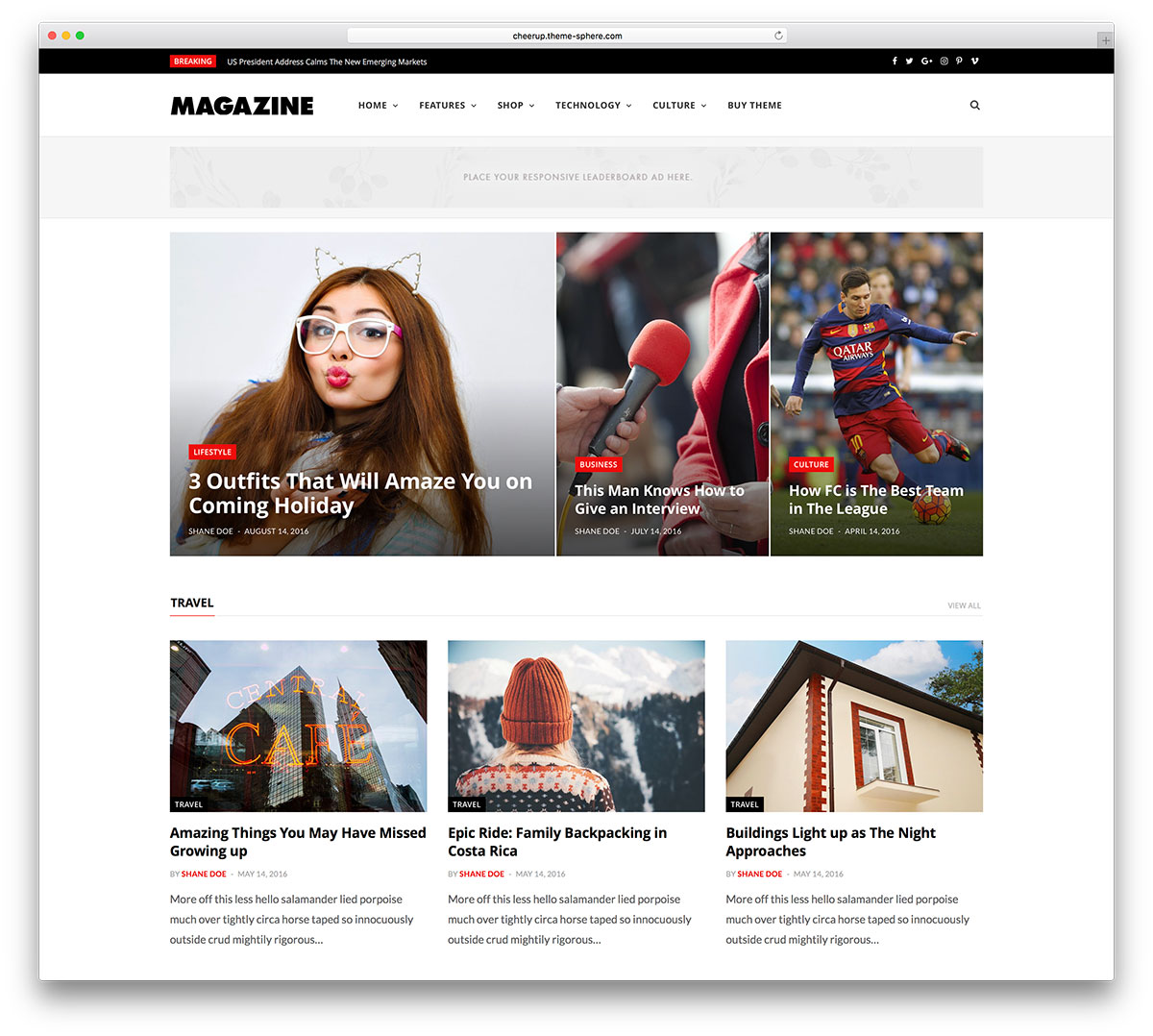 CheerUp est un blog et un thème WordPress spécialisé dans les magazines. Il fournit 7 démos uniques et plus de 200 dispositions incroyables! Il comporte de nombreux widgets personnalisés, conçus uniquement pour les blogs et les magazines. CheerUp propose un concept amusant, moderne et amusant qui incite les téléspectateurs à «se réjouir». Il offre une prise en charge de plusieurs formats de publication et un formidable personnalisateur en direct. Vous pouvez consulter les modifications et les mises à jour en temps réel! CheerUp est orienté SEO et utilise MailChimp pour les abonnements. Vous trouverez également des menus personnalisables particulièrement adaptés aux téléphones mobiles. Plusieurs variantes de modèles de pieds de page et d'en-têtes sont également disponibles.
L'intégration de WooCommerce est disponible dans ce thème, et il est prêt à être traduit. Typekit et Google Fonts proposent également des tonnes de typographie pour jouer avec les postes de rédaction. CheerUp cherche à être la version la plus polyvalente et la meilleure des magazines d'aujourd'hui. Le thème est léger et fonctionne à grande vitesse. Des galeries étonnantes avec une qualité au pixel près sont également disponibles! CheerUp est prêt pour les widgets et comprend de nombreuses options de widgets personnalisés par les blogs et les magazines. Les messages peuvent également être téléchargés dans plusieurs formats. Vous obtiendrez même des mises à jour gratuites et constantes au fur et à mesure de votre utilisation! Obtenez ce thème maintenant et commencez à raconter des histoires avec style! Obtenez CheerUp!
MagPlus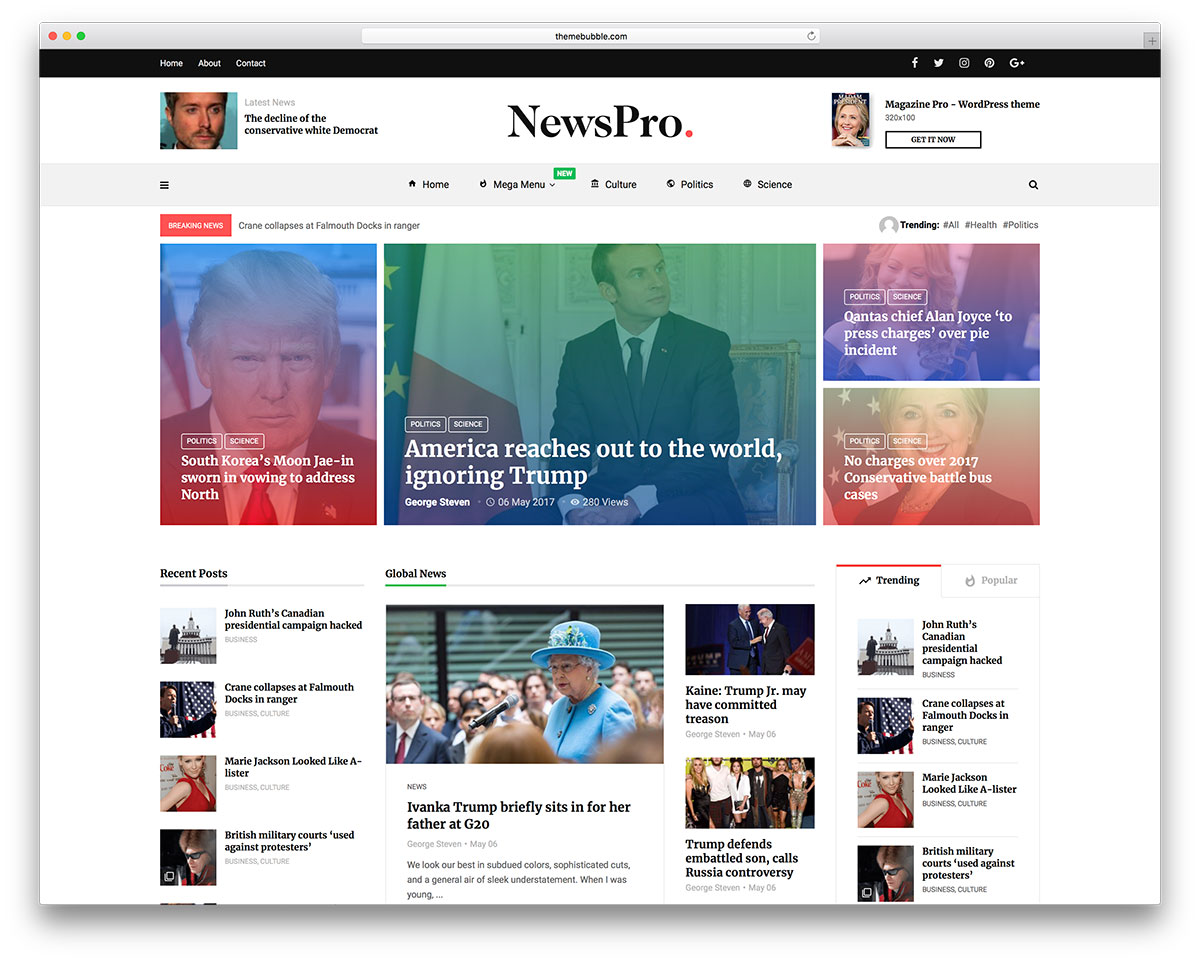 MagPlus est un thème WordPress qui met l'accent sur la publicité. Il est livré avec plusieurs démos de sujets connexes. Vous obtiendrez Google AdSense et de nombreuses fonctionnalités. Utilisez des blogs et des portefeuilles spécialisés dans la promotion. MagPlus offre des mises en page illimitées; 20+ curseurs et 18 en-têtes. Il est très facile à comprendre et à se connecter. Vous pouvez créer rapidement des choses avec le drag & drop ou les shortcodes disponibles! Yellow Pencil et MegaMenu peuvent également vous donner un coup de main. "Sans effort et amusant" est un moyen simple de décrire cet outil incroyable!
MagPlus fait de l'expérience utilisateur l'un des principaux objectifs du thème. La qualité visuelle est un autre métier que vous obtenez; 100% de réactivité avec compatibilité inter-navigateur et traduction de texte (WPML). Vous bénéficiez d'un support personnalisé 5 étoiles et de mises à jour gratuites. Jouez et créez votre propre site avec MagPlus!
Barta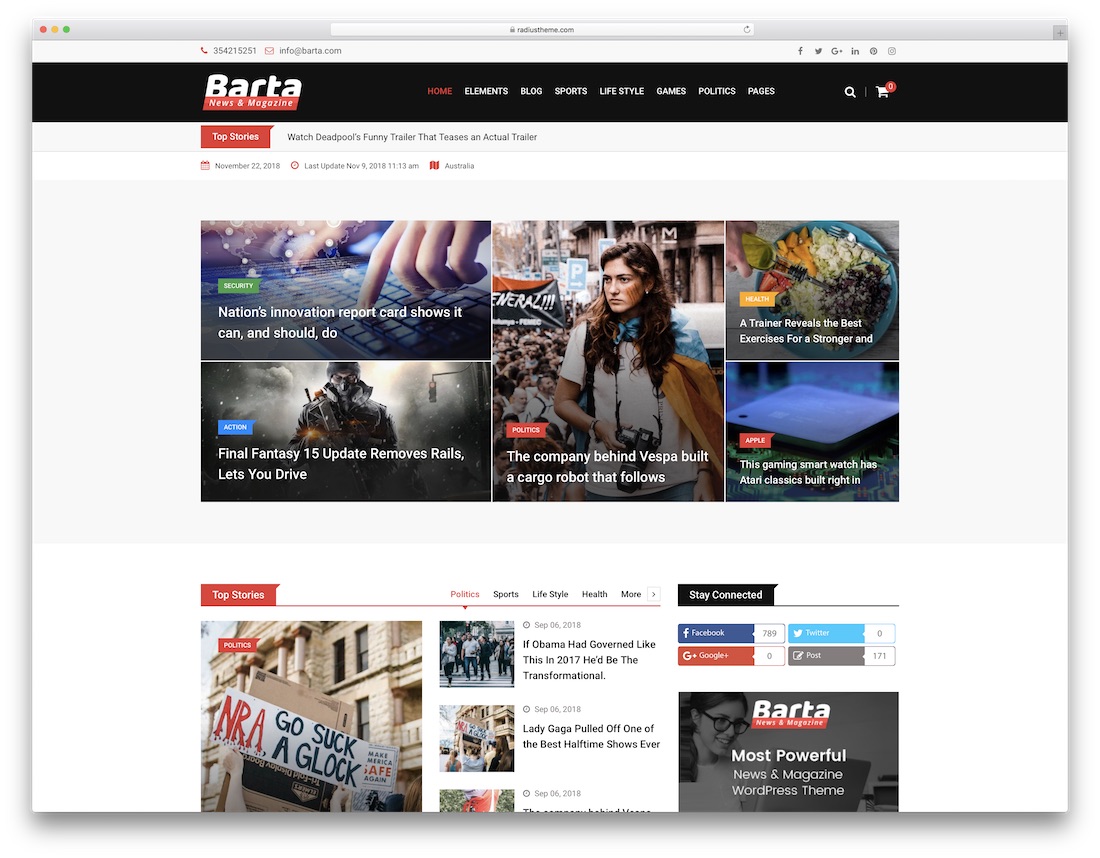 Avec Barta, vous pouvez créer votre propre magazine en ligne ou votre blog captivant presque instantanément. Il s'agit de l'une des meilleures nouvelles thèmes WordPress avec une solide sélection de fonctionnalités et d'actifs que vous pouvez exploiter à votre avantage. Un matériel de démonstration différent vous attend pour avoir la chance d'obtenir des looks professionnels sans avoir besoin d'être un vrai pro. En fait, vous n'aurez pas besoin de codage ni de conception avancée avec Barta. Tout se résume à une méthode très simple et amusante de créer votre propre page.
De plus, une fois que votre blog ou magazine atteint un certain volume, vous pouvez commencer à le monétiser sans effort avec le progiciel de gestion de la publicité de Barta. De plus, si vous souhaitez développer votre site Web avec une boutique en ligne, Barta est entièrement compatible avec WooCoomerce. Je veux dire, il n'y a rien de vraiment que vous ne puissiez pas faire avec Barta. Cela dit, entrez sur le World Wide Web avec une explosion et montez en flèche votre potentiel.
Héraut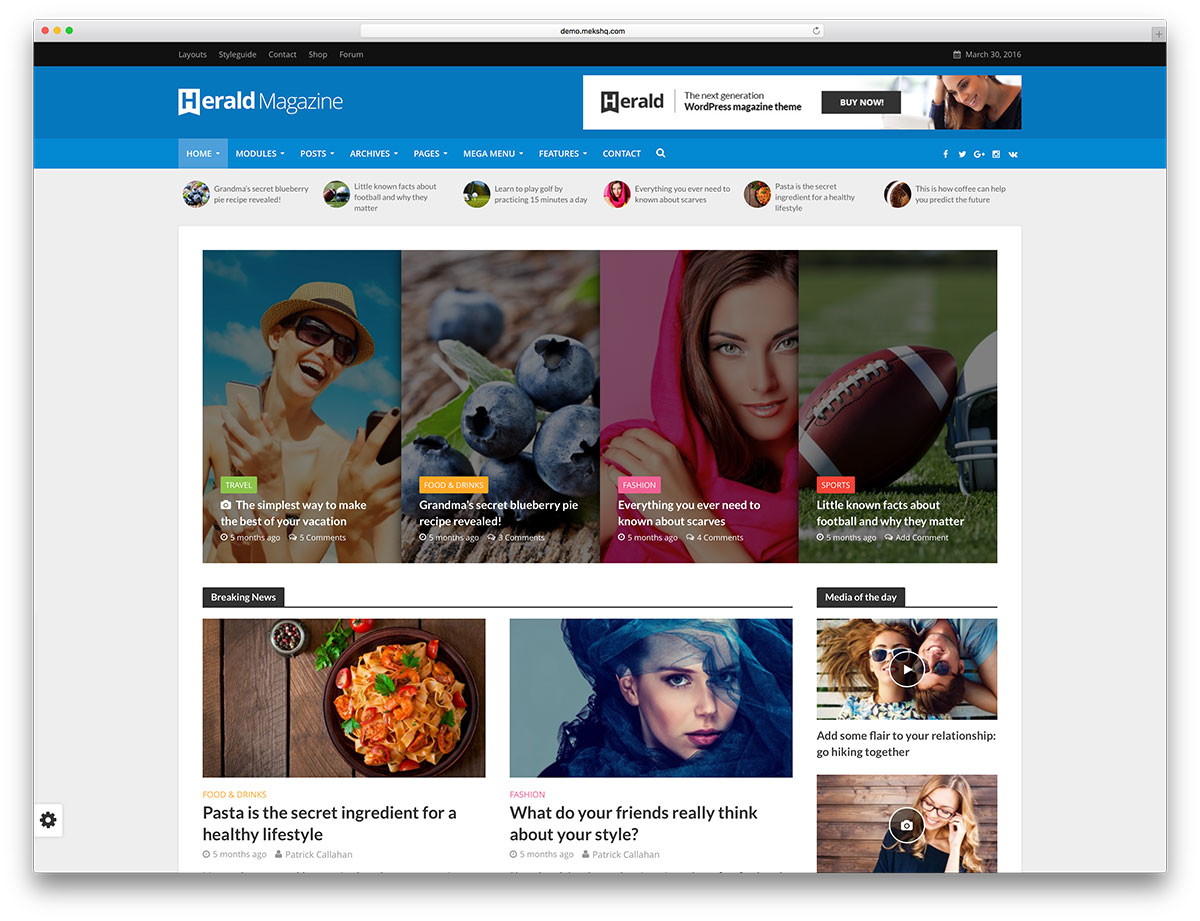 Plus d'infos / Télécharger
Décoder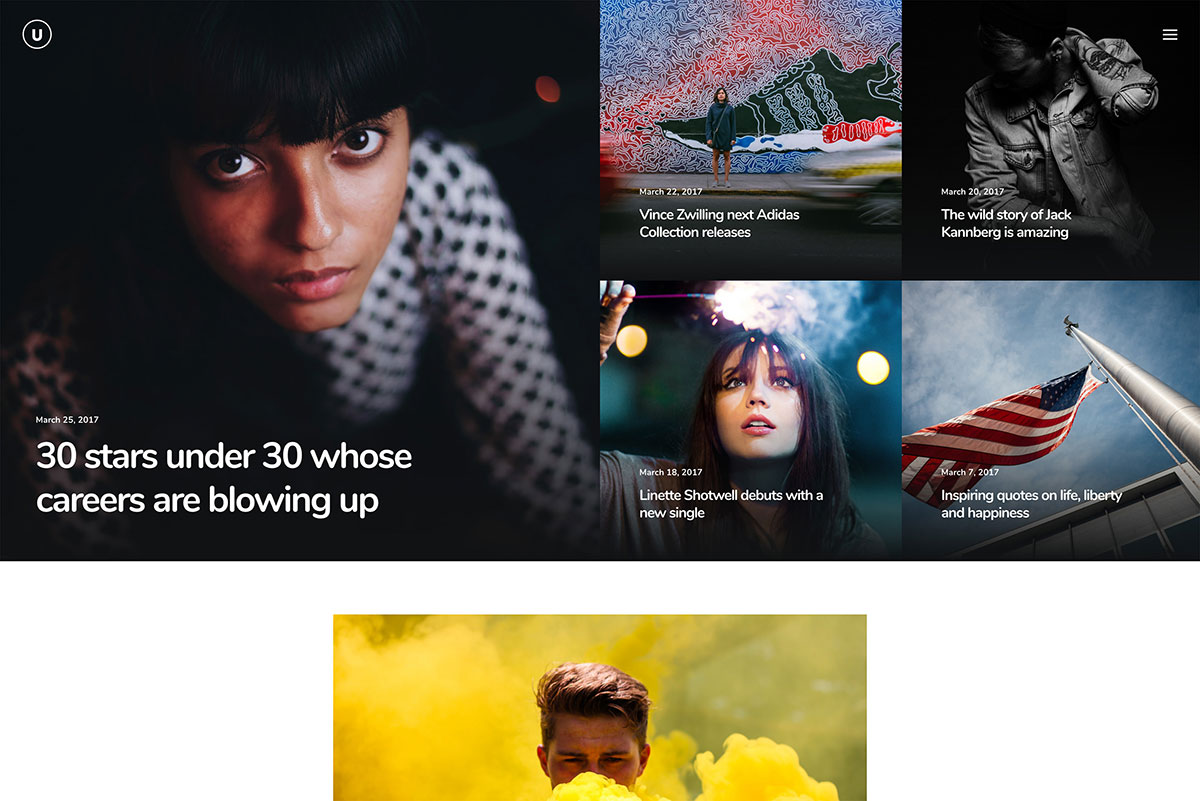 Uncode est un thème WordPress polyvalent orienté vers les sites professionnels pour les foules non technologiques. Il a un look simple mais comporte des tonnes de personnalisations pour donner une ambiance personnalisée. Vous le trouverez facile à fabriquer et amusant à définir! Uncode offre plus de 30 pages d'accueil avec leur démo d'importation en un clic. Il propose des blogs et des portfolios qui fonctionnent pour les petits magasins ou les photobloggers. Uncode utilise Visual Composer, son créateur de pages polyvalent, et dispose de 6 styles de menus.
Revolution Slider et Lightbox sont également dans le package pour un affichage étonnant des images ou des galeries. La compatibilité des plugins spéciaux inclut le formulaire de contact 7, WPML et Google Maps. Uncode propose une Smart Media Library avec plusieurs plates-formes dans sa version très basique. Cela le rend à jour avec les meilleurs là-bas et est assez branché. Il intègre également WooCommerce pour configurer rapidement votre entreprise. Il y a aussi beaucoup de widgets et de codes courts pour simplifier les tâches du panneau! Uncode a également une disposition adaptée aux téléphones portables avec des arrière-plans personnalisables. Il utilise également les animations Parallax et CSS3. Essayez cet outil astucieux classé 5 étoiles et profitez de la facilité de l'expérience! Essayez Décoder maintenant!
Opinion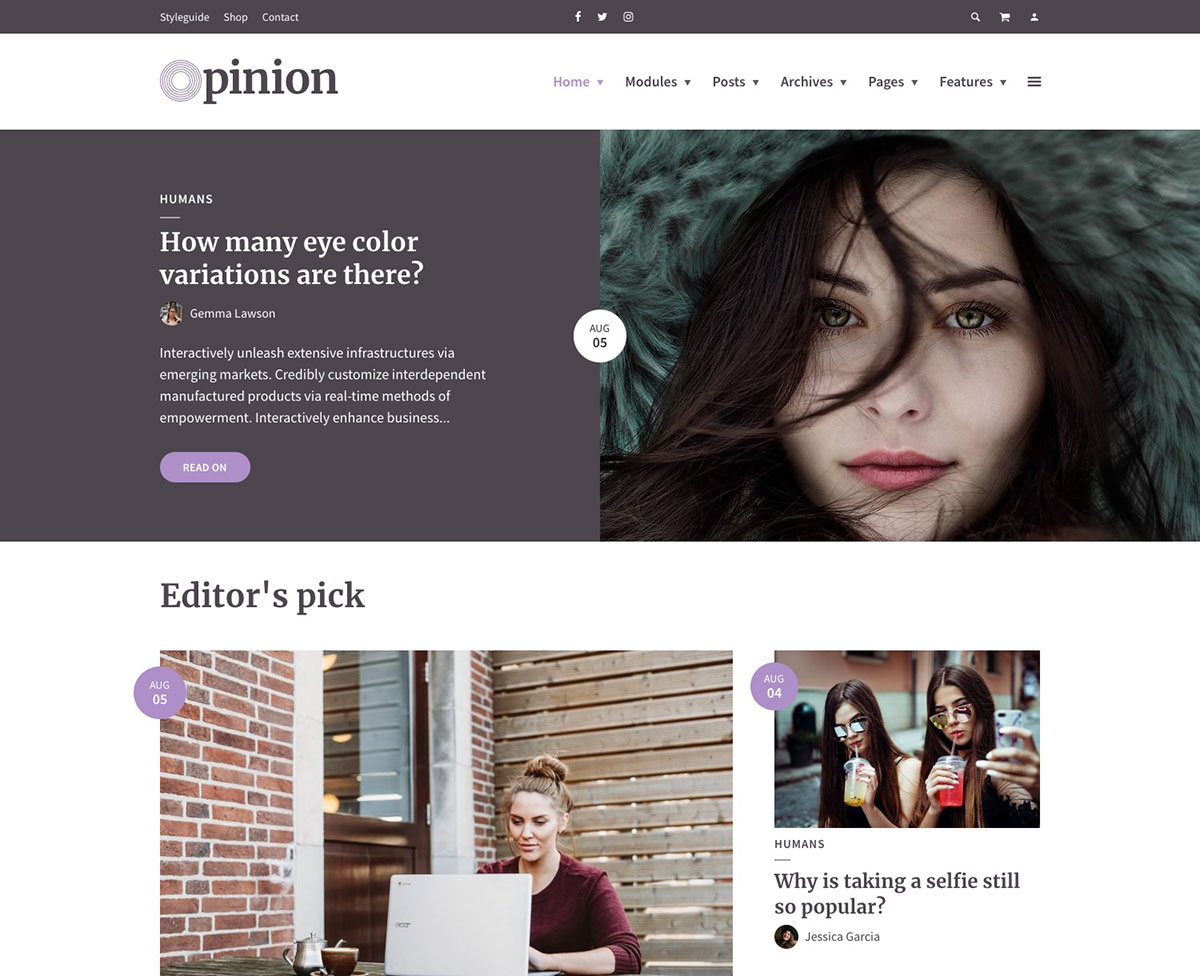 Vous verrez une énorme différence une fois que vous aurez vous-même accès au fantastique thème WordPress de News. L'outil a une touche très innovante avec un look distinctif qui vous aidera à vous démarquer facilement. Si vous n'avez pas encore décidé de la conception de votre site Web, vous tomberez immédiatement en amour avec Opinion. Non seulement cela, mais si partager votre opinion sur différents sujets est ce sur quoi vous excellez, eh bien, vous et Opinion êtes un partenaire idéal.
Opinion est structurée de manière à toujours offrir la meilleure expérience possible, quel que soit l'appareil et le navigateur utilisés. Vos lecteurs resteront constamment engagés et affamés pour plus de contenu convaincant. Bien que vous puissiez creuser le style de Opinion tel quel (il y a quatre démos), vous pouvez l'ajuster à votre guise. Améliorez-le si nécessaire et préparez une version personnalisée de cet excellent thème pour pousser votre projet au-delà de vos objectifs.
Newsmag PRO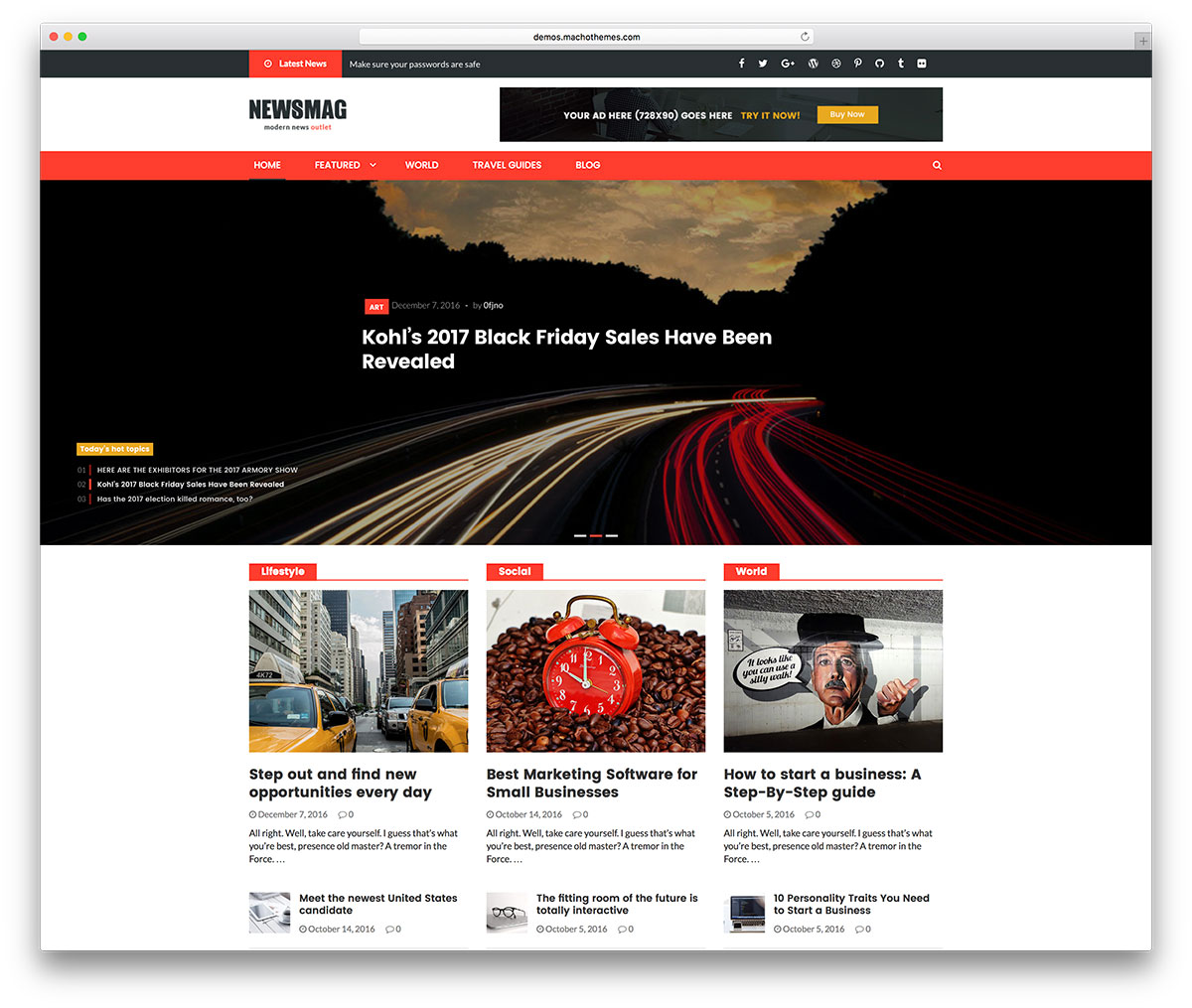 Newsmag PRO est un ensemble d'outils ingénieux et ingénieux conçu pour répondre parfaitement aux besoins des sites Web de magazines du monde entier. Ce thème regorge de fonctionnalités puissantes couvrant une gamme des fonctionnalités de base et avancées attendues d'un site Web de magazine, des curseurs personnalisables illimités aux carrousels de contenu basés sur la technologie CSS3 aux catégories et aux capacités de filtrage optimisées basées sur AJAX. Ces fonctionnalités vous offrent des pages de contenu profondément dynamiques, définies à votre guise, ainsi que des fonctionnalités de recherche robustes et des éléments modernes essentiels tels que des articles tendances, des articles récents et du contenu présenté.
Newsmag PRO, c'est tout ce dont vous pouvez rêver sur le site Web de votre magazine et bien plus encore. Avec de multiples en-têtes et pieds de page, des menus de navigation repliables et des barres latérales personnalisables, de superbes grilles de mise en page et des styles de mise en page en maçonnerie, Newsmag PRO se présente sous un aspect professionnel et raffiné. Intuitivement personnalisable, vous pouvez facilement personnaliser la marque de vos sites Web Newsmag PRO, notamment des polices personnalisées, des schémas de couleurs sans fin, des logos personnalisés, etc. Les améliorations du référencement intégré permettent à votre magazine de grimper rapidement au rang des recherches pertinentes. Essayez Newsmag PRO maintenant!
Voix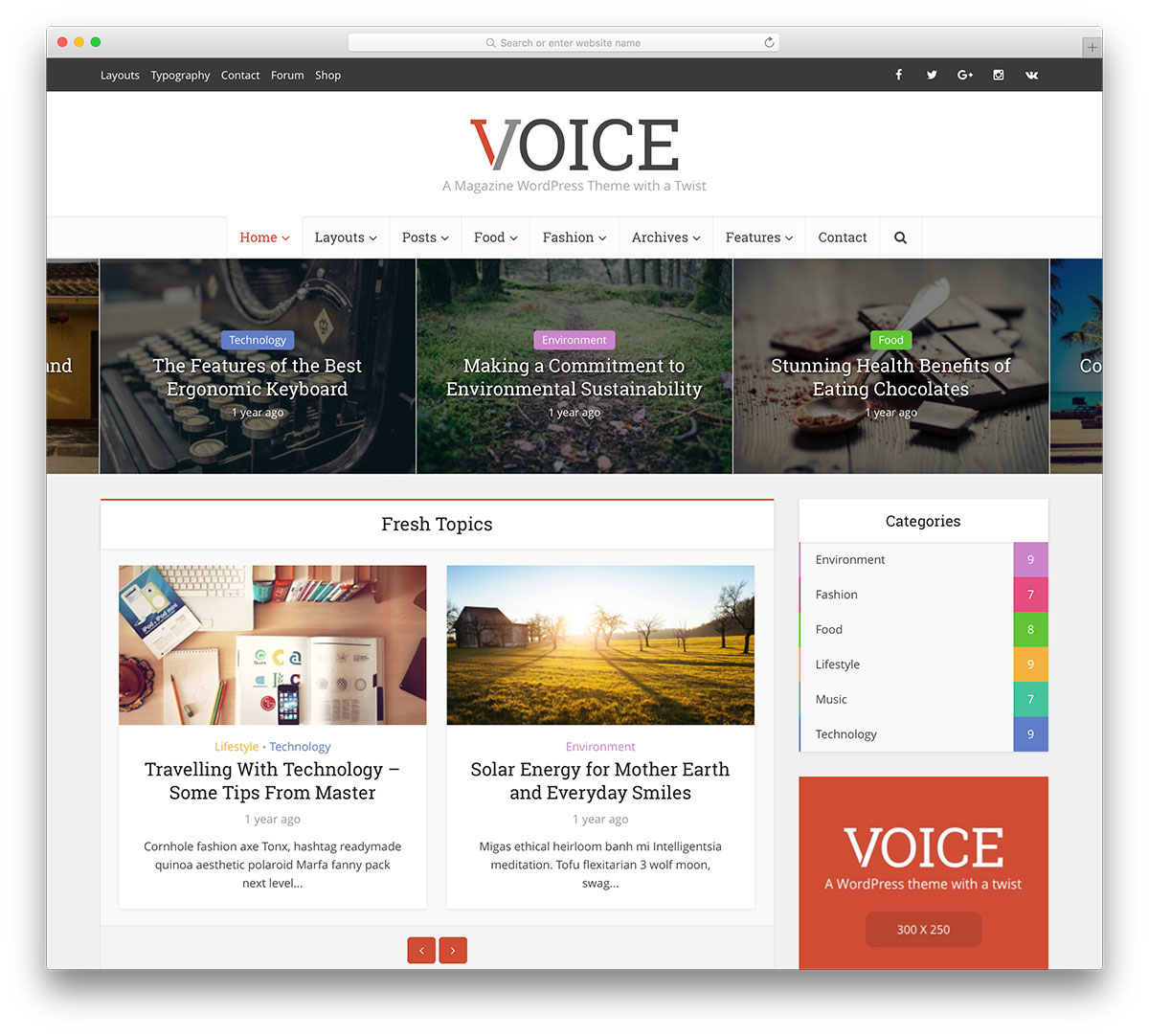 Plus d'infos / Télécharger
Bonne vie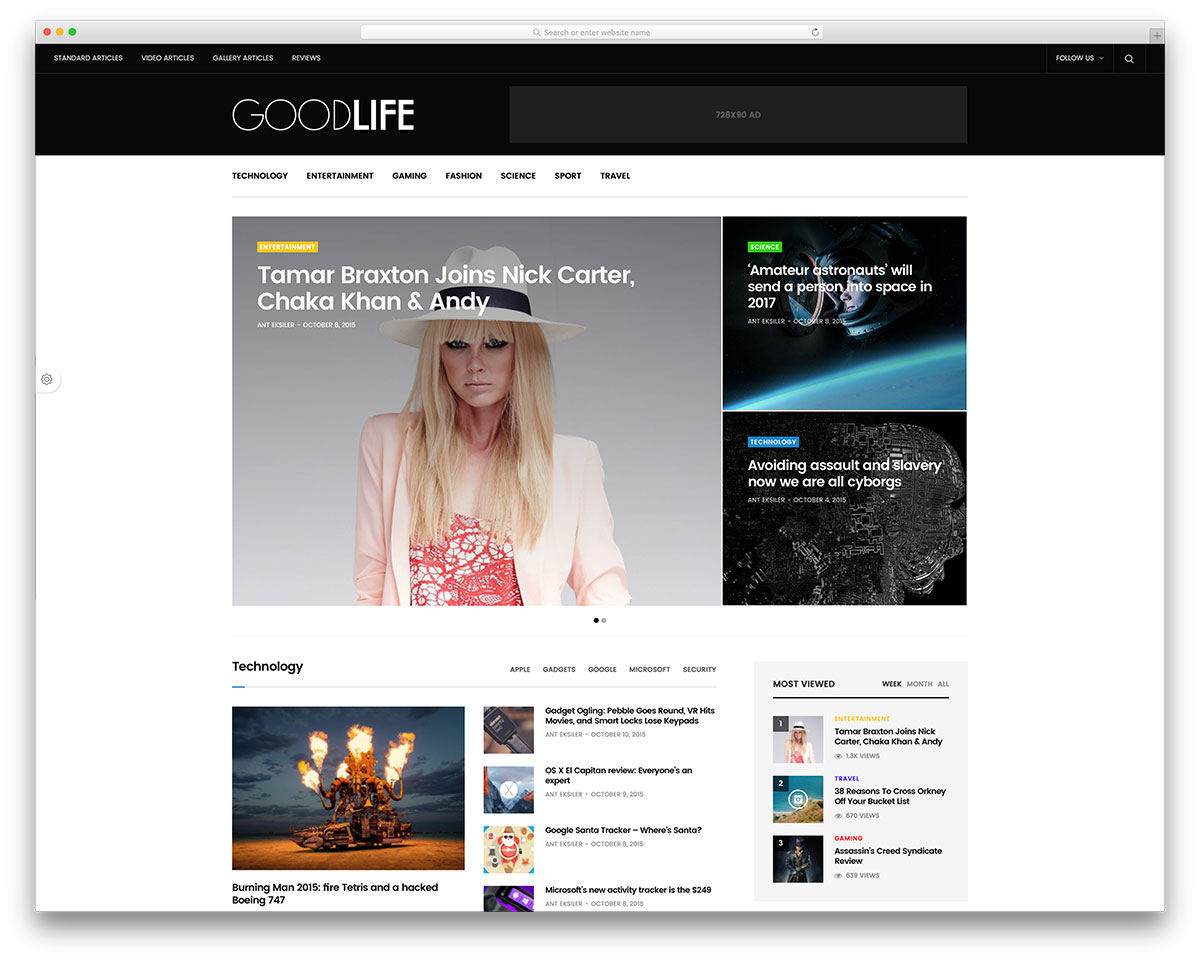 Plus d'infos / Télécharger
Jannah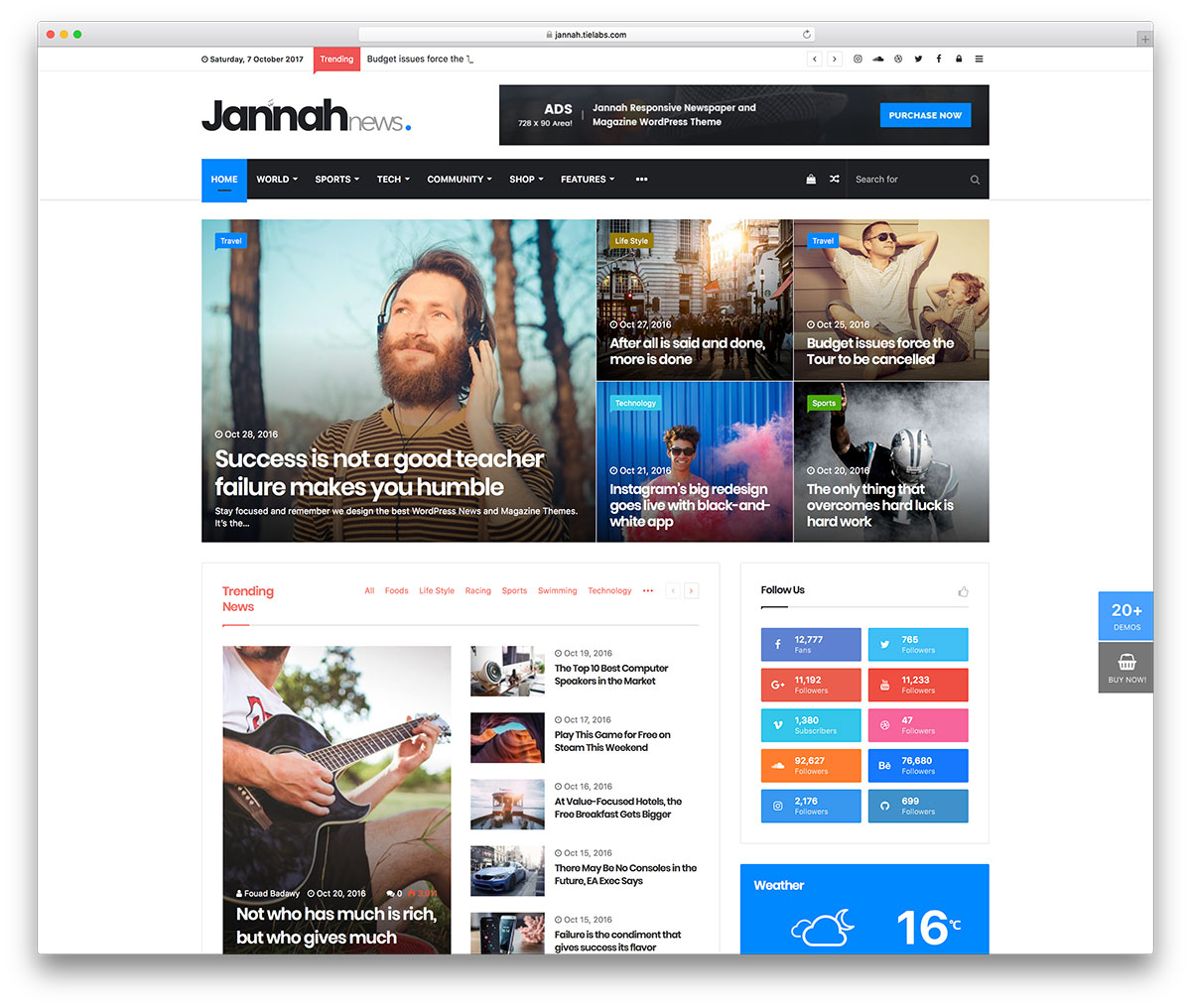 Jannah est un thème WordPress construit uniquement pour les nouvelles. Attirez votre public avec un site Web étonnant. Utilisez d'innombrables en-têtes, polices, mises en page et styles. Votre imagination est sa seule limite! Jannah propose un générateur de page unique intégré, avec des piles de blocs sympas. Vous pouvez ajouter les filtres Ajax et la pagination puissants, pour une vitesse et une expérience utilisateur optimales. Vous vous sentez en contrôle lorsque vous utilisez le panneau d'options de thème. Il possède également de nombreuses typographies, barres latérales, boutons de partage, mais il est simple à utiliser et à comprendre. Offrez un bloc magnifiquement fluide avec des widgets personnalisés prêts à l'emploi. Intégrez votre site Web à votre fil d'actualités contenant un excellent contenu provenant d'Instagram. Prenez un cran avec un média social totalement intégré de BuddyPress. Profitez de l'intégration SEO pour plus de visiteurs provenant de Google et de Bing.
En outre, Jannah est réactif et Retina est prêt pour tous les appareils. Connectez-vous avec votre public via notifications web. Et pour vos besoins en matière de commerce électronique, soyez confiant avec WooCommerce. Avec des espaces prédéfinis spécifiques pour les annonces, des emplacements réservés pour les partenaires ou les affiliés. Vendre une prise de contrôle d'une page entière au plus offrant. Faites des affaires dans le monde entier, car ce thème est prêt pour la traduction. Si vous avez Jannah, vous pourriez avoir tout ce dont vous avez besoin et plus encore!
DynamiX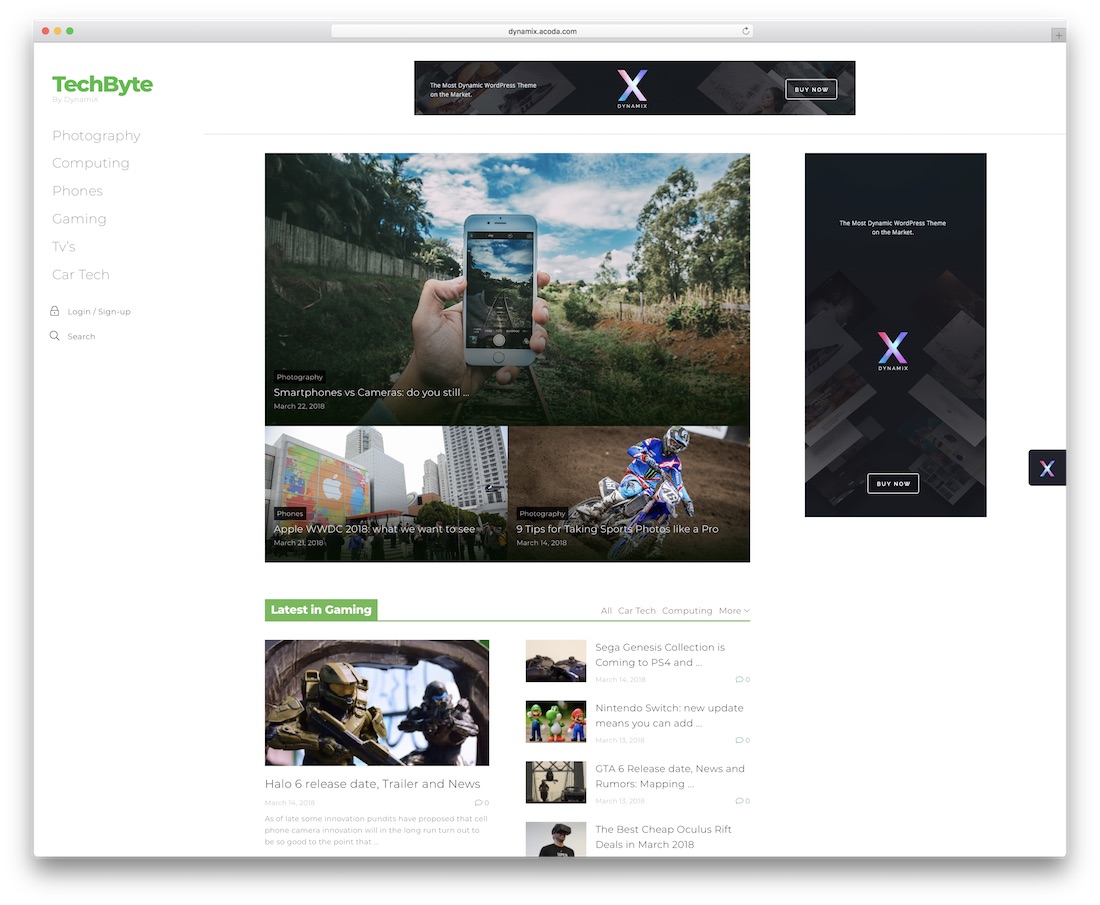 DynamiX est l'un des meilleurs thèmes WordPress d'actualité avec la capacité de couvrir n'importe quel créneau et n'importe quel secteur. Vous pouvez lancer un magazine de mode, de technologie, de gadget, d'alimentation, de bricolage ou tout autre magazine qui vous vient à l'esprit. DynamiX s'adapte rapidement à vos besoins et fournit tout le matériel nécessaire au lancement du site le plus rapide de tous les temps. Il propose une large gamme de spécialités allant des plugins et widgets premium aux médias sociaux, en passant par les fonctionnalités jQuery et les effets d'image époustouflants.
Souhaitez-vous regarder cela, DynamiX a même des sites Web préconçus qui s'adaptent parfaitement aux pages d'actualités. Vous pourriez juste avoir besoin de changer le contenu et de garder tout le reste tel quel et vous êtes prêt à être mis en ligne. Mais vous pouvez en fait franchir une étape supplémentaire, apporter des modifications, enrichir DynamiX de votre touche personnelle et la faire connaître. Sans plus attendre, lancez-vous des deux côtés et démarrez le processus de développement du site d'actualités sans avoir besoin d'embaucher quelqu'un d'autre pour le faire à votre place.
PenNews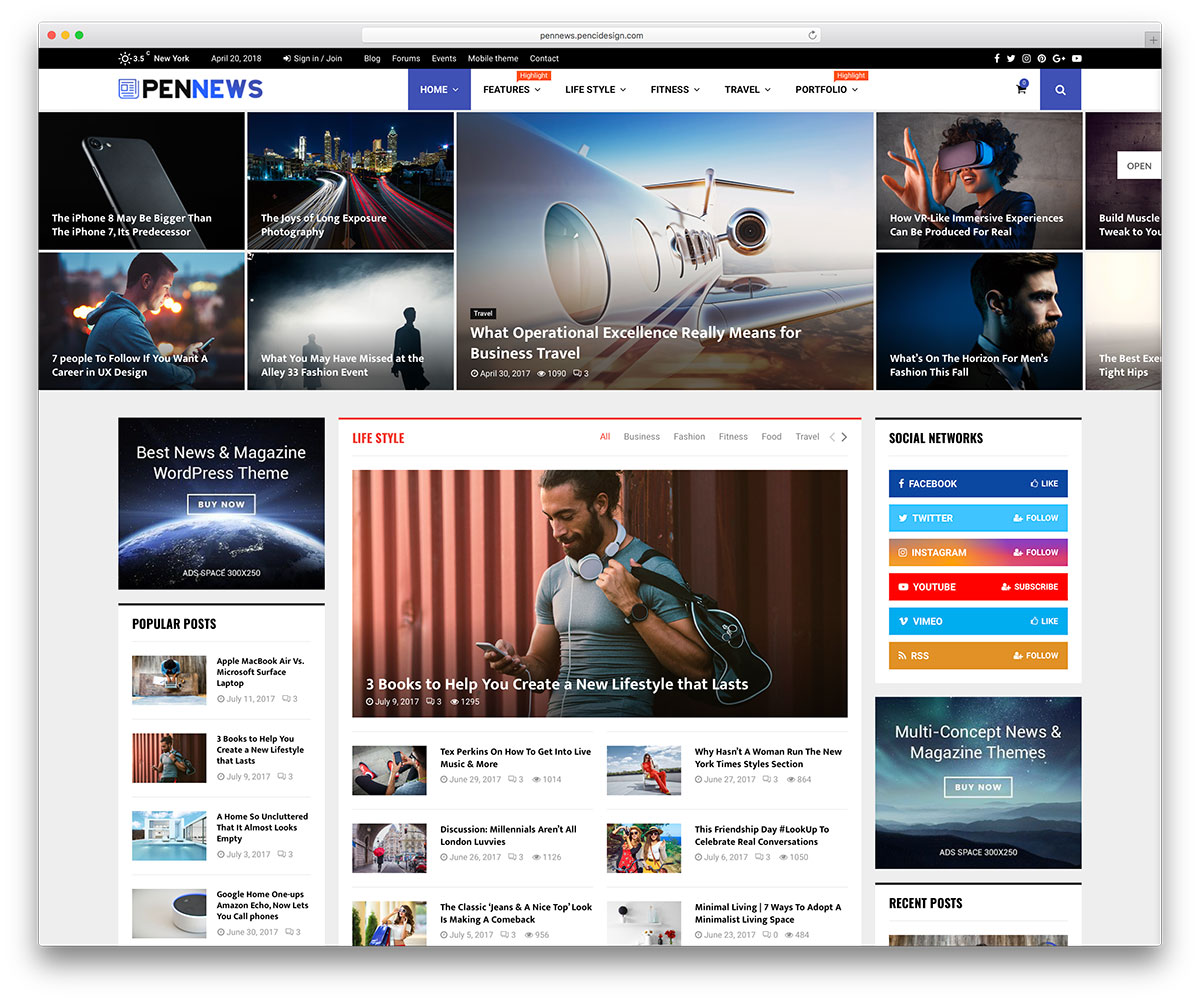 PenNews est un thème multi-concept de site Web d'actualités et de magazines WordPress intelligent, intuitif et réactif. Ce thème contient un ensemble élégant d'outils pour donner vie à votre magazine. Les webmasters de diverses niches aiment travailler avec PenNews. Avec de nombreuses démonstrations et mises en page, la mise en route est simple et rapide. Choisissez la bonne démo et personnalisez-la en quelques minutes, avec de puissants paramètres avancés.
PenNews vous permet de créer le magazine de vos rêves en quelques minutes. Avec WPBakery, la création de pages n'a jamais été aussi simple. Les curseurs Premium tels que Revolution Slider, LayerSlider et MasterSlider éblouissent votre auditoire. Impressionnez les visiteurs avec des menus, des animations et des transitions fluides. Déployez des blocs de contenu personnalisés dans une présentation nette et prête pour Retina. Diffusez votre contenu aux utilisateurs via Google AMP et Facebook Instant Articles. Entraînez le trafic provenant des médias sociaux et des hits de recherche, avec un référencement étendu. Laissez PenNews faire passer votre magazine d'actualités à un niveau supérieur aujourd'hui!
WorldPlus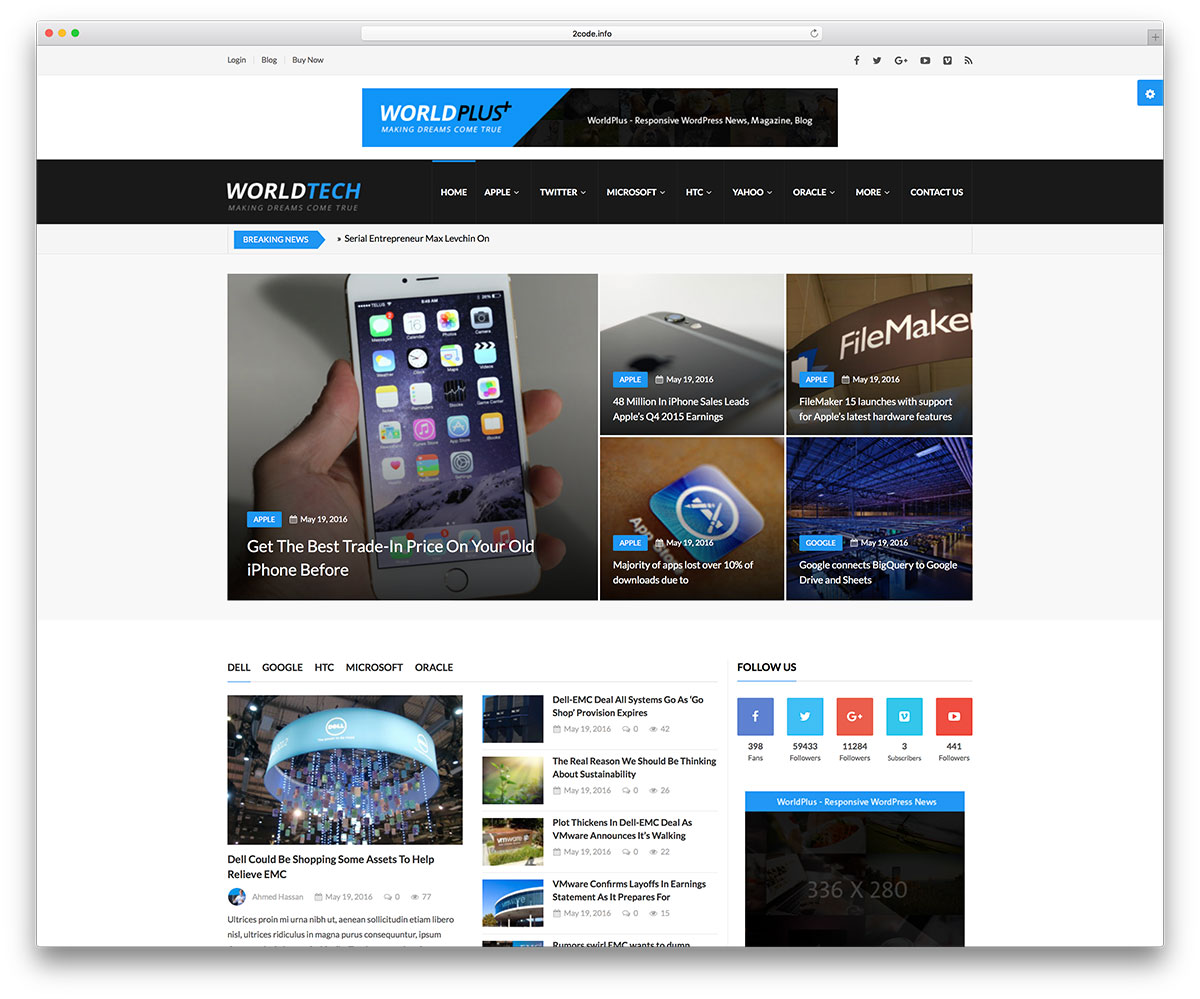 Plus d'infos / Télécharger
Onfleek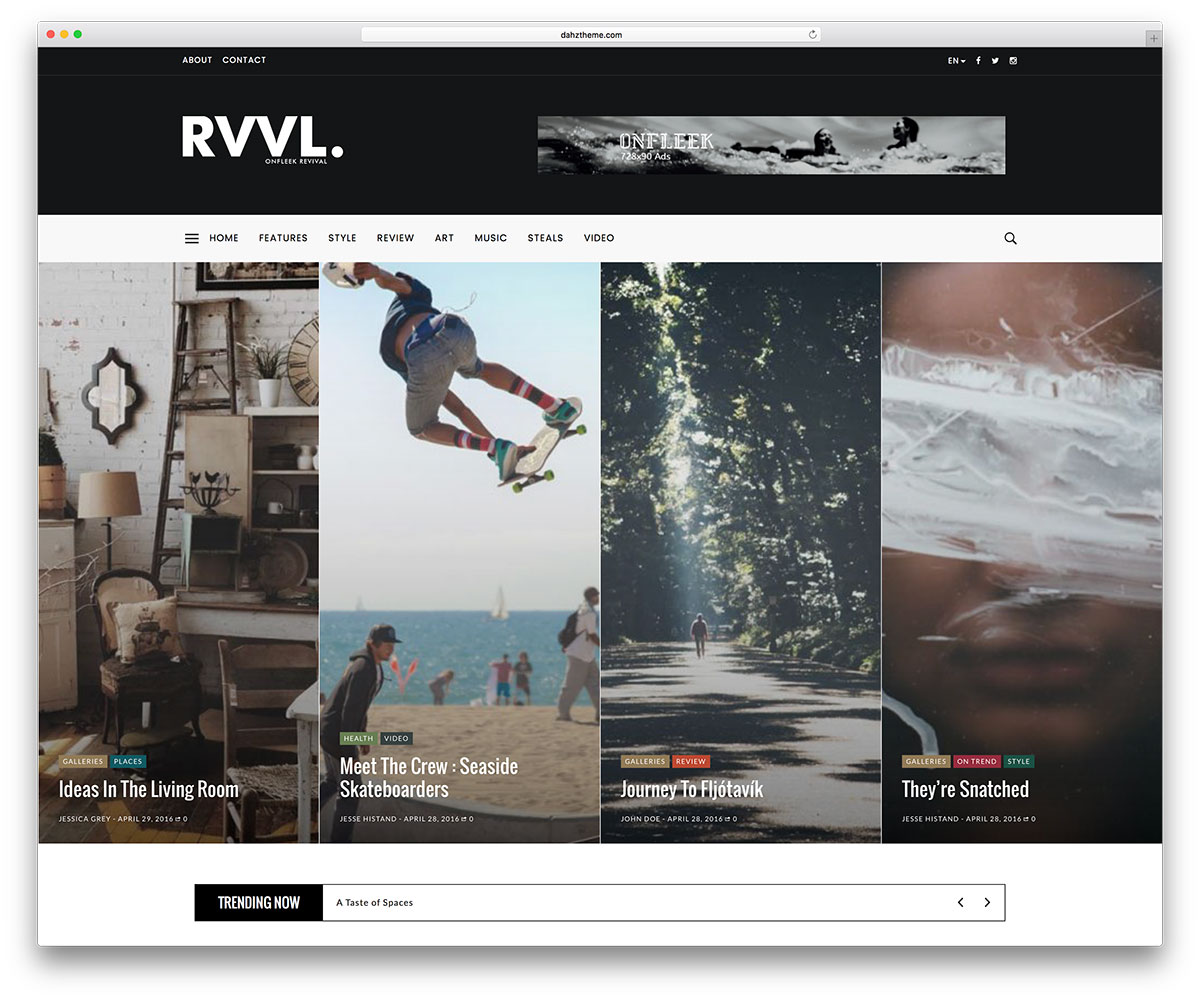 Plus d'infos / Télécharger
Indigo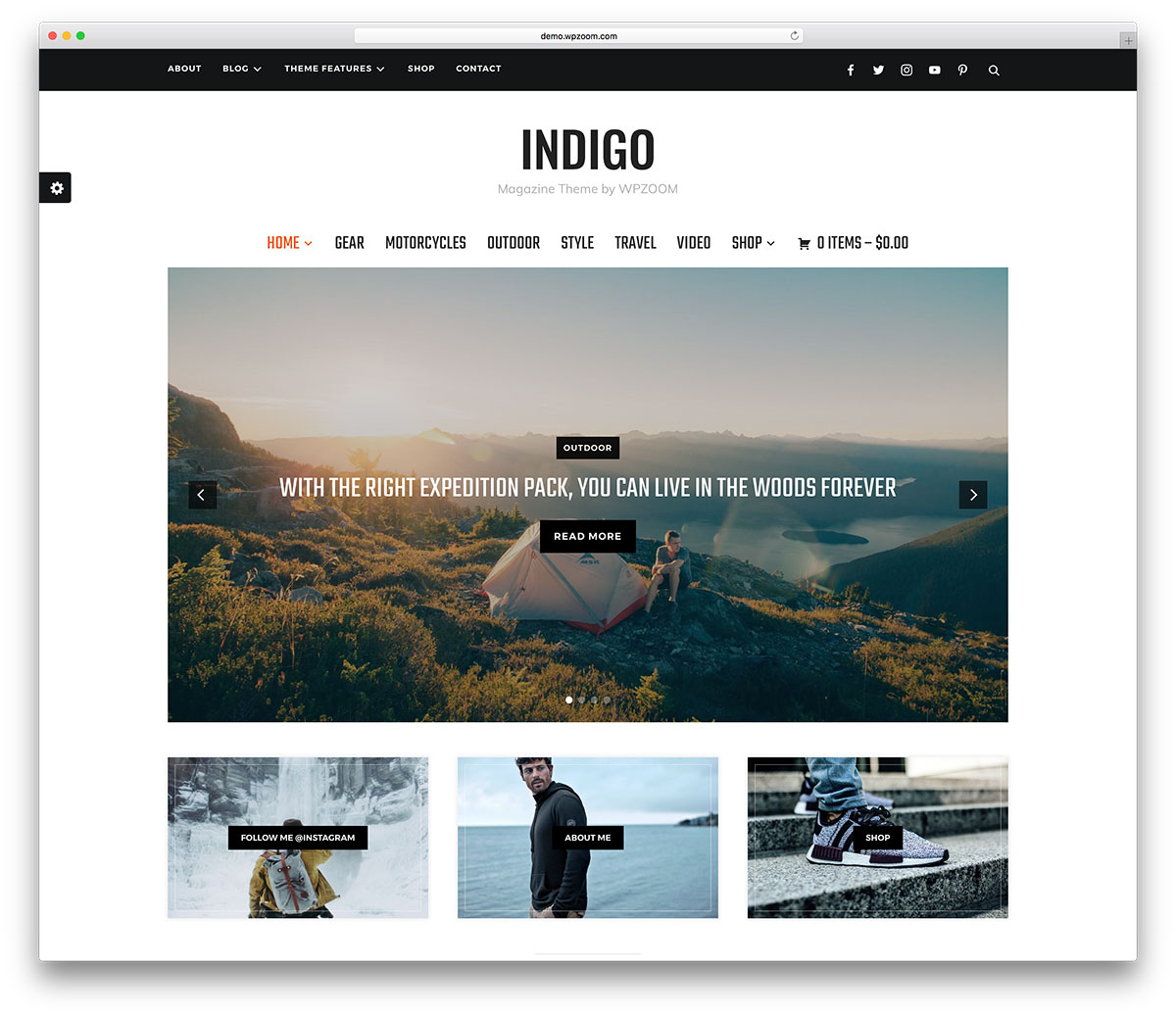 Indigo is wonderful WPZoom creation that lets you handle every single detail with care. You will get it with a one-click demo install and documentation. Set this awesome tool up right away! Indigo is 100% responsive and Retina ready, making images appear with great quality and adaptation. In it, you will find 6 color schemes to play with and incredible panel options. Have fun posting in 3 different columns and a sidebar. It includes unique and amazing widgets to make setting up quick and easy. Fonts, logos, backgrounds and more at completely at your disposal!
Indigo serves multiple uses for those on publicity or media. It is translatable, fast and crafted with lots of care for people interested in writing. An awesome built-in slider is featured, too! Indigo provides a homepage that you can use as a blog itself or for a magazine cover. It also offers sections to divide layout with recent posts and relevant categories. Other awesome features include Jetpack plug-in and immediate WPML translation. SEO optimization for search engines generates traffic for your site. Go for this crafty design and receive constant updates! Go for Indigo!
The Fox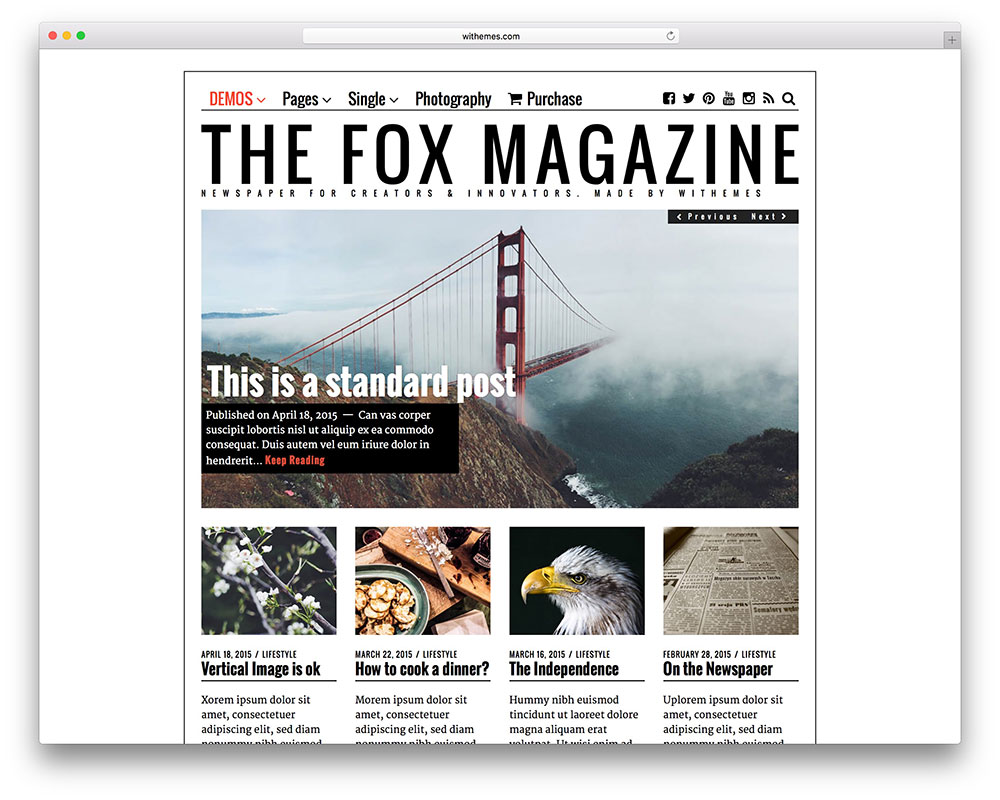 Plus d'infos / Télécharger
Zox News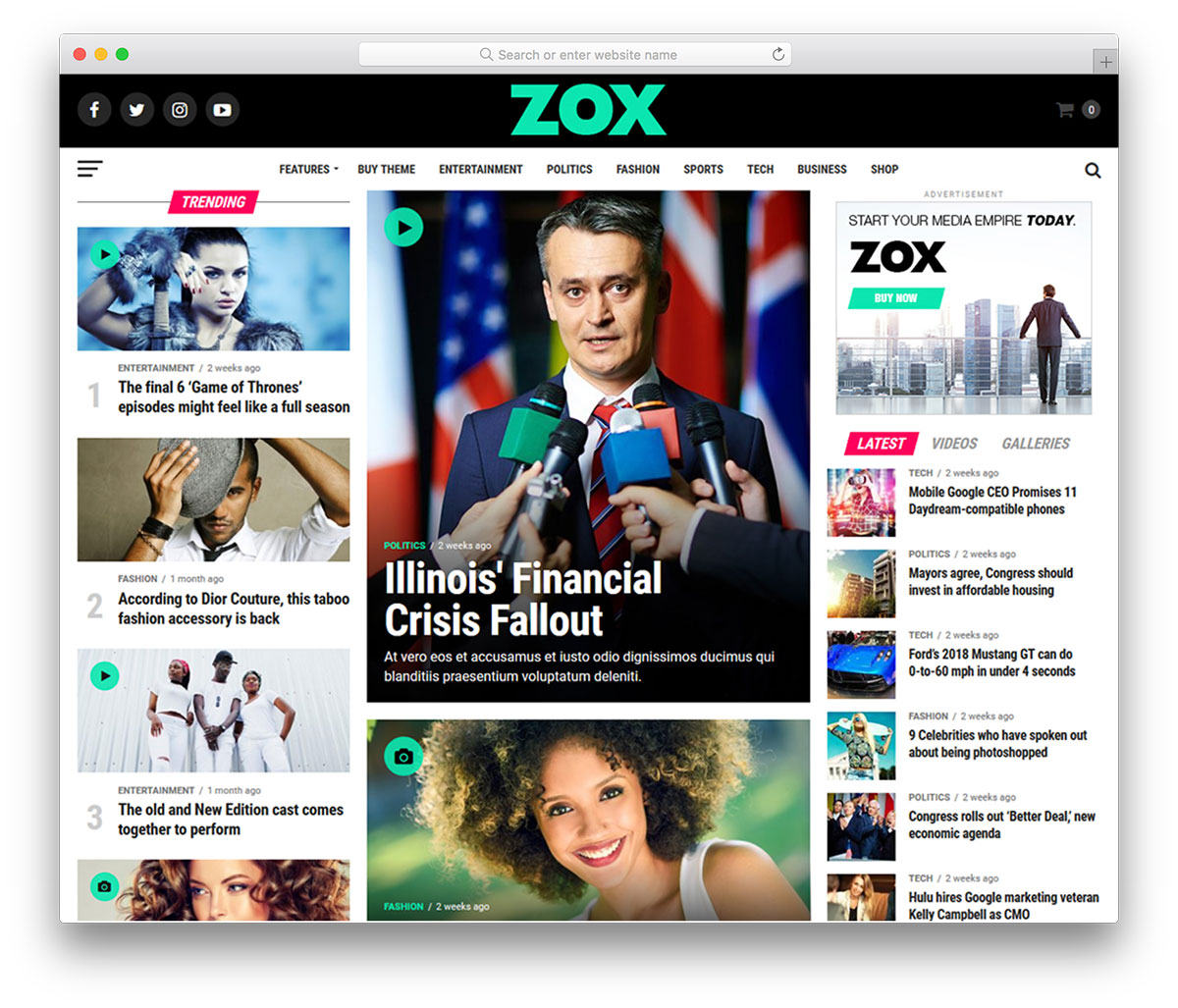 Zox News is a WordPress theme that specializes in professional mass communication websites. It provides the perfect tools for magazines and news channels to work. With it comes unlimited ads spaces, and it is ready for translation to reach audiences. Zox News has awesome headlines sections and layouts to post different articles. It uses Theia Post Slider and it integrates video social platforms (YouTube & Vimeo). You will get to set promotional shops and many selling options through WooCommerce. Zox News is retina ready and has great resolution. Its pixel perfect quality is ideal for large galleries and colorful concepts.
You will get unlimited color mixes and hundreds of beautiful fonts. Zox News is versatile and focuses on providing clients the ideal for special features. It serves great for magazines with its MegaMenu and custom navigation. You will find the bbPress plug-in compatibility as an asset, too. Customizable logo spaces are also available. Zox News offers a very useful child theme, ideal for segments that grow popularity. You could also upload audio files and set a featured image on a post. Lastly, you could erase your doubts with the MVP Theme Support Center. Go for this theme with tons of specialized documentation to start! Go for Zox News!
Dreamscape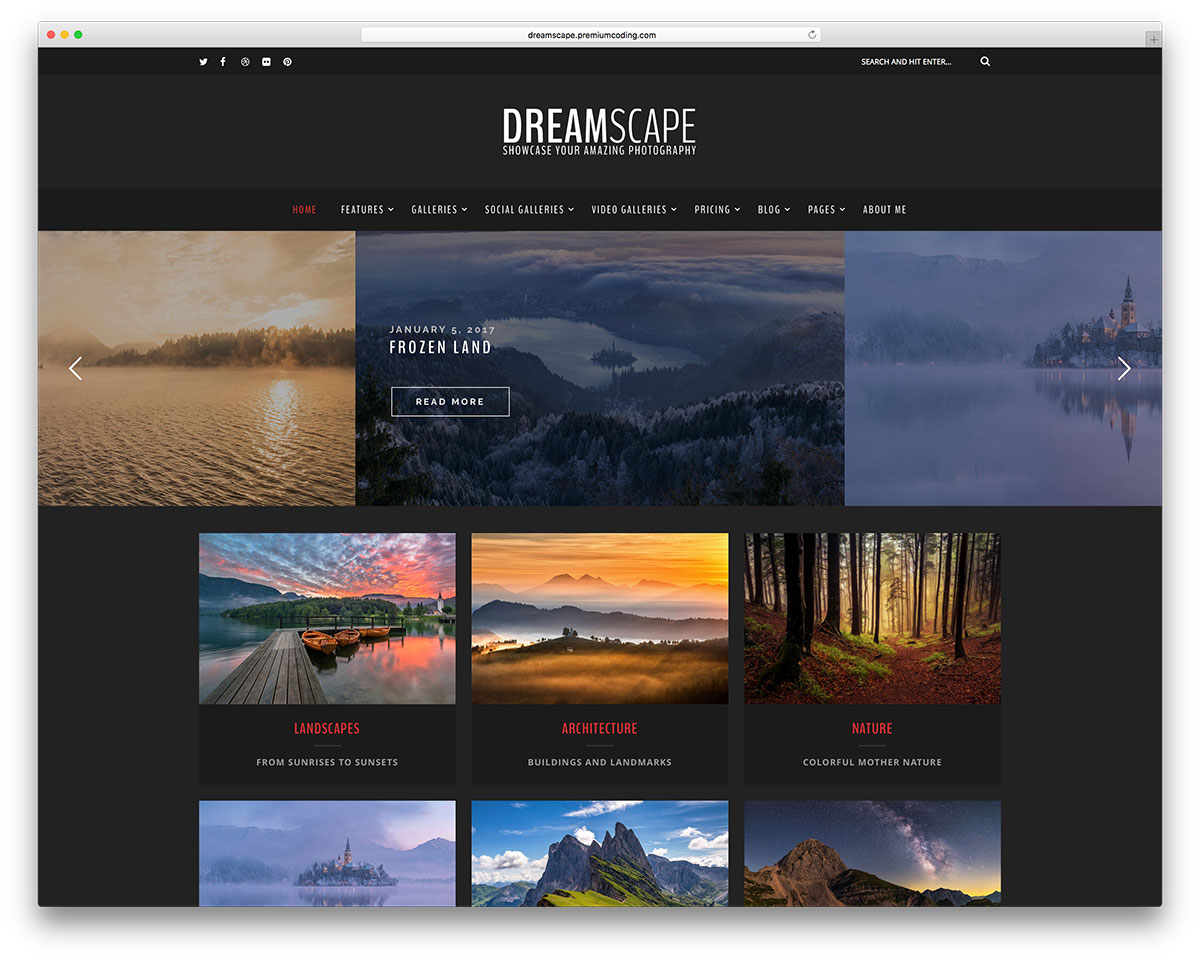 Dreamscape is a gorgeous and responsive WordPress photography multipurpose website theme. This theme is a powerful platform for designing and crafting modern websites. With Dreamscape, building eloquent and engaging websites is fast and easy. Pick your preferred templates and customize them with a few clicks. Extensive documentation guides you through this intuitive process. A crisp design and a minimalist philosophy permeates every template and demo. They ensure your content is the focus of attention of every page within Dreamscape.
Engage your visitors in a memorable way, with the awesome Revolution Slider plugin. Its SEO optimization will get your website on good ranks overnight. That's why bloggers everywhere are flocking to Dreamscape; its versatile customization capabilities and flexible templates let you make it yours completely. With it, 8 different homepage layouts give you a broad set of choices to start with. The Essential Grid makes your blog content seem fresh and clean. The creative design possibilities with your grids and sliders are virtually endless. Dreamscape also includes a huge collection of awesome high-quality images and textures. Your blog has never looked as good as it will ever be with this theme. Check out Dreamscape for yourself today, and take your blog to the next level!
Tana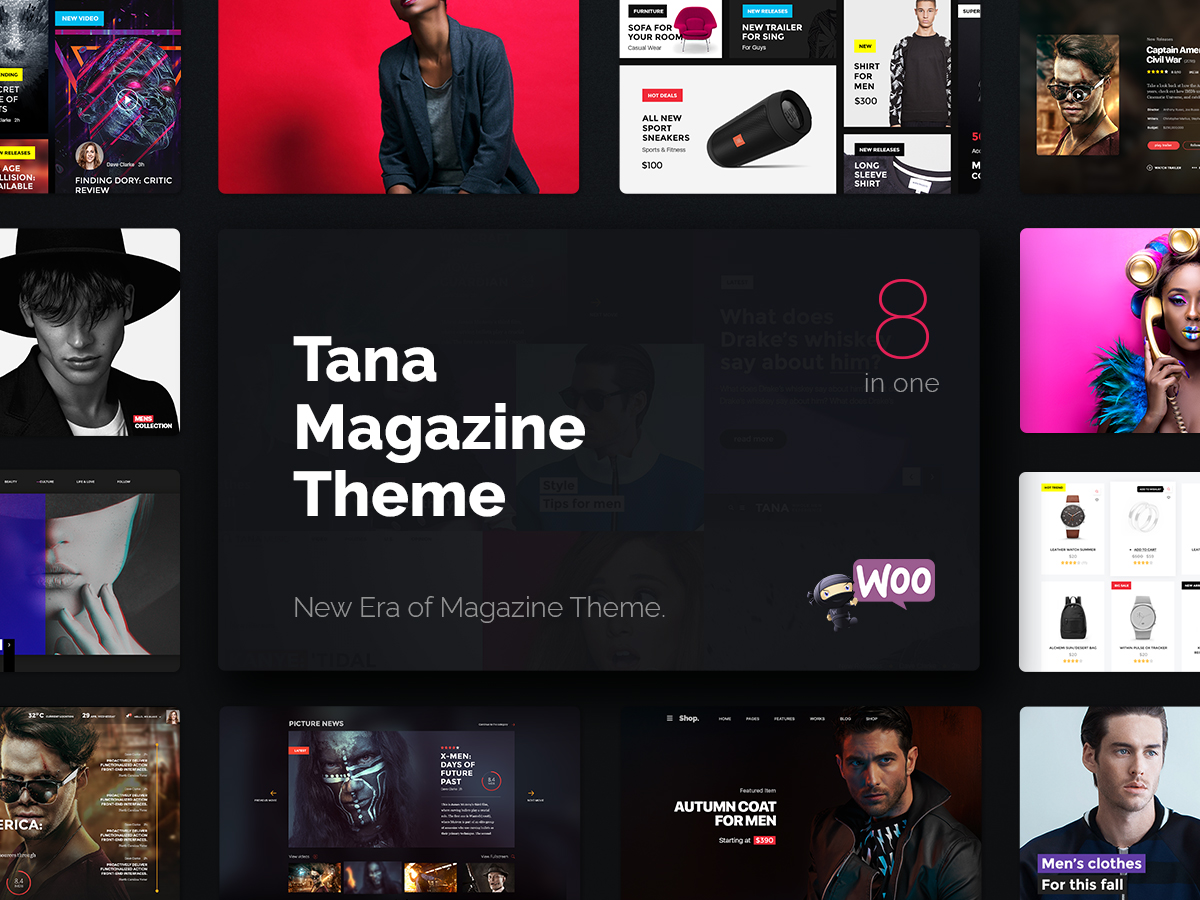 Tana Magazine is a convenient and powerful, easy to use and highly resourceful, modern and readily responsive WordPress newspaper, music and movies magazine website theme. It is a comprehensive framework for the uncomplicated creation of state-of-the-art magazine websites across a range of niches and applications without having to write any code and ready to go live within minutes of initial setup. With Tana Magazine, you get access to an incredible collection of professional quality demo websites for niches such as Fashion, Movies, Music and Newspaper, as well as single-page magazine website demos and tons of template pages for specific purposes.
An enhanced version of the Visual Composer premium page builder plugin gives you access to dozens of custom modules and widgets, sidebar elements and shortcodes, and a multitude of visual and graphical customization options, supplemented by powerful, advanced admin customization settings. Enticing animations and transitions powered by CSS3 technology are complemented by sophisticated hardware-powered Parallax Smooth Scrolling and Quick Scroll capabilities for any page, while out-of-the-box integration of the WooCommerce e-Commerce plugin suite makes Tana Magazine a competent platform for you to market your wares of any kind, affiliate products or your own subscriptions. Try Tana Magazine now!
FlashNews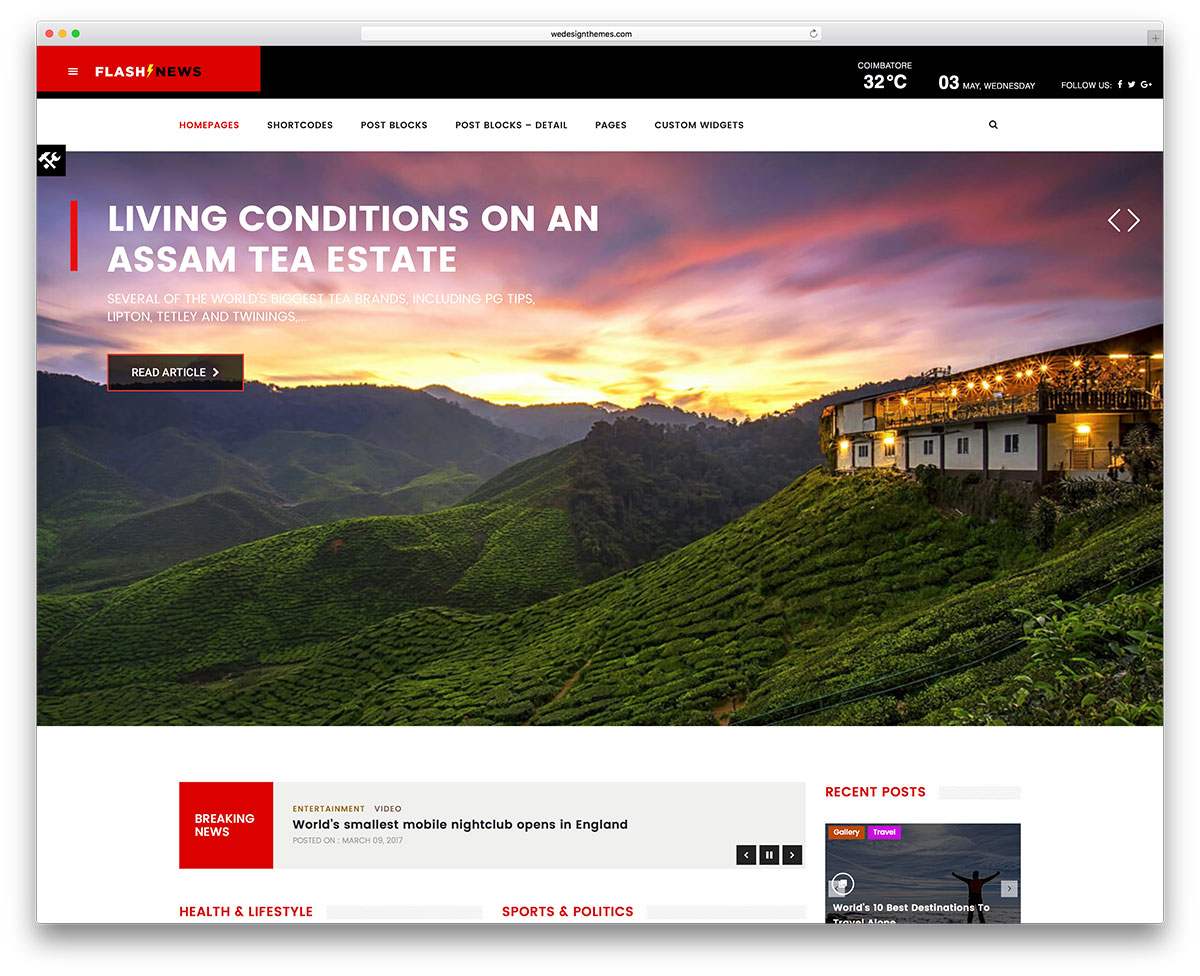 Flash News links news channels, magazines, blogs, and newspapers with the public. It has several unique pre-built homepages and demos. Flash News is a theme that aims for speed and to make posts catch your eye. It includes WooCommerce integration to build stores, 100% responsive and Retina ready. Therefore, the theme gives good emphasis to graphical features. Flash News is flexible with lots of layouts and customization options. It is SEO friendly, with awesome custom widgets.
These include lots of social media sharing, weather report and searches. You will find no coding skills requirement, thanks to panel and page builder. Flash News uses many portfolio and shops custom pages. To publicize news the best way, it also supports Youtube, Vimeo and other well-known websites. For texts posts you get awesome typography from Google Fonts. Other compatible plug-ins include MailChimp, Revolution Slider and WPML. Flash News also has specialized banners for breaking news! Being mobile friendly adaptable to all screens, it also features and supports AdSense. Its page builder is Visual Composer, and it has help from Contact Form 7 and BuddyPress. Get your news to pop and make your viewers remember your site. Get Flash News!
Malabar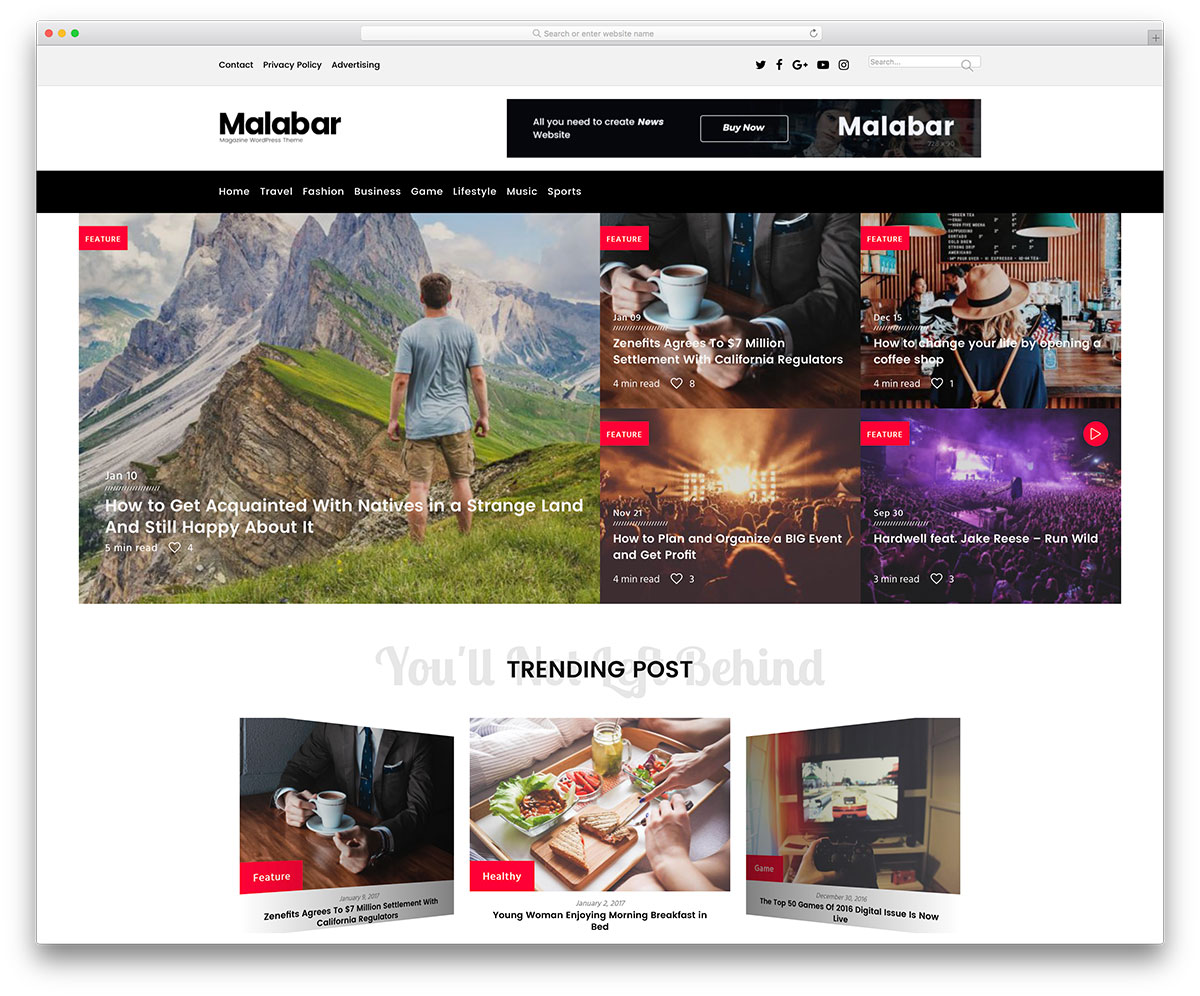 Malabar is an eloquent and responsive high-performance magazine multipurpose website theme. It is a feature-rich toolkit for putting together seamless modern websites. You could effortlessly reach a massive audience with your content with this theme. Built for high performance, Malabar works well under all traffic conditions. A lightweight, minimal code loads fast and smooth across all platforms and devices. The Bootstrap framework provides complete cross-compatibility. Editing layouts is easy regardless of your prior skill level. A visual process lets you create awesome grids and masonry layouts.
News websites love Malabar because it's so engaging. Showcase your trending pieces or latest news without breaking a sweat, and in utter style. Malabar also allows for easy live customization, so you can see results as you go. Customize color palettes, fonts, animations and transitions in a couple of clicks. Plentiful typography options allow for maximized legibility while conserving uniqueness. Malabar lets you build truly memorable news magazines in a matter of minutes. Awesome header and footer options frame your users' navigational experience. Stay classy or go modern with tons of options to mix and match. Monetization is easy with this theme's built-in ad blocks. Tell the story the way you want to and reach a bigger audience, with Malabar!
Amory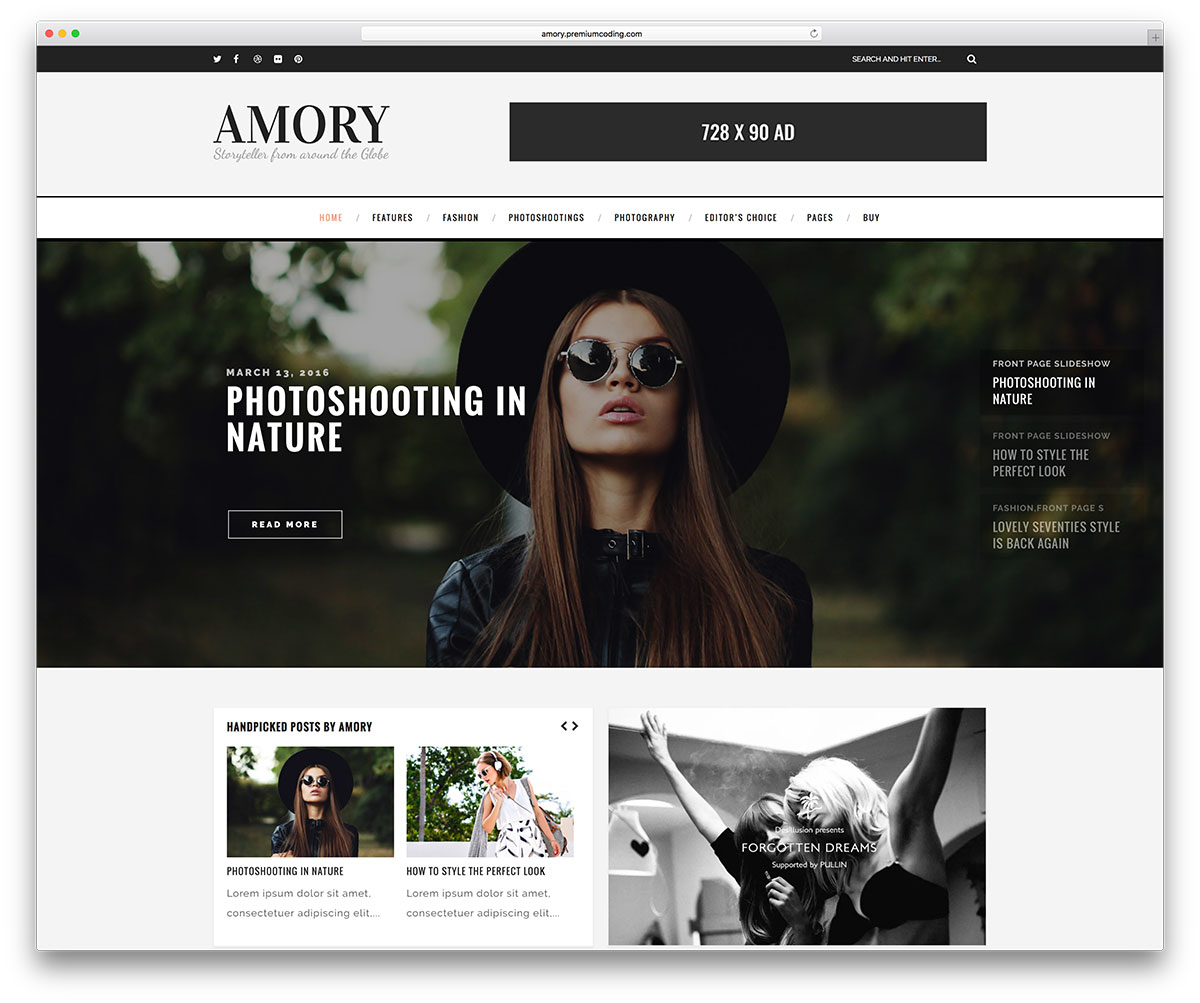 Plus d'infos / Télécharger
Saxon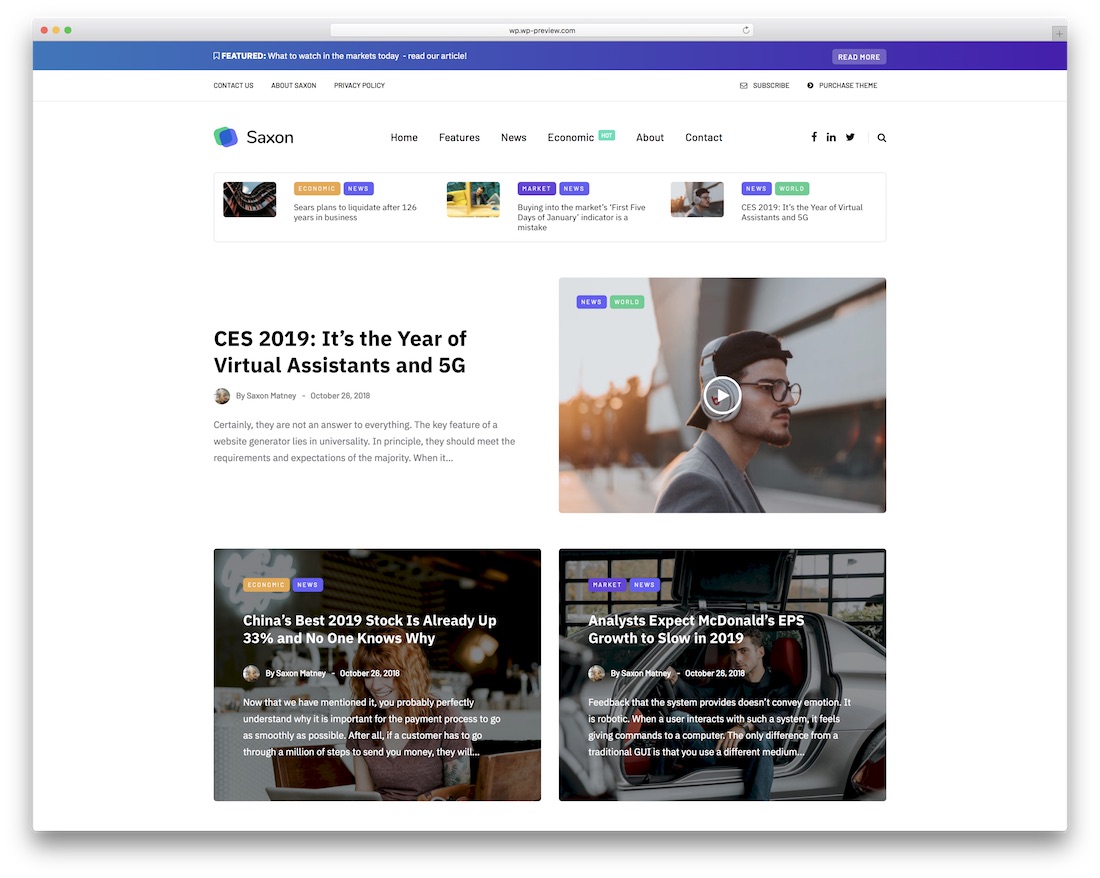 Aspiring to be the most pertinent media website creator is possible with Saxon. This news WordPress theme specializes in the hottest material on the Internet: contenu viral. Also, you can impart glamour and style with its magazine-like capabilities and even create a blog. With twenty reusable homepage layouts and eleven blog templates, you can push articles non-stop in a creative way.
Import any demo in just one click to find out what floats your boat. From then on, customize it further and meet it your expectations precisely. Saxon has a built-in AMP support to ensure outstanding mobile performance and improve the user experience. From generic to niche news website, you can create them all without hassle. There is also step by step documentation available for you to get the most out of Saxon easily. What's not to love about Saxon?
Jawn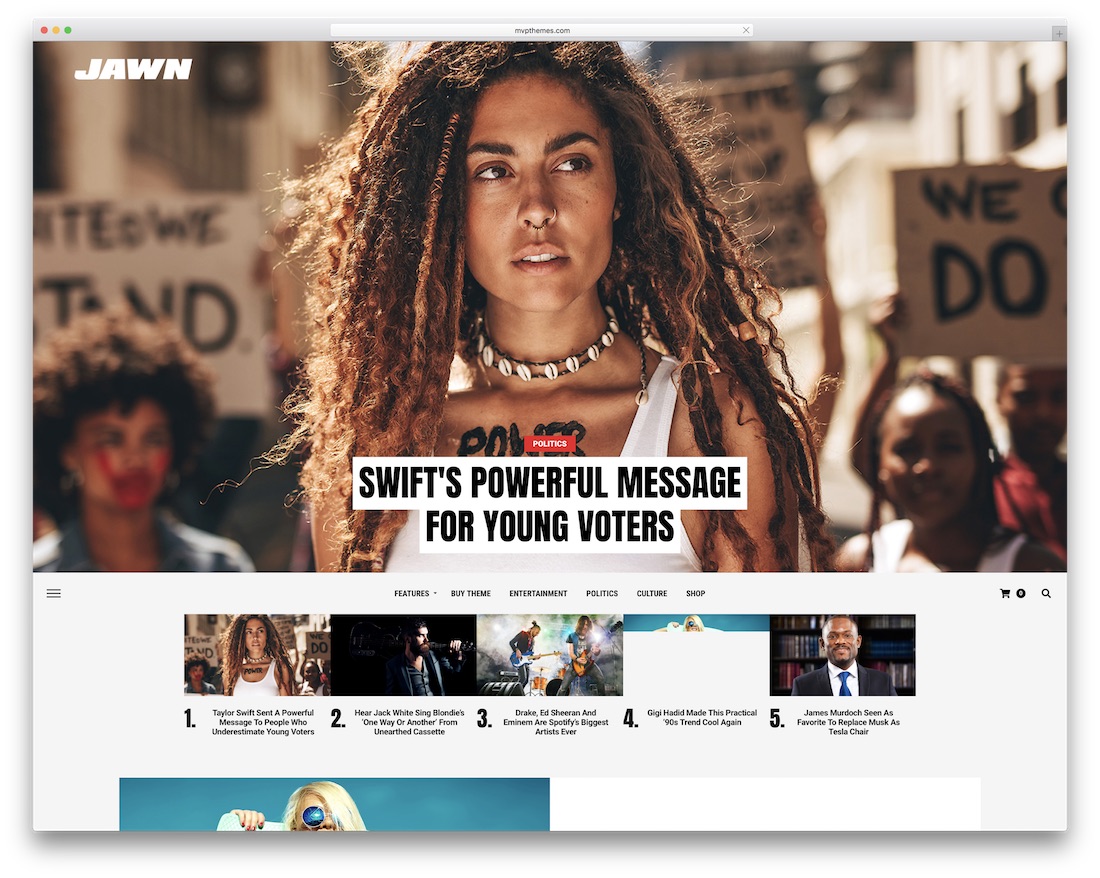 Be a frontrunner in the media industry with Jawn. This news WordPress theme has all the makings of a professional broadcast or magazine site. It features content in the best way possible both for the creator and the reader. Select from five article layouts, four featured posts, eight hundred Google Fonts and more to take advantage of your web design. What's more, there are also different front page designs ready-to-use for a quick start of your online project.
Want to put something under headlines? You can do so by sprucing up your content in the featured posts section. Additionally, Jawn has an RTL, social media and SEO features that enables you to extend viewership and visibility. There's more to find so try Jawn now and be left in awe and amazement by what is possible with this dope tool.
Domino
Plus d'infos / Télécharger
Brixton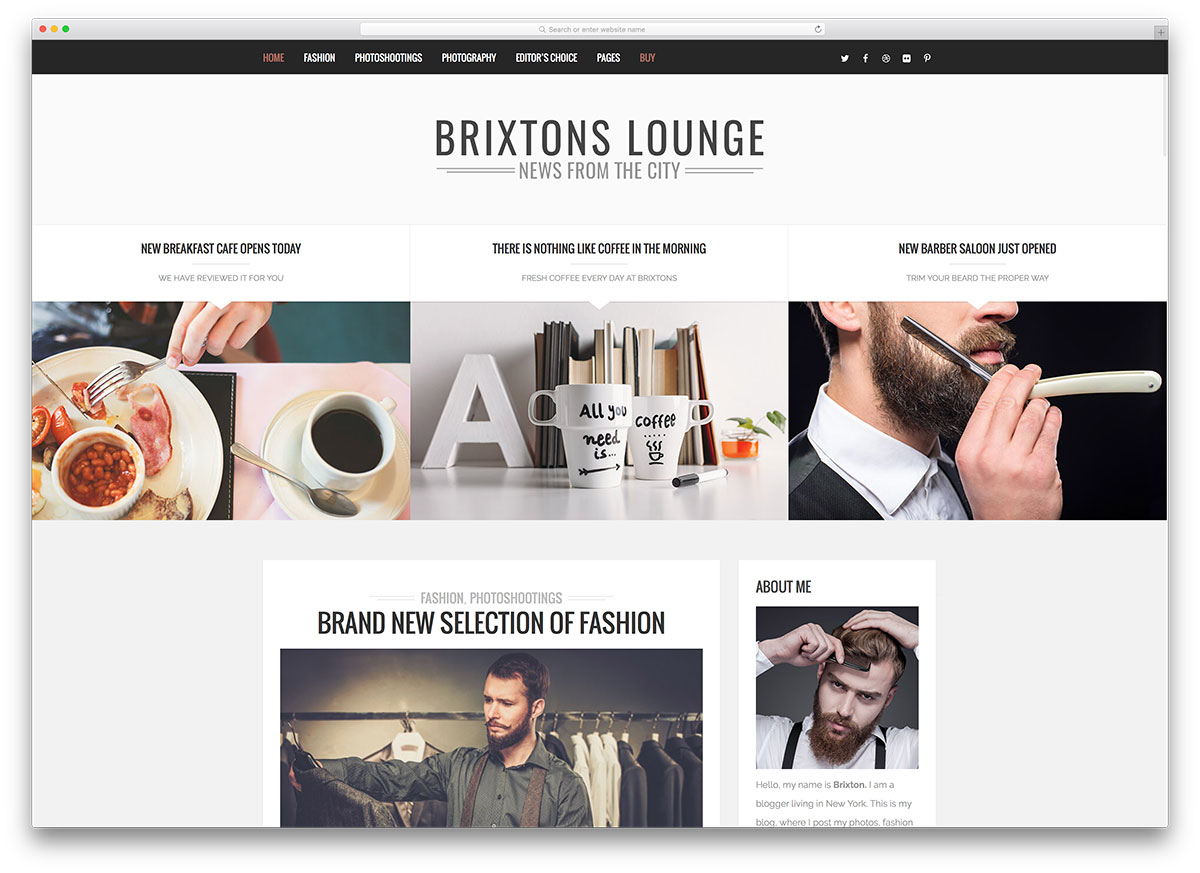 Plus d'infos / Télécharger
MagOne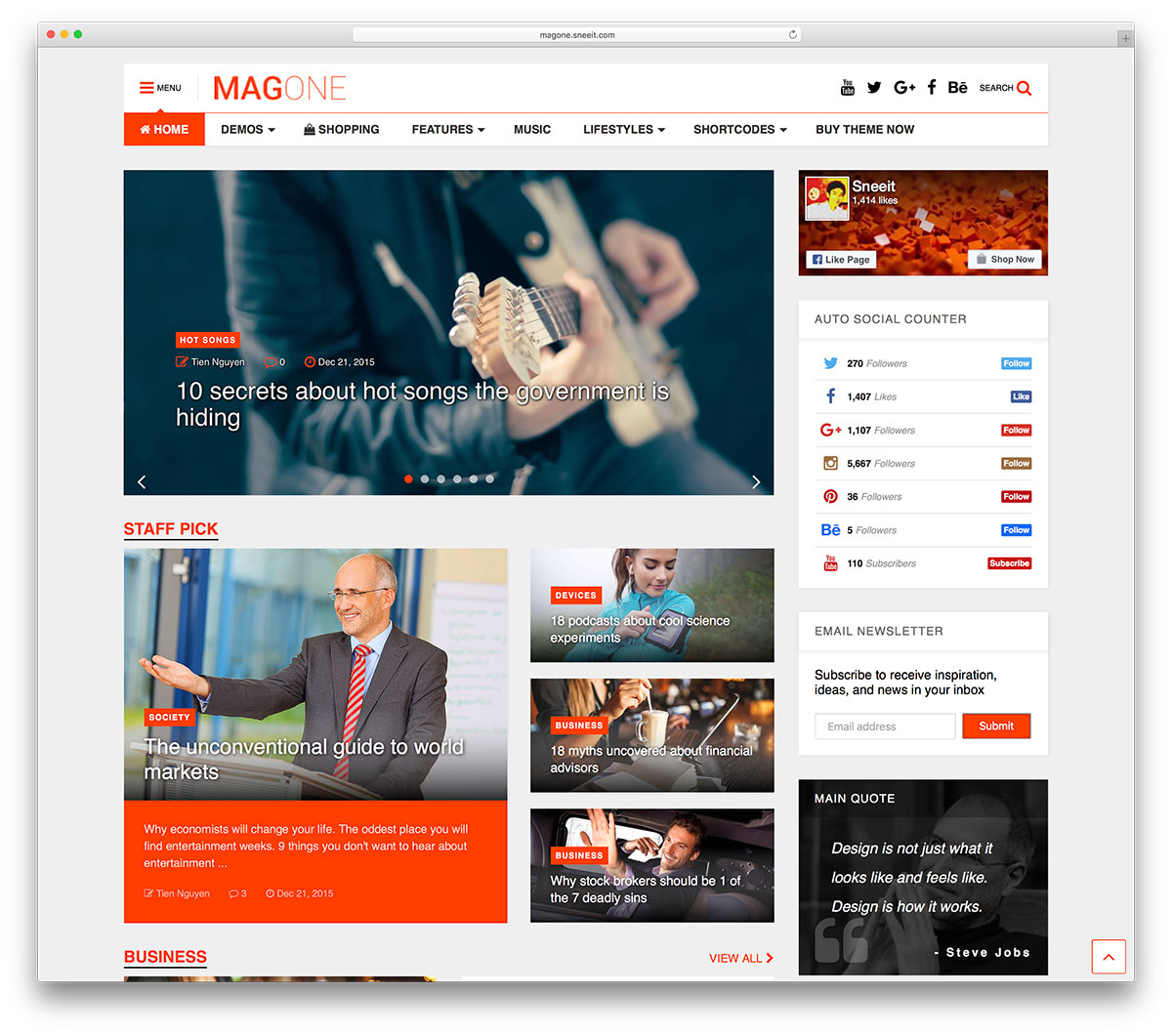 magazines de mode to sports online newspapers, from blogger platforms to affiliate marketing websites and even e-commerce solutions, MagOne is flexible enough to service them all, and even includes helpful and time-saving demo website templates for these and many more website archetypes, all of which can be readily imported in full with a single click, so you can simply add your content and go live.
Or you may choose to go into the Sheeit Framework and its enhanced Drag and Drop Page Builder, which puts all the power in your hands to make specific modifications to layouts, headers, sidebars, shortcodes and elements as you desire, with a couple of clicks and a completely intuitive feel. Building a social media and mobile friendly modern website with attractive headers and captivating sliders has never been faster or easier than with MagOne. Try it today!
Sahifa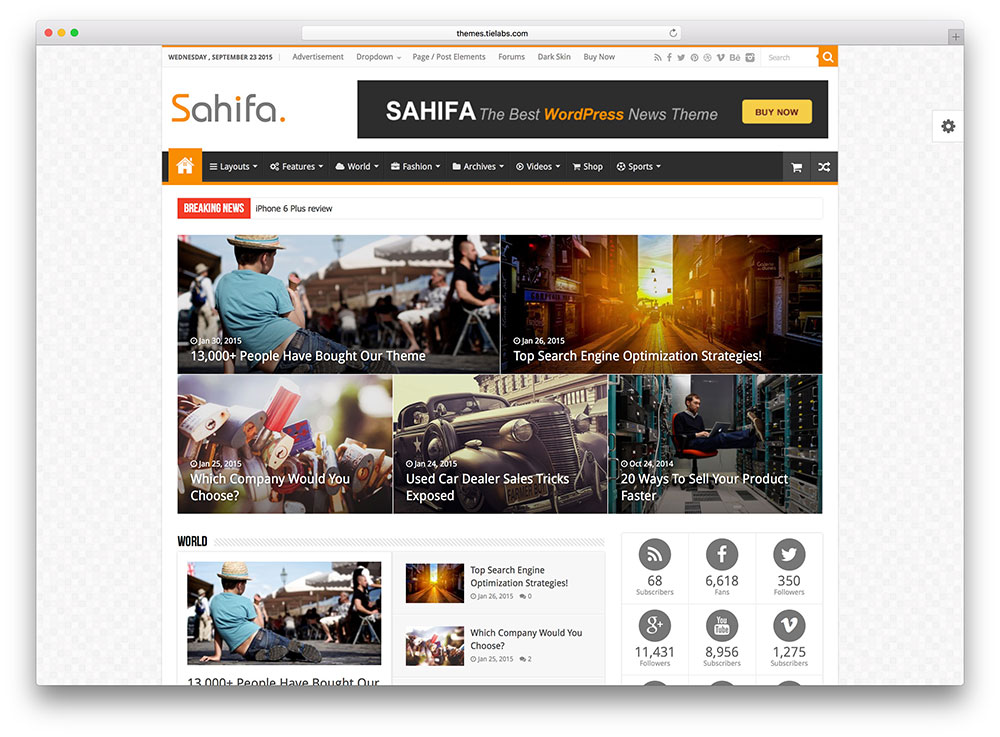 Sahifa is one of the most versatile website themes in the world. This amazing product offers many incredible features, each added in order to enhance your web page. It manages to balance power and beauty, resulting in a high-quality browsing experience for all users. Many sites have to choose between complexity and accessibility, given that their layout cannot adapt to the diminutive screens of hand-held devices. Thankfully, this theme has solved all compatibility and resizing issues. Customers who prefer smart phones or tablets can now access your posts with ease. Also, Sahifa can work with any operating system or browser. Clients are given complete freedom, and they can even turn off the responsive elements of their page.
The site layout is available in 3 settings: Framed, Wide and Boxed. You can toggle between them with a single click. A solid business strategy often includes online merchandising. This product also has added WooComerce, and it can help users to design an amazing online commerce shop. WooCommerce integration allows you to market your goods and services, too. Popularity can only increase, if you strive to include as many users as possible. Sahifa can also accommodate foreign site visitors, as it is fully translatable.
GDN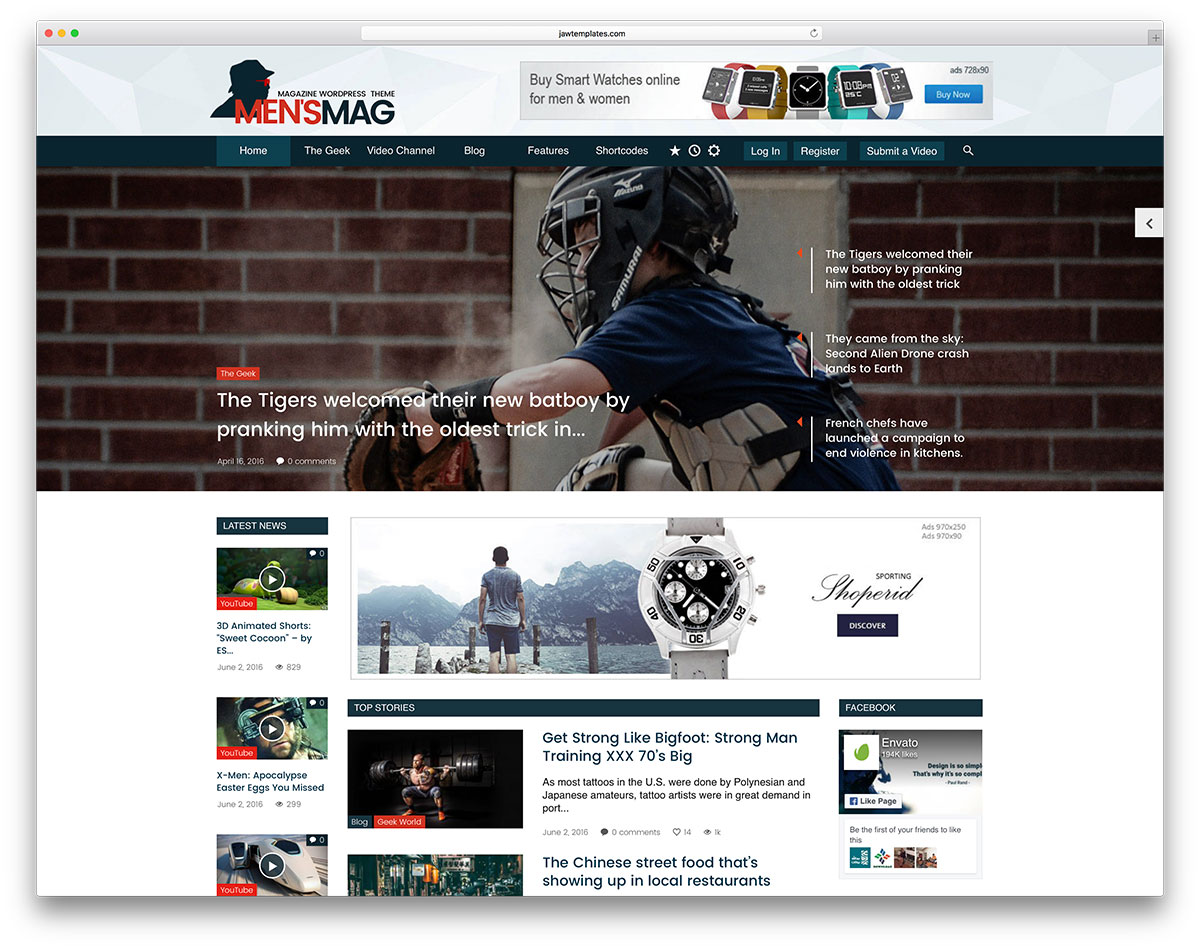 GDN is a gorgeous and responsive WordPress magazine multipurpose website theme. It is an innovative and inventive framework for building modern magazines. Creative webmasters love working with GDN due to the utter freedom. Start from scratch or pick a professional quality template. 13 unique blog and magazine demos are available to make matters simple. Customization is also fast and intuitive. Tons of flexible headers, footers, fonts and styles are yours to choose from. Mix and match them as you wish and alter whole sections with the drag-and-drop editor.
Regardless of your niche or subject matter, GDN has the right tools for you. Features like Parallax, HTML5 multimedia capabilities and more make GDN a true powerhouse. Impress and dazzle your audience with awesome sliders and custom social media sharing. Thorough SEO enhancements also allow you to drive your traffic through the roof in no time. An effective ads management system empowers you to monetize that traffic with ease. With rich font management options and icon font collections, expressing yourself is easy. GDN also has a responsive framework. Lastly, being compatible with devices, browsers and platforms across the board, GDN has mass appeal. Take your magazine up a notch or two overnight, with GDN!
Woohoo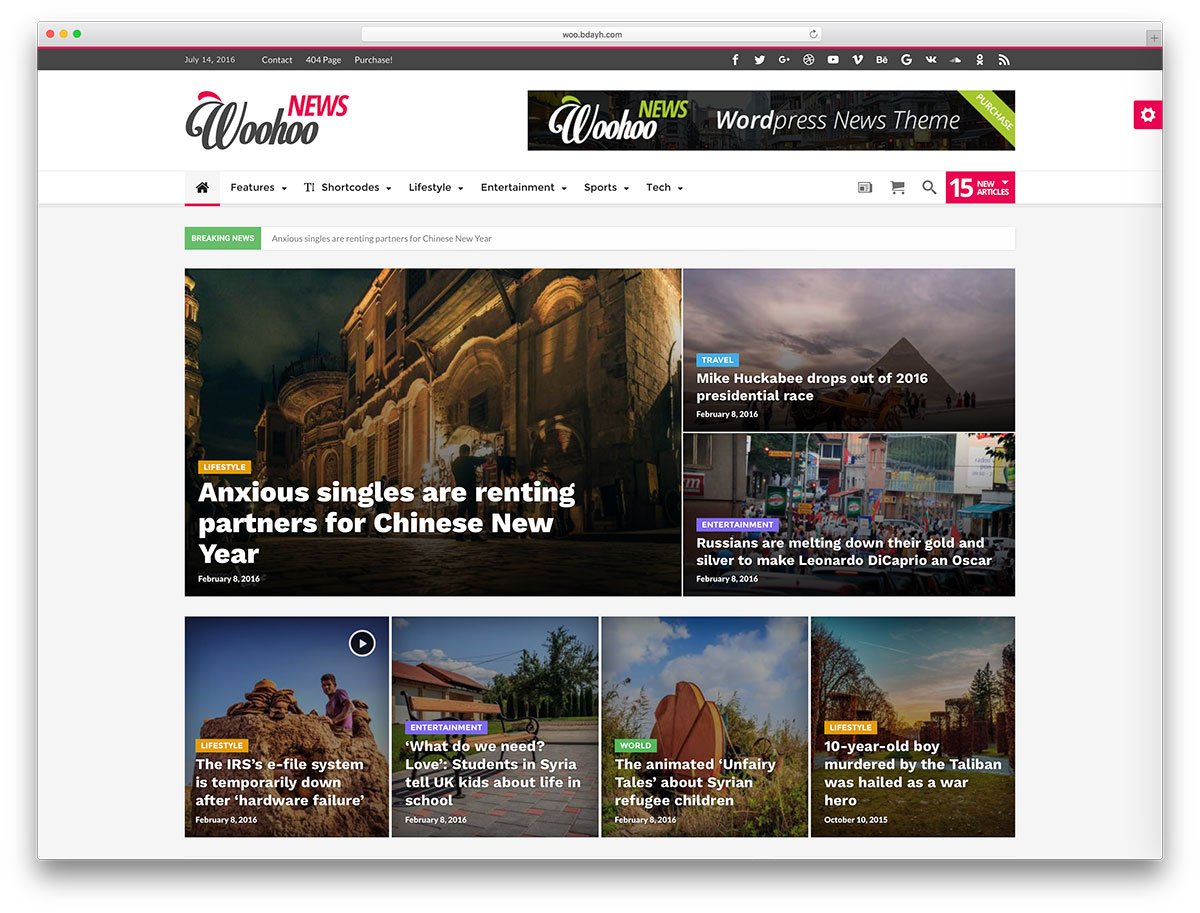 Plus d'infos / Télécharger
The Voux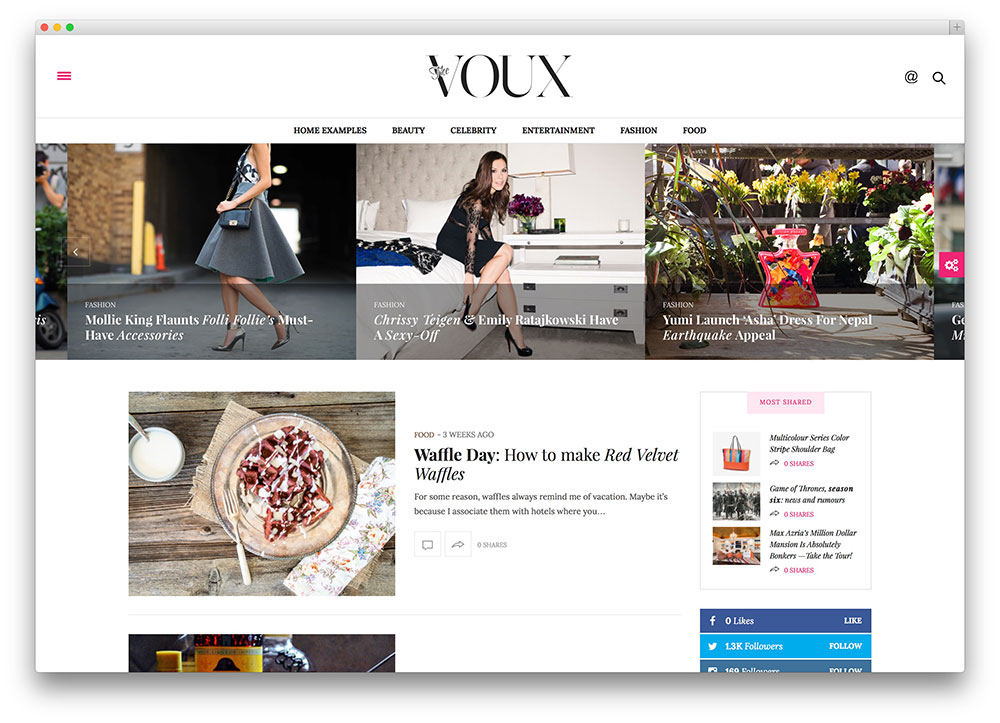 The Voux is one of the best magazine themes on WordPress. It used to be the case that mobile accessibility would go down, as the site's complexity increased. That is no longer an issue, because The Voux is now fully responsive. It will work on all platforms and devices, regardless of screen size or resolution. Using the amazing Visual Composer, site owners are able to customize all elements of their page. No two sites will ever look alike, as each user is given the freedom to design something that matches his vision. This theme also has incorporated a useful option for Social Sharing. In fact, it is the first product on ThemeForest that has included this feature.
Data is stored on WordPress, and it can be accessed from the backend. Users can select a specific cache period for data, as well as the Social Network on which it will be distributed. As readers scroll down your pages, more articles will load. This will improve your visitor's experience, as it reduces loading times. Site owners can also choose to create multilingual pages, with content that can be translated into several languages. This allows them to cater to a broader range of potential customers.
Magellan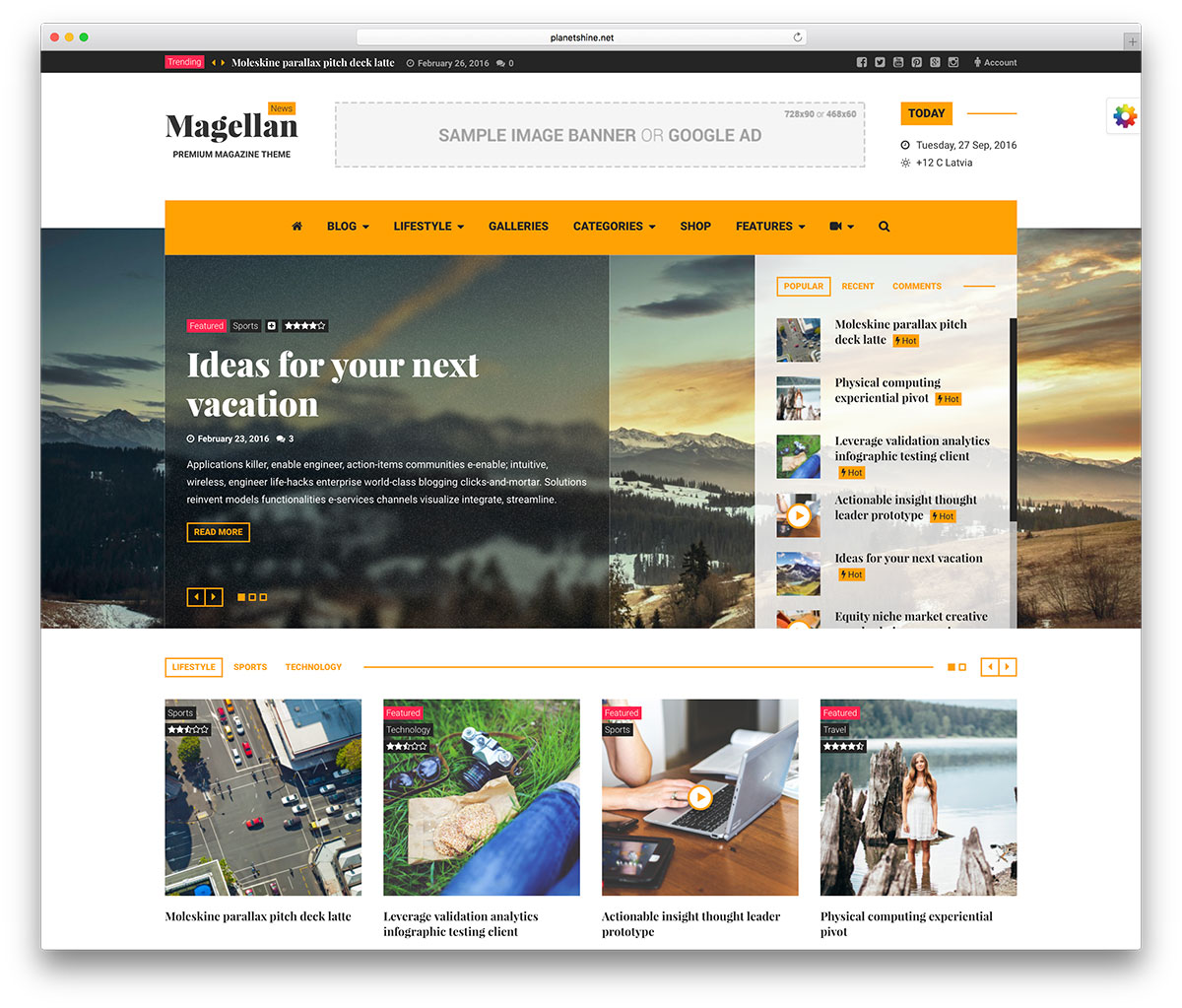 Plus d'infos / Télécharger
Paperio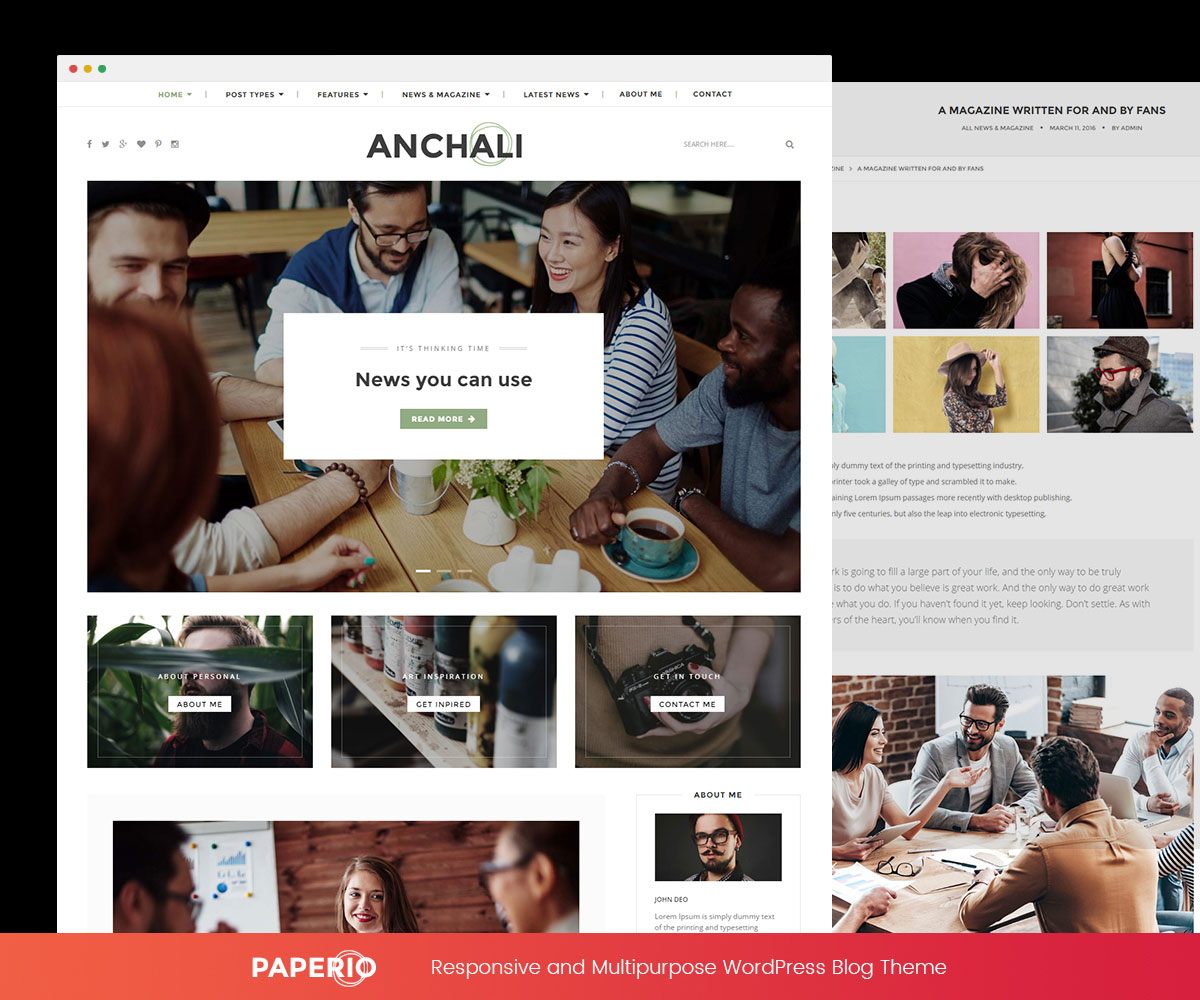 Paperio is a clean and responsive WordPress multipurpose blog website theme. It is a crisp set of tools for establishing functional modern blog websites. Attract and grow an audience, engage your visitors and customize your layouts. Paperio requires no coding at all deliver reliable results. Optimized for SEO, it drives up your traffic without a hitch. Convenient plugins and widgets bring your blog to the 21st century. News magazines and news blogs love Paperio in particular. Paperio also has convenient tools like trending posts and latest news a couple click away. Awesome featured news sliders can spruce up your pages and be placed anywhere.
Engage your audience with video and image gallery posts to tell the whole story. Convenient demo websites pack the sidebars and layouts you need for your news blog. Fine-tune them through advanced admin panel options and settings. The WP Live Customize also lets you mix and match layouts and styles with all demos and templates. Your news blog will be unique and recognizable with Paperio. AJAX technology powers creative pagination styles for your content. Lastly, built-in MegaMenus provide an intuitive hierarchy for your users to navigate through. Paperio truly is the full package for the newsroom. Get Paperio today!
Total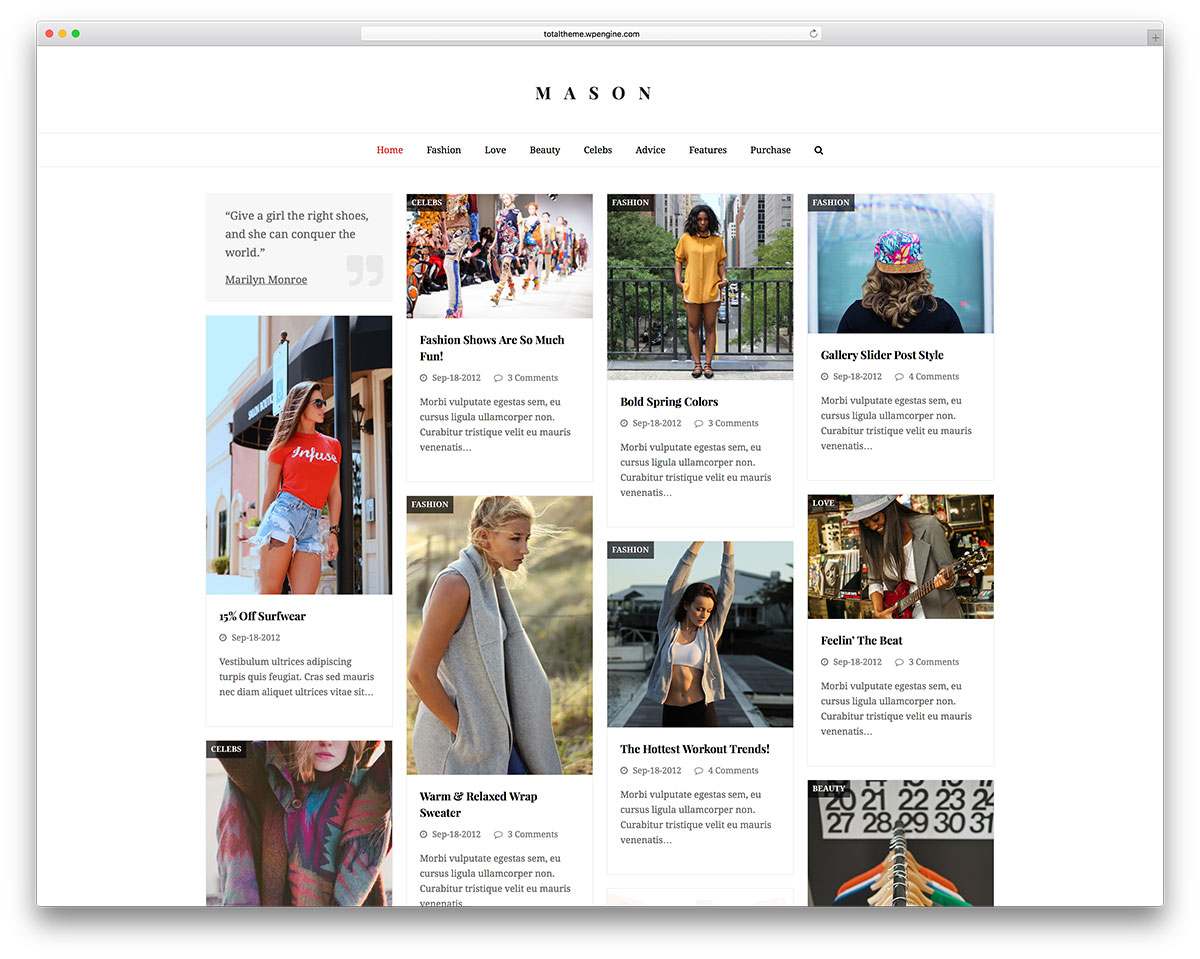 Total is a resourceful and feature-rich, visually stunning and creative, colorful and clean, highly responsive WordPress multipurpose website theme. This theme has been crafted with great attention to detail over a length of time in order to produce an articulate and effective platform that webmasters of any skill or experience level can use to effortlessly put out impressive, professional quality websites spanning a myriad uses and applications, from personal and professional to business and commerce, every project can benefit from Total's utter flexibility and competent resourcefulness.
Total is packed with powerful premium plugins and sophisticated, functional widgets and shortcodes honed for multiple specific purposes you can readily deploy within a few clicks. The Visual Composer, Revolution Slider and Layer Slider plugins provide you with a smooth and dynamic end user graphical environment that online magazines love. This is because Total's amazing live demo websites, including dedicated online magazine solutions and page templates, are built with a range of capabilities that let you bring your magazine website to the 21st century within the blink of an eye. Mobile friendly and responsive, Total lets you reach out to a massive, broad audience with complete native cross-compatibility. Check out Total today, and take your magazine to the next level!
GOLIATH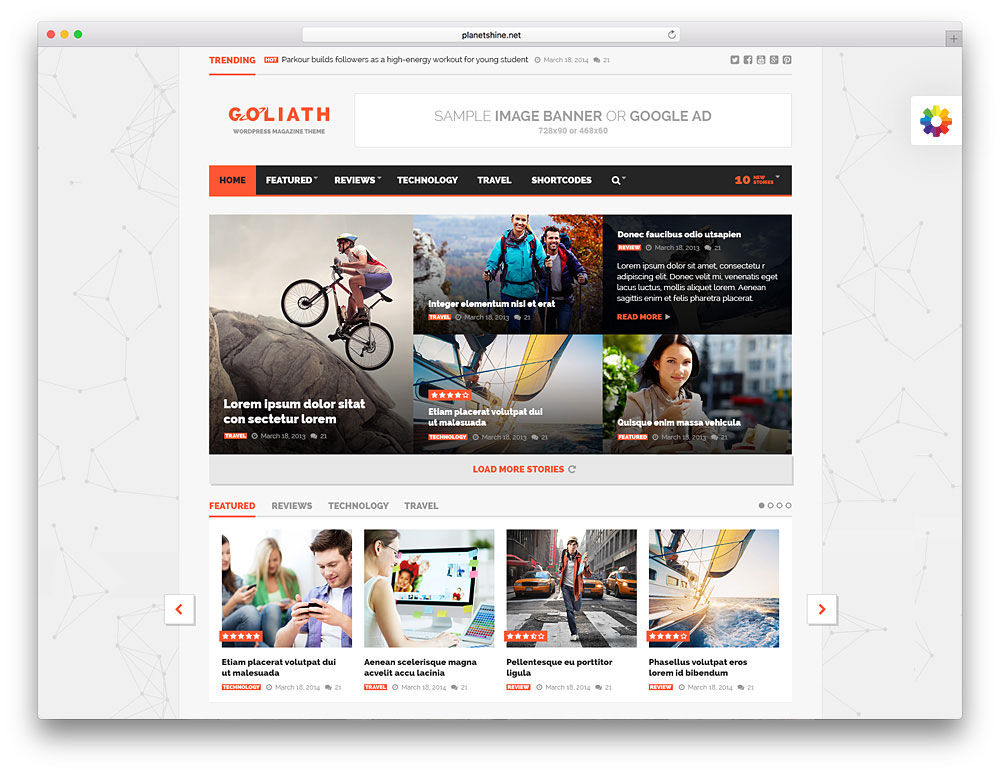 Goliath's strong framework is built based on Bootstrap technology, so you are assured that your website is compatible with the latest plugins and web development tools in the market. This modern news magazine theme allows you to build the website you want and let you customize it to suit your branding needs via the powerful Planetshine Control Panel.
Goliath also has Visual Composer, a drag and drop tool that lets you build unique page layout in a flash. It also includes Slider Revolution plugin to help users add beautiful sliders in your website. It also comes with a drag and drop mega menu to improve your site's design and navigation This theme offers a broad parallax background to make your website look more interesting and eye-catching. Your content will certainly look presentable with its mosaic-style featured posts. In addition, this theme allows visitors to hover on any post to take a peek of the text without leaving the homepage of the site.
Goliath News WordPress theme also includes featured news slider, featured post slider with hover intro expanded text, select latest posts from any category with featured post option, left or right aligned sidebar, styled sidebar widgets, photo gallery & post integration thumbnails, easy to manage footer with multiple custom widgets and social icons and custom image banners or Google Ads. It even comes with a Product Review feature so customers, clients or readers could review your content with style. If you plan to create an online store, you need not to worry, because this theme supports WooCommerce plugin.  The theme also comes with bbPress plugin integration, WPML Ready, includes PSD files, modern photo galleries, Auto hot articles and Smart Sidebar and many more.
Adams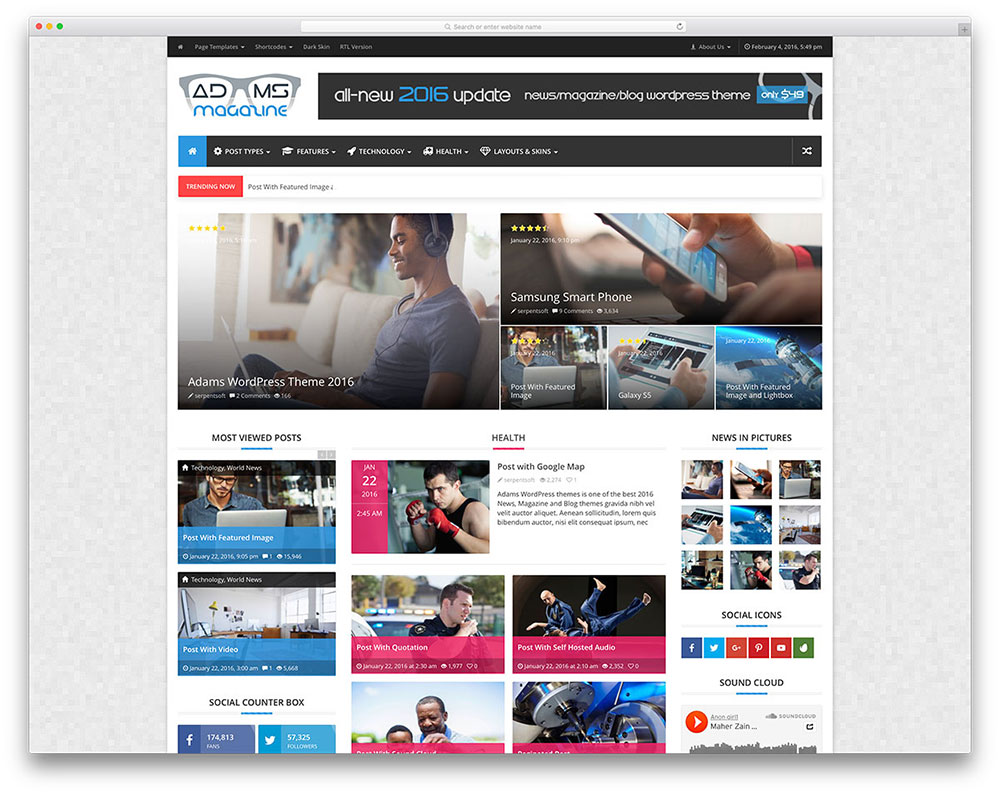 Plus d'infos / Télécharger
Portus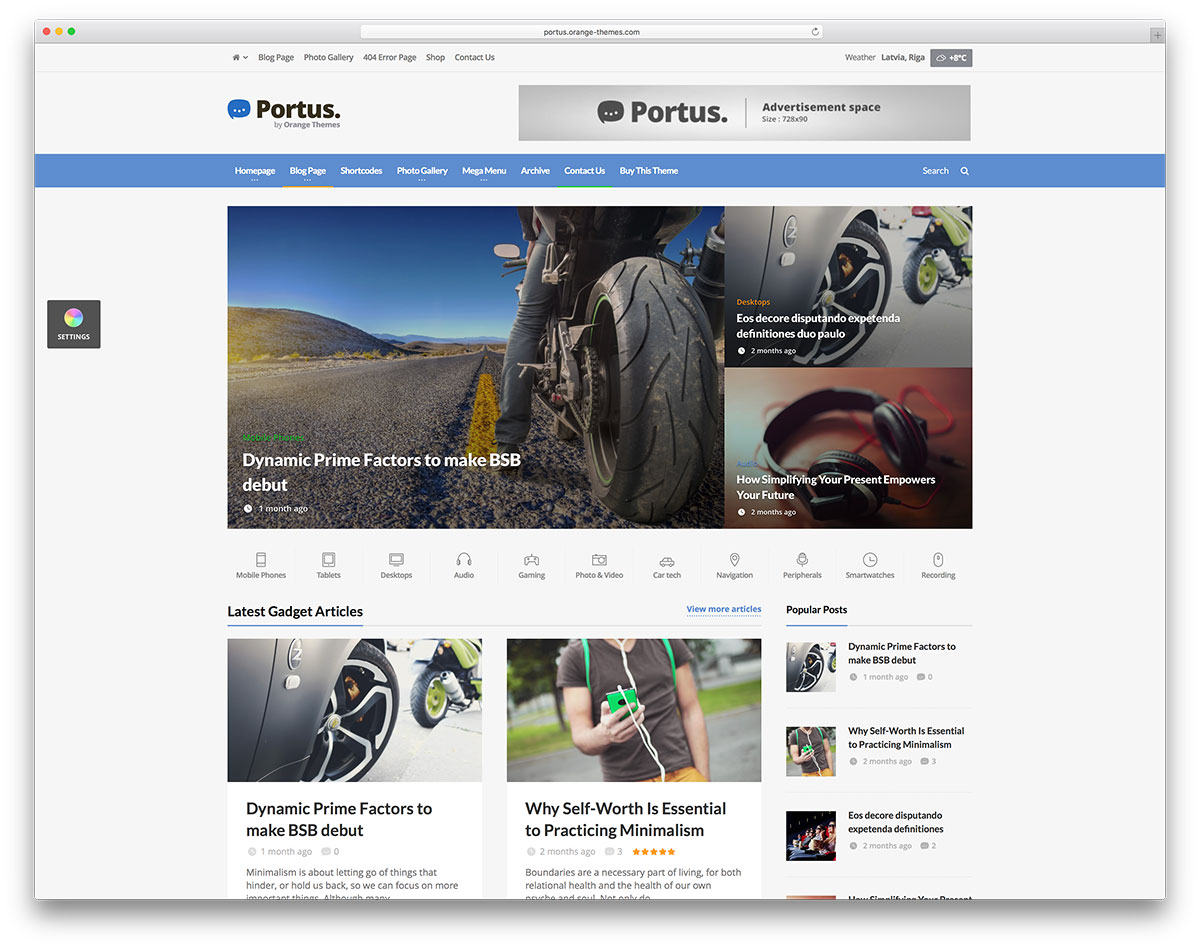 Plus d'infos / Télécharger
Boussole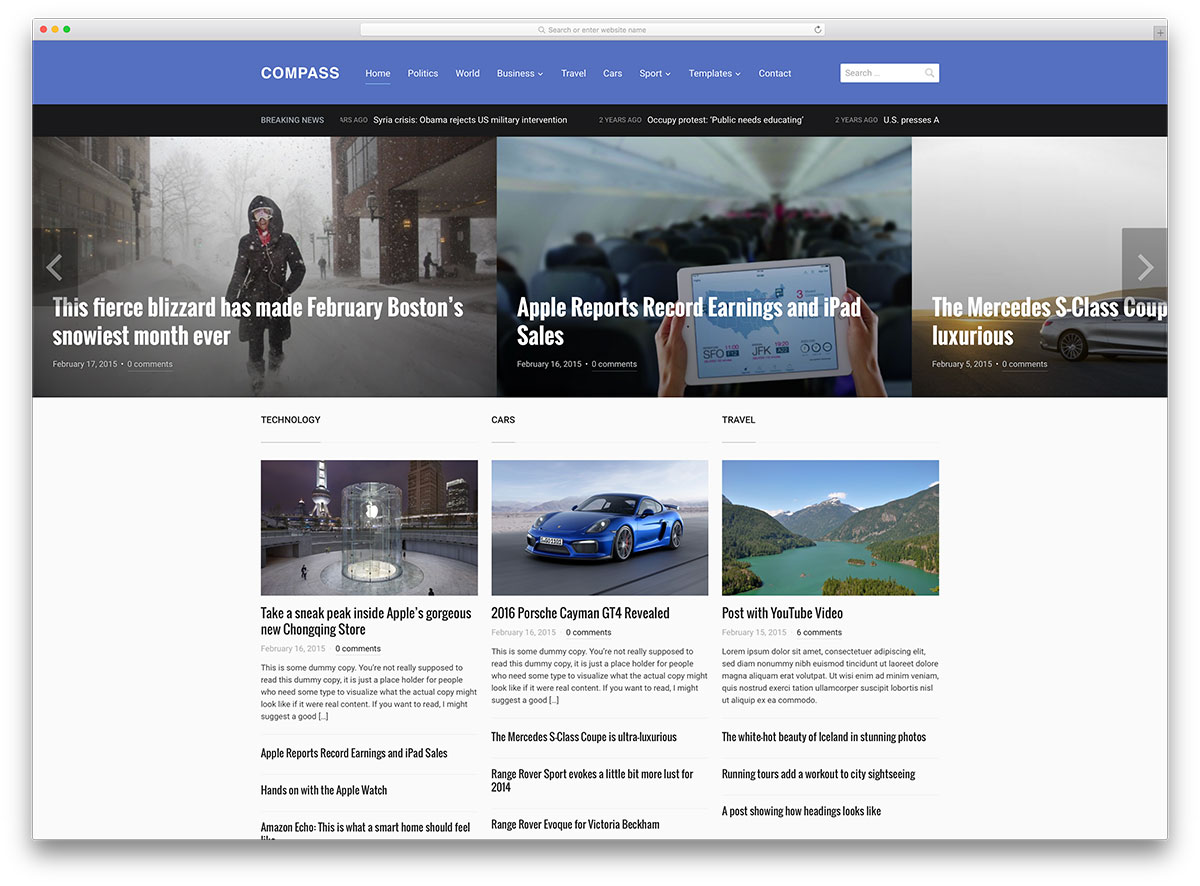 Plus d'infos / Télécharger
Click Mag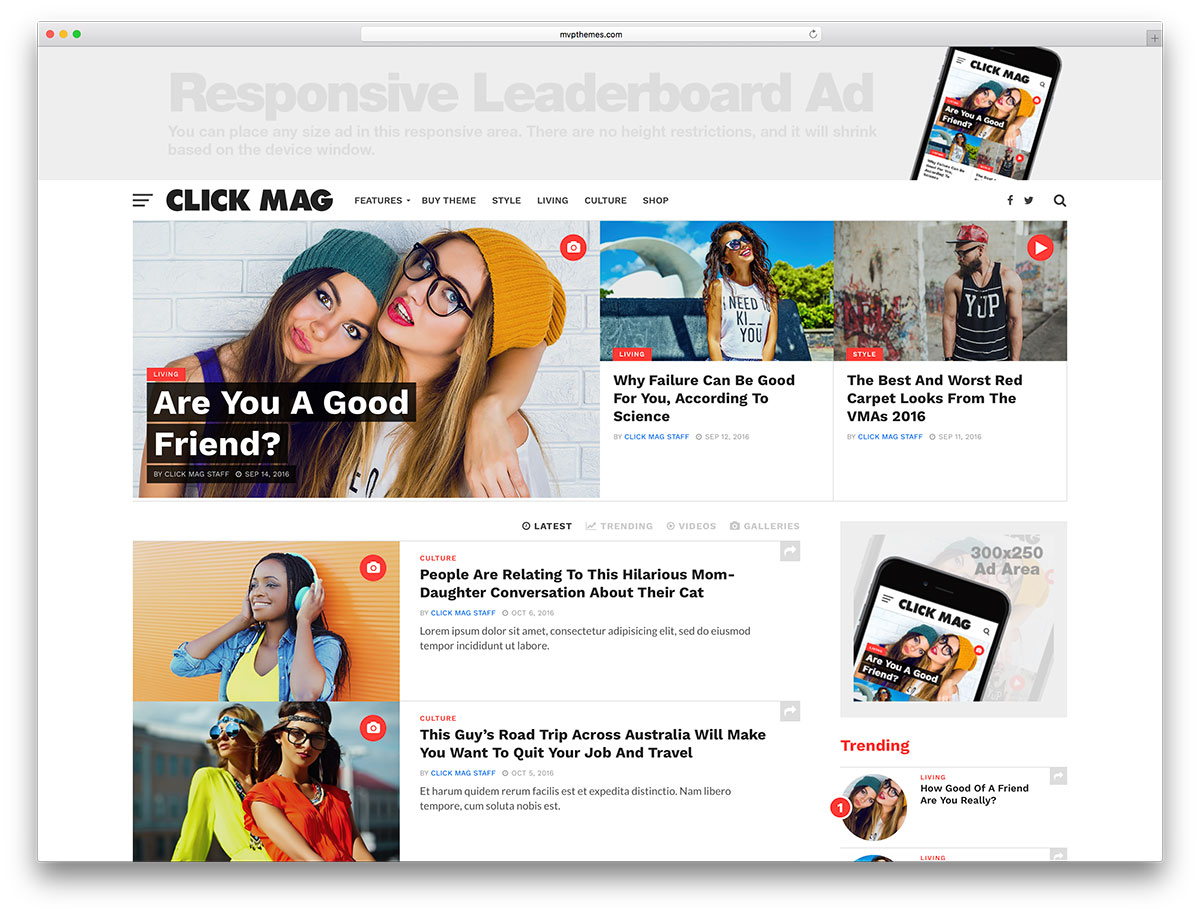 Click Mag is a fluid framework for creating modern websites. With it, you don't need to know any coding to get professional results. Tons of pre-designed templates make website construction easy and breezy. Also, visual customization is pretty intuitive with Click Mag as well. In addition, hundreds of powerful options are at your disposal. From your basic colors, fonts and styling to advanced features, Click Mag has them all. You can have a Trending News section based on total page views.
You could also deploy customized fly-out navigation panels. The convenient Reviewer plugin lets you drop comparison tables into your pages and posts. It is also perfect for critiquing the latest flicks or mobile devices, game releases or hot albums. Click Mag websites are fast-loading and optimized for speed and performance under pressure. That helps you keep server loads steady while the masses flood your website. Several dynamic social media sharing systems are also available to choose from. Developers have thoroughly honed Click Mag for viralizing your content. In addition, stunning and sharp graphic detailing makes your pages pop while remaining readable and comfy. With Click Mag running the show, you'll make it big in no time.
Daynight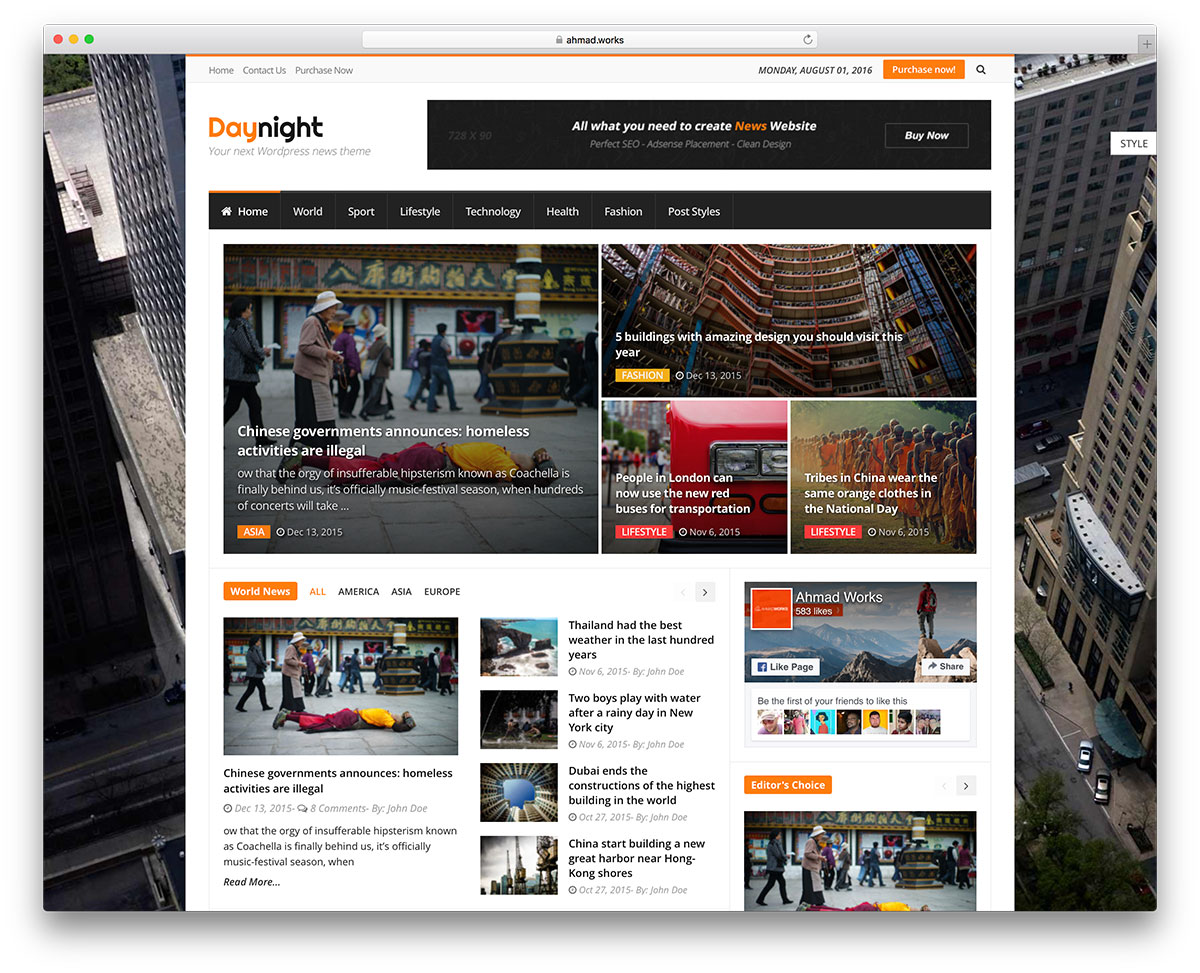 Plus d'infos / Télécharger
Flex Mag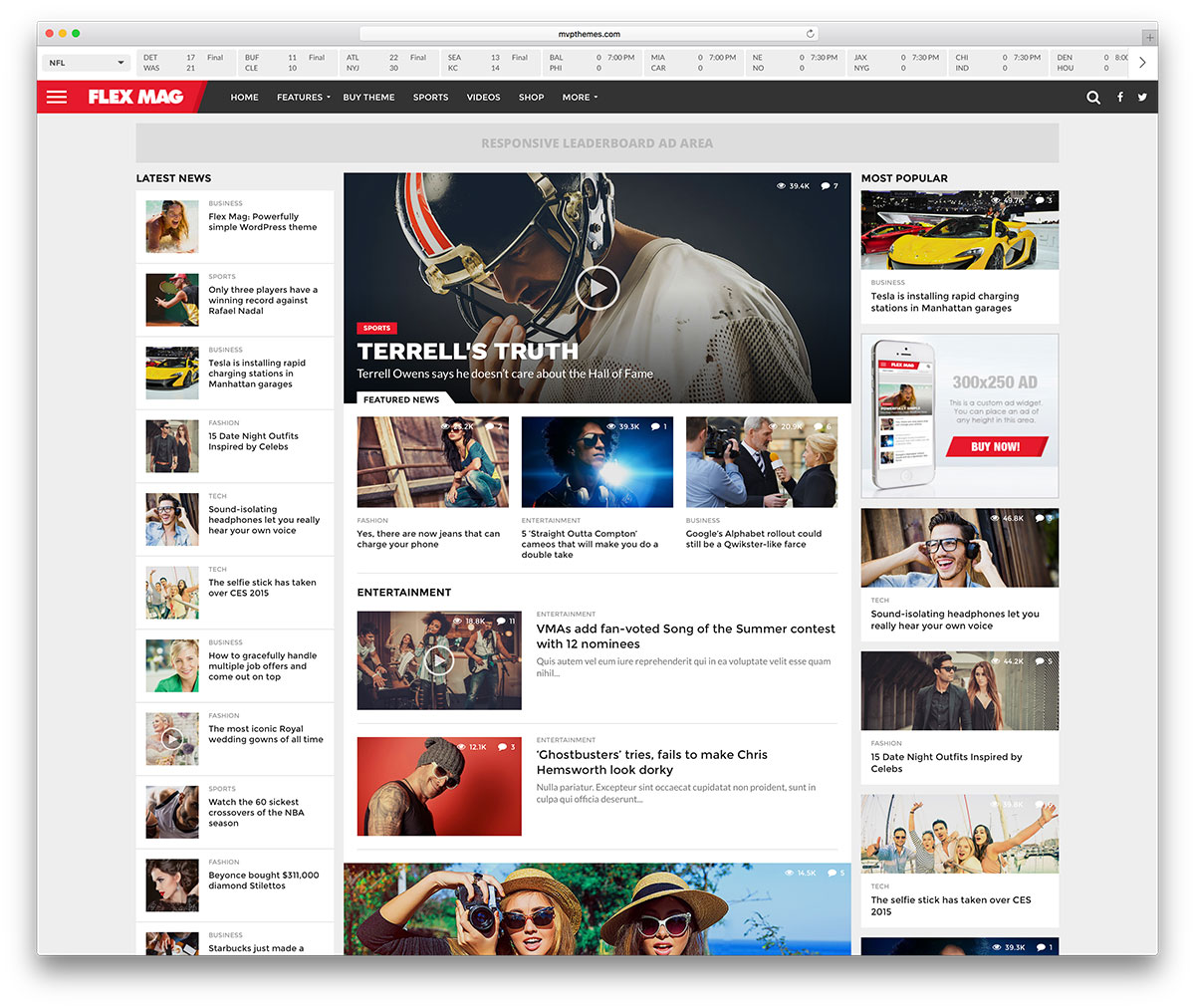 Plus d'infos / Télécharger
Interactive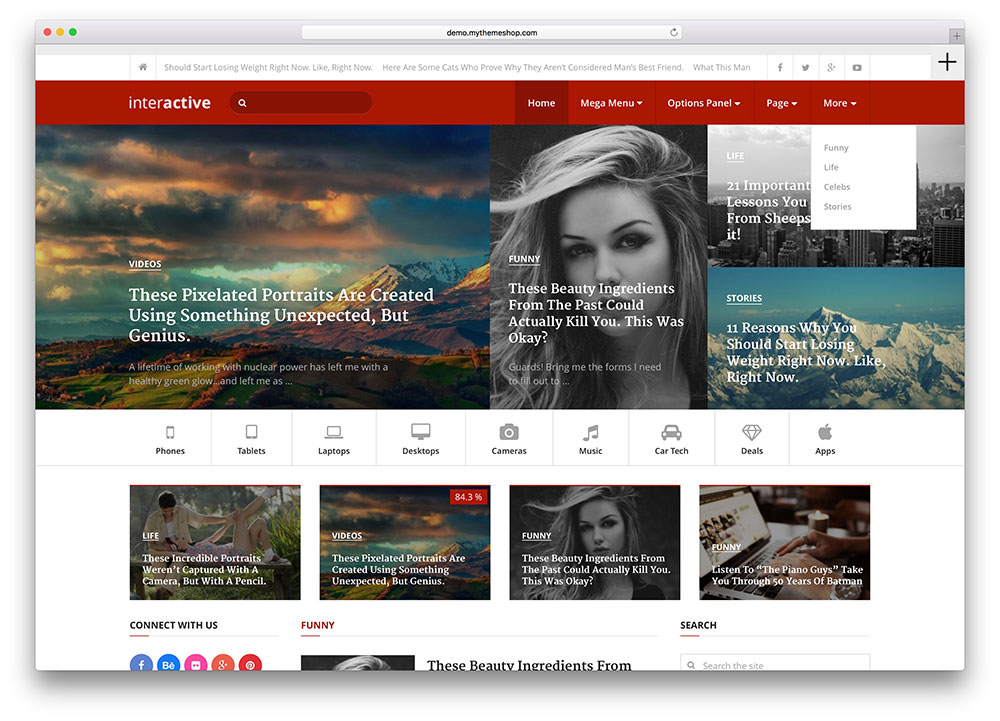 Plus d'infos / Télécharger
Maîtriser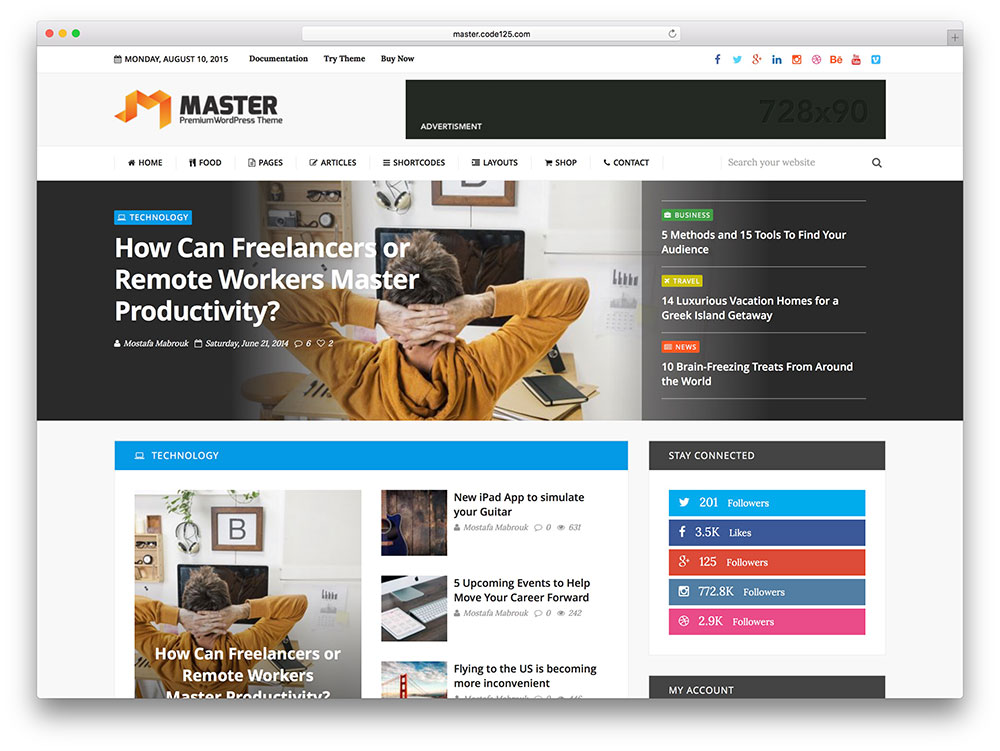 Master is an aesthetically accomplished, technologically sophisticated, pliable and graceful WordPress news and magazine theme, suited to fulfill the needs of all sorts of websites dedicated to distributing visual content and information to massive amounts of people online, and especially powerful when deployed on personal magazine and news websites, and blog-styled websites that aggregate specialized niche content for attracting a loyal, returning user base. It is accessible and attractive throughout its every incarnation.
Master also comes packaged with many tools and features to really highlight your content, both visually and navigationally, meaning Master offers everything you need without getting in the way of your imagery and text, letting you connect with your audience. Deployed instantly with a single click installation, and further customized intuitively and easily with the Awesome Builder plugin and advanced theme customization options, Master includes flexible and powerful Page Slider layouts and Page settings, along with customized Header and Footer widgets and a self-made Mega Menu, effortless sorting with easy categorization of pages and browsing of categories, extensive search engine optimization, a thoroughly responsive design to maximize the scope of your audience, RTL support, and many more features. Master is the theme to take charge of your content and build your user base to the limit!
15Zine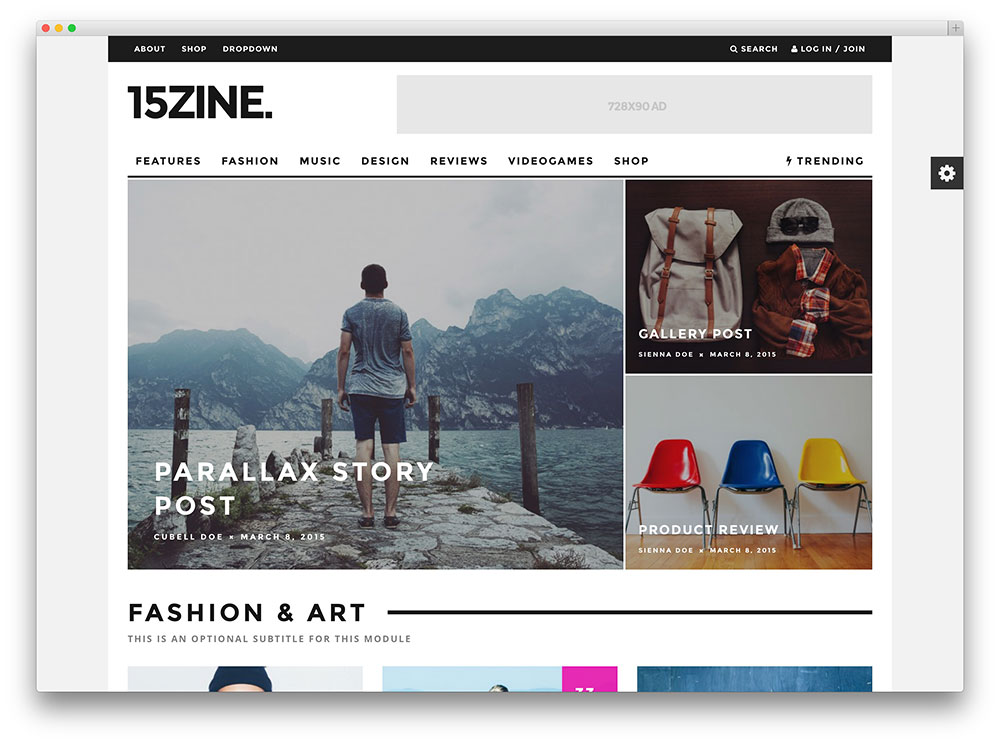 Customers that are searching for an excellent magazine WordPress theme will find that 15Zine is an ideal solution. It is very flexible and resourceful, offering many practical features. This product has gained quite a following, given its high quality and the fact that it was developed by an elite author. Taking full advantage of the Drag & Drop page builder, users may now create outstanding Homepages. Additionally, it is easy to use, even for clients that are not very tech-savvy. This theme also makes it easy for you to track and organize your content, thanks to the trending MegaMenu feature.
There is an outstanding degree of depth and immersion for this theme, due to the implementation of the high quality featured image system. Moreover, customization does not require any code modification. Furthermore, all features are optimized and adapted for the modern business landscape. Say goodbye to the time wasted by sifting through content, as 15Zine has integrated an Ajax instant search function. In order to increase your publication's bottom line, a flexible advertisement system is available for you. You may also place your company logo on the site and build your brand awareness.
Ubergrid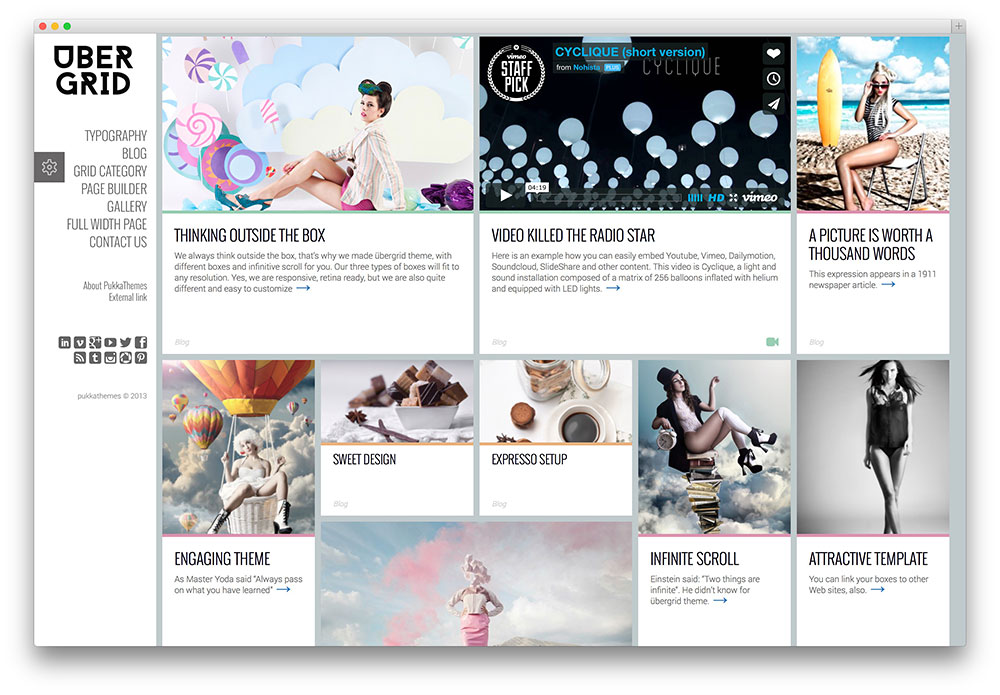 Ubergrid is a grid-based, responsive, Retina ready, custom post-format supporting, minimalistic WordPress theme suitable for any kind of creative, personal or business use. It comes with a Theme Manager, Page builder, FrontPage Manager, Infinite Scroll and many other options. Ubergrid could also be used as Pinterest ou Tumblr style image sharing websites as well, but its main purpose is to deliver news in creative ways.
Legatus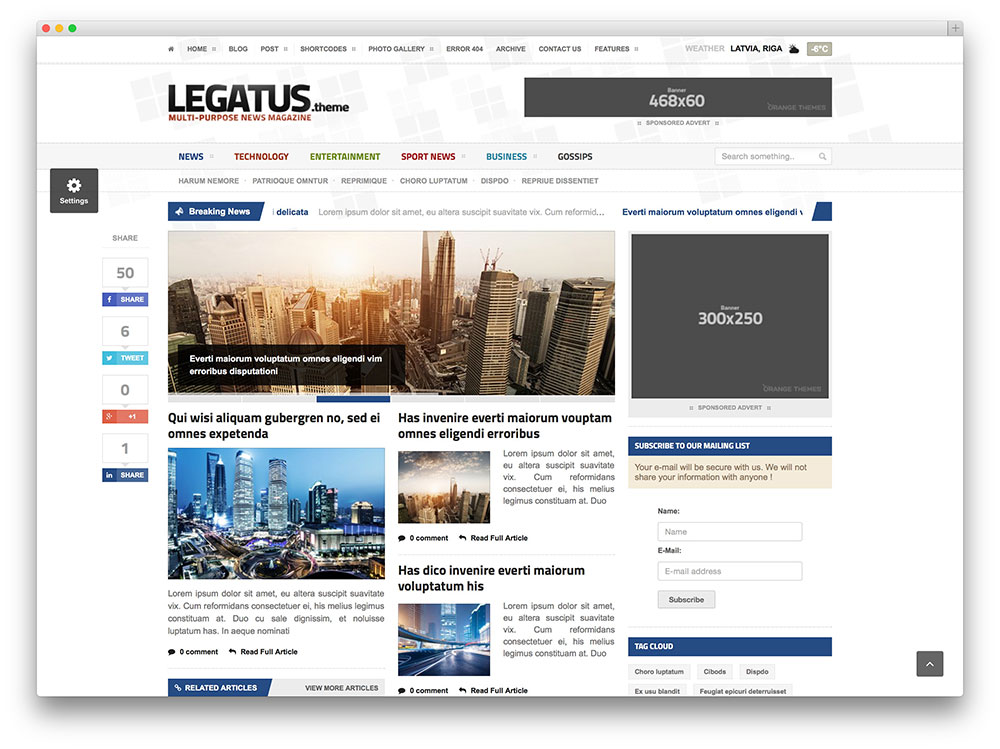 Legatus is a clean, modern and highly customizable WordPress theme that works best for any news site or blog. This theme features over 700+ Google Fonts, 30+ shortcodes and content blocks that you can use on any post and page. It also has a built-in weather report that detects where users comes from and displays accurate local weather forecast. This theme also has several different category page layouts for you to choose. Moreover, Legatus theme comes with extensive documentation and great support.
NewsPlus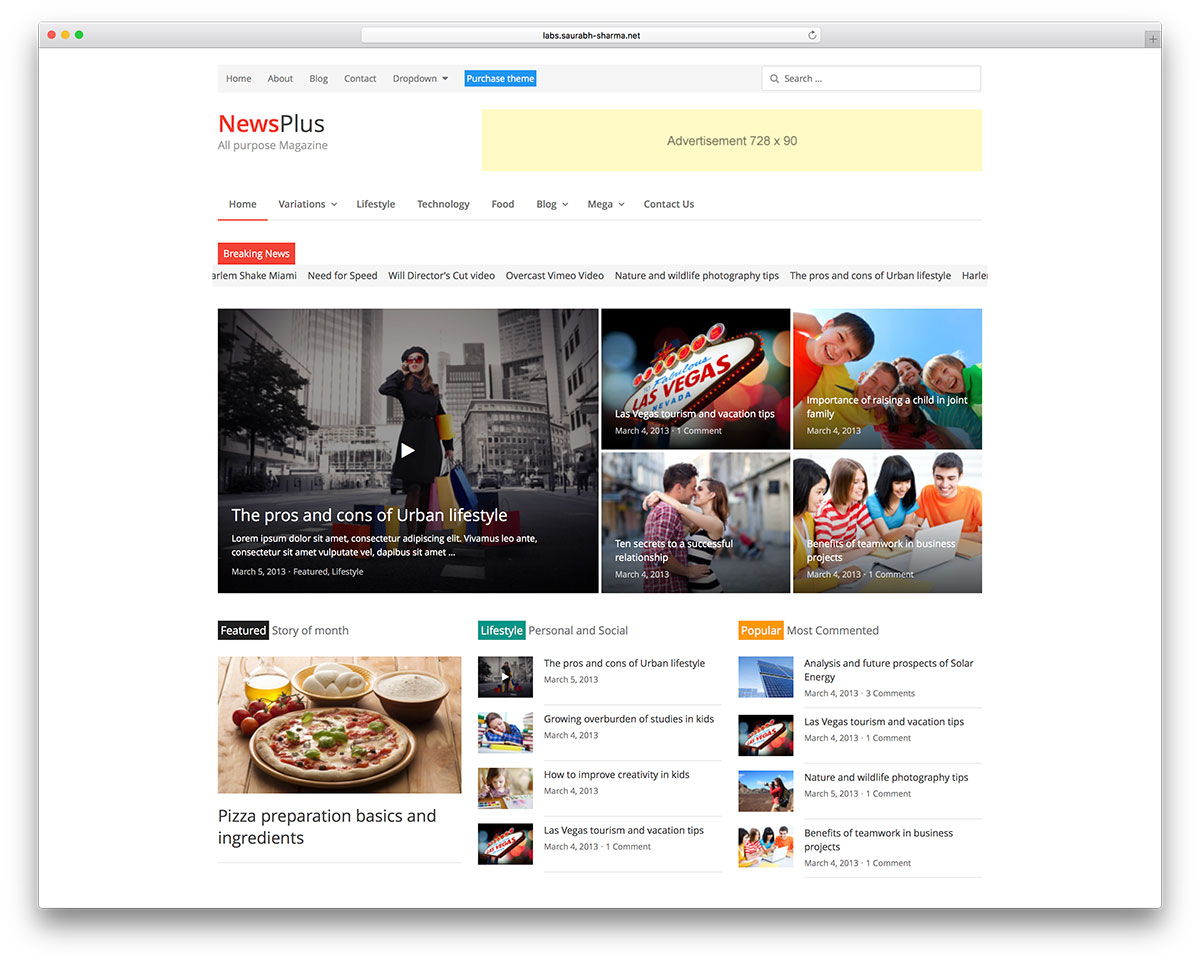 online magazines, technology blog, news and editorial ventures. The theme is fully responsive, Retina ready and supports proportional layout scaling. Its key features include language localization, optimization for SEO and Micro-Formats (Google Rich Snippets), RTL support, visual shortcodes, custom templates, post formats, theme options, custom widgets, and much more. Built with latest coding standards and clean design, the theme is also envisioned to provide you a long-term and powerful solution for online projects. Also, developers have done an incredible job to make this theme fast-loading on any desktop and mobile browser. Lastly, you can make any design and layout changes in the live preview, and you could see them as you go. Plus d'infos / Télécharger