WordPress est reconnu comme la meilleure et la plus conviviale des plateformes de gestion de contenu par la plupart des blogueurs, développeurs et propriétaires de sites Web. Parallèlement à sa popularité sur le marché, des modèles de sites Web spécialement conçus pour les sites Web WordPress ont également été utilisés. De nombreux développeurs de sites Web et entreprises en démarrage préfèrent utiliser des modèles de site Web personnalisés pour créer des sites Web professionnels, car ils sont très faciles à configurer et dotés de fonctionnalités puissantes. Il ne fait aucun doute que les thèmes WordPress personnalisés font du processus de conception et de développement Web un jeu d'enfant.
Cependant, tous les thèmes WordPress du marché ne sont pas créés égaux. Et choisir le bon thème WordPress qui correspond à vos besoins et à votre budget n'est pas si simple. Certains thèmes nécessitent toujours que les utilisateurs achètent des plugins pour fonctionner efficacement, tandis que d'autres manquent simplement des outils essentiels pour créer un site Web accrocheur et professionnel. C'est la raison pour laquelle j'ai décidé de créer une liste de thèmes WordPress de haute qualité que vous pourrez utiliser pour votre prochain projet de développement Web.
Les thèmes inclus dans cette liste des 20 thèmes WordPress de qualité supérieure sont faciles à installer, polyvalents et extrêmement personnalisables. Tous les thèmes sont construits avec un code propre et valide pour offrir à votre public cible une expérience utilisateur incroyable et permettre à votre site Web de bien fonctionner sur les principaux moteurs de recherche. De plus, ces thèmes sont totalement réactifs et l'affichage Retina ou HiDPI est prêt à rendre votre site Web remarquable et à avoir une belle apparence sur tous les appareils. Les thèmes de cette liste incluent également des fonctionnalités avancées telles que le générateur de page, des curseurs et de puissants codes courts permettant aux développeurs ainsi qu'aux administrateurs de sites Web de modifier et d'affiner leur site Web sans écrire une seule ligne de code.
Décoder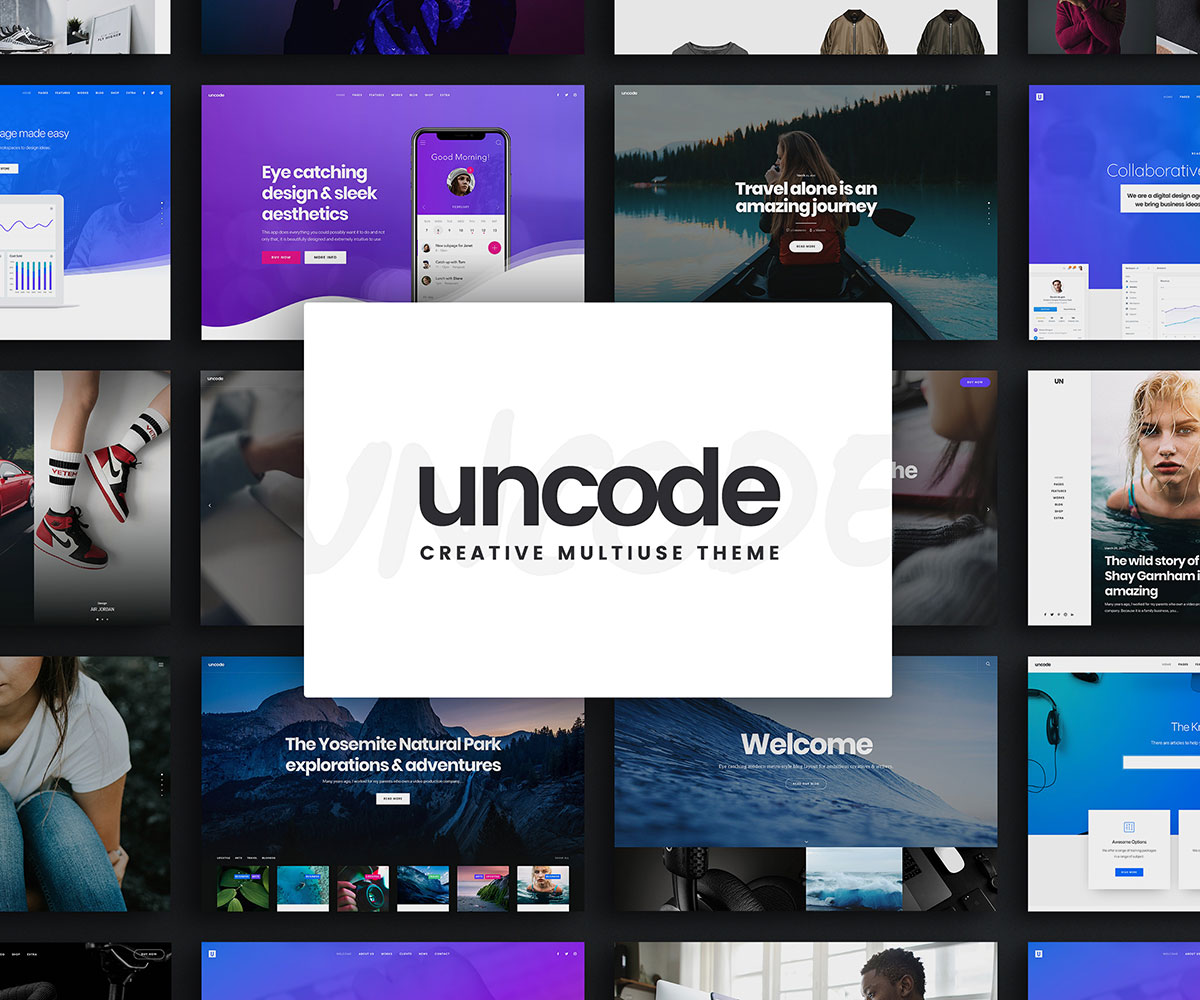 Uncode est
largement développé
fortement riche en fonctionnalités
incroyablement esthétiquement poli
très soucieux du style
graphiquement conçu par des professionnels
incroyablement sûr et sécurisé
fiable
toujours impressionnant
polyvalent
concept multilingue unique, thème de site Web polyvalent réactif.
C'est le résultat d'un processus de conception et de développement long et laborieux, avec l'intention délibérée de produire un thème apparemment parfait, fonctionnellement impeccable, de haute qualité et de haute performance, qui s'adresse à un marché haut de gamme exigeant et perspicace, à des produits haut de gamme et à des domaines similaires. cette affaire dans l'exclusivité et n'attends rien d'autre que le meilleur.
Uncode a été conçu à partir des technologies de développement Web les plus avancées, allant de HTML5 aux effets parallèles développés en interne et au filtrage dynamique AJAX impressionnant, le tout étant déployé dans une base de code proprement formatée, lisible par l'homme, modulaire et conviviale, afin que vous puissiez ajuster Uncode selon vos spécifications précises – Uncode se pliera toujours comme vous le souhaitez, avec une flexibilité sans faille et en conservant l'identité cohérente, intégrée visuellement, de la marque Uncode, qui est très facilement personnalisable dans des variations de goût sans fin, grâce à une Compositeur visuel et puissant panneau d'options avancées de thème. Ce thème est complètement documenté et propose un support client exceptionnel, en cas de problème. Faites-en grand avec Uncode!
Jevelin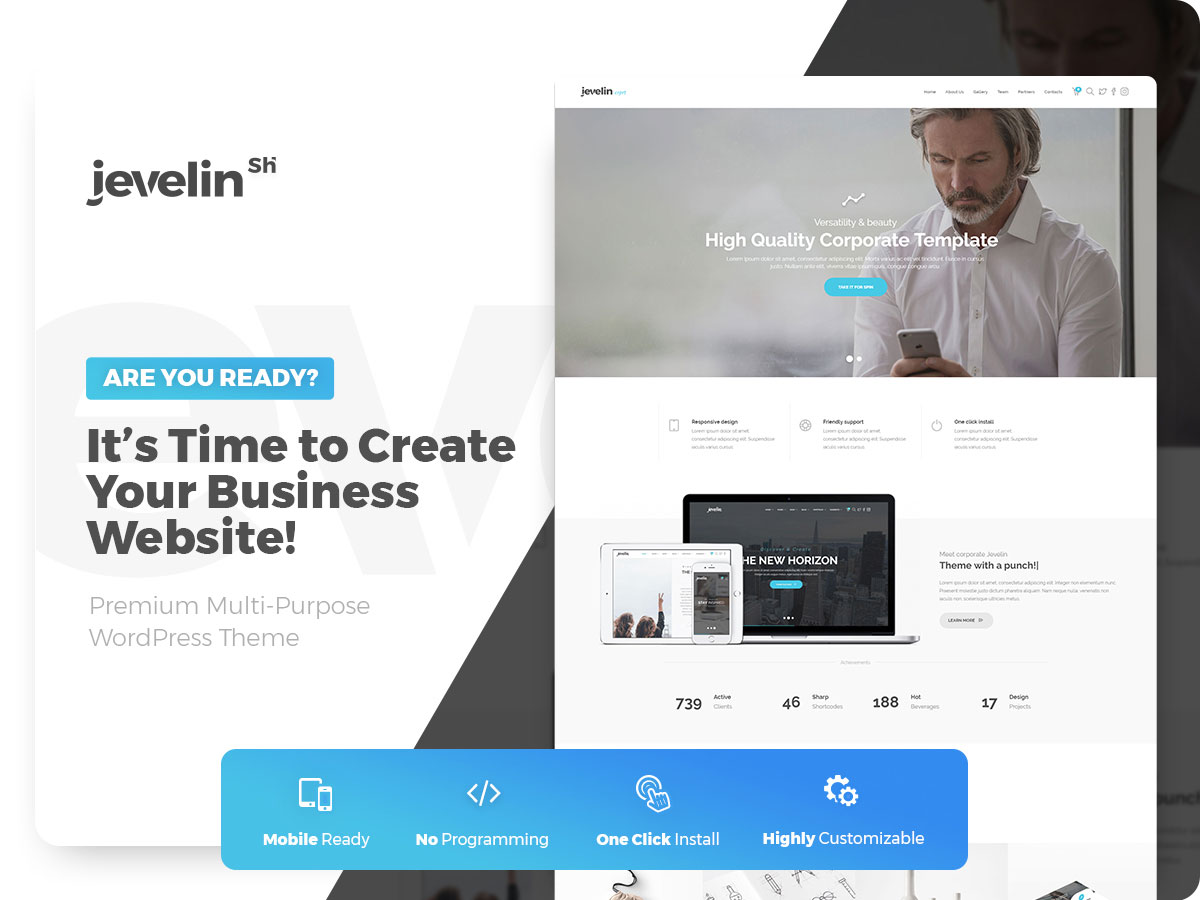 Jevelin est un thème de site Web polyvalent premium WordPress premium, créatif et coloré, facile à utiliser et engageant, fluide et fluide. Ce thème a été développé par une équipe dédiée de concepteurs et de codeurs travaillant ensemble pour fournir aux webmasters débutants et vétérans un cadre compétent et flexible pour la création simple de sites Web époustouflants dans divers secteurs et intérêts.
Jevelin regorge d'outils, de plug-ins et de widgets de qualité professionnelle et raffinée que vous pourrez déployer en quelques clics. Il propose une vaste collection de sites Web de démonstration et de modèles de pages qui vous fournissent des sites Web entièrement étoffés, prêts à fonctionner en quelques minutes à peine de la configuration initiale. Vous n'avez donc besoin que de le personnaliser pour le personnaliser à l'aide d'un ensemble simple mais incroyablement puissant que vous pourrez modifier. spécification de marque et de style. Jevelin présente des fonctionnalités remarquablement modernes telles que les sections de pied de page parallèles dynamiques, le défilement en douceur de la parallaxe, les arrière-plans vidéo, Arrière-plan de parallaxe et Arrière-plan vidéo de parallaxe et bien plus encore. Awesome Shortcodes vous fournit des rideaux d'image, des points d'image, des carrousels de témoignages et tout un ensemble de fonctionnalités de géolocalisation complexes utilisant l'API de Google Maps. Avec Jevelin, vous pouvez amener n'importe quel site Web au niveau supérieur. Essayez Jevelin aujourd'hui!
Kalium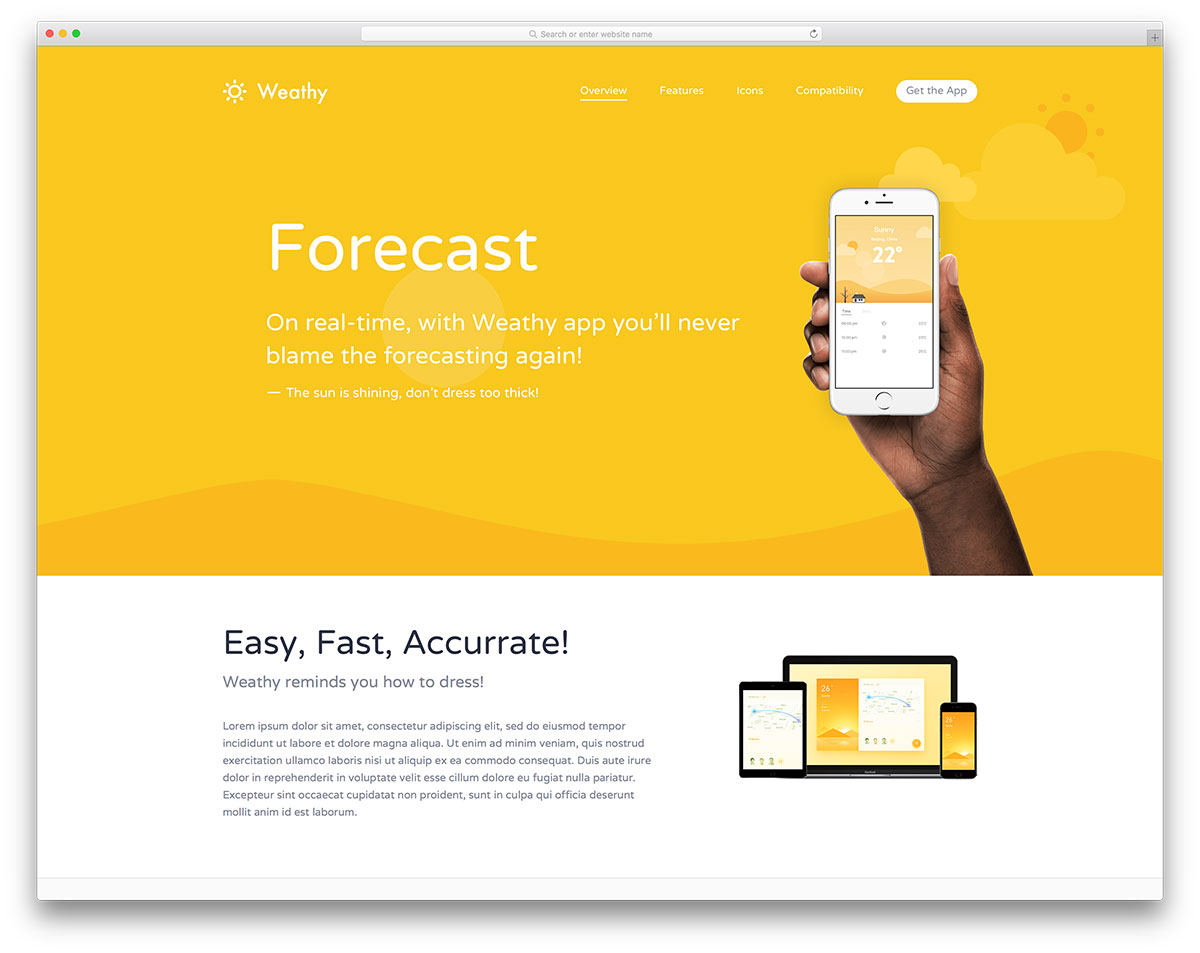 Plus d'infos / Télécharger
Gillion (Article Tendance)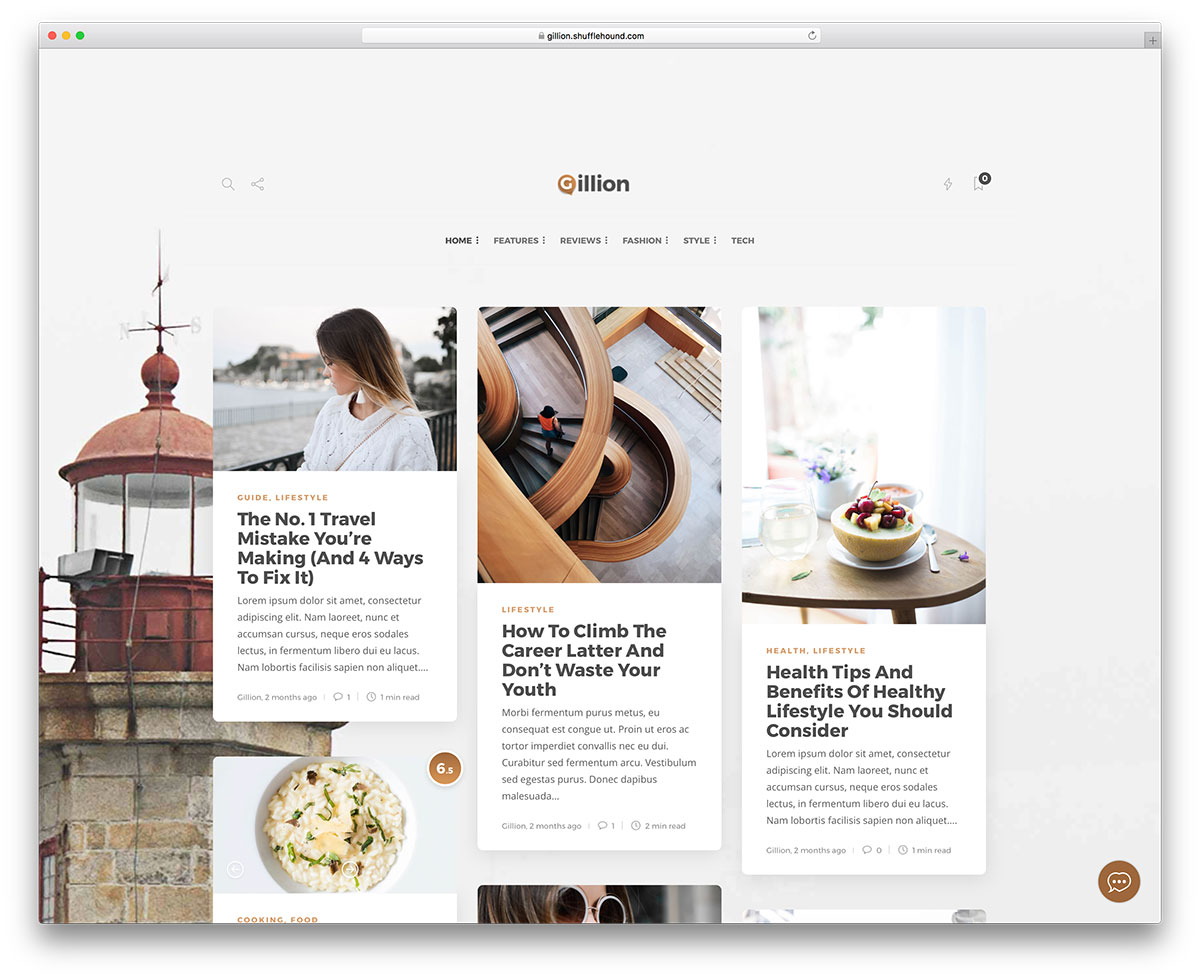 Avec un petit investissement dans un thème WordPress de haute qualité, ce que vous pouvez faire avec ce thème est inestimable. Gillion fait partie de ces sites. Par défaut, Gillion est un blog multi-concept, un magazine et un thème de boutique en ligne que vous pouvez facilement personnaliser. Avec les quinze démos prédéfinies et plus de quarante éléments de construction modulaires, vous disposez de nombreuses options, ou devrais-je dire, illimitées, en ce qui concerne la conception de sites Web. Créez ce que vous voulez avec Gillion et connectez-vous en ligne avec un site Web enviable.
Gillion présente une installation de démonstration en un clic, quatre en-têtes, un système de mise en favori, des couleurs illimitées et ne nécessite aucune connaissance en matière de codage. Il est optimisé pour les moteurs de recherche et les performances, est livré avec un support premium, est traduisible et vient même avec les images utilisées par les démos. En ce qui concerne le marketing, Gillion a intégré MailChimp que vous pouvez activer dès que vous installez le thème.
Plus d'infos / Télécharger
X le thème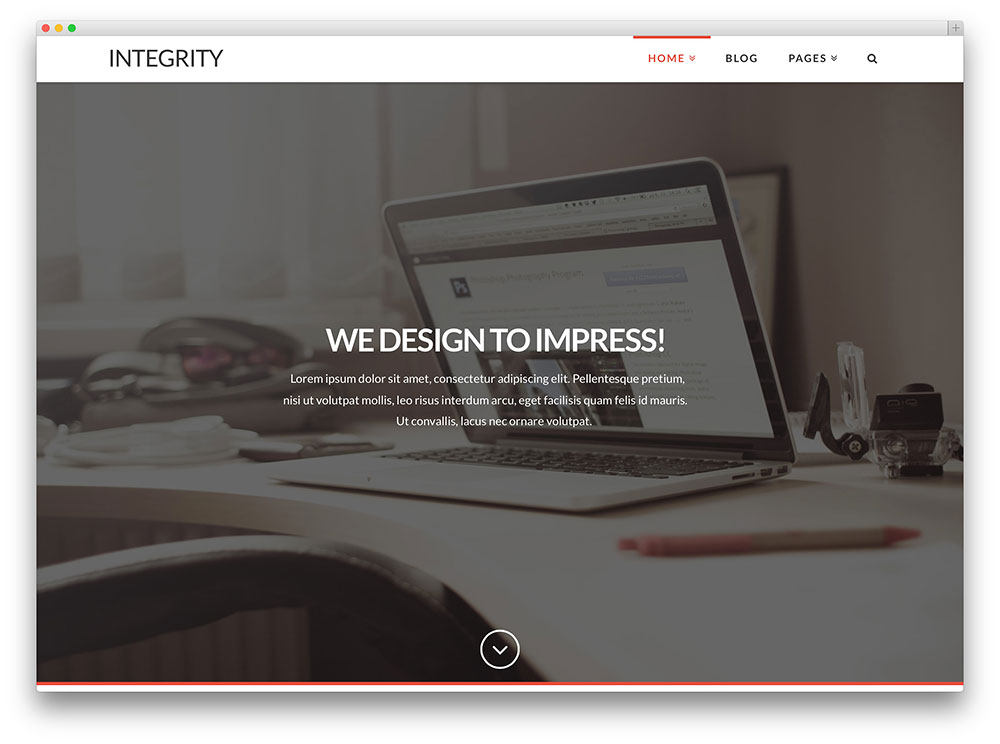 X est un thème moderne, polyvalent et riche en fonctionnalités que vous pouvez utiliser pour tout type de site Web. Ce thème totalement réactif et prêt pour la rétine vous permet d'obtenir pratiquement n'importe quel look et toute mise en page sans effort. Quatre piles au design unique sont incluses dans ce thème moderne et entièrement fonctionnel. Vous avez actuellement le choix entre quatre piles: Integrity, Renew, Icon et Ethos.
X est une solution tout-en-un pour les personnes à la recherche d'un thème professionnel et parfaitement réactif. Il contient de nombreuses fonctionnalités que vous pouvez utiliser pour créer tout type de site Web. En outre, il dispose d'une fonctionnalité de création de page par glisser-déposer qui vous permet de créer un nombre illimité de pages en un instant. Il est pratique avec Mega Menu de rendre la navigation sur votre site Web facile et conviviale. De plus, vous êtes en mesure de gérer tous les aspects de votre site Web avec WordPress Customizer. Cette fonctionnalité de pointe vous donne un aperçu de l'apparence de votre logo, de votre police ou de votre mise en page avant de les publier sur votre site Web.
Ce thème innovant est également fourni avec des codes courts, fournis avec des pages personnalisées, entièrement intégré à WooCommerce et bbPress & Plugin BuddyPress. En outre, ce thème inclut plus de 600 polices Google, le formulaire de contact 7 et les formulaires Gravity pour une configuration rapide, comprend les fichiers PSD, le code épuré, iLightBox, Slider Revolution, des boutons de partage social personnalisés, etc.
Intact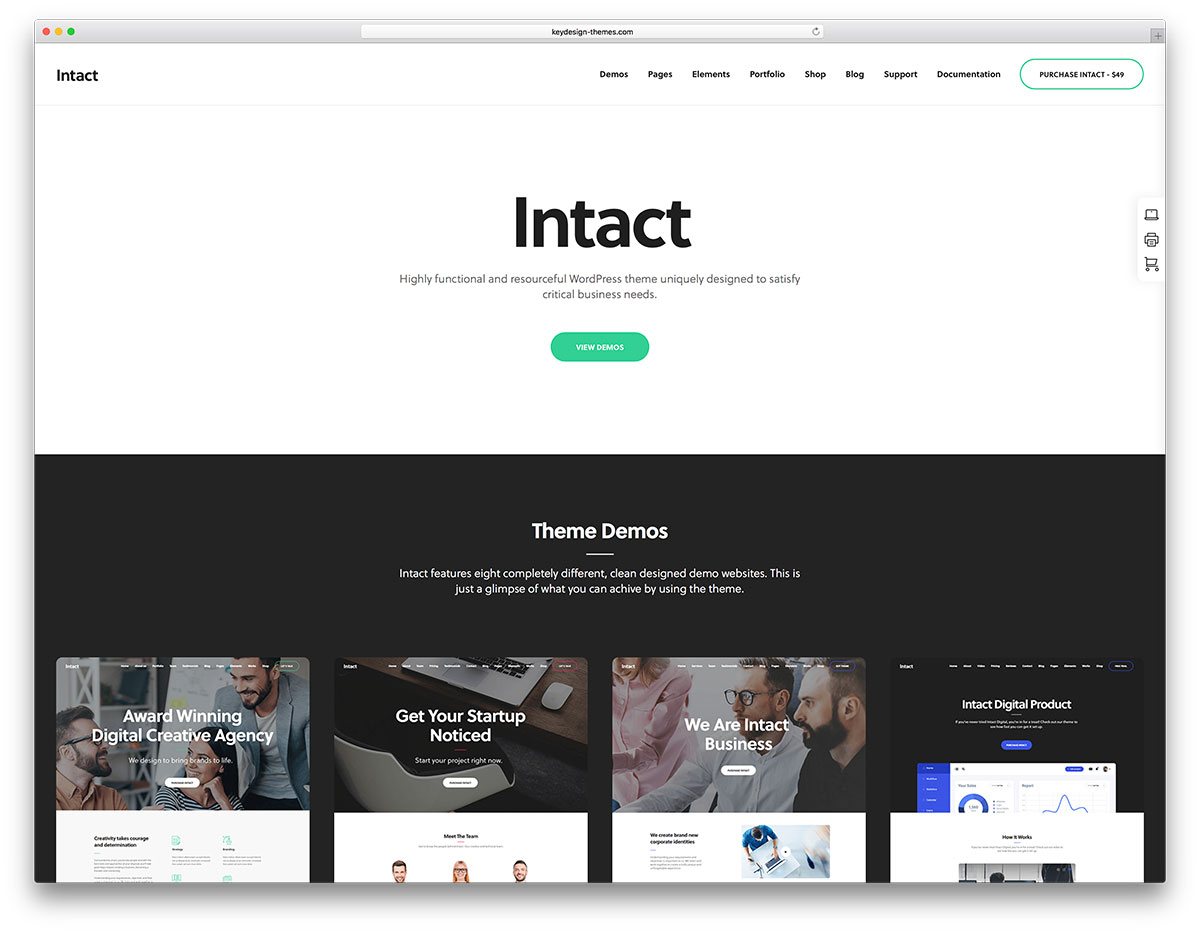 Intact est un thème WordPress polyvalent de qualité supérieure. Il vous apporte les meilleures fonctionnalités et une excellente compatibilité avec la plupart des add-ons du marché. Intact est censé être le meilleur produit nécessitant de la flexibilité. Il est livré avec un système d'installation de démonstration en un clic pour toutes ses variétés uniques de pages d'accueil et de démos. Cette base Bootstrap et Redux vous étonnera en un instant! Il vous donne 12 colonnes pour les grilles et les écritures de différents formats.
Il est également prêt à traduire avec WPML pour une situation donnée. Intact est rapide, car sa vitesse d'exécution a été optimisée. C'est également pratique, car vous obtiendrez un code propre simplifiant le backend du panneau. Le référencement est également une fonctionnalité améliorée. Les modèles utilisent Visual Composer et Revolution Slider comme principaux plug-ins. Il utilise le formulaire de contact 7 pour tout autre problème posant. Les arrière-plans sont embellis avec Parallax et les publications avec Google Fonts. Intact est un widget prêt et préparé pour les publications haute résolution. Il a beaucoup de codes courts alignés et intégrés au constructeur de page. Cela donne au panneau d'administration des utilisations plus rapides. Vous devrez personnaliser les en-têtes et les pieds de page. Intact est un type de thème tout-en-un préparé pour tout ce que vous voulez. Essayez ce nouveau thème étonnant plein de fonctionnalités. Essayez Intact maintenant!
Commerçant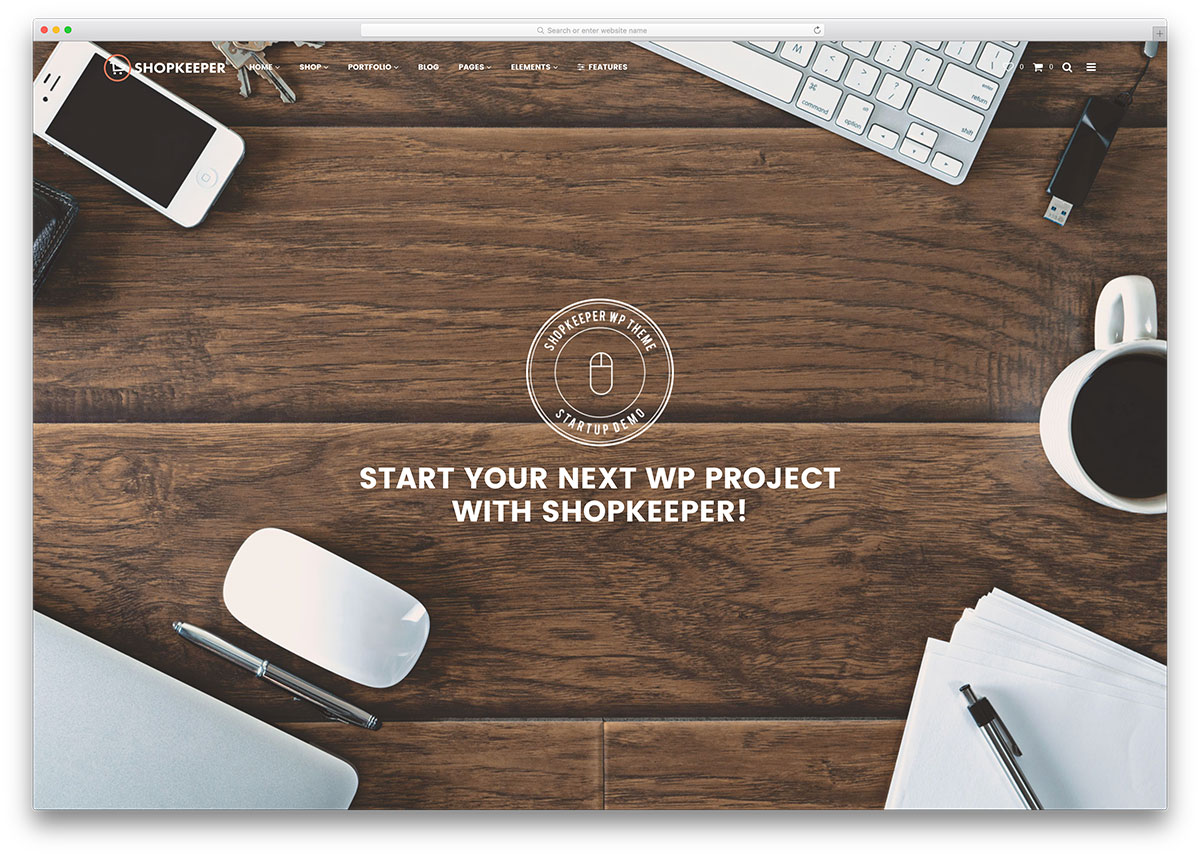 Plus d'infos / Télécharger
M. Tailleur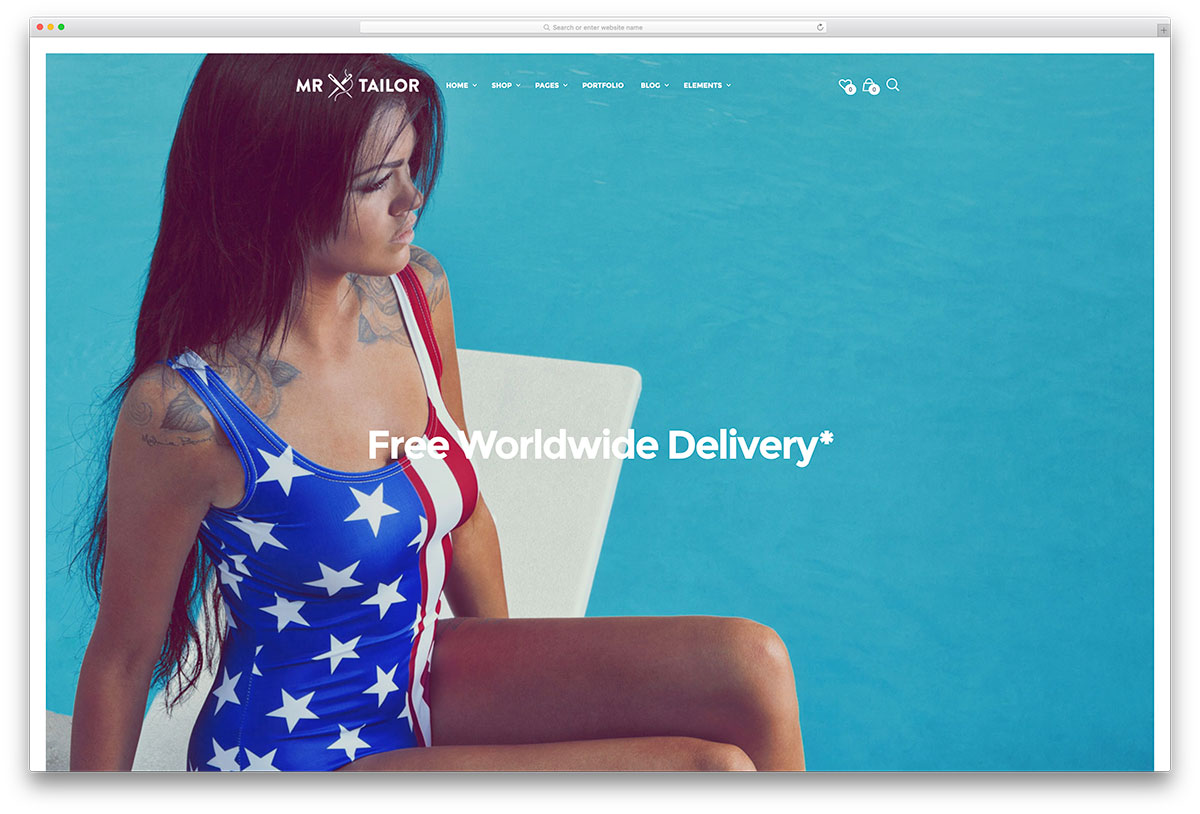 Plus d'infos / Télécharger
Dynamique Massive
Massive Dynamic is
particulièrement convivial
extraordinairement éclectique
constructeur de sites Web polyvalent créatif, extrêmement flexible et réactif
en pointe
élégant
ingénieux constructeur de sites WordPress
construit autour du puissant constructeur de site Web en temps réel
Il s'agit d'un amalgame personnalisé de Visual Composer, Revolution et Master Slider, WooCommerce. Ajoutez à tout et plus de 70 codes abrégés entièrement fonctionnels et configurables, ainsi qu'une personnalisation complète des paramètres et une édition des présentations, le tout dans une solution unique, rationalisée et en temps réel.
Massive Dynamic est la base idéale pour créer des sites Web incroyables, polyvalents et variés, dans toutes sortes de niches, en particulier celles où la popularité compte. Massive Dynamic comprend une base de code intelligente, comprenant des améliorations exhaustives de l'optimisation des moteurs de recherche (SEO) et un codage ultra-rapide ultra-efficace ultra-efficace et ultra-discret qui garantit les charges de serveur les plus faibles imaginables sous des volumes de trafic élevés, rendant les sites Web de Massive Dynamic parfaits pour les grands échelle, projets à la mode avec un œil sur le contenu viral. Un centre de notification haut de gamme inspiré des mobiles, alimenté par AJAX, avec effet de flou qui permet aux utilisateurs de rester informés sur leurs paniers d'achat, messages privés, articles ou articles nouveaux ou à la mode, et bien plus encore, ce qui est extrêmement populaire parmi toutes les données démographiques. familiarité. Si vous êtes ambitieux, Massive Dynamic vous y conduira!
Movedo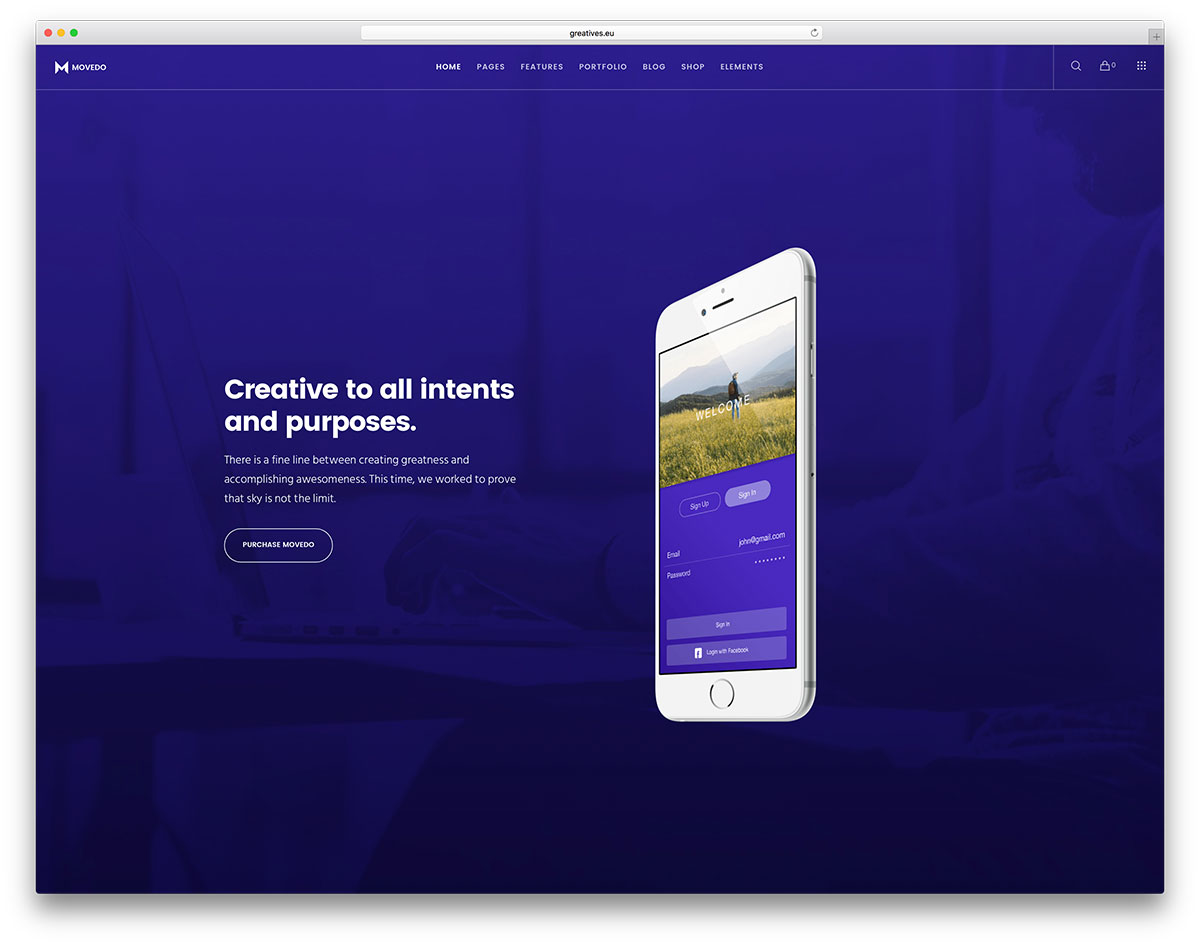 Movedo est un thème de site Web polyvalent créatif WordPress créatif, moderne et réactif. C'est un thème net et net pour créer de superbes sites Web en un éclair. Les compétences uniques de Movedo permettent aux webmasters de créer des sites Web incroyablement dynamiques. Aucune expérience de codage n'est nécessaire pour obtenir des résultats lisses et polis avec Movedo. La technologie Parallax élégante, alimentée par le matériel, alimente les fonctionnalités de Movedo. Les arrière-plans impressionnants de Parallax gardent votre public intéressé et connecté avec votre contenu.
Les en-têtes et les pieds de page flexibles de Parallax sont accessibles en quelques clics à tout moment. Les arrière-plans vidéo de Parallax sont époustouflants et rendent votre site Web unique et mémorable. Cela fait de Movedo une plate-forme géniale pour les blogueurs, les entreprises et les sites Web d'entreprise. Une gamme de sites Web peuvent changer les choses dans la bonne direction avec Movedo. La technologie Parallax optimisée par le matériel rend Movedo facile à charger et à charger rapidement. Des fonctionnalités impressionnantes telles que les colonnes mobiles de Parallax rendent les magazines et les présentations de produits mémorables et uniques. Les portefeuilles professionnels ont l'air incroyable avec les éléments et modules mobiles de Movedo. Vous ferez toujours bonne impression avec Movedo. Les mises en page créatives sont facilement disponibles en un seul clic pour une multitude d'utilisations différentes. Vous pouvez vendre des produits ou commercialiser vos services à l'aide de la suite de plugins WooCommerce. Avec Movedo à vos côtés, chaque projet va commencer!
Compositeur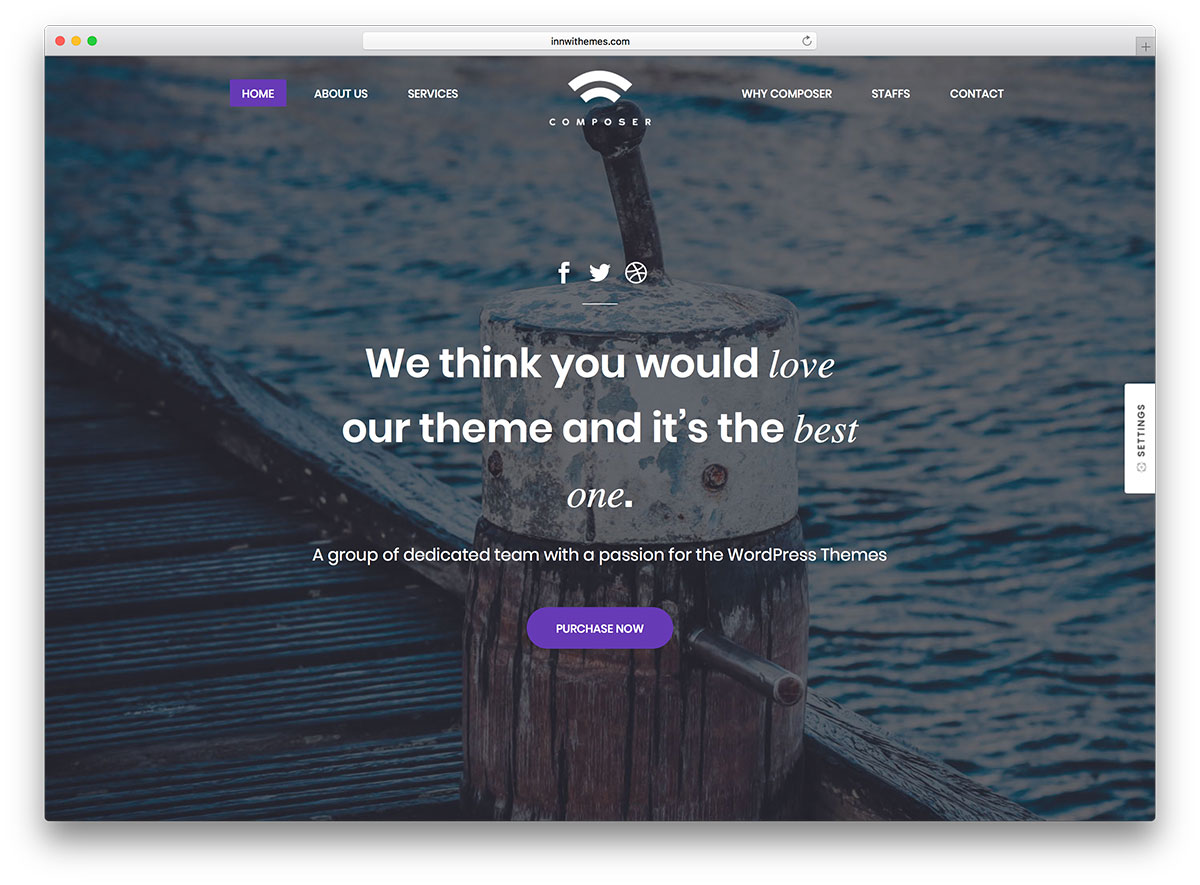 Composer est un thème WordPress multi-usage incroyable capable de satisfaire les besoins de tout type de site Web professionnel. Vous obtiendrez un thème super flexible, intuitif et époustouflant. Composer offre une intégration de plug-in de première qualité, telle que: Visual Composer, Revolution Slider et Ultimate. Ce thème est spécialisé dans la diversité et vous offre plus de 70 démos de niche avec plus de 12 blocs de portfolio et 30 types de blocs de magazines à choisir!
Composer a une mise en page polyvalente avec un style épuré, élégant et minimaliste. De plus, il fournit une interface conviviale avec des options de thème flexibles et intuitives. Il est également doté de fonctionnalités impressionnantes telles qu'un panneau d'administration puissant et une typographie avancée. En utilisant le générateur de shortcode, vous pouvez créer des codes personnalisés pour personnaliser votre site! Compositeur a la compatibilité SEO et l'optimisation de la vitesse. Vous obtiendrez un thème qui se charge plus rapidement que les autres pages d'accueil. Il est également prêt à la traduction et compatible WPML. Les mises à jour à venir pour satisfaire vos demandes sont en constante évolution. Si vous recherchez toujours un style adapté à votre entreprise, Composer l'a probablement pour vous! Dépêchez-vous et essayez Compositeur!
juin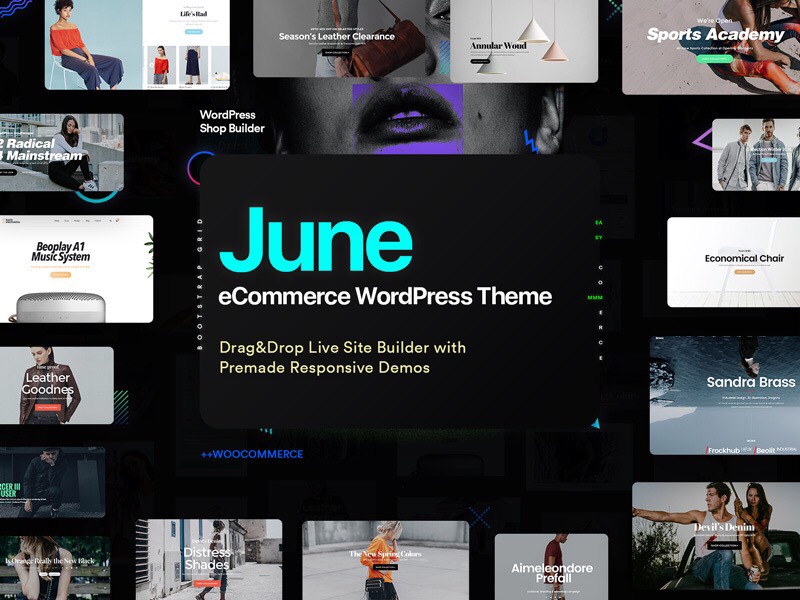 June est un thème de site Web polyvalent réactif, souple et moderne. Ce thème est une boîte à outils intuitive permettant de créer rapidement des sites Web attrayants et transparents. Quel que soit votre parcours ou votre expérience, June offre de l'or à chaque fois. Une installation en un seul clic ouvre la porte à un processus de conception visuel. Laissez June vous guider étape par étape dans la création d'un site Web moderne et impressionnant. 15 démonstrations éblouissantes vous permettent de commencer tout de suite. Associez de superbes portfolios, un blog éloquent et plusieurs modèles.
Personnalisez tout avec Visual Composer, sans aucun codage. Adaptatif et compatible entre tous, June adapte votre site Web à chaque appareil et navigateur. Les curseurs premium élégants gardent les choses intéressantes, comme LayerSlider et Revolution Slider. De puissants filtres et recherches personnalisés rendent votre contenu plus accessible. WooCommerce et les pages de magasin illimitées facilitent et simplifient la commercialisation de vos produits. Vérifiez juin aujourd'hui et voyez par vous-même!
Révolution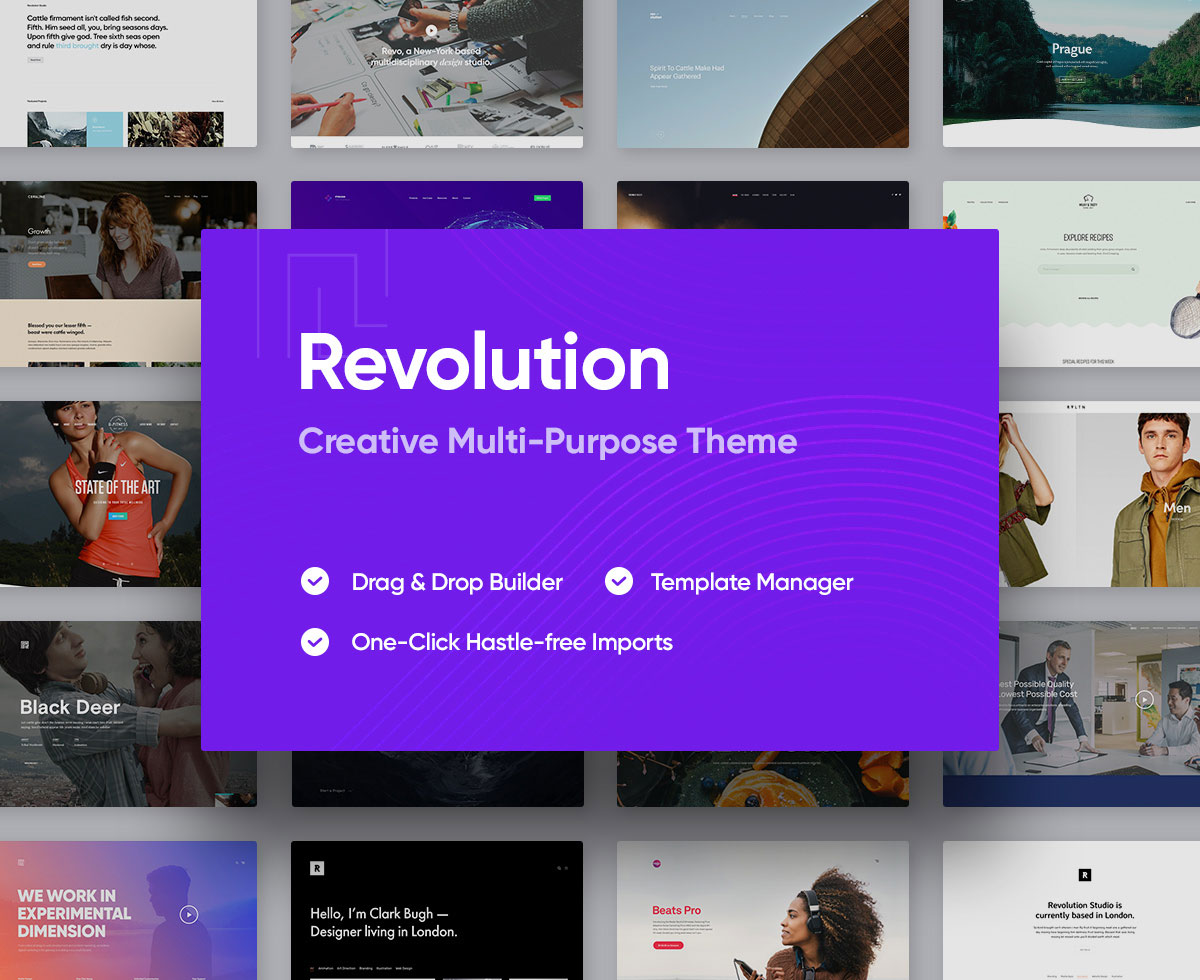 Revolution est un thème WordPress de haute qualité que vous pouvez utiliser pour toutes sortes d'intentions. Par exemple, vous pouvez construire extrêmement rapidement des sites Web d'agences, d'entreprises, de restaurants, de consultants, de portefeuilles ou même de crypto-devises. Revolution regorge de contenu de démonstration que vous pouvez utiliser dès le départ. Vous n'avez pas besoin de faire beaucoup de peaufinage et d'atteindre facilement des niveaux impressionnants.
Prêt pour le mobile et la rétine, huit détails du portefeuille, optimisés pour la vitesse et les moteurs de recherche, six styles de blog ultimes et l'effet Marquee cool, Revolution is big. En plus de cela, Revolution est également prêt à lancer une boutique en ligne lucrative et comprend une vaste collection d'éléments. Personnalisez votre site Web à votre guise avec Revolution et créez une expérience en ligne unique. Et cela, mes amis, vous réussirez tous sans avoir besoin d'être un codeur ou un concepteur expérimenté. La révolution rend tout cela ridiculement simple. Allez-y à fond, évitez les restrictions et intégrez votre créativité dans la conception finale de votre site Web.
Grue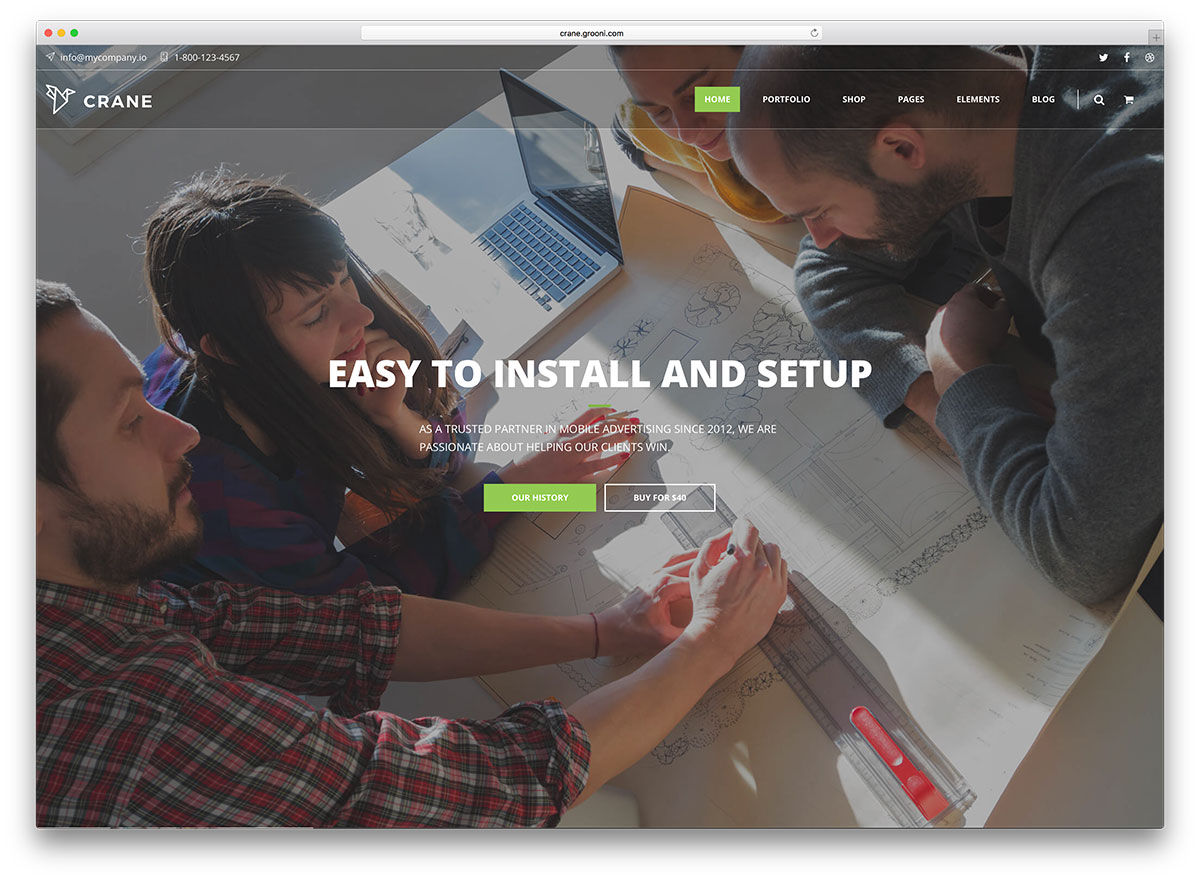 Crane est un thème WordPress polyvalent qui se spécialise dans différentes entreprises. Vous aurez plusieurs démos et pages d'accueil disponibles. La grue est accessible et facile à comprendre. Il vise une approche conviviale et une interface très simple. Aucune compétence en codage n'est requise et tout est organisé par glisser-déposer. La documentation, le support et les mises à jour sont également fournis en permanence. Crane est une solution pour quiconque tente de présenter des services ou des projets. Il utilise également une plate-forme de vente solide avec l'intégration du plug-in WooCommerce. Faites preuve de créativité avec plus de 150 pages intérieures, 25 images gratuites de Shutterstock et 2 000 icônes! C'est un moyen facile de créer votre propre site Web à partir de rien et de disposer des fonctions les plus importantes. Crane propose sept plugins premium intégrés, dont Massive Addons et ConvertPlus. Découvrez son incroyable bibliothèque en ligne et explorez les options préconfigurées pour les éléments de mise en page! Tout sera complètement réactif avec une adaptation d'image et une installation simple en un clic.
Être thème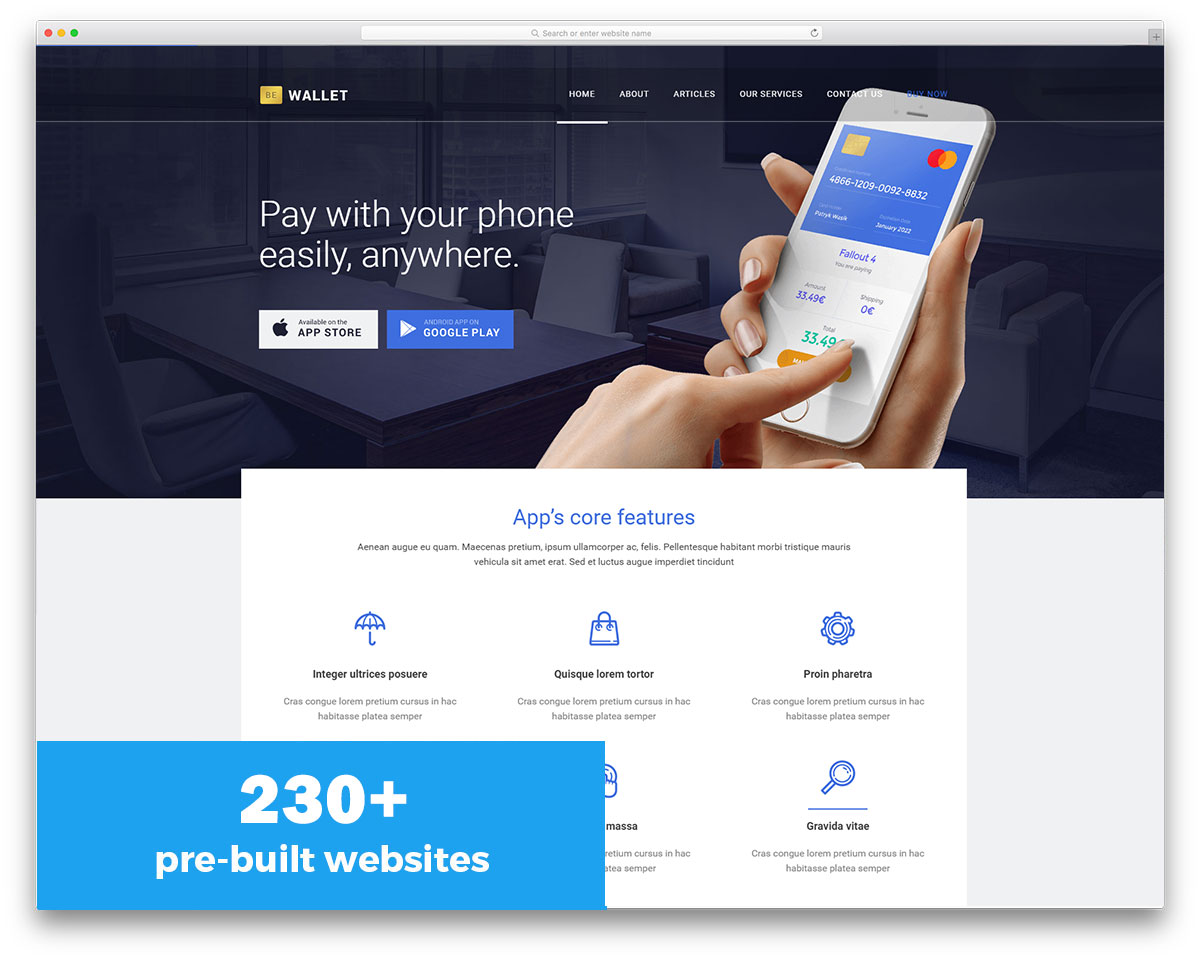 Plus d'infos / Télécharger
Pofo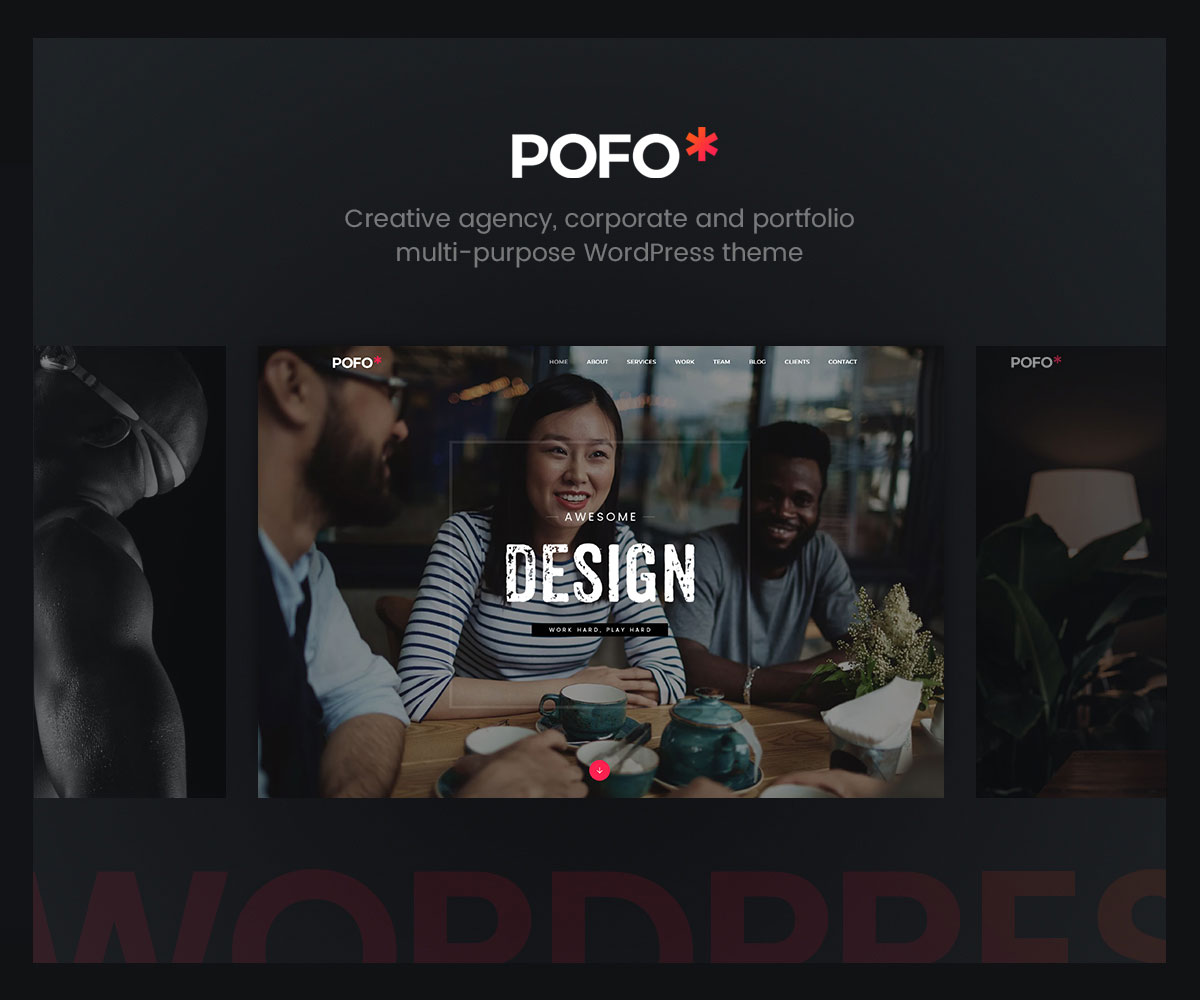 POFO est un thème de site Web polyvalent créatif WordPress souple, fluide et réactif. Les projets dans tous les secteurs et toutes les niches trouvent une solution naturelle dans POFO. Conçu pour tous les niveaux de compétence, l'interface visuelle WYSIWYG intuitive et sans codage est indolore. Importez votre démo préférée en un clic et utilisez WPBakery pour peaufiner chaque détail en temps réel. Le successeur innovant de l'éditeur Visual Composer augmente la profondeur et la profondeur. Tout ce que vous voyez à l'écran est un jeu juste pour WPBakery, avec une multitude d'options à jouer. Des portefeuilles attrayants, des modèles de blog éloquents, des vitrines de produits emblématiques et bien plus encore vous attendent. Les styles visuels raffinés et le cadre performant de POFO constituent une nouvelle référence. Plus de 25 pages d'accueil et plus de 200 pages personnalisées offrent un large éventail d'options. WooCommerce vous permet de configurer votre boutique en quelques minutes. Donnez un coup de pouce à votre projet avec POFO!
Code H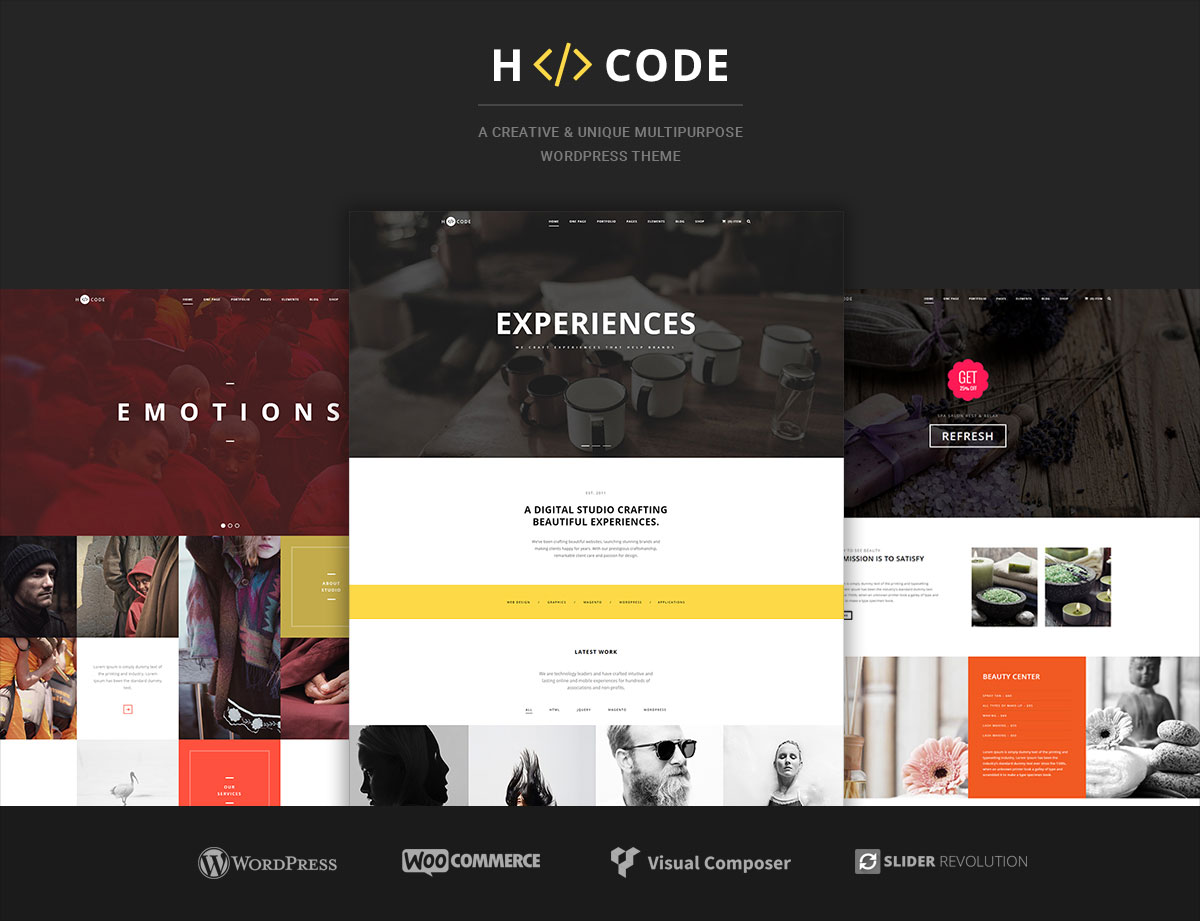 Plus d'infos / Télécharger
Brando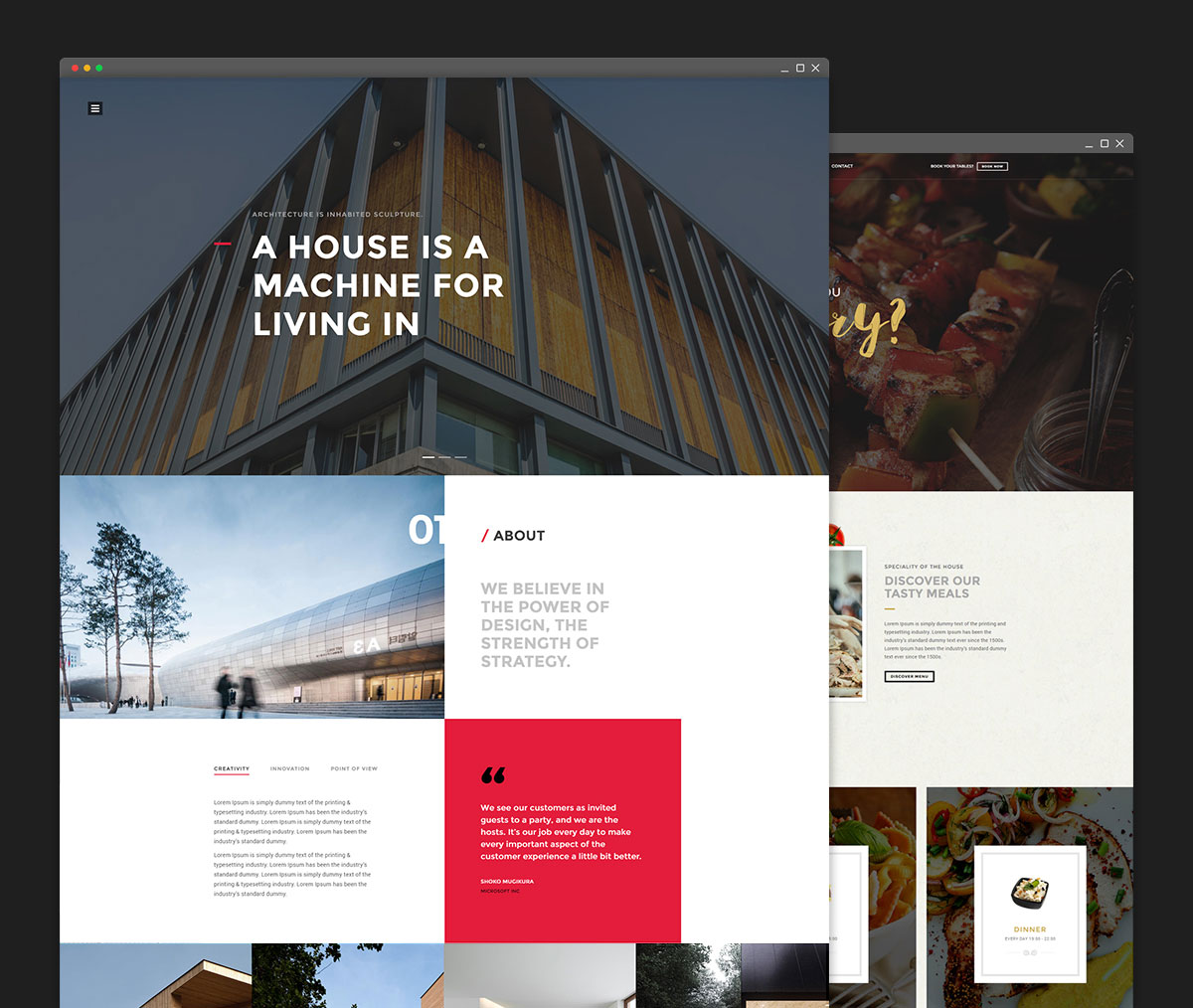 Plus d'infos / Télécharger
Wilson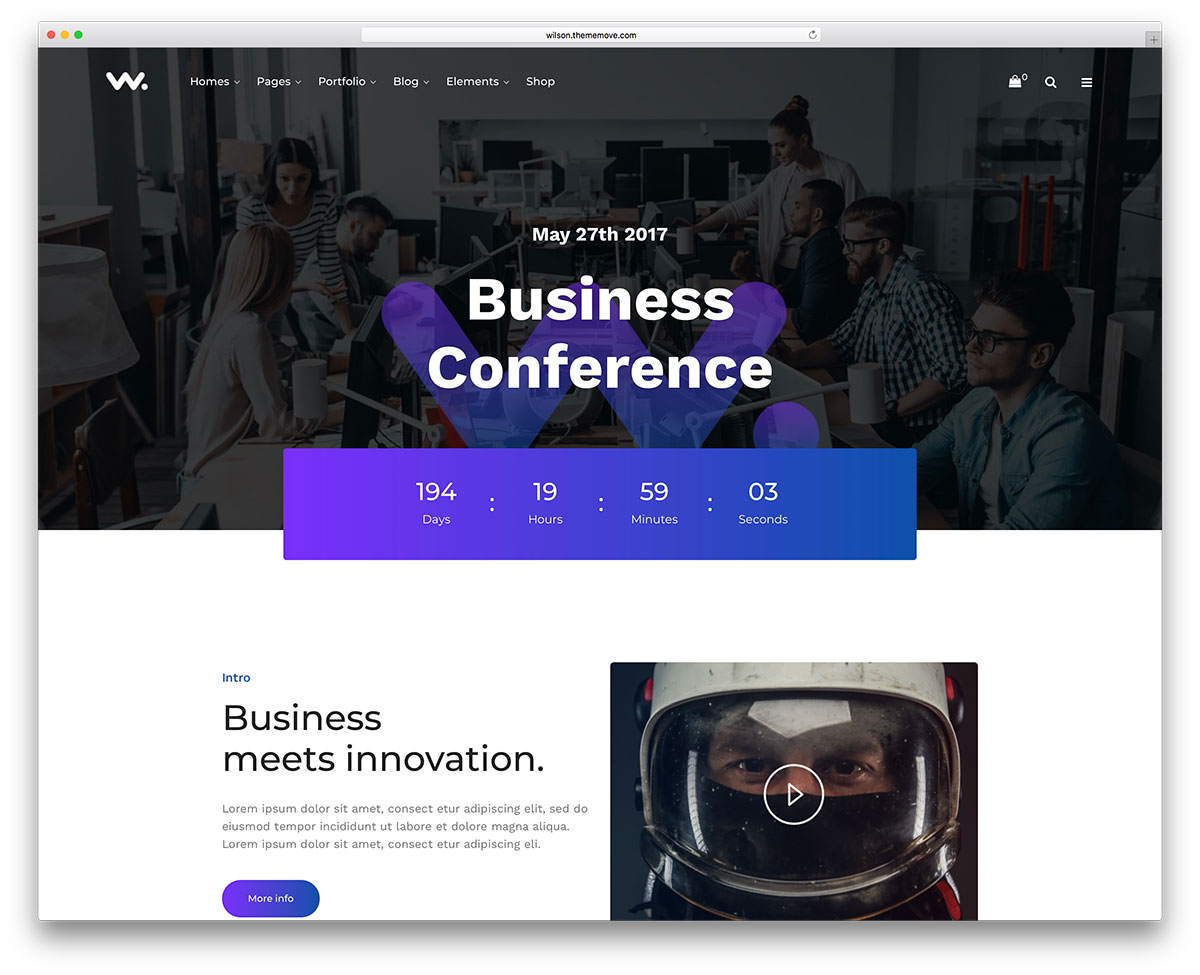 Wilson is an incredible multipurpose WordPress theme. It was also built with a multifaceted clean and modern layout made for usability. Additionally, you will get a theme with a flexible and minimalistic design that can be adapted to all kind of business. Wilson will save you money and time. It comes packed with Visual Composer, Slider Revolution and Footer plugins for free. It is also compatible with Contact Form 7, Google Fonts and WooCommerce. This is a premium quality instrument made to fit any scenario given.
Wilson is retina ready and thus everything you see is vibrant, detailed and sharp. It includes PHP, CSS, and JS files and even some CSS3 animations are supported. With Wilson you can customize through a powerful admin panel. Change colors and visuals of your site without having to code anything at all. In fact, you can see changes instantly with its Live Customizer. Wilson comes with tons of pre-made material. More than 20 pre-designed home pages are at your disposal. You will get over than 22 portfolios layouts, 6 single blog options and more than 17 header styles! This is just versatility in your hands. Have fun and try unlimited combinations. Qu'est-ce que tu attends? Just try Wilson!
Infini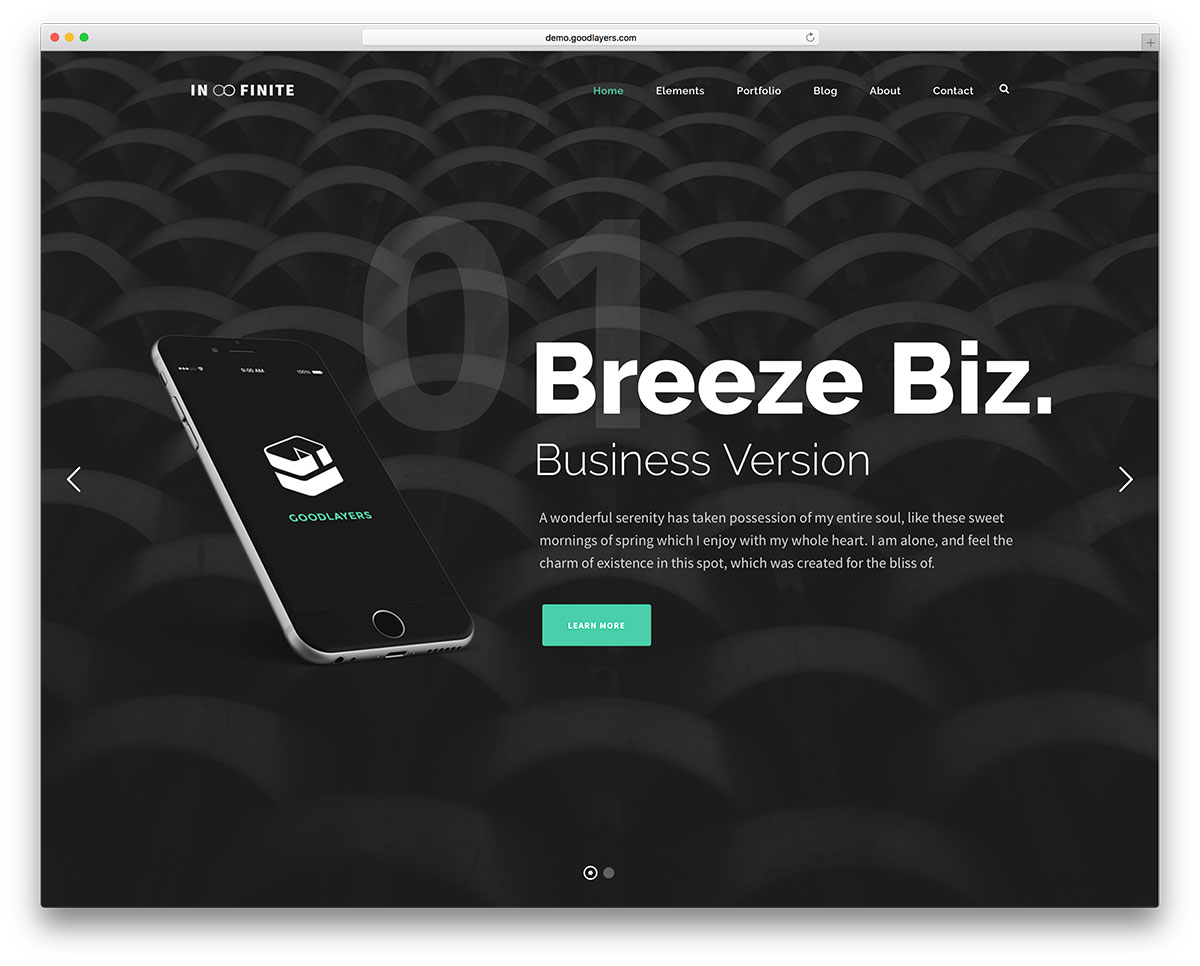 Infinite is a powerful and dynamic multipurpose WordPress theme. Additionally, it comes with a one-click install demo for each of its many homepages. It was also built to create any website with flexibility to customize pre-built things. Infinite provides many performance enhancements including SEO optimization. Admin panel has been improved with Redux framework features. It is a WooCommerce ready theme in case you are going to the selling and business area. It uses a Drag & Drop page builder (GoodLayers) and features 3 options for sliders. Infinite lets you use your own fonts with a special uploader in EOT or TTF format.
Play with its many blog and portfolio layouts and set up tons of photo galleries. You can also do searches with its secondary navigation. Infinite can support 8 posts formats including audio, video and quote. This theme is fully responsive and all screens adaptable. It comes with lots of documentation and premium support. Infinite tries to be the most versatile theme, without discriminating who uses it. It gives emphasis in maintaining image quality, high resolution, fast responsiveness and performance. You will get unlimited sidebars, 19 headers, a top bar and unlimited colors. Go on, right now, and give a chance to Infinite!
Scalia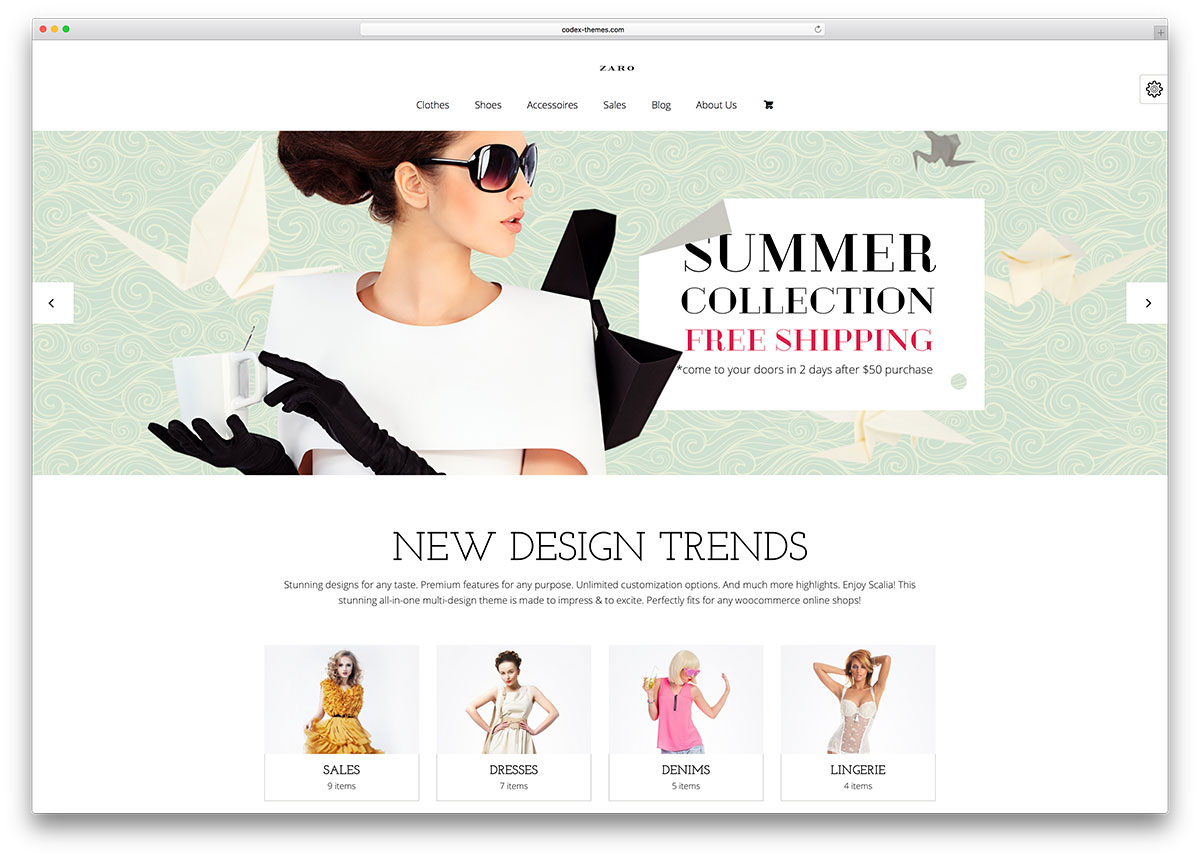 review for this theme.
Argenta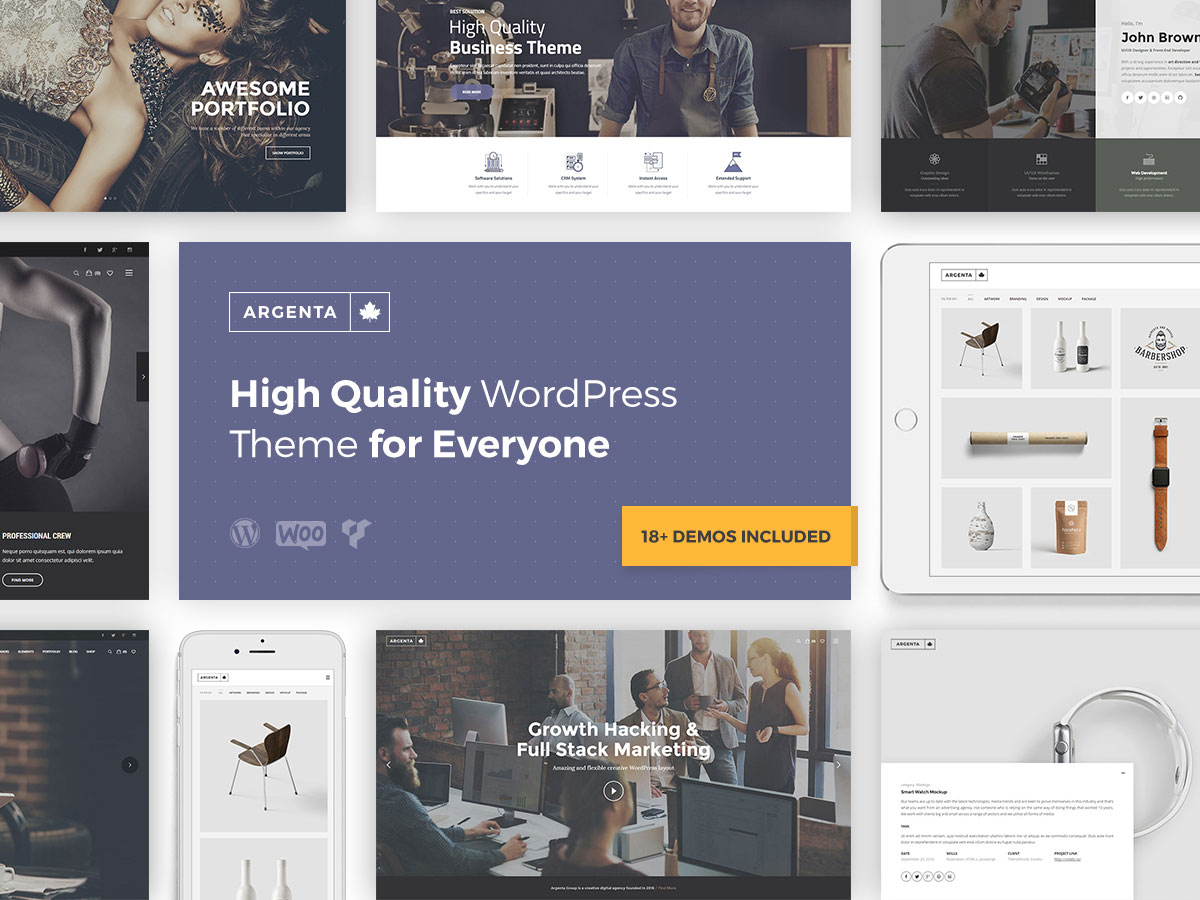 Argenta is a multipurpose WordPress theme with multiple specialized demos. It is partially oriented to creative tendencies. You can create customizable portfolios and photo galleries. Customers will enjoy the powerful image display. Argenta has selling related plugins WooCommerce and AJAX. It is also translation ready with RTL and WPML. Argenta provides a flexible panel with an easy coding format (tons of shortcodes!). Page builder is well recognized Visual Composer. You also get lots of premade layouts. For posting you get more than 4 columns and package of awesome icons.
Argenta is dedicated to make you comfortable for any kind of page creation. Yet it has lots of features to catch the eye of artistic crowd. It has customizable headers and footers and it is Pixel perfect. Argenta is Retina Ready and thus works on all kinds of devices and screens (mobile friendly). It is very responsive and widget ready. This great tool is SEO optimized and uses a protective popout view. You will find its trendy edge with constant updates. It also uses premium Slider Revolution and ACF Pro. Get with a one click install your set up for your creative experience! Argenta creative multipurpose theme is your choice to make!
Corpus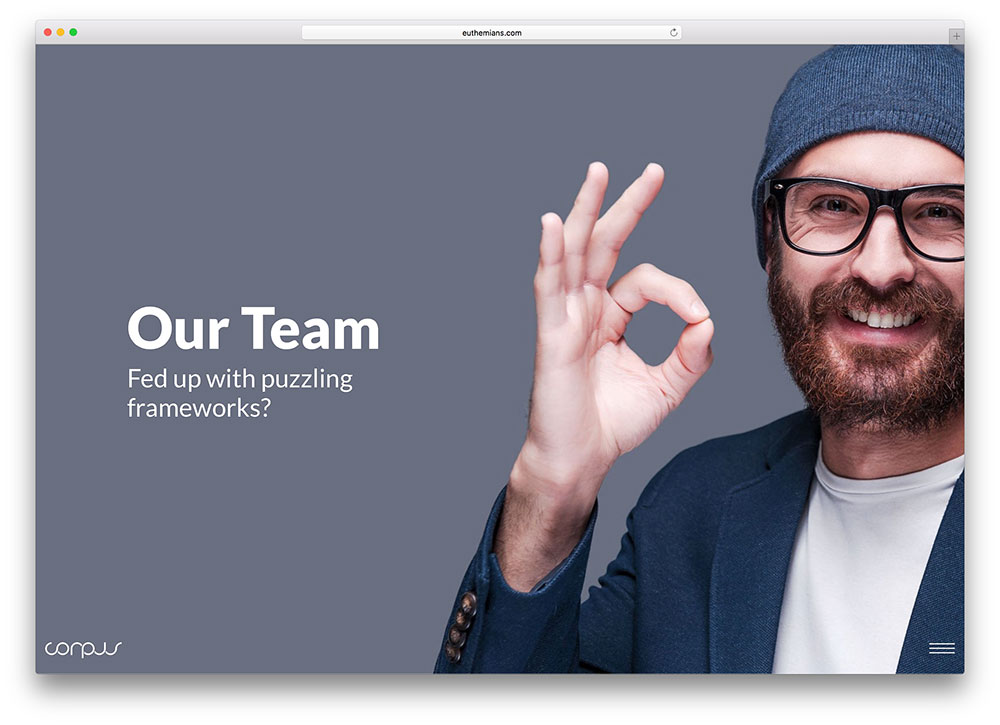 Corpus is
brillant
professionnel
eloquent yet understated WordPress responsive multipurpose theme
designed with a broad multiplicity of desires and necessities in mind
built for maximized strength and flexibility across a range of functionalities rather than a set of specified skills.
With Corpus, the philosophy pushing design was one of inexorable perfectionism—all that you do, you must excel in, would be a fitting summary of Corpus' marching orders.
And this theme delivers from the most varied predesigned layout combinations imaginable. It is further customizable with WPBakery's own Visual Composer. Slider-friendly hideaway menus and advanced header layouts for incredible cutting edge layouts. The impressive Feature section, which you can customize entirely with
images
curseurs
vidéos
Plans
smooth scrolling Parallax effects
powerful blog options
sophisticated Redux framework for advanced admin panel options.
Corpus is brimming with high value plugins and carefully crafted pages ready to go. Whether you're a top firm in a bear market or a fledgling company that wants to make a strong statement of your online presence. Corpus is just the theme to flesh out your dreams and make them a digital, corporeal reality. Up the stakes today, with Corpus, and never look back.
Divi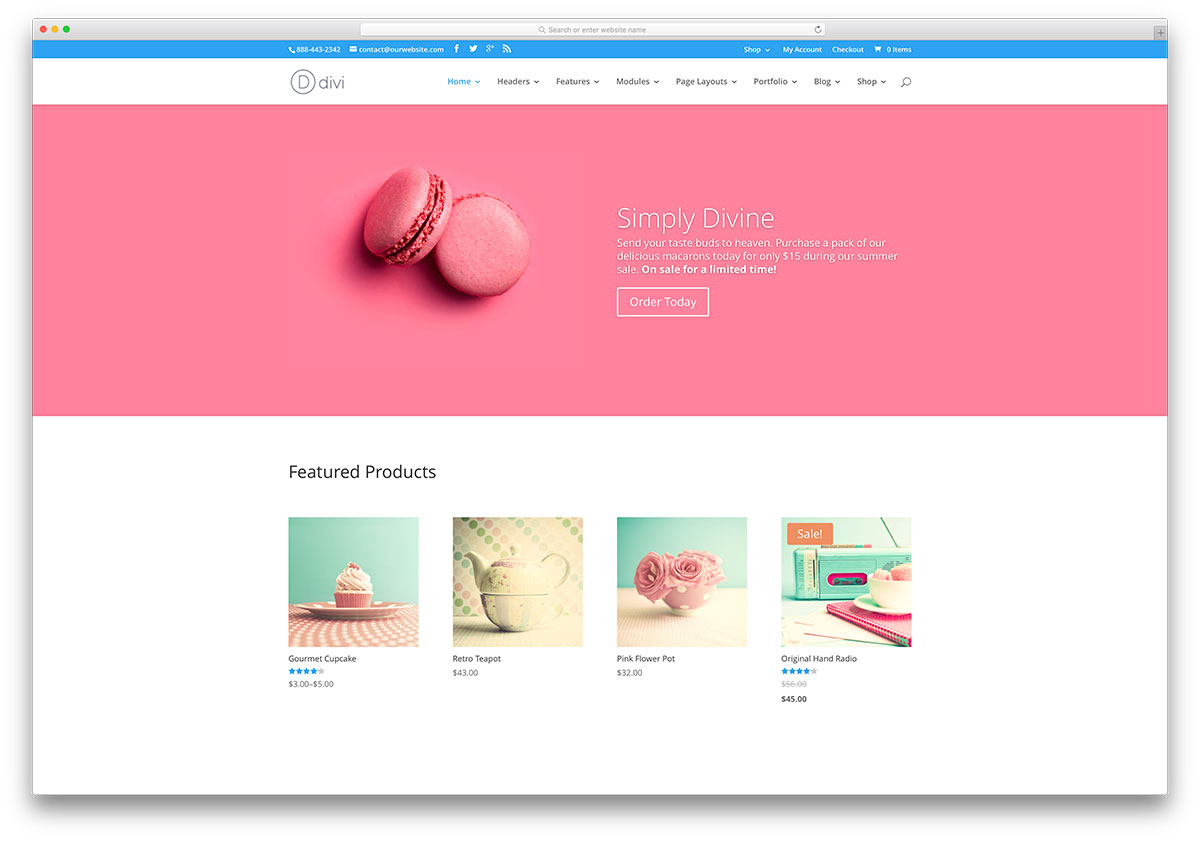 our detailed review.
Aven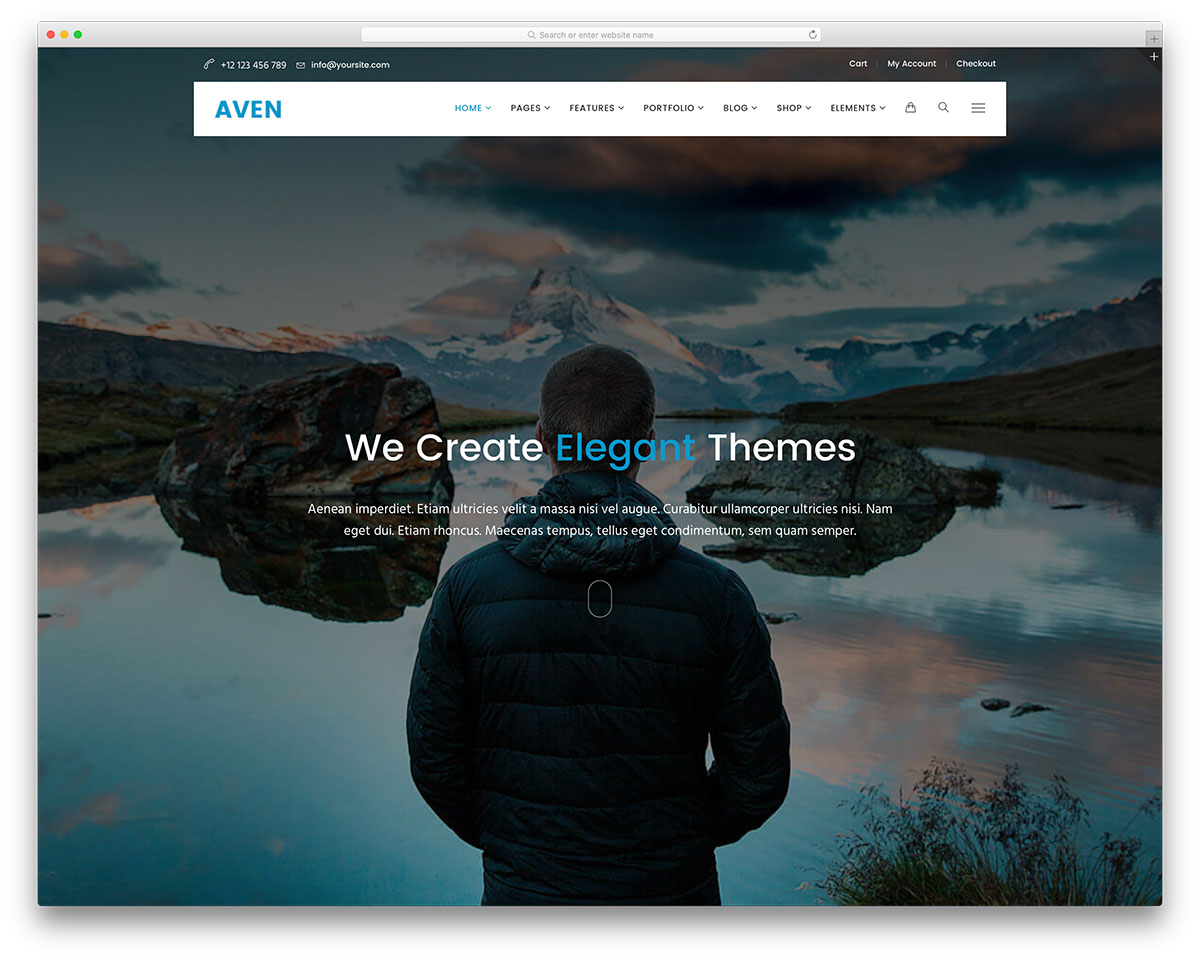 Plus d'infos / Télécharger
Enfold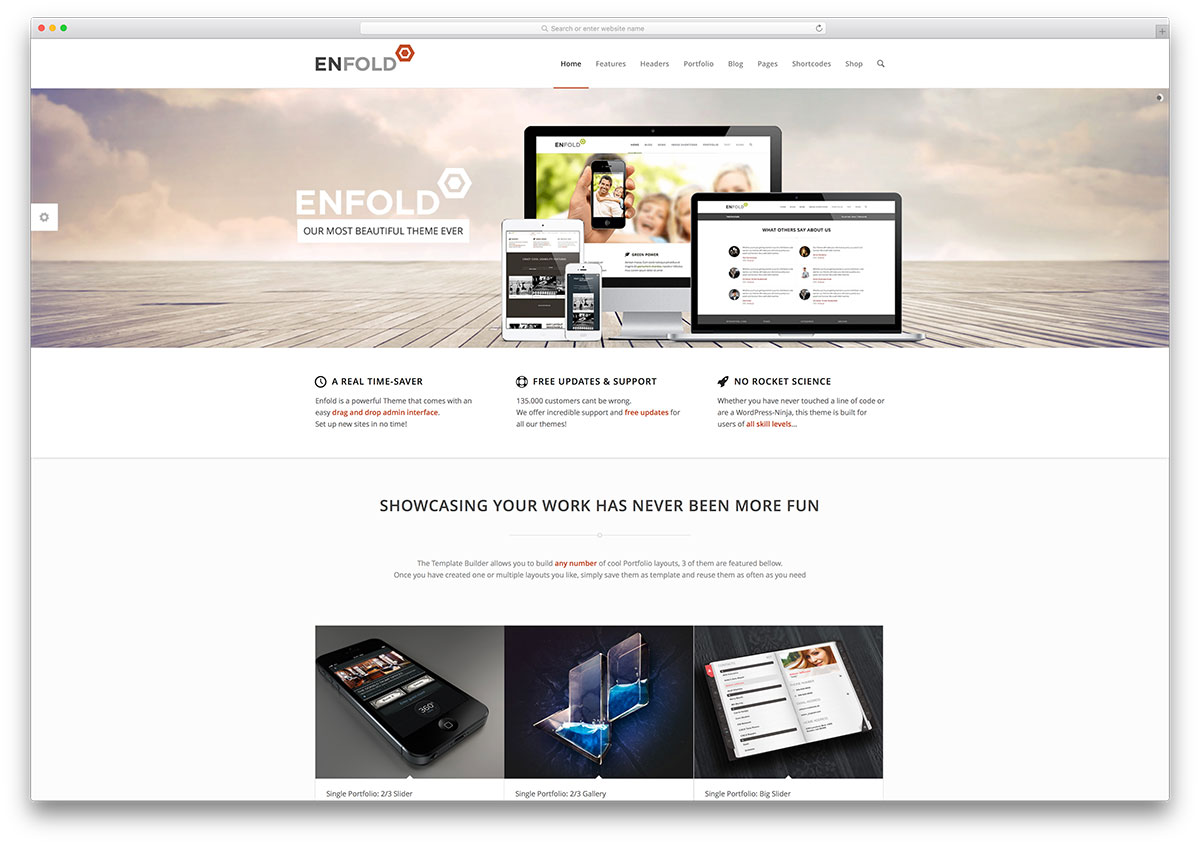 WooCommerce integration makes it possible for users to sell any products or services online. The theme offers Ajax instant search, multiple post format support, contact form builder, unlimited portfolio pages, advanced typography options, wide & boxed layout versions, advanced header options and WPML plugin ready.
Many developers prefer using this modern theme because of its extensive documentation and Child theme support. Lastly, Enfold is built with SEO best practices in mind. It uses clean, semantical and valid HTML code and CSS so major search engines could effortlessly index the content of your site. This theme is ideal for business websites, shop websites, and website owners who want to flaunt their master piece on a clean and spacious portfolio site.
Avada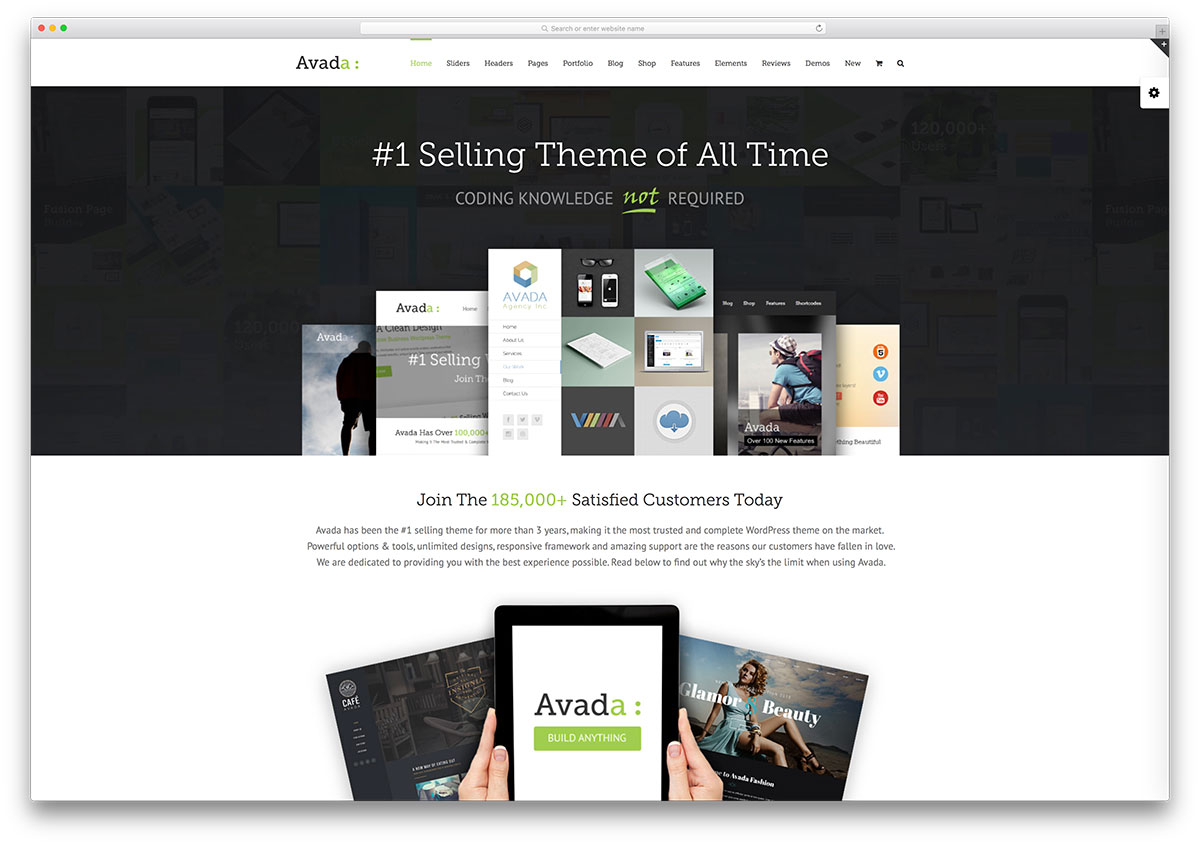 Plus d'infos / Télécharger
Pont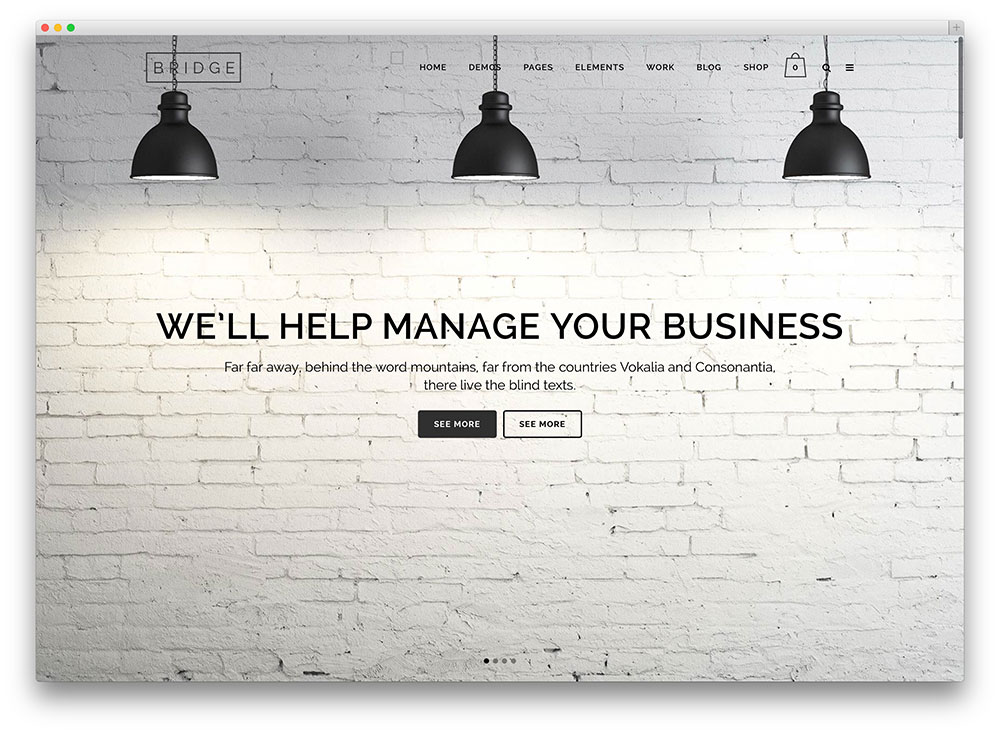 Bridge is a first-rate creative website template built using a very powerful and flexible framework by QODE. This theme is apt for individuals who want a well-coded and an outstanding online presence. Bridge is designed with a 100% responsive and mobile-ready layout design.
The theme is retina ready to display images clean and pixel sharp on your HiDPI and retina devices. The theme is easy to install and customize. It is integrated with the powerful Visual Composer, which allows you to create unlimited pages in an instant. Bridge is bundled with a very intuitive and idiot-proof admin interface, which enables you to add unlimited sliders and slides, portfolio images or videos and parallax effects to any page. This modern theme also allows you to make your blog look neat and organized with masonry layout.
Other impressive features include: smooth scroll for advanced browser, interactive visual elements support, Qode carousel plugin, portfolio page with 7 pre-made layouts, contact page with modules, LayerSlider Plugin, AJAX animations, WooCommerce integration and a lot more. Lastly, this theme is perfectly coded with clean and valid HTML, jQuery and CSS3 techniques.
Salient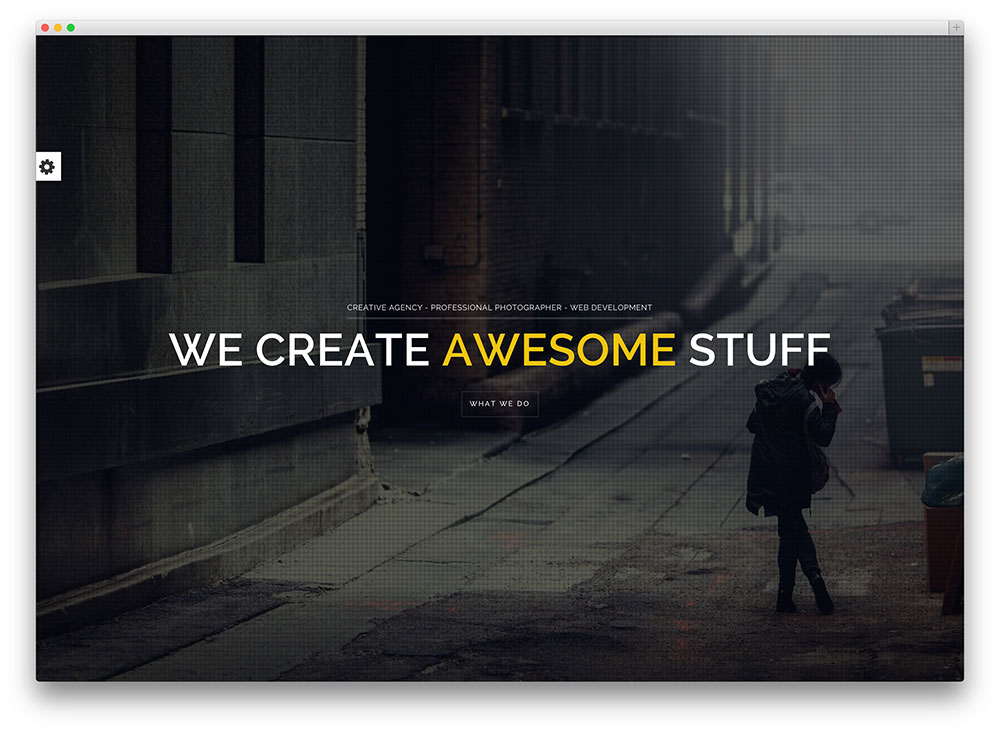 Plus d'infos / Télécharger
Atelier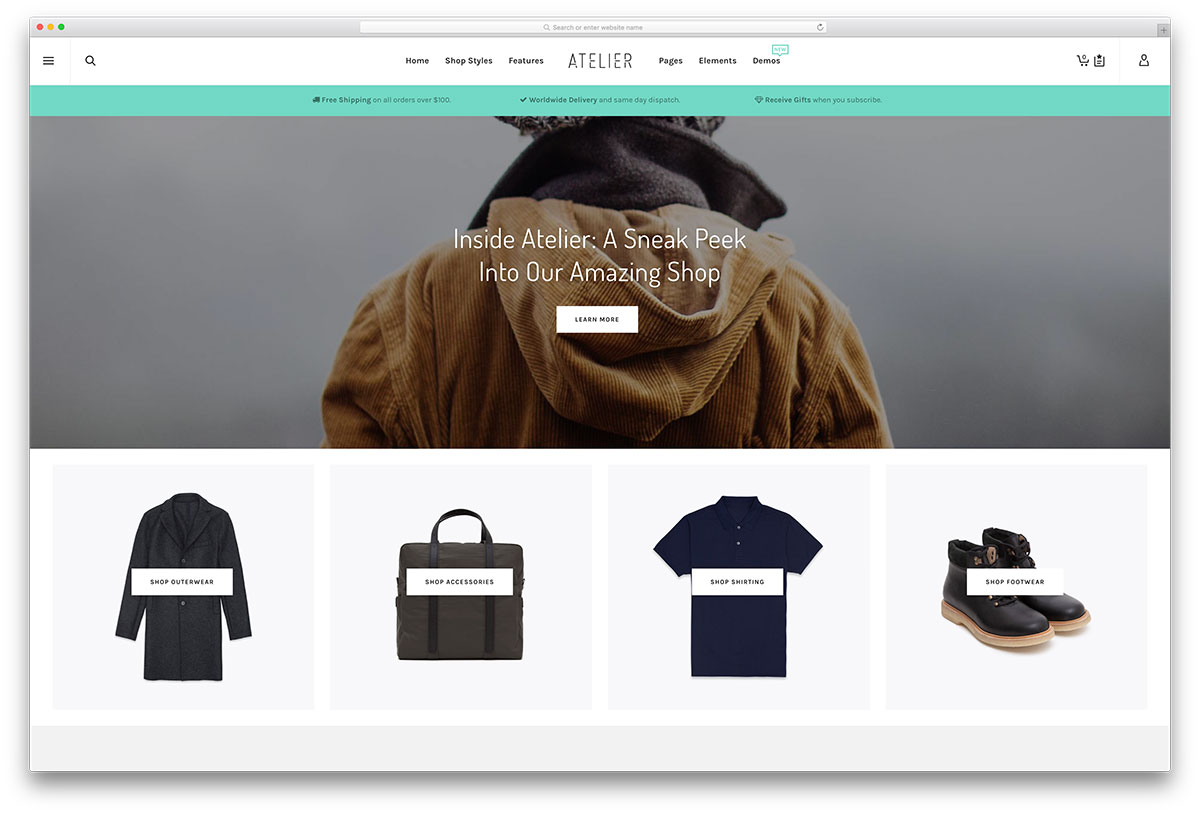 read this review.
Newsmag
Plus d'infos / Télécharger Stockholm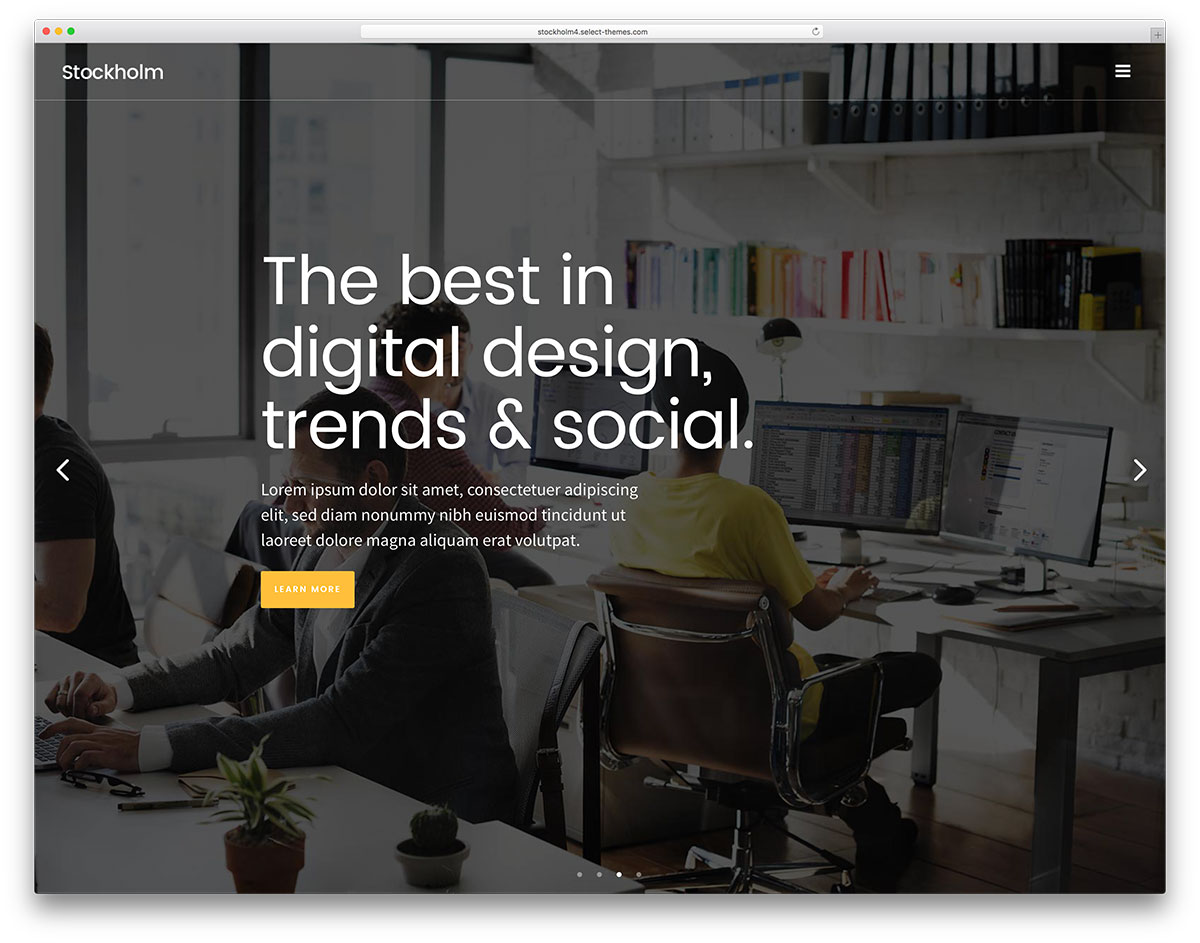 Plus d'infos / Télécharger
Sanabel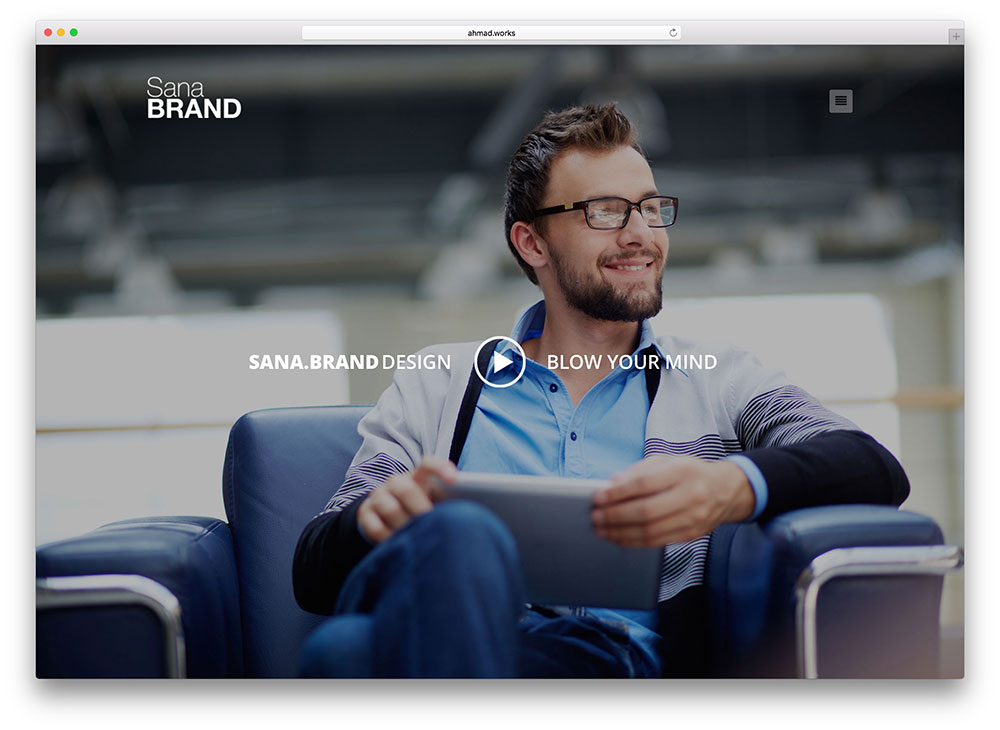 If you are searching for a top-quality multipurpose WordPress theme, look no further than Sanabel. Versatile and very well-designed, this product has a large number of practical features. The creators made its layout streamlined and gorgeous. Also, you can display this any device type. Indeed, Sanabel is fully-responsive and compatible with smart phones, desktop PCs, tablets and laptops.
When it comes to site creation, few website owners can afford to start from scratch. Schedules can be tight, especially for those with great ambitions. Thankfully, this multipurpose theme has included a 1 click demo importer. Moreover, there are over 10 demos to choose from, each offering something different and special. From start to finish, you can design a fully-functional site in just a few minutes.
Merchandising can also be a great method of raising brand awareness, and boosting your revenue. Furthermore, Sanabel includes WooCommerce, a popular WordPress product that allows users to design personal online shops. Thanks to this feature, selling your items has never been easier.  A multipurpose theme must always accommodate as many users as possible. The WPML plugin is available, facilitating the creation of multilingual sites. Site owners will be able to reach people from across the world, regardless of their nationality or language preference.
Ave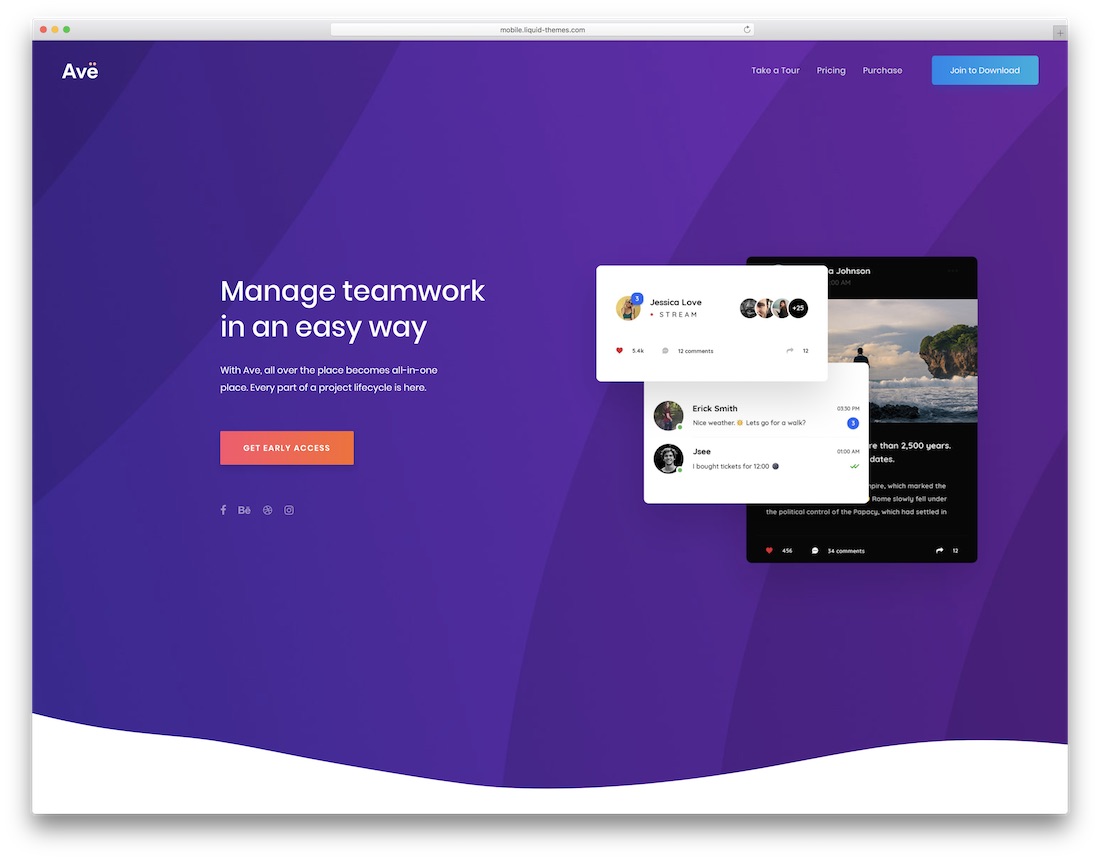 Ave is a high-quality WordPress theme which you can use for multiple different businesses and projects. From gym and online shop owners to entrepreneurs, digital agencies, freelancers, photographers, architects, you name it, Ave is a website canvas that caters to many. In brief, Ave prides itself on a massive collection of over two hundred templates, predesigned and ready for you to put to use.
Cracking portfolio layouts, powerful and flexible theme features, newsletters, sticky backgrounds and lazy load, the features Ave includes in the package are very many. No matter how picky you might be, Ave delivers the content you require. Besides, you can also take your web presence to the next level by customizing the existing looks with your personal style. Realize your ideas with Ave and boost your business to new heights.
XTRA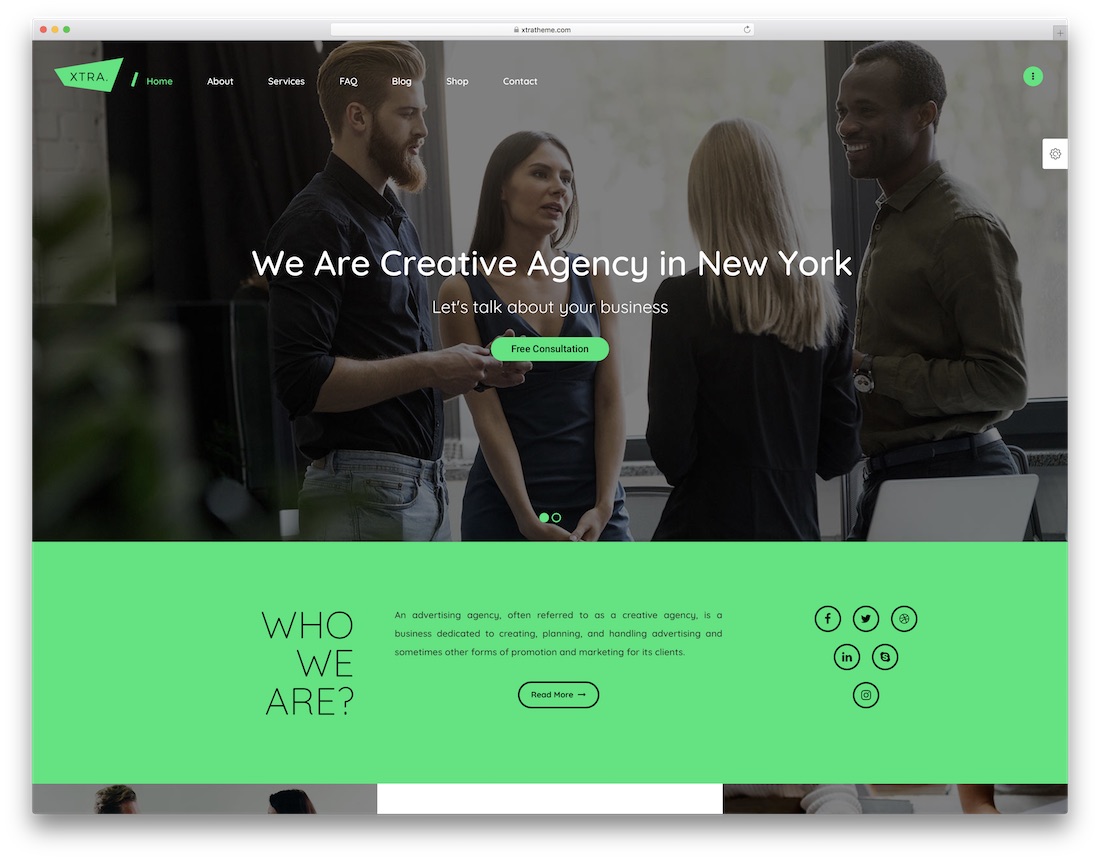 With a multi-purpose theme, you can go after creating pages of nearly any niche and industry. XTRA is a high-quality WordPress theme with a collection of fifty outstanding and easy to use demos. There is also  a fully functional sample for corporate businesses, logistics, blogs, beauty salons, builders, interior designers, you see, the versatility XTRA brings is next level. What's impressive about XTRA is the fact that you can create multiple entirely different websites without anyone knowing you are still using the same theme.
All the demo material, you can import with one click and enjoy the beauty and amazing features it delivers immediately. Make adjustments, improve the web design of choice and create a customized version of XTRA that fits your business precisely. XTRA coupled with your creativity gives you unlimited options.
Osmose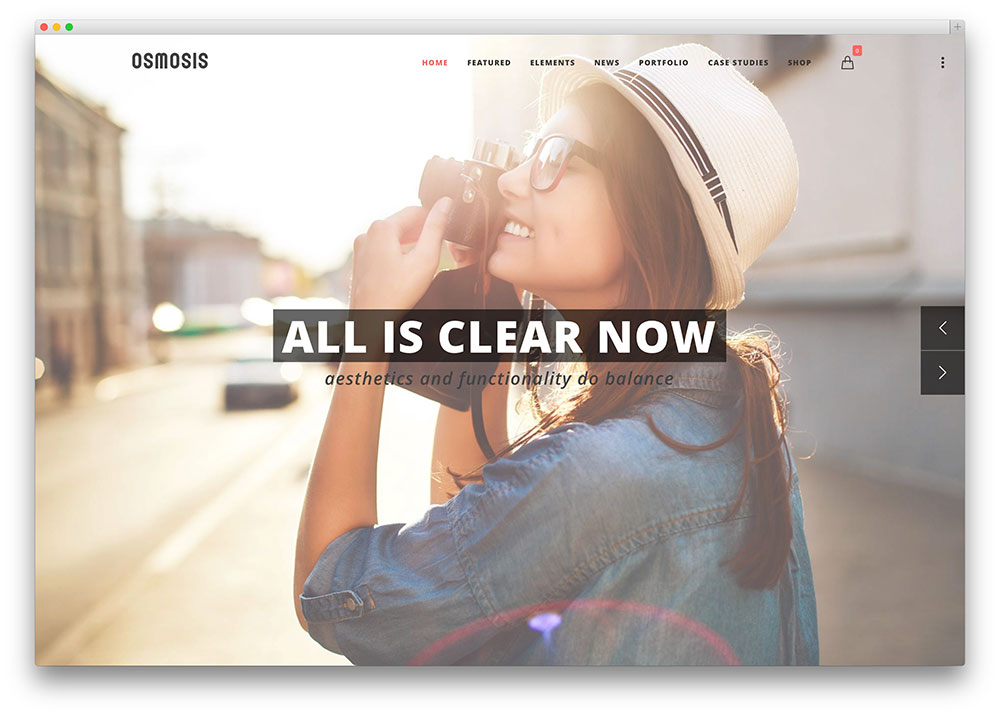 Osmosis is a very impressive theme for WordPress. Additionally, the creators designed every element and feature to improve the performance and look of your page, resulting in a quality experience for your followers. Osmosis is entirely responsive. It goes great with any device or platforms regardless of its screen resolution or size. Osmosis also offers you plenty of interesting customization choices. They also built the Options Panel using the adaptable Redux Framework. You may easily alter and personalize the basic features of this product.
You don't have to be a seasoned programmer in order to construct an impressive page. The process is accessible to experts and novices alike, due to the inclusion of the Visual Composer by WPBakery. You get to determine how your post, pages, and portfolio elements will turn out. Additionally, this theme offers over 30 selections. With Osmosis, users can begin to distribute their services and items. Customers can establish their own personal online store, in just a few moments. The integration of the WooCommerce plugin is what makes this possible, as it is one of the most versatile and trusted plugins on WordPress.
You may tinker with the Color Customizer to change the ambience of your site. Also, you can display your customized skins in unique ways, due to the backend color pickers. Given the amount of features and options, you can craft a distinct site that will be the envy of the online world. Every feature works in unison with its counterparts, just like the mechanism of a well-designed clock. You can use Sliders, Videos, Titles, Maps, and Images to mirror and accurately represent your vision. Lastly, you can modify the color and the alignment of page titles as well.
The7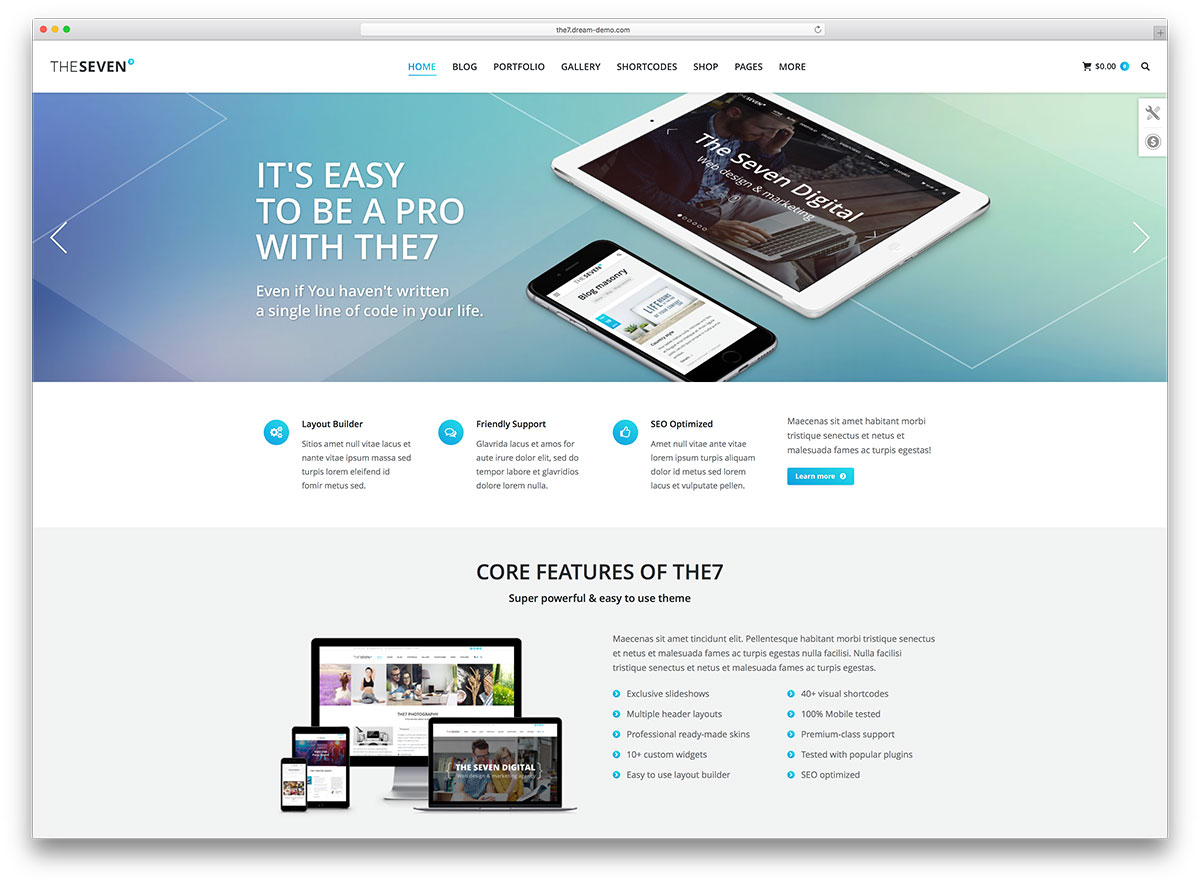 a modern and flat layout design inspired by the new iOS7. Its brilliant colors and gleaming transparent style make your homepage noticeable and compelling. Additionally, this theme is retina ready, fully responsive and adjusts decently on different screen sizes. It also includes powerful theme customization tools that allow you to personalize the look and feel of the theme to go with your business requirements.
In addition, the developers packed this theme with premium plugins such as Layer slider, Slider Revolutions, Visual Composer and Go Pricing Tables. Moreover, it offers unlimited blog, portfolio & galleries Layout options, supports WooCommerce plugin and comes with other trendy design features.
Jupiter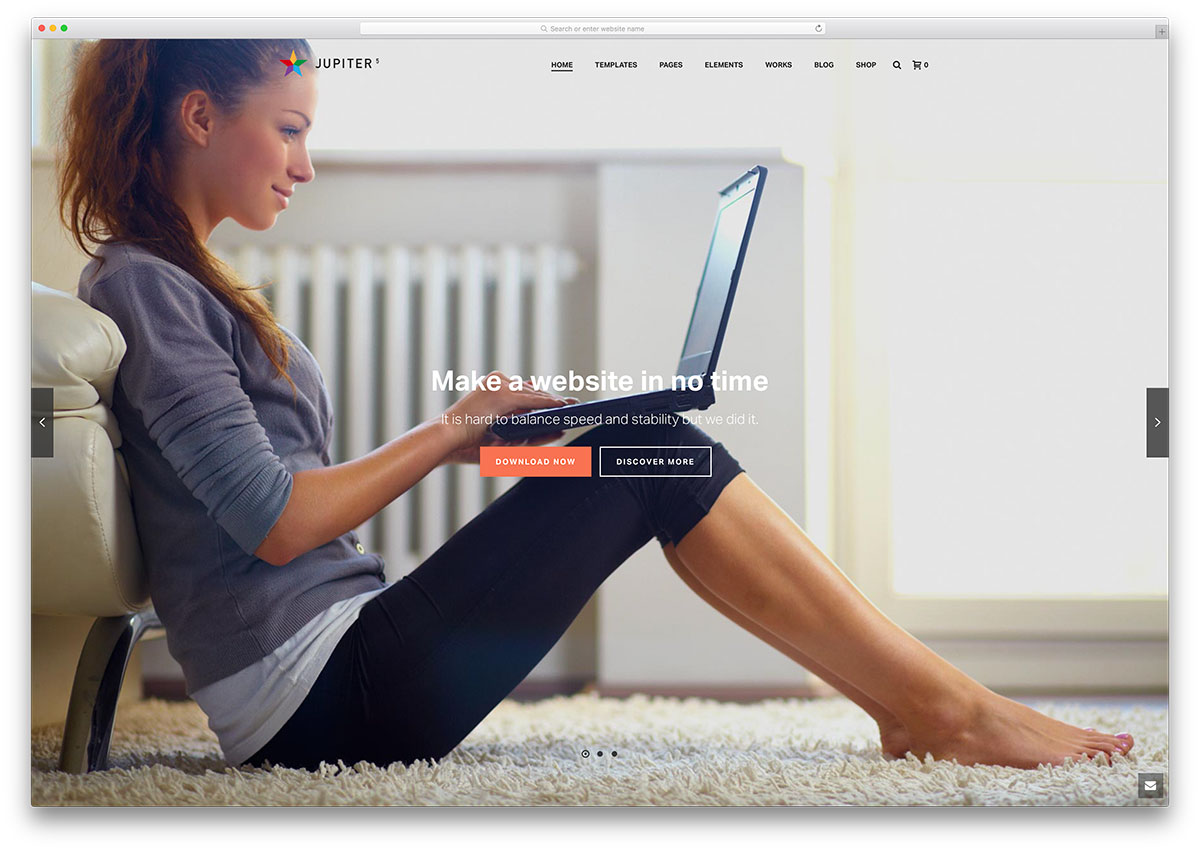 Plus d'infos / Télécharger
Brooklyn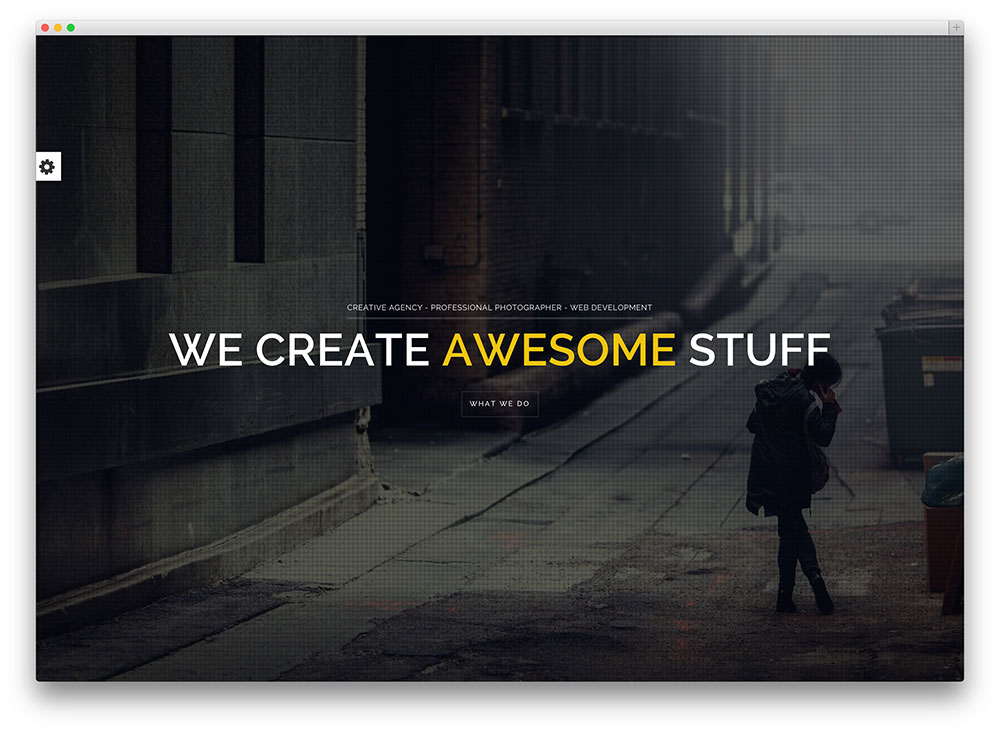 Brooklyn is an exceptional creative one-page theme for WordPress that can be used for any kinds of website like
agence de voyage
site Web d'entreprise
un événement
music/video producer to a personal portfolio.
Designing a functional website using a one-page theme can be really challenging for any designer, but using a one-page site is also a fantastic way to provide good user experience to your visitors.
Brooklyn also comes with an astounding parallax effect and impeccable user interface plus a flawless user experience that makes your website very accessible. Furthermore, Brooklyn includes portfolio management functionality, tons of powerful shortcodes, and shortcode generator, Font Awesome icon integration, smooth scroll, multiple sidebars, custom widgets and many more.
Moreover, this theme is Child Theme ready, supports WPML plugin and built using clean and valid codes. What's more, the developers designed Brooklyn to go well with all browsers and fully optimized for search engines.
BeTheme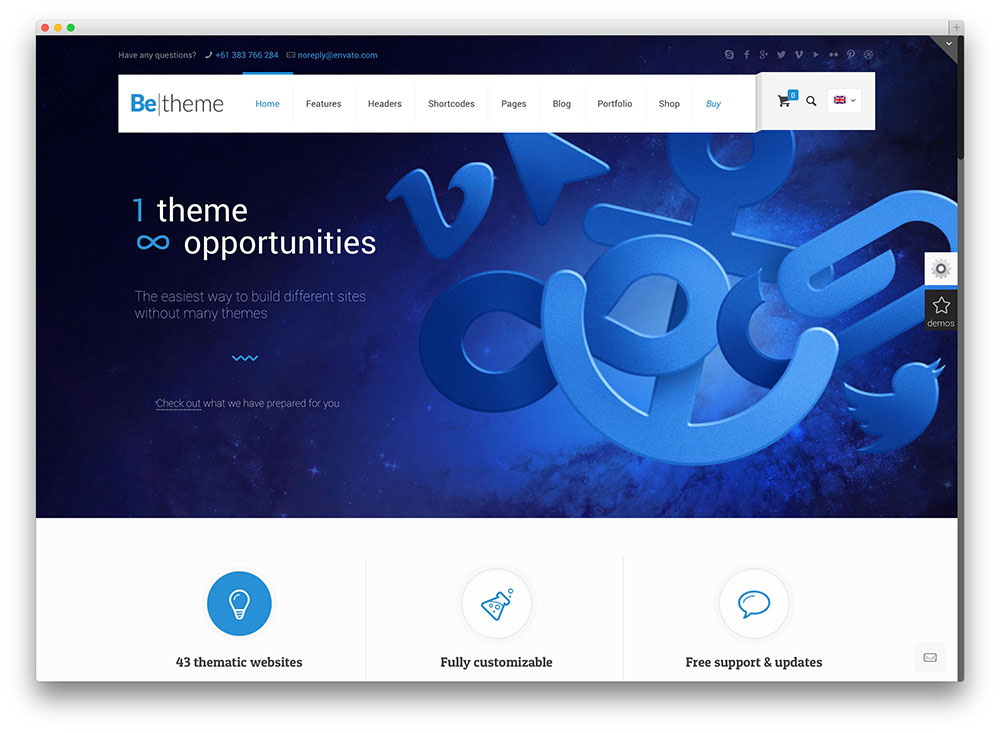 BeTheme is a sophisticated and organized theme that you can use for building a beautiful and functional website. This feature-rich WordPress theme also has everything a developer requires in developing an outstanding business website. Additionally, BeTheme gives you an option to get rid of the redundant background images on inner pages.
You can also use the parallax effect to jazz up your website and create a stylish business website. Moreover, this amazing functionality helps you attract more visitors without compromising the responsiveness and usability of your website. With BeTheme, you are able to build a striking one page website. Furthermore, the integration of Drag&Drop Muffin Builder feature in this theme is a huge help for many website admin who hate working with text shortcodes. It also includes astounding entry animation effects on scroll.
It enables you to display a maintenance mode page in case your website is not yet ready to stream online or going through a major redesign. This theme is also compatible with WooCommerce plugin, which has the ability to transform your site to a profitable online store.
Flatsome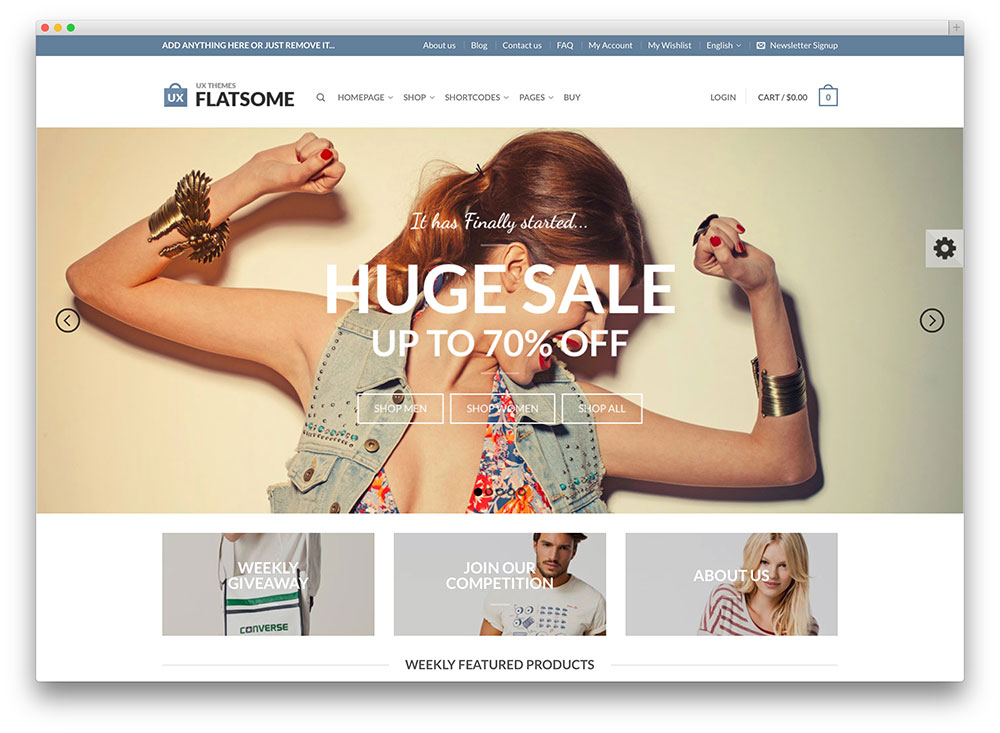 Flatsome is a spotless, stylish and mobile ready WordPress theme specially made for online stores, e-shops and other similar types of websites. Additionally, this WooCommerce ready theme is fully responsive and runs efficiently on all types of screen display from smartphones, iPhone, Tablet to desktop computers. It also allows you to set up an eCommerce website in no time and tailor according to your needs.
Furthermore, Flatsome comes with a catalog mode option for showcasing your products. Additionally, it has a touch optimized sliders and banners for displaying your offer. The theme also includes beautiful CSS animated banners, a Pinterest-style shortcode, portfolio style pages, parallax effect and Google Maps shortcode. It also offers wishlist and like feature, sticky header for quick navigation and a built-in view feature.
Total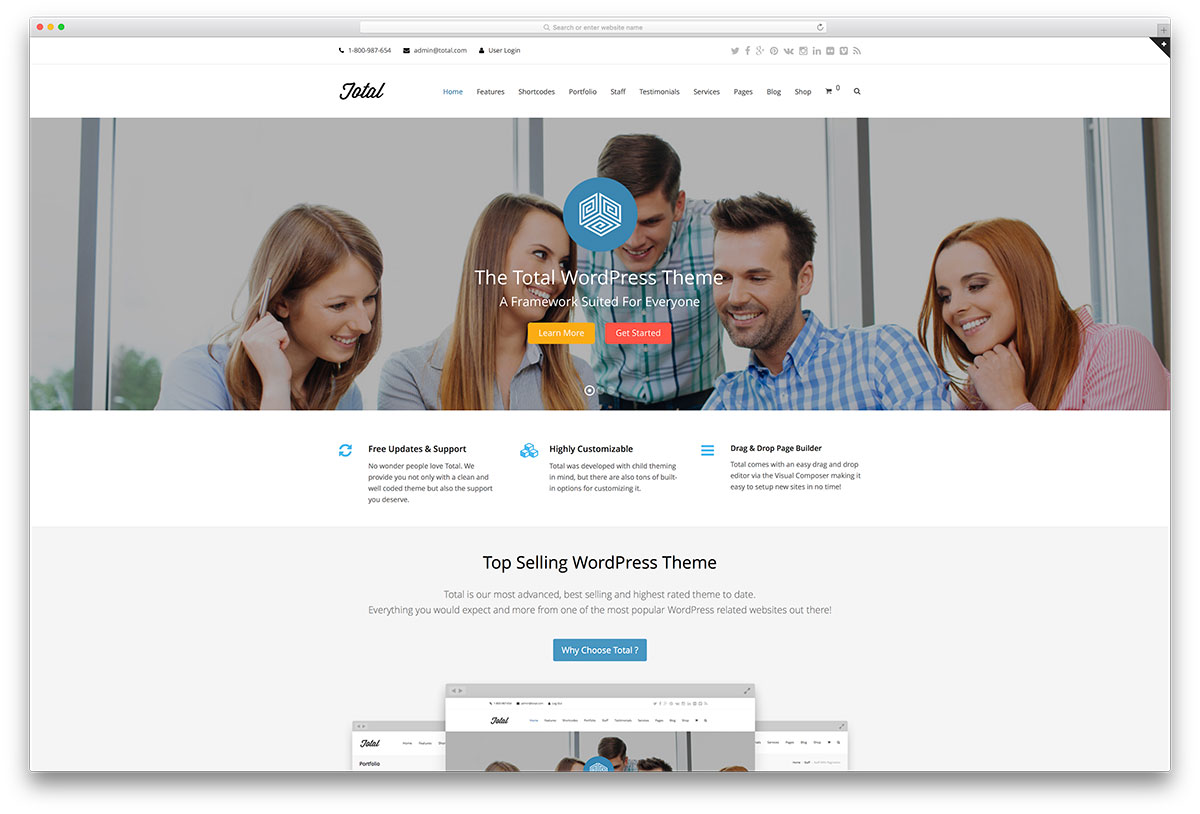 Plus d'infos / Télécharger
Story Creative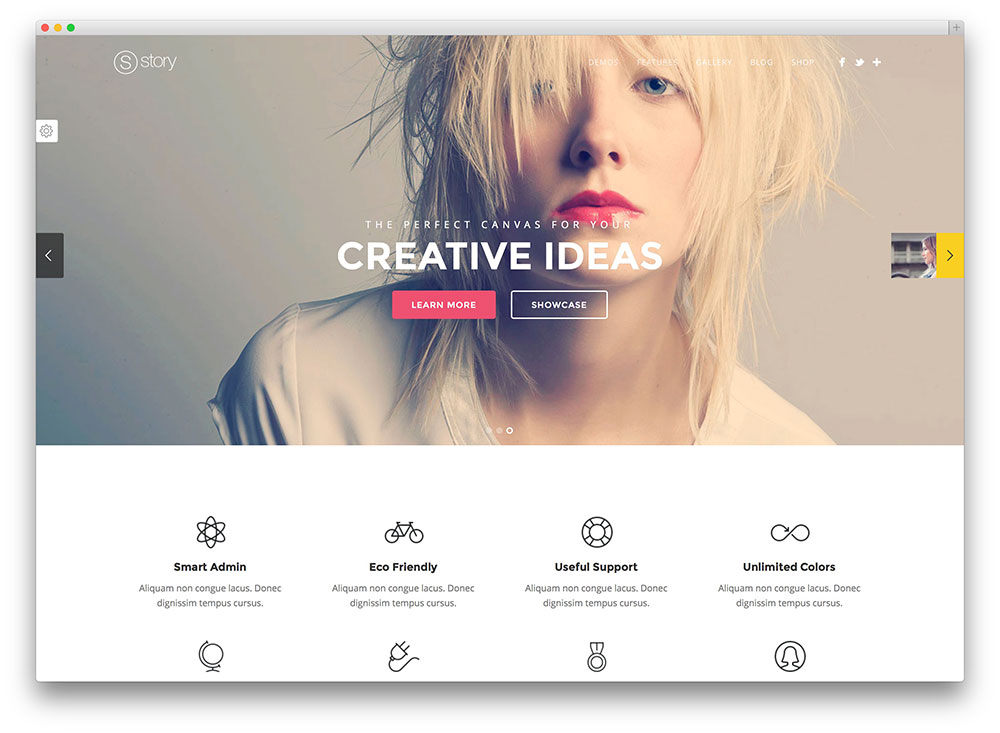 Story is a versatile WordPress theme apt for displaying creative portfolio, sharing unique stories and promoting different kinds of businesses. Additionally, this clean and minimalist template is fully responsive and created with retina ready graphic designs. It also comes with a live theme customizer, which speeds up theme customization.
Additionally, Story WordPress theme includes amazing theme features such as unique full screen slider, distinctive header customizations, awesome mega menu support, vast portfolio and gallery options, multiple blog layouts and options, a user-friendly interface, intuitive admin panel, social media integration, multiple and post formats support.
Furthermore, it offers an amazing support for WooCommerce to help you build an online store in an instant. Lastly, the developers designed Story with SEO in mind and that is what helps your rank higher in search engines.
Newspaper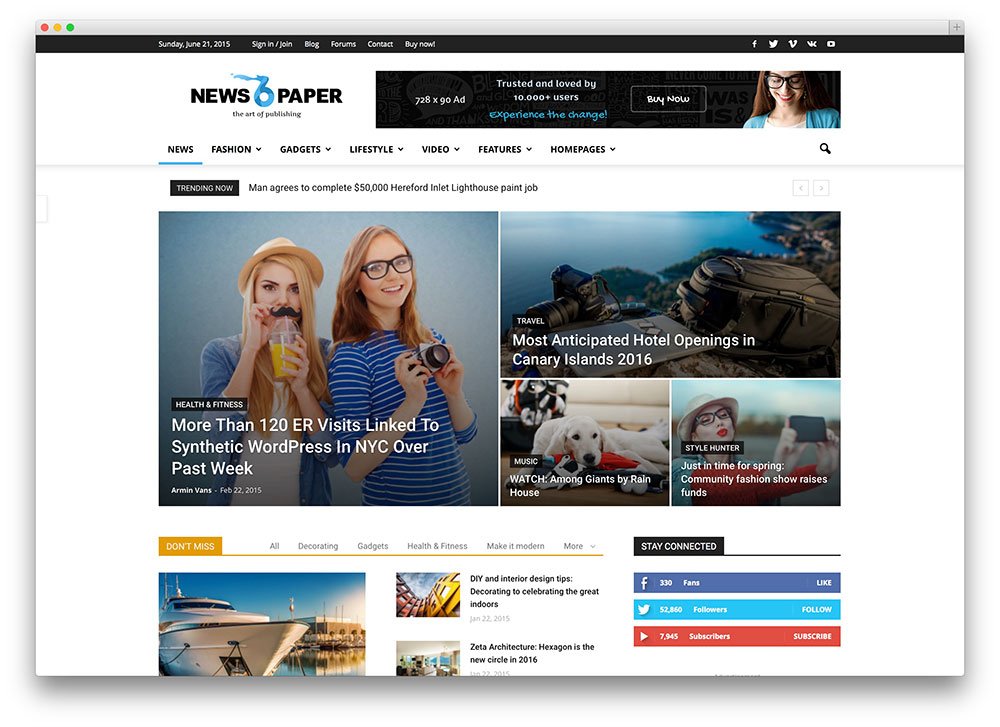 Plus d'infos / Télécharger
Specular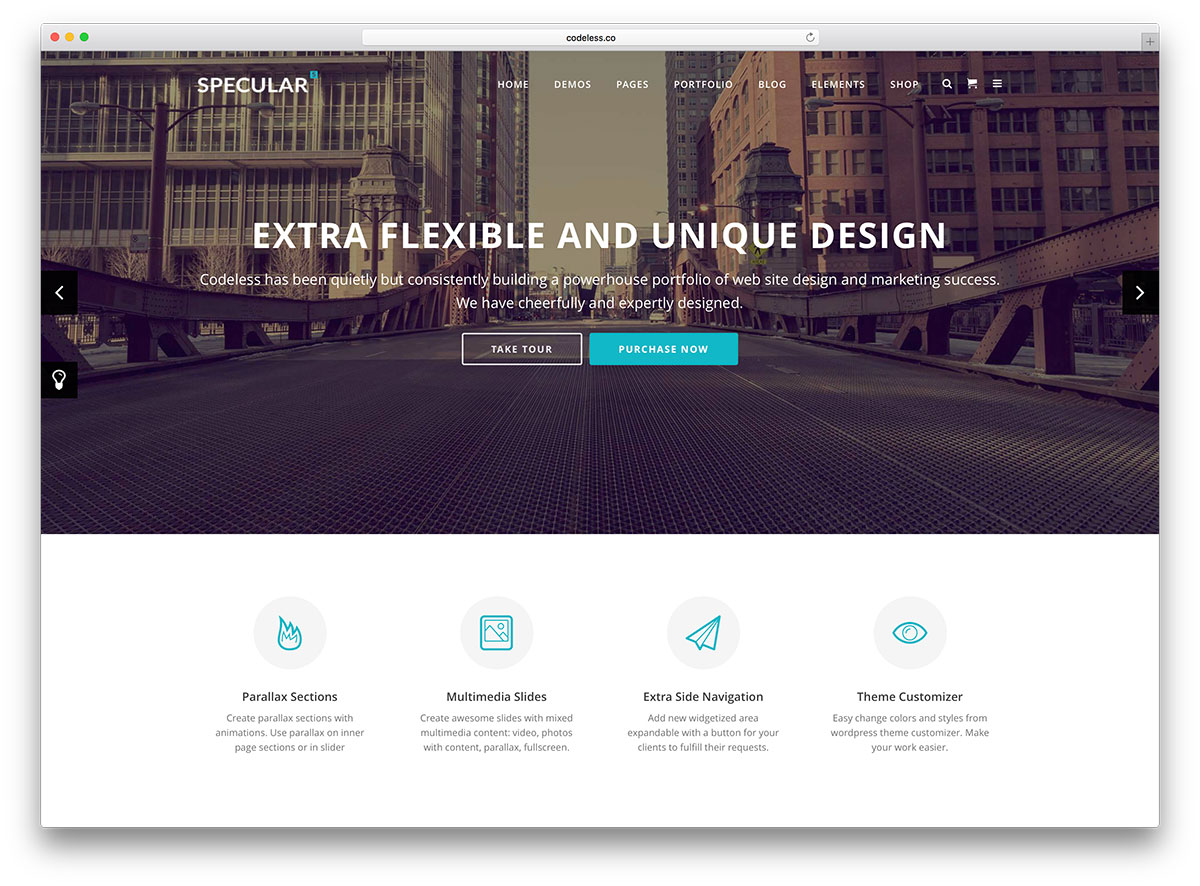 Plus d'infos / Télécharger
Armada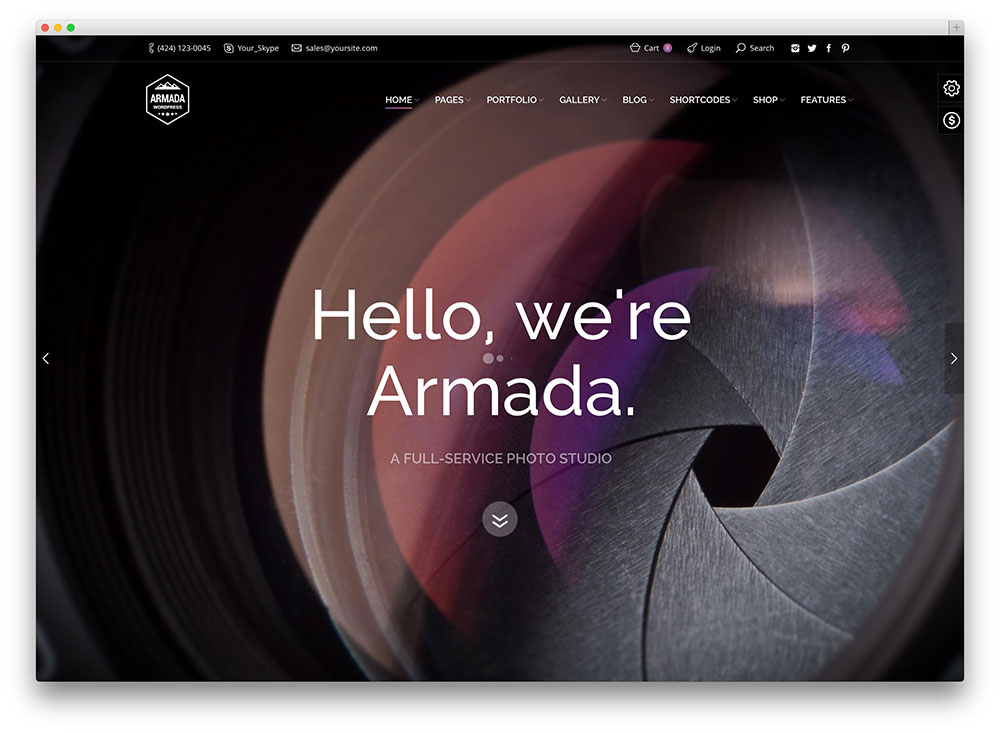 Armada is a stylish and clean WordPress theme armed with the finest features and plugins that a developer needs in building an outstanding and high-quality website. What's more, this theme is also extremely responsive, scalable and retina ready. Additionally, this website template makes sure that your website will fit and function smoothly on any type of mobile device or screen sizes. From huge studio portals to personal blogs, Armada will provide you a great framework for your next project!
Moreover, Armada includes 16 premade skins, multiple header options and advanced theme options to make your site stand out from the crowd. Furthermore, the developers fully optimized this trendy theme for speed and yields good scores in GTMetrix and Pingdom tests. Lastly, they built it with SEO best practices in mind and compatible with SEO by Yoast and All in One SEO Pack plugins.
North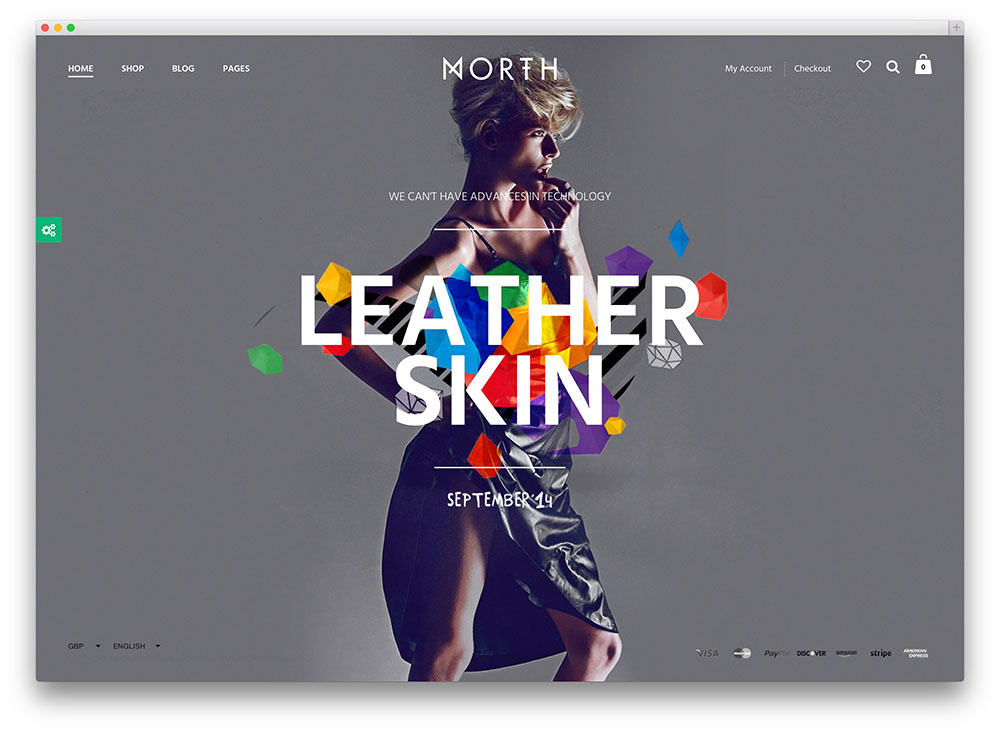 North is a bright and colorful multipurpose WordPress theme. It comes with unique and attention-grabbing design that will certainly help you attract more visitors to your website. Moreover, it is also fully responsive and retina ready to make your website stand out from your competitors in your industry.
The developers specifically designed North to help your content, work of art or products get the attention it deserves from your target audience. Additionally, this full width WordPress theme is very easy to customize and includes an intuitive theme options that enables you to modify parts of your theme with ease. Moreover, North is bundled with 6 exclusive plugins: Visual Composer, Slider Revolution, Table Rate Shipping, WooCommerce PDF Invoice, Dynamic Pricing & Discounts and Product Filter.
They also packed it with tons of amazing features and carefully designed to provide visitors an excellent user-experience.