Le créneau de style de vie prend rapidement le contrôle de tous les médias sur le Web. Il semble que ces jours-ci tout le monde cherche un moyen d'améliorer sa vie. Les concepteurs de thèmes WordPress n'ont pas négligé l'immense croissance des sujets liés au mode de vie. Les modes de vie et les modes de vie sains sont parmi les plus populaires. Un blog ou un magazine de style de vie typique utilise les dispositions de liste de blogs traditionnelles. Heureusement pour les propriétaires de sites Web, les tendances ont continué d'évoluer. De superbes curseurs de contenu, de nouvelles façons de montrer du contenu et des fonctionnalités de promotion de contenu concises sont quelques-uns des meilleurs outils que vous pouvez attendre des thèmes suivants.
Surtout, c'est la certitude que vous choisissez un excellent modèle. Lors de notre propre processus de sélection, nous tenons compte de plusieurs facteurs. Tout d'abord, nous veillons à ce que les thèmes proposés soient de qualité supérieure. Si vous regardez à quoi ressemblaient les thèmes de styles de vie il y a 5 ans, la différence de qualité est palpable. Deuxièmement, ce sont les avis des clients existants. Vous ne voulez pas choisir un thème dysfonctionnel. Nous avons donc porté une attention particulière aux commentaires d'autres personnes. Et pour l'essentiel, c'est très positif.
Vous devez garder les yeux ouverts. Il est facile de se laisser distraire en consultant des sites Web sur les modes de vie existants. Ces sites ont de beaux designs, mais parfois, un beau design est un processus étape par étape. Vous savez, éditer et personnaliser les choses au fur et à mesure que le site se développe. La plupart des thèmes que nous avons inclus ici vous fournissent les outils pour une optimisation future.
Gillion (Article Tendance)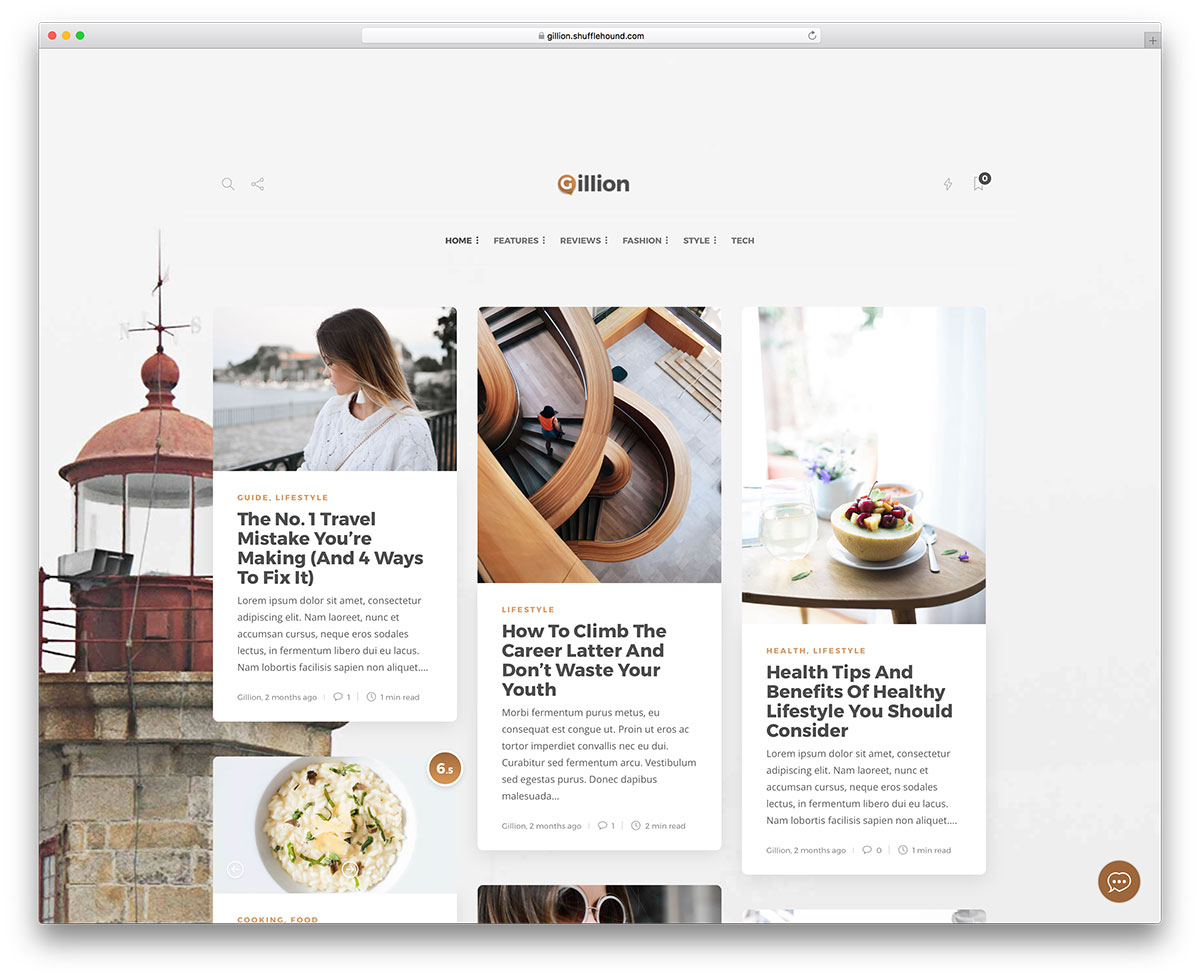 Gillion est un thème WordPress conçu pour la publication, l'écriture et les blogs. Il est construit avec Visual Composer et le framework Unyson. Vous l'obtiendrez avec 7 démos pré-construites sur différents modèles. Gillion fournit une interface gérable et solide pour jouer. Cela s'accompagne de personnalisations qui permettent d'éviter le codage. Pour la mise en page, un personnalisateur dynamique complet et bien emballé est disponible. Amusez-vous à organiser entre 12 widgets personnalisés, 6 styles de blogues, de nombreux formats de publication et plus encore. Gillion propose 4 jeux d'en-têtes et une barre supérieure délicate pour intégrer des icônes sociales. Si quelque chose n'est pas clair, vous obtiendrez une documentation complète et une équipe de support personnalisée! Soyez créatif avec Gillion!
MagPlus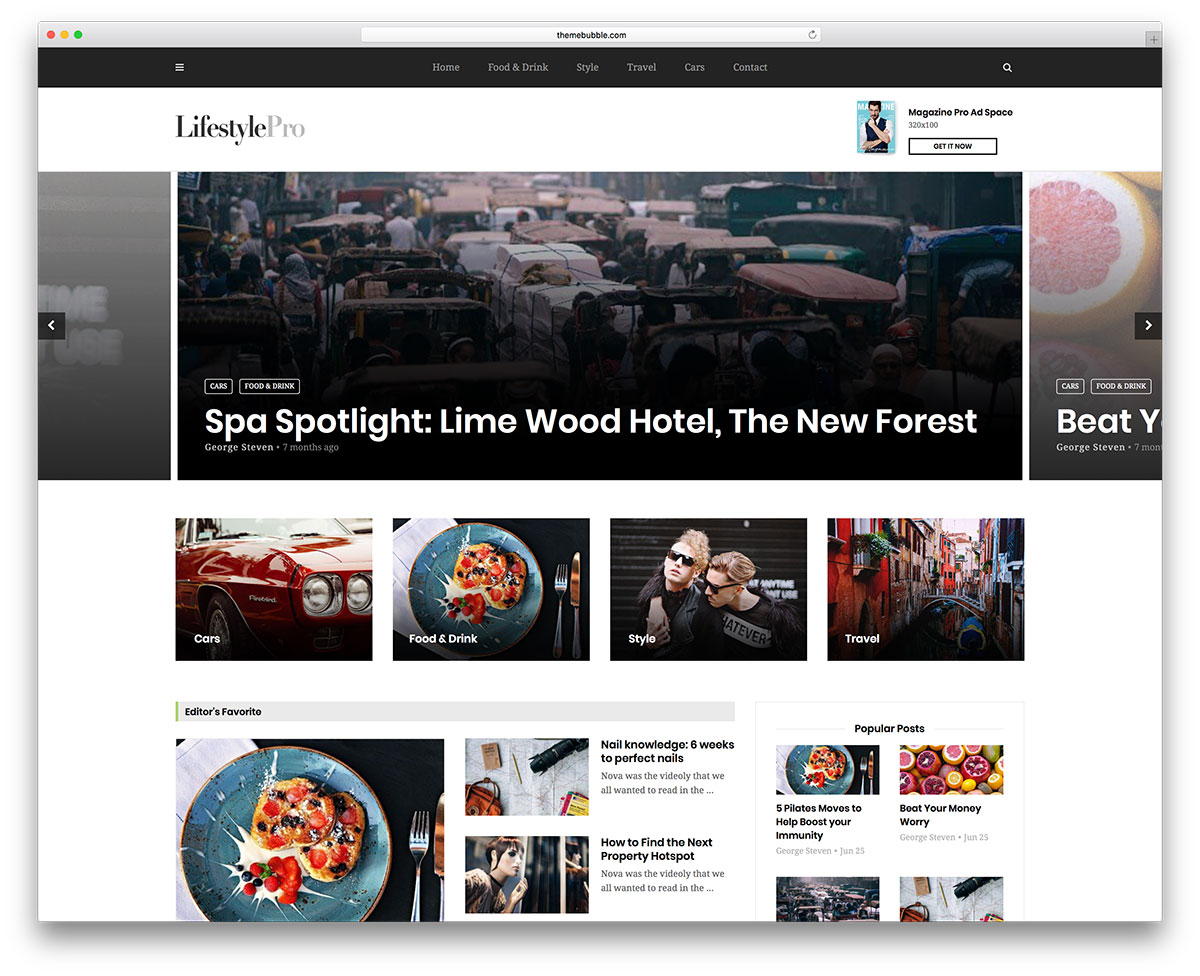 MagPlus est un thème WordPress tendance et exceptionnel. C'est un outil polyvalent avec des tonnes de démos et de pages d'accueil; alors, soyez pointilleux. C'est aussi gratuit et amusant que possible, alors les blogueurs lifestyle comme vous l'aimeront! MagPlus vous donne des possibilités illimitées pour les galeries avec des tonnes de curseurs et d'options de support vidéo. Il comporte également les crayons jaunes et jumbo intégrés pour rendre les choses élégantes. L'installation sera extrêmement facile car elle compte plus de 30 shortcodes et des tonnes d'éléments prédéfinis tels que des en-têtes et des pieds de page. Vous pouvez placer un élément n'importe où pour créer un affichage unique et présenter de nouveaux gadgets. Les moteurs de recherche et la vitesse de chargement sont entièrement optimisés!
MagPlus est prêt à fonctionner avec la compatibilité WooCommerce et fournit également une traduction de texte. Lisez sa documentation complète ou regardez des tutoriels pour commencer. Commencez par écrire aujourd'hui et produisez l'impact dont vous rêvez avec MagPlus!
PenNews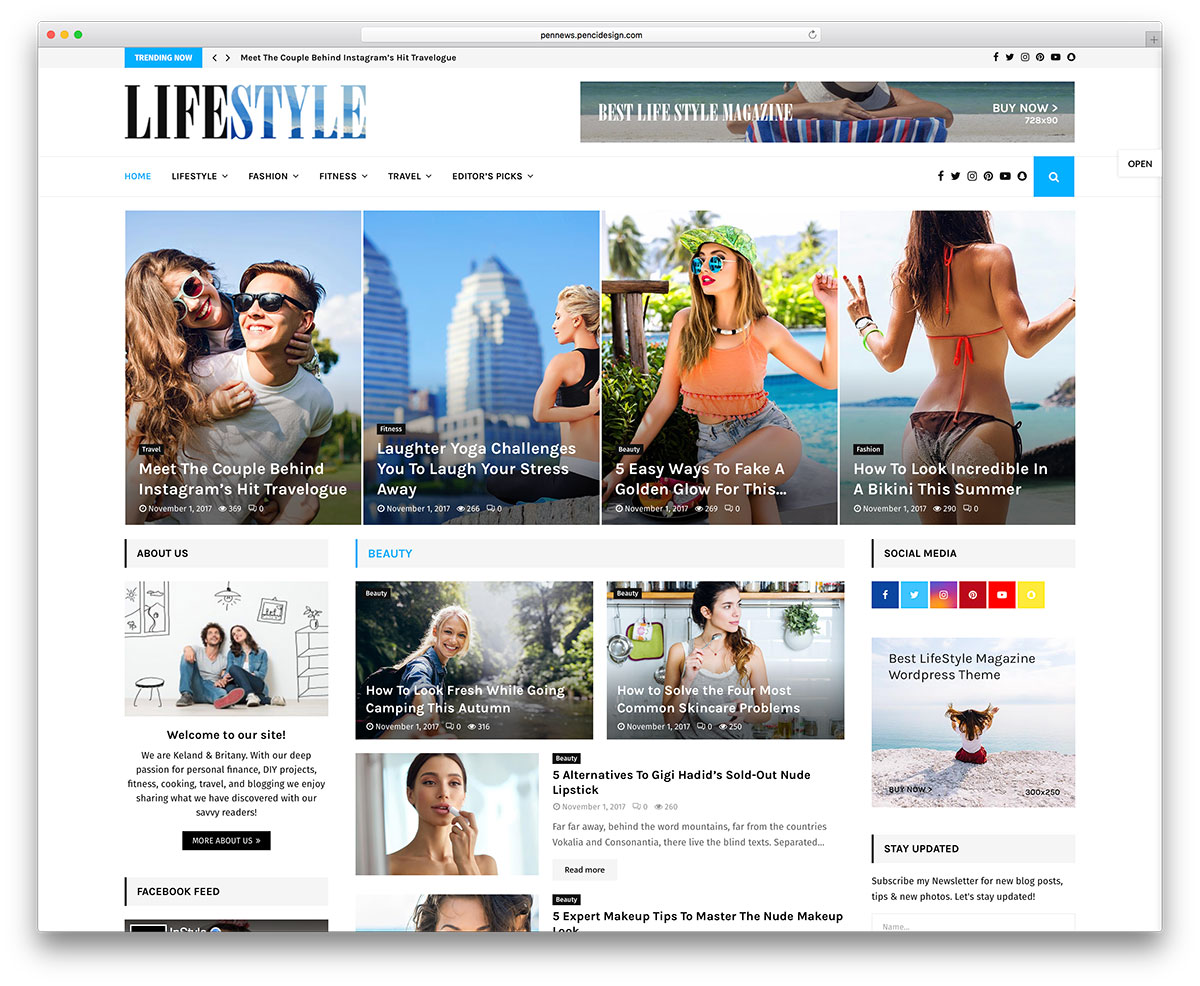 PenNews est un outil articulé, flexible et réactif WordPress news et thème du site magazine. Ce thème est une plate-forme intuitive qui simplifie le développement de blogs géniaux. Quel que soit votre créneau, PenNews garantit à votre blog une apparence moderne et pointue. Le puissant WPBakery vous permet de construire des pages sans écrire une ligne de code. Des démos épurées vous installent du jour au Personnalisez leur apparence avec les paramètres avancés de WPCustomizer. Créez votre propre blog et personnalisez-le en quelques minutes.
Les styles de post bien conçus vous permettent de raconter vos histoires correctement. Développez un public plus large avec un référencement parfait et une intégration poussée dans les médias sociaux. Les articles instantanés Google AMP et Facebook permettent à votre blog de devenir facilement viral. De belles galeries d'images mettent en valeur votre contenu visuel dans une présentation époustouflante. Avec plus de 40 blocs de contenu, PenNews n'a jamais perdu ses fonctionnalités. Laissez PenNews mettre à niveau votre blog au niveau supérieur!
Noemi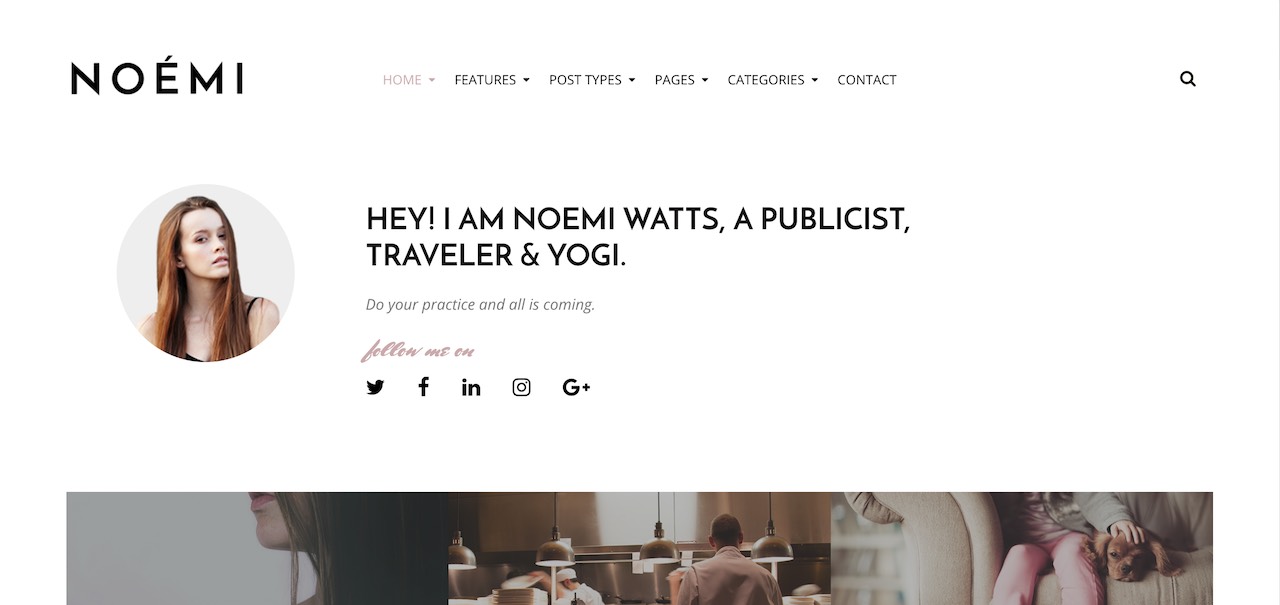 recettes, blogueurs de mode et architectes aussi. Votre contenu doit se démarquer. Les concepteurs utilisent donc des dispositions de boîte HTML5 personnalisées pour mettre en surbrillance le méta-contenu d'entrée. Les fonctionnalités uniques de chevauchement facilitent la navigation dans l'environnement Web, ce qui est idéal pour les blogs à contenu lourd. Le style de vie est l'un des créneaux les plus faciles pour écrire du contenu, et vous avez besoin d'une mise en page qui puisse compléter votre écriture.
En testant la conception mobile, vous constaterez que rien n'est exclu. Certains thèmes WordPress n'affichent pas les barres latérales de manière réactive, mais Noemi. Vous voulez avoir le plus de moyens possibles pour présenter le contenu à vos lecteurs. Les mises en page sont créées dans des spectres pleine largeur et encadrés, ce qui vous permet en outre de personnaliser l'apparence de votre site.
Le style de vie est l'un de ces créneaux dans lesquels on ne sait jamais quel type de contenu vous allez publier. Il est utile d'avoir des types de publication pour la vidéo, les images, les galeries coulissantes et même l'audio pour les podcasts que vous hébergez peut-être. Tandis que tout le monde a du mal à utiliser les plugins externes, vous avez tous ces types de publications prédéfinis et prêts à l'emploi.
CD Vogue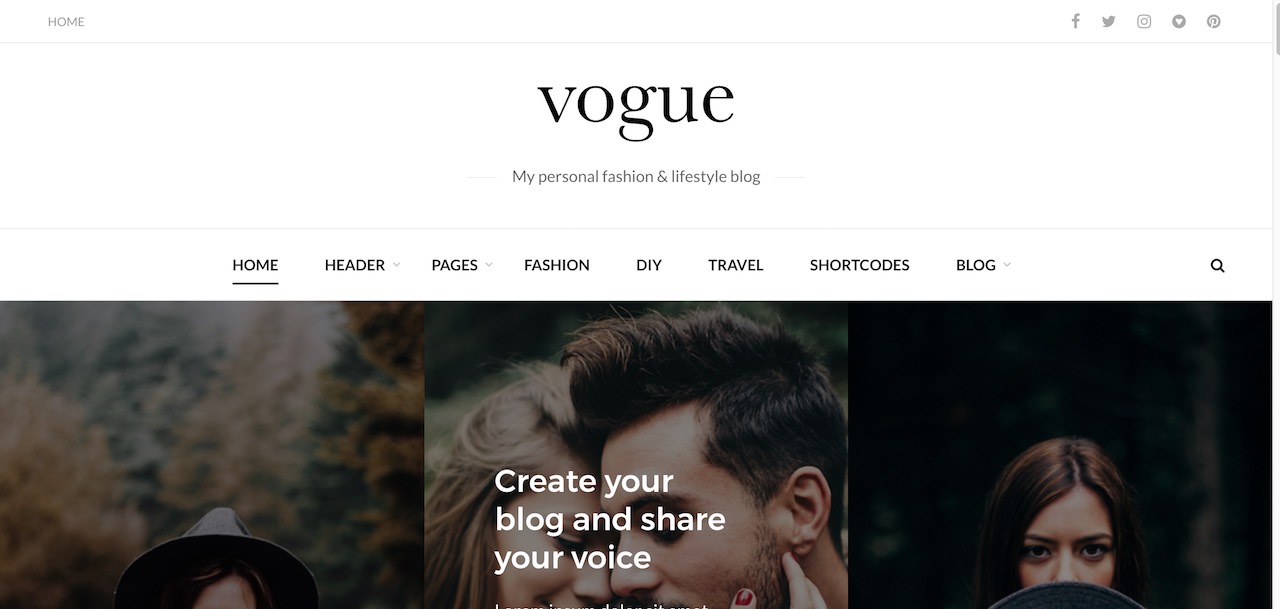 quelque chose lié à la mode. C'est définitivement le cas avec ce thème premium. Le CD Vogue est une solution universelle pour les blogueurs de mode spécialisés dans le contenu lifestyle. La conception épurée vous aide à attirer l'attention des lecteurs sur tous les visuels époustouflants que vous partagez. Quel que soit le créneau, il est important d'avoir un diaporama de messages en haut de la page. C'est la première chose que vos visiteurs regardent lorsqu'ils se rendent sur votre site. Pouvoir placer un contenu pertinent au sommet avec un diaporama transparent peut faire toute la différence. Vogue CD comporte 12 curseurs de carrousel uniques, prêts à être affichés dans la section en-tête de votre site.
Le thème est bourré de widgets personnalisés et uniques qui aideront à promouvoir votre contenu et vos canaux de médias sociaux. Ces widgets comprennent un curseur Instagram, des publications récentes et populaires (2 styles), des publications tendances, des liens sociaux, un formulaire d'abonnement par courrier électronique (MailChimp) et des bannières publicitaires. Au cœur de votre tableau de bord WordPress, vous pouvez ajouter un widget Messages populaires que seuls les administrateurs du site peuvent voir. Savoir quel contenu a tendance sur votre site peut vous aider à en créer davantage. Les en-têtes personnalisés vont des images de page pleine page aux intros en boîte. Il y en a pour tous les goûts.
Vogue a sa propre base de données shortcode personnalisée. Ce sont des boutons, des menus, des zones, des colonnes et des fonctionnalités de mise en évidence de texte qui vont améliorer la qualité de la conception de votre contenu. La mode est l'une de ces industries où la définition visuelle de quelque chose est la plus importante.
Anahata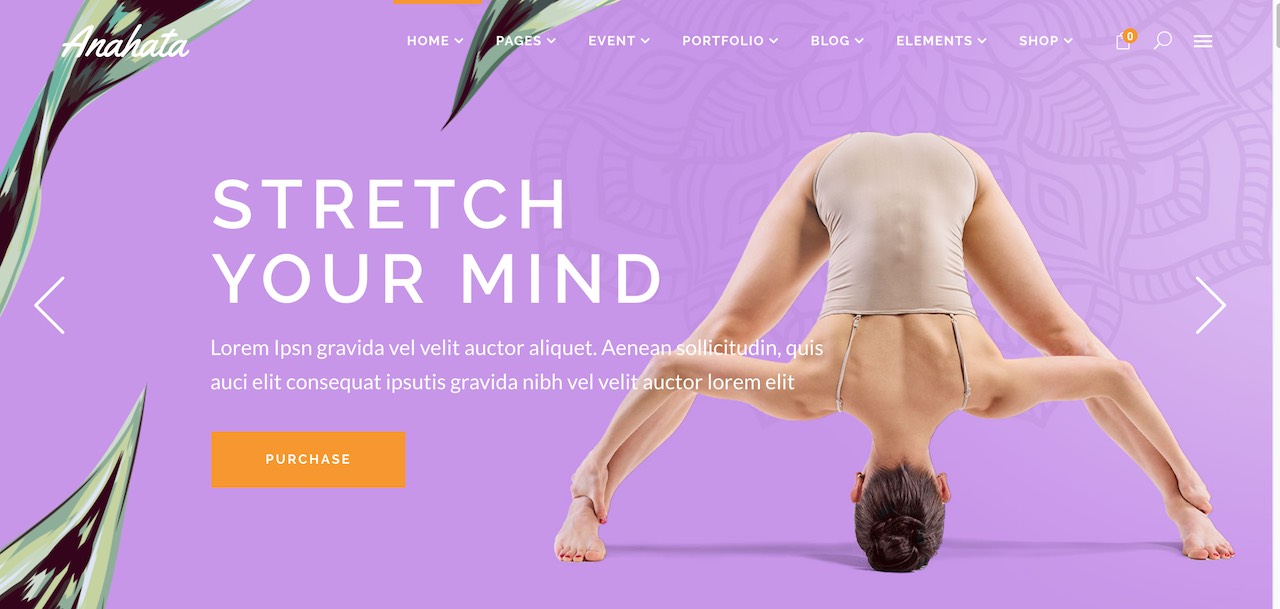 studios de yogaet des sites Web lifestyle. Par conséquent, il n'est pas nécessaire de surinvestir dans plus de thèmes que cela. Le bien-être est un créneau en pleine expansion et c'est le genre de créneau où les couleurs sont au cœur des débats. En conséquence, le thème Anahata a cette structure raffinée qui met l'accent sur ces exigences. Avec 12 designs de page d'accueil uniques, Anahata ne peut pratiquement rien faire. Qu'il s'agisse d'un festival de yoga, d'un studio de yoga ou d'une entreprise de pleine conscience que vous envisagez d'ouvrir, ce thème vous accompagnera tout au long. Surtout, il comporte des fonctionnalités dont de tels sites Web auraient besoin pour réussir.
Le premier est un emploi du temps personnalisé. Les horaires sont utilisés pour spécifier les classes ou la disponibilité des réservations de service. Les planifications s'appuient sur des événements personnalisés que vous créez dans votre tableau de bord d'administration. Les événements ont leur propre page, où les classes individuelles peuvent être expliquées. Vous pouvez décrire la description de la classe, ses principaux avantages, l'identité de l'instructeur et la fréquence à laquelle ces cours sont organisés dans votre studio. Les présentations de Yoga Travel et Mindfulness sont plus directement alignées sur les exigences des blogs de style de vie. Il s'agit donc d'un modèle véritablement polyvalent qui trouvera de nombreuses utilisations intéressantes dans divers contextes.
En plus de la présentation de la page d'accueil, les blogs ont également leur propre design. Certains les dessins sont un blog standard, simple et maçonnerie (avec plusieurs options). Nous avons particulièrement aimé le design du métro. En utilisant des images colorées, vous pouvez créer un beau blog gratuit pour votre entreprise principale.
Broden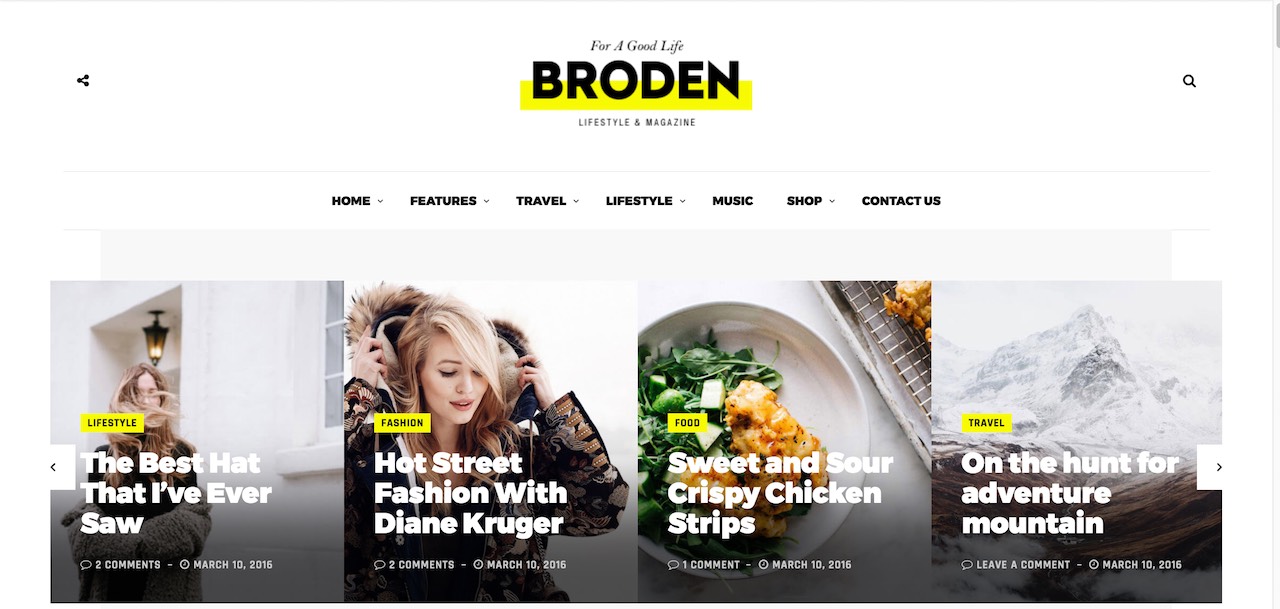 Plus d'infos / Télécharger
Source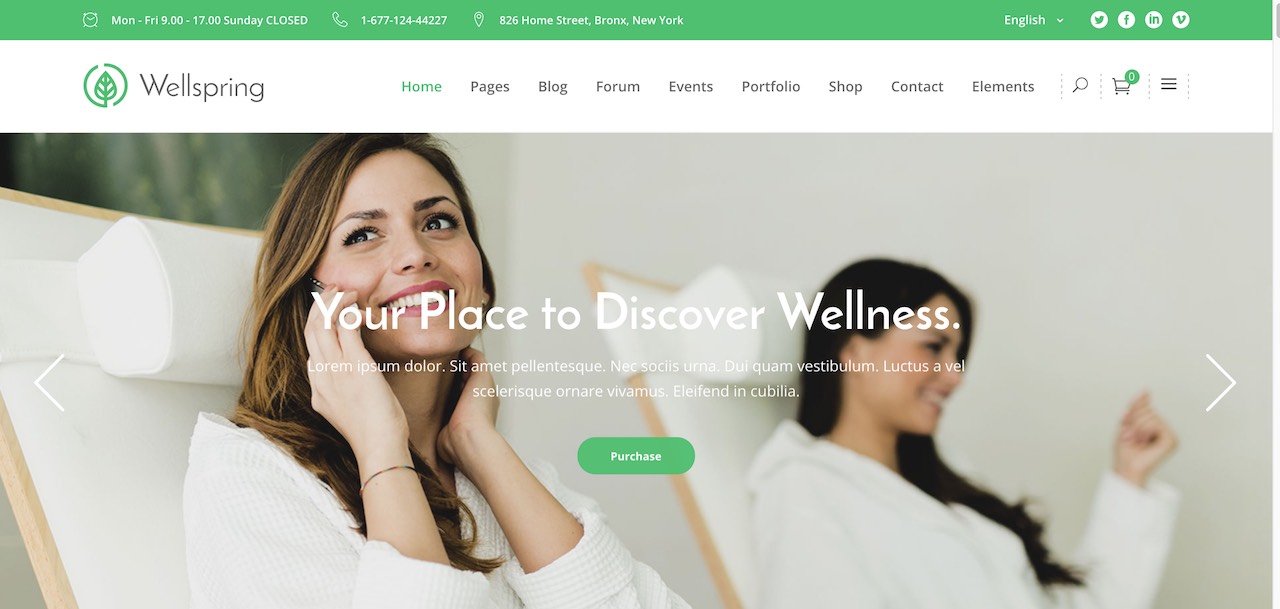 Plus d'infos / Télécharger
Quatre-vingt jours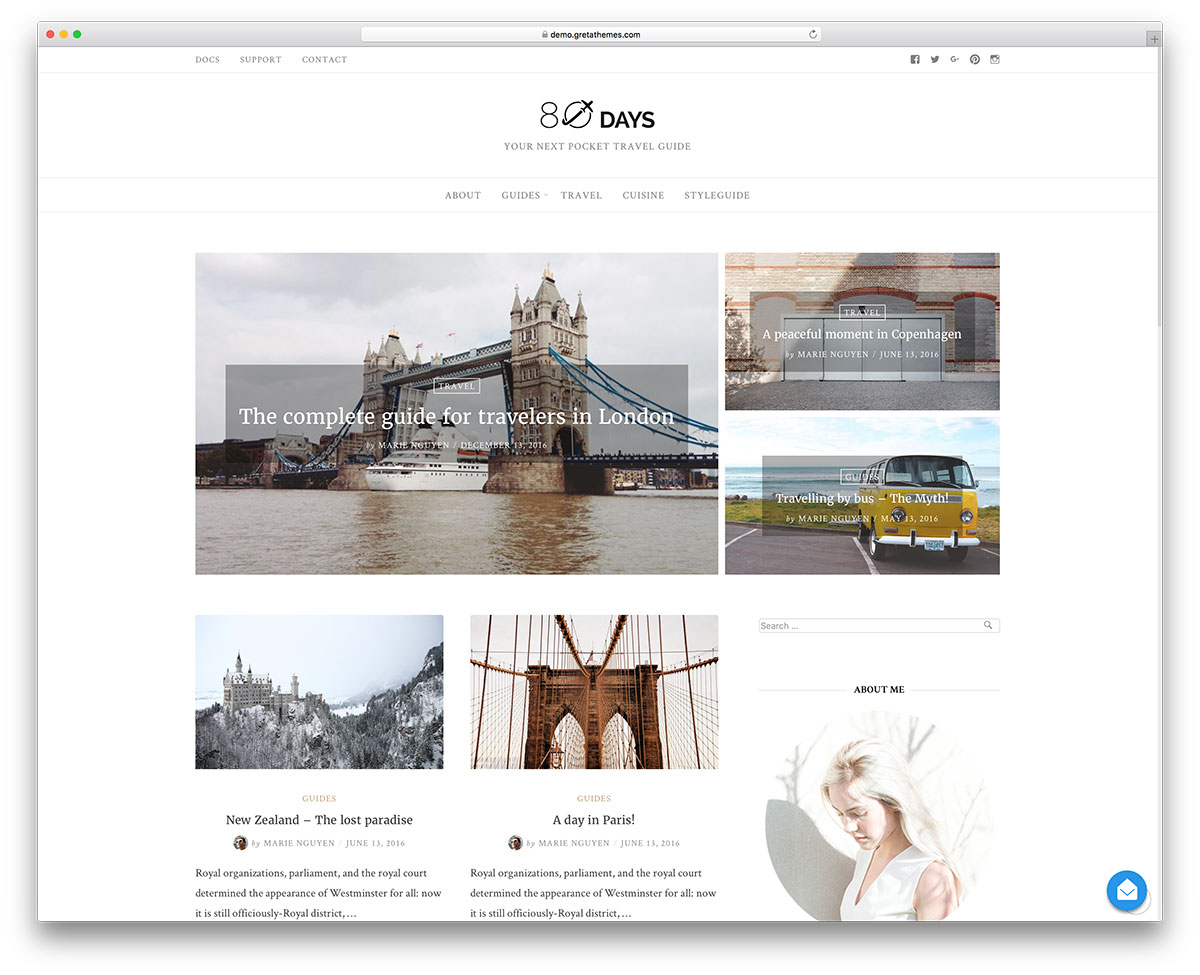 Eighty Days est un thème WordPress axé sur les voyages et les blogueurs. Il est livré avec une orientation particulière pour raconter des histoires et découvrir de beaux endroits. Il est construit dans un code propre et avec une conception mobile conviviale. Même un menu mobile est disponible! Quatre-vingt jours fait en sorte que les lecteurs sachent qu'ils voyagent avec vous et racontent des histoires. Il a une typographie belle et élégante. Vous l'obtiendrez avec des pages de blog et de grands espaces pour l'affichage d'images. Eighty Days est rapide et réactif grâce à un design personnalisé. Il est très léger et utilise l'optimisation SEO. Il est également conçu pour un concept minimaliste très ciblé. Y
Nous vous fournirons tout le nécessaire sans éléments de confusion ou ajouts. Eighty Days propose des barres latérales mobiles et des zones de widgets illimitées pour jouer. Des sections pour les messages associés et la traduction automatique intelligente sont également disponibles. Pour que les gens soient accrochés, définissez votre zone de contenu personnel! Eighty Days a un objectif particulier qui le rend génial pour l'affichage d'images ou de vidéos. Il a la personnalisation en direct avec un code épuré et une connectivité sociale pour les auteurs de blogs. Avec son défilement infini et ses pieds personnalisables, tous les éléments sont faciles à réorganiser. Commencez à raconter vos expériences de voyage avec cet outil! Utilisez quatre vingt jours!
Coach de santé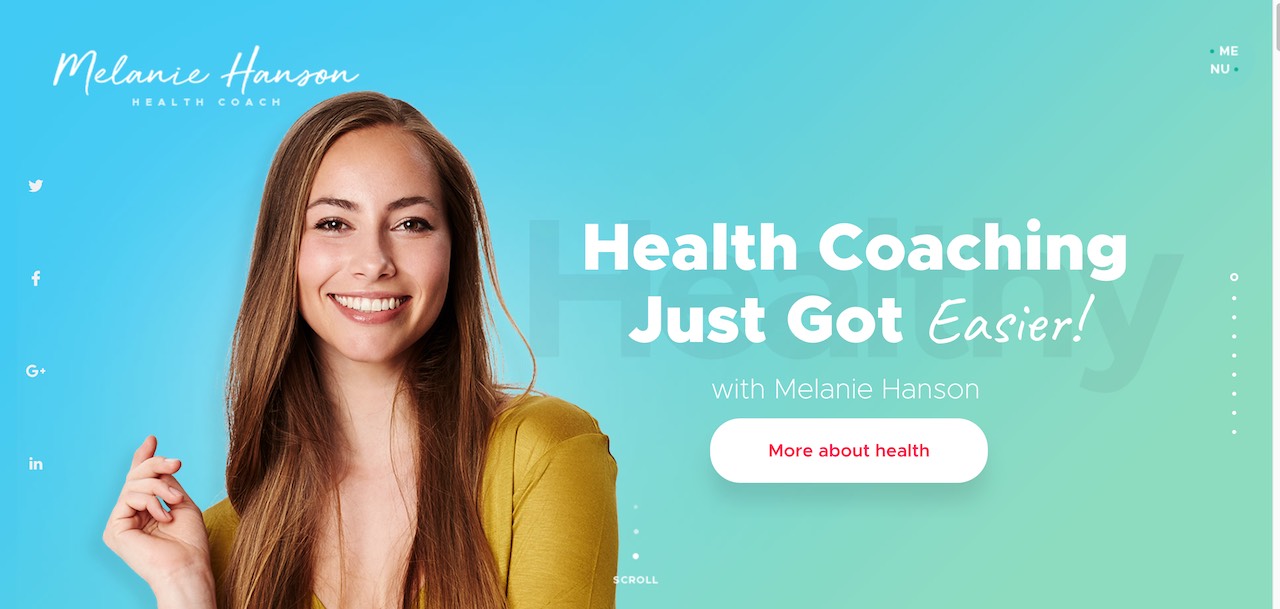 aliments, fitness, nutrition, yoga, méditation et sites de recettes. Le back-end est supporté par un framework appelé ThemeREX; un framework de personnalisation WordPress hautement fonctionnel. Par conséquent, gérer l'apparence de votre site WordPress sera facile, sans effort et agréable. La prise en charge native du célèbre constructeur de pages par glisser-déposer Visual Composer vous offre des centaines de façons de créer vos propres mises en page.
Les mises à jour du thème sont effectuées automatiquement. Ainsi, en cas d'urgence, votre site restera toujours sécurisé et à jour. Health Coach est également équipé de puissants codes courts, destinés à vous donner la possibilité de créer un contenu visuellement magnifique. Les pages d'articles de blog se sentent propres et ont leur propre personnalité, ce qui crée une expérience de lecture agréable.
Coach de santé 2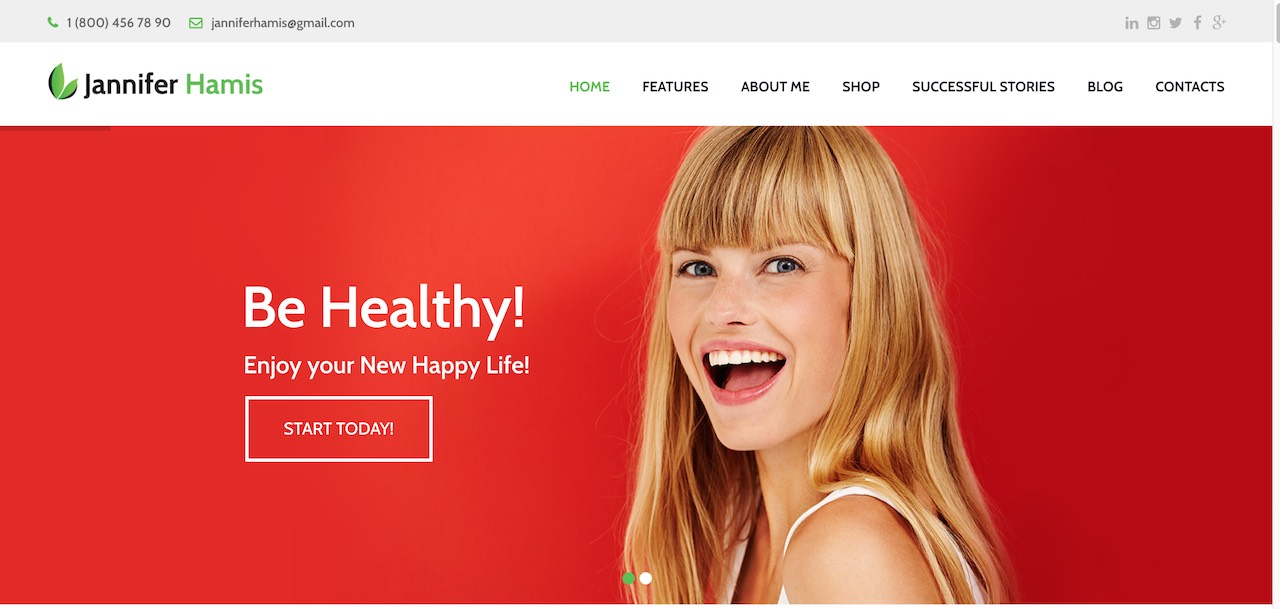 Il se trouve qu'il existe un autre thème WordPress premium intitulé Health Coach. Ce n'est pas le même que celui que nous avons vu plus haut. Ce sont deux thèmes complètement différents, avec des compositions de design totalement uniques. Par conséquent, ils ont tous deux le même objectif. Health Coach 2 concerne également la personnalisation de la marque. Il s'agit de vous présenter comme l'image de votre marque lifestyle et d'utiliser ensuite le design pour promouvoir vos produits. Pour certains, le produit principal est le contenu réel. Mais, finalement, les gens de style de vie ont tendance à produire des livres, des cours et des produits similaires. Il est important de disposer d'un thème susceptible de vous aider à promouvoir ces produits. Par ailleurs, il est tout aussi essentiel de pouvoir publier du contenu.
L'interface utilisateur du thème est plutôt intuitive. Il n'a pas d'options compliquées ni de paramètres de personnalisation. Tout semble fonctionner hors de la boîte. Et cela peut être un facteur majeur pour les blogueurs et les magazines lifestyle. Lorsque le thème devient trop difficile à utiliser, il entre dans la voie d'un calendrier de contenu régulier. Gérer un blog lifestyle réussi n'est pas une mince affaire. Il y a des commentaires, des commentaires, des publications et des pages à gérer, et tout se passe si vite qu'il n'est pas envisageable de ralentir. Heureusement, Health Coach 2 n'exige aucune contrainte sérieuse pour votre flux de production de blogs. Une grande partie de la conception peut être modifiée en un seul clic.
Le thème a des codes courts et des widgets personnalisés, ce qui est idéal pour créer une navigation de conception qui vous plaira. Voulez-vous afficher les messages les plus populaires? Facile, il suffit de choisir le widget des messages de tendances. Voulez-vous promouvoir vos comptes de médias sociaux? De manière tout aussi simple, choisissez le widget et spécifiez les liens du compte de média social, le reste est fait pour vous.
Authentique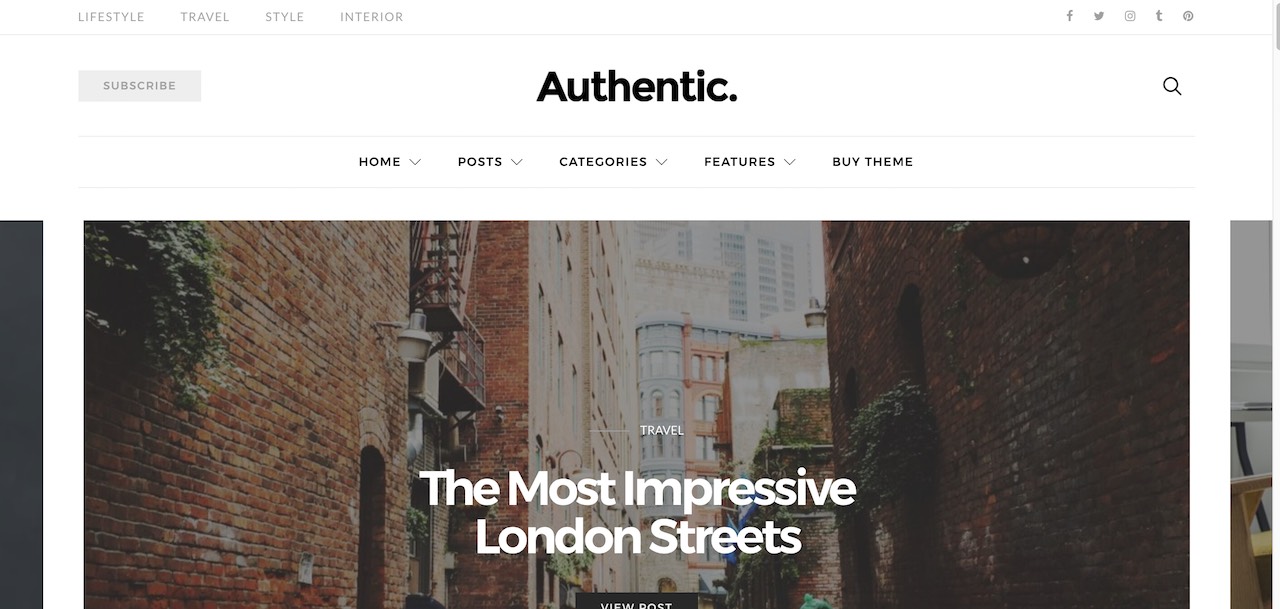 Plus d'infos / Télécharger
TopFit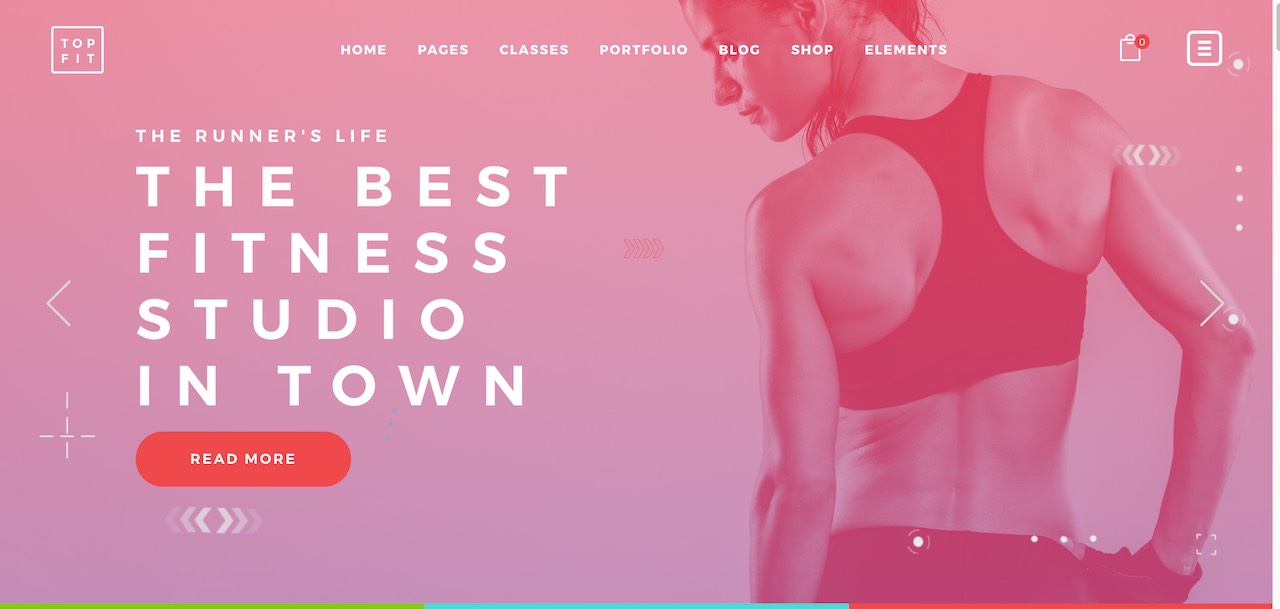 et projets de santé. En fin de compte, c'est ce qu'est le style de vie. Il s'agit de faire de bons choix, de mener une vie saine et de disposer des outils nécessaires pour que tout soit accompli. Avec TopFit, vous pouvez rapidement établir votre franchise lifestyle avec un thème de qualité superbe. Contrairement à de nombreux autres thèmes de style de vie, TopFit utilise une mise en page pleine largeur. Cela se fait généralement uniquement lorsque des éléments vibrants et colorés l'accompagnent. Et c'est définitivement le cas avec TopFit!
Si vous avez du mal à recréer des mises en page de démonstration, n'y pensez pas trop. Les développeurs TopFit vous offrent la possibilité d'importer des modèles de démonstration en un seul clic. Tout ce que vous avez à faire est de choisir votre favori. De plus, la prise en charge de Visual Composer est ce qui rend la personnalisation si facile. Il vous suffit de faire glisser les éléments dont vous avez besoin sur n'importe quelle de vos mises en page et vous avez pratiquement terminé. Le blog présente une mise en page standard et une maquette de maçonnerie. Il existe de nombreux types d'articles, mais surtout, les articles du blog sont faciles à lire et faciles à commenter.
Les blogs Lifestyle ont certains des ratios de commentaires les plus denses parmi tous les autres créneaux. En effet, les blogs de style de vie se concentrent sur les réponses aux questions et sur des sujets sensibles. Nous avons constaté que la conception des commentaires de blog de TopFit est impeccable et qu'il sera facile de s'y retrouver même avec des centaines de commentaires.
Bridget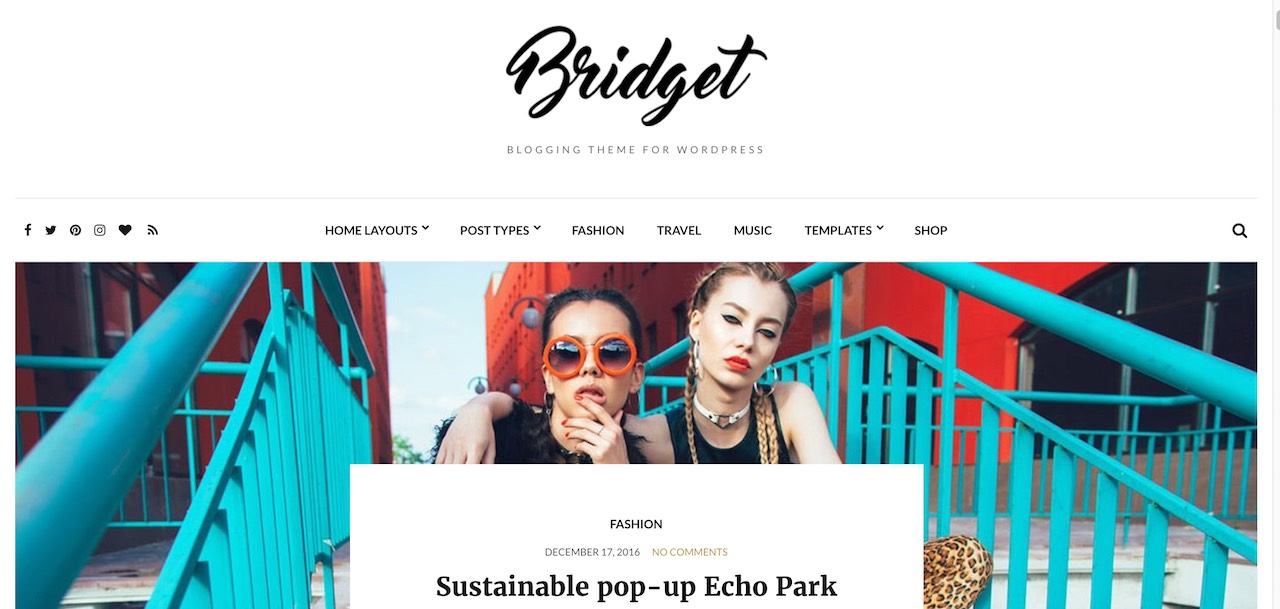 Plus d'infos / Télécharger
Josephine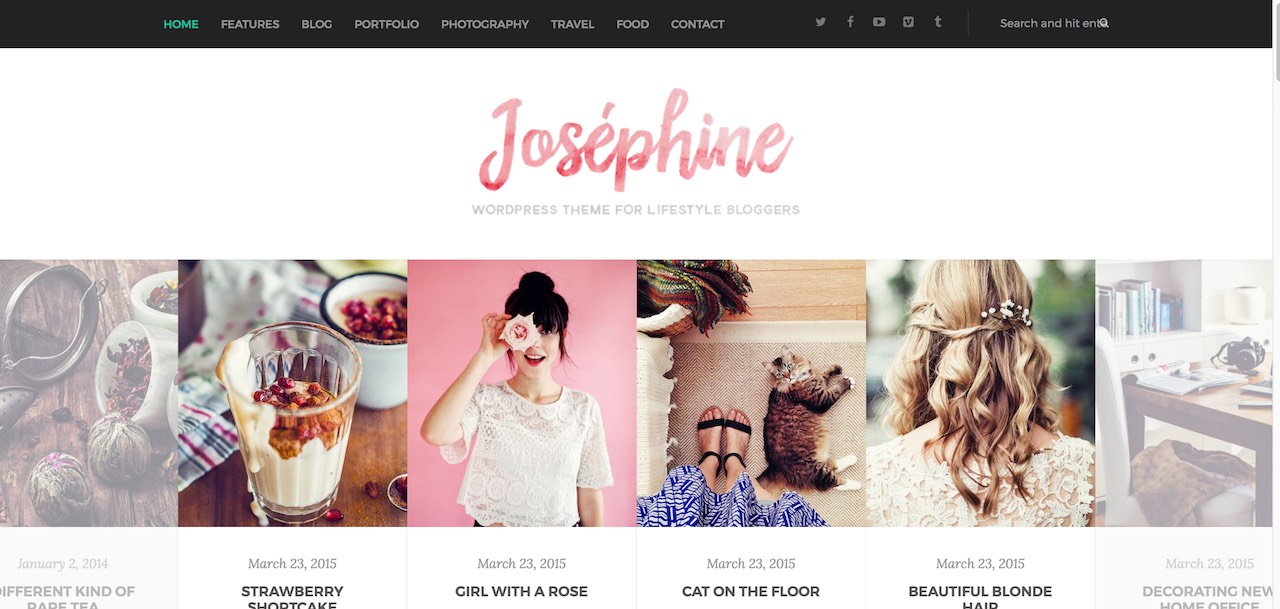 Plus d'infos / Télécharger
Escher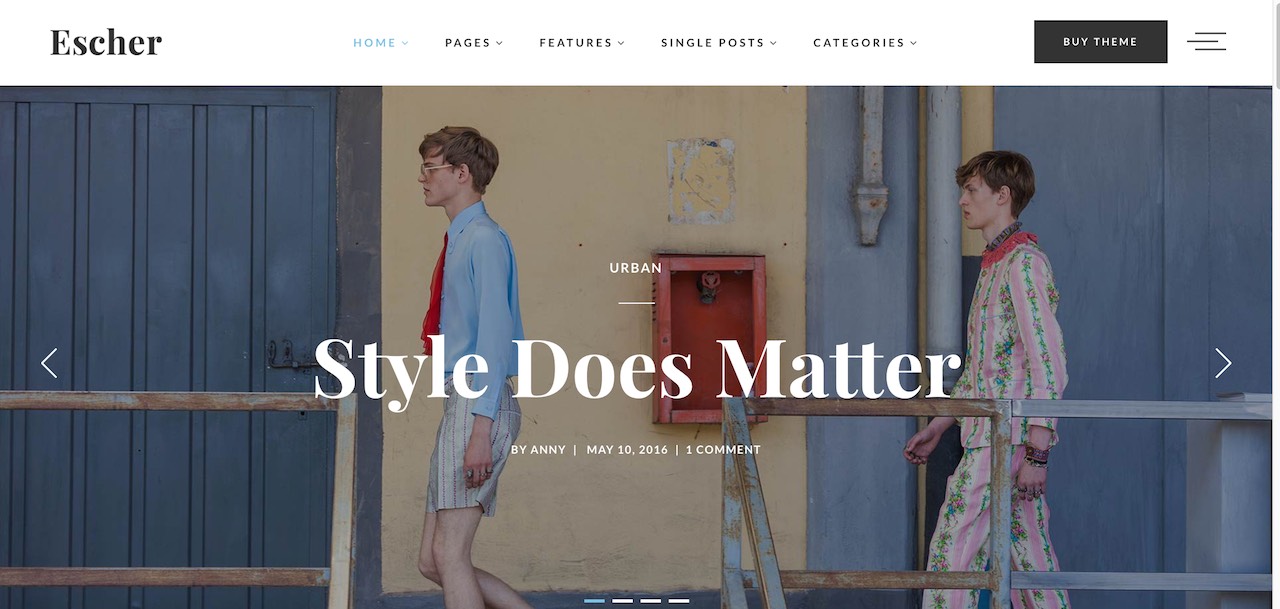 Plus d'infos / Télécharger
Hague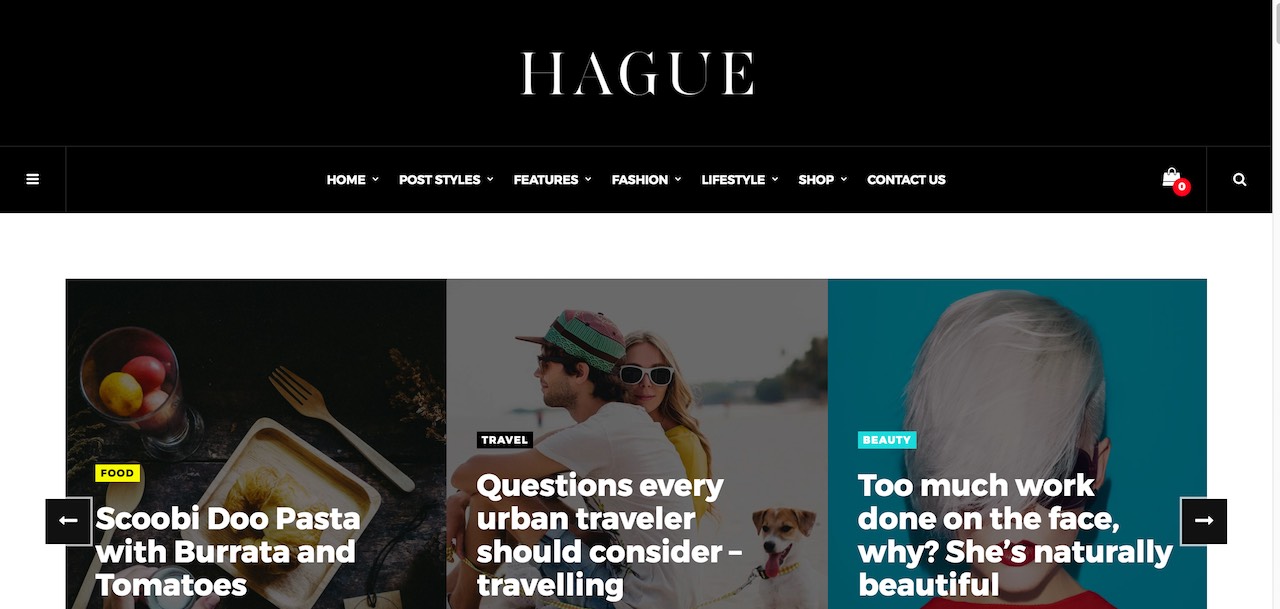 Plus d'infos / Télécharger
Shasta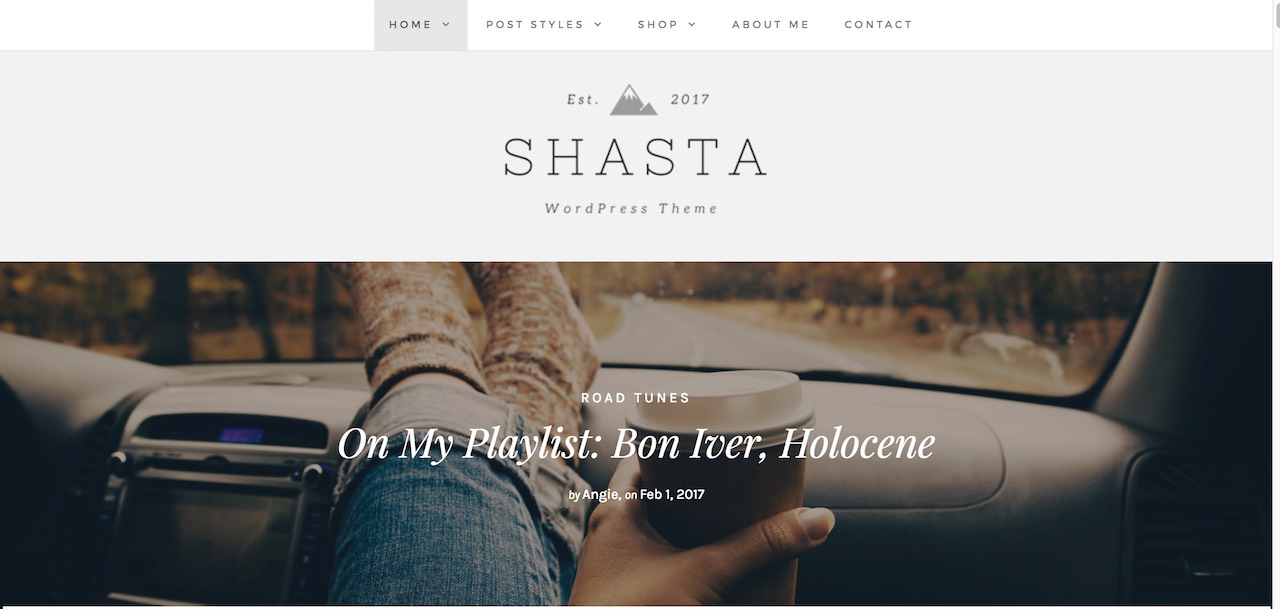 Plus d'infos / Télécharger
Kloe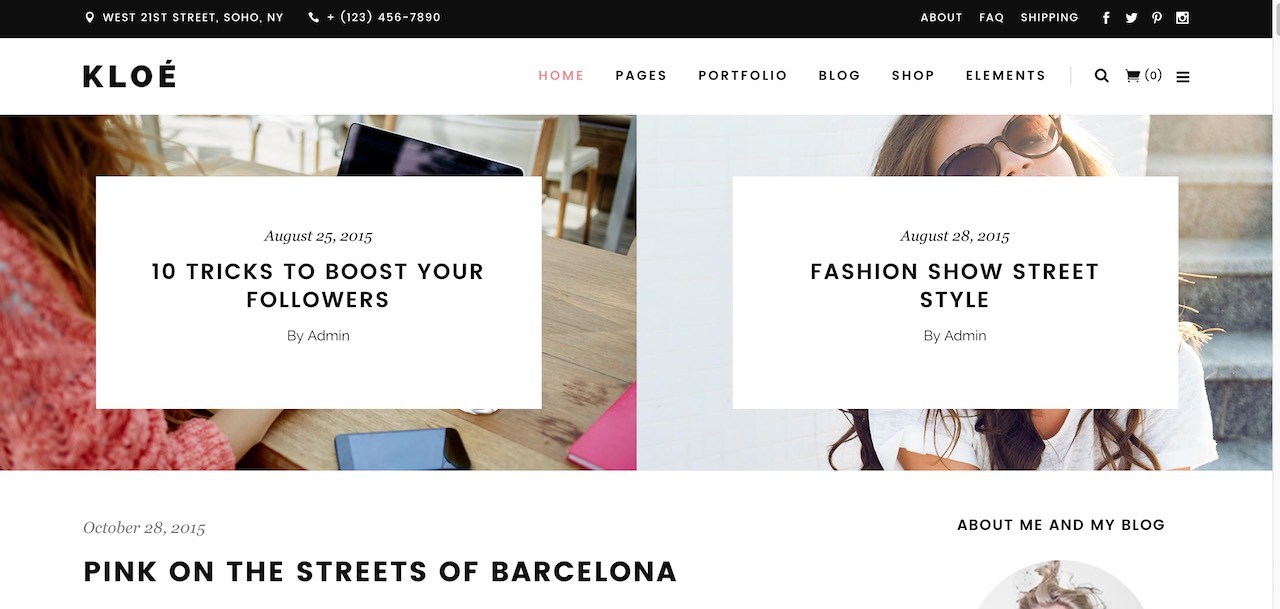 Plus d'infos / Télécharger
Pandella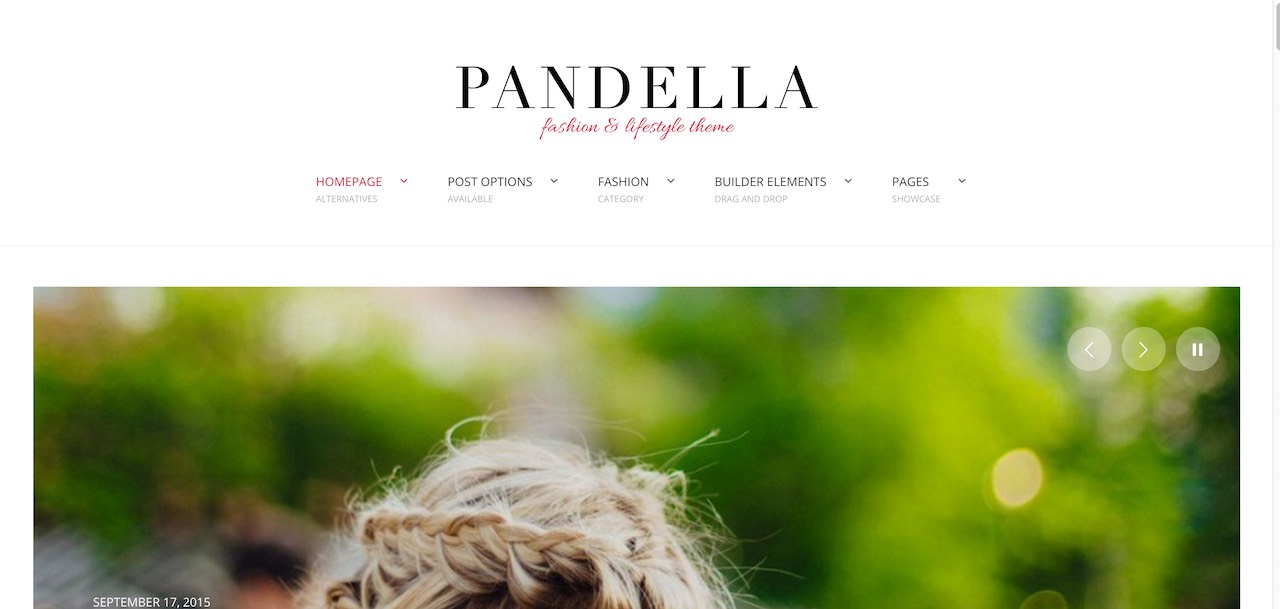 Plus d'infos / Télécharger
Hannah CD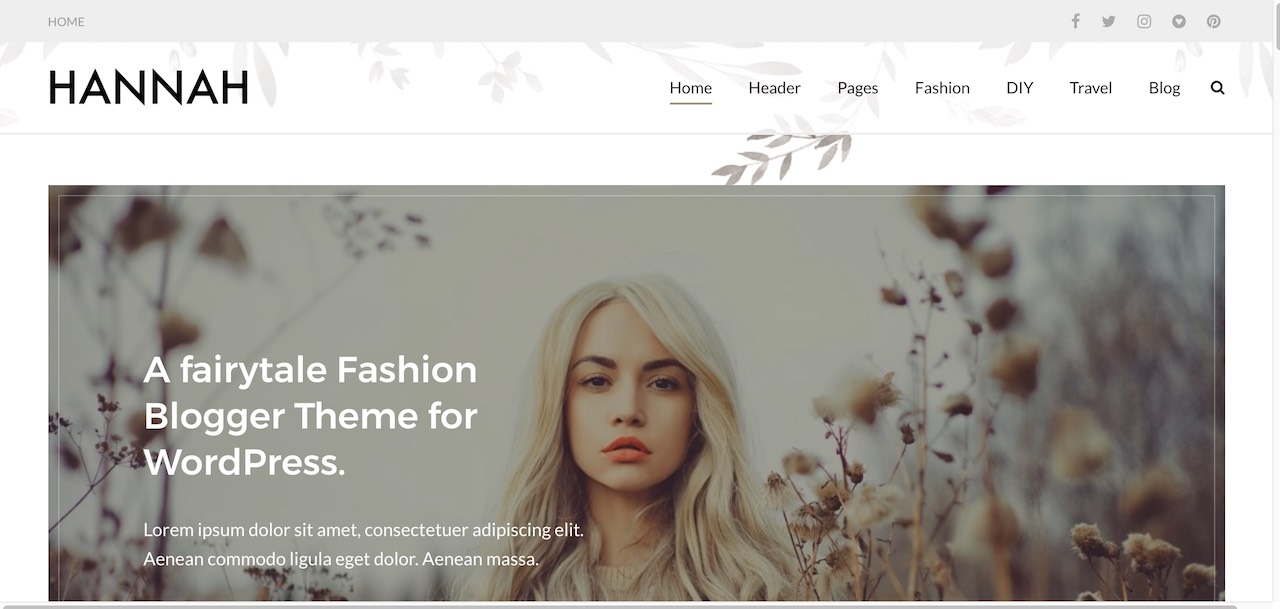 Plus d'infos / Télécharger
Stay Wild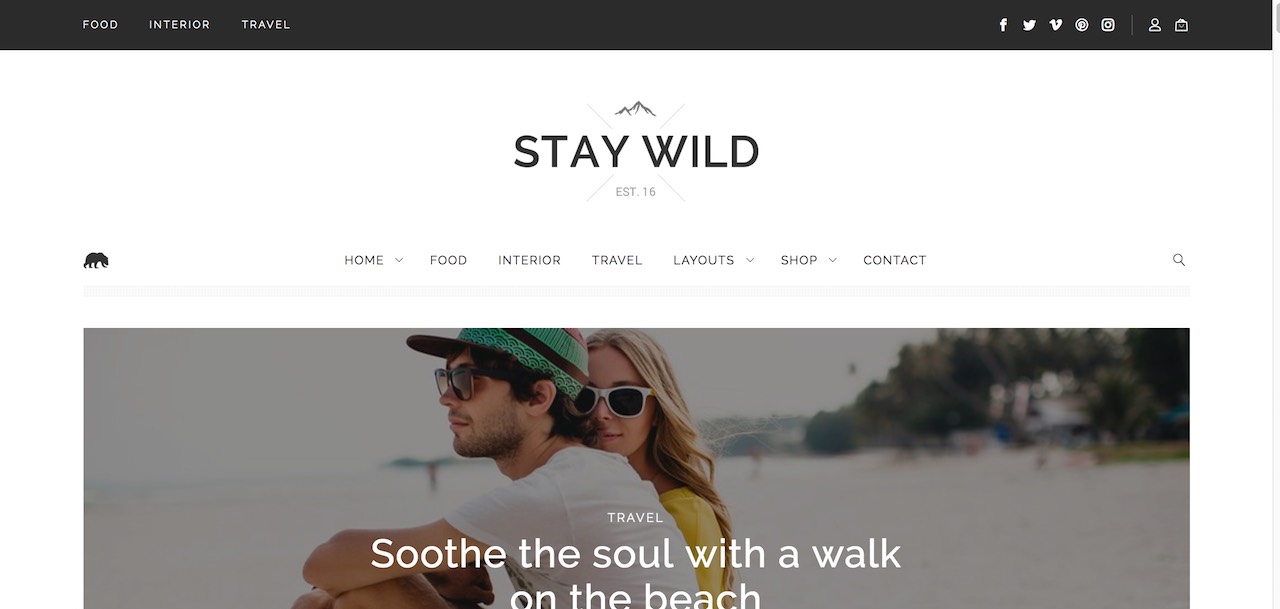 Plus d'infos / Télécharger
Suiveurs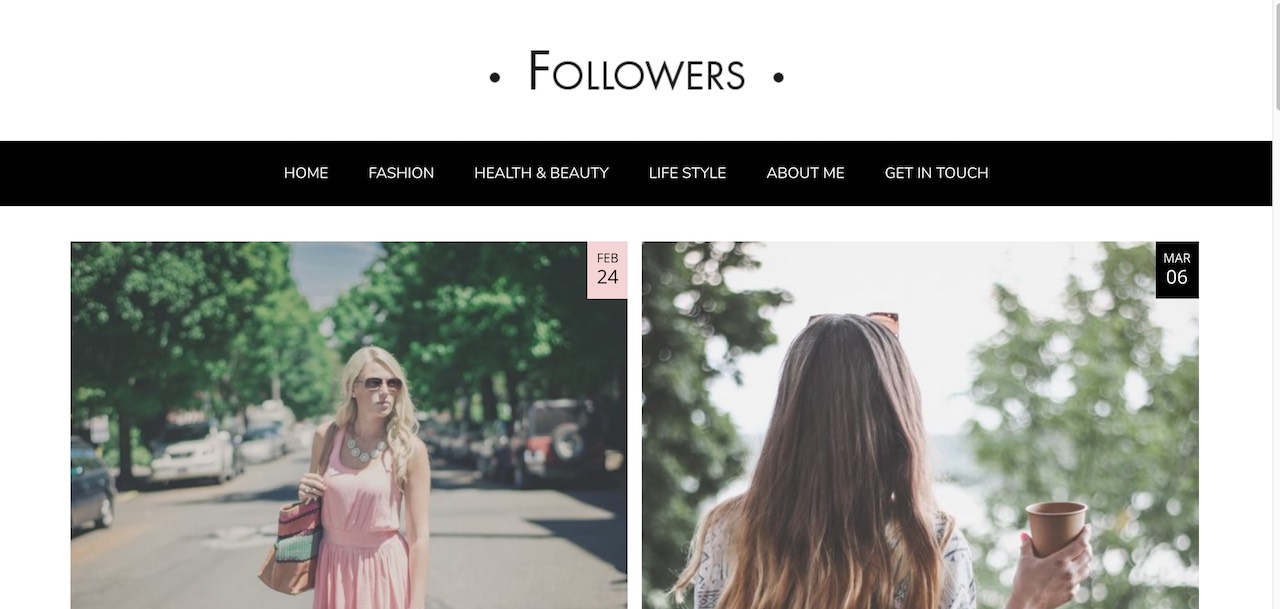 Plus d'infos / Télécharger
Sleezy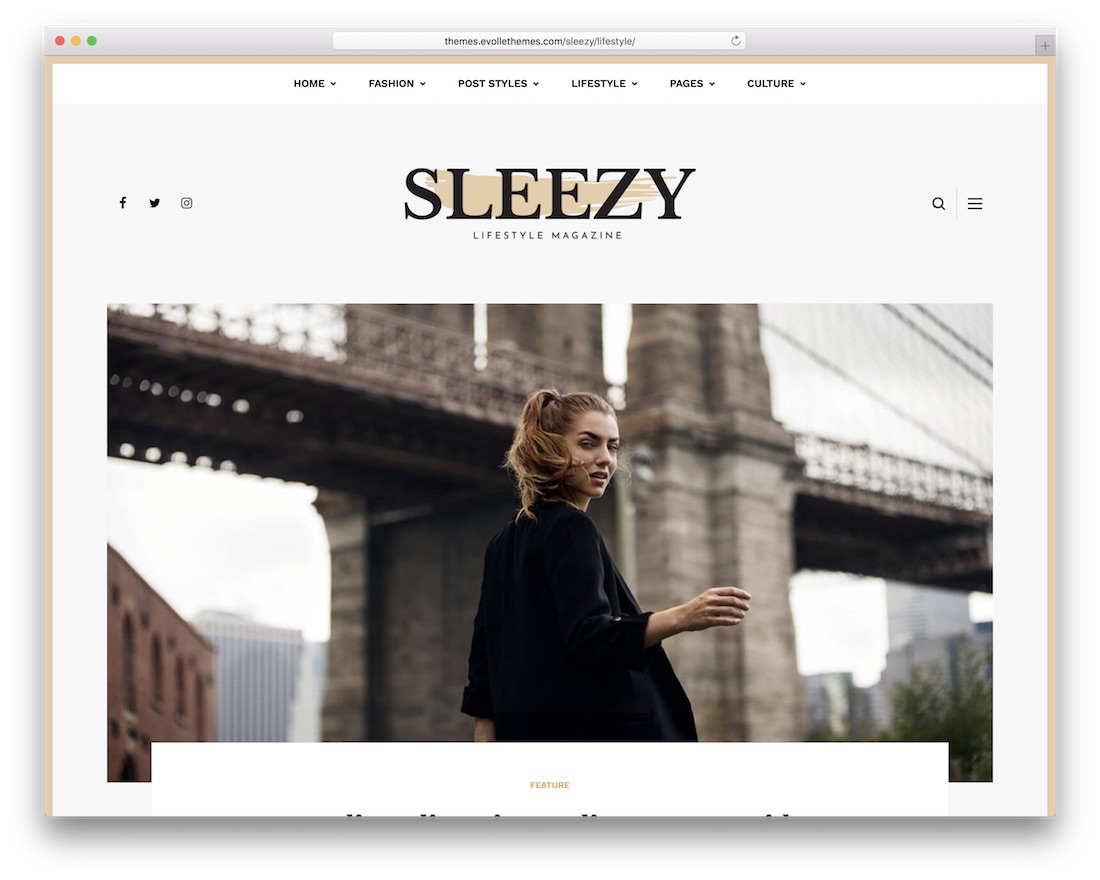 Project elegance and professionalism with a responsive website theme that fits your concepts. Sleezy is the only lifestyle WordPress theme you will need. Choose from this theme's impressive collection of layouts and widgets and go over and above. You can also select from exceptional theme styles and customize everything with ease. Bear in mind, you do not need to code to work with Sleezy. Utilizing trailblazing technology and following all the latest web trends, you can build a website like an expert.
You can also surpass your clients' outlooks by making your site unique via blog posts. This allows for an established feel which people are looking nowadays. Customer support is also reliable and friendly so you will never feel lonely on your journey to establishing a compelling lifestyle website. Do your thing with Sleezy and go against the norm. What more can you ask for?
Succulents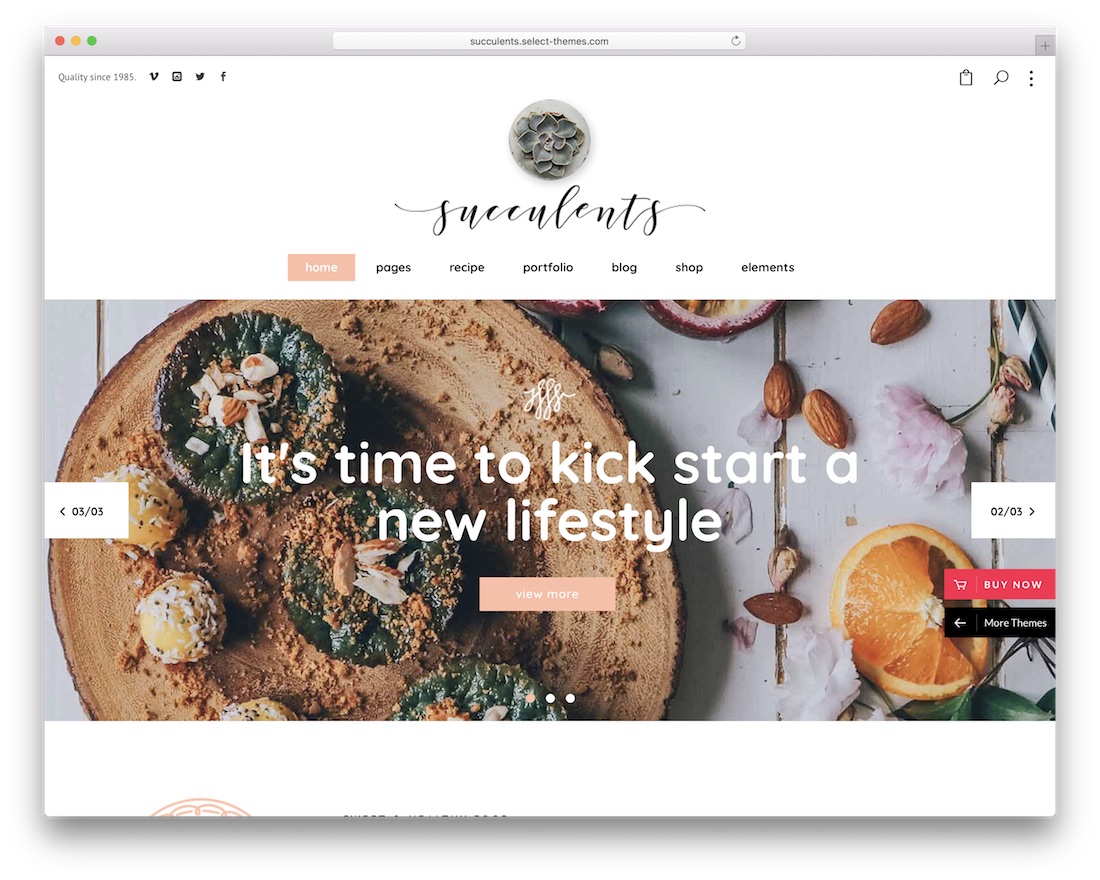 Out with the old, in with the new, so they say. Trends are shifting, and they apply for websites as well. Stay relevant in the industry by trying the Succulents lifestyle WordPress theme. With a huge selection of predesigned web frames, headers and other internal pages to choose from (and modify as well), you will never worry about being outdated. You are welcome to experience infinite possibilities with the always impressive and unique Succulents. Ensure flexibility as well with Succulents' amazing features that streamline web design.
Succulents is designed to achieve your SEO and social media needs, so there is nothing to worry. Moreover, any other technical functionality that exceeds your reach, you do not need to bother with. Succulents practices all the latest tech and web standards and comes super easy and beginner-friendly to use. Grabbing a good spot on the world wide web would not be as hard as you think.
Dalia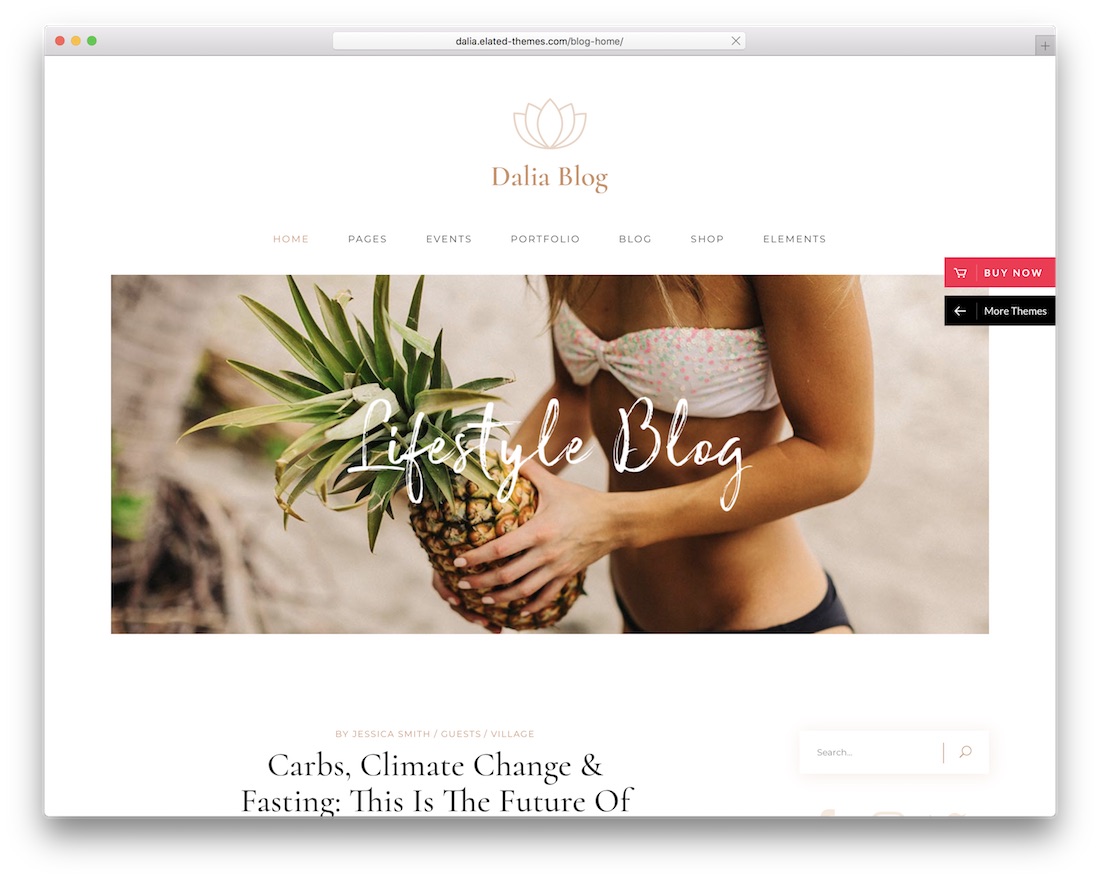 A website's look identifies the company's distinct personality. Even when it comes to personal projects! Because of this, any company could stand out from the competition as long as it stays true to its ideals. This is exactly what Dalia is known for. Unlike other themes which solely focus on features, this lifestyle WordPress theme has devoted to showing the wow factor by making the website alive. How do the developers do this? With high-resolution graphics, of course. Make your website the online ambassador of your brand by assuring its seamlessness.
While Dalia does well in this department, it also offers a lot of customization features. It is highly responsive and well-documented as well. With many fresh and creative ready-to-use demos and other qualities and goodies, you can utilize Dalia however you see it fit your needs best.
Christina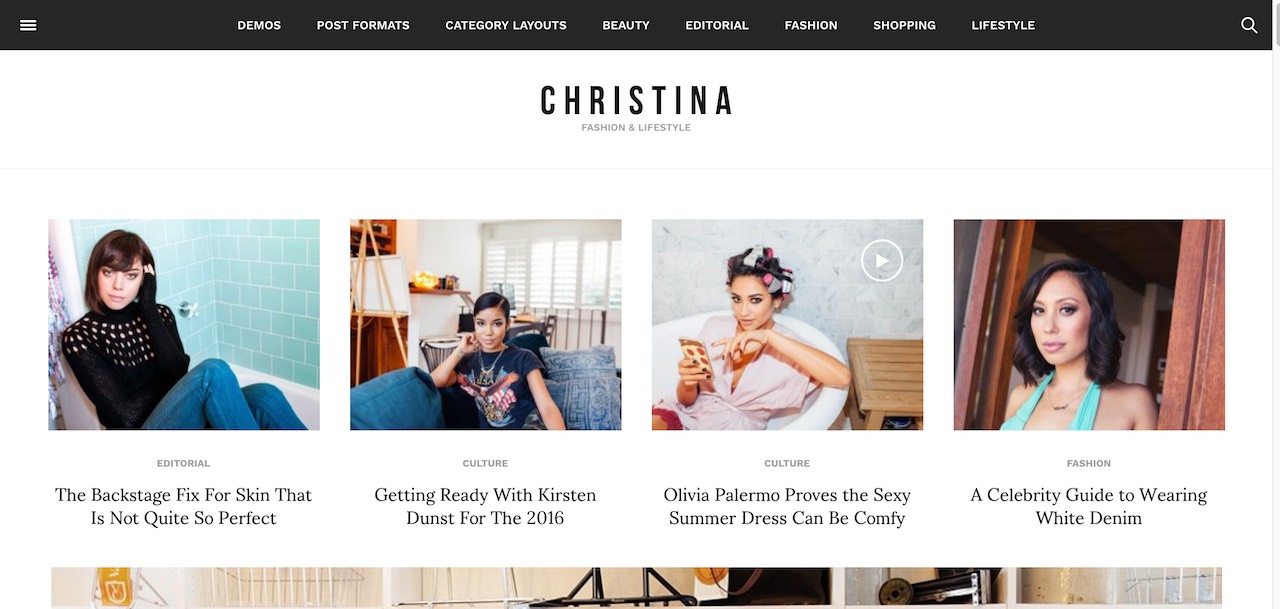 Plus d'infos / Télécharger
Hello Friday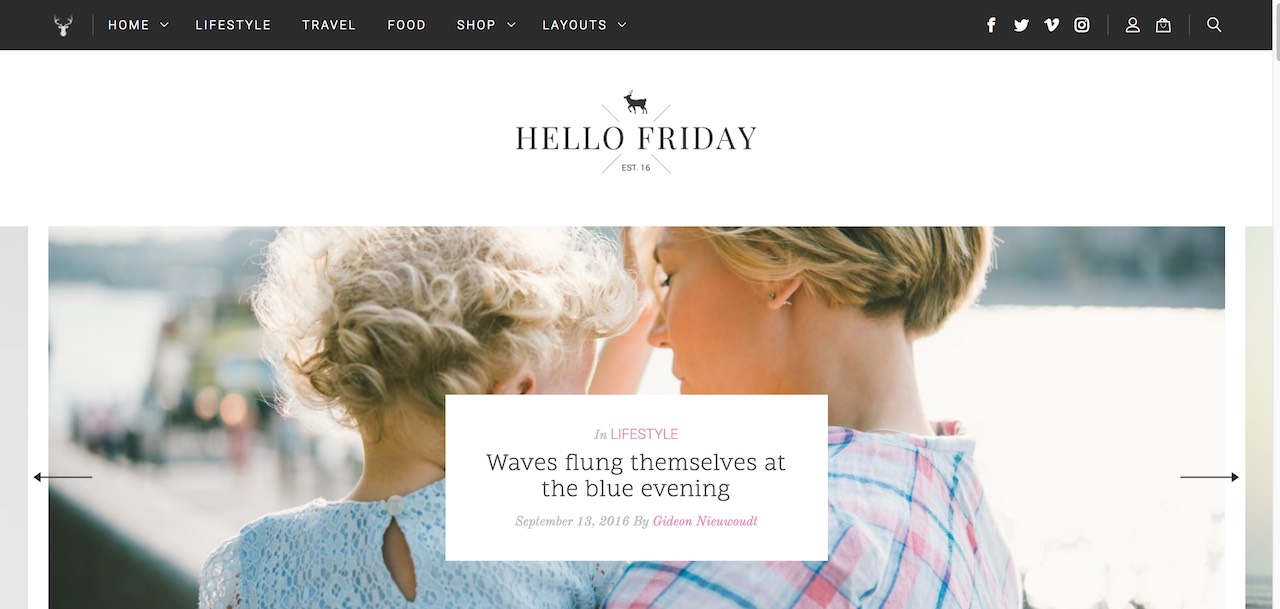 Plus d'infos / Télécharger
Mallow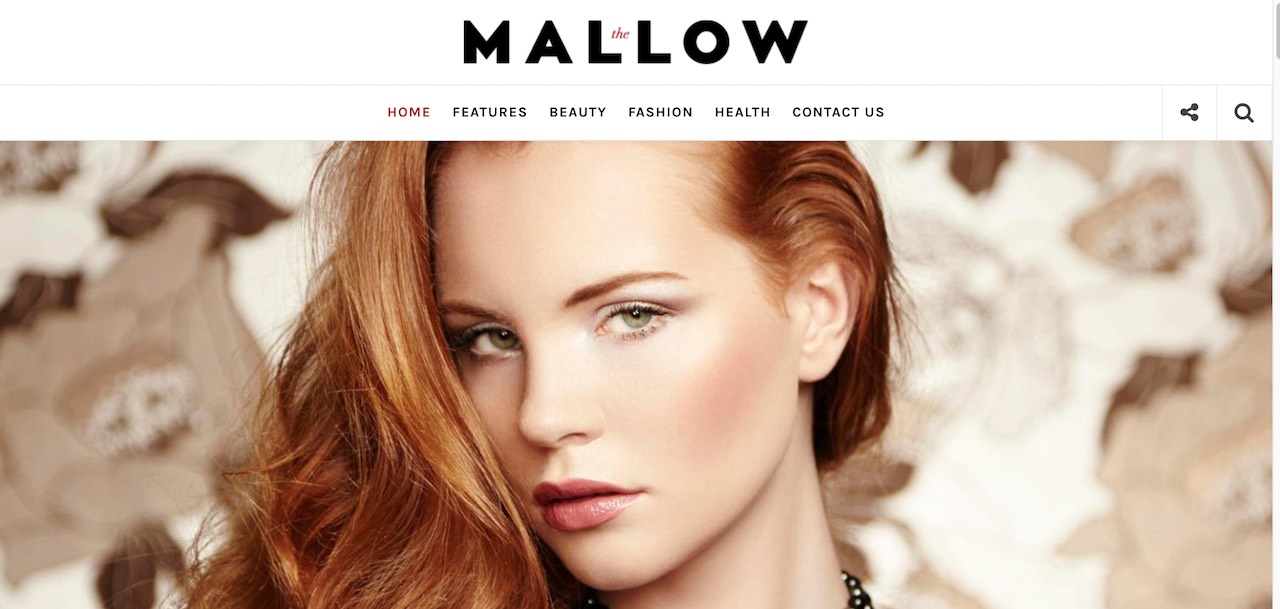 Plus d'infos / Télécharger
Street Style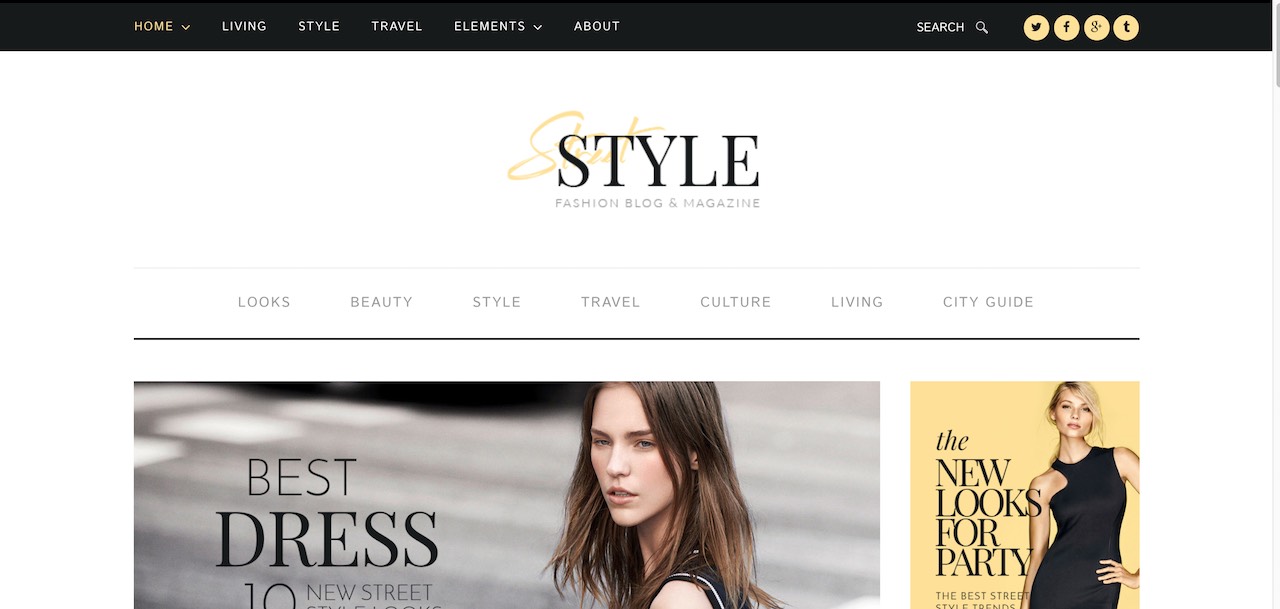 Plus d'infos / Télécharger
Hipsteria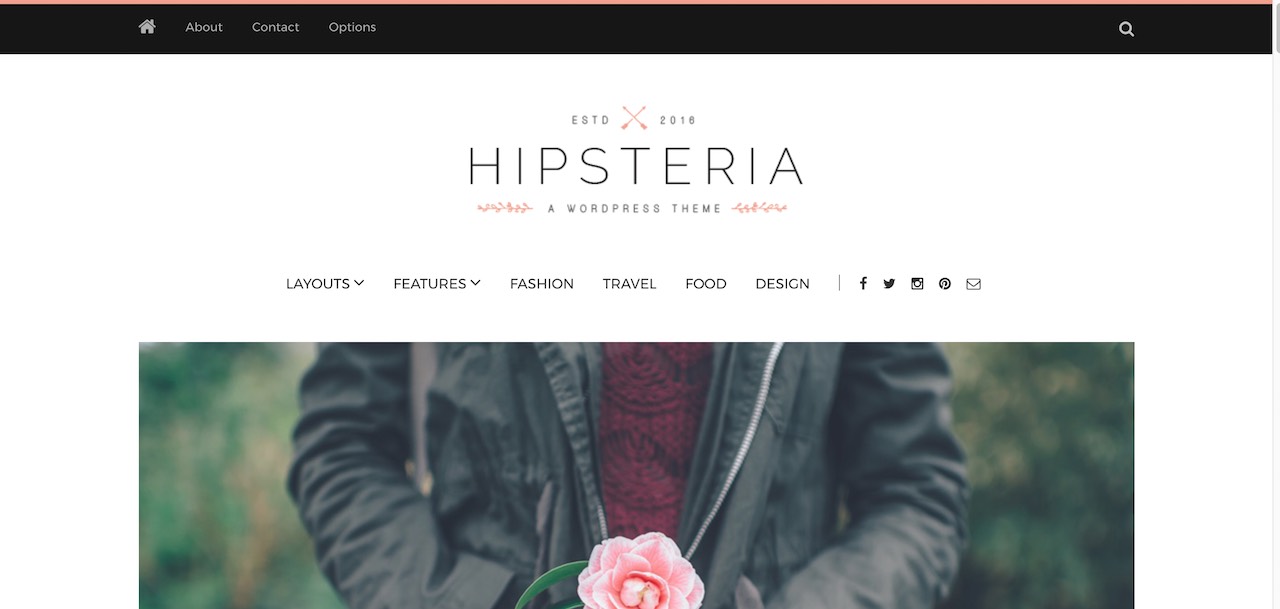 Plus d'infos / Télécharger
Aquarella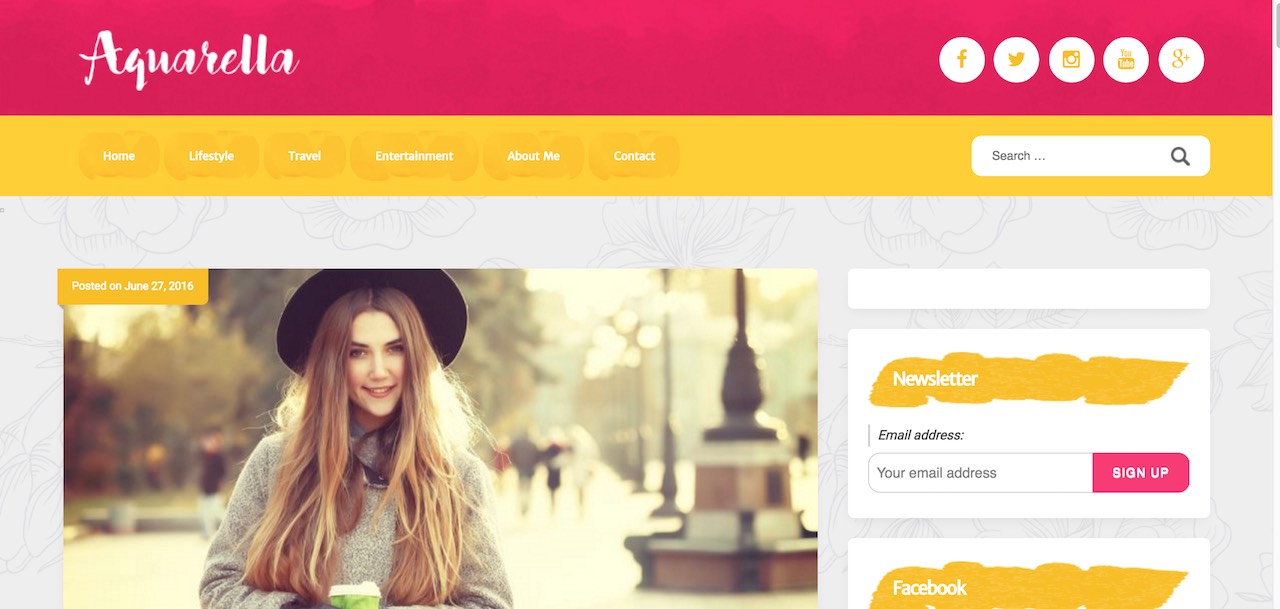 Plus d'infos / Télécharger
Efoody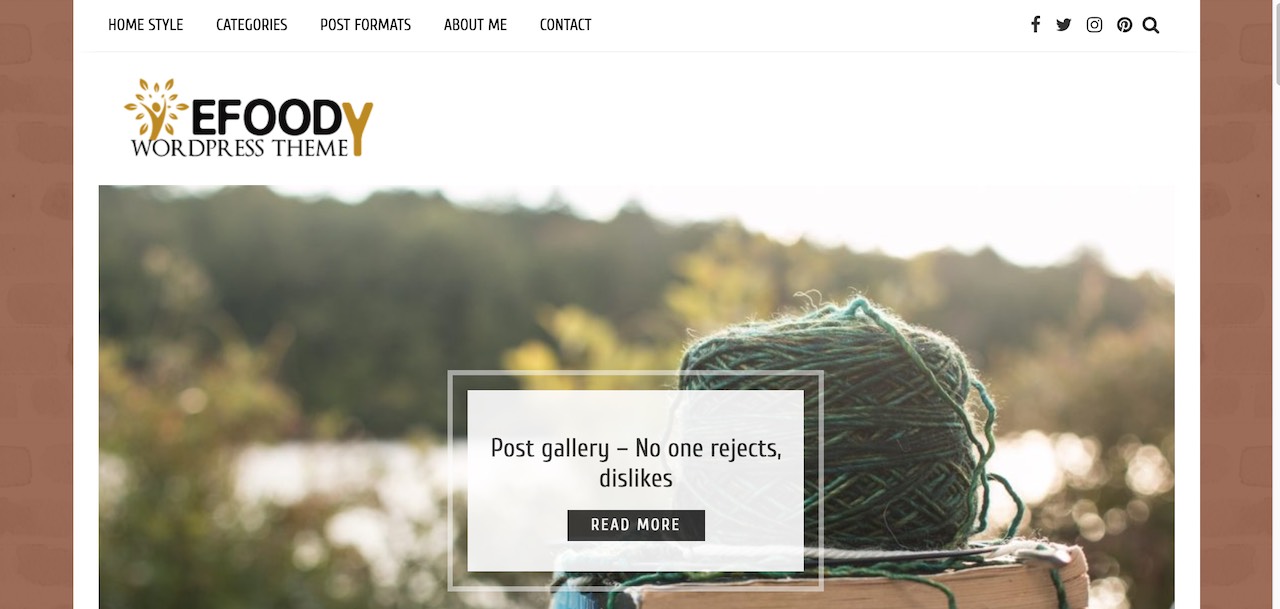 food bloggers as it is for lifestyle writers. There are no limits as to how customizable this theme really is. Current Efoody users range from health bloggers to true artists of the food craft. What matters is the clean design combined with powerful user interface components that help the reader to navigate the site seamlessly. If you have been meaning to launch a beautifully looking WordPress blog, there are few themes that can match Efoody's elegance.
Efoody is a theme that's friendly to beginners. It requires no prior WordPress knowledge, yet has a strong options dashboard for modifying virtually any website element. It's WPML powered, so you have the option to translate Efoody in your native language and cater to an audience in your own country.
Vintauge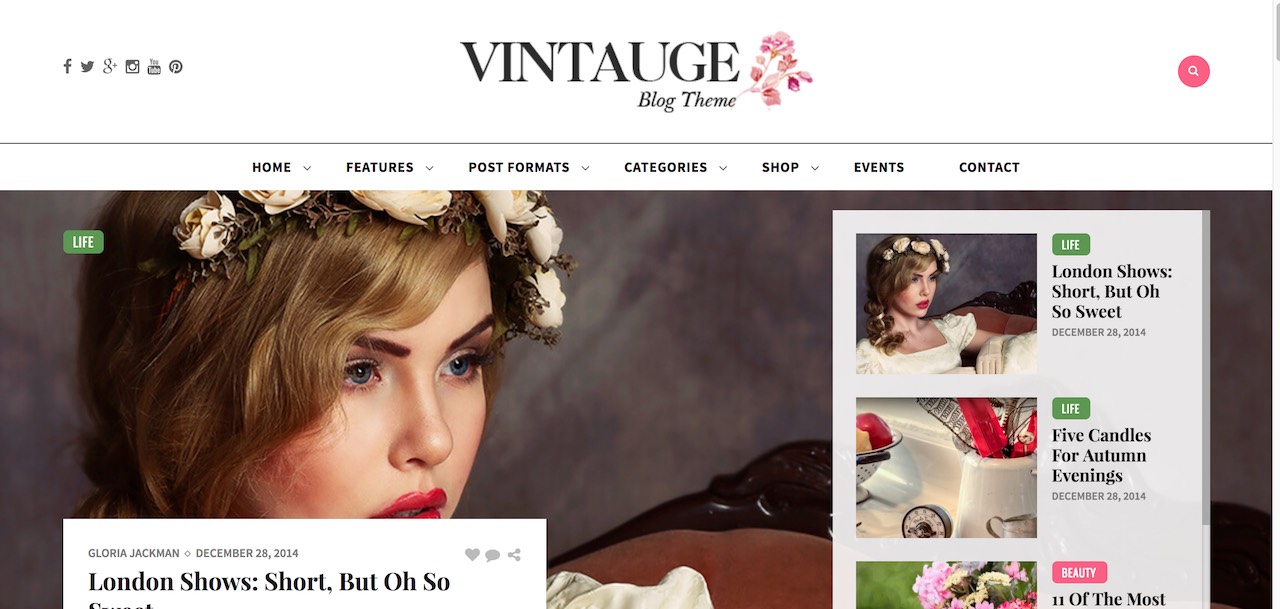 Plus d'infos / Télécharger
Overmax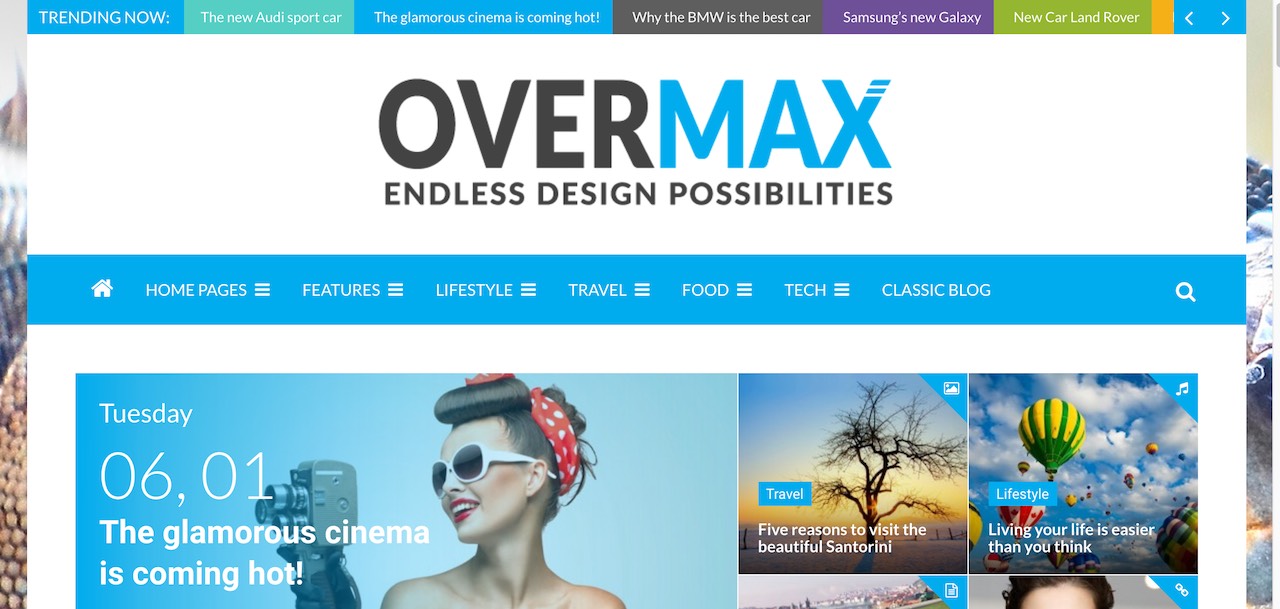 Plus d'infos / Télécharger
Avocet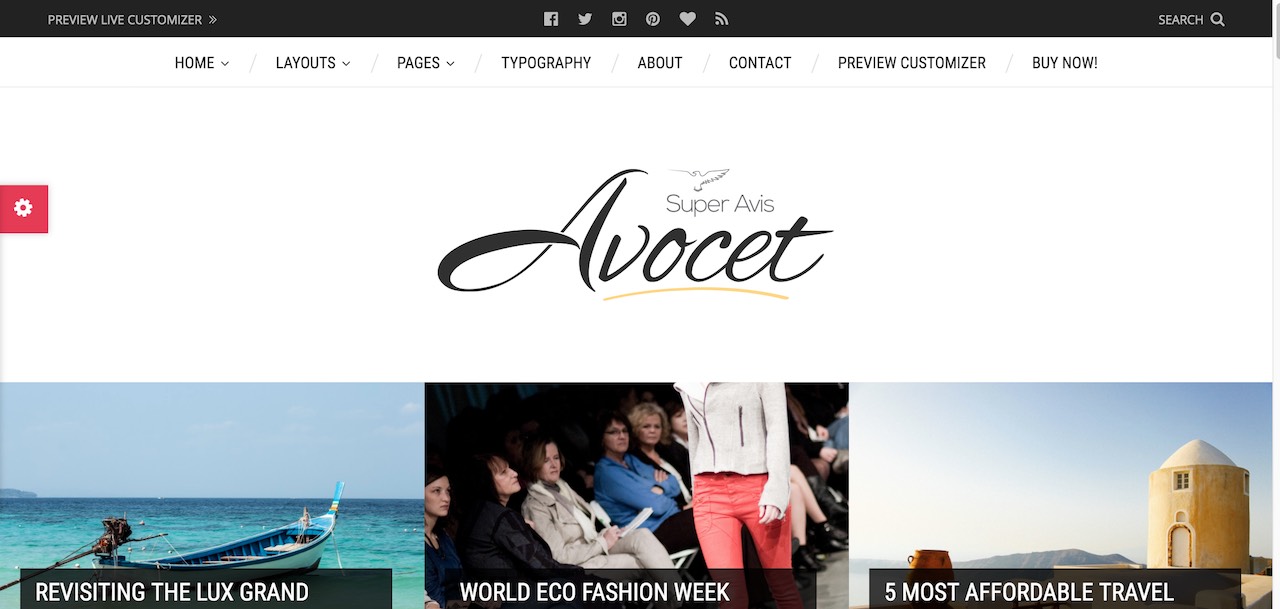 Plus d'infos / Télécharger