Qu'est-ce qui fait un bon site web? Est-ce la qualité du contenu ou la quantité de revenus qu'il peut générer? Eh bien, ni réellement. La qualité la plus importante d'une page Web réside dans sa capacité à attirer des téléspectateurs et à fidéliser un public nombreux. L'argent, l'exposition et la publicité découleront de cette qualité. Aux fins de cet exercice, se concentrer sur le contenu n'est pas très productif, car il est très subjectif. Nous avons tous vu les formules populaires échouer et le phénomène marginal atteindre les sommets de la notoriété. Tout dépend des circonstances. Faites de votre mieux et essayez d'être créatif. Si vous parvenez à le faire, des personnes qui pensent de la même façon vont naturellement se tourner vers vous.
Votre objectif doit être un facteur quantifiable et contrôlable. Vous devez vous demander comment un site est exposé au public et comment il interagit avec l'infrastructure globale du World Wide Web. Que fait-on quand on souhaite rechercher un sujet ou un sujet donné? Si vous avez deviné qu'un moteur de recherche doit être utilisé, vous avez raison. Sans ces moteurs de recherche, Internet serait l'incarnation du chaos, une série de centaines de millions de sites Web, non connectés au milieu du désordre. Grâce aux moteurs de recherche, quelques frappes de touches permettent de trouver toutes les informations dont vous pourriez avoir besoin. Le moteur semble presque sensible, car il peut comprendre ce que vous voulez à partir de quelques mots clés.
Importance de l'optimisation SEO
Bien entendu, chaque entreprise dispose d'algorithmes spécifiques pour ses moteurs de recherche, qui sont considérés comme des secrets commerciaux. Cependant, les principes généraux sont universels. Les pages de résultats sont générées en fonction de la densité des mots clés, de la prolifération et de l'historique personnel du compte. Imaginez que vous possédez un site qui n'est pas optimisé pour les moteurs de recherche. Votre site Web apparaîtrait sur la 5ème ou la 6ème page de résultats, et la plupart des utilisateurs se soucient rarement de regarder au-delà de la première. Dans ces conditions, seuls les amis personnels et les personnes ayant mémorisé votre adresse peuvent accéder à votre site. Auparavant, un utilisateur devait embaucher une entreprise professionnelle pour optimiser sa page, mais ce service est désormais considéré comme un service par défaut. Si vous achetez un thème WordPress de qualité, il doit être optimisé pour le référencement et vous ne devez pas vous contenter de moins.
Peu importe ce que votre entreprise est. Qu'il s'agisse de pages d'entreprise volumineuses ou d'un simple site de révision ou de blogs, il faut une visibilité pour survivre, et cette visibilité ne peut être obtenue que par l'optimisation. C'est probablement le principal avantage du Web: l'égalité. Dans le monde réel, il vous faudrait des dizaines de millions de dollars pour mener à bien une campagne de marketing, tandis que la version Web de cette campagne peut coûter beaucoup moins cher. C'est le grand égalisateur qui assied les petites entreprises et les grands conglomérats à la même table.
Le package initial sera optimisé pour les moteurs de recherche, mais vos futurs messages ne le seront pas. Si vous ne voulez pas impliquer les ghostwriters, vous devez apprendre à intégrer des mots-clés à des emplacements et à des densités spécifiques afin de faire concurrence. Cela dit, examinons certains des meilleurs thèmes WordPress optimisés pour le référencement:
Jevelin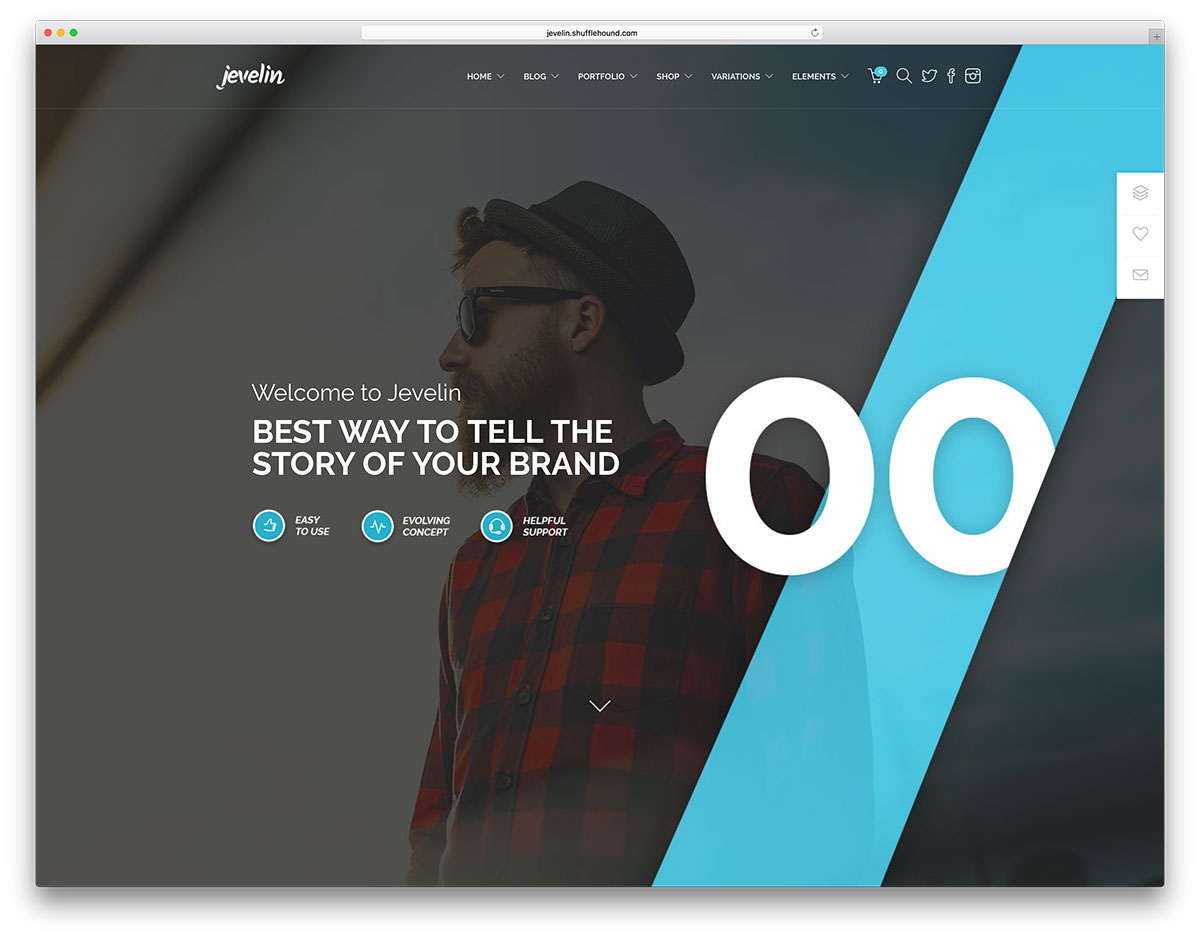 WordPress premium thème de site Web polyvalent. Une plate-forme complète et ingénieuse qui simplifie considérablement le processus de développement de sites Web pour les webmasters de tous les horizons, indépendamment de leurs connaissances en matière de codage. Avec Jevelin, créer son propre blog est aussi simple que de présenter son portefeuille professionnel aux employeurs et aux clients potentiels du monde entier, ou de présenter votre entreprise au monde entier aussi rapidement et sans effort que vous pouvez créer une boutique en ligne pour votre entreprise. .
Doté de fonctionnalités commerciales essentielles et avancées optimisées par la suite de plugins WooCommerce eCommerce, Jevelin est un vendeur naturel et peut facilement vendre vos produits ou ceux de vos affiliés à un public en ligne énorme en quelques clics, le même jour où vous le configurez avec le simple cliquez sur l'installation. De plus, les améliorations SEO ont été mises en œuvre à partir de la base du code, ce qui a rendu les sites Web de Jevelin très performants pour ce qui est d'augmenter du jour au lendemain le classement dans les moteurs de recherche, d'augmenter considérablement votre base d'utilisateurs, d'accroître votre trafic et de maximiser vos revenus publicitaires en un clin d'œil. Essayez Jevelin dès aujourd'hui et commencez à récolter les avantages de véritables améliorations du référencement sur votre propre site web!
Gillion (Article Tendance)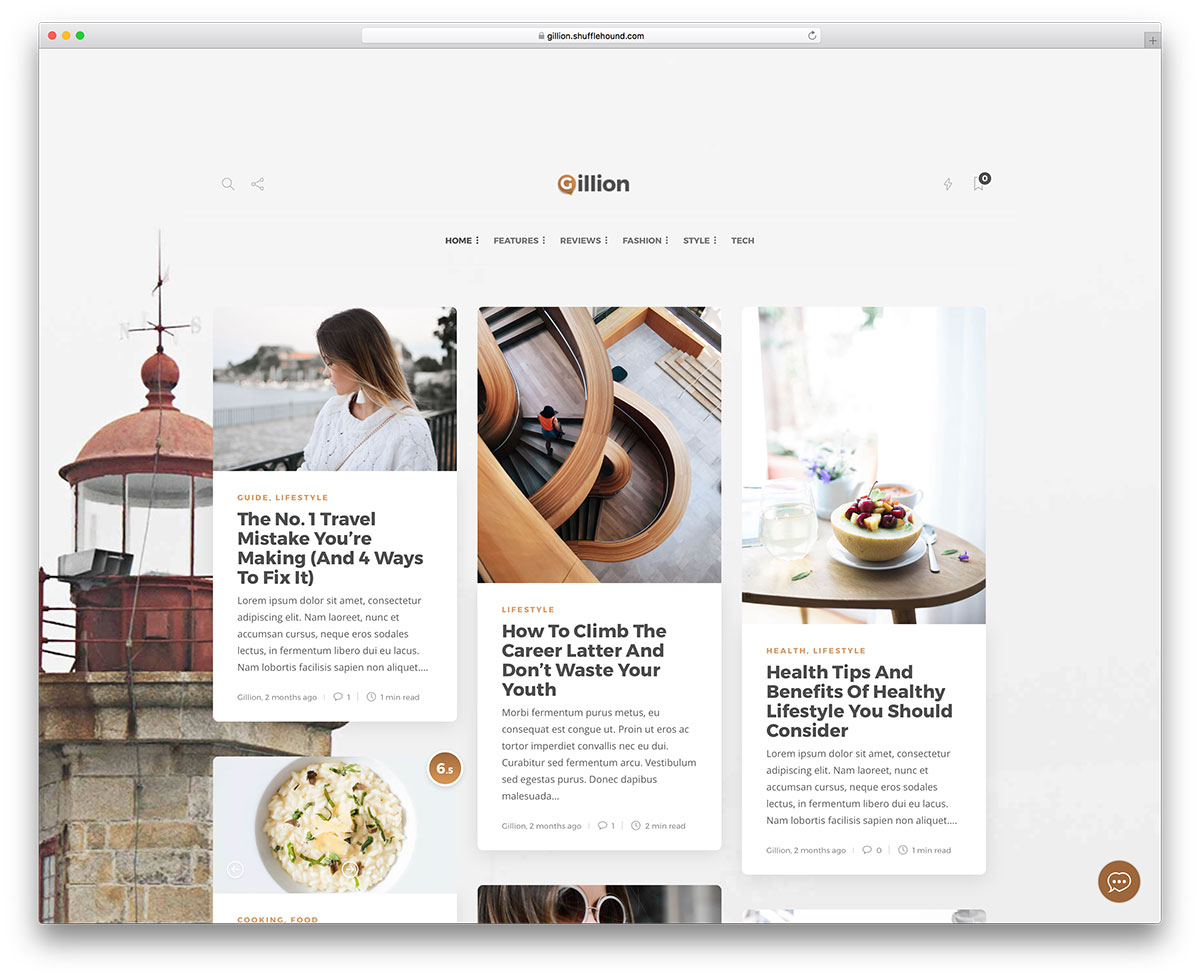 Gillion est un thème WordPress aux multiples facettes orienté vers les blogs et les magazines. Il a de nombreuses démos et un support personnalisé incroyable. Vous l'obtiendrez avec 7 démos pré-lancées d'une installation en un clic. Gillion utilise le framework Unyson, mais il est également compatible avec Bootstrap. Il a une mise en page super personnalisable avec son propre personnalisateur en direct pour changer les choses en temps réel! Amical avec un en-tête avec des icônes sociales intégrées et des couleurs illimitées à mettre en place. Gillion est SEO amélioré et il est supporté par Google Analytics. De quoi d'autres avez-vous besoin? Allez maintenant et essayez cet outil spécialisé génial! Viens essayer Gillion!
Soledad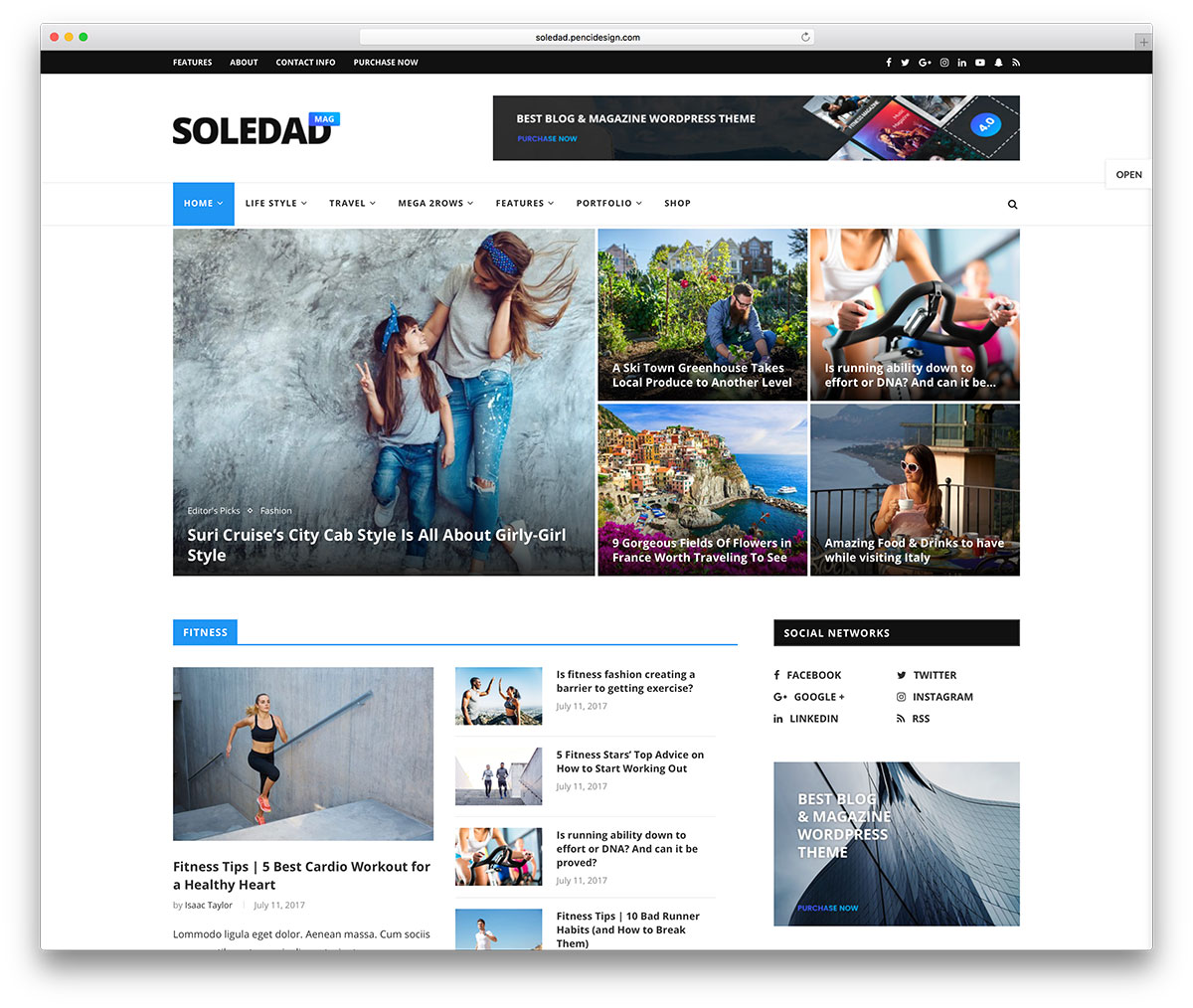 Soledad est incroyablement moderne et avant-gardiste, visuellement cohérent et bien intégré, technologiquement articulé et compétent, graphiquement agile et flexible, visuellement raffiné et profondément esthétique, codé de manière efficace et très léger, intuitif et simplifié, simple et très réactif WordPress multiconcept blog et magazine thème du site. Un thème délibérément conçu qui est conçu comme une solution à guichet unique pour les webmasters de tous les niveaux et de toutes les compétences pour concevoir, développer et gérer rapidement et efficacement des sites Web modernes sophistiqués couvrant un large éventail d'intérêts et de domaines.
Construit autour de l'outil WordPress Live Customizer, vous permet de créer vos propres pages en quelques minutes grâce à un processus visuel à la fois intuitif et facile à maîtriser, tout en vous proposant plus de 250 options vous permettant de personnaliser chaque aspect et élément de votre site Web avec rapidité et simplicité. . Avec SEO à la base de code, cela signifie que les robots des moteurs de recherche trouveront toujours votre contenu, vos mots clés et vos métadonnées pertinents dans le bon ordre et la bonne présentation, afin de maximiser votre impact sur les rangs de recherche, vous permettant ainsi de générer une tonne de trafic supplémentaire en un rien de temps. est ensuite facilement monétisé grâce à l'intégration approfondie d'AdSense de Soledad. Commencez à faire une brèche avec Soledad!
Divi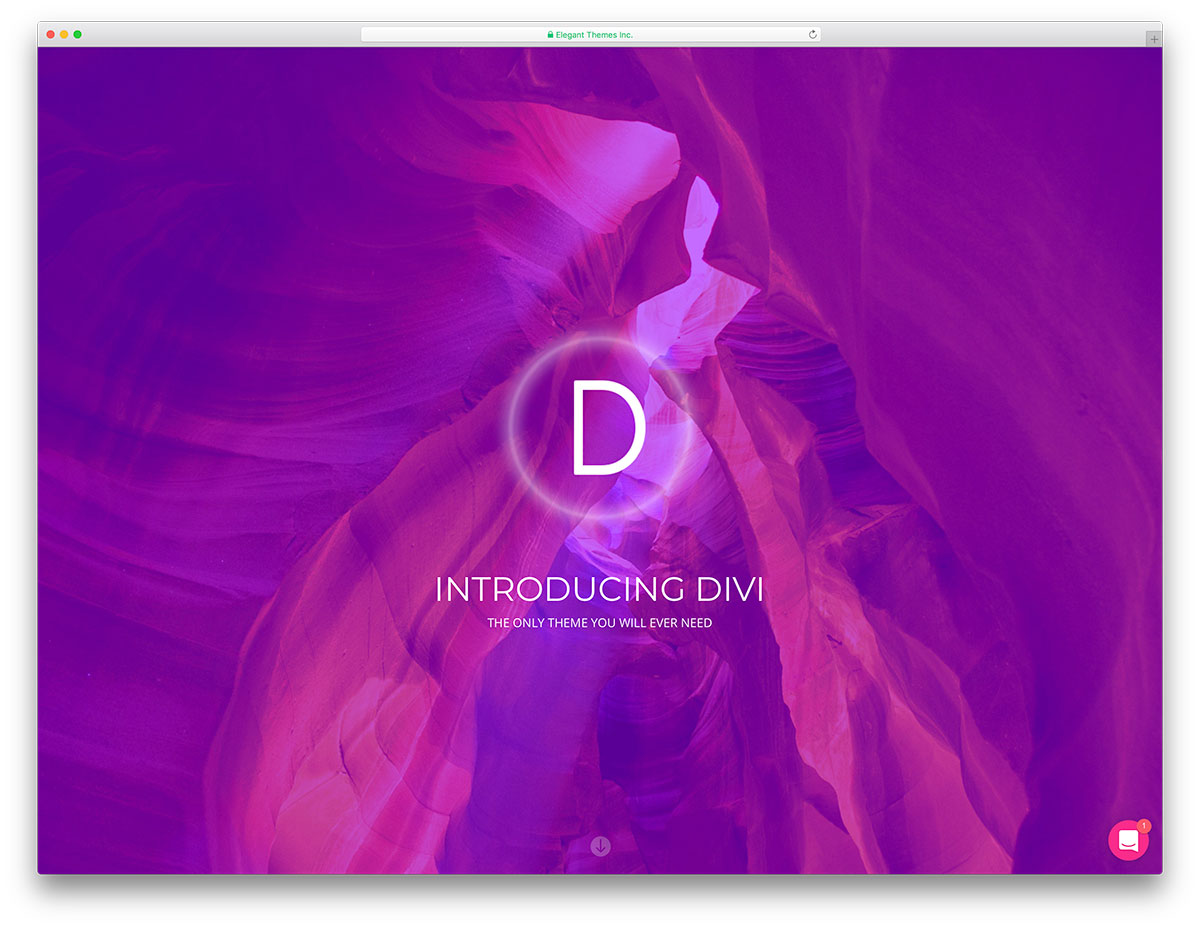 MagPlus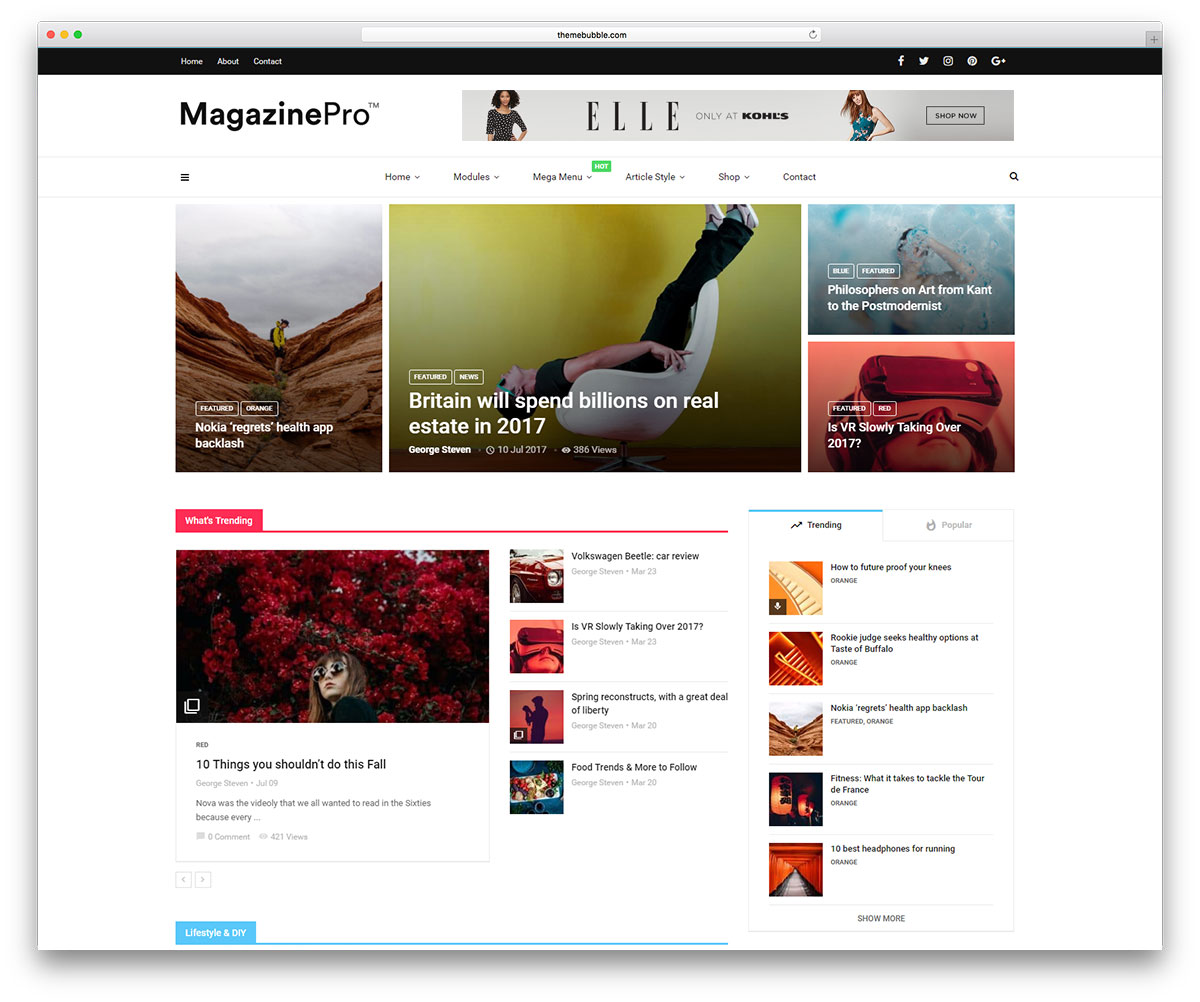 MagPlus est un thème de blog et de site Web de magazine réactif intelligent et moderne. Ce thème est une plateforme puissante pour articuler en un éclair des sites Web attrayants et créatifs. Vous n'avez pas besoin de connaître le code pour obtenir des résultats de qualité professionnelle avec MagPlus. Avec une interface de conception visuelle et 150 éléments à déployer, la personnalisation se fait sans effort. Impressionnez votre public avec 20 curseurs lisses, 25 présentations d'articles et 12 présentations d'en-tête. MagPlus offre une gamme infinie de styles de mise en page que vous pouvez mélanger et faire correspondre au contenu de votre cœur.
MagPlus est un interprète compétent sur les principaux moteurs de recherche. Grâce à une optimisation poussée du référencement, MagPlus est une plate-forme idéale pour générer du trafic. Élargissez votre public et atteignez une foule massive et mondiale avec MagPlus. Une traduction et une réactivité faciles vous permettent de joindre les utilisateurs de toutes les langues et de tous les appareils. MagPlus a les outils dont vous avez besoin pour réussir! Procurez-vous MagPlus aujourd'hui!
Moteur de référencement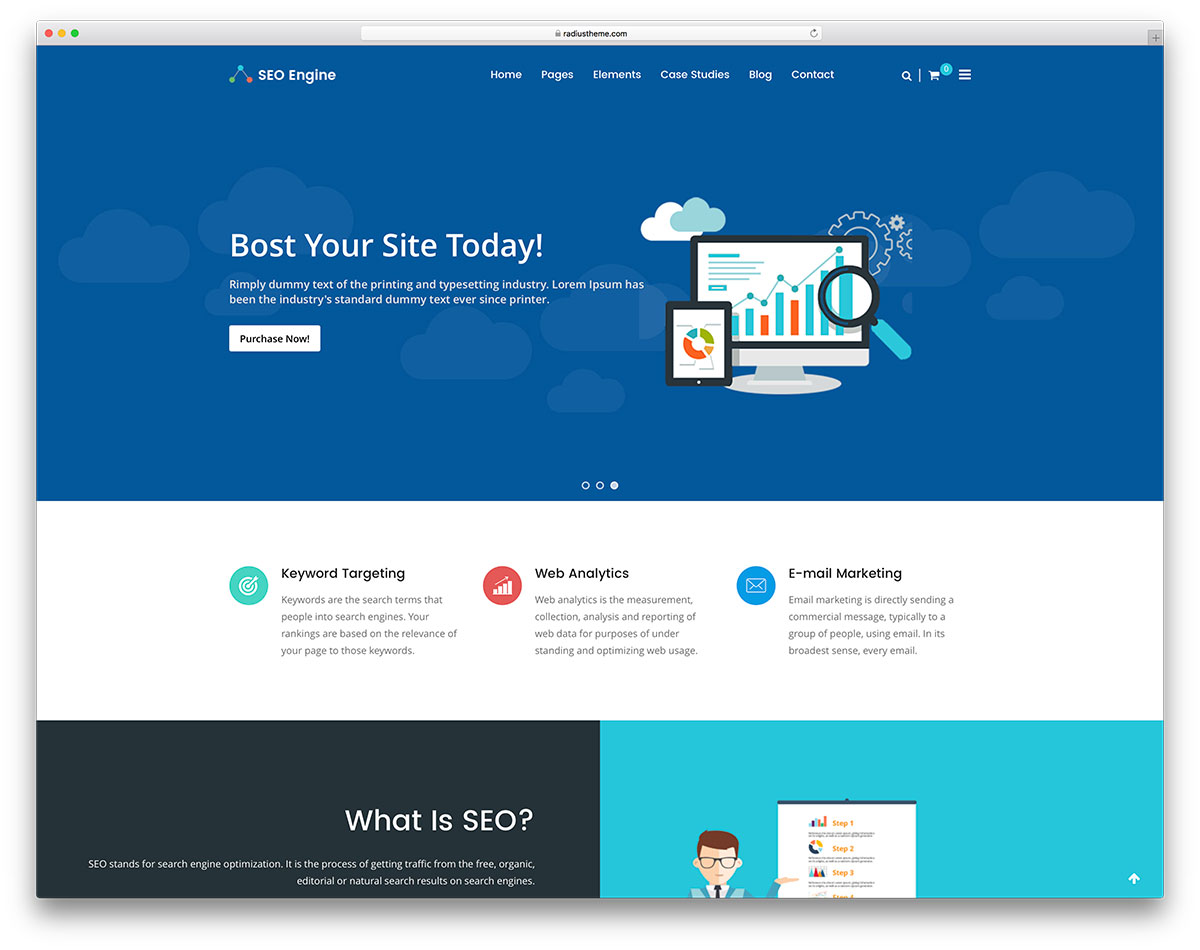 SEO Engine est un thème WordPress dédié aux agences de marché numériques. C'est le fournisseur idéal pour les développeurs de logiciels et les entreprises de technologie en général. Il offre 12 pages d'accueil moitié-moitié pour des conceptions d'une page et de plusieurs pages. Un panneau d'administration génial, qui comme prévu est amélioré par le référencement. Il présente une mise en page flexible avec 5 en-têtes prédéfinis, 2 pages de portfolio et de nombreuses variantes pour chacune. Des grilles et des curseurs, un mélange de couleurs illimité et un personnalisateur dynamique sont également disponibles. SEO Engine est moderne, propre et sobre dans son concept. Il fournit des options de personnalisation via l'infrastructure Options Redux et la création de pages à l'aide de Visual Composer.
Vous trouverez des tonnes d'options de typographie entre les polices Web de Google et les icônes Font Awesome. Ce thème permet de définir des boutiques avec WooCommerce et de traduire avec WPML. Il est compatible avec le formulaire de contact 7 et utilise le curseur de couche de qualité supérieure. Il est compatible avec tous les écrans et navigateurs (entièrement compatible avec les appareils mobiles). De plus, cela fonctionne avec les formats haute résolution et inclut un thème enfant. Il a beaucoup de polyvalence sur les en-têtes et les messages organisant des dispositions. Vous pouvez définir des grilles et des listes de toutes sortes. Il propose également des mises à jour à vie gratuites, une équipe d'assistance premium et de nombreux documents. Obtenez-le facile, rapide et en un seul clic! Obtenez un moteur de référencement!
Marketing Pro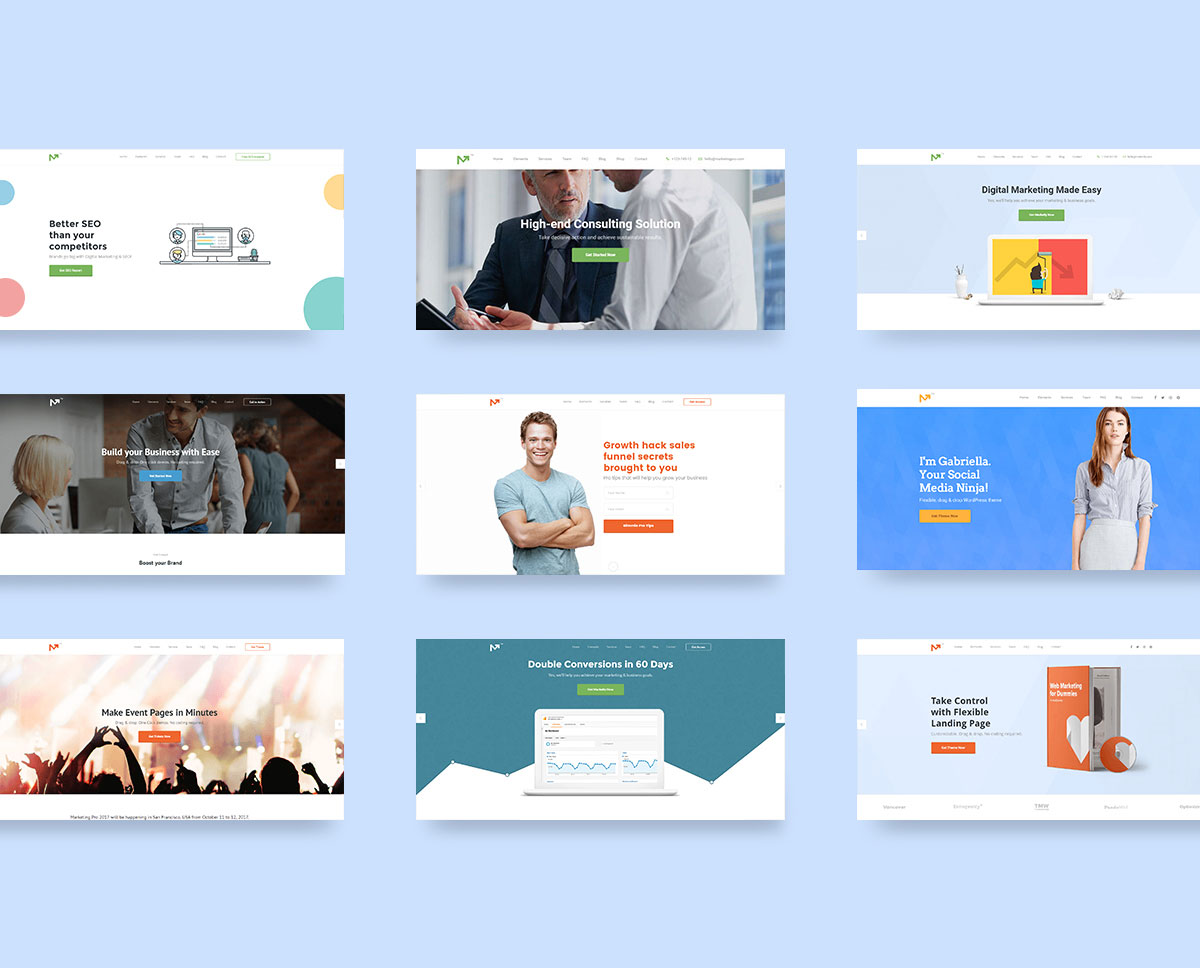 Marketing Pro est un puissant et réactif Thème de site Web polyvalent créatif WordPress. La plate-forme idéale pour développer des sites Web professionnels en un clin d'œil. Avec des widgets flexibles et 9 modèles prédéfinis différents, la construction de votre site Web est facile. Vous n'avez pas besoin d'une simple couche de code pour obtenir des résultats nets et professionnels en un rien de temps. Visual Composer vous permet de styliser et de personnaliser vos mises en page avec une aisance et une rapidité absolues. La fonction Convert Plug Popup vous permet de capturer sans effort de grandes quantités de nouveaux utilisateurs. De nombreux modèles de Marketing Pro sont conçus pour augmenter le nombre de conversions de courrier électronique.
Vous construirez des listes de diffusion comme jamais auparavant. De plus, ce thème est un cadre de référencement précis qui fera monter en flèche les performances de votre site Web. Votre contenu obtiendra un classement de premier ordre en un clin d'œil grâce au design élégant de Marketing Pro. Personne ne peut placer votre contenu comme Marketing Pro. Votre trafic passera par le toit quelques jours après l'installation avec Marketing Pro. Et avec la plate-forme WooCommerce et des tonnes de fonctionnalités de monétisation, vos revenus vont monter en flèche. Marketing Pro, c'est tout ce dont vous avez besoin pour réussir dans le monde concurrentiel du marketing par référencement. Essayez Marketing Pro aujourd'hui et découvrez-le!
SEO WP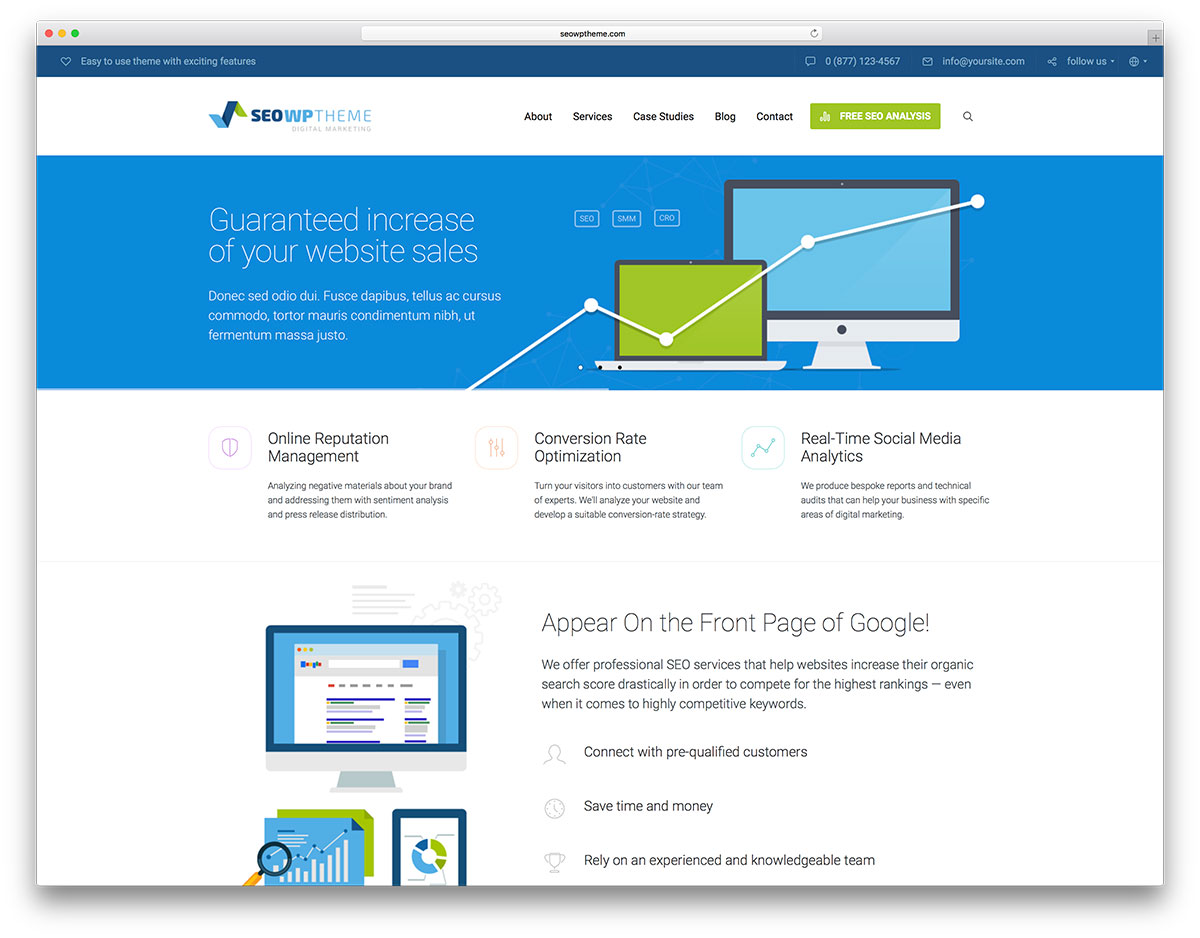 Si vous recherchez un thème WordPress offrant une grande flexibilité et spécialement créé pour les sociétés de référencement, les agences de marketing numérique et les sites experts en médias sociaux, ne cherchez pas plus loin que SEO WP. Il inclut un nombre illimité de conceptions de page, de nombreux styles d'en-tête et une large gamme de dispositions de pied de page. Il est très intuitif et facile à utiliser, car il a été conçu pour tout le monde, pas seulement les programmeurs et les codeurs. Le client est en mesure de personnaliser l'esthétique de son site en temps réel, en visualisant les modifications au fur et à mesure de leur mise en œuvre. Ce personnalisateur en direct est un gain de temps considérable et un excellent outil de créativité.
En dépit de son faible prix, les développeurs ont inclus des plug-ins premium tels que le constructeur de pages Live Composer, sans aucun frais supplémentaire. À l'aide de cet outil, vous pouvez modifier les pages en début de page en déplaçant simplement des éléments, puis en les faisant glisser. L'un des plus grands avantages de ce produit est qu'il ne stagne jamais ni ne devient obsolète. Les développeurs le peaufinent et l'améliorent constamment, en s'adaptant aux nouveaux défis qui se présentent.
Par exemple, dans le contexte de la dernière mise à jour, les développeurs ont ajouté une fonctionnalité qui vous permet de tirer parti de l'énorme potentiel offert par les médias sociaux. Ils ont également intégré la gestion de liens sponsorisés, le développement et la conception Web, ainsi que 8 illustrations supplémentaires pour les services de référencement. C'est très rapide, car la page d'accueil peut se charger en moins de 3 secondes.
Bonne vie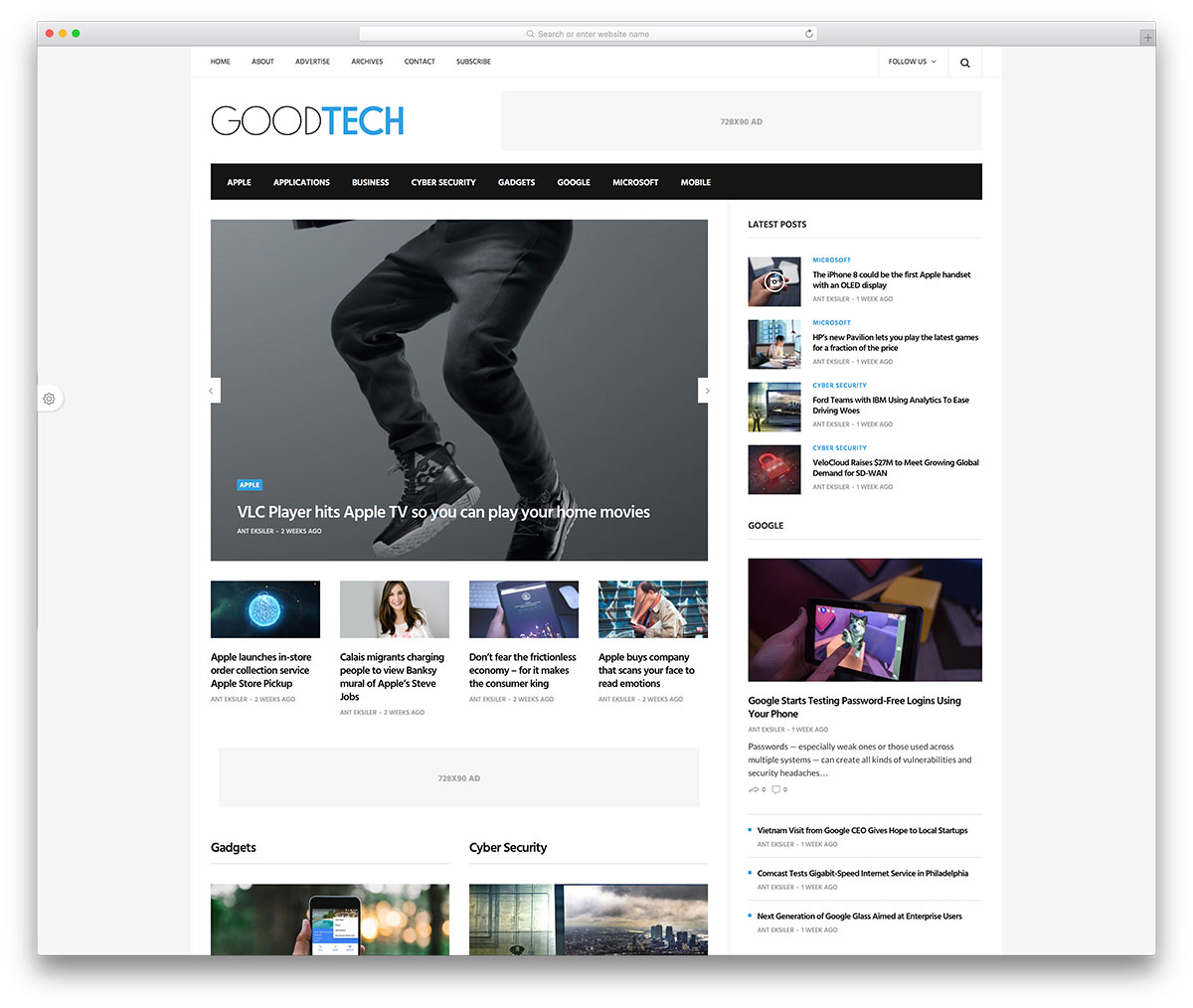 Plus d'infos / Télécharger
Dynamique Massive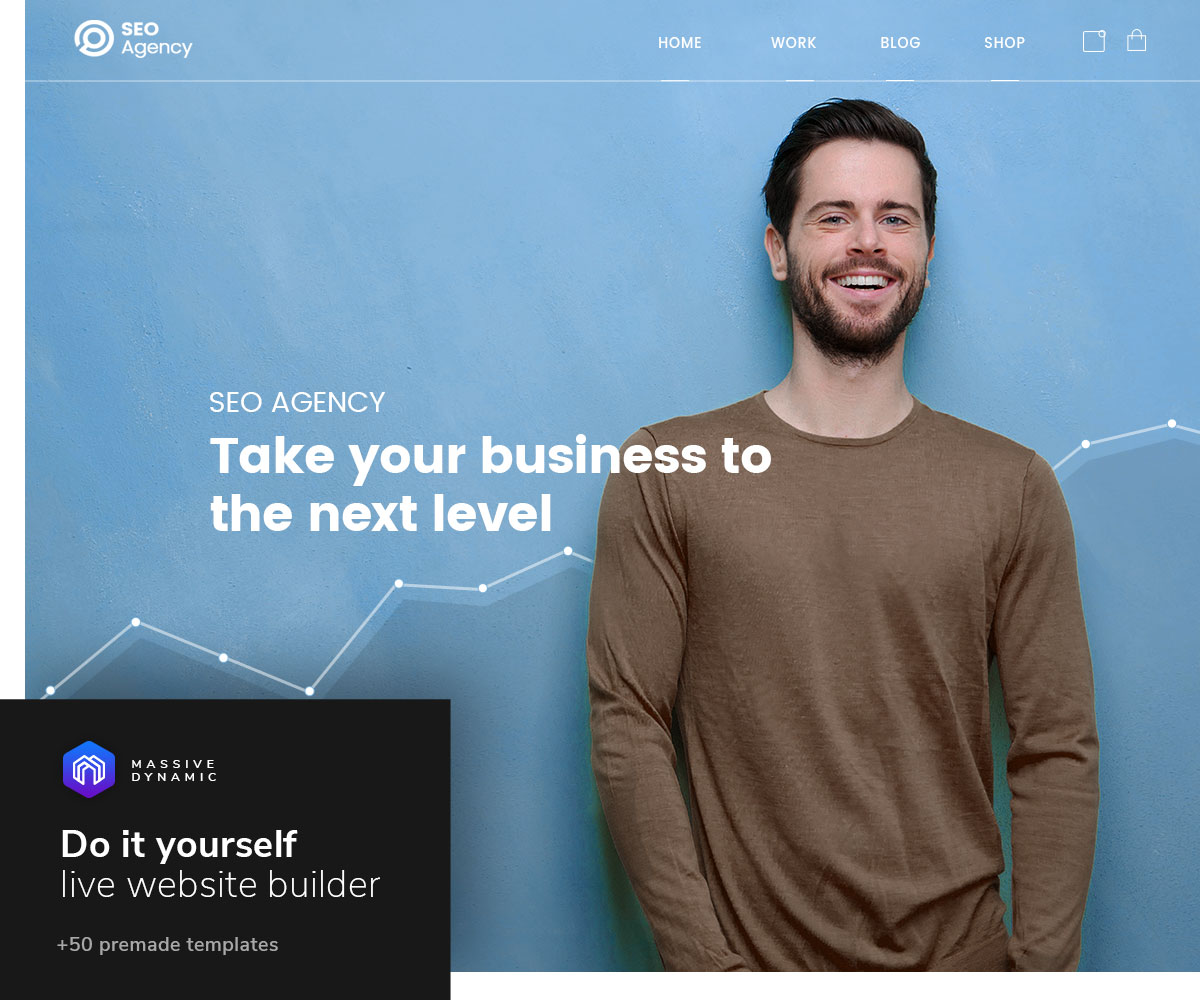 Massive Dynamic est un concepteur de sites Web polyvalent et créatif WordPress particulièrement réactif, extrêmement puissant, silencieusement robuste, superbement féru de technologie. Un constructeur de site Web extrêmement pratique, capable de gérer un très large éventail de besoins et d'exigences sur un vaste éventail d'archétypes et d'applications de sites Web. En déployant l'impressionnant Live Website Builder en temps réel, Massive Dynamic combine la personnalisation des paramètres, la configuration de codes courts et la mise en page dans une interface unique et élégante à la fois puissante et intuitive.
Plus de 70 shortcodes sont fournis avec Massive Dynamic pour votre commodité, et un trésor de sites Web et de pages modèles est facilement disponible pour l'importation, les plug-ins, les codes courts et les paramètres inclus. De manière inhérente, la base de code améliorée par SEO fournit une base solide pour tout entrepreneur en ligne qui a l'esprit de monétiser pour bâtir une entreprise par-dessus. Grâce aux capacités de commerce en ligne de Massive Dynamic, grâce à des agencements incroyablement conçus et innovants, combinées à une excellente performance en matière de référencement, il est plus facile que jamais de positionner vos produits dans les classements pertinents. Les fonctionnalités attrayantes d'AJAX, telles que la recherche en direct ou l'impressionnant Notification Center, intégrées aux paniers d'achat et autres, en font le meilleur constructeur de sites Web de référencement, de marketing et d'affiliés sur le marché.
Simple & Elégant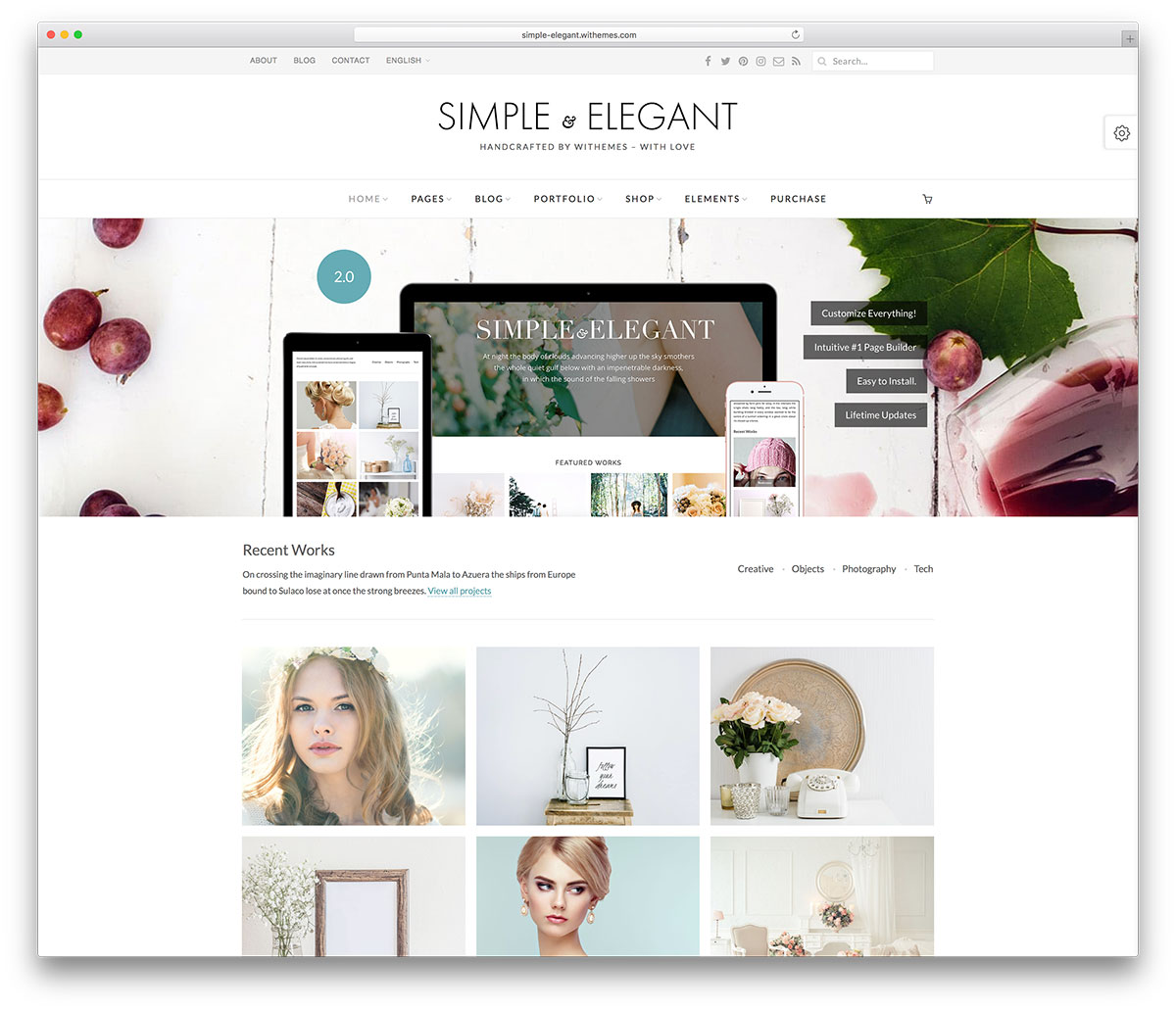 design visuel épuré. Vous pouvez facilement déployer tout cela à l'aide du puissant outil Visual Composer, et personnaliser le style vous-même avec Live Customizer et les options de thème avancées.
Le thème révolutionnaire qui défie les philosophies modernes de la conception de sites Web grâce à une approche cohérente et visuellement intégrée des sites Web permet aux utilisateurs de naviguer facilement en suivant leur intuition et aux webmasters de tout niveau de compétence de créer rapidement et sans effort. Capable de gérer les fonctionnalités modernes telles que les vidéos miniatures HTML5, YouTube et Vimeo, AudIo, les portfolios vidéo et galerie et la superbe intégration de Slider Revolution, ainsi que les widgets personnalisés MailChimp et Instagram prêts à l'emploi, Simple et élégant est un thème pour demain sites Web, avec une esthétique intemporelle et des technologies modernes pour démarrer.
TopSEO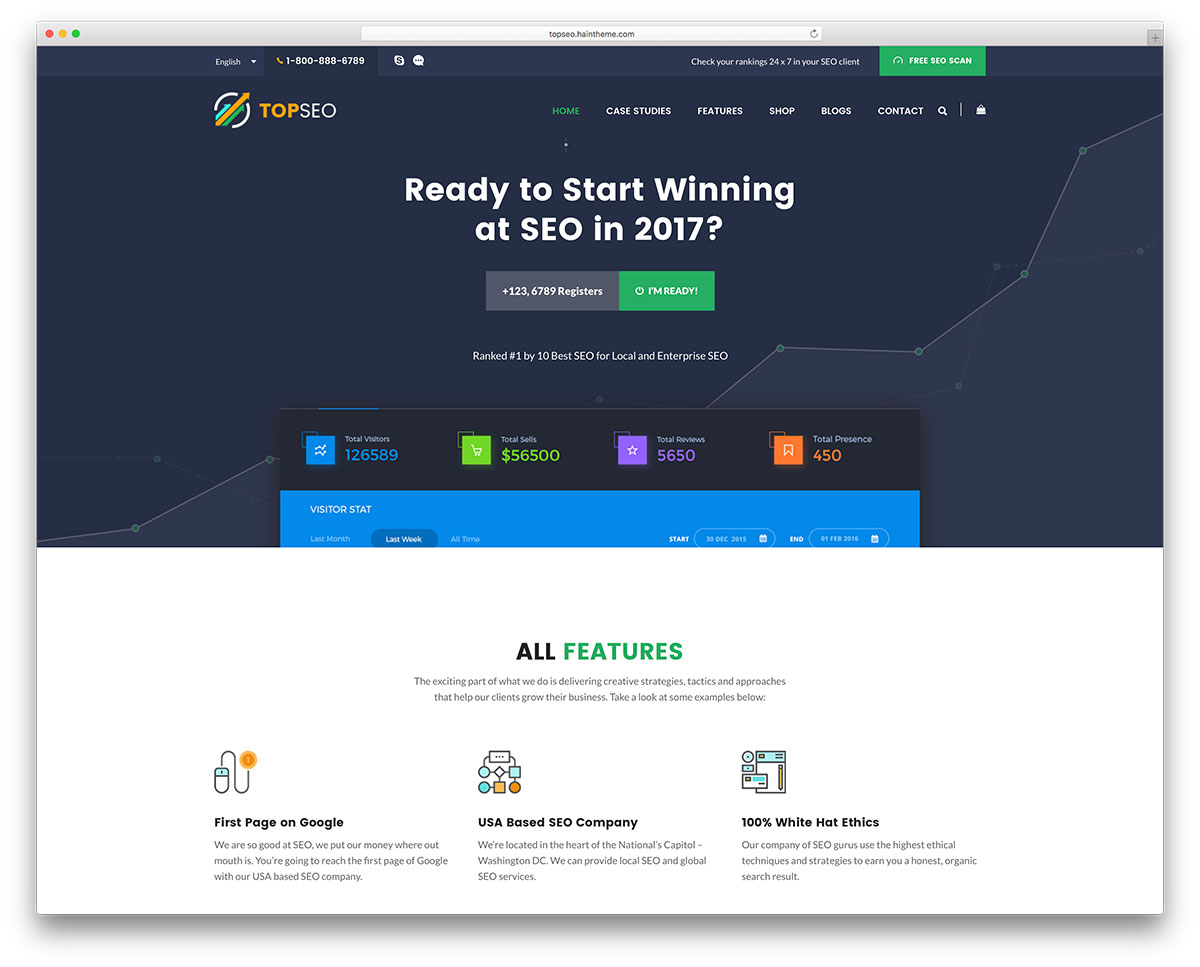 Plus d'infos / Télécharger
Newsmag PRO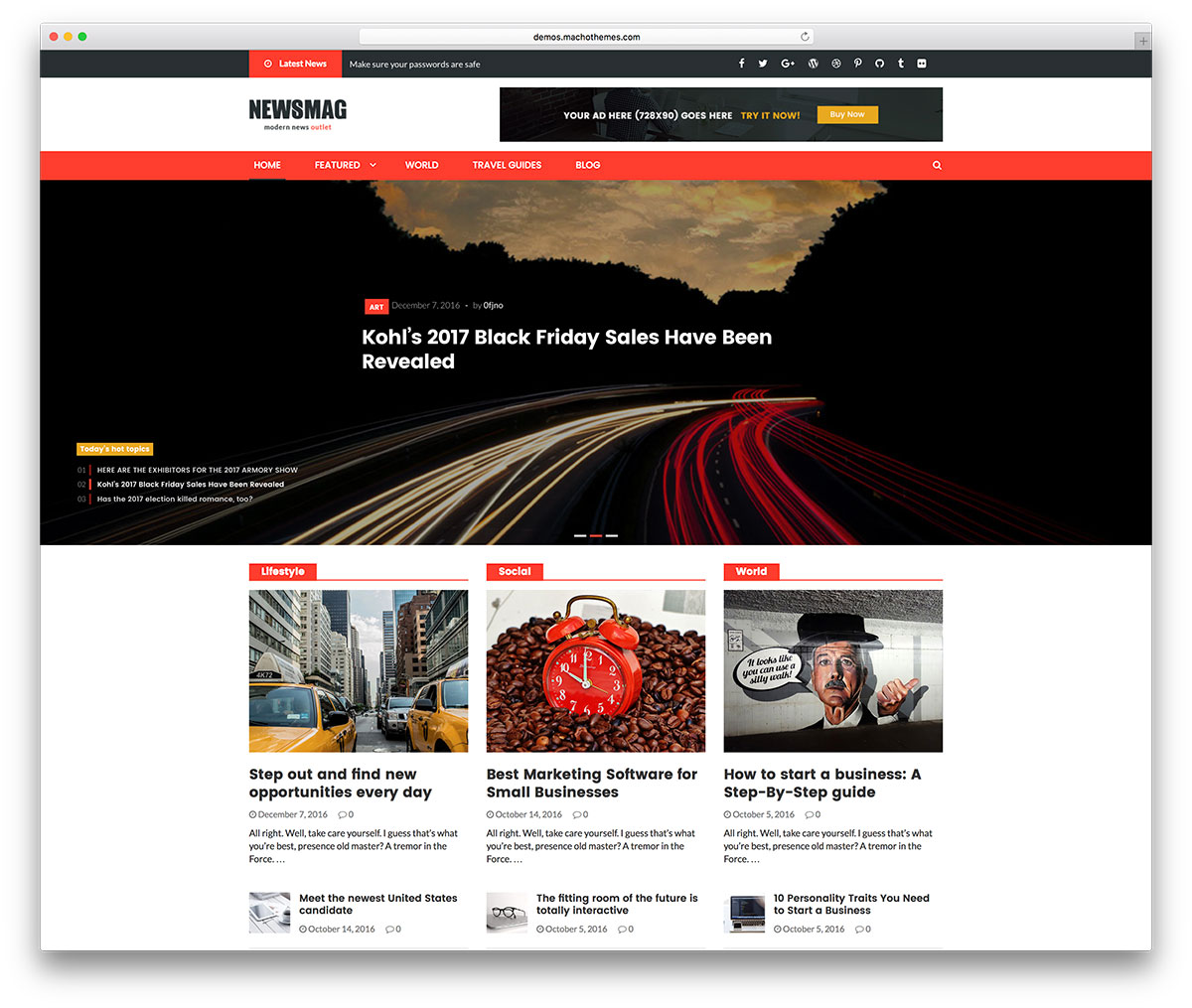 Newsmag PRO est un thème de site Web de magazines multifonctions premium WordPress premium simple, intuitif, moderne, robuste et fiable, facile à utiliser et très réactif. Un compagnon idéal pour les webmasters de tous les horizons qui souhaitent créer des sites Web de magazines modernes pleins de ressources, capables de rivaliser sur le marché moderne, dotés de fonctionnalités de pointe, de modules uniques personnalisés et d'éléments que vous pouvez déployer sans avoir à regarder de front. une seule ligne de code. Avec Newsmag PRO, la personnalisation visuelle et graphique est un processus visuel simple et sans soucis, avec des capacités de fonctionnement approfondies facilement ajustée à l'aide de paramètres de thème avancés.
Des fonctionnalités étonnantes telles que des curseurs et des carrousels personnalisables sans fin sont facilement disponibles pour que vos utilisateurs restent impliqués dans votre contenu tout en vous permettant de diriger facilement le trafic vers vos publications récentes ou tendances, grâce aux technologies AJAX de pointe qui sous-tendent également celles de Newsmag PRO puissantes pages personnalisées et fonctionnalités de recherche. Il est facile de documenter de manière exhaustive l'utilisation des ressources et des ressources intégrées de Newsmag PRO. Un support dédié et réfléchi est disponible pour répondre aux doutes éventuels. Construit sur Bootstrap, Newsmag PRO est compatible avec les appareils mobiles et intrinsèquement compatible. Essayez Newsmag PRO aujourd'hui!
Brixton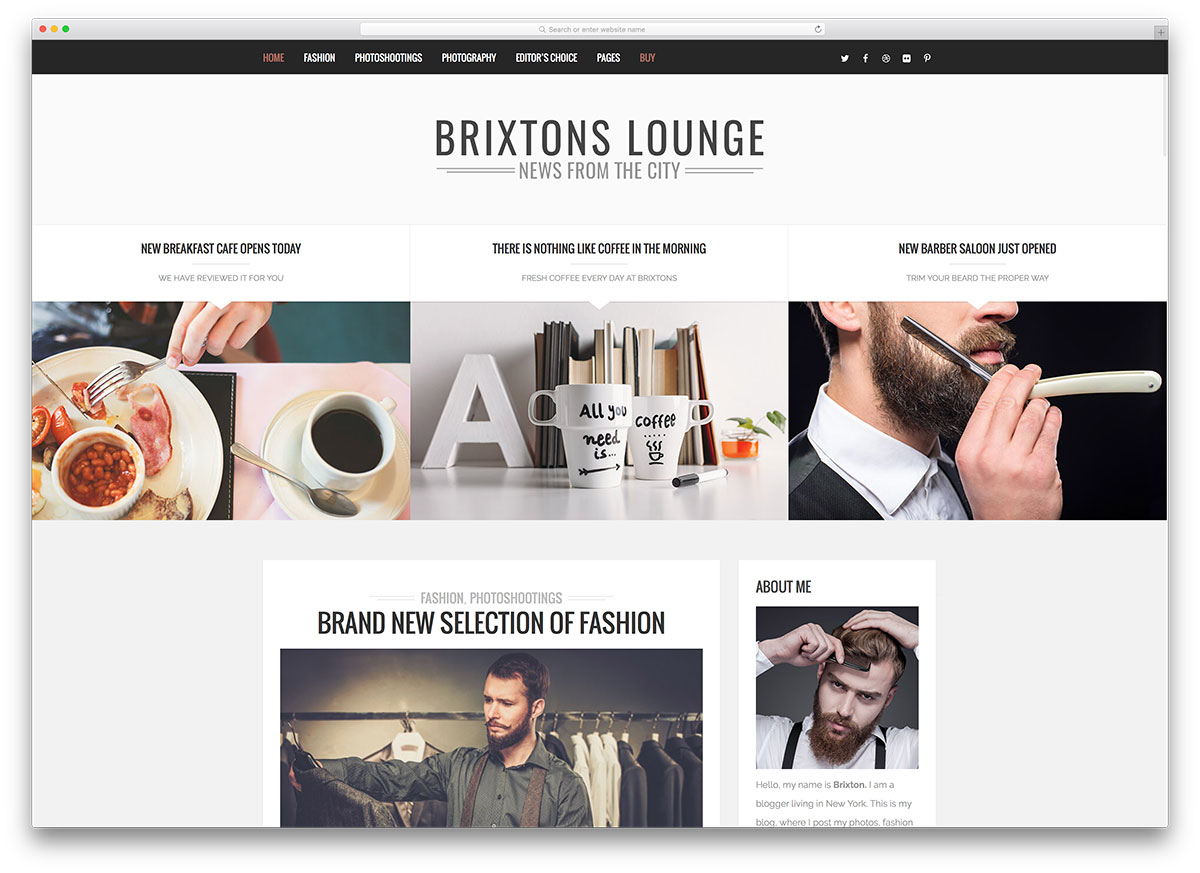 Plus d'infos / Télécharger
Kallyas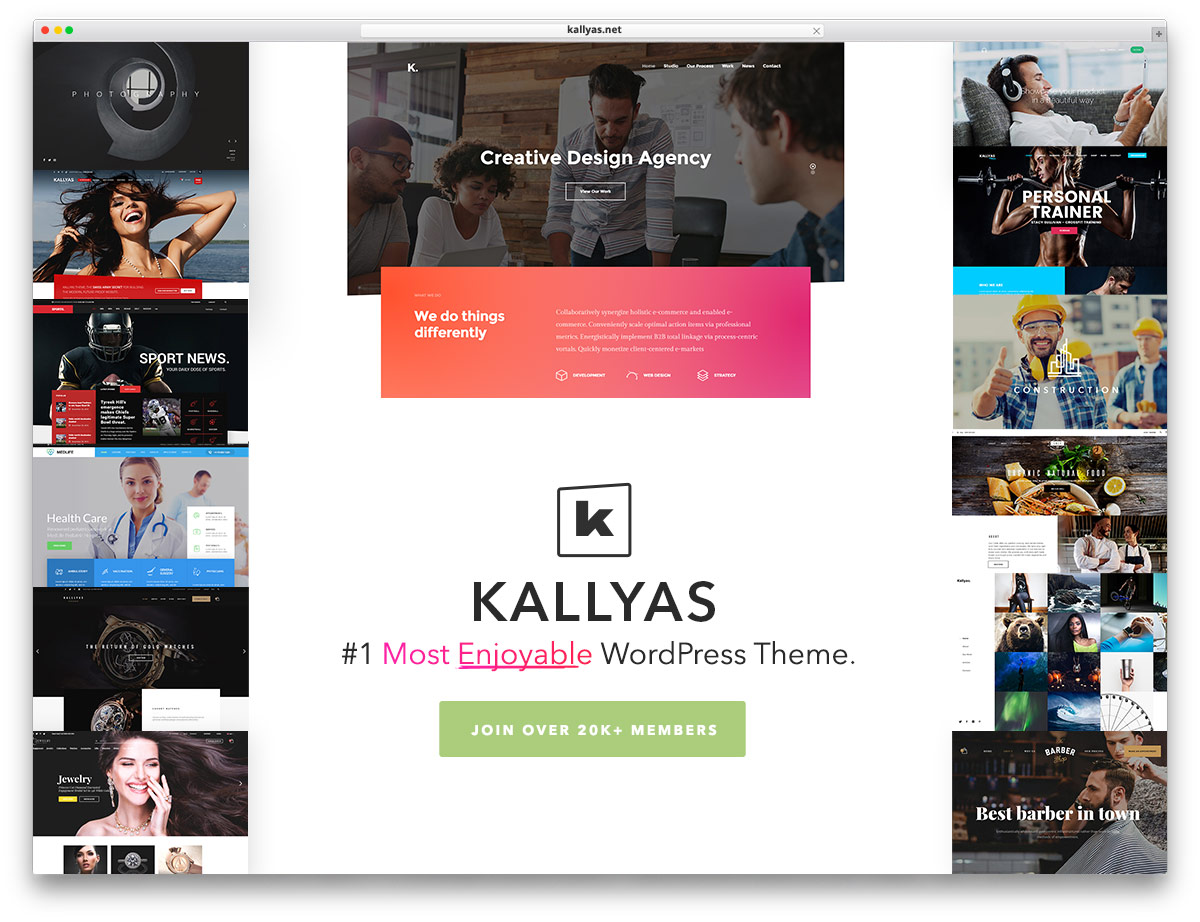 KALLYAS est un thème de site Web polyvalent créatif WordPress eCommerce créatif et moderne. Conçu avec le plus grand soin pour les détails, KALLYAS est une boîte à outils sophistiquée pour la création de sites Web. Les webmasters de tous les horizons trouvent dans KALLYAS une plate-forme fiable pour tous leurs besoins. Visual Builder, rempli de démos, de modèles et d'éléments, simplifie les choses. Le magnifique Revolution Slider augmente la visibilité et l'engagement de votre contenu. Présentez vos articles les plus beaux et les plus en vogue avec des widgets pratiques. Construisez votre boutique en ligne en une journée avec le puissant WooCommerce.
Des fonctions de référencement polyvalentes sécurisent votre ascension rapide grâce aux résultats des moteurs de recherche. Augmentez votre trafic en une nuit et utilisez tous les bons mots clés avec KALLYAS. Une documentation intuitive, écrite et vidéo est disponible, expliquant tous les coins et recoins. Quoi que vous ayez encore besoin d'aide, une assistance clientèle professionnelle se chargera de vous. Laissez KALLYAS améliorer vos performances aujourd'hui!
Être thème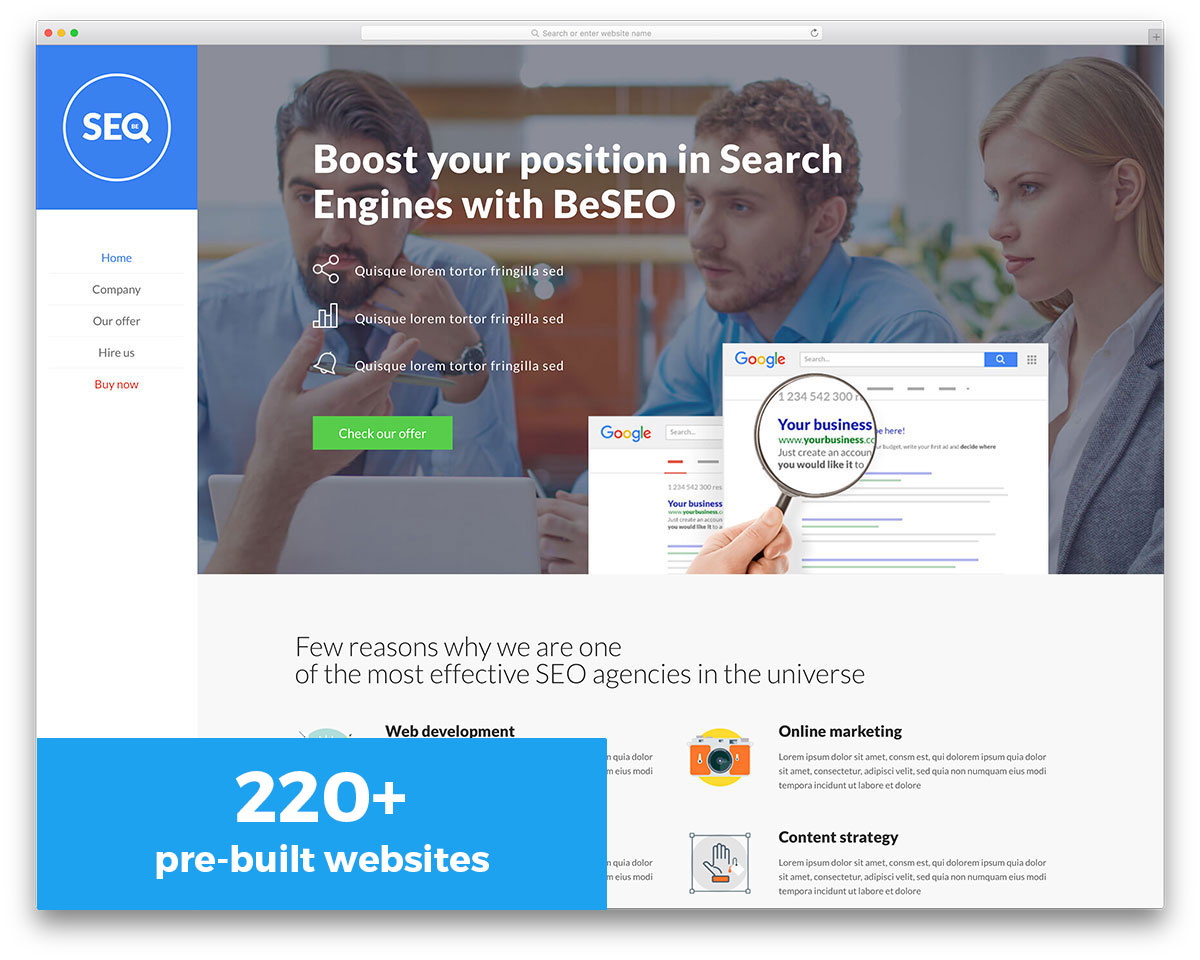 Plus d'infos / Télécharger
La tour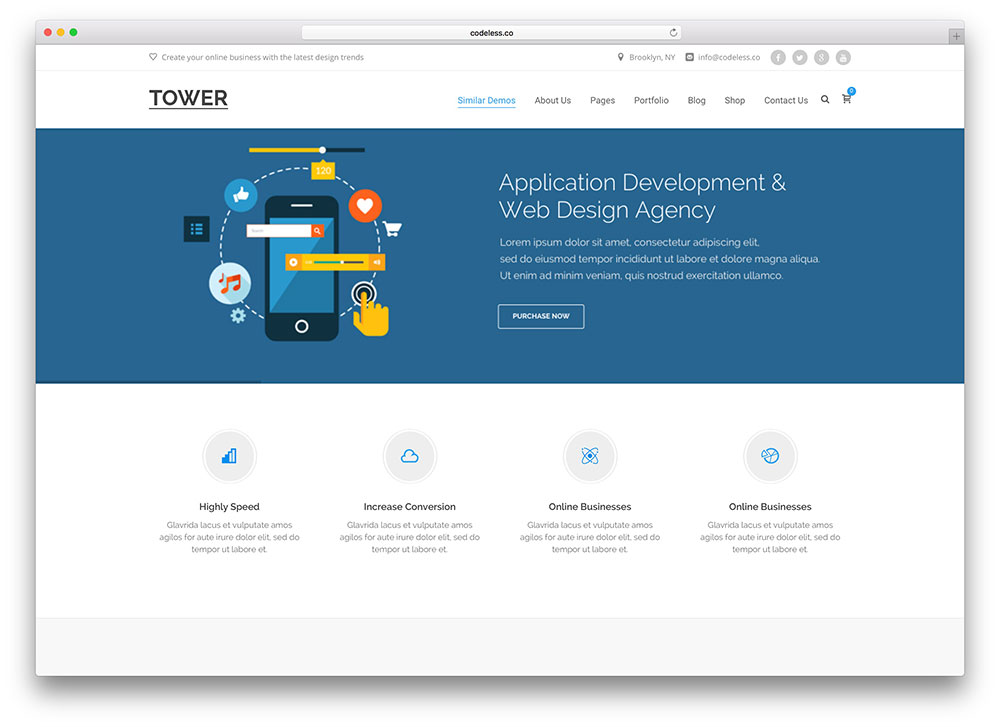 Plus d'infos / Télécharger
SPIN SEO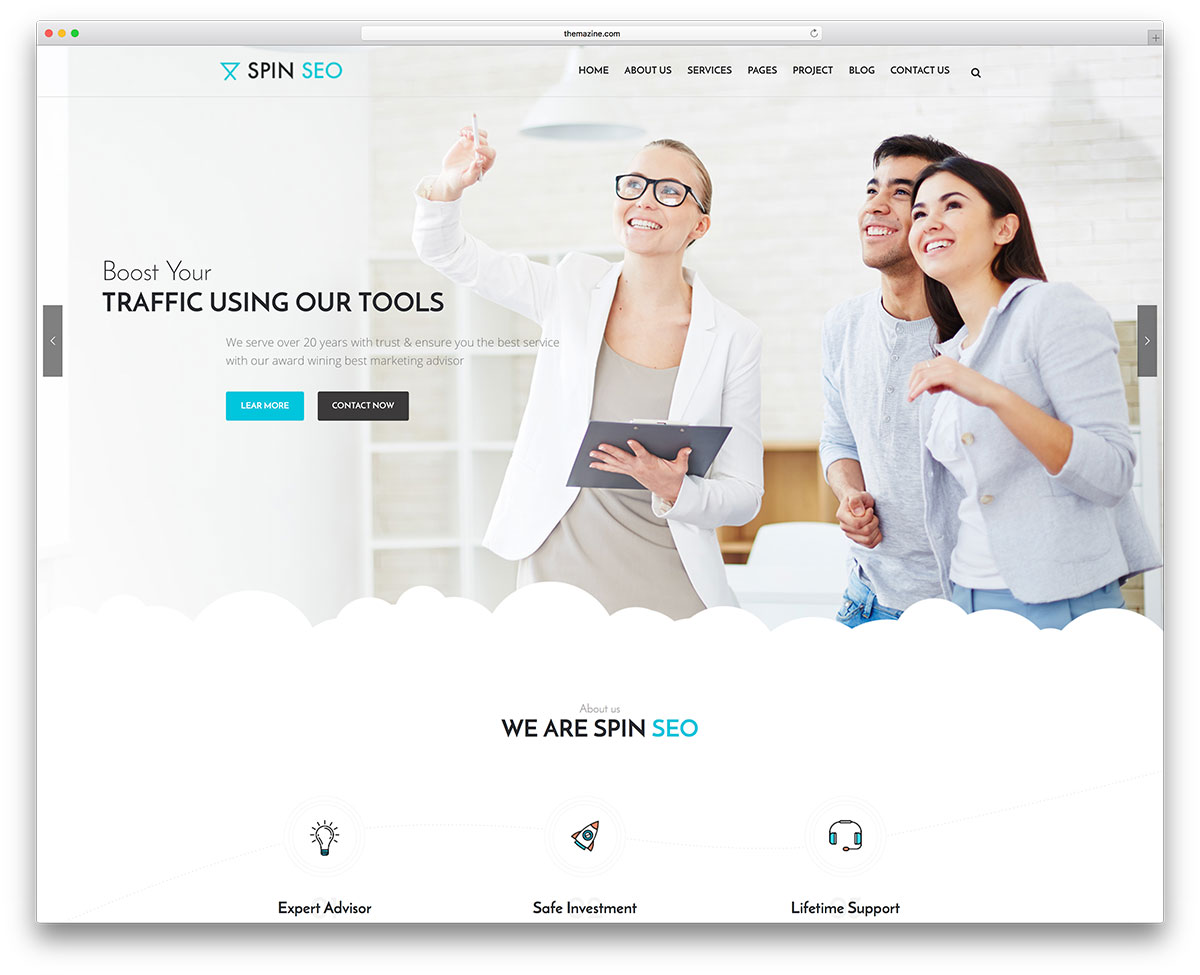 Spin SEO is a business oriented WordPress theme. It comes with tons of awesome premium plugins and a one click demo install. It also features 2 home pages and many variations for blogs and project pages. Even a child theme is included! Spin SEO suits well all professional levels with a smooth, sober, clean and modern concept. It uses Visual Composer and Revolution Slider and it is even Contact Form 7 compatible. You will get it ready for translation with WPML and customizable with shortcodes.
It uses Google Fonts for typography and offers really cool color palettes. A highly committed team for 24/7 customer support is also available. A versatile for different environments of work and very malleable. It has awesome transitions and Parallax effects for backgrounds. You will get it with HTML5 and CCS3 files too. A practical smart choice for all business that is looking to personalize their site. It will provide quick formulas and creative pre-built designs. Add widgets, banners or pictures and take advantage if its high resolution support. Get this awesome theme right away and you won't regret it! Get Spin SEO!
Brando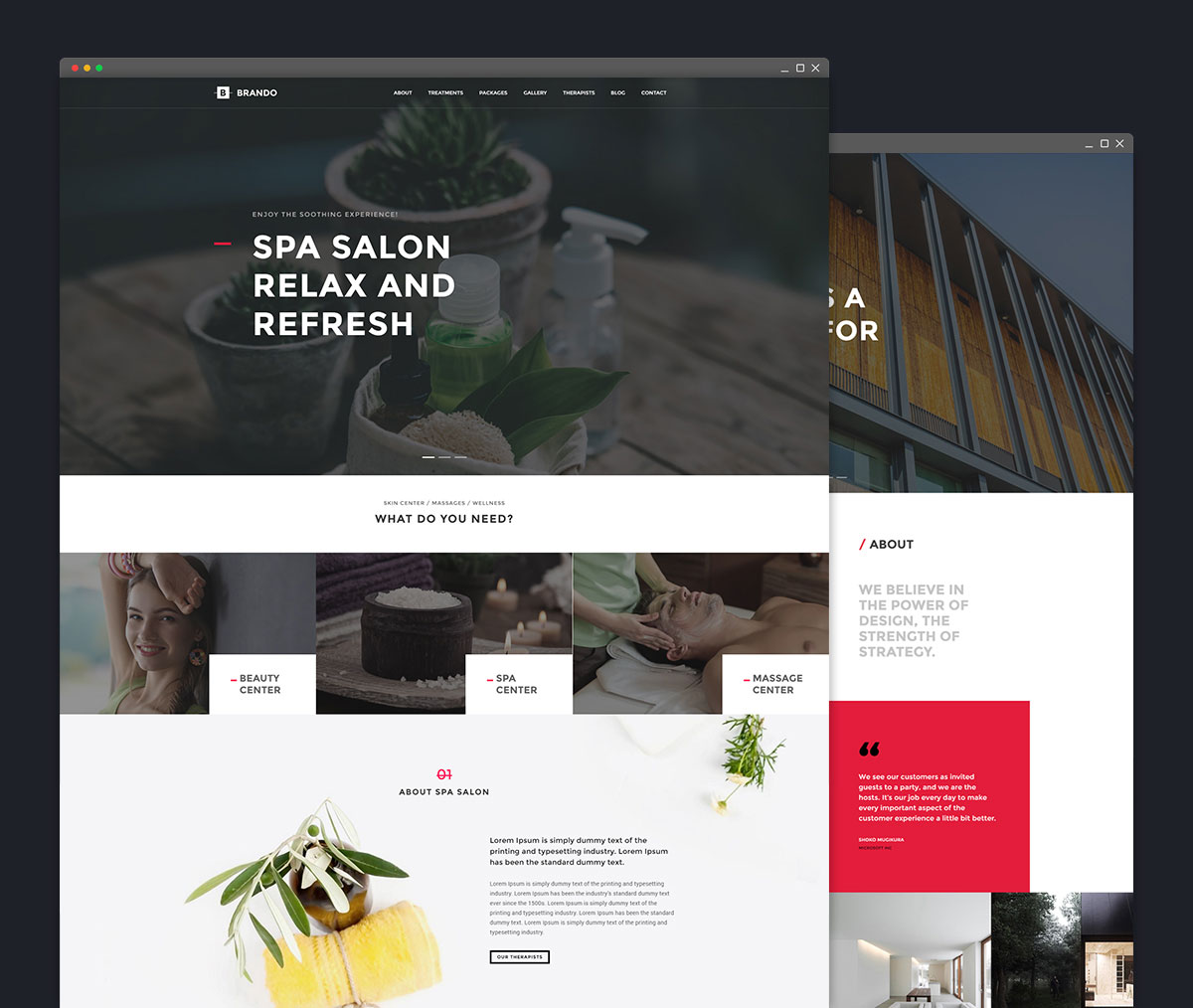 Plus d'infos / Télécharger
Pofo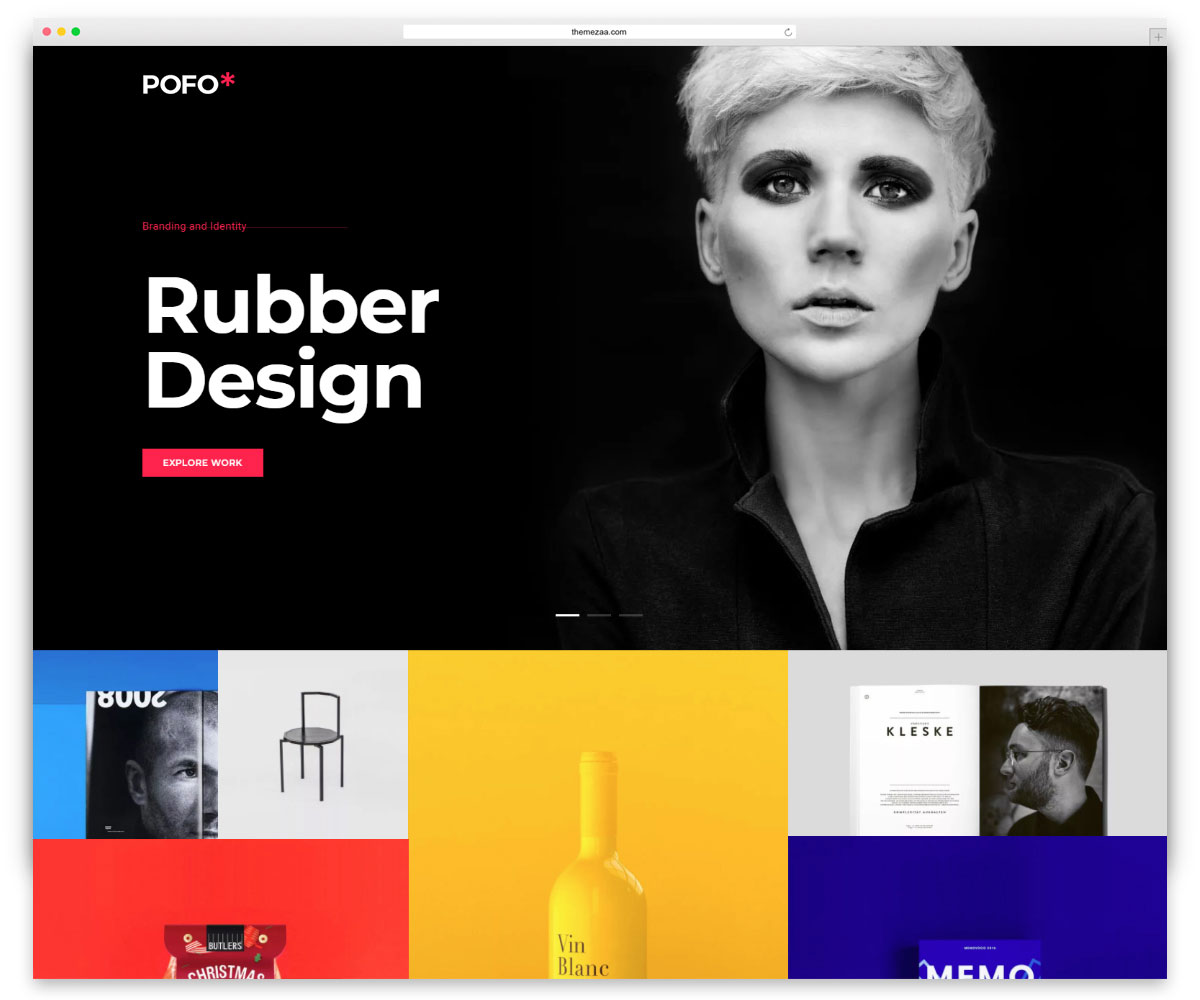 POFO is a modern and resourceful responsive WordPress creative multipurpose website theme. An intuitive solution for users of any skill level to craft eloquent websites. Dozens of demos and hundreds of templates ensure POFO always has the right fit for your needs. The WPBakery lets you fine-tune every nook and cranny of your pages to your every whim.
Perfect for introducing content or catalogues to audiences. Cutting-edge visual effects and technologies set POFO apart from the pack. Your visitors won't soon forget the trendsetting stylings of your POFO website. Integrating Yoast! SEO, POFO is an SEO conscious theme that helps you increase traffic overnight. The MailChimp plugin handles all your subscription newsletter needs. Staying in touch with your audience has never been easier. No matter your niche or industry, POFO will help you conquer the market!
H-Code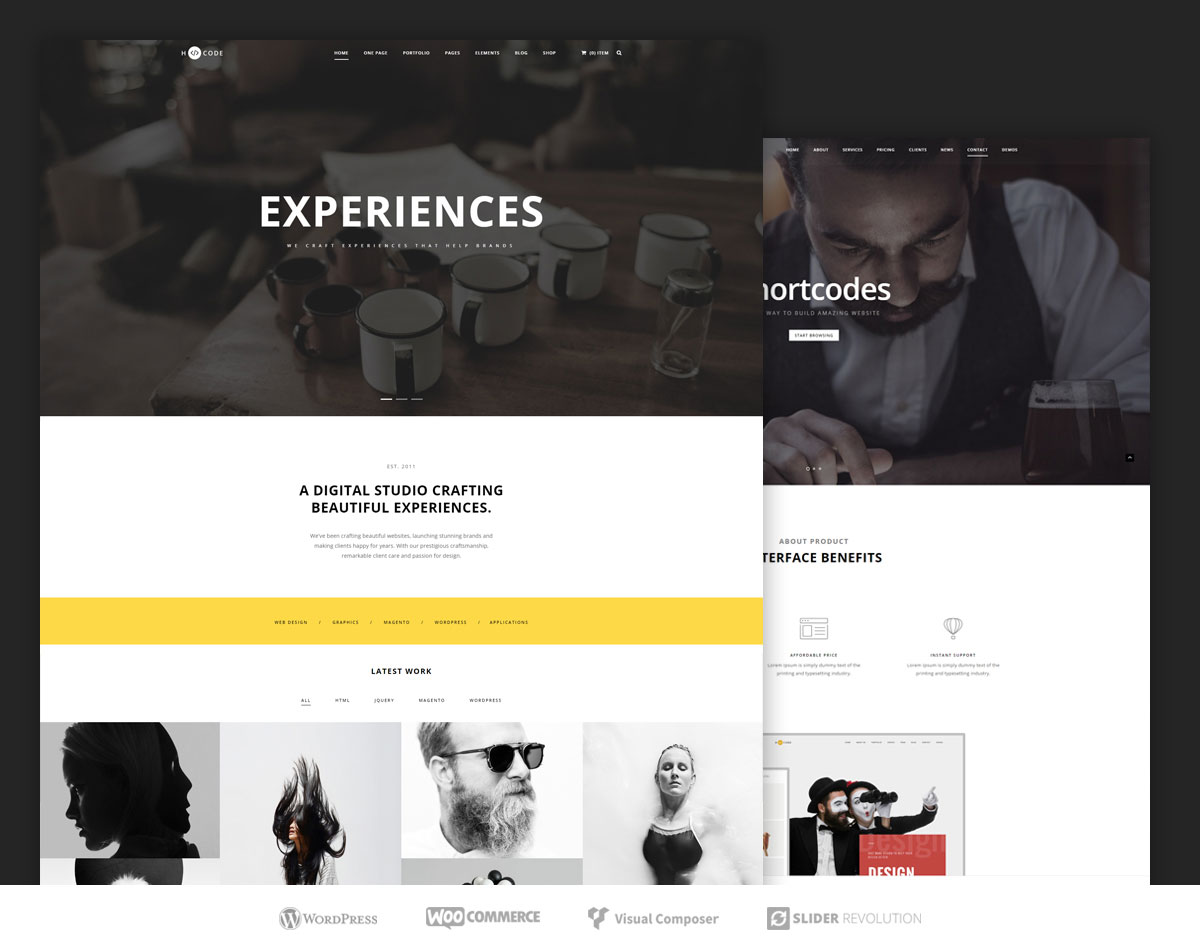 Plus d'infos / Télécharger
Paperio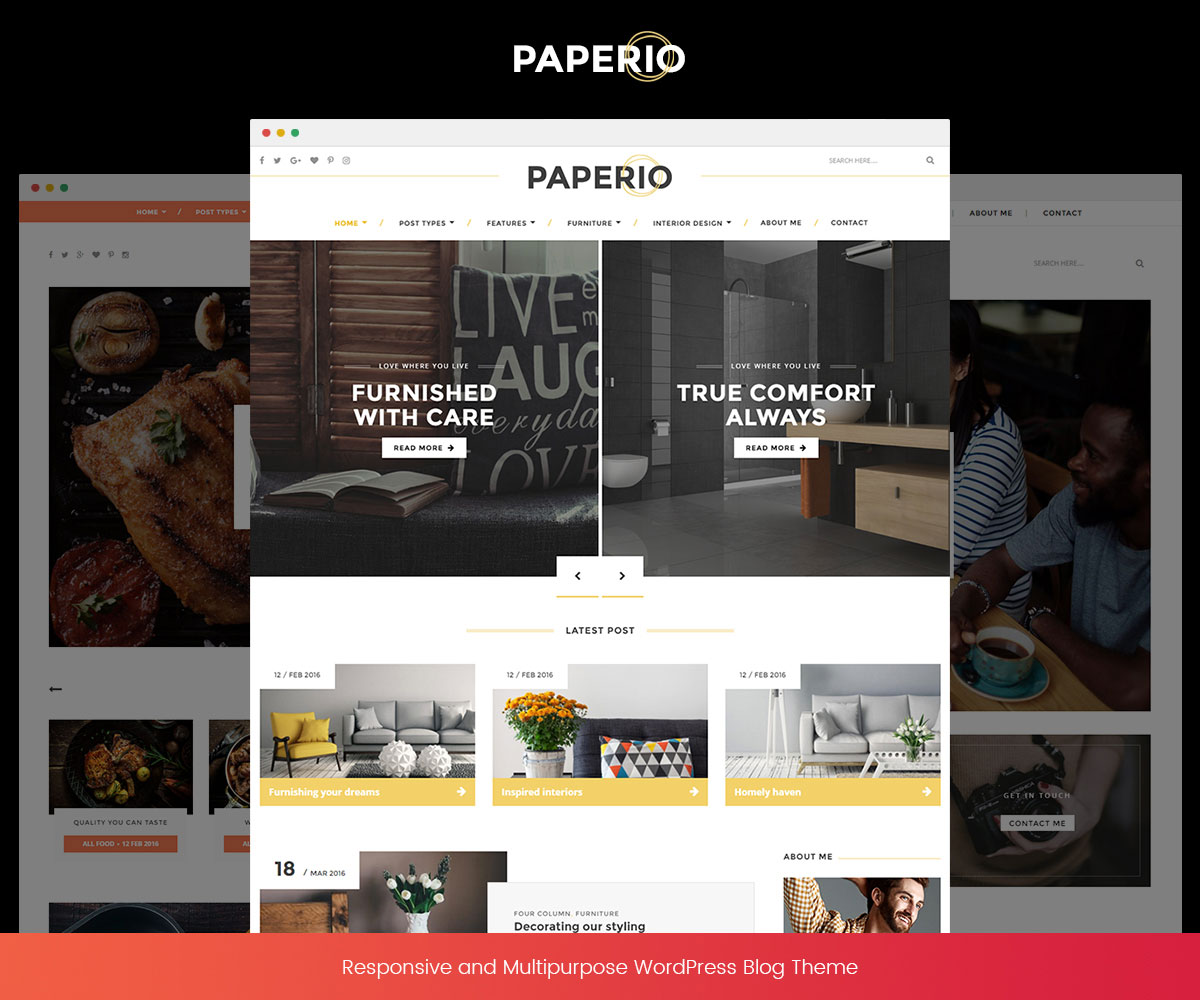 Paperio is a sharp and responsive WordPress multipurpose blog website theme. A modern and impressive set of tools for creating effective blogs. Strapped with the most powerful technology, Paperio gets things done with speed. Get things going with 7 unique, fleshed out demo website templates. Mix and match layout styles and elements through a visual interface. Customize your colors, fonts and styles in a couple of clicks. Tons of widgets connect your audience with your content. Featured post sliders, latest posts, popular posts and more. The sharp AJAX technology underpins its rapid modern features.
With extensive SEO enhancements, Paperio is a top-notch performer across search engines too. Improvements to the code make Paperio websites parse seamlessly through search algorithms. Your content will be up front and center of all the relevant searches. This in turn lets you drive your traffic through the roof overnight. And with convenient ad blocks, monetizing that traffic is simple and effortless. Once you've got the traffic, you want the speed. A fast-loading theme that's always easy on your servers. Impressive technology optimizes image loading for each user and device screen size. And without losing any quality! Get your content noticed, with Paperio!
SEO Crawler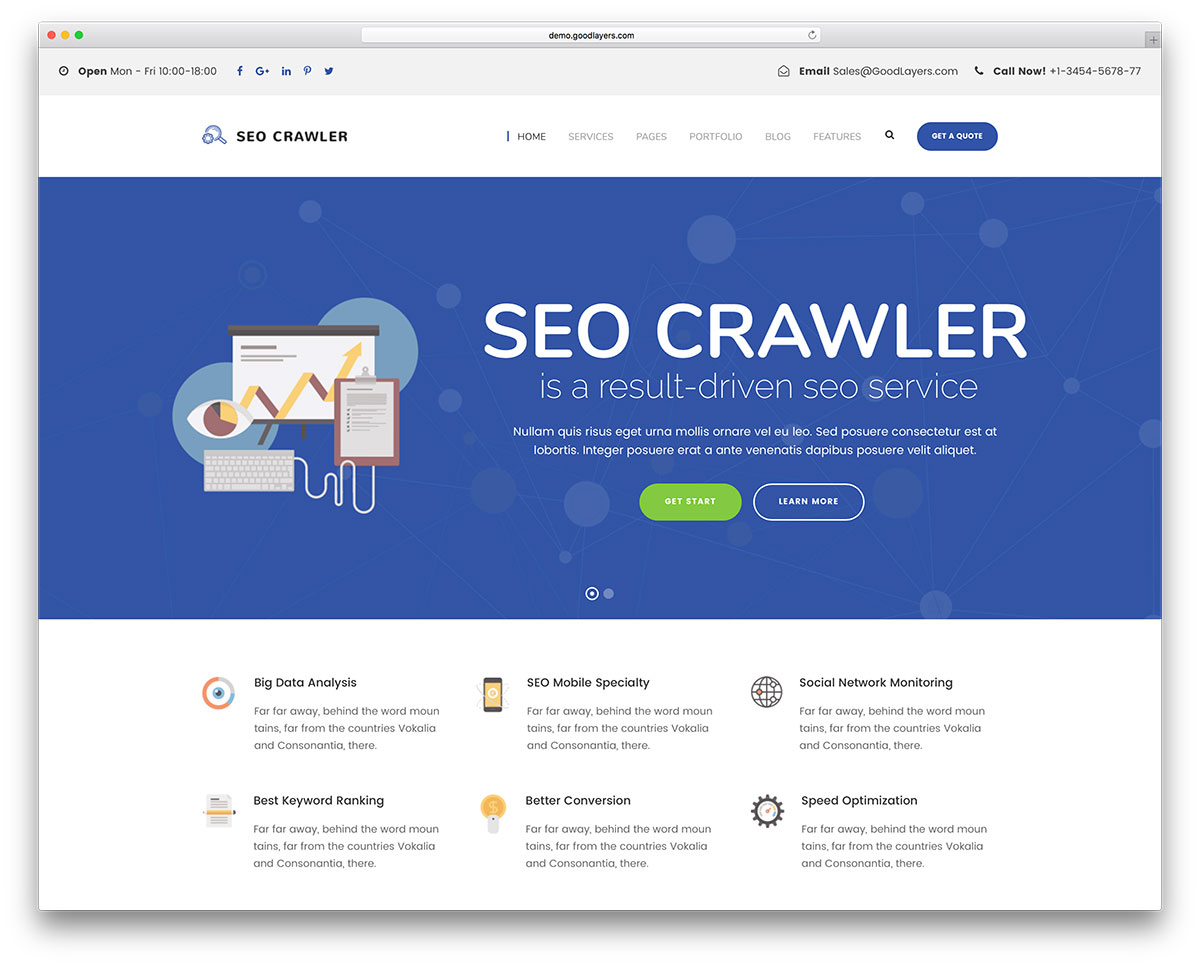 SEO Crawler is a highly specialized WordPress theme. It is built to empower agencies and digital markets or websites with a fast and pre-built design easy to set. It comes with 3 unique demos and many subpages customizations. A GoodLayers based and features a well-known Drag & Drop page builder. Set up amazing slides, videos and more multimedia with Slider Revolution and iLightBox. 8 posting formats are available including videos, links, galleries and audio. With pre-built variations for footers and headers to make distinctive looks.
It even gives you an optional top bar that can be enabled for social media. With its live customizer everything can be arranged in real time! With features customizable colors, skins, backgrounds and typography. You get preset Google Fonts, a personal font uploader, unlimited colors, and even single portfolio pages. You will even get full compatibility with major plugins like Yoast SEO and W3 Total Cache. Additionally, this theme have 30+ amazing pre-built options for blogs, portfolio or gallery layouts. Pages to provide different services are also completely customizable. Theme in general is in fact fully responsive and adaptable to all screens and devices. Get it right away with automatic updates! Use SEO Crawler!
Schema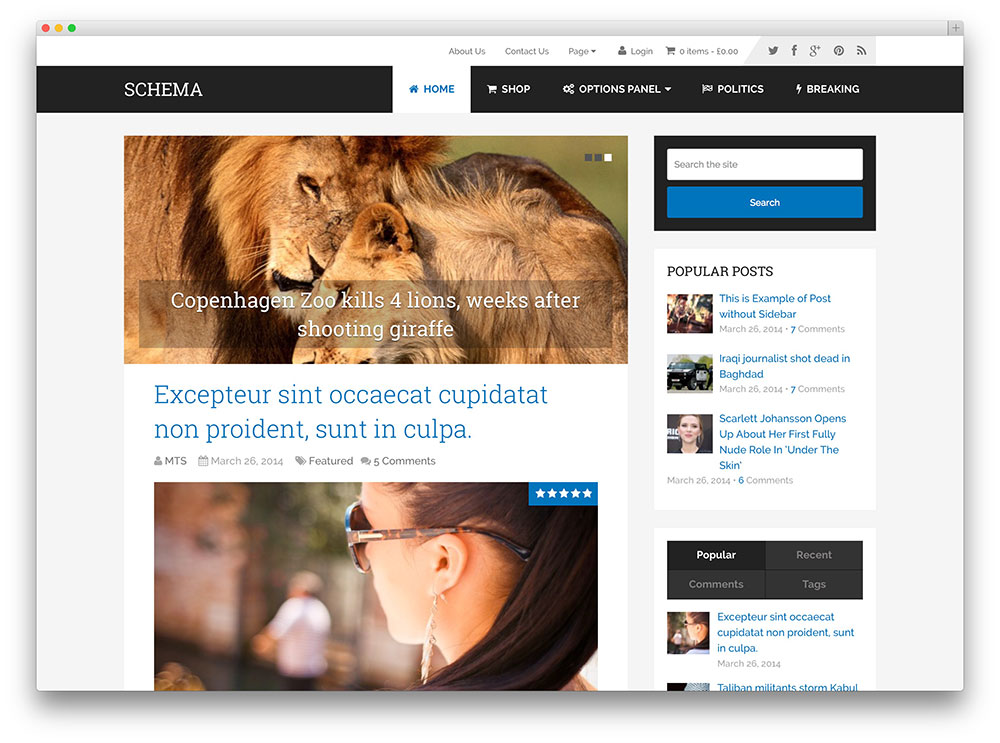 The developers claim that this is the fastest WordPress theme, and that is not entirely unfounded. Most internet users give up on a specific page if it refuses to load, or loads slowly. That is the blessing, and the curse of the online commerce world: there are always alternatives. As a business owner, you risk losing traffic to your competitors if your content is not optimized. Thankfully, Schema is refreshingly quick, and it only takes a few seconds for everything to fill your screen. The developers made it well documented, with extensive information available at the click of a button. This opens up the gates for less experienced users that wish to personalize their site, and turn it into something that not only generates revenue, but also expresses their unique vision.
Most of the operations that are required for the setup process can be completed by using a single click. This large amount of user friendliness will definitely work in your favor as you navigate the menu options. Also, is you decide to purchase Schema, you are not settling for a single product. It is not uncommon for quality WordPress themes to receive constant updates, as the content needs to adapt to an ever changing landscape. You can solve every eventual bug, error or glitch via free downloadable content. Same goes for the support system. All clients will receive the unrelenting aid of thee developers, which pledge to guide them through any process, and help them solve any issue.
Independent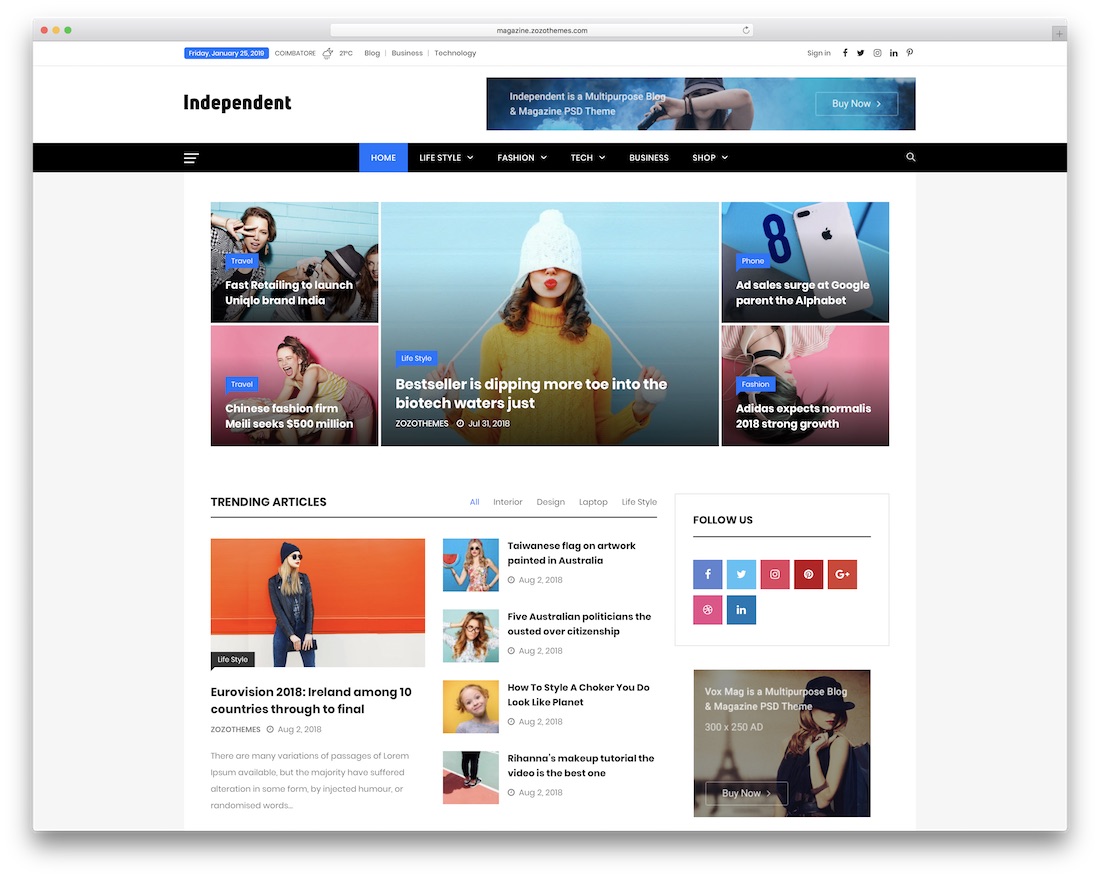 Independent is a fantastic and easy to use SEO optimized WordPress theme for any type of blog or magazine en ligne you would like to create. With loads of ready-to-use demos, you can start your online journaling journey sooner rather than later. Independent contains samples for cryptocurrency, technology, food, travel, sports, organic and numerous other niche websites. Besides, each sample is also entirely customizable for you to tailor it to your needs precisely.
With this spectacular multi-purpose theme, anyone becomes a pro at coding and designing. Indeed, there is no need to have any prior experience to work with Independent – anyone can do it! Thanks to the drag and drop technology, modifying existing layouts and creating new ones is a piece of cake. Independent is also entirely monetizable for you to earn money while pushing compelling articles.
Crocal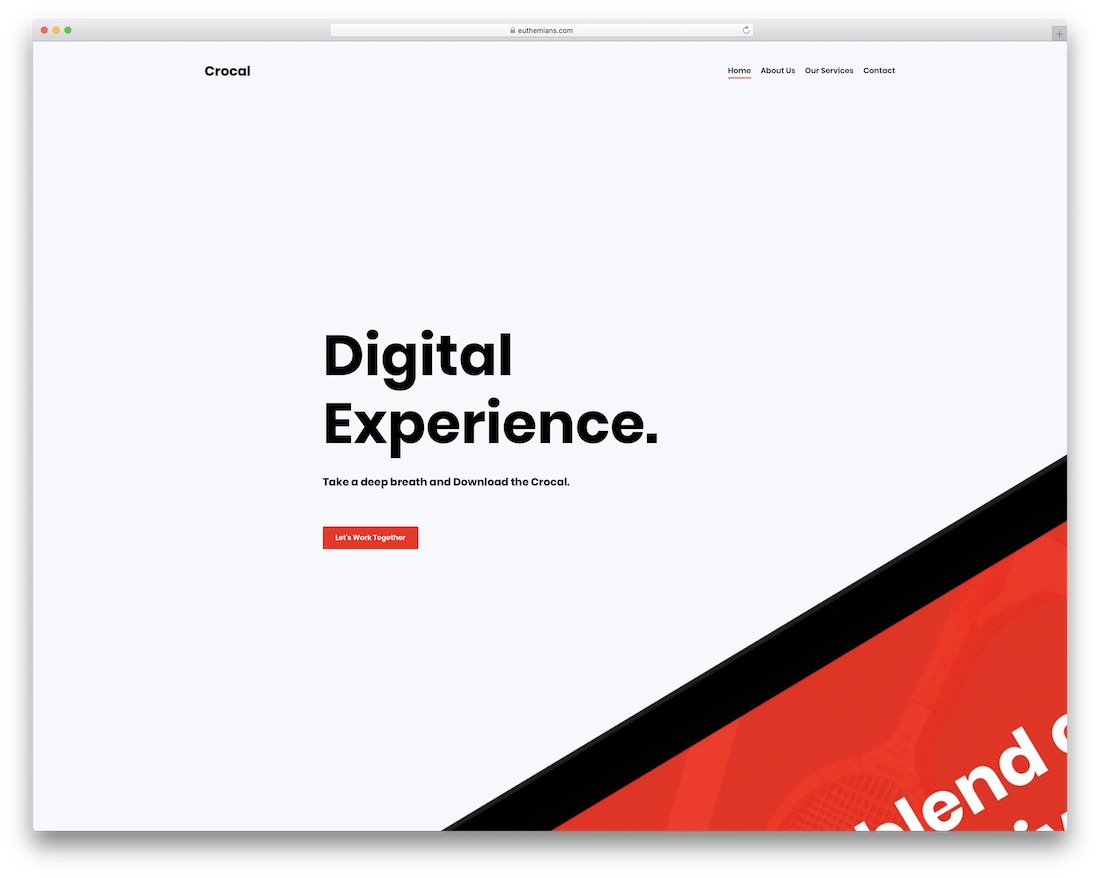 The limits are barely any when you set on Crocal. Working with this SEO optimized WordPress theme is quick and straightforward. Not only that, but you can craft a professional and sophisticated website even if you have zero technical and design background. How cool is that? First, you pick between a solid collection of ready-made samples that go from online shop and creative agency to portfolio, fitness and photographer websites to name a few.
Crocal has a responsive layout to make sure your website works seamlessly across all devices (web browsers, too!). You can use Crocal for blogging and selling products online just as well. In short, whatever your heart desires, Crocal can help you realize it. The potential of Crocal is massive so make sure you benefit from its powerful features and take your project to the next level.
Meilleur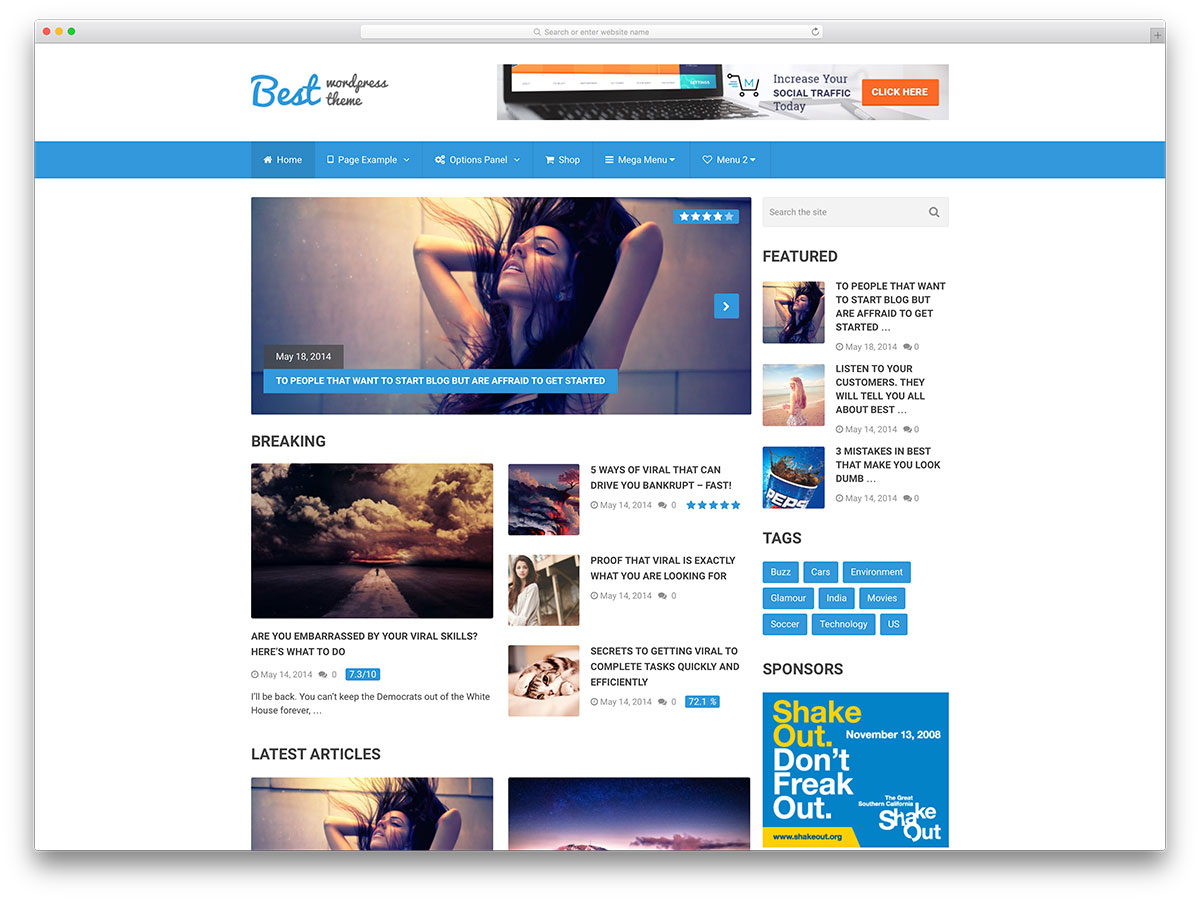 Plus d'infos / Télécharger
Yosemite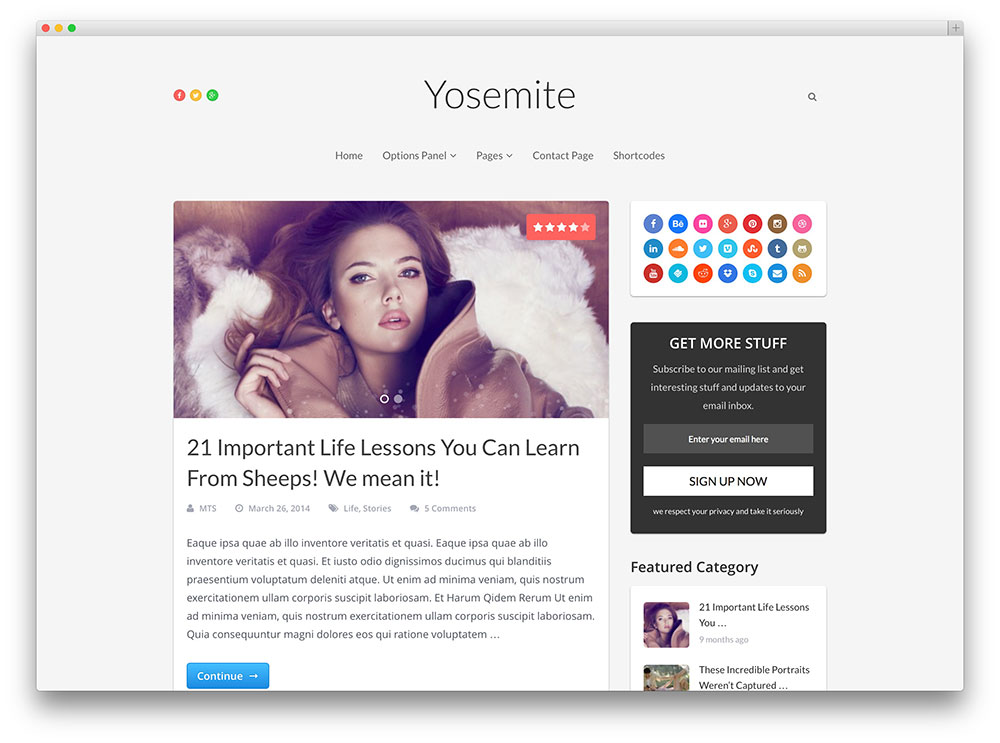 Yosemite is an aesthetically appealing theme that is sure to impress any user, and attract plenty of views for your site. It takes its inspiration from the Mac Yosemite, and it integrates a completely responsive design. The developers thought out every single element in this theme, designed to maximize your chances of reaching online fame. Are you considering a purchase but you are not sure about its quality? Aucun problème! As the developers of Yosemite have added a very useful demo that can help you form an opinion without any financial risk. The user engagement levels are off charts, as this theme is compatible with WP review Pro, a newsletter plugin and MegaMenu. It should be mentioned that it is also optimized for AdSense, granting the client a greater degree of readability, and access to some informative page reviews.
The theme's site also has some screenshots, so feel free to check those out. A very beautiful, even among other well-designed WordPress themes. It takes a page from the book of Apple's OSX Yosemite, integrating a clean and polished look that alludes an aura of elegance. This theme got the looks and quite well optimized. They placed every element of the user interface to where it needs to be.  This can give a highly intuitive navigation experience. You will also be free from confusion and you can surely know what you're doing next. These are not just claims, as the developers decided to put their money where their mouth is, and analyze the rate of user engagement. They found that the responsive and intuitive layout resulted in a very high involvement rate, when compared to other competing themes from the same niche.
SociallyViral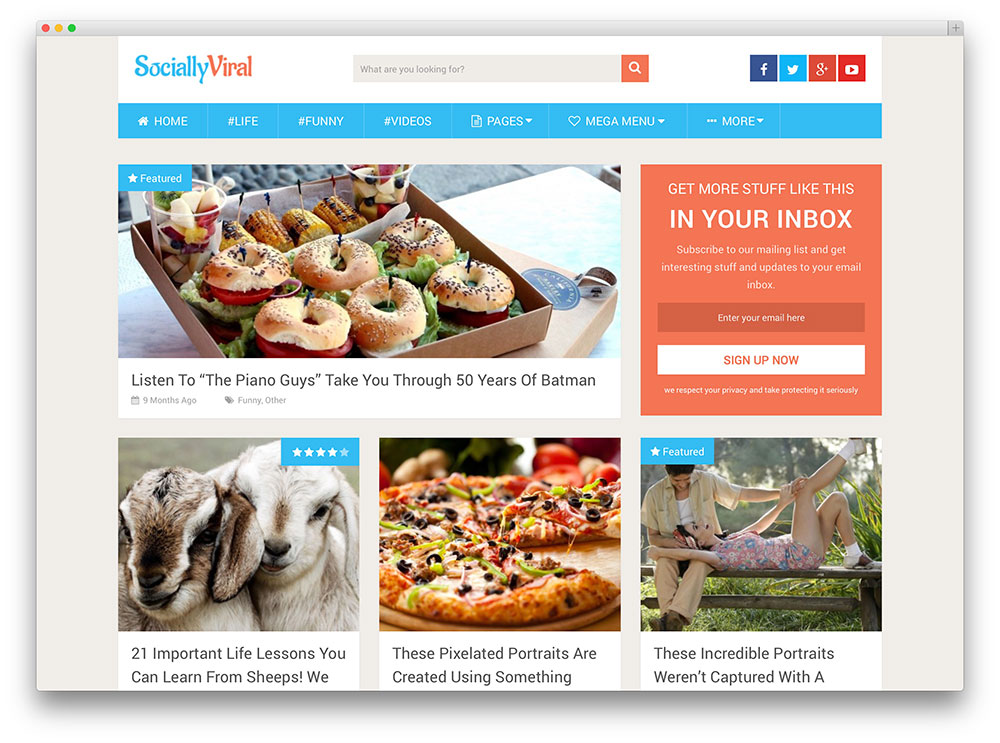 When visiting this theme's home page, one might be tempted to think that it was hacked, and the price was jokingly replaced with a much lower value. The sheer amount of content that you can receive for such a reasonable price is astounding. However, written reviews are somewhat limited. Thankfully, the developers have included a demo version of their product, allowing customers to sample before deciding to purchase. They designed SociallyViral to be fast, engaging and capable of increasing the number of views that your site receives. People often call it "going viral" since it is similar to that of a virus, which spreads quickly. You goal should be to encourage your users to share your site on their social media circles. This increase in traffic and popularity will definitely stimulate your rankings in search engines.
This product is compatible with Mega Menu, a feature that allows customers to develop enticing drop down menus that will stimulate user creativity and interest for your site. You may also display a featured post in order to attract visitor's attention, and encourage social media sharing of your content. This will result in an increased rate of viral traffic for your page. With the help of the review plugin, you can receive honest, direct feedback from your customer. If those reviews are positive, other interested client will be assured of the quality product. If they are negative, you will get a chance to learn from your mistakes, and build upon pieces of constructive criticism.
NewsTimes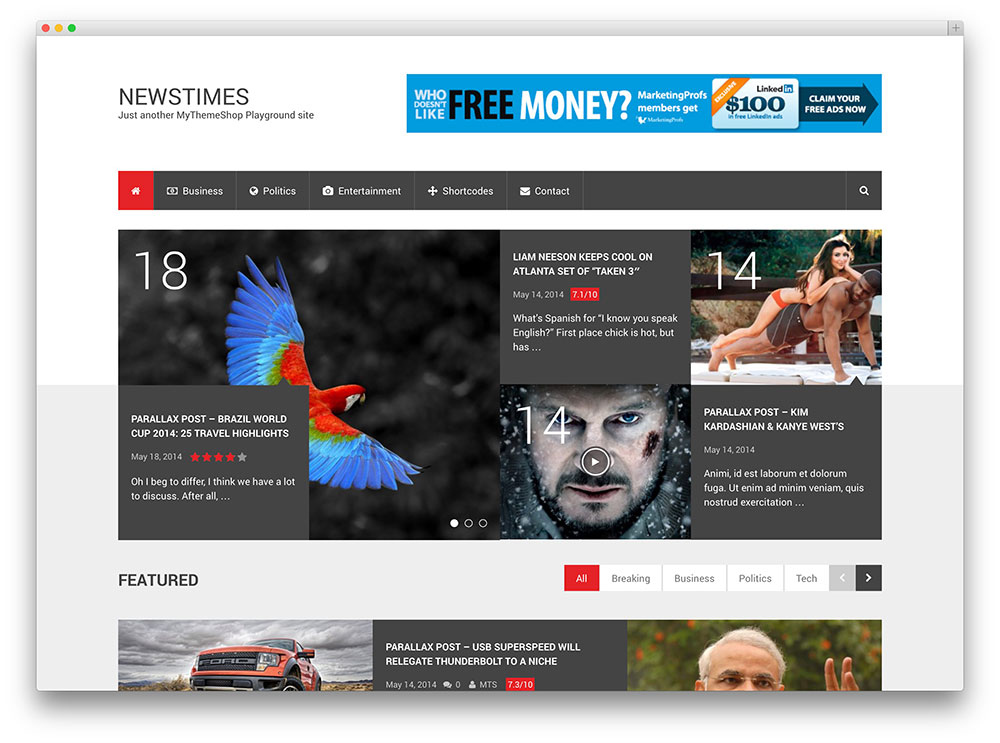 This is a very appealing, pixel perfect WordPress theme that is aimed at customers that wish to boost their web traffic and increase their view count. Of course, you can not achieve those goals if your user base is very restricted. Thankfully, this theme is fully responsive, and your content can be viewed by everyone, including those that are using mobile devices such as tablets or smart phones. Same goes for web browsers, as NewsTimes works in any circumstance, and is compatible with most popular browsers. The coding is very solid, as it uses the latest HTML5 and CSS3, making your page viable for a long time.
The range of aesthetic choices is equally impressive, as you may take advantage of the limitless color palette, and customize content to fit your distinct personality. The developers realize that stagnation is the key to failure, and that is why they continue and support their product with constant updates and tweaks. They added over 630 Google fonts into this theme, allowing for a mind boggling degree of typography customization. NewsTimes also includes a unique custom slider and some very sleek transition effects for your animations.
They also integrated this theme with Off-Canvas Mobile Menus, which is a very useful feature for the screens of mobile devices, because of its limited space resource. Furthermore, they will adapt in every situation, adjusting their size and solution in order to conserve power and screen space. They also included social media icons, giving your blog a streamlined aspect that is ready for social media platforms.
MagXP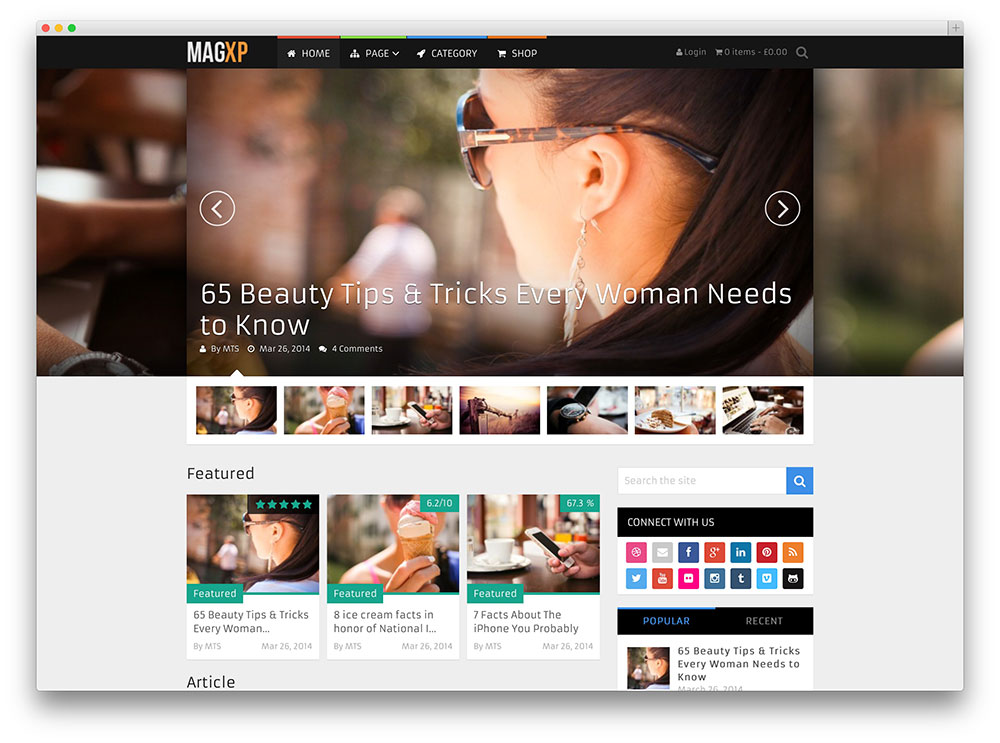 Experience a theme that is considered one of the best SEO optimized products on the market. It includes several layouts for your site's home page, and an innovative admin panel which presents plenty of options for customization. You can navigate all of the offered options without being an experienced programmer. The developers added 2 preset configurations for the design and you can easily shift them between dark and light variations. It is rare to find a theme that can seamlessly combine form, flexibility in function in a single package. They designed the framework in a way that can maximize your sites chances of being successful. This theme also includes an informative review system. These reviews are useful because it gives your customers an outlet to express their opinion regarding the product.
It seems that user accessibility was important for the makers of MagXP, as they have simplified every feature so that a child can use it. There are four pagination configurations, along with limitless side bars and a plethora of options for your side bars. They made this theme HTML5 and CSS3 ready and optimized it for search engines. The odds of making it on the top of search engine rankings are great. You are able to target a vast audience thanks to these features, helped by the translation ready coding. Regardless of the language, you can fully translate it for your audience.
Amax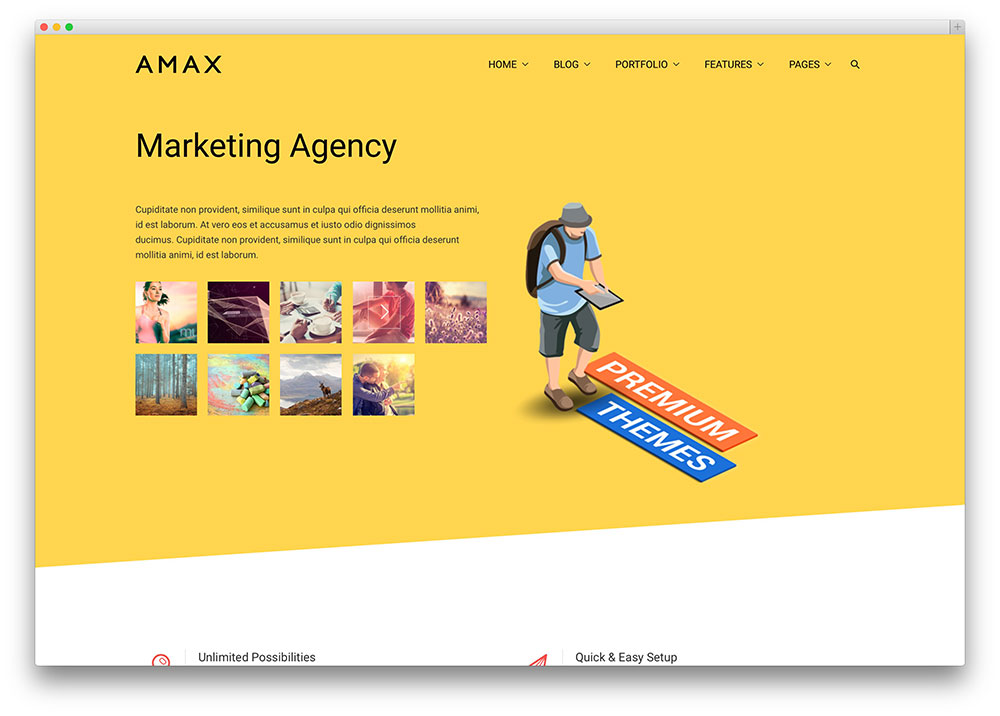 If you are looking for a versatile WordPress theme that boasts an impressive roster of practical features, be sure to check out Amax. The developers intended this theme to accommodate all web pages, regardless of their field of activity. Amax will include the adaptable Visual Composer plugin, in addition to 15 new content elements that can enhance any user's browsing experience. It also features the extension of a few default settings: row fancy edges, colors, animations, row backgrounds, and so on.
The theme offers several options for you page titles, such as background color, preset Parallax effects, and images. You can modify each of these according to your will. The theme offers 3 different layouts for headers, and the choice to apply a transparent or personalized background. If you wish to learn more about this amazing theme, be sure to view the theme overview video explanation. Running for only 4 minutes, it will showcase Amax's most important features. They also added some beautiful screenshots and a live preview.  You can look at these features of you wish to purchase one of the best WordPress themes on the market. For more information about Amax theme you can read this review.
Top News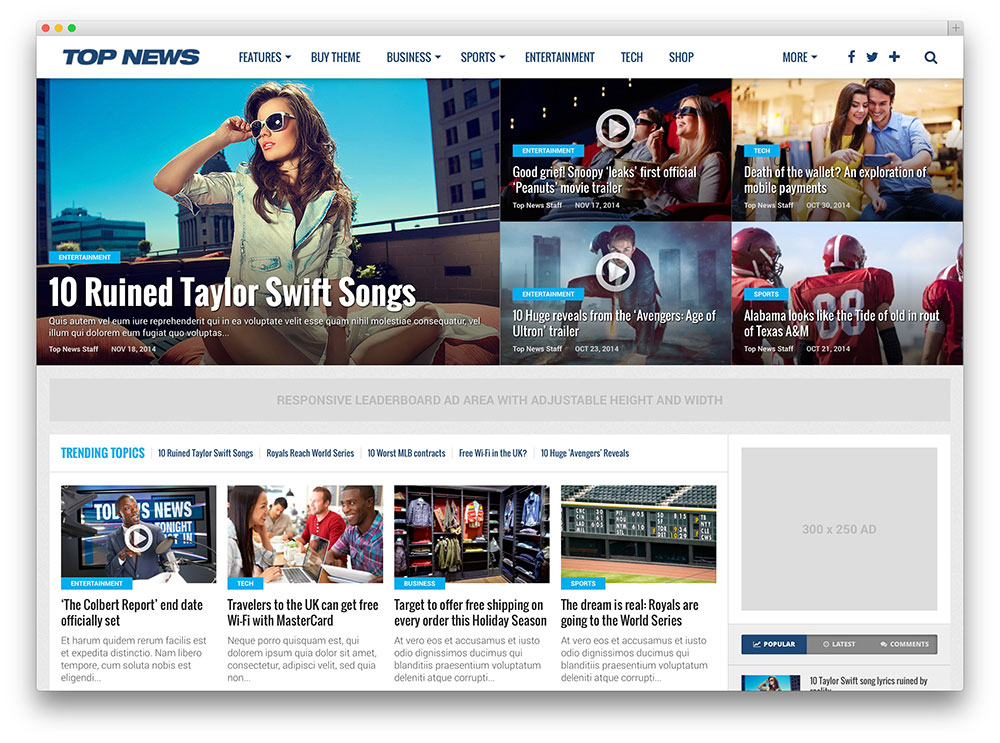 Top news is an innovative WordPress theme that is designed to accommodate News and Magazine sites. The creators made it completely Translation ready. This can help in conveying the buyer's content to non-English speaking audiences. In addition to boosting your view count, it will make your writing relevant to more people from across the world. If you decide to purchase this theme, you will benefit from a lifetime of free updates. Basically, every single feature tries to minimize bounce rates and maximize the amount of exposure for advertisement. It will encourage your users to browse your product and /or articles, by offering them plenty of enticing options.
A Theia Post Slider is a feature that lets you create some astounding pages and slide shows, displaying your key selling points in a fluid manner. Speaking of fluidity, tablets and mobiles can benefit from the easy navigation experience similar to social media sites. The Menu plugin is responsible for these awesome feature. They added this plugin for free but it normally cost about $17. Same goes for the previously mentioned Theia post slider ($22), as the developers seem determined to offer users the best experience possible.
The simple act of holding moving your mouse over a specific post will cause social media icons to pop up. This holds vast potential, as satisfied customers are able to help in the proliferation of your site, by spreading it on Facebook or Twitter.
Newsmag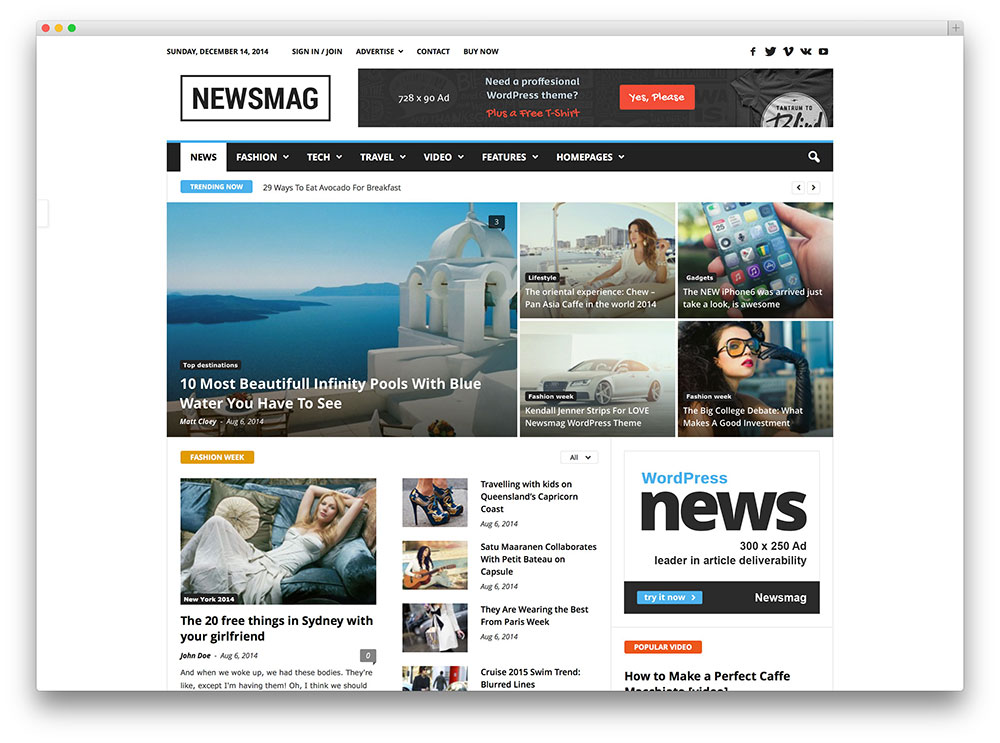 If you are looking for a high tech WordPress theme that can help in boosting traffic for your web site, look no further than Newsmag. With this theme, writing articles and maintaining a successful blog is child's play, and the developers are ready to offer excellent support. You can fit this template for magazine, newspaper, news, review sites, personal blogs and publishing sites. If you wish to integrate YouTube content into your posts, you are able to do so, while receiving feedback from a rudimentary review system.
Newsmag loads your page very fast, a rare feat given a lot of features that it includes. From the ground up, the developers optimized it for search engines. This feature increases the chance of your site to be on the top of the search engine charts. Let's face it, if you site appears on the third or fourth page, it is basically anonymous. Depending on your primary monetization method, you might not rely on advertising revenue, but those extra funds will be a welcomed addition. This product is able to support AdSense and Google Ads.
New to the online world? Or are you not familiar with the setup process? Well, you do not have to worry because the developers have introduced an informative series of online videos that explain everything in detail. With your purchase, you will also gain access to six distinct stacks that can facilitate the setup process. You can initiate these stacks by accessing the Theme Panel, and you can personalize them at any time by modifying the layouts, fonts and colors.
North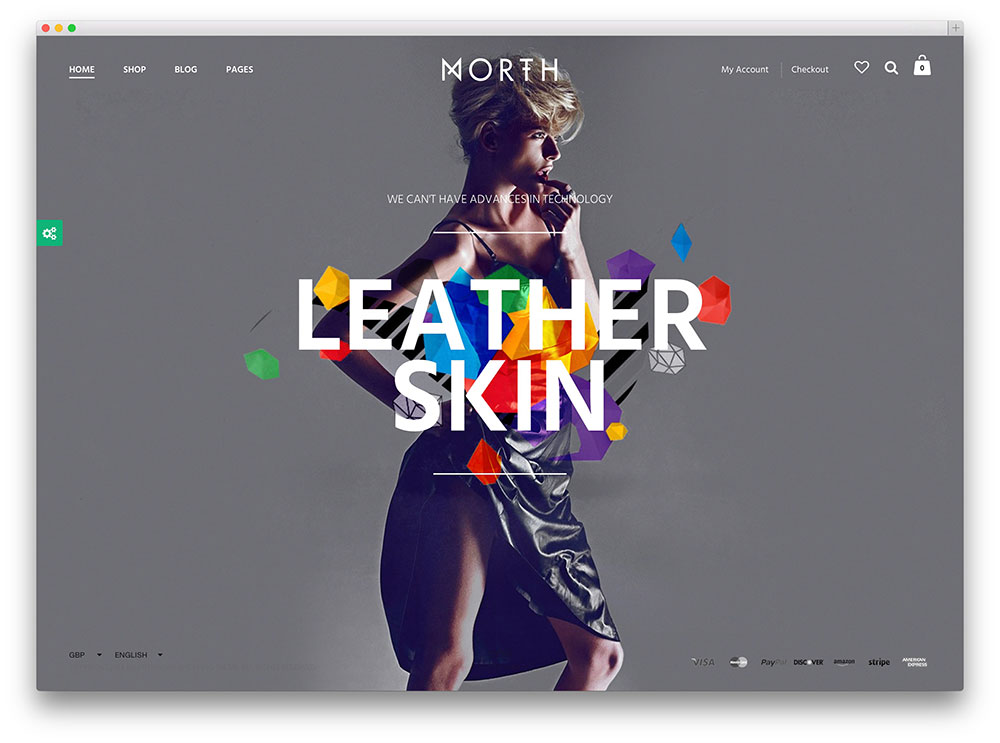 Similar to artists, those who work in the eCommerce field are often forced to come up with innovative and creative ways of selling their products. Of course, your website can provide a commercial portal, but it can also act as a primary means of advertising and marketing. Given the pivotal role that a well-designed website plays, the need for a proper commercial WordPress theme becomes apparent.
As far as this theme go, you can be sure that North is one of the best. The developers also filled it with useful features and design options. Moreover, it has background customizers that let you change the color of your page without effort. Furthermore, the account pages are astounding, offering a very impressive experience even for those that are veterans of Themeforest.
Overall, this beautifully designed theme deserves your precious time and attention.
Route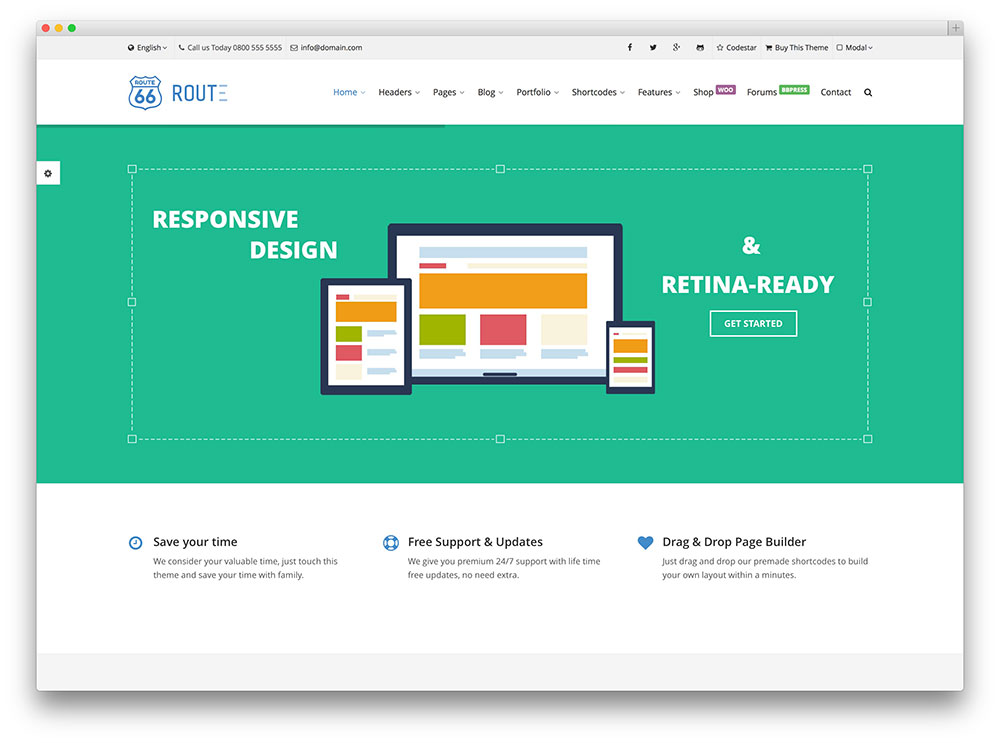 This is a very responsive, minimalistic and retina ready theme for WordPress. Along with the powerful user options, the developers also implemented features that can result in an almost limitless amount of possibilities for users. Despite the reasonable price tag, Route compensates by offering a large amount of content. In addition, the developers have also added expensive premium features, free of charge.
Users can also take advantage of limitless color options, over 600 Google fonts and plenty of short codes. Moreover, you will have all of the tools required for the creations of a successful online page. You do not have to be an experienced coder or programmer. Also, you can simply pick it up and start. However, if at some point you will experience issues, be sure to consult their informative high definition series of explanatory videos.