En cette époque de croissance économique et de disparition rapides, les grandes entreprises de longue date disparaissent, année après année, rapidement dévorées par les courants de générations en génération, remuant et tourbillonnant leurs niches. Mais pour chaque magasin de location de vidéocassettes, il existe un service de streaming vidéo en ligne, voire deux!
Les temps qui changent ouvrent des perspectives aux entrepreneurs, aux talentueux et passionnés, aux compétents et organisés, aux férus d'affaires et à certains habitués qui ont une idée d'un million de dollars. Et l'endroit où toutes ces opportunités sont distribuées est tout autour de nous, il ne dort jamais, il mange le contenu fourni par l'utilisateur et il respire les données. C'est l'Internet, c'est omniprésent et c'est là que les grandes fortunes de demain seront gagnées ou perdues.
Un jour, chaque grande entreprise a commencé comme une entreprise naissante, animée, se constituant efficacement une clientèle et un créneau et se développant au sein des géants des entreprises prospères qui influent sur les économies du monde entier et nourrissent des millions de personnes. Votre entreprise, votre marque personnelle à but non lucratif – tout pourrait commencer ici, maintenant, avec l'un de ces thèmes WordPress conçus par des professionnels, puissants, polyvalents et puissants. Ne soyez pas en retard à la fête cette fois-ci!
Jevelin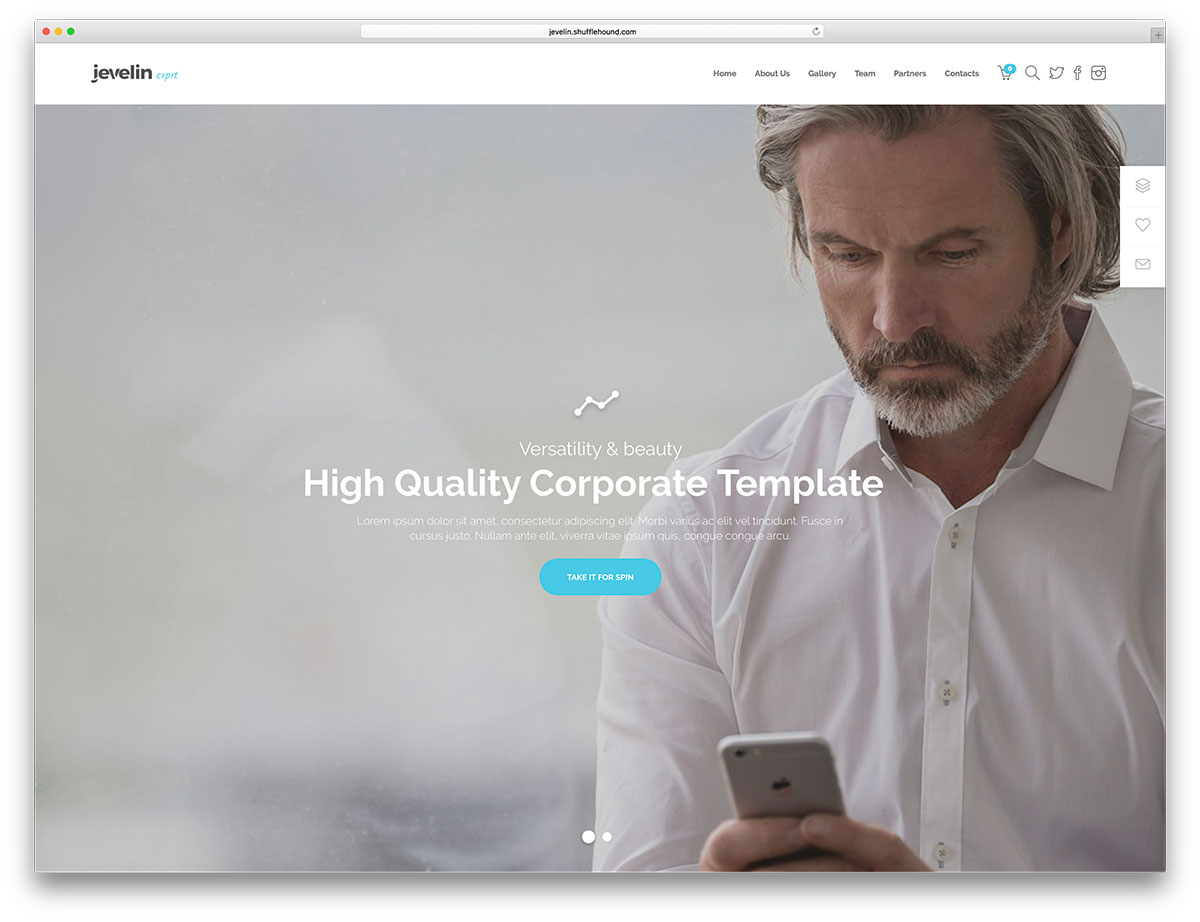 Jevelin est un thème de site Web polyvalent premium WordPress premium robuste, fiable, élégant et réactif. Ce thème est une plate-forme pour les personnes ayant besoin d'établir une présence en ligne pour leurs projets. Qu'il s'agisse d'entreprises, de pigistes professionnels ou de blogueurs personnels, Jevelin a quelque chose pour chacun. Jevelin regorge de codes courts et de widgets pratiques. Vous pouvez facilement les appliquer à n'importe quelle section ou à vos pages sans écrire de code. Utilisez simplement le générateur de page intuitif et intégré par glisser-déposer.
Avec le curseur Révolution, vous pouvez même créer des diaporamas uniques et lisses pour votre public dans une présentation attrayante. Jevelin comprend des styles de mise en page étonnants, allant de 6 mises en page de blog à 10 mises en page de portefeuille et de styles de galerie que vous pouvez modifier. Votre contenu sera toujours affiché dans la présentation la plus favorable possible. Il offre des fonctionnalités impressionnantes et modernes, telles que des sections d'arrière-plan vidéo, des sections d'arrière-plan Parallax et même des sections d'arrière-plan vidéo de Parallax qui égayent instantanément vos pages. Jevelin est également bien adapté à l'exploitation d'une boutique en ligne, qu'il s'agisse de l'accès au site ou de l'objectif principal de votre site Web, grâce aux fonctionnalités commerciales avancées optimisées par l'incroyable suite de plugins WooCommerce eCommerce. Essayez Jevelin aujourd'hui!
Entrepreneur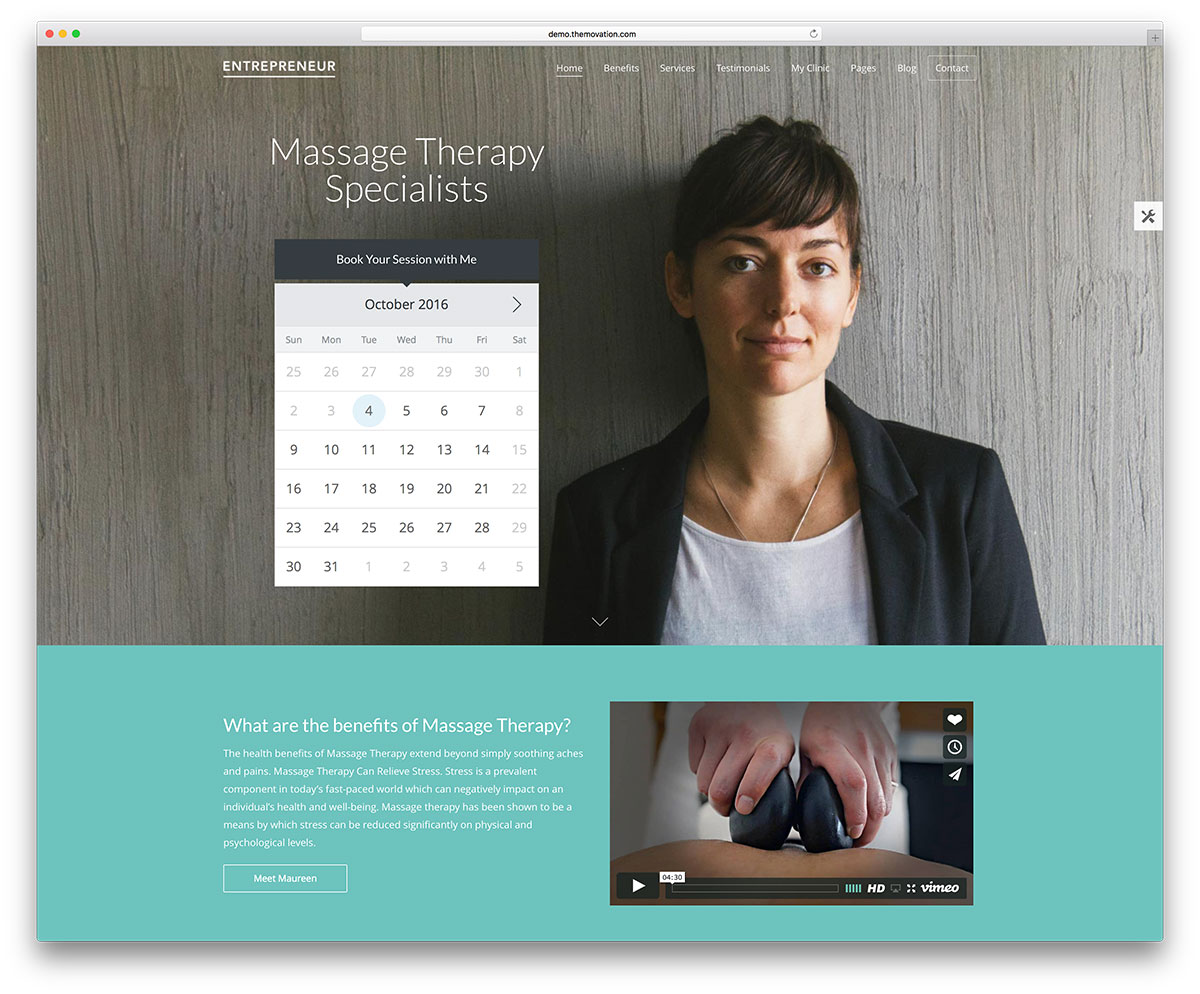 Plus d'infos / Télécharger
Divi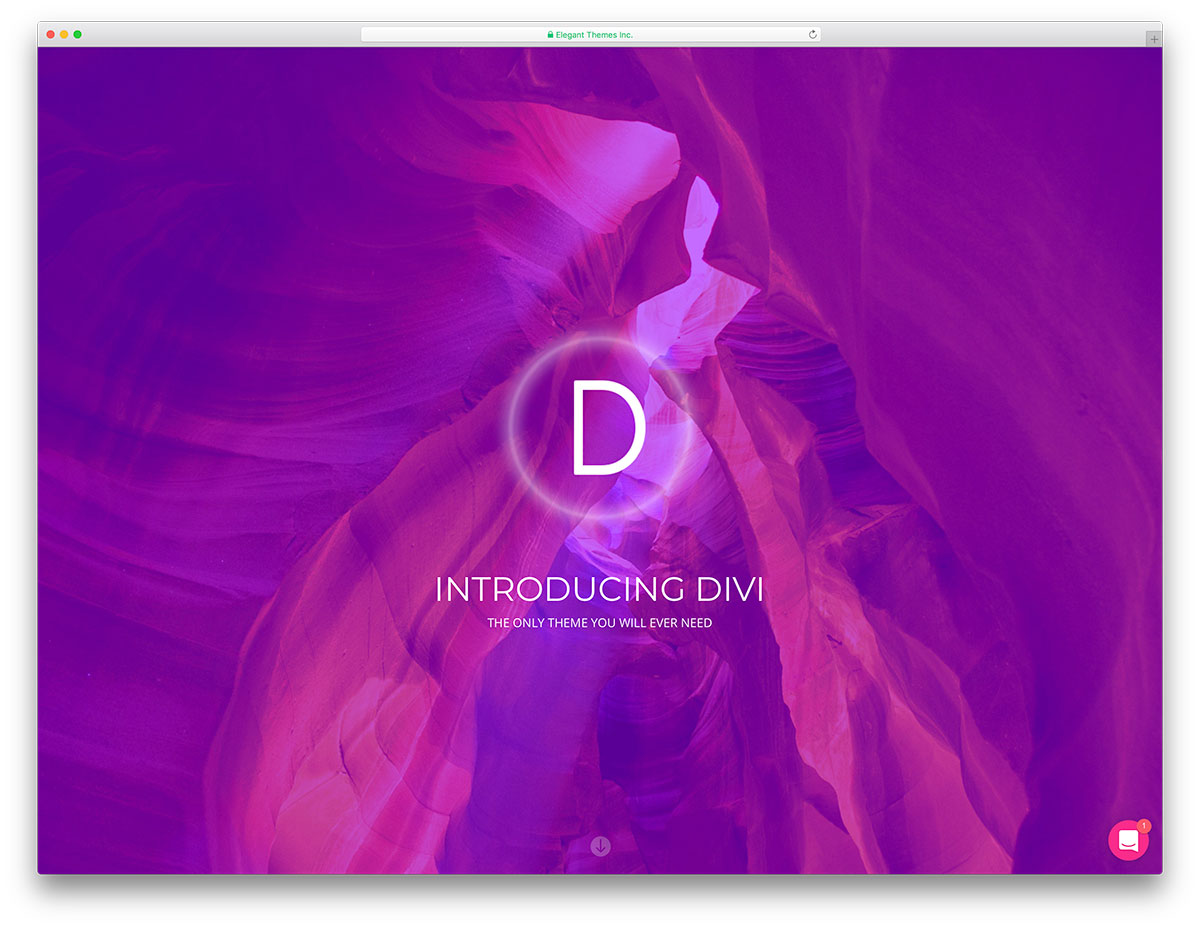 Divi est un thème multifonctions WordPress primé, incroyablement puissant, d'une souplesse exceptionnelle et primé, qui convient parfaitement aux entreprises, qu'il s'agisse d'individus ou d'entreprises transnationales. Ce thème est littéralement illimité dans sa configurabilité, et c'est le thème qui vous rendra heureux (ainsi que vos clients) pour les années à venir.
Divi inclut l'inégalé Divi Builder, un constructeur de pages visuel unique avec des modules de personnalisation d'éléments et de sous-éléments de type glisser-déposer extrêmement puissants, ou des blocs de construction, comprenant des dizaines de pages, actions et effets spécialisés, qui vous permettent de créer le sites Web attrayants avec un minimum d'effort et une aisance totale et intuitive. Divi vous fera apparaître de toutes nouvelles pages dans les dix minutes qui suivent la première installation, c'est garanti.
20 mises en page prédéfinies incluses aident à réaliser cette promesse, avec des options illimitées pour chaque module spécifique, augmentant les possibilités de personnalisation en dizaines de milliers de variantes. Vos propres présentations peuvent être enregistrées et ajoutées à votre collection de modèles facilement disponibles pour la création de pages. Prise en charge complète de RTL et plus de 32 langues, sécurité haut de gamme des sites Web et des dizaines de clients satisfaits des sites Web dotés du moteur Divi pour démontrer sa puissance, Divi est l'homme d'un thème qui transformera tout petit poisson en requin du réservoir.
Phlox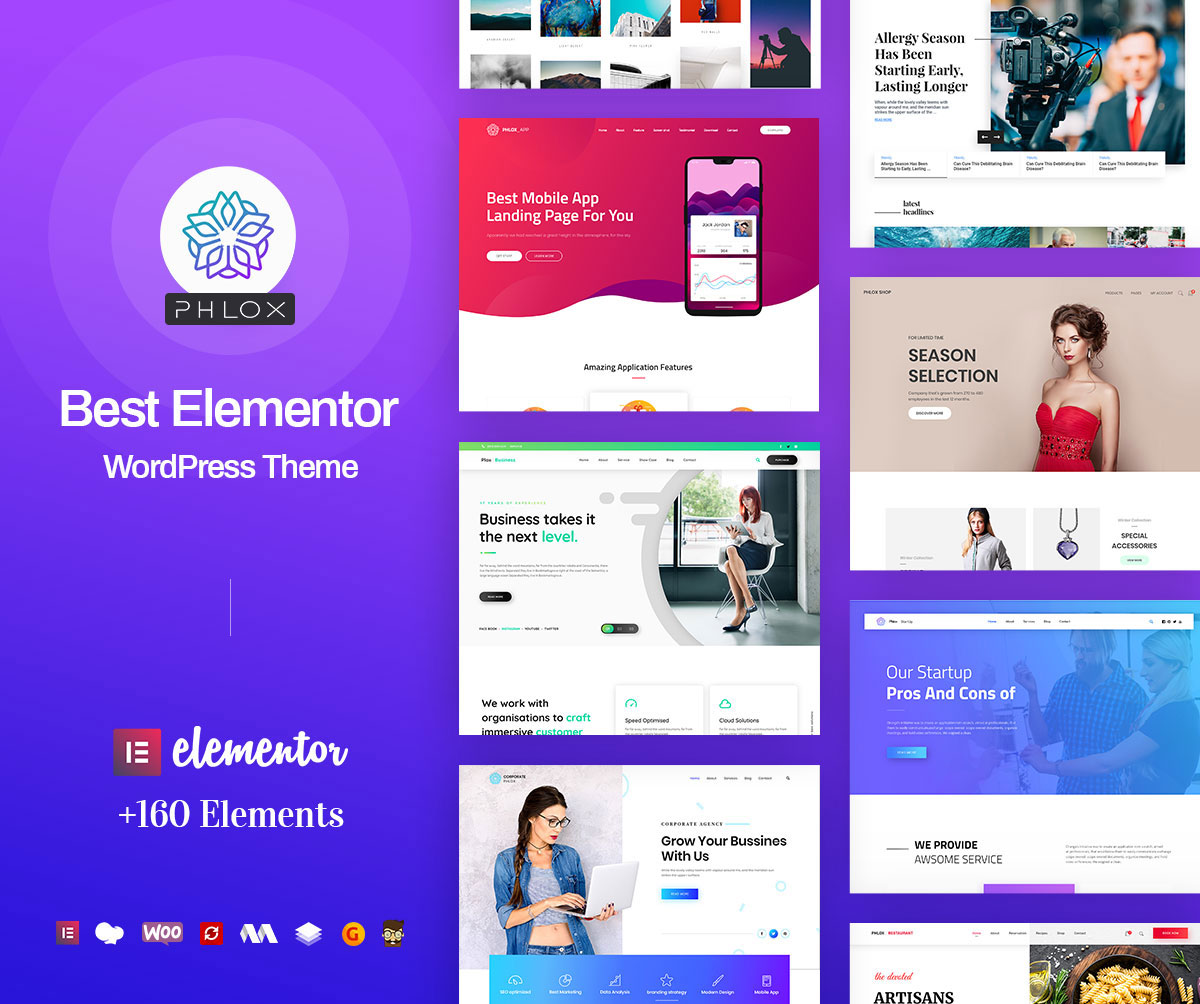 Phlox est le nouveau thème Elementor le mieux recommandé, avec un nouveau design moderne. C'est vraiment un thème polyvalent flexible qui convient le mieux aux petites et grandes entreprises, aux agences, aux créations, aux boutiques, aux portfolios, aux magazines, à la photographie et à presque tout type de site. Vous pouvez simplement développer votre entreprise en ayant un site Web moderne comme vous le méritez facilement.
Phlox a été développé par l'auteur du plugin Master Slider, ce qui signifie que c'est un thème digne de confiance. Il existe une démonstration pour chaque sujet avec un nouveau look moderne que vous pouvez simplement importer et commencer à le modifier avec le meilleur constructeur de pages WordPress, Elementor. . Oui, il est entièrement compatible avec Elementor et toute sa démo utilise Elementor. Vous pouvez simplement avoir votre site Web impressionnant et profiter gratuitement d'une immense bibliothèque de plugins premium dans Phlox. Créez simplement un curseur à l'aide du curseur principal, du curseur révolutionnaire ou du curseur de couche. Utilisez la table go-pricing pour créer n'importe quelle table. Utilisez convert plug pour créer un plug-in contextuel ou Elementor Pack permettant d'accéder à plus de 50 modèles de page Elementor. Phlox est un nouveau thème impressionnant pour rendre votre site Web de la meilleure façon possible!
Consultant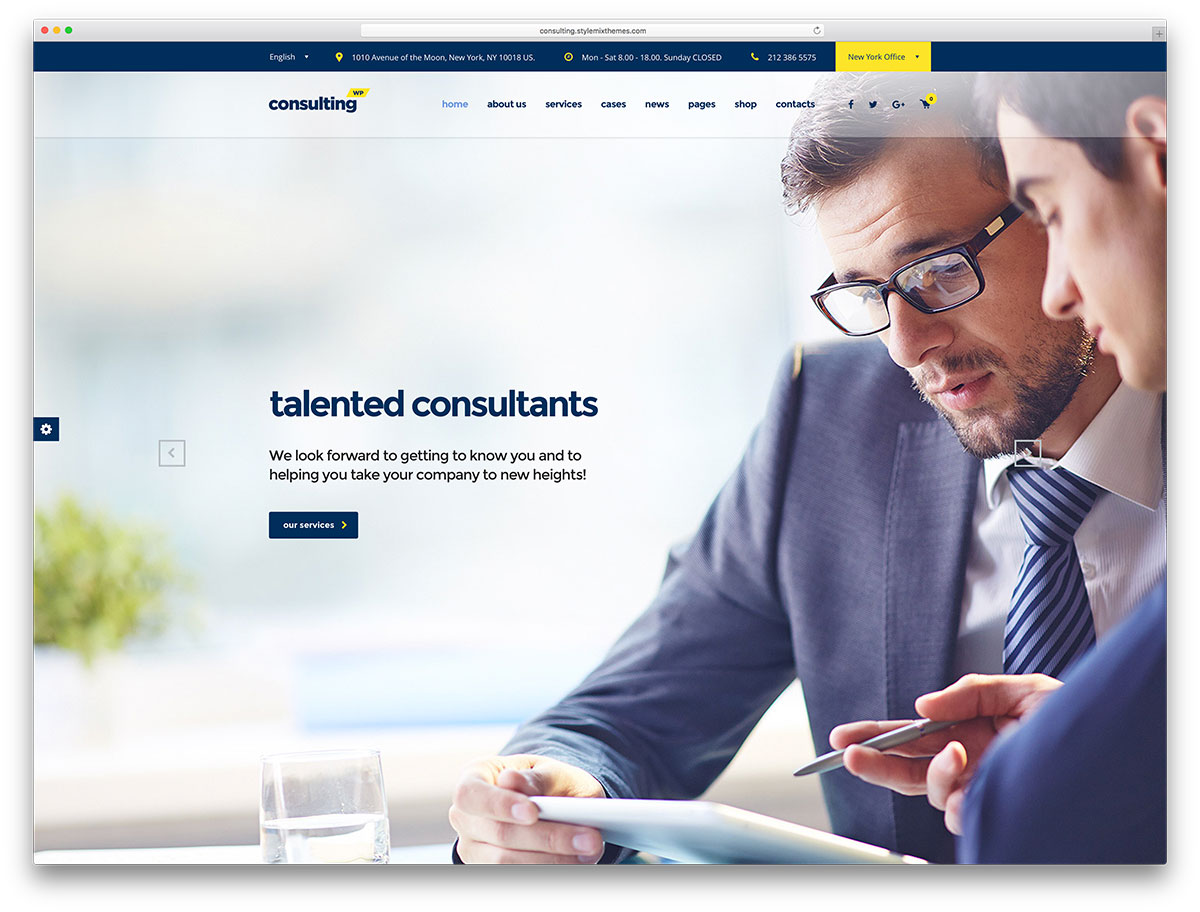 Plus d'infos / Télécharger
Consulta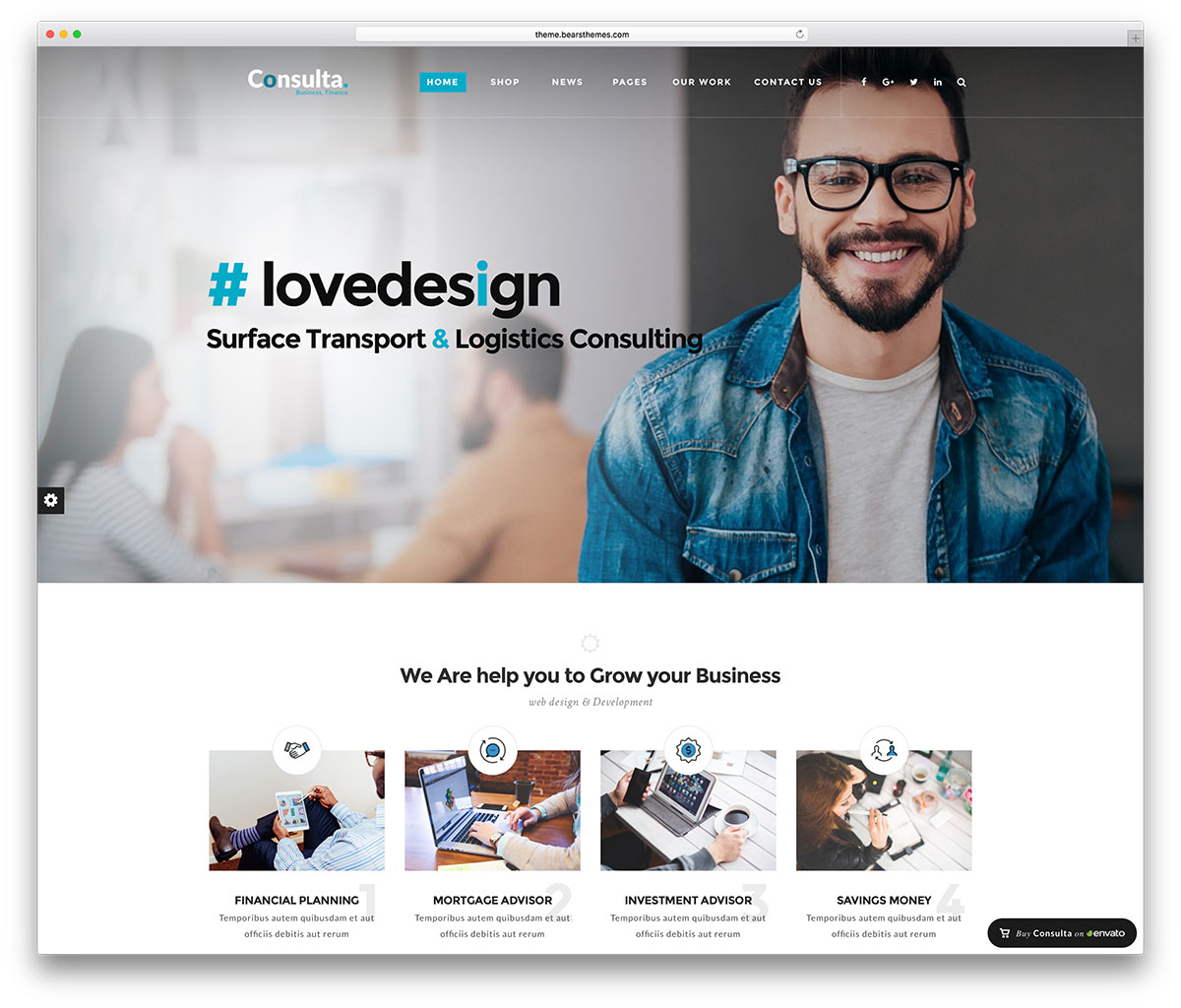 Plus d'infos / Télécharger
Intact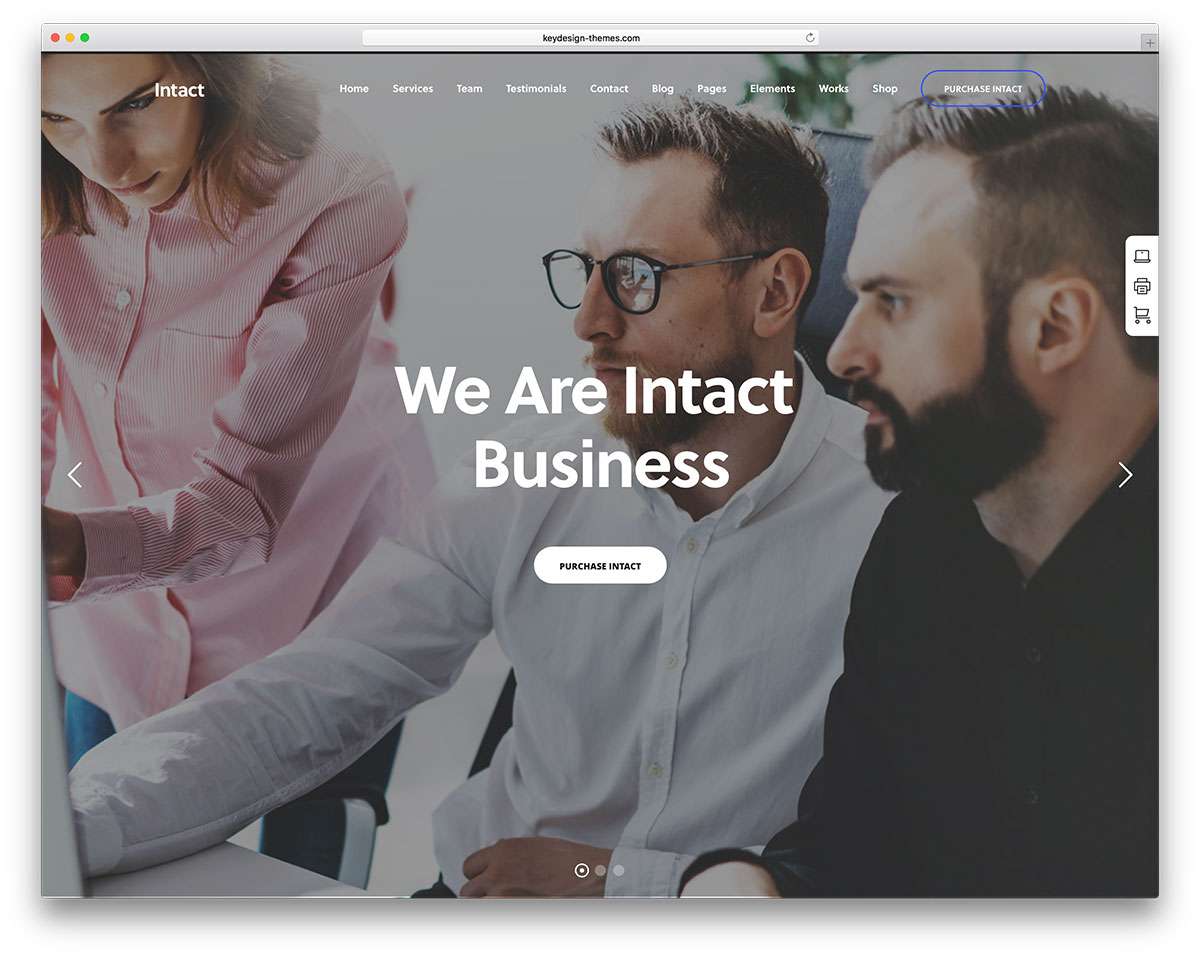 Intact est un thème WordPress polyvalent très prisé avec de nombreuses démos et pages d'accueil. Cela fonctionne vraiment bien avec les entreprises de toutes sortes spécialement des petites entreprises. Il est livré avec de nombreuses galeries et fonctionnalités d'affichage d'images et de superbes présentations de portefeuille. Cela rendra vos magasins les meilleurs. Il utilise Visual Composer et Revolution Slider comme générateur de page principale. Intact vous donne le confort nécessaire pour éviter le codage et la programmation avec +30 codes courts intégrés. Cela simplifie beaucoup l'accès au panneau d'administration. La mise en page est sensible et tous les écrans sont adaptés. C'est un thème convivial conçu pour tous les types de clients. Les articles peuvent être affichés dans plus de 12 colonnes de grille!
Les effets de défilement et de parallaxe sont disponibles pour les arrière-plans. Intact est optimisé pour le référencement et la rapidité de chargement. Ce thème est idéal pour les petites entreprises en raison de son concept attrayant et attrayant. Il est très personnalisé et conçu pour vous émerveiller avec des images parfaites en pixels. Intact est basé sur Redux avec la compatibilité Bootstrap en tant que framework. Il inclut également des fonctionnalités intéressantes telles que les animations CSS3 et la parallaxe. Il est idéal pour les entreprises en expansion ou les petites boutiques en quête de nouveautés. Intact est intégré à Google Maps et compatible avec le formulaire de contact 7. Faites un changement avec ce thème… vous ne le regretterez pas! Utilisez Intact pour vos petites entreprises!
Fi-Print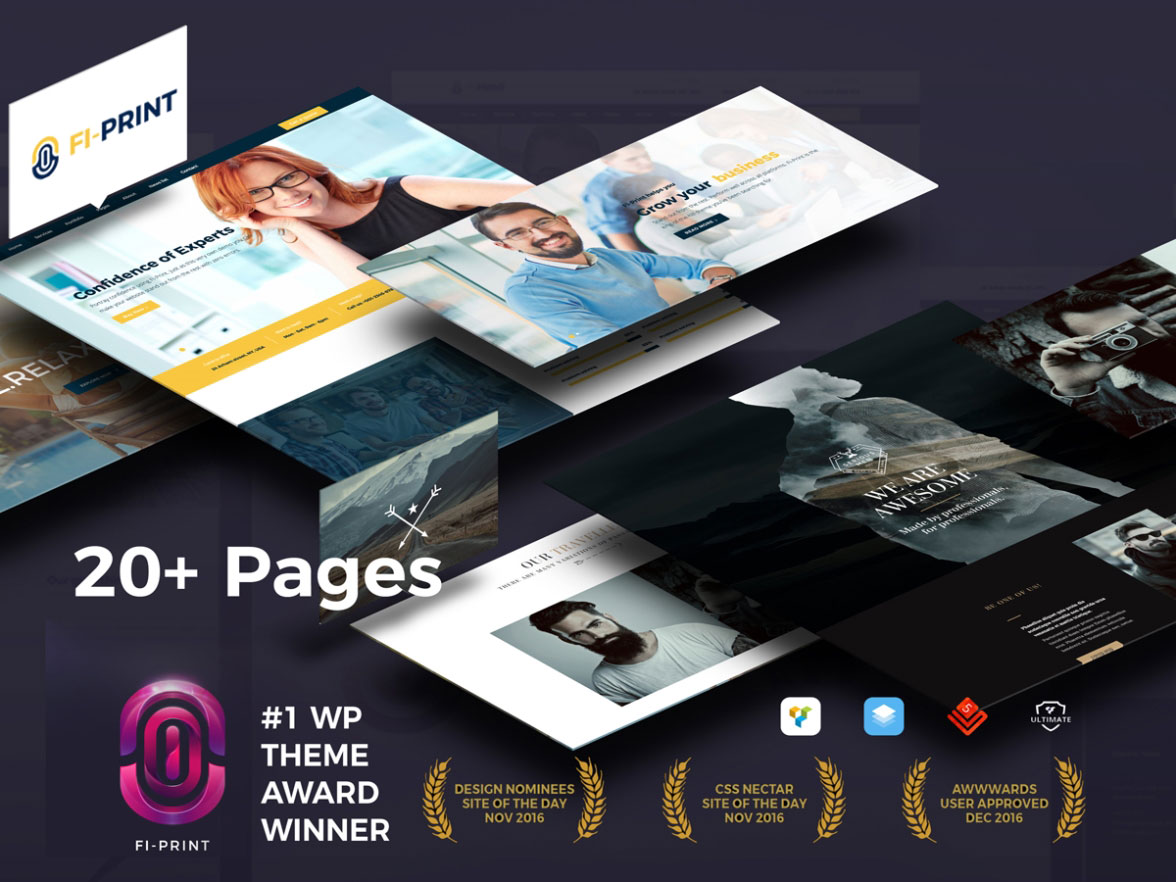 Fi-Print est un thème WordPress polyvalent mis en avant dans les petites entreprises. Il convient parfaitement aux entreprises qui commencent à élargir leur marché général. Vous obtiendrez de nombreuses options de démonstration primées et 3 variantes de pages d'accueil. Fi-Print est polyvalent et cherche à s'adapter à toutes les situations. La conception générale du thème est malléable et personnalisable. Vous pouvez ajouter des formats de photos et de galeries et jouer avec les pieds de page et les en-têtes. Il est construit avec Drag Composer Premium Composer Visual et SiteOrigin. Le curseur de calque est également une fonctionnalité disponible.
Pour les aspects liés à l'achat, vous obtenez la compatibilité WooCommerce. Un des objectifs de Fi-Print pour les petites entreprises est que votre site Web s'engage avec simplicité. Pour cela, vous serez aidé de toutes les manières possibles. Vous compterez un panneau intuitif simplifié par des codes courts (aucune programmation nécessaire!). Sans oublier une équipe d'assistance incroyable 24h / 24 et 7j / 7. Les développeurs ont rendu Fi-Print compatible avec les plug-ins pertinents tels que WPML et Google Maps. Ils ont également optimisé le référencement et disposent de plus de 600 polices. La publication est gérée avec un puissant outil de personnalisation dynamique et +4 colonnes. Il s'agit d'un thème réactif de qualité supérieure pour tous les écrans. Allez et essayez cette incroyable thèmes Hardcore. Obtenez dès maintenant Fi-Print pour les petites entreprises!
Total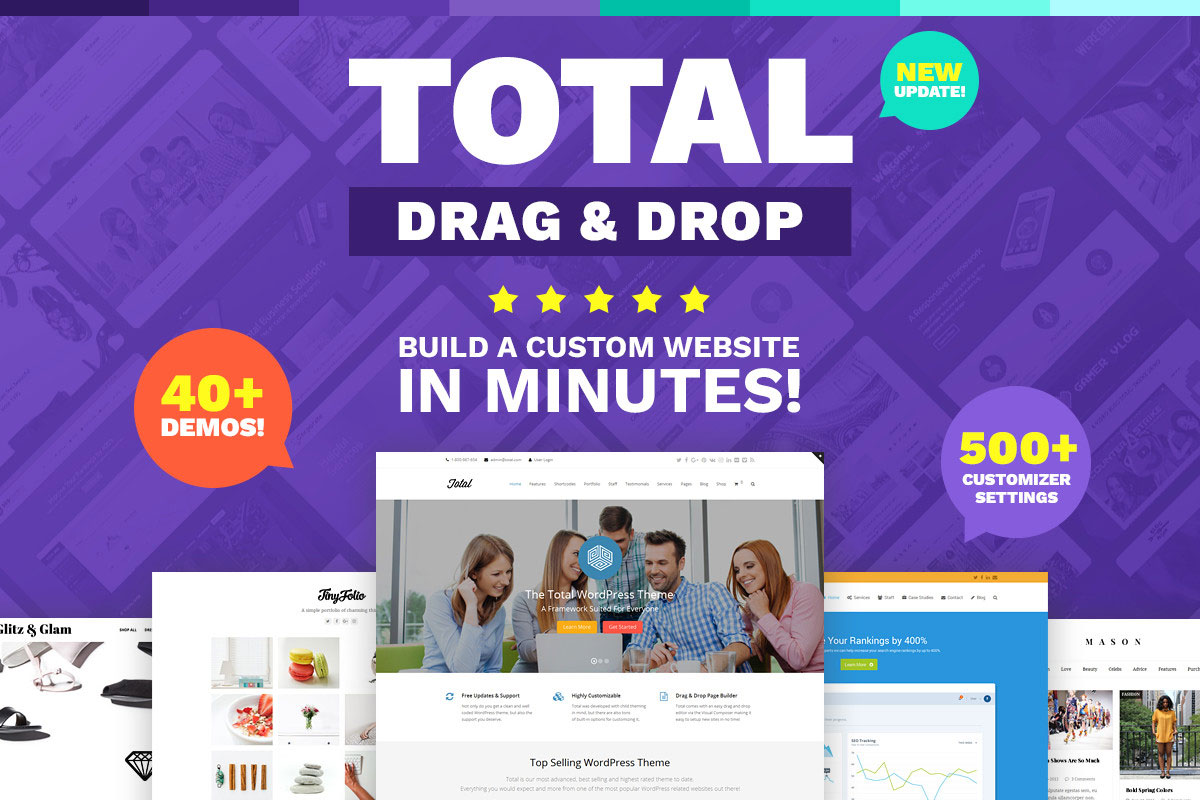 Total est un thème WordPress polyvalent qui compte de nombreuses démos et personnalisations. Il est rapide et réactif grâce à l'optimisation SEO et à son puissant constructeur de pages. Vous obtiendrez Visual Composer complètement intégré ainsi que d'autres plugins premium. Total utilise un concept moderne et épuré avec des tonnes d'ajouts visuels attrayants. Il est prêt pour la rétine et supporte les animations CSS3. Il a été construit en utilisant un code fort qui vise des normes de qualité supérieures. Total propose plusieurs styles et sections de pages de portfolio pour les témoignages ou la description du personnel.
Cela convient aux entreprises et aux particuliers qui se rendent dans un tout nouveau monde de vente en ligne. Toutes les transactions monétaires sont effectuées à l'aide du plugin WooCommerce. Vous obtiendrez un site avec plus de 40 modules et même un thème pour enfants. Total propose 2 curseurs premium pour construire des galeries de photos et 4 colonnes d'affichage. Il est facile à organiser à travers un MegaMenu et de nombreux éléments pré-construits. Ceux-ci incluent plusieurs en-têtes, pieds de page et barres latérales. Le téléchargement de logo personnalisable est également présenté! Total vous offre d'excellentes performances grâce au contrôle Google Analytics et à l'amélioration du référencement. Jouez avec des ensembles d'icônes, de polices, de couleurs illimitées et d'effets d'arrière-plan personnalisés. Amusez-vous et faites preuve de créativité avec le polyvalent Total!
Dynamique Massive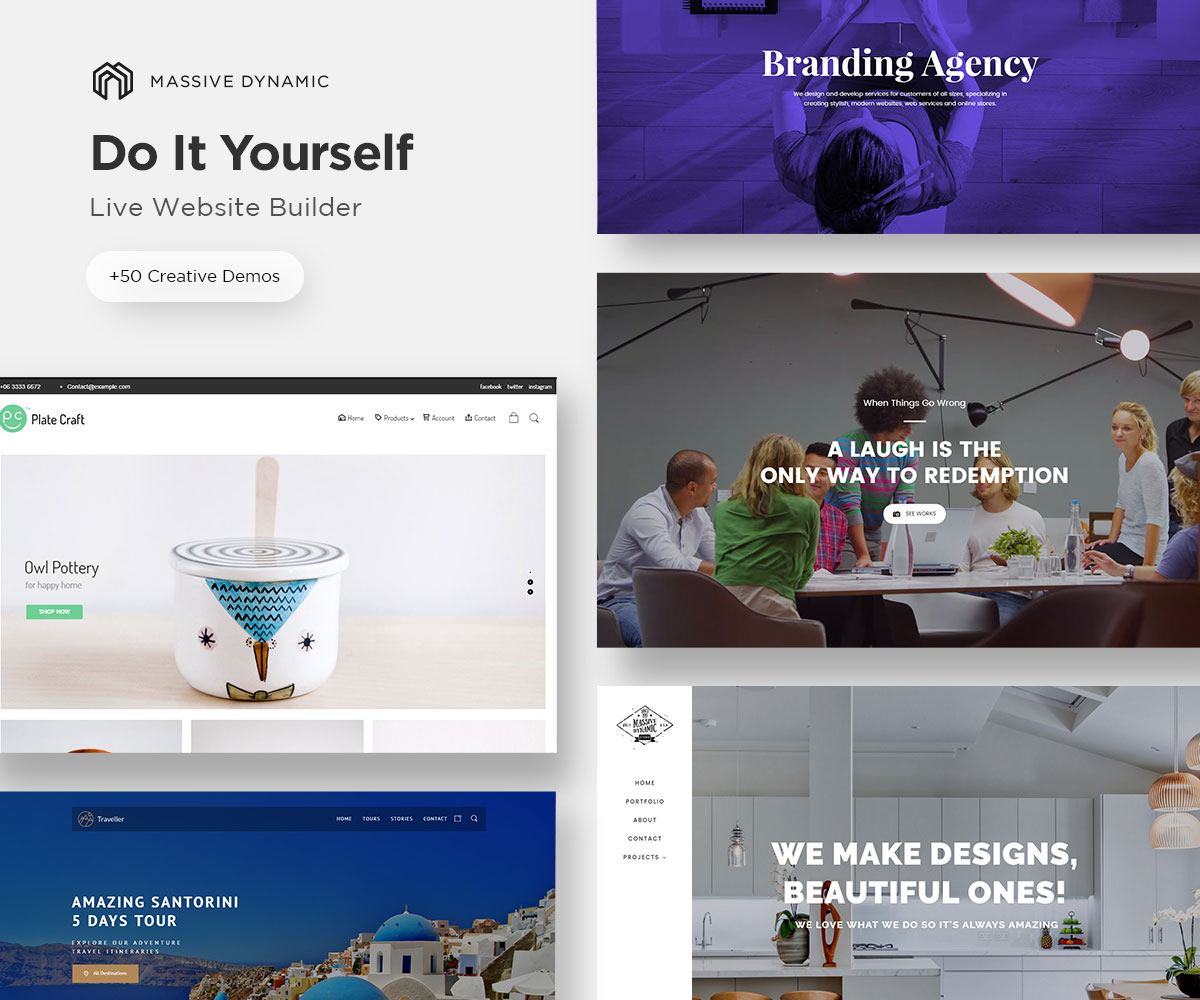 Massive Dynamic est un créateur de site Web polyvalent créatif et réactif WordPress réactif, coloré et créatif, esthétique et attrayant, rapide et flexible, intuitif. Ce thème est une plate-forme à part entière incroyablement adaptative et dotée de ressources considérables pour la conception et la construction de sites Web sophistiqués et modernes de toutes sortes, niches et échelles. Massive Dynamic a été créé comme un véritable constructeur de sites Web polyvalent. Capable de gérer habilement et en toute transparence des rôles et archétypes complexes de sites Web.
Massive Dynamic offre toute la puissance de la suite de commerce électronique WooCommerce, des tableaux de prix personnalisables avec la tarification Go, une intégration parfaite du curseur principal et du curseur révolutionnaire, des bulletins d'abonnement MailChimp, des contacts ContactForm 7 et Ajouter à n'importe quel réseau social, tous organisés et personnalisés avec précision. Le constructeur de site Web en direct, unique et en temps réel de Massive Dynamic. La combinaison de cet outil puissant avec les modèles élégants de qualité professionnelle de Massive Dynamic et sa fonctionnalité d'importation astucieuse comprenant des codes courts, des plug-ins et des paramètres de thème en un seul clic vous permettent de réaliser des tâches aussi diverses que la création de votre portefeuille professionnel numérique, le paramétrage. Créez votre propre boutique en ligne pour commercialiser vos produits ou offrez au grand public vos services professionnels, complets avec des devis et des prix, le tout sans écrire vous-même une seule ligne de code. Prêt à partir massif?
Ours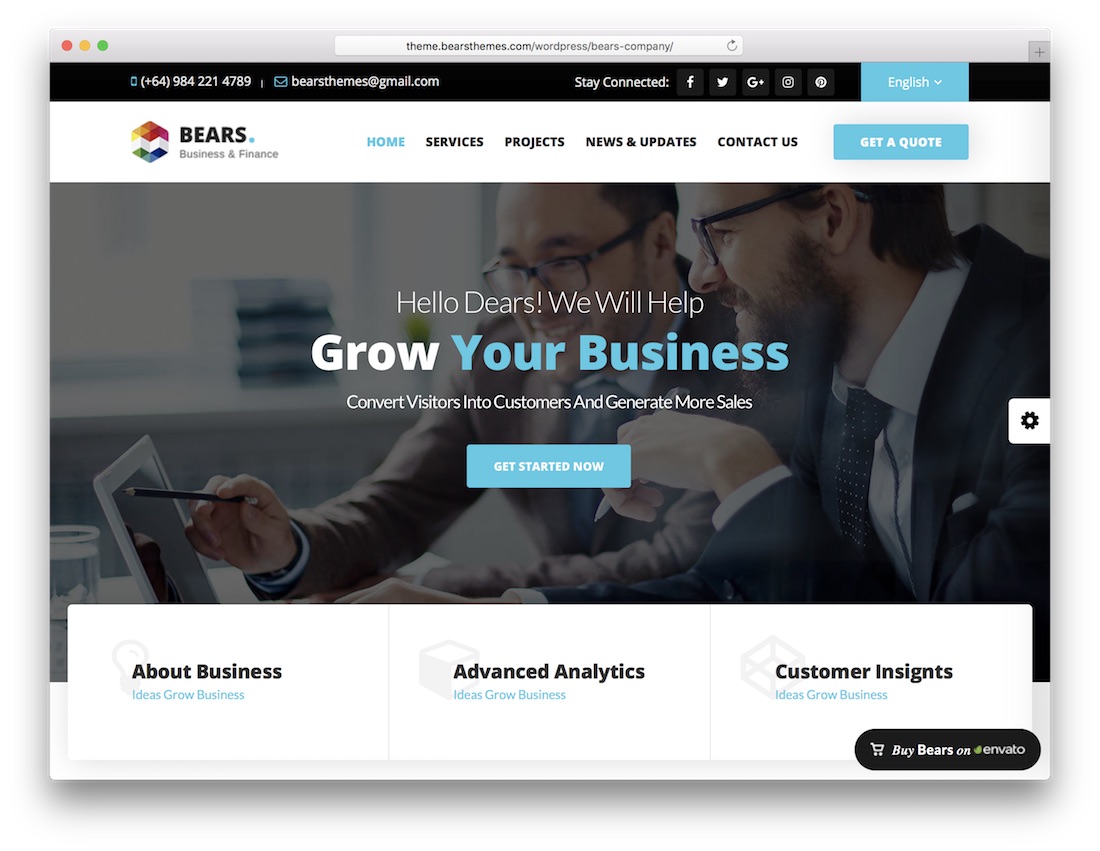 Nous sommes prêts à travailler avec les entreprises les plus populaires comme la finance, les cabinets d'avocats, la construction, les dentistes, les juristes, les professionnels du marketing, les conseils, les agences de création, les agences de conseil, les agences de conseil, les assurances, les services informatiques, etc. Avec ses nombreuses fonctionnalités et atouts, ainsi que ses tonnes de contenus préconçus, Bears est là pour prendre soin de votre site Web professionnel sans encombre. Avec douze démos prêtes à l'emploi, vous pouvez trouver rapidement le look qui convient à votre apparence en ligne. Dès lors, commencez à l'améliorer selon votre demande. Ou si vous êtes très pressé, n'hésitez pas à utiliser l'échantillon préféré hors de la boîte.
En plus du contenu disponible, Bears propose également une sélection de plug-ins premium et des tonnes d'autres caractéristiques dont vous pouvez énormément bénéficier. Importez des données de démonstration en un clic, créez des codes courts personnalisés, utilisez le méga-menu intégré et créez des arrière-plans personnalisés attractifs. Vous avez également accès à une assistance clientèle gratuite et vous n'avez pas à vous soucier des mises à jour de thèmes, car elles sont régulières et automatiques. Prenez un bon départ et dynamisez votre entreprise avec Bears.
Grue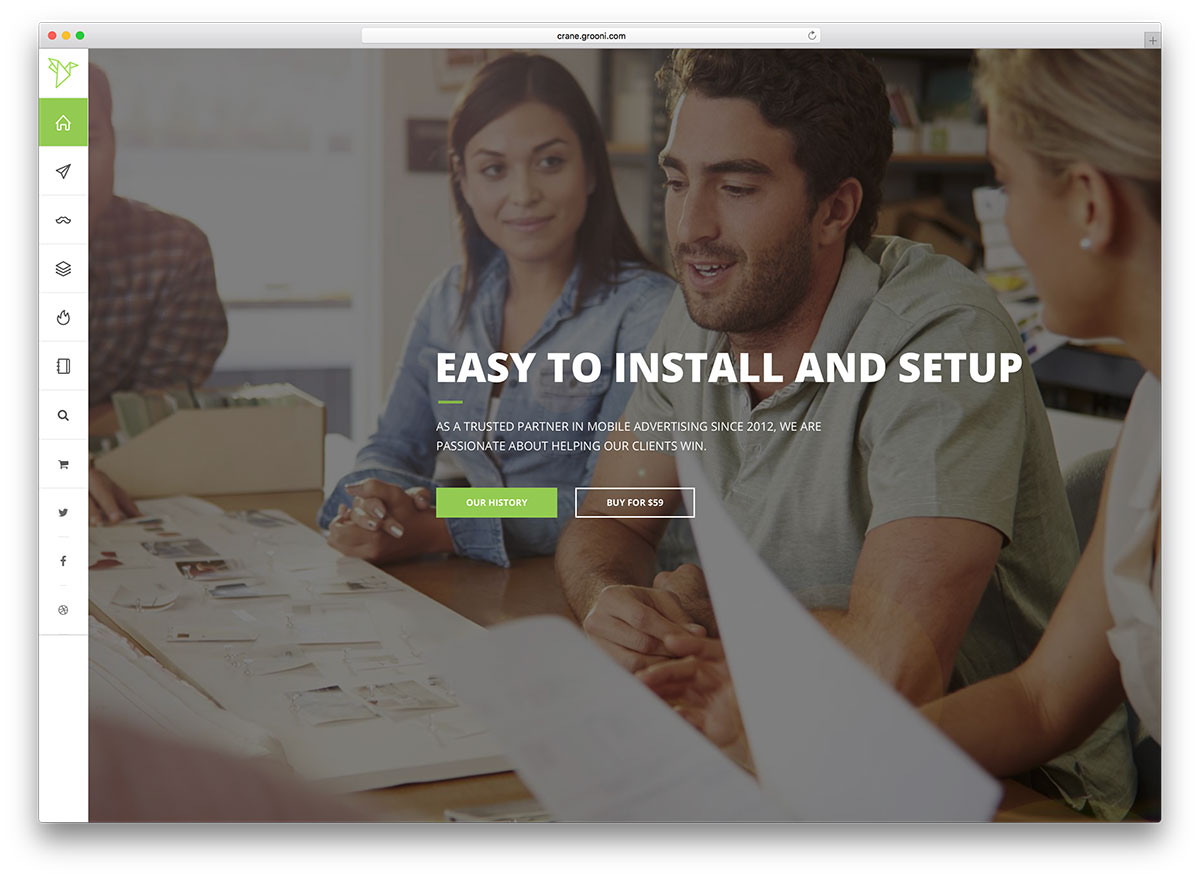 L'agencement réactif de Crane lui permet de gérer toutes ses personnalisations. Il est donc adaptable à différents écrans et navigateurs et prend en charge les animations et les vidéos. En tant que thème d'entreprise WordPress, il vous aide à créer des pages pour des entreprises ou des entreprises individuelles. WooCommerce vous garantit le succès. Grâce à WPML, vous pouvez également faire des affaires partout dans le monde! La langue de votre client potentiel n'est plus un problème. Crane est réactif, compatible avec les appareils mobiles et prêt pour la rétine. Vous pouvez présenter vos produits ou services sur n'importe quel écran ou appareil. Slider Revolution et Layer Slider vous permettront également de faire de belles galeries. Si vous souhaitez créer un catalogue de vos services, utilisez MegaMenu. Des dizaines de pages de blog sont également disponibles, et les options de maçonnerie sont magnifiques. Crane inclut les plug-ins les plus nécessaires pour une qualité premium afin d'étendre les fonctionnalités. Explorez toute une bibliothèque en ligne de presets avec 2 000 icônes.
D'entreprise
Corporate est un thème WordPress de qualité professionnelle, robuste et bien construit, conçu pour répondre aux besoins des sites Web de petites entreprises. Frais, sérieux et professionnel, Corporate est un thème idéal pour les sites Web qui ont besoin de communiquer, de présenter et de vendre leurs produits et leurs services en quelques minutes à peine après l'installation. Les agences, les blogs d'entreprise, les développeurs d'applications, les fournisseurs de services peuvent tous bénéficier des puissantes fonctionnalités de Corporate.
Corporate comprend une page et plusieurs options de conception, avec des démonstrations pour les entreprises et les entreprises basées sur des applications, des listes de prix, de superbes polices d'icônes personnalisées, des barres de progression et des tartes, de puissantes fonctionnalités d'abonnement et de newsletter, des pages de témoignage et de contact, des contacts Les fonctionnalités de géolocalisation et plusieurs formulaires compatibles sont gérées de manière transparente par ce thème polyvalent et performant.
Grâce à ses graphiques HTML5, CSS3, Bootstrap 3 et Retina, la photographie est brillante et parfaite dans tous les appareils visités, grâce à une conception multi-plateforme profondément réactive, qui restitue parfaitement sur les appareils mobiles et les ordinateurs, élargissant instantanément votre base d'utilisateurs. en plus de superbes effets graphiques et animations en vol stationnaire. Les effets de parallaxe sur les images d'en-tête permettent à votre site Web de se sentir moderne et interactif. De superbes boutons personnalisés destinés aux médias sociaux permettent de garder la fraîcheur et d'attirer plus de clients vers votre site Web. Corporate est un thème qui incitera vos clients à en redemander!
X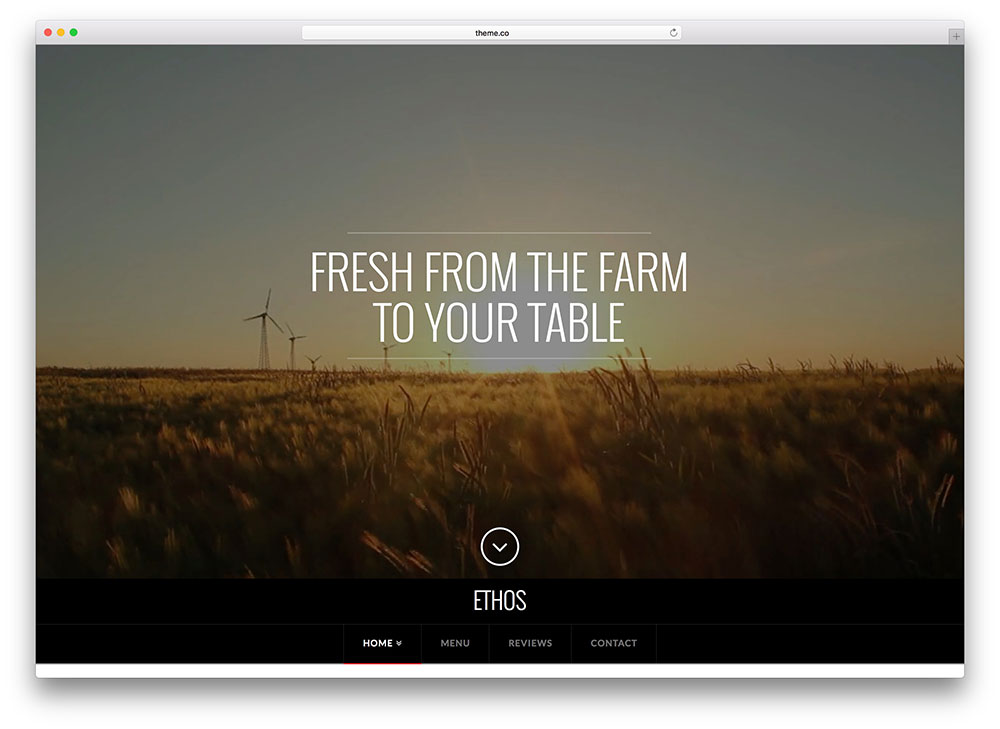 X est un thème WordPress polyvalent ambitieux, puissant, complet et extrêmement flexible. Ce thème permet d'adapter votre site Web à n'importe quel style et toute apparence souhaités par le webmaster. Il peut le faire rapidement, efficacement et avec un aspect fini et professionnel. C'est une des raisons pour lesquelles X figure parmi les thèmes WordPress les plus vendus au monde: exceptionnellement pliable, adapté à tous les usages et facile à utiliser, X est un thème pour les webmasters qui veulent tout savoir.
X est un genre à bien des égards, il est difficile de les suivre. Tout d'abord, c'est un thème, mais quatre «Stacks» entièrement différents, ou incarnations du thème, qui répondent à des besoins esthétiques, visuels et visuels totalement différents, transforment votre site Web X complètement et en un tour de main. Ceci, bien sûr, s'ajoute aux centaines d'options de disposition pour chaque pile. Sur cette base, X inclut des dizaines de plug-ins compatibles. Ces plugins tiers ne sont pas tous créés. Ils ont tous été développés spécifiquement pour X par l'équipe de développeurs X. Tous sont gratuits avec l'achat de X et sont automatiquement mis à jour à vie. Inutile de dire que X est compatible avec HTML5, CSS3 et approuvé par le gouvernement, plusieurs agences gouvernementales américaines acquérant elles-mêmes des licences. X est une fête où vous ne voulez pas être en retard!
Cleanstart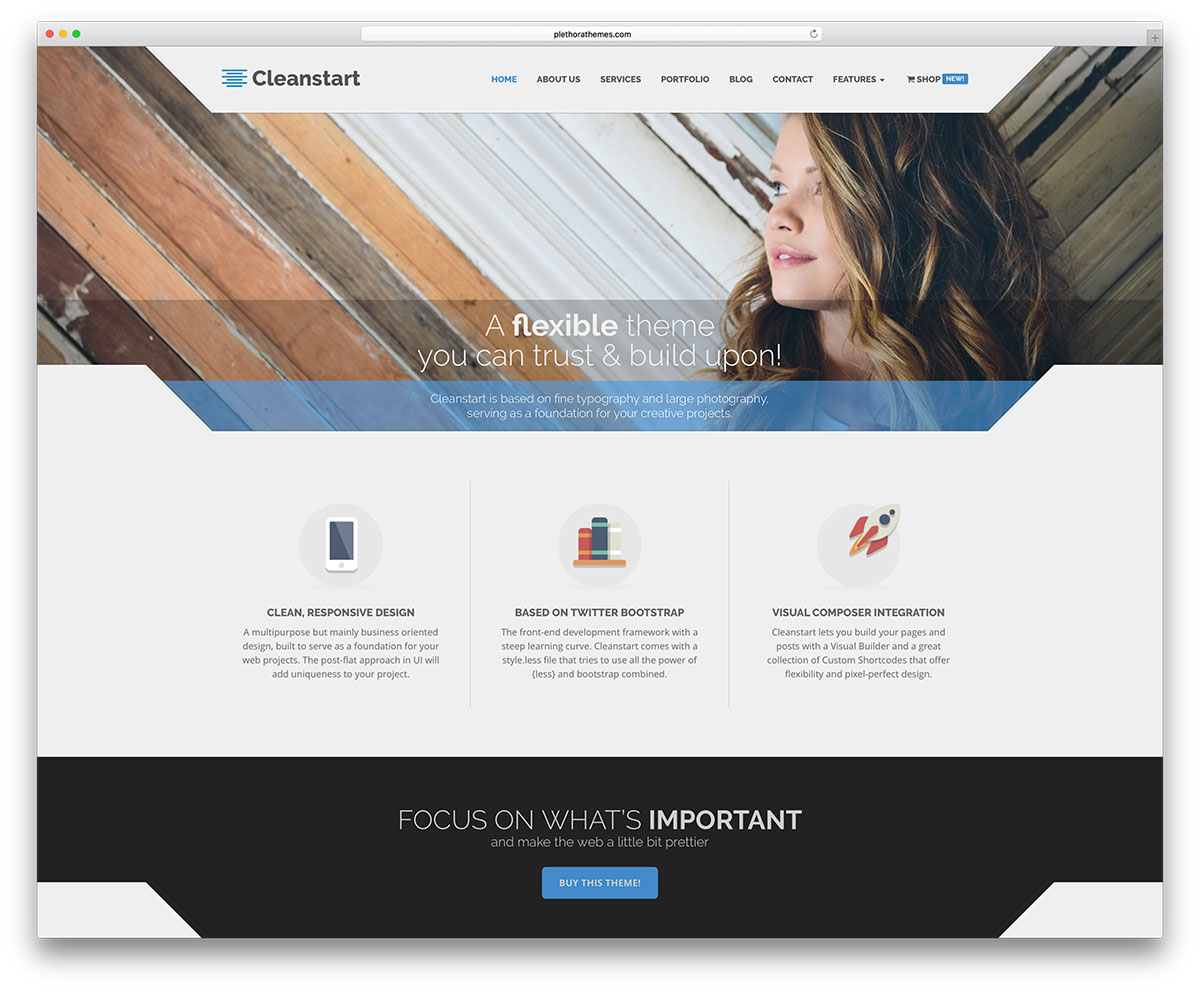 Plus d'infos / Télécharger
Pont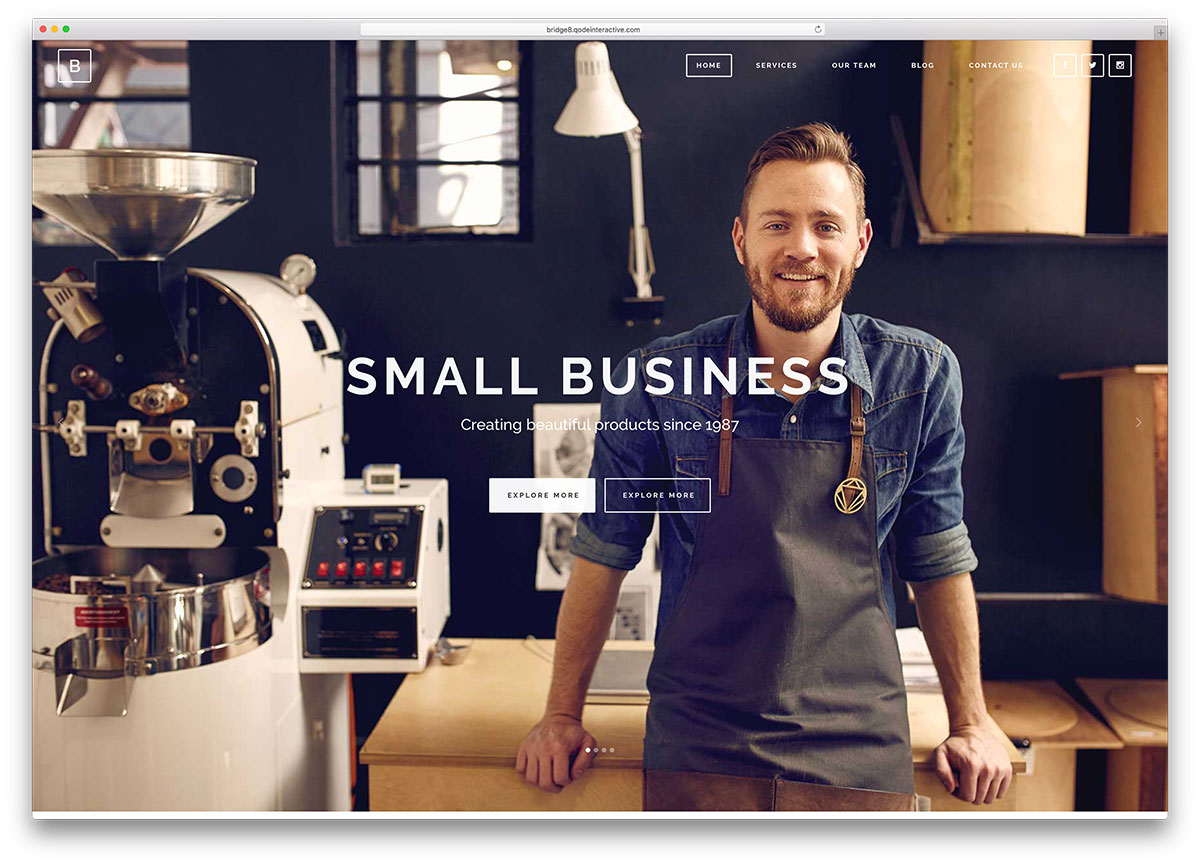 Plus d'infos / Télécharger
Carcajou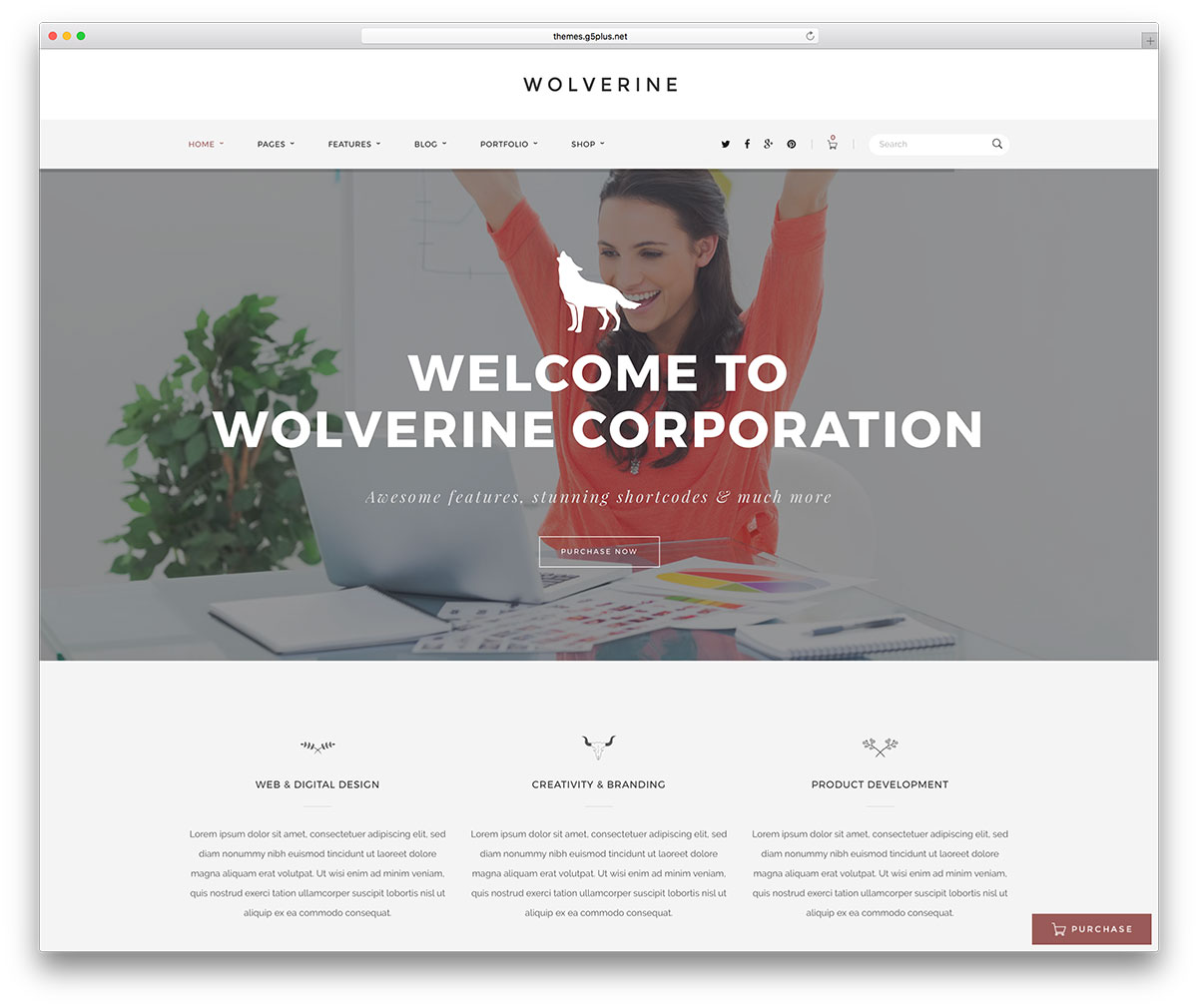 Wolverine est un thème WordPress polyvalent. Les développeurs ont créé ce thème premium pour les entreprises et les pigistes de la scène créative. Il dispose de 4 démos uniques et de 22 pages d'accueil dans une importation de démonstration en un clic. Wolverine a un plug-in Retina Ready et une résolution de haute qualité. Adaptez-le à n'importe quel écran et appareil de votre choix. Il a également des animations CSS3. De plus, le design de Wolverine est réactif et flexible. En outre, plus de 20 options sont disponibles pour les en-têtes et les pieds de page. Il inclut les fichiers PHP, JS et CSS de Theme Forest. Wolverine a plus de 4 colonnes pour la publication et utilise Mega Menu pour accéder aux pages de blog et de portfolio.
En outre, vous trouverez 5 formats d'affichage différents disponibles. La mise en page est réalisée grâce aux meilleures fonctionnalités de Drag & Drop. Il a également Photoshop comme un ajout spécial. Les couleurs, les peaux et les barres latérales sont entièrement personnalisables. Le plug-in Google Fonts vous offre plus de 600 options. Also, Wolverine uses WPML and has compatibility with po.mo files for translate matters. For purchases you get WooCommerce. Wolverine's Redux Framework gives you a great way to fix your tweaks without hassle. In addition, you will have over 30 shortcodes for simpler use of admin panels. Have fun and create, give your personal artistic touch a page with Wolverine!
Hatch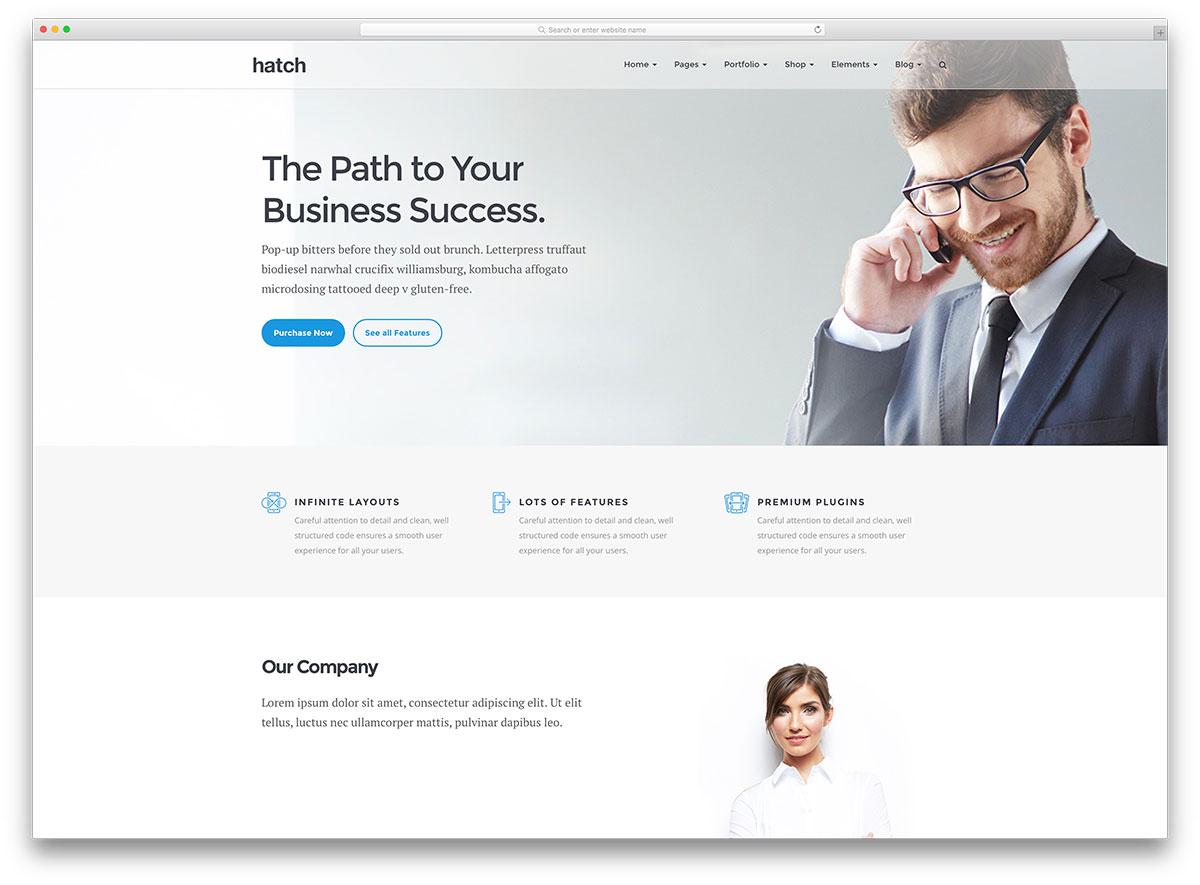 Plus d'infos / Télécharger
Pofo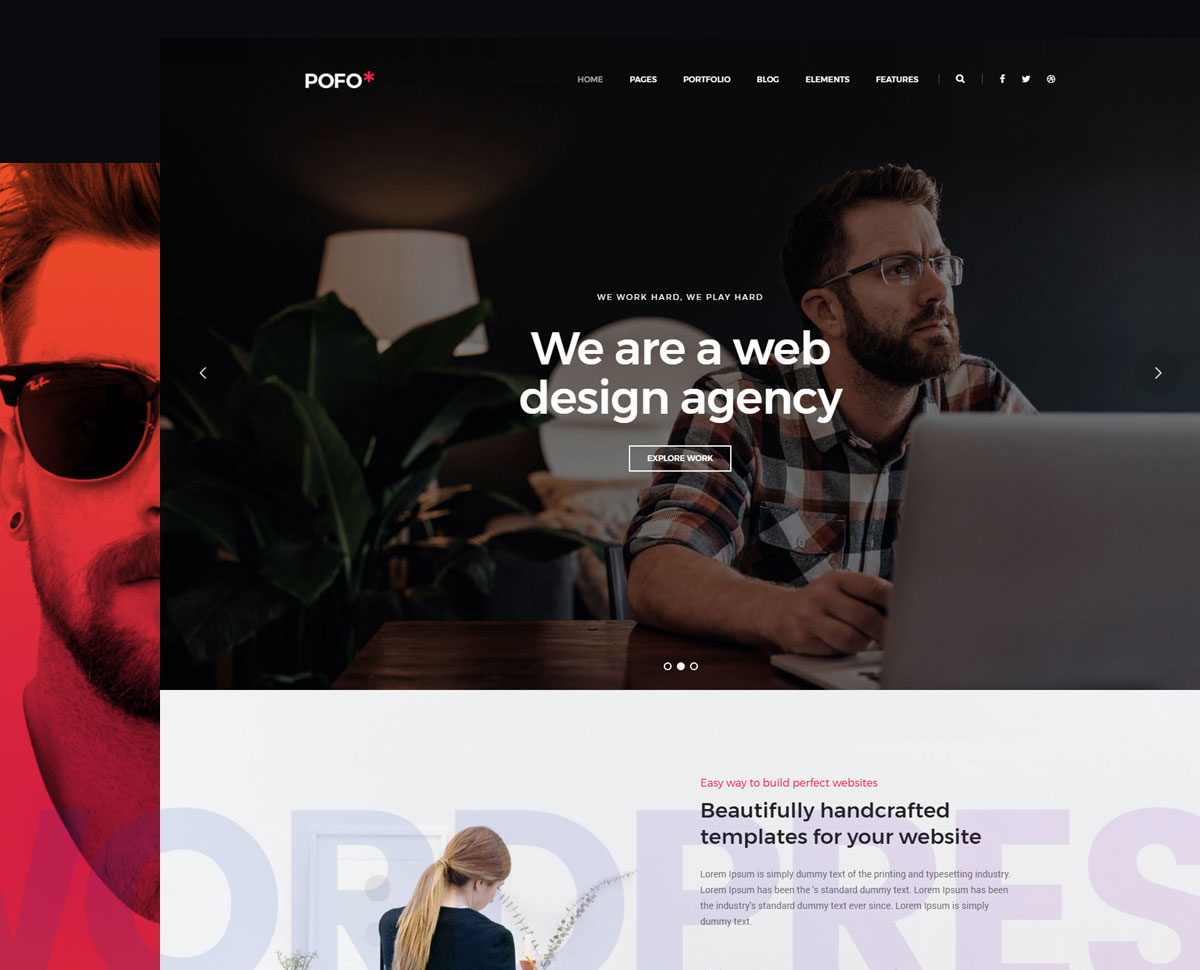 POFO is a flexible, unique and responsive WordPress creative multipurpose website theme. This theme lets users across the spectrum deploy sophisticated websites without coding a line. The WPBakery page builder also lets you customize elements in real time. More than two dozen demo templates simplify your design work. Portfolio pages, blogs, project landing pages, single page sites and more. With MailChimp, keeping in touch with subscribers is easier than ever, and Yoast! makes SEO easy. The awesome WooCommerce platform lets businesses monetize their websites in minutes. Market your products and services to a massive online audience, with cutting-edge technology. Handsome animations and visual effects greet your visitors in memorable style. The best portfolios in the market will make your business pop, in all the right ways. Broaden the reach of your business with cross-compatible responsive Bootstrap coding. Make the right choice today, with POFO!
H-Code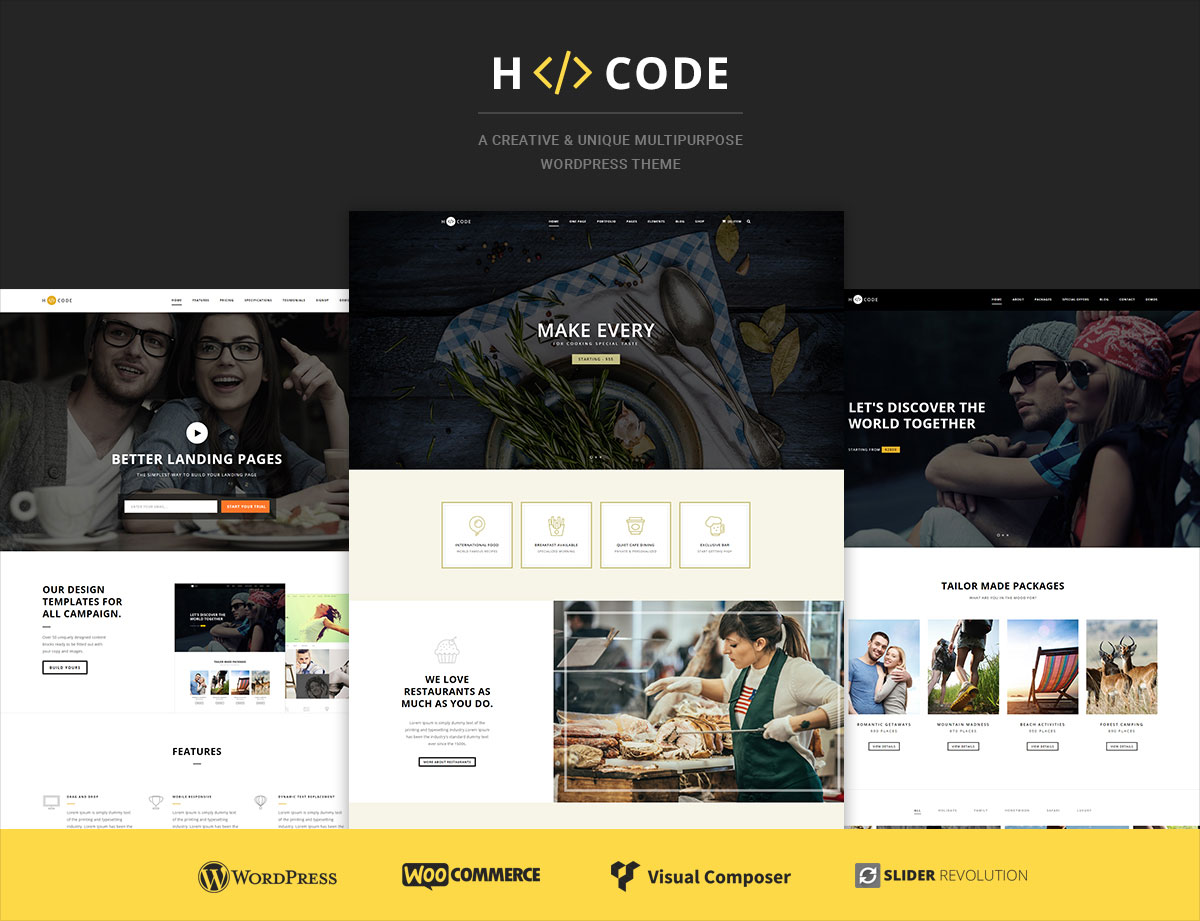 H-Code is a resourceful and responsive WordPress creative multipurpose website theme. This theme is a flexible framework for the quick crafting of awesome websites. H-Code packs everything you need to succeed in the modern web. Sophisticated tools and features await under the hood, no coding required. H-Code also combines a simple drag and drop interface with a huge collection of demo websites. Moreover, you can deploy over 60 different demos and 200 custom pages with a couple of clicks. Businesses and companies across a huge range will find perfect solutions within H-Code. What you don't find you can craft with the intuitive and powerful Visual Composer plugin.
Additionally, H-Code lets you showcase your products and services to massive audiences with ease. Cutting-edge portfolio options and animations will dazzle and impress your audience. Furthermore, convenient geolocation features allow clients to reach physical venues without breaking a sweat. H-Code is also full of convenient, thoughtful features and widgets like that. Powerful SEO enhancements make your websites well-ranked across search engines. Increase your traffic overnight with H-Code. Lastly, the WooCommerce suite takes care of all your commercial needs. Feel free to market your products right off your H-Code website. Choose H-Code today, and feel what it's like to join the winning team!
Brando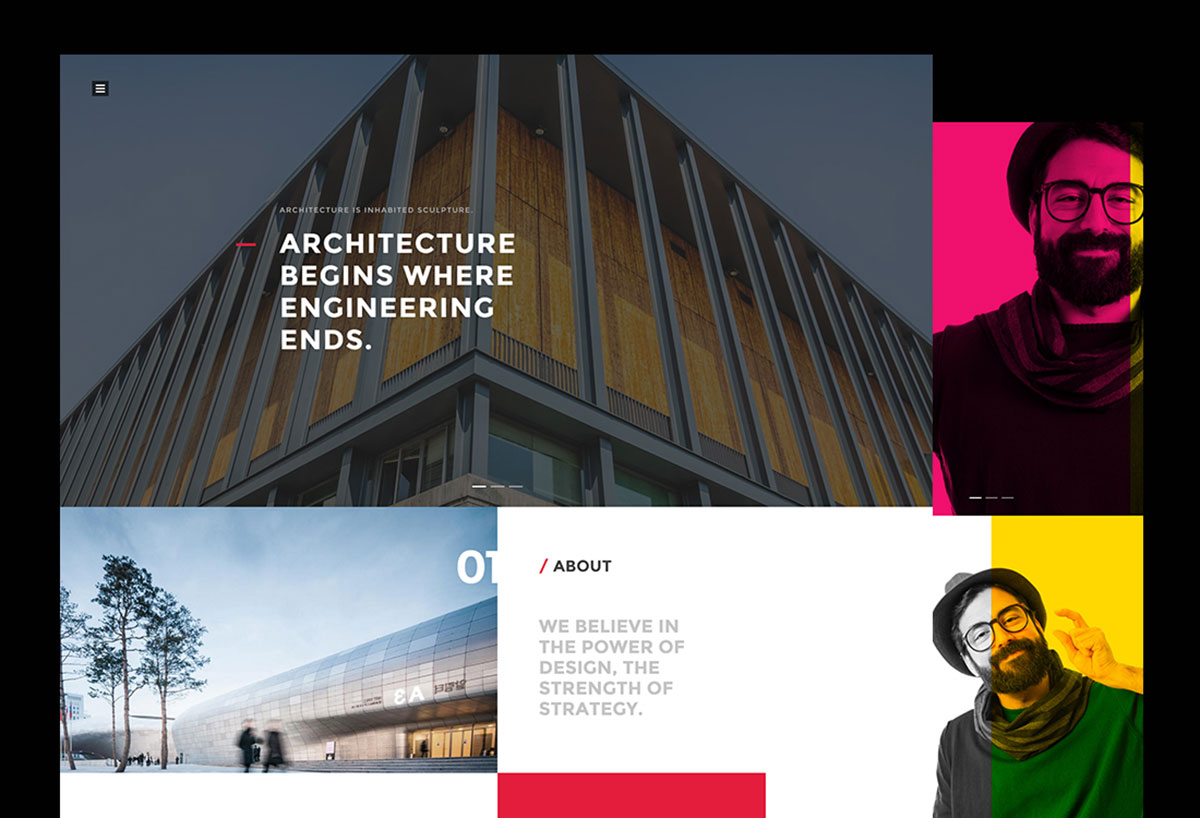 Brando is a reliable and responsive one page multipurpose website theme. It's the best way to establish an online presence for projects and endeavors of all kinds. Brando can handle blogs, portfolios and corporate landing pages with equal ease. A wealth of professionally designed demo websites let you hit the ground running. The Visual Composer also makes customization intuitive and coding-free. With functional online shops and commercial features powered by WooCommerce, marketing is effortless. That's why more and more small businesses are choosing Brando to set up shop online today.
Regardless of your background, Brando puts you at the helm of an awesome modern website. All kinds of Businesses find in Brando a solution for introducing themselves. Clever widgets and shortcodes also allow for many creative sections and usage cases. And Brando's prized one page design provides a sleek, rewarding navigational experience. Customers love to shop on their phones, and that's why Brando is totally responsive. Moreover, appeal to audiences across platforms, devices and browsers without writing a any coding. Furthermore, the Bootstrap framework keeps things mobile-friendly and fast-loading. Yoast! SEO provides a robust framework for making a dent on the rankings and driving up traffic. Overall, Brando is what you need to make it big!
Car Service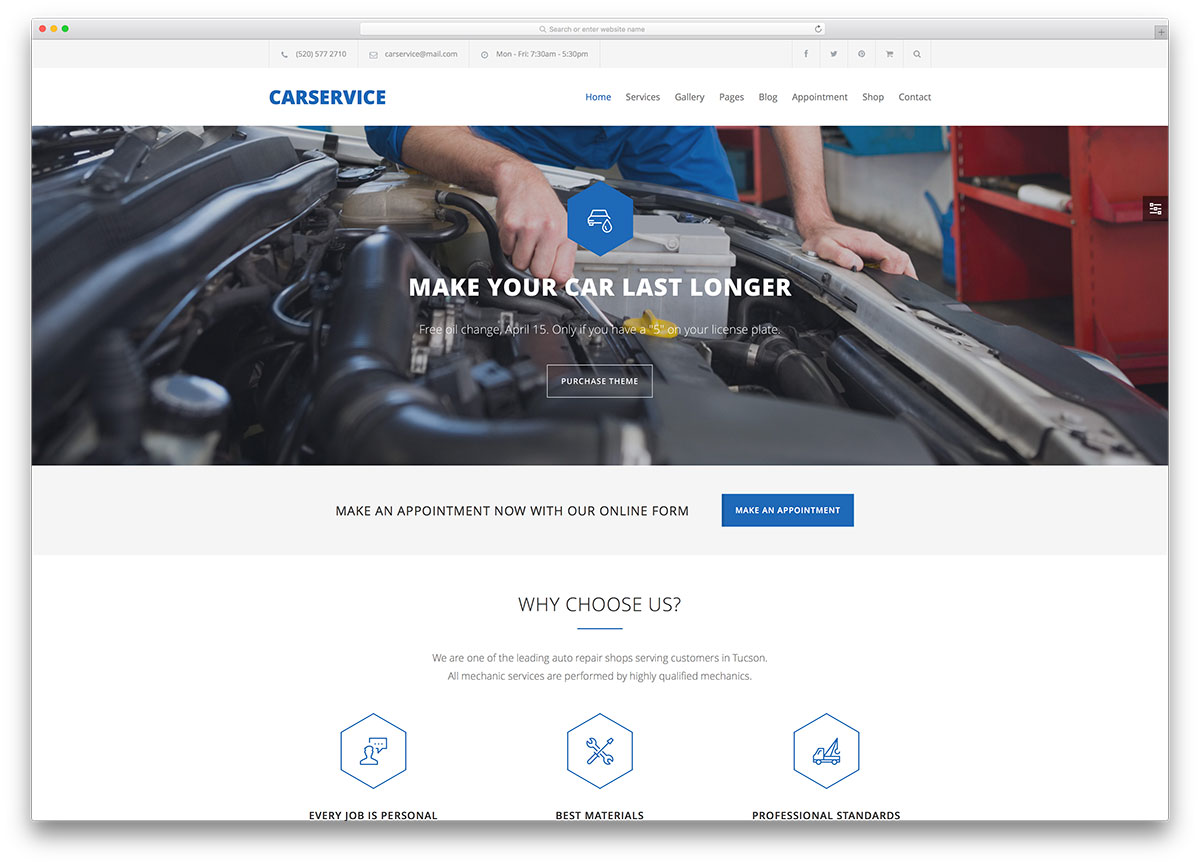 WordPress mechanic auto shop website theme. It's a powerful and very specifically developed theme that has been designed to meet and exceed the demands of modern auto shops, mechanic shops, auto detailing and related, similar industries and fields in establishing an effective and dynamic website presence that can convert incoming traffic and visitors into a sizable revenue stream, building a new customer base through online exposure.
Car Service is so pliable it can easily lend itself to all sorts of handyman or service based industry, with sophisticated features such as the premium Visual Composer with over 50 components, 20 of which have been developed exclusively for the service based industry websites, an integrated, beautiful Revolution Slider plugin, a simple one-click demo import process and tons of helpful demos to get you off on the right foot, and useful Appointment Forms, Smart Sticky Columns, and complete WooCommerce integration out of the box, so you can open up the revenue stream from day one!
Unicon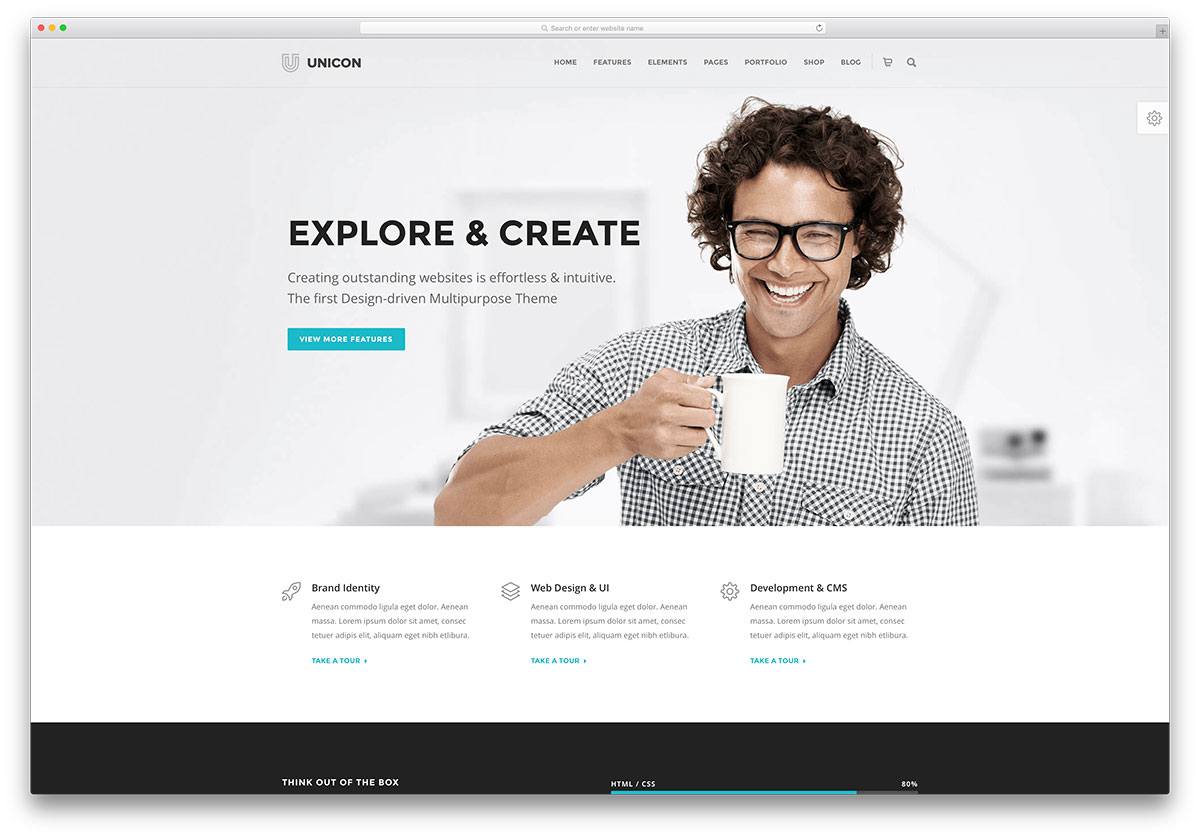 Plus d'infos / Télécharger
TheFox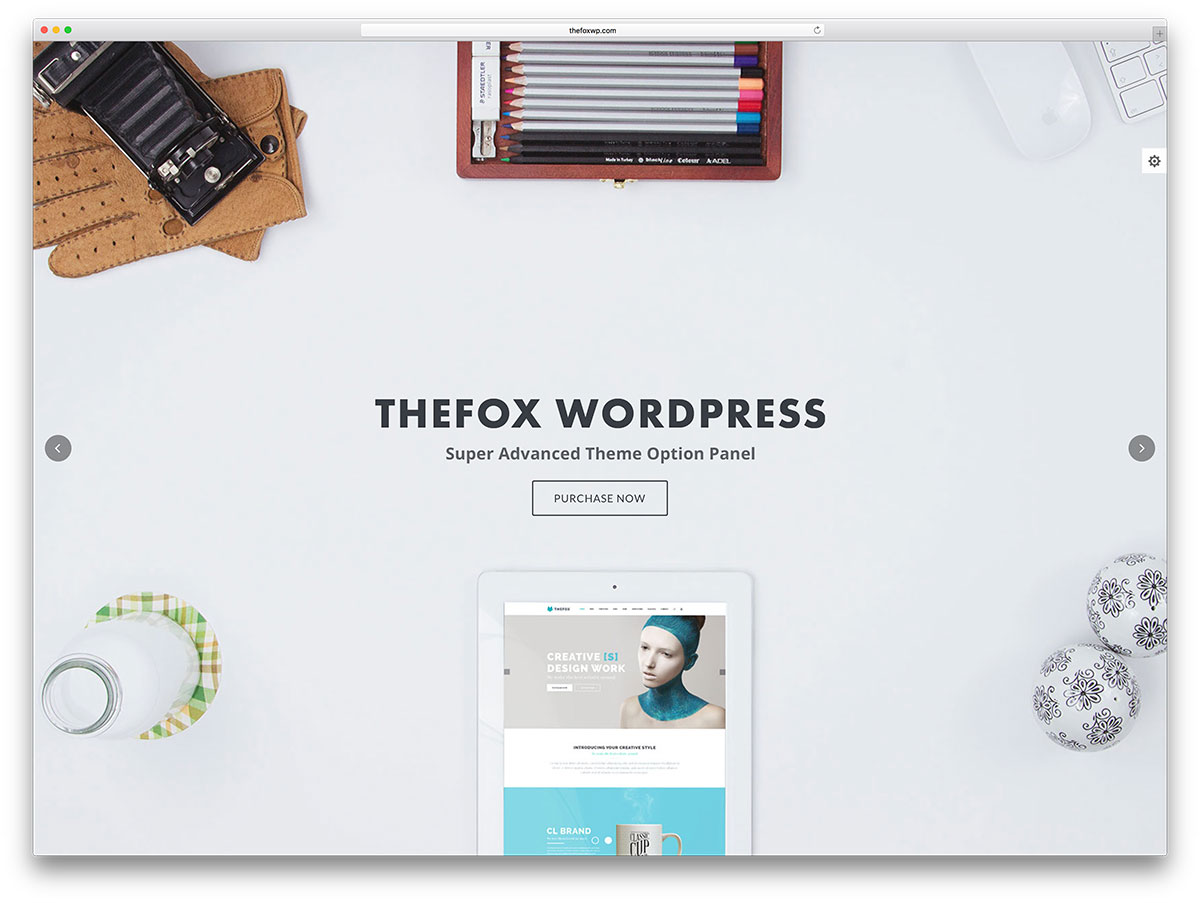 Plus d'infos / Télécharger
Foundry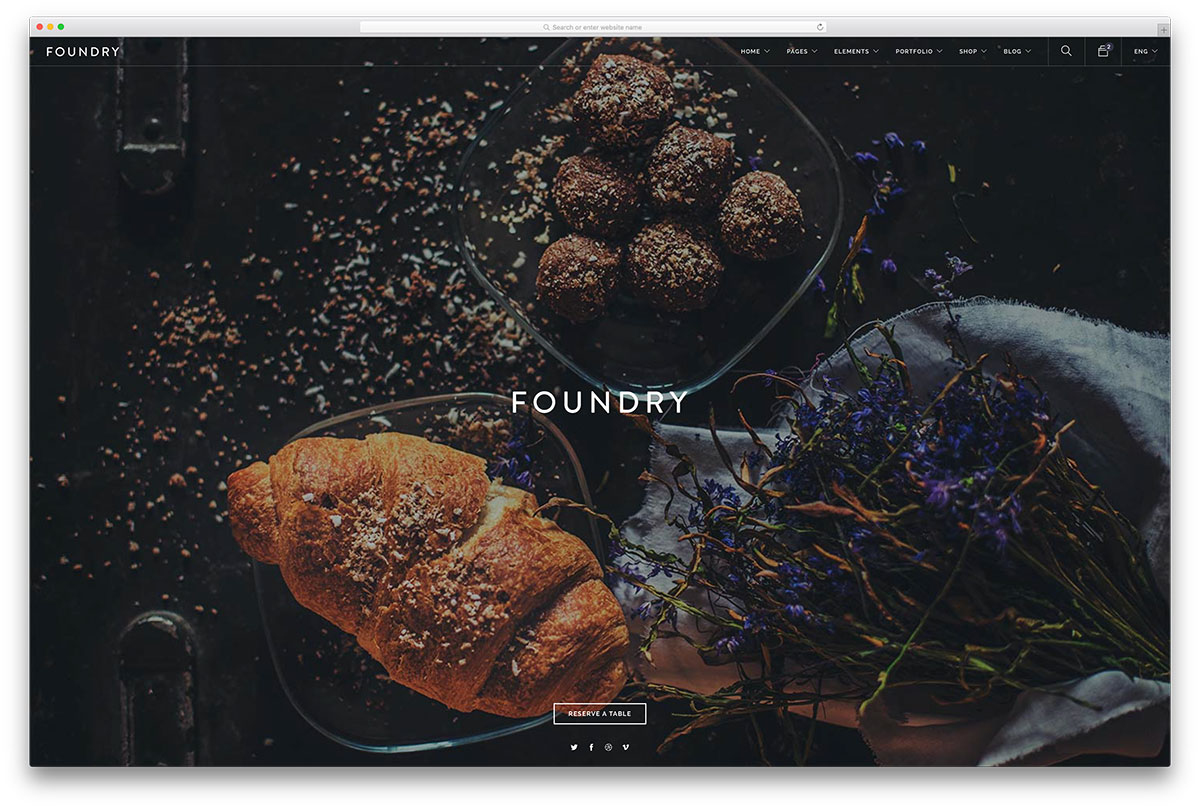 Plus d'infos / Télécharger
Launchkit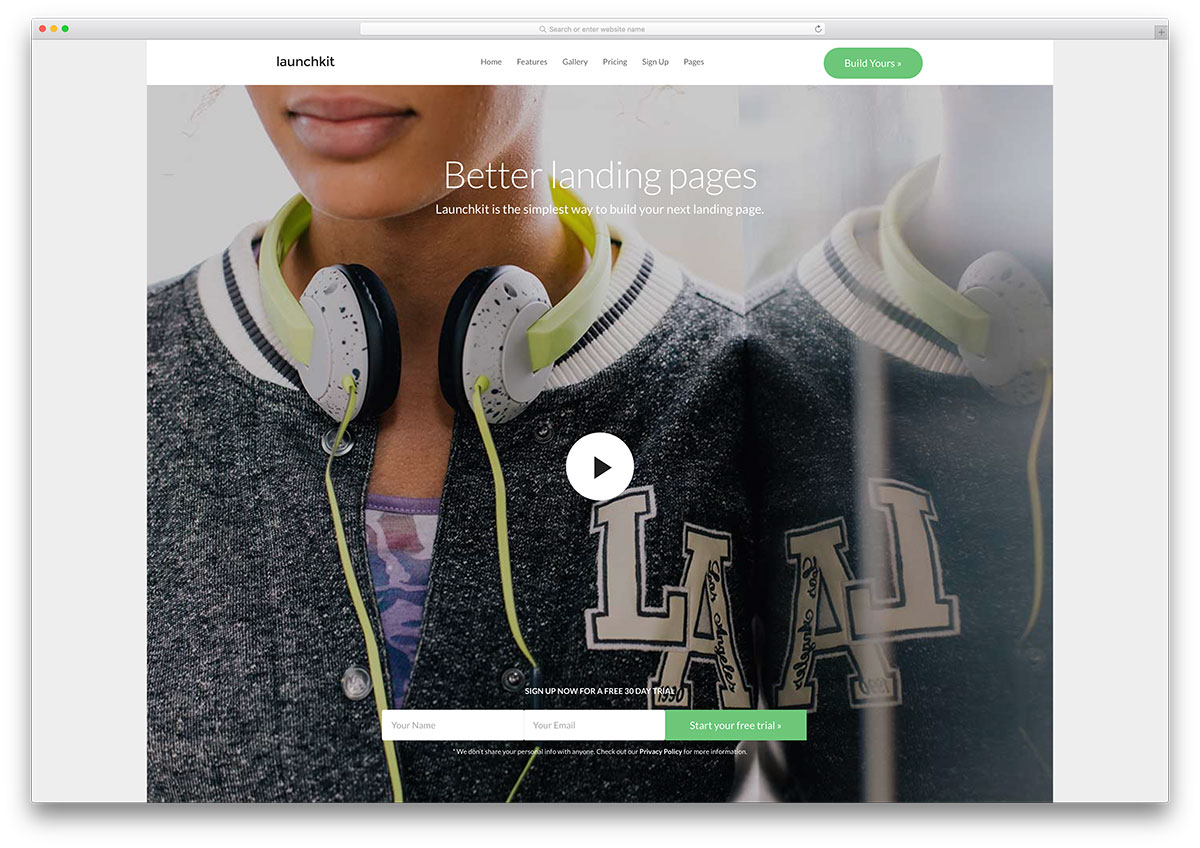 Plus d'infos / Télécharger
Bodega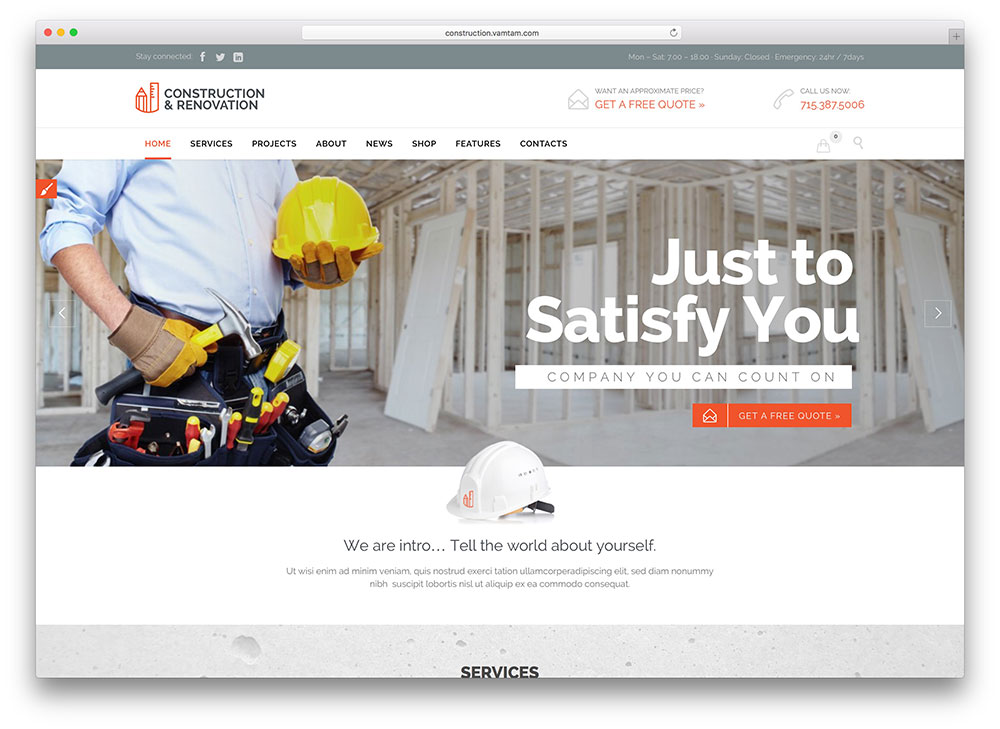 Bodega is an all-inclusive, versatile, professional-looking WordPress small business & online store theme, built with the needs of small businesses, shops and services of all kinds, and packed with the powerful tools you'll need to turn your small time store into a big name on the internet. This theme has over 30 beautiful predesigned demos that can make your website look polished and professionally-built out of the box and within seconds of installation, each designed to suit specific website needs, such as photography businesses, fashion catalogues, design agencies, and dozens others.
Single page and multipage versions are available and look equally stunning. SVG animation also enables you to animate stroke paths for your own custom graphics. Customized clip masks, website-wide frames, on scroll animations, portfolio hovers, border line animations… HTML5 and CSS3 combine in this theme to offer an endless array of features and combinations of them, furthered by the intuitively simple drag & drop page builder, beautiful page transitions, multilanguage support out of the box, native icon sets to choose from and full social media sharing integration. WooCommerce shop enabled out of the box, SEO optimization, top of the line video sliders at high definition… Bodega is a the jack of all trades of commerce!
Builder Construction Architect Renovation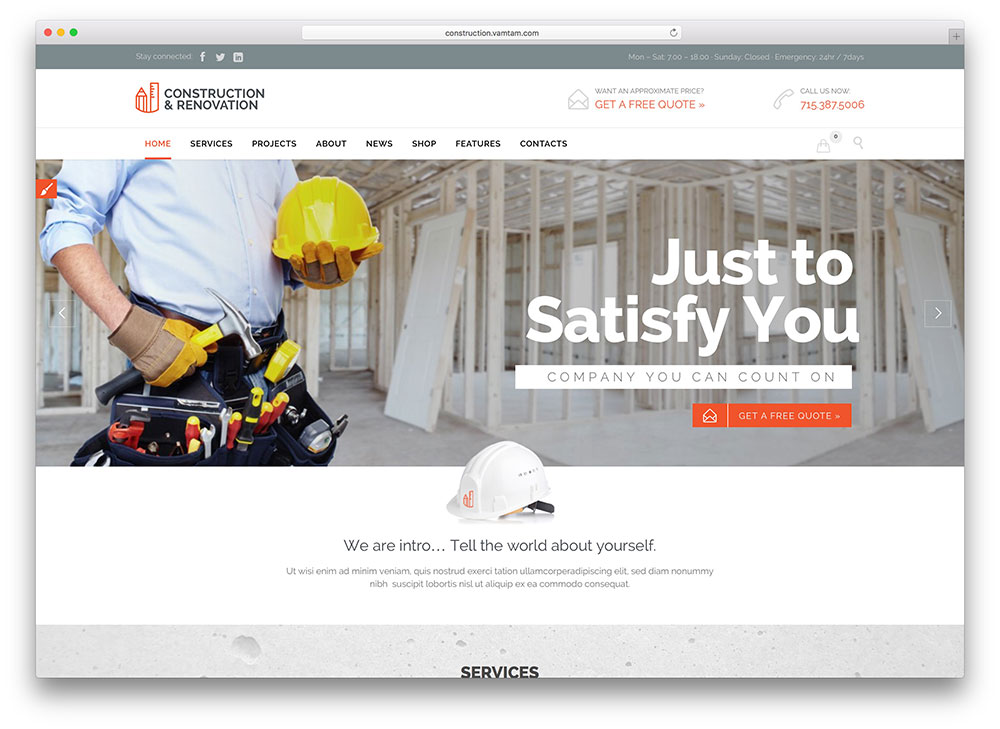 Builder is a powerful, easy-to-use, professional-looking WordPress building services, architecture, engineering, cleaning and other construction-related services websites, though perfectly suited for activities such as maids, maintenance, painting, decorating, carpentry, plumbing… the list is nigh endless. If you're handling customers who are acquiring projects, services, quotes and budgets, Builder is the theme for you.
Multiple clean, fresh homepages are also available out of the box to instantly set up shop and start building your website in minutes. Additionally, you can combine these various predesigned homepages with several styles of headers, sliders and bars to customize your front page to your exact desired specifications. Moreover, predesigned pages include Reviews section, allowing your customers to comment and rate your work or thank you for a job well done. WooCommerce integration means you can start making money off your website hours after installing your Builder theme. Out of the box Form pages also allow customers to quickly and easily contact you with their information. Furthermore, the developers included the Revolution Slider, offering you potent 3D and visual effects at the click of a button.
The drag & drop feature will also allow you to build your own pages with minimal effort or coding necessary, yet just as gorgeous and professional as your predesigned pages. Lastly, over 1200 icon fonts ensure you'll get your message across. And if you have any issue grasping any of this, 23 high definition tutorial videos are bundled, so you won't miss a beat of your Builder's potential.
MAMA
MAMA is a modern, minimalistic WordPress theme, designed to be a clean, flexible, fully responsive theme centered on the needs of personal, business, corporate and creative portfolio websites, including photographers, designers, producers, and many more potential beneficiaries.
This was designed with a minimalist aesthetic in mind, and keeps true to that north both in visual aspects, which are elegant and understated, as well as technical aspects, with a very neatly organized, efficient, annotated code, that accomplishes a lot with extremely small page loading times thanks to highly efficient programming. Extensive use of HTML5 features results in beautiful, Retina-ready, scalable graphics, smooth scrolling effects, fullscreen video sliders, 3D curtain effects, full screen customized menus, custom Magnific Popup and Nice Tooltip features, Isotop, Bootstrap visual effects all over the place, and gorgeous Themify icon compatibility. MAMA's fully responsive design ensures these are all enjoyed equally well across devices and platforms, and even in vertical and horizontal formats on your mobile phone!
MAMA is subtle yet powerful, and so customizable your head'll spin with the options available at your disposal. Should you lose your way among so much to do, MAMA counts with one of the worldwide best customer support teams, renowned for their speedy responses and thorough attention to their customers. You'll get free support and free updates for life, with the purchase of this incredible, minimalistic theme.
BeTheme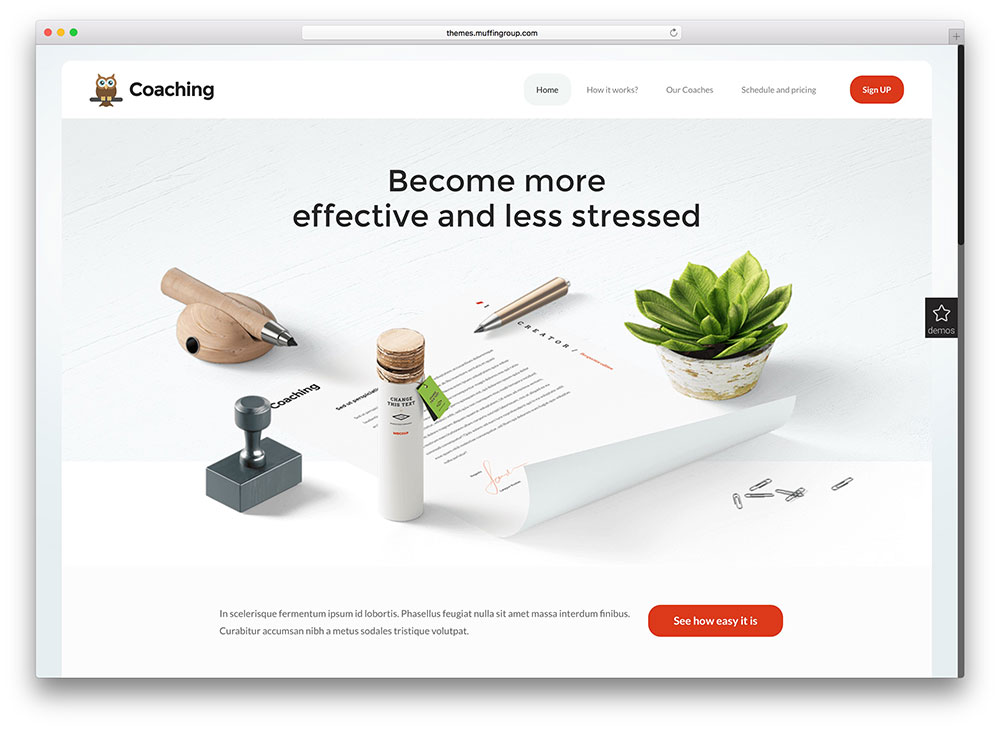 What if you're told that with no coding skills, you can build a full website with one click? What if I told you it could be one of a hundred different, specialized website models, with any of seventeen different header styles, automated to adapt to mobile devices and PCs seamlessly, ready to display your high resolution images in Retina displays, with a site-spanning Mega Menu, Parallax scrolling effect and background video playback? If I said that you could have unlimited menus and sidebars, configure out layouts, and have your content optimized for search engine indexing without writing a line of programming?
If you're starting to think that'd just be too good to be true, let me introduce you to BeTheme, a multipurpose WordPress theme that does it all, and does it well. With coding optimized for fastest loading times and a built-in translator feature to reach across all demographics and geographics, BeTheme lets you do your thing without worrying about the rest. You can install the WooCommerce online storefront in under a minute, meaning you'll start making money as soon as you hit the ground with BeTheme. A hundred dollars' worth of bundled plugins also let you construct your own beautiful modifications. Compatible with bbPress, BuddyPress, MailChimp, Yoast, and so many more plugins it'll make your head spin. Overall, BeTheme makes your website exactly what you always wanted it to be.
Salient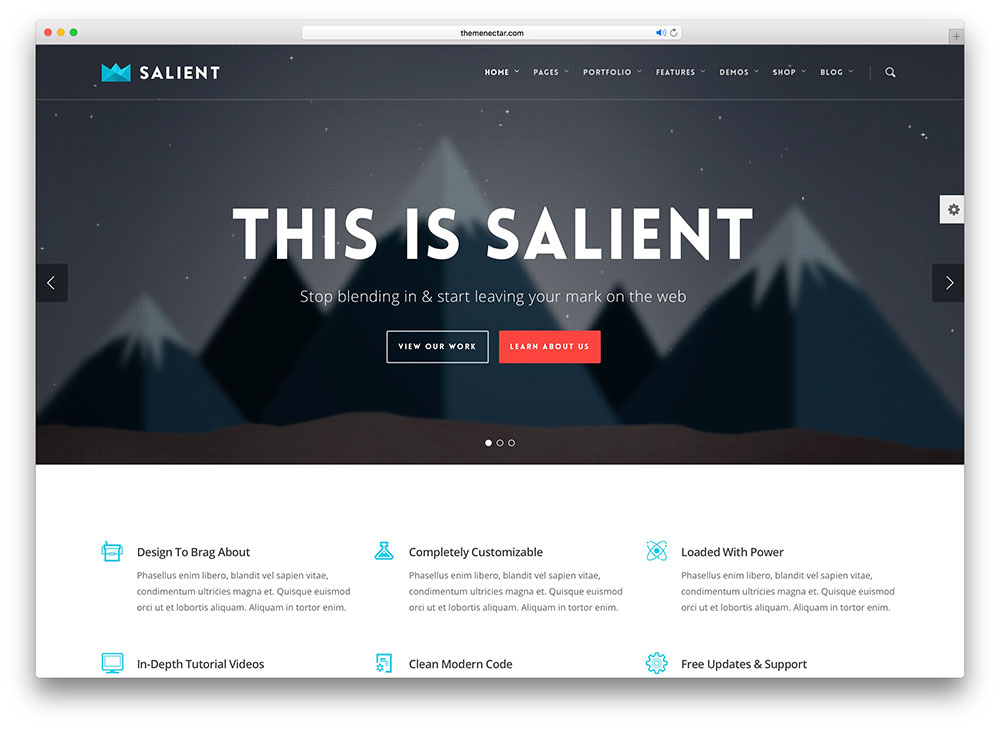 Salient is a feature-dense, responsive, innovative WordPress multipurpose theme. The developers built this theme for webmasters with a unique voice and the need to stand out from the lot. They also tailored Salient to excel in all aspects, with a truly remarkable design in each of its numerous predesigned layouts.
From a design perspective, Salient is an answer to conceptually challenging questions. Additionally, Salient's heavy reliance on Retina ready high resolution photography engages viewers instantly and indelibly. Blogs, businesses and portfolios of all kinds will amaze with sophisticated Parallax scrolling effects. Isotope ready out of the box, Salient feels and handles smoothly, loads at lightning speed and features a natively responsive layout to adapt to every device and browser. Moreover, integration means you'll secure a revenue stream within minutes of installing this powerful, outstanding theme. Furthermore, translation ready and with built in customized social media sharing and a "love" function, Salient makes users feel at home.
You can also personalize every post with over 500 Retina customized icons out of the box, which are all supported. Advanced typography control lets you style sortable portfolios, while a strong AJAX front end enables smooth transitions and searches. Lastly, an intuitive graphic shortcode generator will have you coding with the best like child's play. Salient, the theme that makes your website stand out.
Avada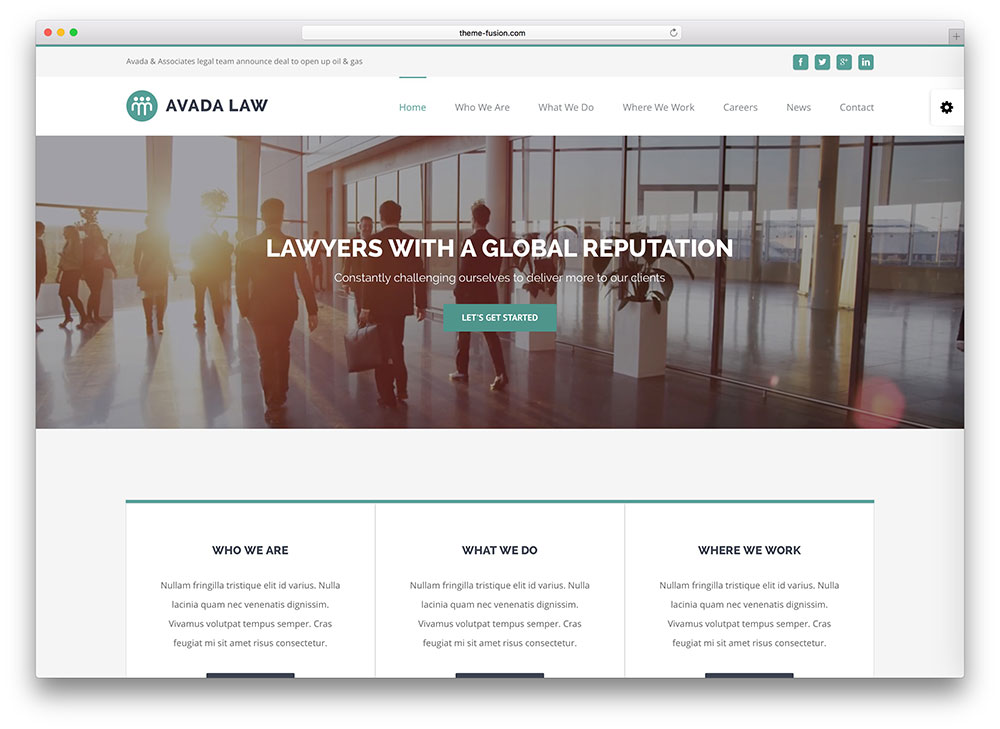 Avada is an advanced, influential, powerhouse of a WordPress multipurpose theme, designed with the needs of businesses and firms of all sizes and natures. Avada's responsive, modern design makes every customer feel at home, and the incredible visuals will amaze and engage thanks to smooth CSS3 and Bootstrap enabled Parallax effects and hover animations. Avada is also flexible, powerful, easy to use, dynamic and well supported. There's a reason time and again webmasters choose Avada for their website. Hundreds of thousands of satisfied clients can attest that Avada works so good like it's magic.
Moreover, Avada features dozens of full demo websites ready to import at a single click. Its incredible design flexibility allows you to customize such demos into the most diverse websites imaginable, without writing any code. HTML5 capabilities keep your website dynamic and modern. Also, single and multipage options are readily available. Additionally, the developers added prepackaged retina ready graphics and icons. Furthermore, Avada hits the ground running, with WooCommerce plugin integration facilitating your online storefront within minutes of installing Avada. And with SEO optimization across the board, translation features, native shortcodes that are extensively documented, and the classiest, most beautiful and creative pre-designed layouts around, Avada's one bag of tricks you won't want to miss out on.
TheFox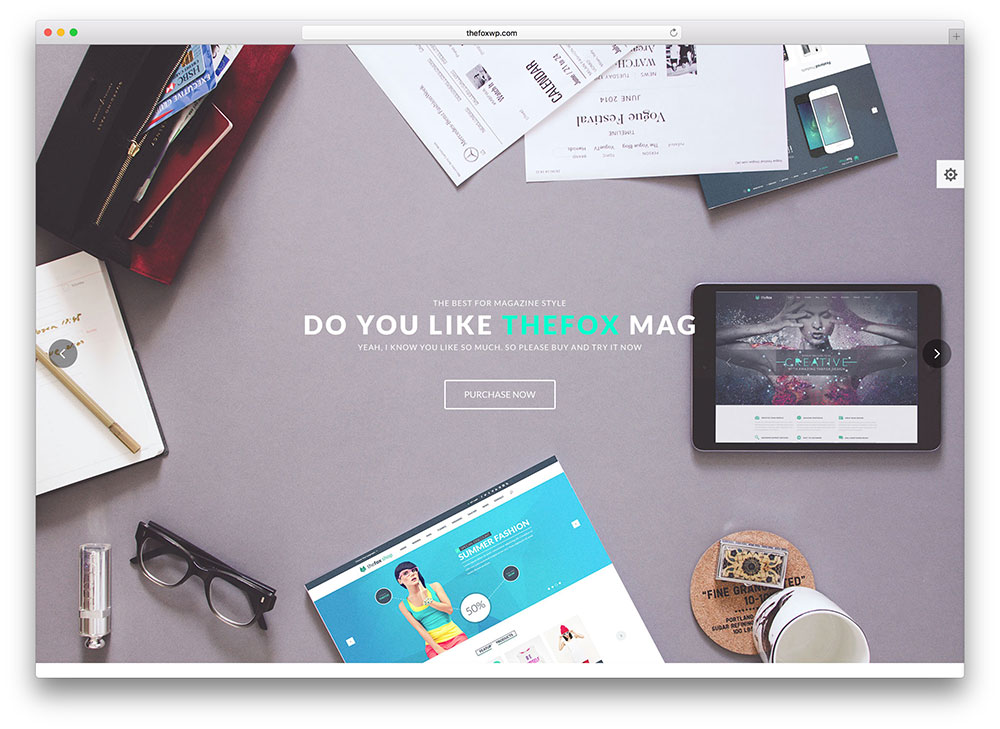 TheFox is a pliable, intuitive, incredibly smart WordPress multipurpose theme, ideally suited for all sorts of small business ventures. This extends from creative agencies to small businesses to online magazines and much more. This theme offers you solutions you thought were insurmountable. It's also astoundingly easy to use, and enables webmasters of all skill levels. Additionally, this theme can help you build professional looking, responsive, interactive, powerful business websites. It also comes with boundless options for customization and branding.
Moreover, TheFox contains over thirty full-fledged websites for you to install with a single click and hit the ground running. You can also further customize these predesigned pages with powerful Visual Composer drag & drop features, theme customization, custom fonts, headers, icons and limitless colors. Over 250 customizable element styles make your website unique and engaging. Powerful admin options exist for every page and post type, and the choices available to you are unimaginably broad. Custom modules allow webmasters to skip the coding and go straight to adding powerful, incredible new features. Furthermore, you can do all of this via a simple drop of a block. Over a hundred dollars' worth of bundled plugins include Premium Slider and Icon Fonts, among many more. Outstanding, understanding and caring customer support service seals the deal; TheFox is a theme that definitely keeps its wits about it.
Stockholm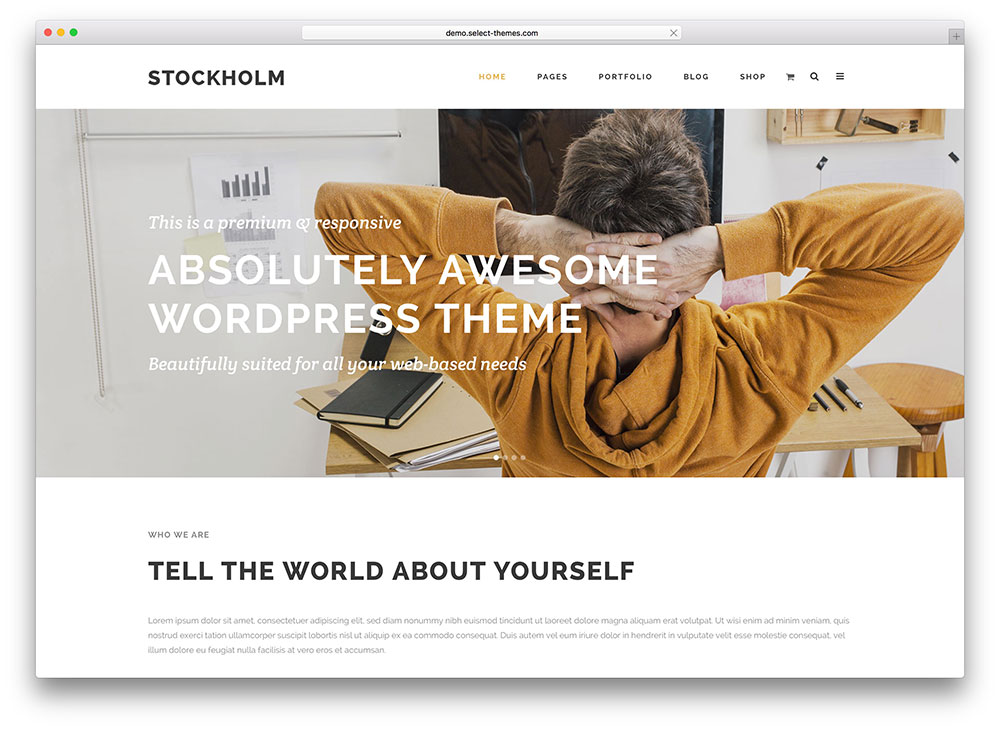 Stockholm is an innovative, creative, aesthetic WordPress multipurpose, multiconcept theme of limitless potential and endless flexibility. Aggressively luminous, Stockholm is minimalistic and sophisticated. It can also give your website the grace and taste of high quality design with no cumbersome installation processes. You can do all of this with just a click of a button. Hit the ground running with this intuitive, user friendly, powerful theme.
Stockholm is also chock-full of features and tools that empower your website. HTML5 and CSS3 functionality offer beautiful smooth animations, background video playback, image or video interactive sliders that are very customizable. You can use six different types of headers that you can make your own with dozens of widgets and shortcodes. This will have your website up and running with the tech-savviest of all. Over twenty included, carefully pre-designed demos hand you the keys to gorgeous digital kingdoms, yours to modify, alter, personalize and own to your heart's content. En outre, WooCommerce online shop integration turns your website into your revenue stream, multilanguage support broadens your reach worldwide, while SEO optimization native to the code offers efficient indexing AND lightning speed load times all in one beautiful, stylish package.
Overall, Stockholm is the end of your worries as a webmaster. It's the beginning of your long term vacation on the greener pastures of the Internet!
Brooklyn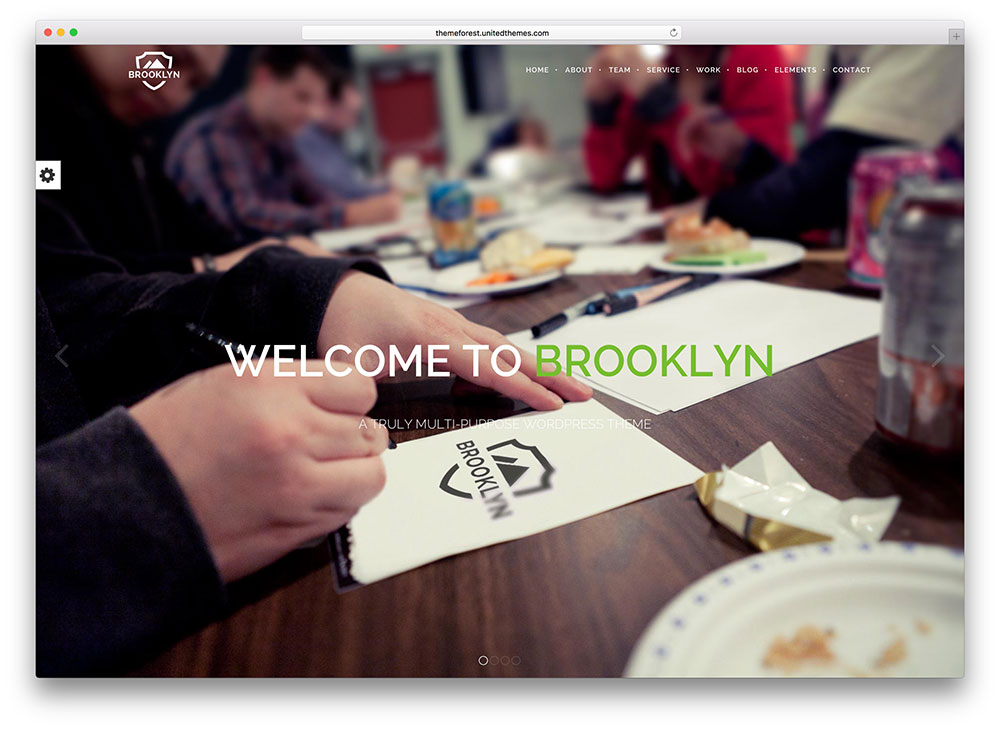 Brooklyn is a powerful, modern, dynamic WordPress one page parallax theme, designed for photographers, travel agencies, creative firms, nonprofits, or even entertainment production. It can easily transform into a personal website with minimal effort. Brooklyn also keeps your viewers focused where you want them to be. This makes your digital life simpler and much more visually appealing thanks to its many-faced, universally elegant demos.
Moreover, Brooklyn's unique One Click Installer bids adios to XML, with a complete WYSIWYG design philosophy. An intuitive drag & drop interface also quickly allows you to build gorgeous homepages, portfolios, pricing tables, contact forms, and so many more pages—endless amounts, when combined with the feature-rich widgets packaged with Brooklyn, which can turn any page into exactly what you want thanks to extensive shortcode functionality and a thorough, detailed documentation. Furthermore, HTML5 and CSS3 enabled Parallax scrolling and visual effects will engage and enamor your audience. This keeps them glued to your content and this minimizes bounce rates.
A truly dedicated customer support staff is ready to support you at the drop of a hat, around the clock. Full translation support also means your website will be in any language on Earth you want it to. Native responsive design brings your content seamlessly to all devices and browsers. Brooklyn—what's there not to love?
Enfold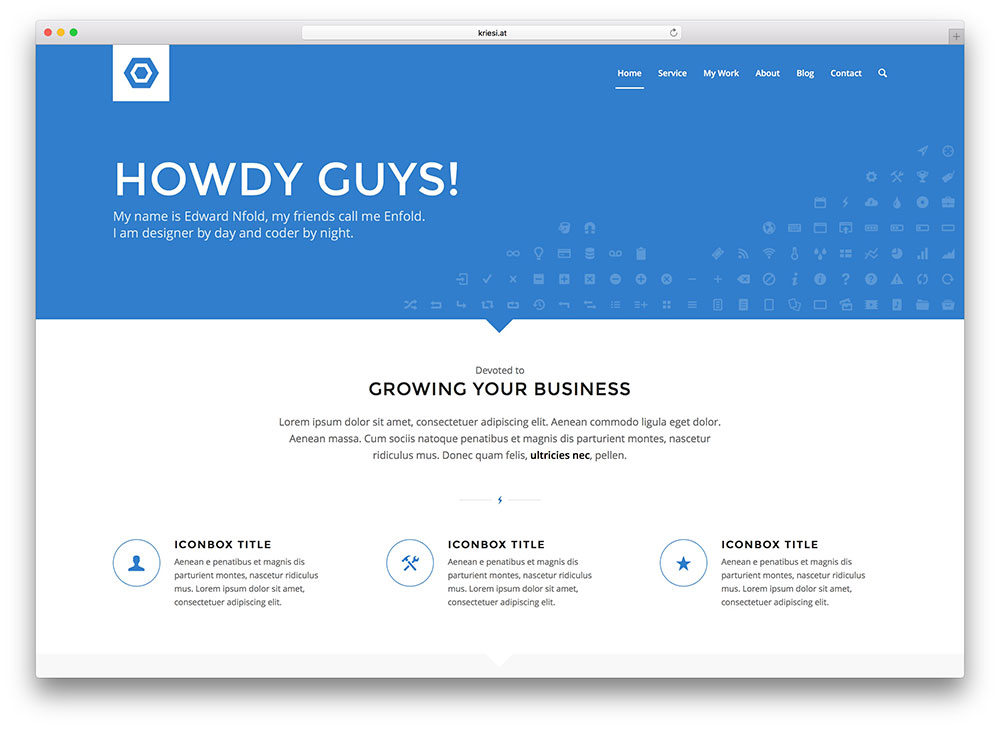 Enfold is a top of the line, feature dense, versatile WordPress multipurpose theme, centered around the needs and requirements of small business websites of all nature, including creative businesses, service industry, personal websites, portfolios, and much, much more, thanks to Enfold's boundless customization options and potent, flexible, intuitive drag & drop visual page builder. It includes over a dozen demos with predefined content so you can get things started right off the bat. You can also install Enfold with an easy, painless, single click process.
Moreover, you can select your preferred demo and start branding it as yours. With Enfold's cornucopia of options, all of these choices are at your fingertips. Furthermore, frequent updates keep Enfold current, with HTML5, CSS3, Bootstrap 3, Parallax scrolling, an AJAX front end and WooCommerce integration. The developers packed Enfold with all the latest bells and whistles. Most importantly, they crafted Enfold in way that coordinates all these technologies together in a coherent, expressive whole. It manages to draw users into your content rather than distract them by outshining it. Overall, Enfold is precisely the theme you'll want enveloping your precious content in the harsh world of the web.