Cette fois, nous aimerions présenter les meilleurs thèmes de répertoire pour les sites d'emploi, les concessionnaires d'automobiles, l'immobilier, les sites Web, les entreprises, les services et autres sites directement énumérés.

Nous avons rassemblé plus de 20 thèmes WordPress de répertoires hautement personnalisables, réactifs et polyvalents, prêts à dominer n'importe quel créneau. Les pages de liste et les présentations de thèmes pour tous ces thèmes peuvent être personnalisées pour répondre à vos besoins.
Il existe de nombreux sites Web d'annuaires d'entreprises très performants pour les entreprises locales et internationales. Ils existent parce que les gens sont prêts à trouver le meilleur service possible et que les propriétaires d'entreprise veulent promouvoir leur entreprise et obtenir une visibilité maximale. C'est pourquoi la création d'annuaires sur le Web est si facile à établir et à maintenir.
Voici une collection de thèmes similaires que vous voudrez peut-être consulter:
N'hésitez pas à suggérer vos propres thèmes pour cette collection.
ListingPro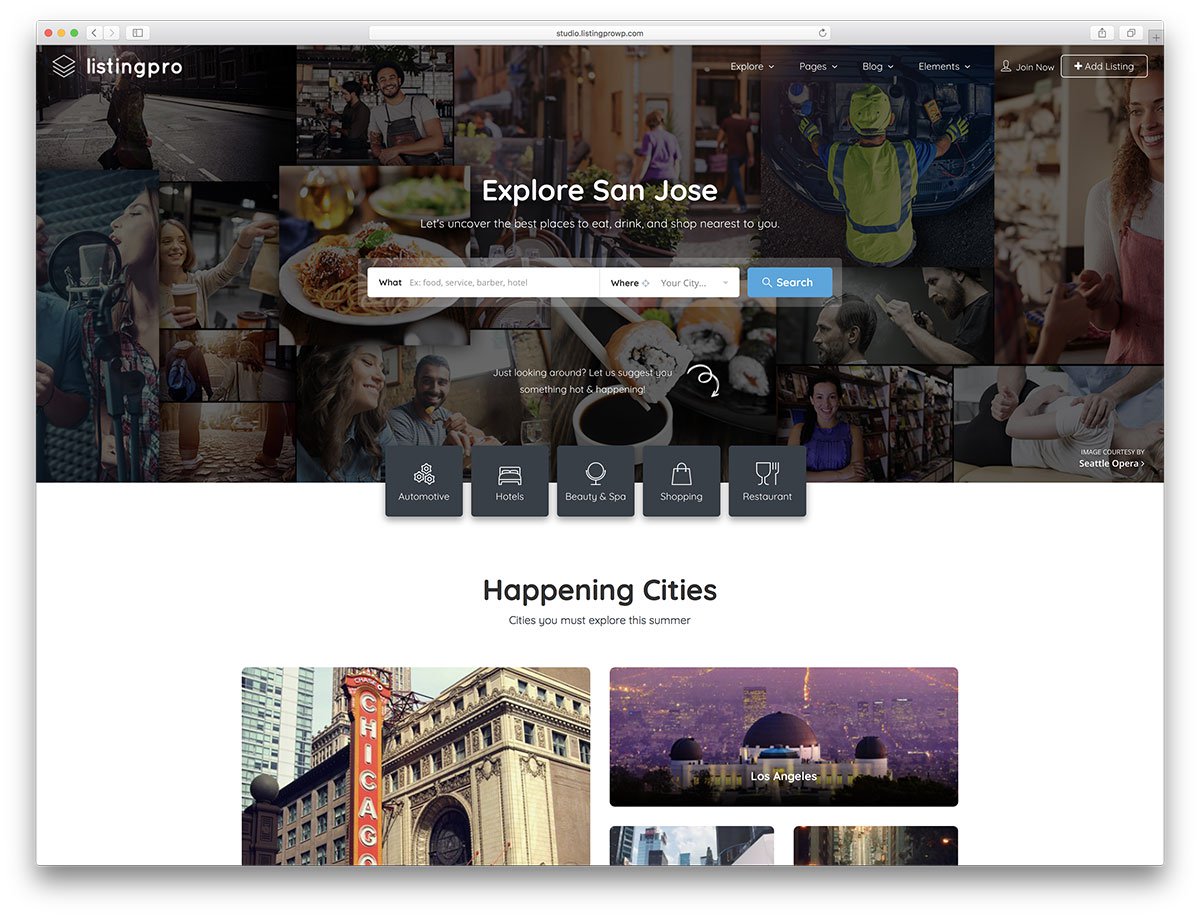 ListingPro est une solution d'annuaire de bout en bout haut de gamme conçue pour WordPress avec plusieurs dizaines de critiques 5 étoiles. Il a été conçu en interne pour répondre aux besoins les plus mal desservis et optimiser le retour sur investissement des utilisateurs de WordPress souhaitant créer un répertoire tel que Yelp ou Foursquare. De la fonction de recherche super avancée intégrée aux options de filtrage pour affiner les résultats de la recherche. Le tableau de bord destiné aux propriétaires d'entreprise est suffisamment intuitif pour vous convaincre que c'est le bon investissement.
Un système d'annonces intégré pour commencer à monétiser dès le premier jour et, bien sûr, le nouveau formulaire de soumission frontal passionnant gardera vos visiteurs engagés, augmentant ainsi le taux de conversion, car il est très facile d'accepter des paiements listes à monétiser aussi. Tout cela ne nécessite aucun plug-in supplémentaire, tout ce qu'il y a à l'intérieur avec des frais uniques et des mises à jour à vie. Cela prend moins de 5 minutes pour la configuration initiale avec un contenu factice, donc aucune connaissance en codage n'est nécessaire, c'est aussi simple que cela.
Listify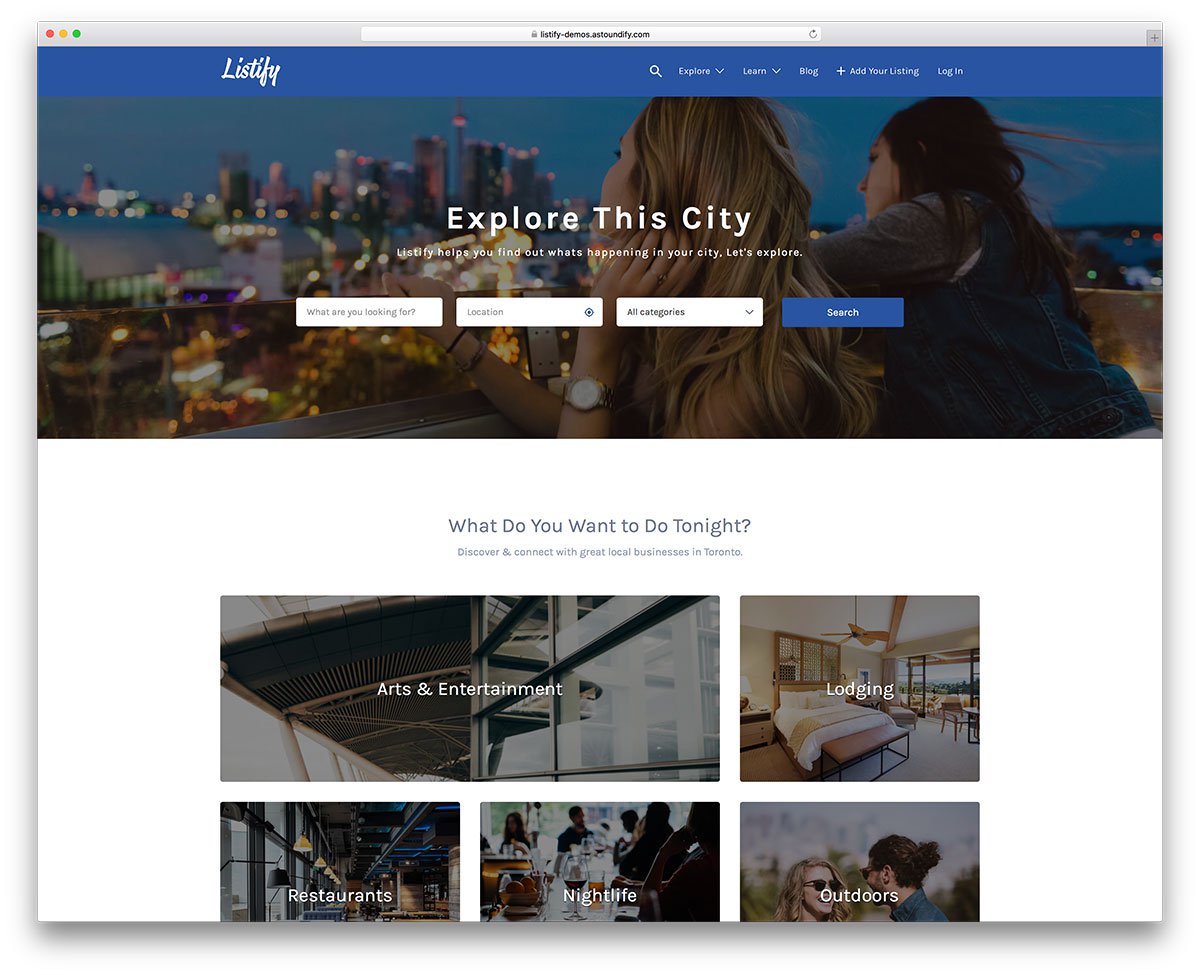 Plus d'infos / Télécharger
WhiteLab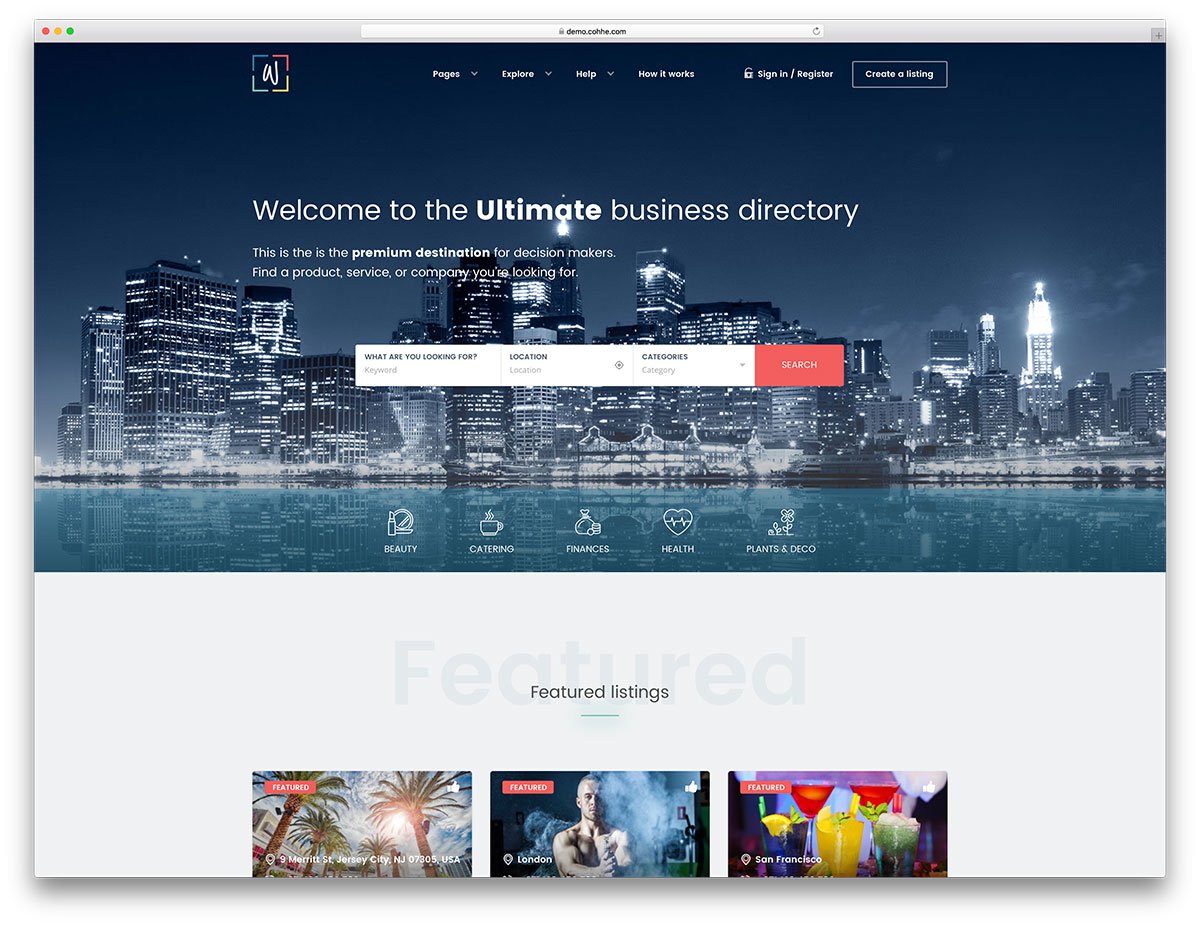 Whitelab est un répertoire WordPress avancé. C'est un thème spécialisé conçu pour répertorier et organiser comme un livre d'experts. Il est livré avec un concept sobre, propre et lisse qui en fait une image formelle respectable. Whitelab est idéal pour tous les types de sites Web qui pourraient avoir besoin d'une liste. Les professions de toutes sortes telles que les agences, l'immobilier, les pharmacies ou les hôtels peuvent l'utiliser. Il vient avec un système de paiement intégré complet! Les paiements récurrents peuvent être définis avec Autoriser. net et PayPal. Whitelab fournit un générateur de pages intuitif qui rend les modifications visibles en temps réel! Il dispose de services de localisation et de fonctionnalités de traduction avec Google Maps et WPML.
Vous l'obtiendrez avec un panneau simplifié et une disposition qui rend le codage inutile. Whitelab est parfait pour ceux qui n'ont aucune compétence en programmation ou en programmation et qui ne peuvent pas se permettre de payer un expert. Il convient aux sites destinés aux petites entreprises de toutes sortes nécessitant une liste de produits. Vous l'obtiendrez avec la possibilité d'ajouter des bannières et des publicités. Whitelab dispose d'un système de recherche extrêmement spécialisé avec plusieurs pages et filtres. Il dispose également d'un système d'examen permettant d'obtenir les commentaires des clients et d'améliorer sa qualité. Obtenez ce design original Cohhe maintenant! Obtenez Whitelab!
Listable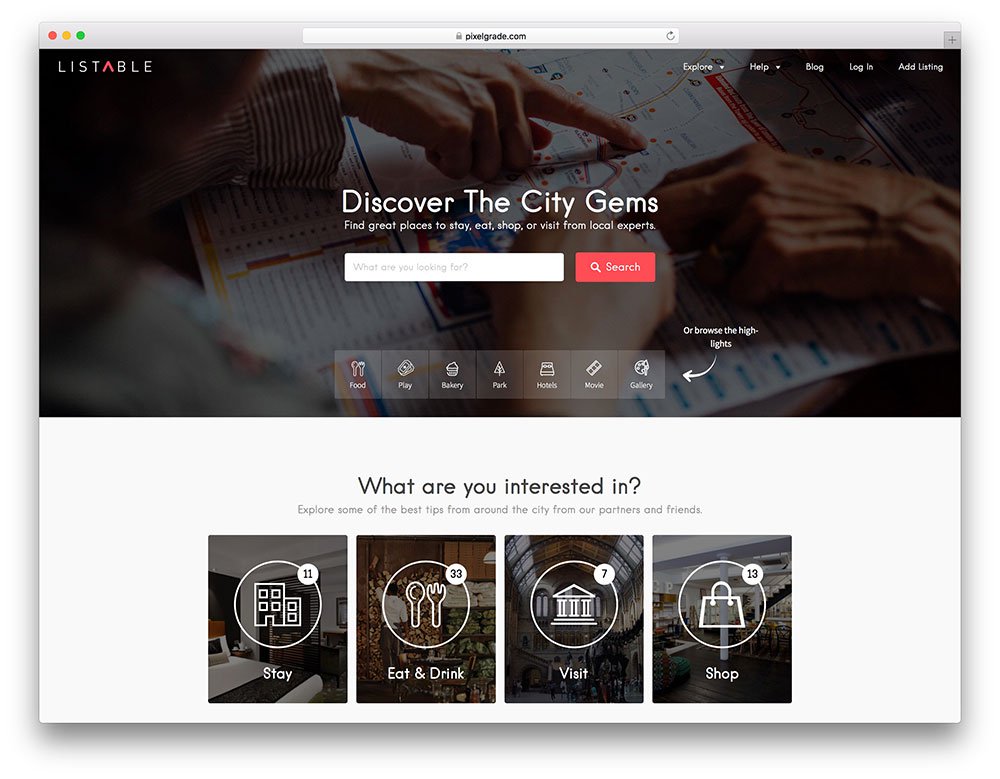 Plus d'infos / Télécharger
Pont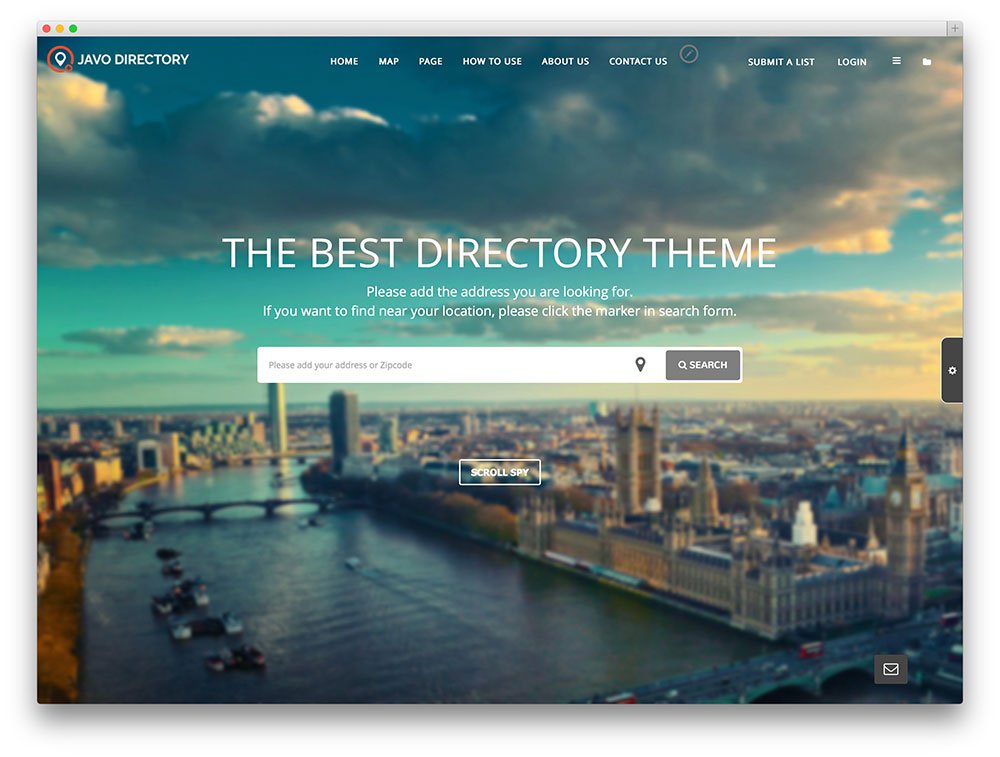 Bridge est un outil multi-usage avec tout le nécessaire inclus pour appeler en toute sécurité l'un des meilleurs thèmes pour WordPress dans les répertoires. En bref, utilisez-le à n'importe quelle fin et le produit final répondra toujours aux normes les plus strictes, conformément à toutes les réglementations Web et technologiques modernes. C'est comme ça que Bridge roule. En ce qui concerne les sites Web d'annuaires, Bridge est livré avec des outils faciles à utiliser et à mettre en œuvre des démonstrations simples pour créer une telle page en un clin d'œil.
Avec une conception Web nette et fluide, une fonction de recherche confortable, une navigation facile et une compatibilité avec les appareils mobiles, Bridge veille à ce que tous vos utilisateurs soient traités correctement. Utilisez le flux Instagram intégré, récupérez leurs e-mails avec le widget newsletter et intriguez-les avec vos lieux et lieux incontournables. Mais les pages de répertoires peuvent être de tout type avec Bridge, alors créez-en une selon vos besoins.
SpotFinder
Plus d'infos / Télécharger

ListGo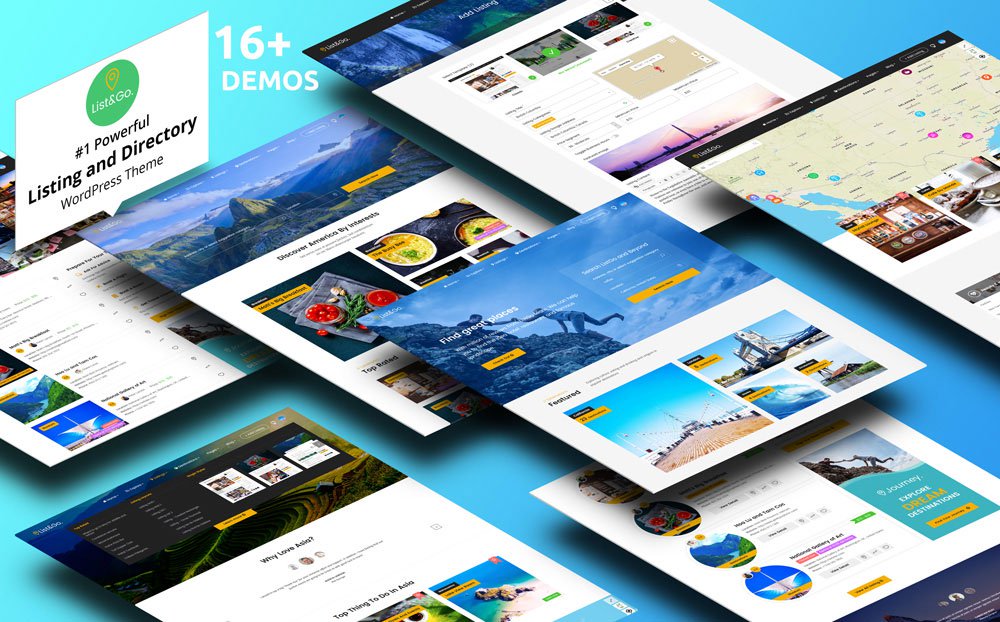 ListGo est un thème WordPress de type liste et répertoire. Il a 16 magnifiques démos spéciales juste pour commencer! Vous l'obtiendrez avec le soutien et des tonnes d'outils spécialisés de ses créateurs. ListGo est idéal pour tous types de sites Web et de sujets. Il propose WooCommerce à des fins commerciales et commerciales. Sa mise en page vous apporte un excellent MegaMenu et davantage de colonnes pour organiser les publications. ListGo utilise des outils de conception et de soumission spéciaux, conçus à la main par les esprits créatifs qui le composent. Il est entièrement adaptable à tous les écrans et appareils. Il est assez orienté pour faire de superbes designs UI et UX. L'expérience mobile est à son meilleur!
ListGo est très malléable et amusant à jouer. Il est prêt pour les widgets et offre des codes courts utiles. Il comporte même un mappage spécial et un mode déplaçable. ListGo convient parfaitement à tous les services ou entreprises qui incluent des franchises mondiales. ListGo vous donne un excellent tableau de bord pour afficher toutes vos informations avec votre touche personnelle! Les hôtels, les maisons de designers, les services d'information touristique, etc. peuvent s'y accompagner. Vous pouvez l'installer en un clic! Ne manquez pas ses offres spéciales et profitez-en vite! Essayez ce design Wiloke et voyez sa puissance! Essayez ListGo!
Javo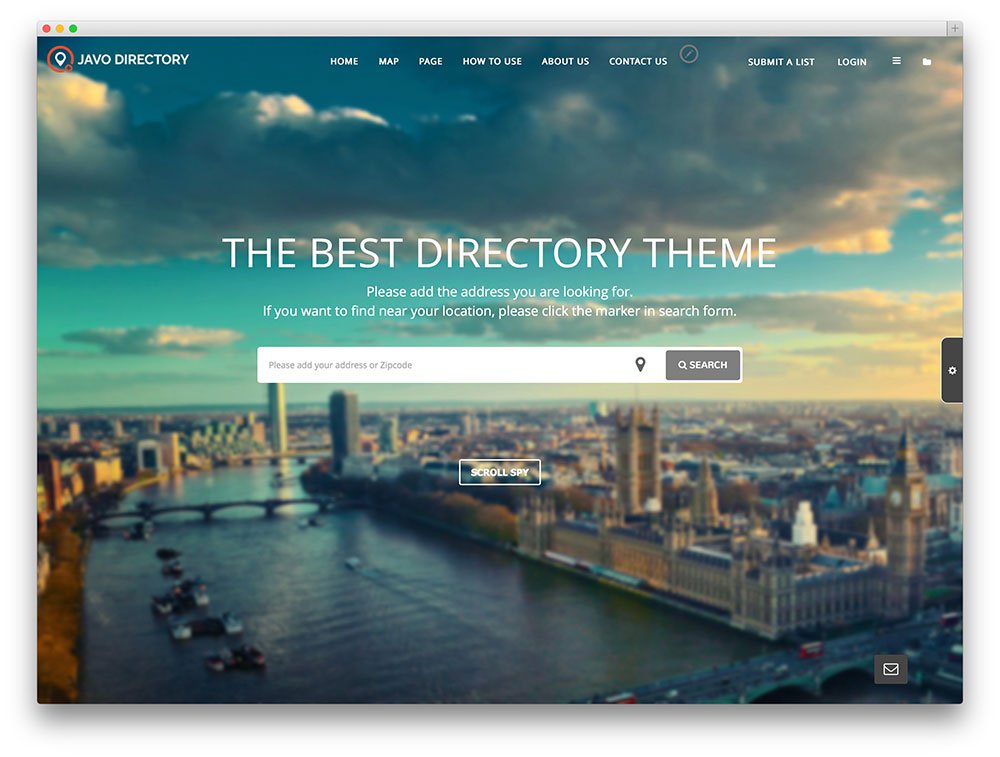 Javo est un thème d'annuaire WordPress moderne et impressionnant que vous pouvez utiliser pour créer un site Web d'annuaire ou d'annuaire engageant. Ce thème est conçu sur la base du framework Bootstrap. Il est exceptionnellement réactif à tous les appareils tels que les ordinateurs de bureau, les tablettes et les téléphones mobiles pour aider vos clients potentiels à accéder facilement à votre site Web, quel que soit l'appareil qu'ils choisissent d'utiliser. En outre, il est livré avec un design prêt pour la rétine pour offrir à votre public une expérience utilisateur impressionnante. Javo comprend une mise en page accrocheuse. Le large curseur d'image d'arrière-plan de la page d'accueil met en valeur les meilleures listes de l'annuaire afin de persuader les visiteurs de voir le reste de votre site.
Ce thème premium comporte un générateur de page frontale intuitif, glisser-déposer, optimisé par le plug-in Visual Composer pour créer facilement des mises en page personnalisées et y insérer d'innombrables éléments de page. Le plugin Slider Revolution est également inclus dans ce modèle de site Web pour vous permettre d'ajouter du contenu professionnel et dynamique et des curseurs d'image dans n'importe lequel de vos messages et pages, selon vos besoins. Bien entendu, un site Web d'annuaire n'est pas complet sans l'intégration de Google Maps. Les utilisateurs avancés de Google Maps aident les utilisateurs à trouver l'emplacement de l'entreprise qu'ils recherchent.
Les pages individuelles des listes attireront les entreprises car elles auront l'occasion de fournir de nombreuses informations utiles et des photos sur leur liste, tandis que les visiteurs pourront laisser des avis d'utilisateurs pour partager leurs commentaires avec la communauté. Enfin, Javo inclut la fonction de recherche facile AJAX, l'intégration PayPal, les boutons de partage social, les tableaux de tarification, la compatibilité multilingue (compatible plugin WPML), etc.
Superlist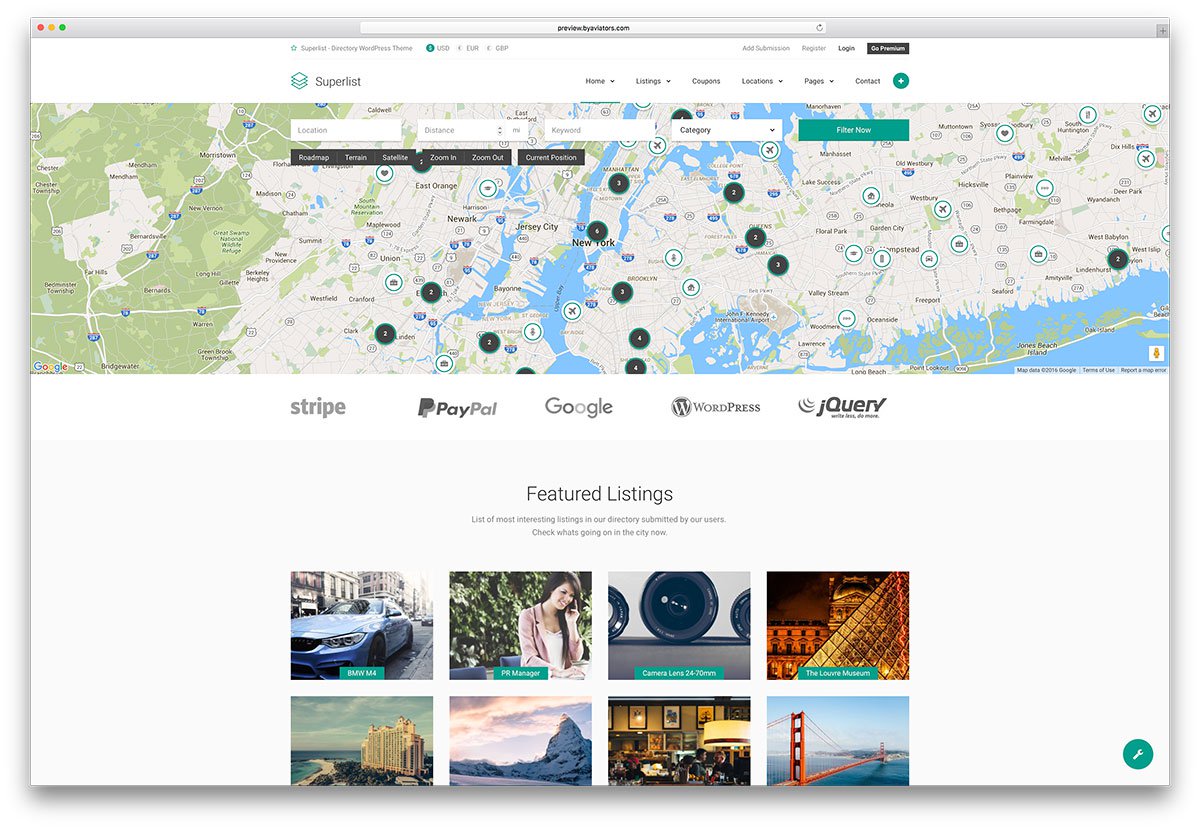 Plus d'infos / Télécharger
Point Finder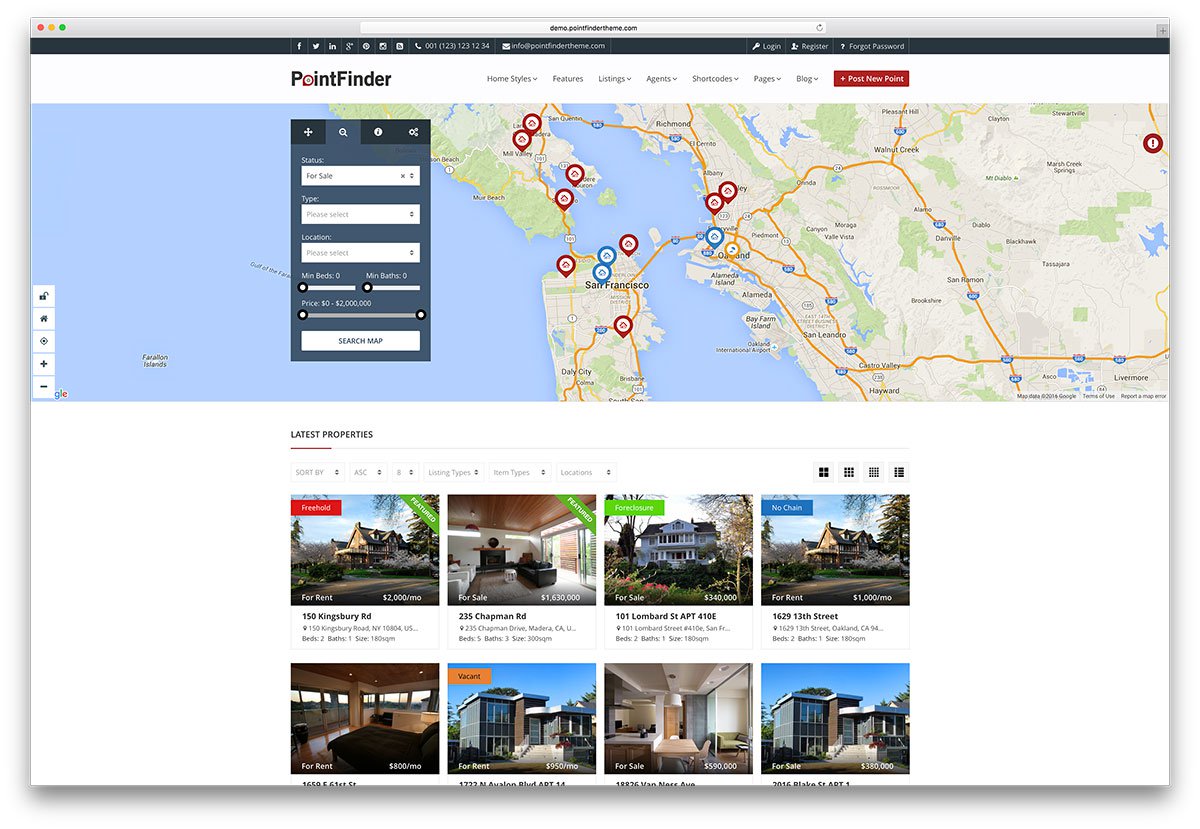 Plus d'infos / Télécharger
Répertoire par thèmes Ait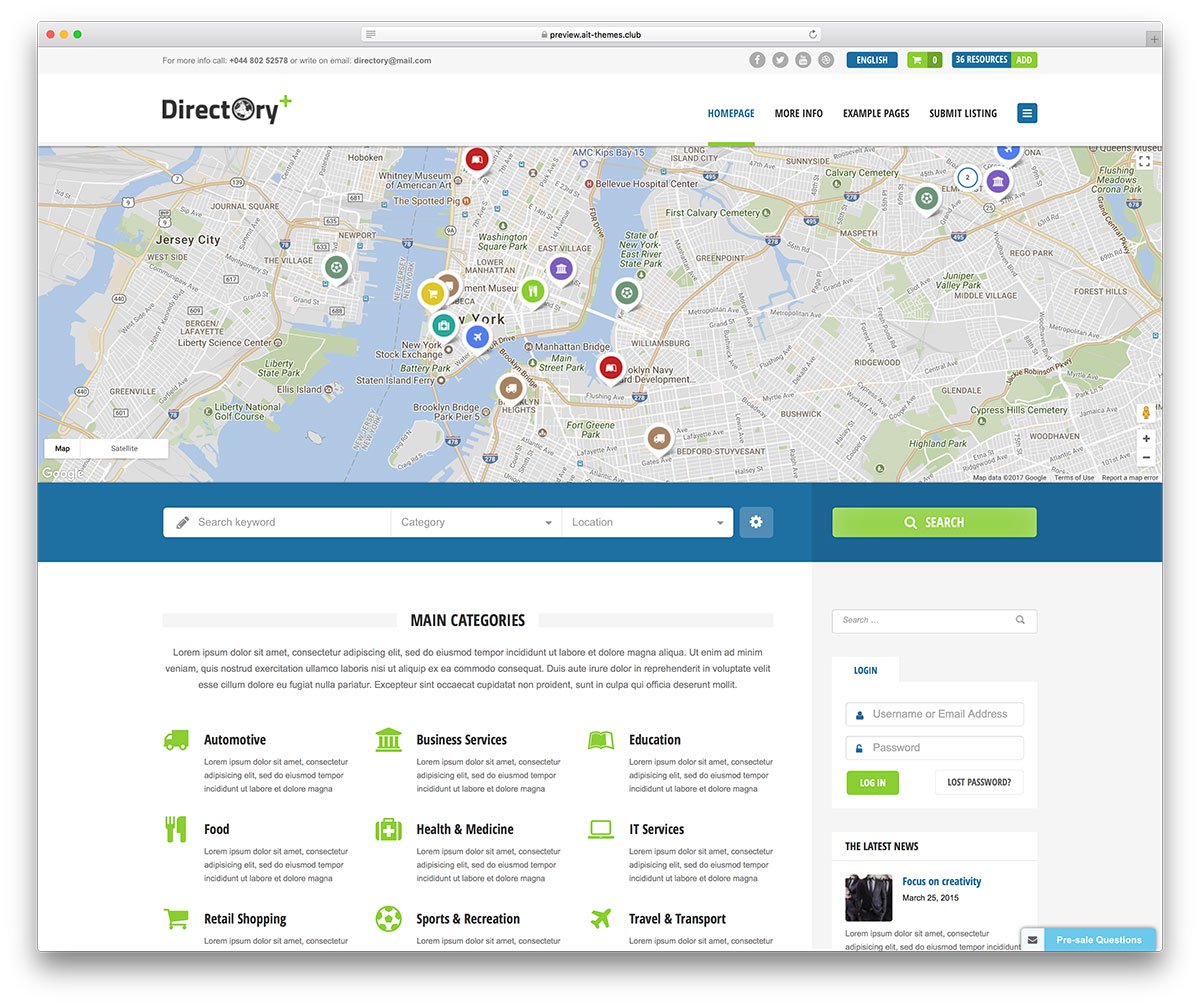 Le thème Directory est un concept de thème absolument unique, une première fois sur Themeforest avec une telle fonctionnalité. Vous pouvez facilement configurer un portail de répertoires en ligne répertoriant les éléments classés par tout type (sociétés, magasins, sites Web, etc.). Nous avons passé beaucoup de temps à développer le thème car beaucoup de choses ont été changées plusieurs fois pour que tout soit correct. Le thème comprend également Easy Admin qui simplifie l'administration des éléments. Les utilisateurs ne seront plus perdus dans le backend de WordPress. C'est de loin le thème de l'annuaire le plus vendu avec plus de 15 000 achats.
Ce thème est absolument magnifique avec des fonctionnalités incroyables pour créer un répertoire professionnel et unique. Les mêmes développeurs affirment avoir rendu ce thème encore meilleur en publiant Business Finder, que vous pouvez trouver ci-dessus. Ce thème comporte de nombreuses fonctionnalités exceptionnelles, mais le plus impressionnant est l'intégration de WooCommerce pour monétiser vos annonces en vendant des biens numériques et physiques. Thème de répertoire peut être utilisé comme eStore dédié mais son meilleur usage est de créer des sites Web commerciaux ou autres.
Business Finder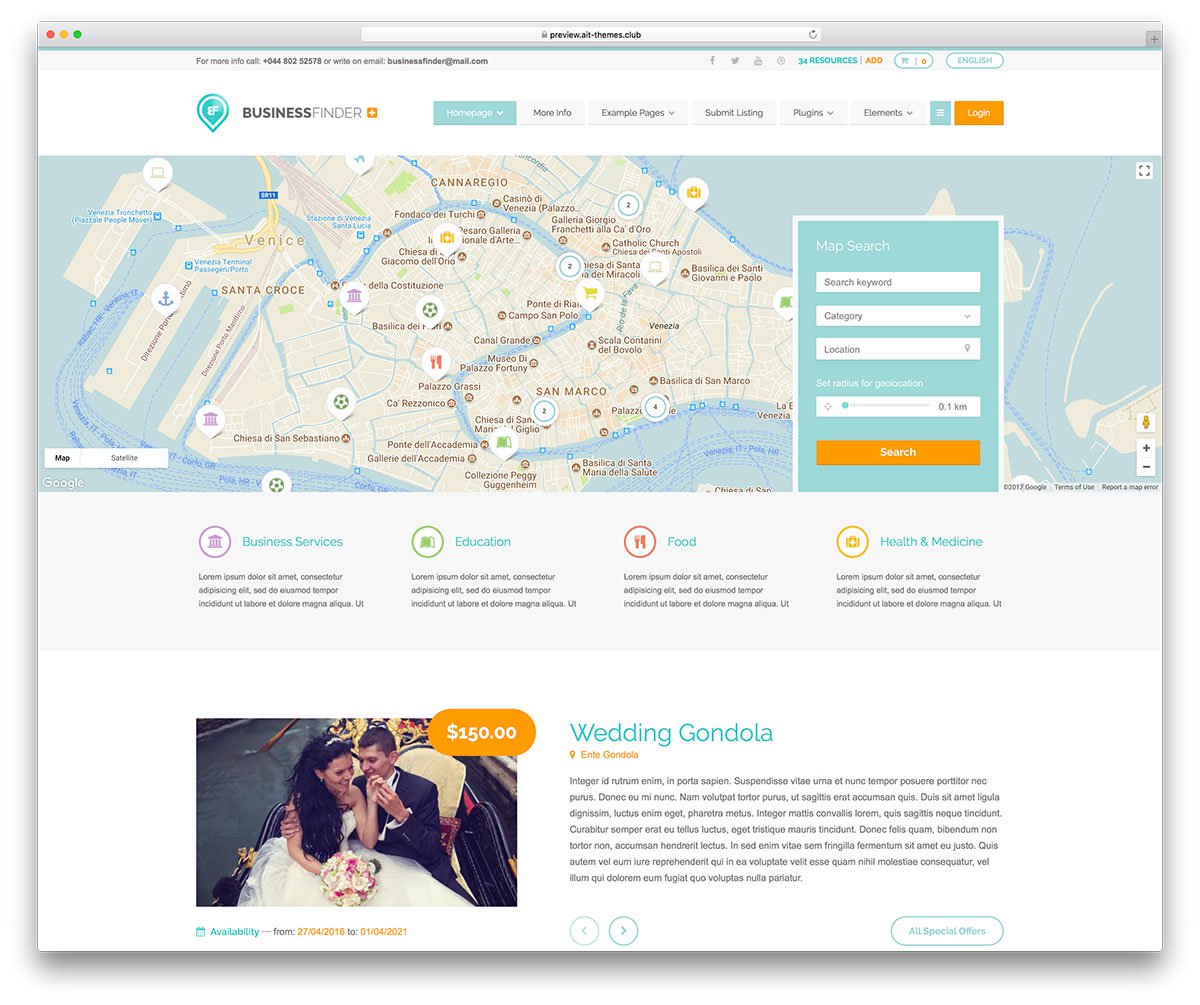 Le thème Business Finder est un thème tout à fait unique, inspiré par les très réussis développeurs de thèmes de répertoires que nous avons publiés il y a quelques mois et qui deviennent le thème le plus vendu de ce type. Ce thème est entièrement compatible avec le thème Répertoire, vous pouvez basculer entre les thèmes sans perdre vos données. De nombreuses fonctionnalités ont été ajoutées en plus de la fonctionnalité de thème Répertoire, ce qui rend le thème Business Finder encore meilleur. Le thème comprend Easy Admin qui simplifie l'administration des éléments. Vous pouvez également toujours consulter la documentation du thème ou poser des questions aux développeurs.
Business Finder a un système de paiement sécurisé intégré pour ceux qui cherchent à créer un répertoire de référencement payant. Ce thème peut être utilisé avec Google Map en plein écran pour les listes de localisation ou vous pouvez choisir entre d'autres options telles que le curseur de révolution, l'image statique ou le texte simple. Ce thème permet de créer un portail de répertoire en ligne pour les entreprises, les magasins, les sites Web, les concessionnaires automobiles, les emplois ou toute autre chose. Le thème Business Finder est hautement personnalisable et il existe une infinité d'options pour ajuster les fonctionnalités et la conception. Ce thème est devenu le thème le plus vendu grâce à son design épuré et à ses fonctionnalités exceptionnelles.
UrbanGo

UrbanGo est un thème d'annuaire WordPress avec une multitude d'options et d'opportunités pour concrétiser votre idée et vous aider à atteindre les résultats que vous visualisez pour votre projet. Tout d'abord, aucun travail de codage et d'expert n'est nécessaire. Cela signifie que tout le monde peut créer un répertoire ou un site Web de listage, qu'il soit de niche ou général. En plus de cela, l'outil est également 100% personnalisable pour vous permettre de le modifier selon vos préférences.
Des listes personnalisables, un tableau de bord utilisateur soigné, une recherche avancée, Google Maps, ainsi que des formulaires de connexion et d'inscription sont d'autres caractéristiques de cet outil. En outre, vous pouvez également introduire des annonces sponsorisées et des plans tarifaires, voire étendre votre plate-forme en ligne avec une boutique. UrbanGo inclut également un grand ensemble de codes abrégés pour accélérer le processus d'ajustement de l'aspect par défaut et l'adapter à votre situation.
Thème d'annuaire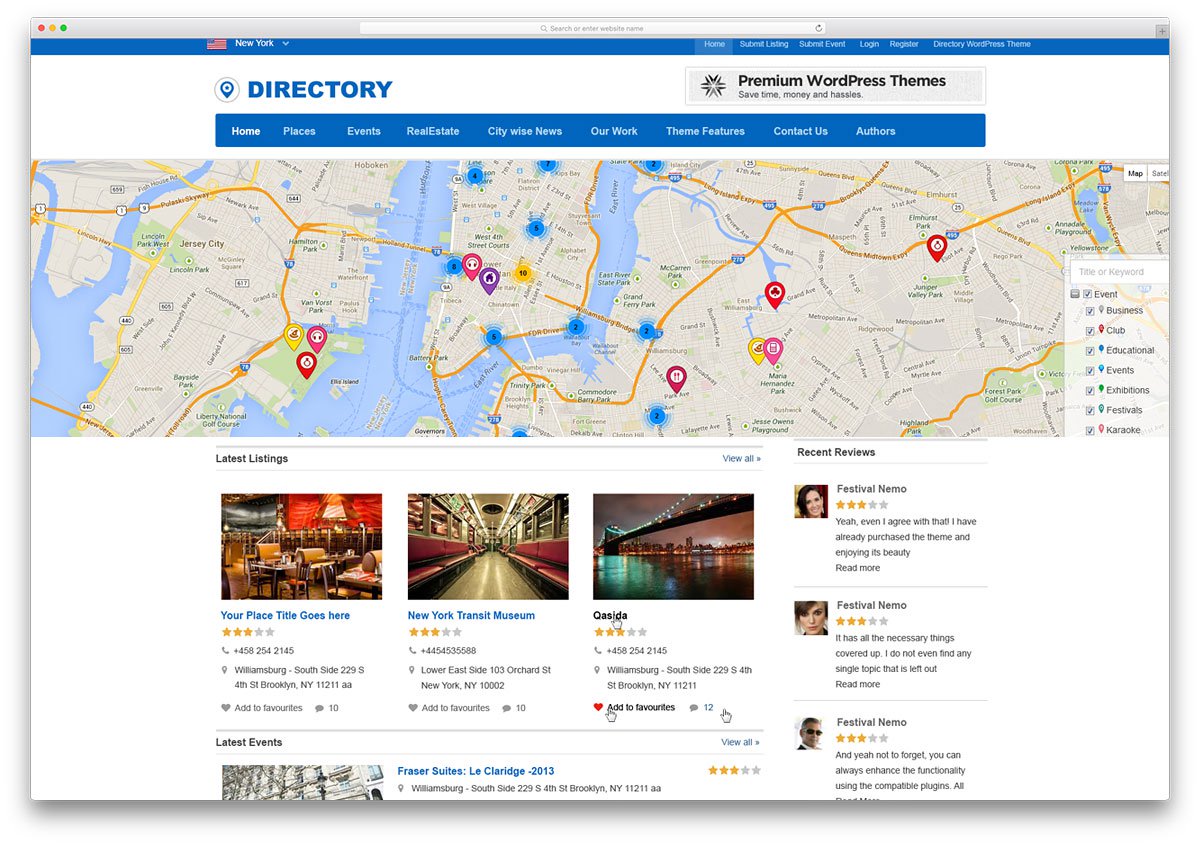 Plus d'infos / Télécharger
Annuaire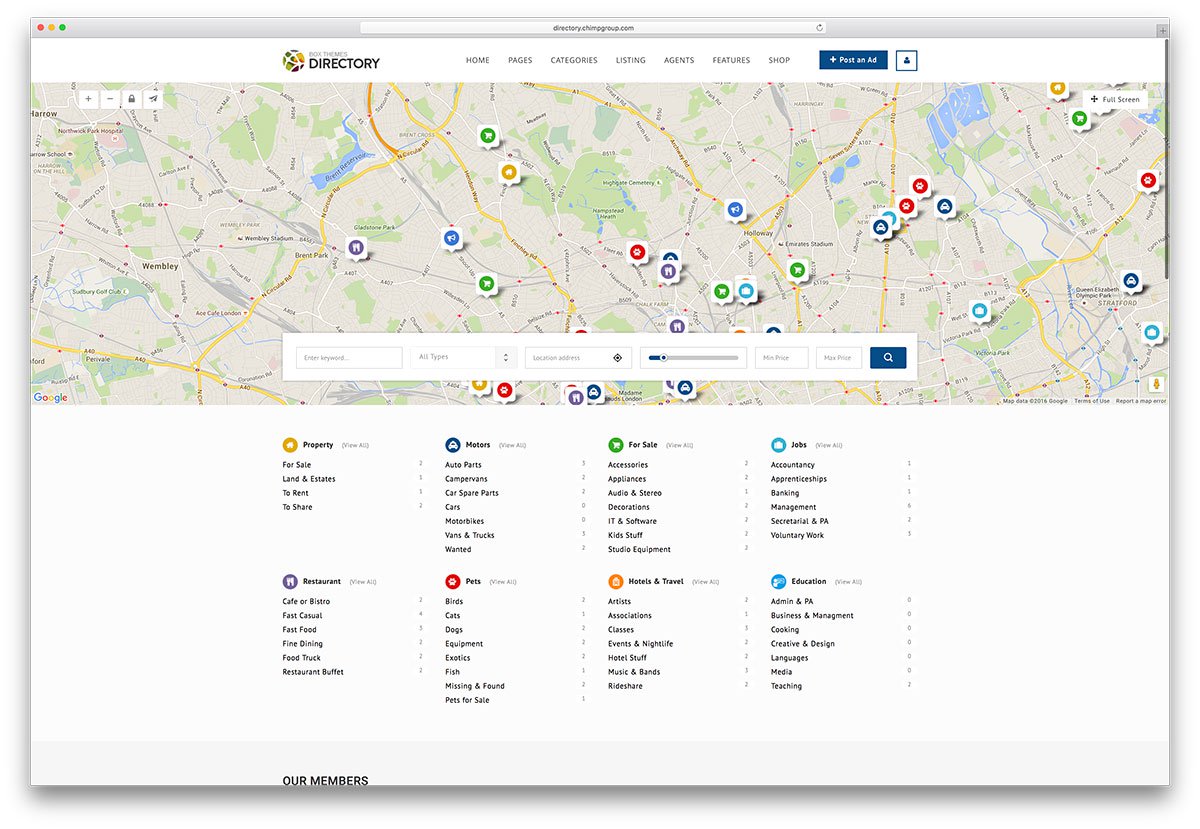 Plus d'infos / Télécharger
Annuaire des entreprises par Templatic
More info / Download
Splendor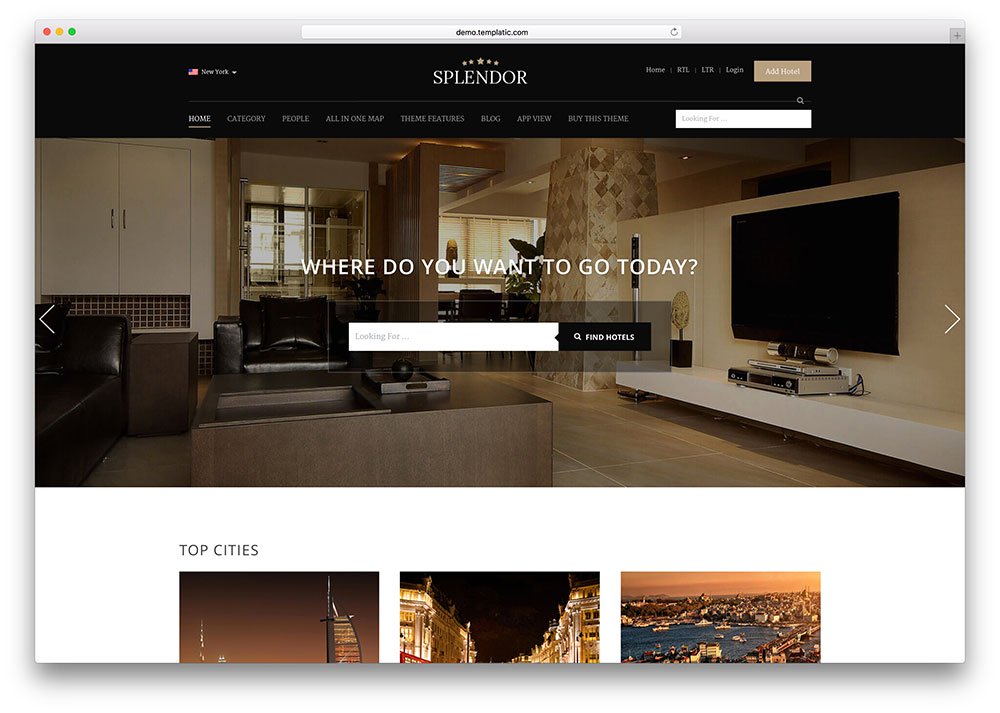 More info / Download
Listings by Templatic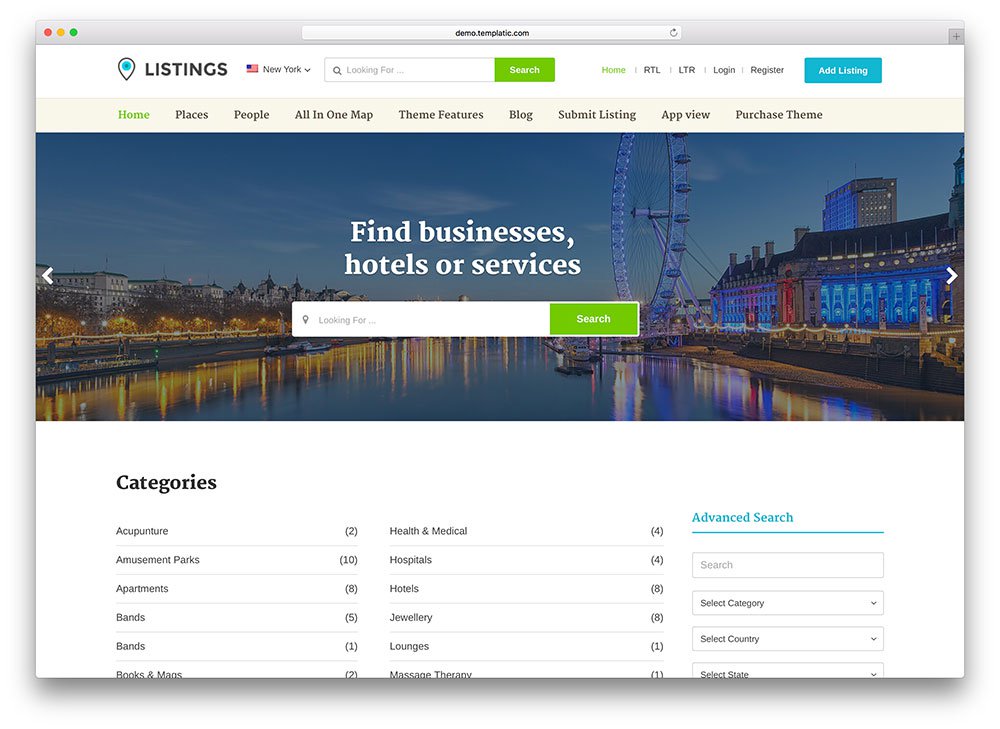 Practical and well-designed, Listings is a WordPress theme that allows you to create a profitable, global or local, business directory portal. Installation is very easy, considering the inclusion of an Easy Install feature. Once you implement the theme, you can choose to press a button, and import the theme demo. It will handle all of the heavy lifting, including the configuration, and the addition of content examples.
Listings will facilitate your entry in the business world, as you can easily establish an online site for business listings. There is no niche restriction, and you can adapt to any market. It is both practical and user friendly, and the difficulty curve is quite low. It is fully responsive, making sure to look amazing on any platform. However, most themes are responsive nowadays. What sets Listings apart is the presence of a specialized mobile app-view option. Users that have this application will experience the site as an app, not just as a responsive site. You don't have to buy the theme in order to try it out. You can always test the theme demo, and see for yourself.
At the end of the day, Listing's ultimate purpose is to increase your profit margin. In a hyper-competitive market, it is your greatest ally.
Lisner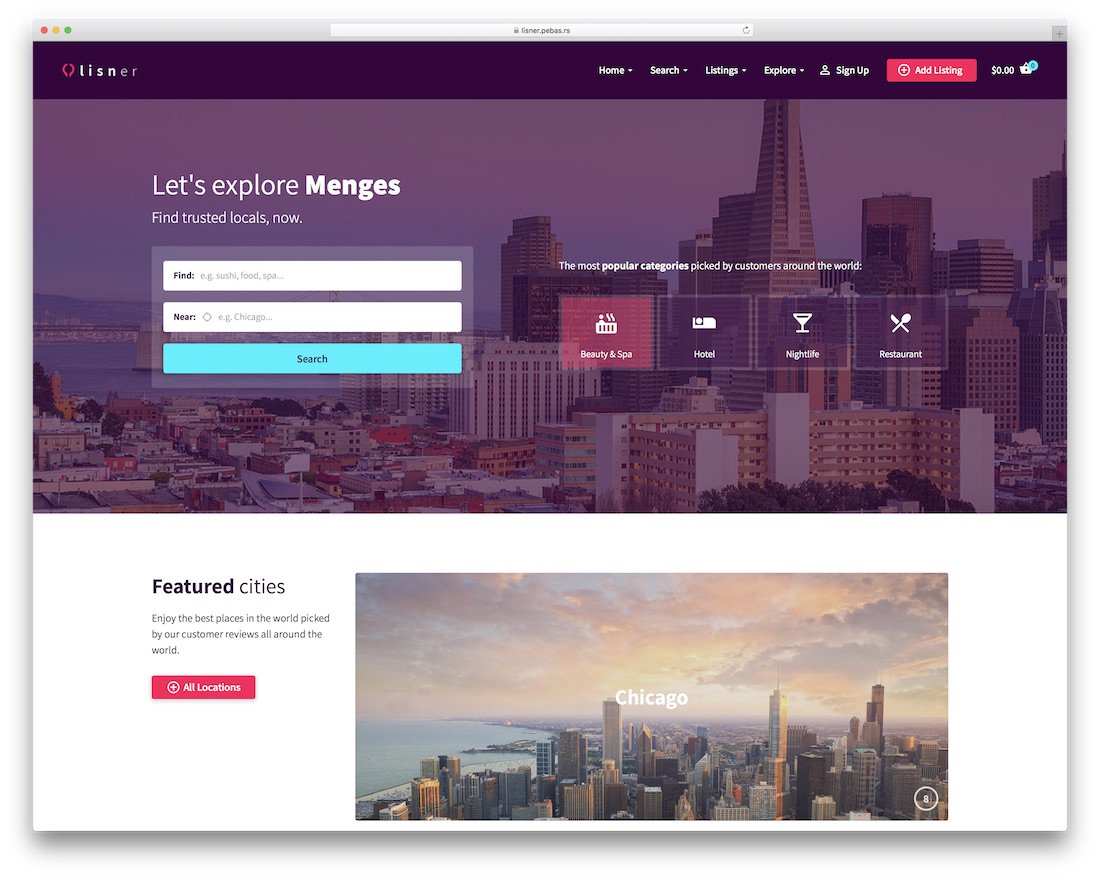 It is all in the theme – with Lisner, you can publish content on your own website in a few steps. This is the best directory WordPress theme you can find, as it does more than just drag and drop. Listing is king with this builder, which is why it strongly emphasizes on typography and website structure. Lisner is very intuitive, mobile-friendly and responsive so you and your customers can appreciate your website's visuals. Especially when it comes to mobile use, Lisner ensures an app-like experience with numerous features.
You will also add WC bookings to ensure interaction from customers. Sell your or other's products effectively by adding coupons and deals. Lisner also follows all the latest SEO practices and other web and tech regulations. Watch out for future updates from Lisner!
DWT Listing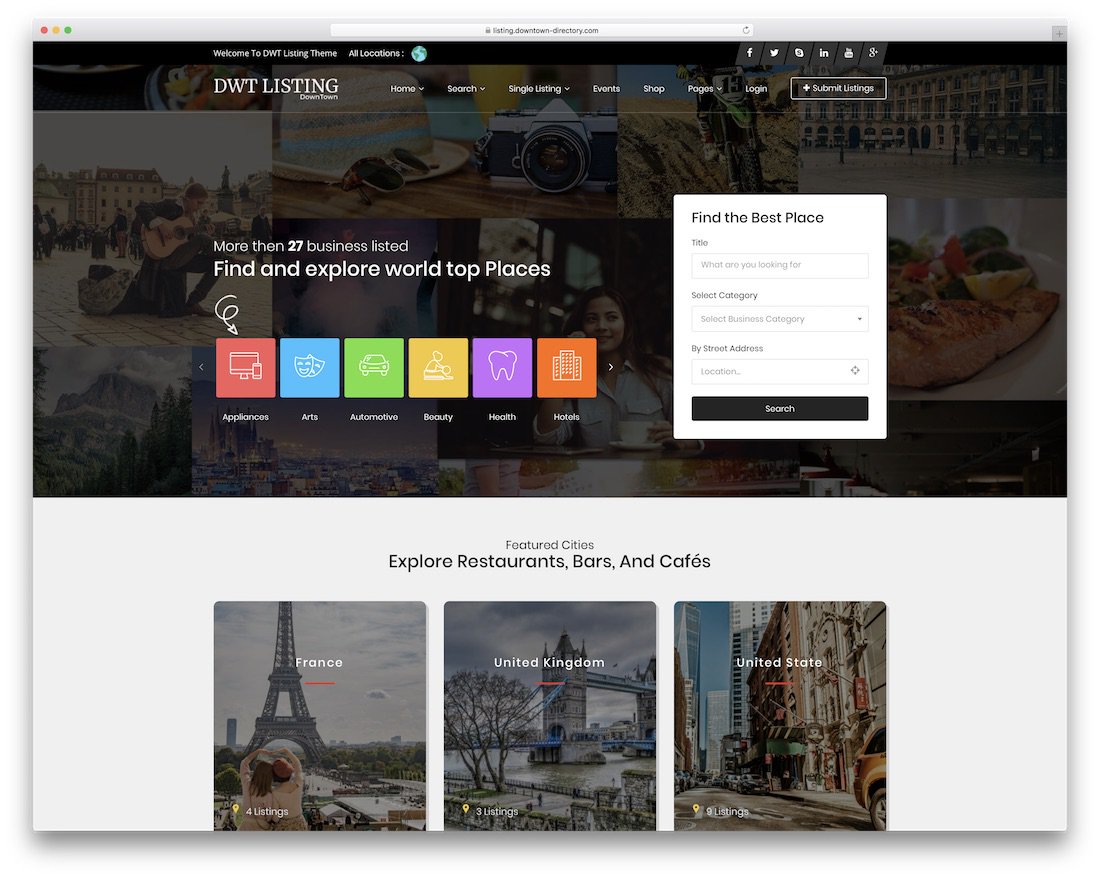 Basically, a background in design may be necessary to execute a slick website. On the contrary, DWT Listing, the best directory WordPress theme, has an arsenal of tools to back you up. Indeed, when working with DWT Listing, it will never ask you to have any prior experience. Publish a sophisticated, out of the box website from scratch, no coding, nor designing experience needed. With this theme, everyone would think you're a pro, as it actually does all the work for you.
All you need do to is choose from eleven pre-made demos, incorporate elements and you are pretty much good to go. You have a responsive website which is, by the way, fully operational, ready to take your directory to new levels of success. Adored by developers worldwide, DWT Listing lets you experience first-class treatment.
Wilcity

Let your prospects locate you 100% of the time with Wilcity, a listing theme that is perfect for multiple purposes. As the best directory WordPress theme, it has characteristics that fundamentally manage your clients' bookings and lets you earn income from promotions. Wilcity has a bountiful collection of templates which are appropriate for your taste. Share more details about your website by adding amenities like requests, reviews and dashboards. With SEO and social media tools, you can reach out to prospects more efficiently and experience solid growth of your online platform.
Specifically made for organizers, Wilcity lets you add unlimited directory types without any issue. Contact their support team, available all the time, if you have any additional questions. In brief, with a simple to use WordPress theme like Wilcity, you will have a ton of fun setting up the desired online presence of your directory project.
Eventum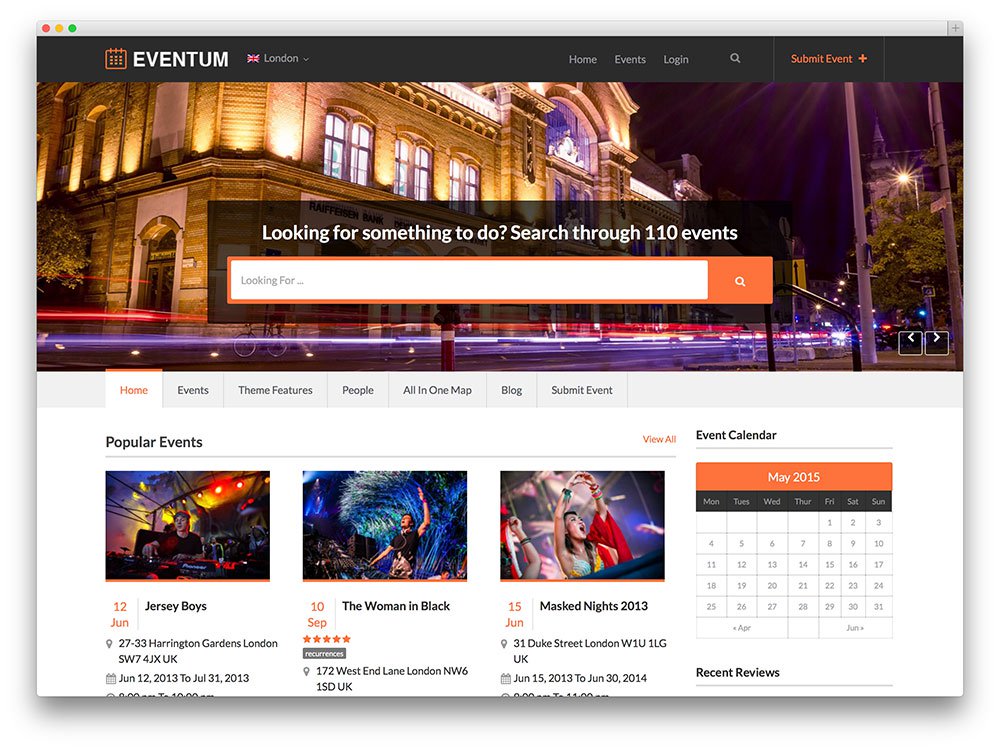 Eventum is a well-designed WordPress theme. You can organize online event portals to attract many visitors. The creators streamlined and refined this product, resulting in an experience that is both superior and user-friendly. You can also access a live Demo of this theme. You can let the sales team guide you through the installation process. They will greet you with a warm, friendly attitude. Moreover, Eventum eliminates incompatibility issues, promising to be fully responsive. Additionally, it works great on any device.
Due to the inclusion of the practical, clients may now set up incredible events: It is not difficult to organize gatherings that occur on a regular basis. Regardless of their frequency, Eventum can properly promote them. Your site followers have the option to create their own events. There is even an RSVP option on your page, for users to confirm their participation. This theme can synchronize with your social media profile, increasing the number of potential followers for your page. Both you and your visitors have the option to post on Facebook. You get to choose the size of your page. Using the Directory platform, you may establish a small directory site, or a massive online portal with events, classifieds and standard listings.
Monetization is the ultimate goal of any successful web page. You may charge for content submission, as you seek to improve your bottom line. Eventum has a versatile toolset which allows owners to offer many payment plans such as recurring fees, subscriptions and trial runs. This payment flexibility allows you to appeal to many target demographics. There is a very large number plugins. You can add more plugins if you wish to expand your site's functionality.
DirectoryEngine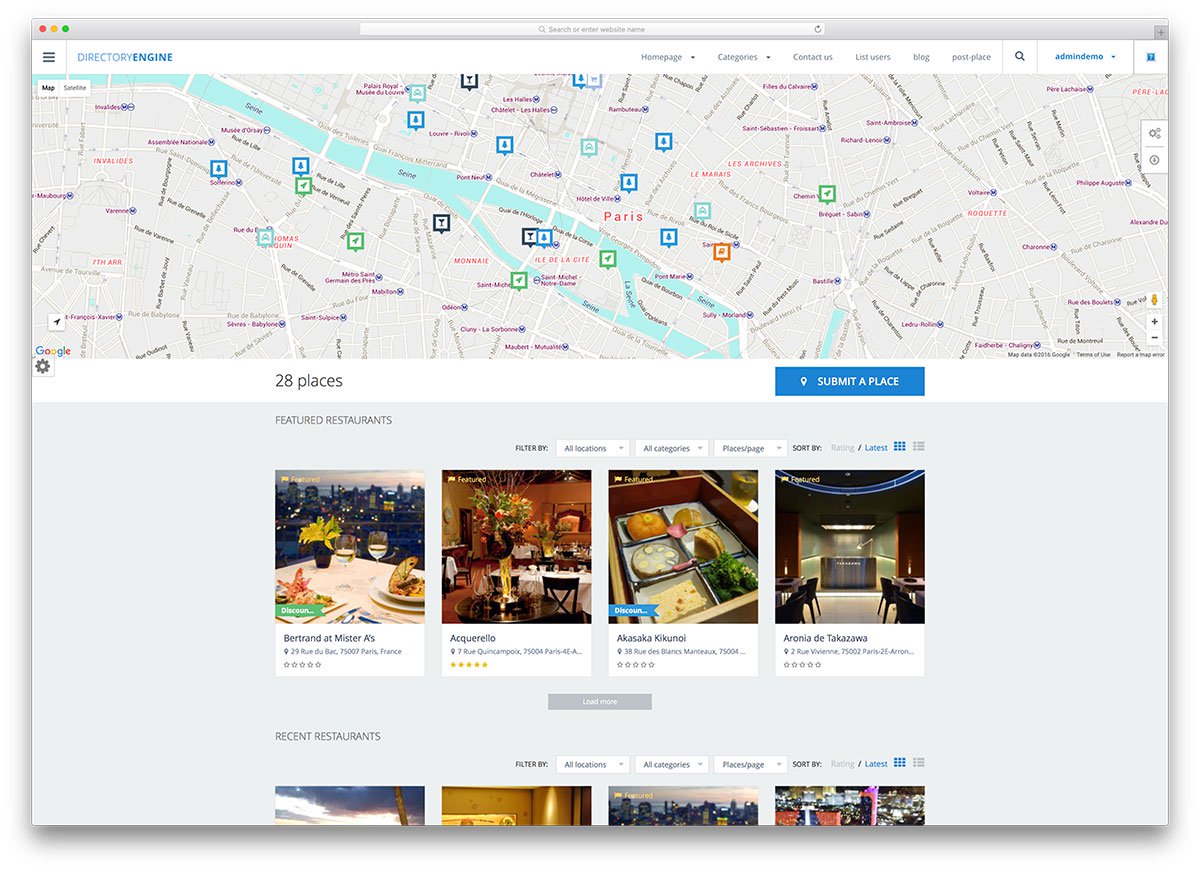 More info / Download
DiningEngine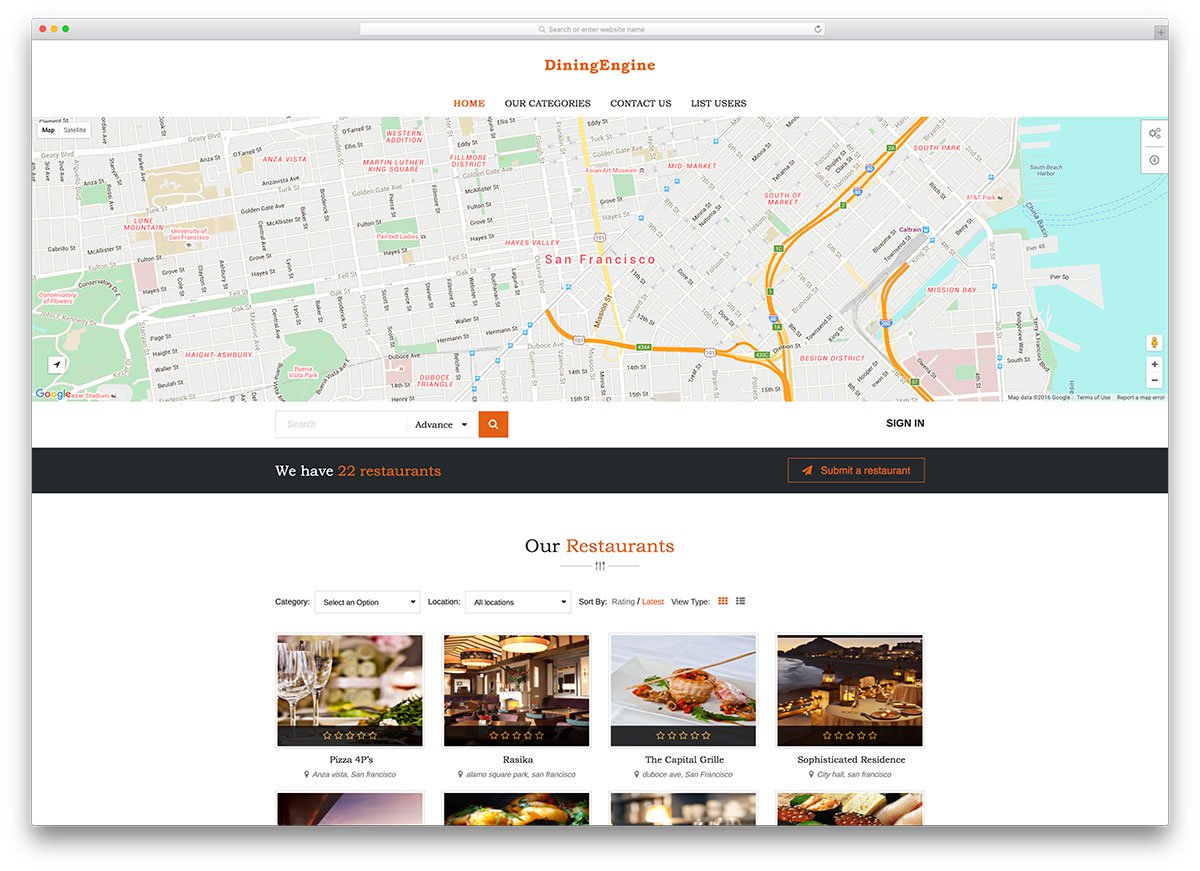 More info / Download
EventBuilder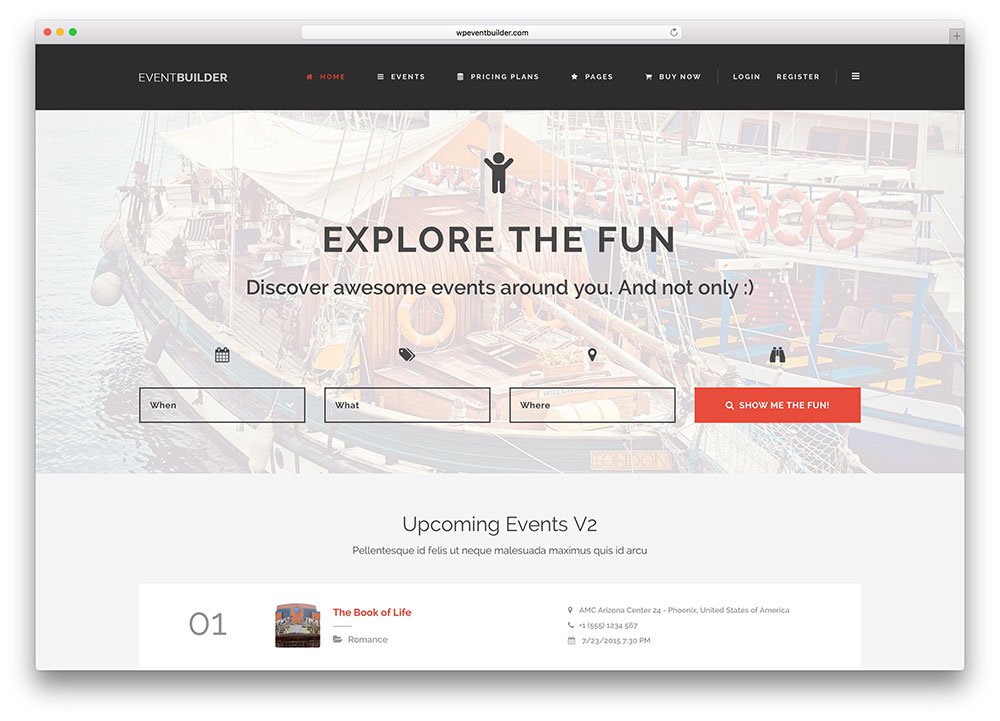 this detailed review.
Annuaire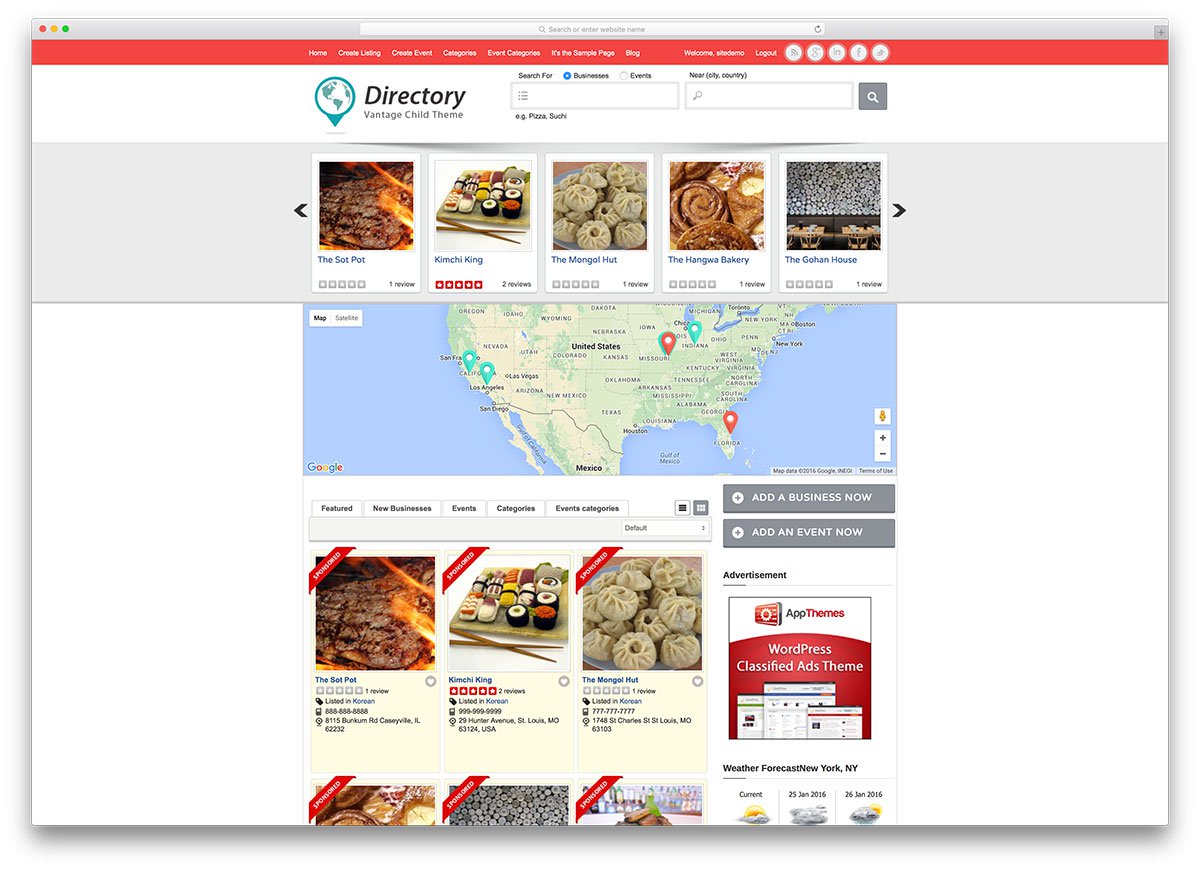 More info / Download
Cityo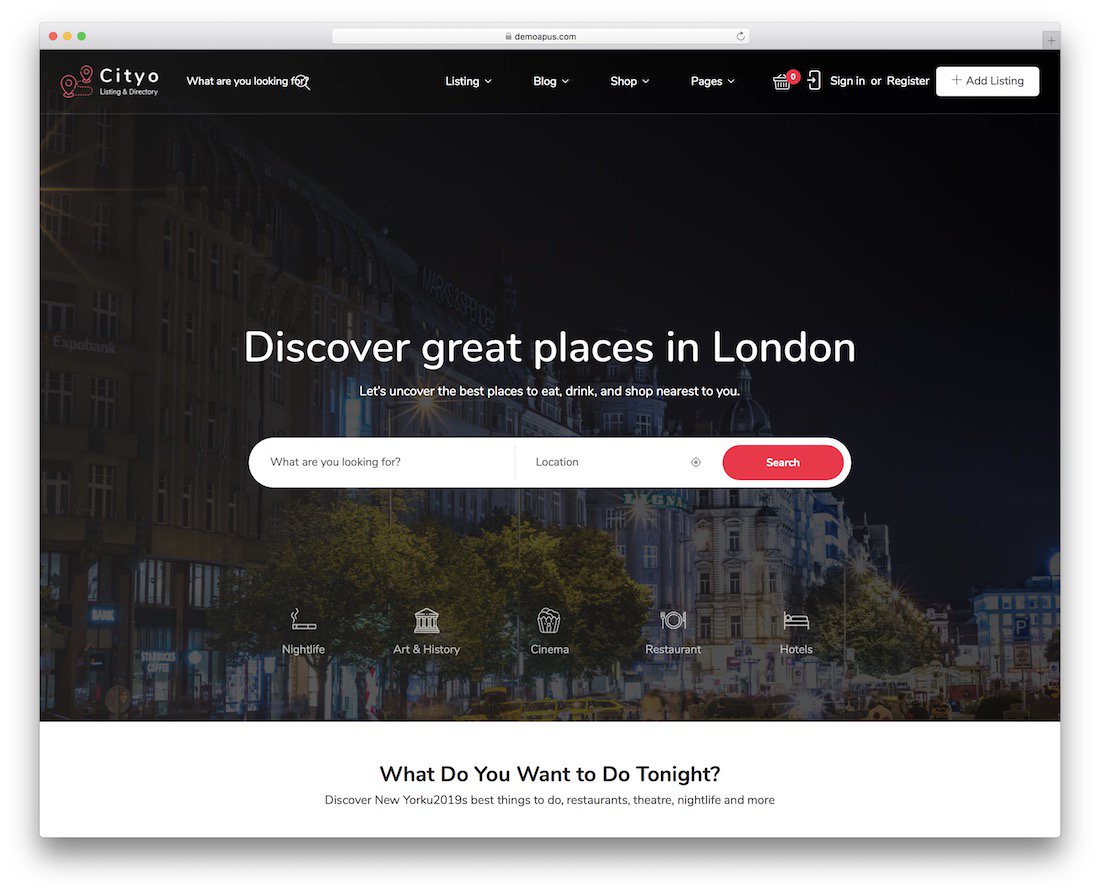 Cityo is a multi-functional directory WordPress theme for cities, hotels, restaurants, beauty salons, museums and events amongst many others. With the included five demos, you can go after creating any type of directory page you want. It is your imagination that is the only limitation that is holding you back. That said, go as creative as you want; after all, there is no necessity to know how to code when using Cityo. Everyone can effortlessly get the most out of Cityo thanks to Elementor page builder.
Moreover, Cityo comes with dope listing pages, over forty custom elements for Elementor, WooCommerce plugin integration, image lazy load, header/footer builder and Google Maps or Mapbox. Cityo is also regularly updated, making sure your website stands the test of time. Start on the web with a striking directory and boost your project to extremes with Cityo.
Meraki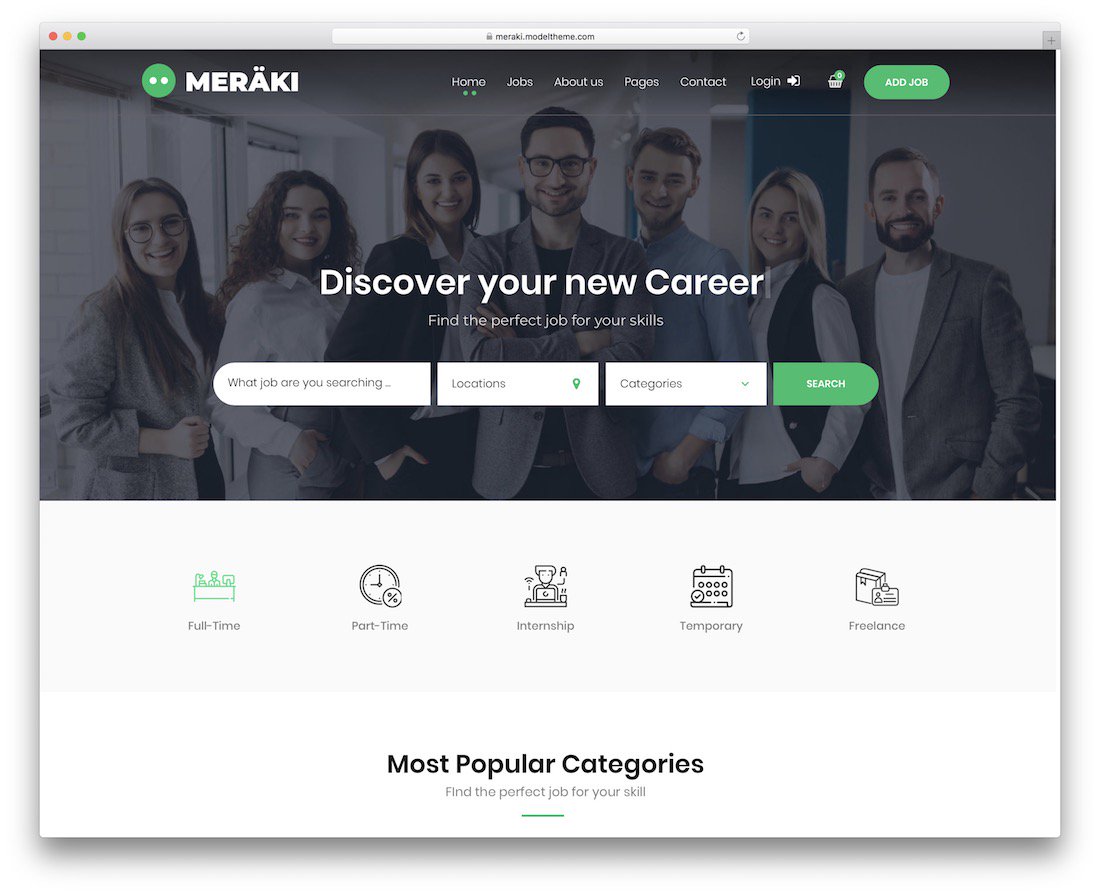 Meraki is an exclusive directory WordPress theme for job boards. The tool comes packed with countless features, layouts and extensions that will take care of the majority of work for you. In other words, all you need to do is to fine-tune the design, making it follow your branding regulations and you are ready for the launch. With a page skin like Meraki, the whole process actually is that simple. Needless to say, Meraki will never ask you for any web development knowledge and skill. Coding happens visually with Meraki.
Other goodies include free and paid jobs, recruiter page, single resume layout, Google Maps, front- and back-end listing submission, unlimited colors and mega menu. Even if you are dealing with this kind of stuff for the very first time, you are in safe hands with Meraki. Bear in mind, documentation and friendly support team are also available for you to never run into an issue.
Workreap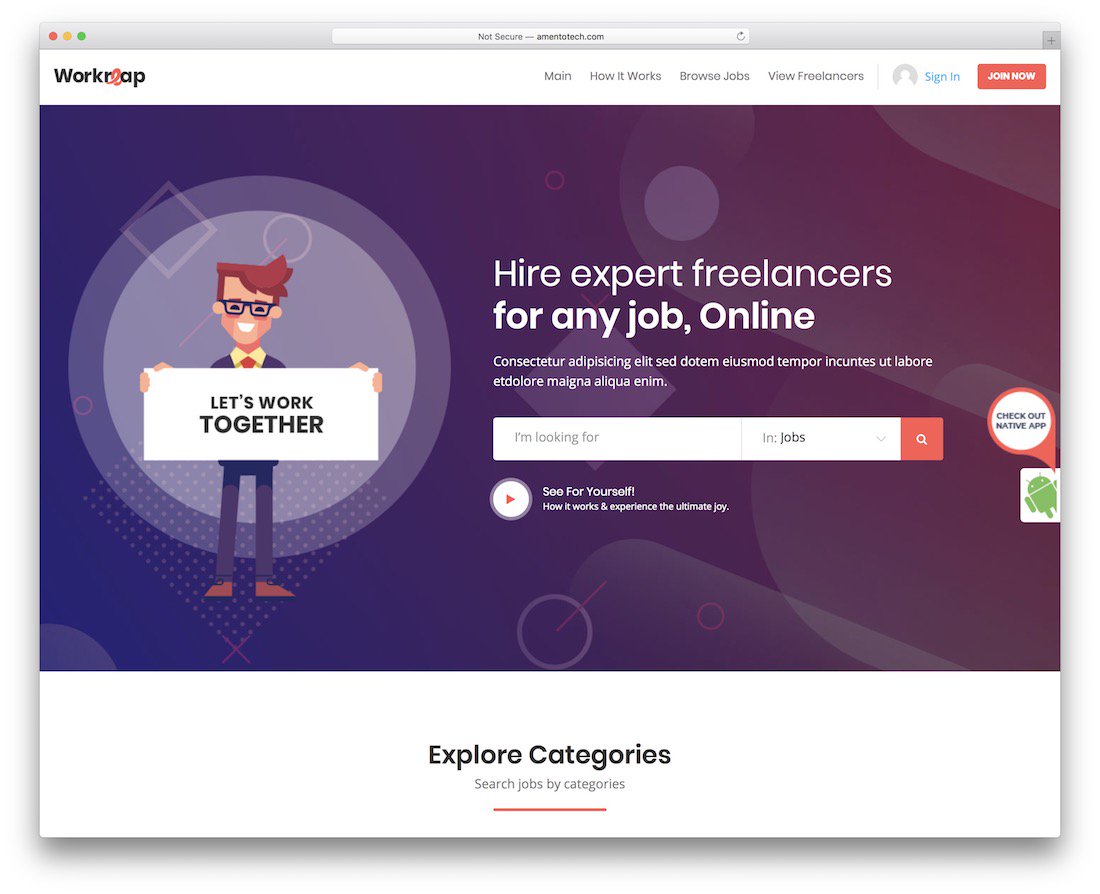 While there are already quite a bunch freelancer marketplaces out there, you might be interested in starting one, too. With Workreap, a sophisticated and easy to use WordPress theme, you can now hammer out one in a quick breeze. Whether you would like to go super niche or general, with Workreap, you can create any kind of marketplace for freelancers you fancy.
Workreap has two main home page demos which are accompanied by several other internal sections. In short, once you browse through the whole collection of features and functions of Workreap, you will immediately let loose; all the content is there and you do not need to search for any more feature anymore.
The terrific Workreap contains one-to-one chat, wallet system, micro services for freelancers, Elementor, amazing navigability, social login and a full-blown review system. With future updates, you can also expect tons more predefined layouts and functions that Workreap will bring to the table.
Business Directory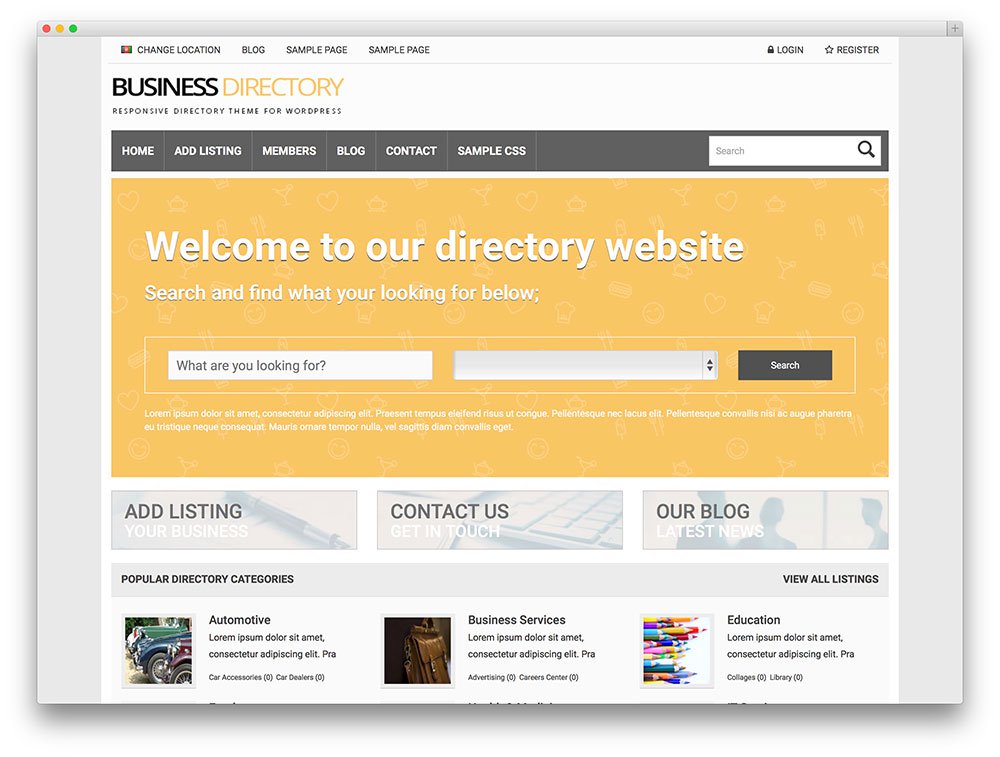 The Business Directory theme from PremiumPress is packed with nice features and customization options that eases your site creation. The creators coded this theme in HTML5 for better multimedia integration and more animation capabilities. Business Directory runs efficiently on almost every browser out there as well as mobile platforms, provide faster load times and smoother integration with third-party applications. Business Directory theme is ideal for both novice and seasoned developers as it comes with a user-friendly admin panel and drag & drop page builder that lets you build your theme easily. This theme has built-in user location setups, distance calculators, zip code searches, radius searches and on/off Google Map listing enhancements.
This directory theme allows you to setup as many packages as you like each with their own pricing options. You can decide on which have which feature enhancements such as image uploads, image space, HTML descriptions, Google map display, visitor graphics, top of category and featured. Besides, it has a built in user membership system that enables you to restrict page access. You can also limit content displays to different membership types and charge a single recurring payment for multiple listing submissions. This theme allows users to have their own space where they can manage their directory listings and adjust their payment details.
Moreover, the theme includes a user commenting system with a star feedback rating and website contact forms. It lets users communicate their thoughts freely and effectively. They have 20 different payment gateway plugins, which allow you to add-on new payment options so you can accept payments online. Finally, they built this theme with best SEO practices to make sure that your directory site will gain more traffic and rank well on Google.
Diamond
Diamond is a gorgeous directory WordPress theme suitable for directory and eCommerce needs. Its stunning full width layout and full screen background images ensure that your directory listings website stands out from the competition and mark a positive first impression to your target audience. This theme to responds to any device your visitors prefer to use. Diamond also comes with 4 unique layout designs for different purpose to help you setup your website in no time. Its homepage is widget ready to help you develop personal business website, online store or directory portal without difficulty.
This theme has an easy to configure parallax slider on the homepage that enables you to change the transition effects, pace of sliding and so on. It has a Directory Module that eases up the job of listing different types of products or businesses in your website. They integrated this theme with Google Maps so that visitors could easily find the actual location of your business along with listing. Diamond uses the powerful ZOOM Framework that gives you an absolute control of some theme details such as colors, fonts, custom logo, backgrounds and many more. This theme is compatible with WooCommerce plugin to help you set up an online store with just few clicks. Promoting or selling products related to the content of your directory such as maps, branded goods, or guides simply means that you will never be short of ways to generate income from your website.
Responsive Directory Theme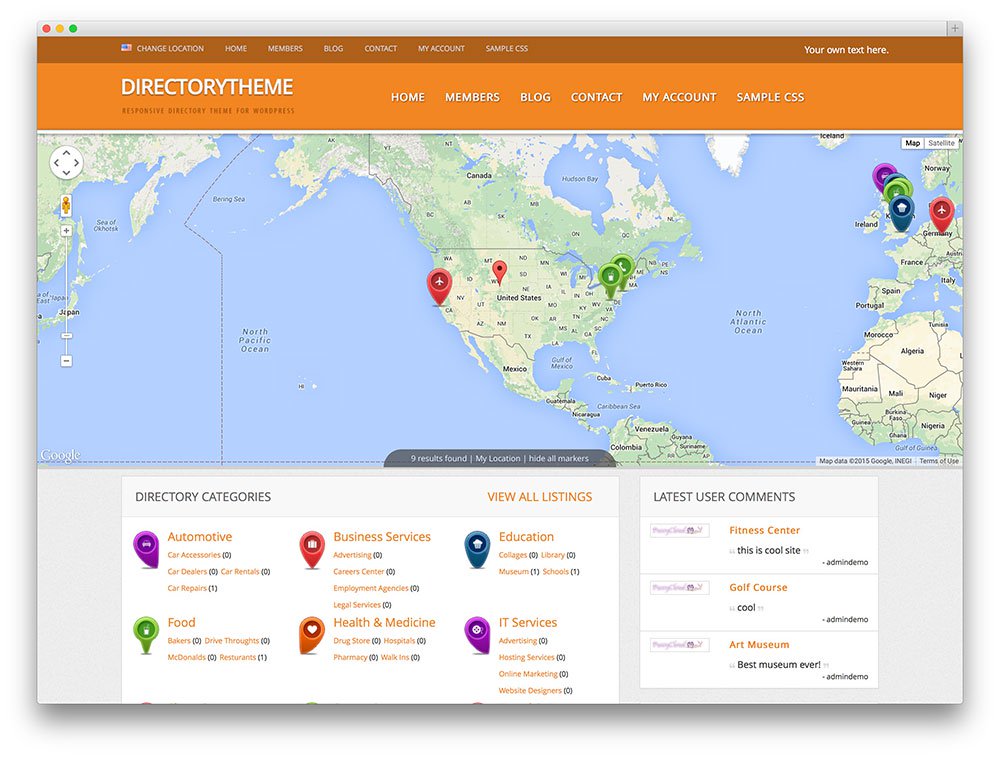 The Directory Theme from PremiumPress is loaded with amazing features that make setting up and managing a large directory site with WordPress a breeze. The creators coded this theme in HTML5 for more advanced multimedia integration and animation capabilities. Additionally, this theme runs smoothly on almost every browser out there as well as mobile platforms. This feature provides quicker load times and smoother connection to third-party applications. You can effortlessly customize the layout of your homepage using it's drag and drop page builder. You can use this to create different homepage layouts such as categories, text, Google maps and the rest.
Likewise, you can straightforwardly customize your website and change the logos, colors, graphics, etc. Using our built in admin control panel, you can choose the colors and layouts of your choice. This includes website pages, menu bars, buttons and so on. Some notable features added in this theme are:
Custom Homepage Setup,
Customizable Listing Packages,
Advanced Search Fields,
Customizable Membership
Packages,
Member's Area
Management Tools,
Custom Menu Options,
Claim This Listings functionality and many more.
Moreover, this directory theme from PremiumPress supports over 20 payment providers PayPal and recurring PayPal payments. You can view all orders in the admin area where from you can also issue invoices and print them. Furthermore, they built this theme with best SEO practices in mind to ensure that your website will get more traffic and perform well on search engines.
Nightlife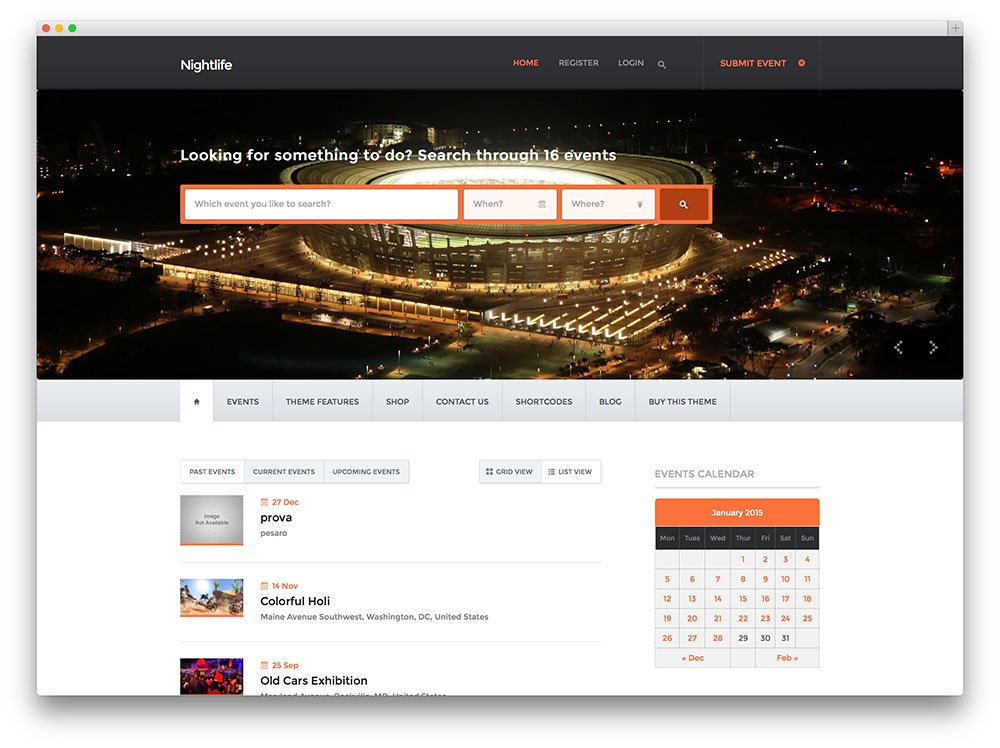 Nightlife is a powerful directory theme that will allows you to fully control all your created events, posts and pages. Great thing about Nightlife is that enables both you and regular visitors to submit content. On top of that, the theme is entirely responsive, meaning it will look great on pretty much all screen sizes. Nightlife also features the Tevolution plugin which comes bundled with the theme. Moreover, Nightlife theme is multilingual, translation and SEO friendly to expand your business globally. It features a simple and easy to use filtering option to sort events based on location, time and date. Awesome, right?
ClassifiedEngine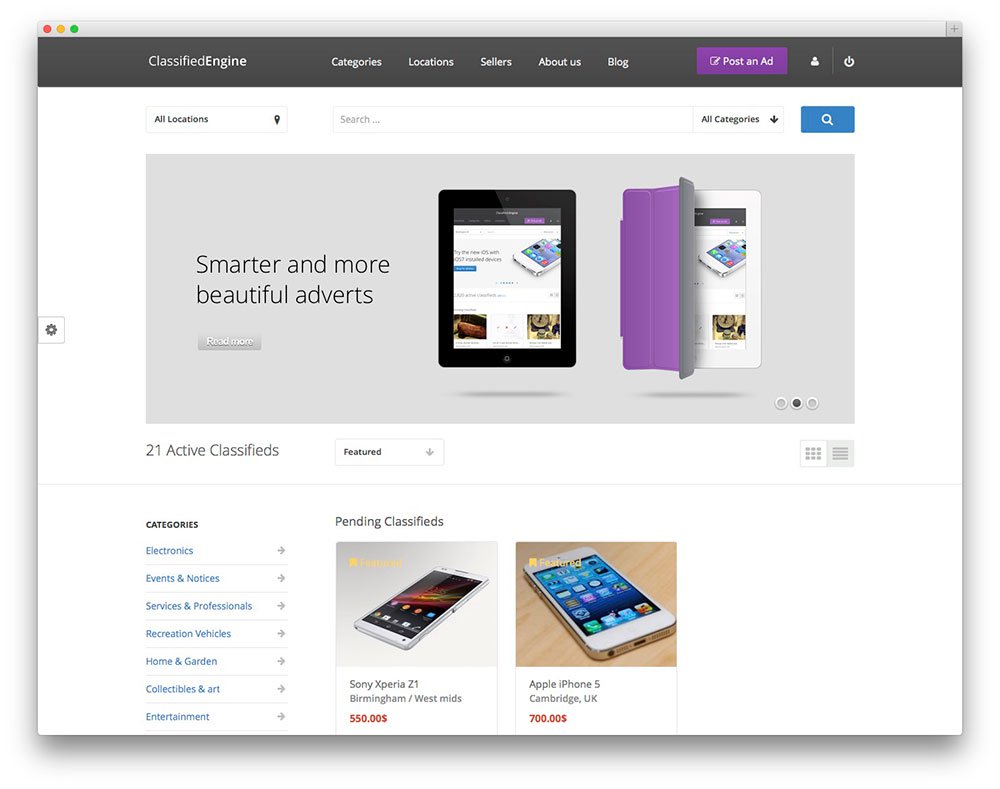 ClassifiedEngine is an impressive and modern directory theme from the EngineThemes. The developers designed this website template with users in mind and bundled it with the most powerful theme features. They also created this theme to help you monetize your website. You can now accept PayPal, Cash or Credit Card payment for premium posting ads using its advanced features. It also comes with tons of options like Ads Subscription Widget, Featured Ads for paid users, easy ad searches, seller dashboard, pricing settings, Google Adsense options, custom Facebook login integration for new clients, simple interface, front-end controls, and much more. This theme makes theme customization really easy and convenient.
Vantage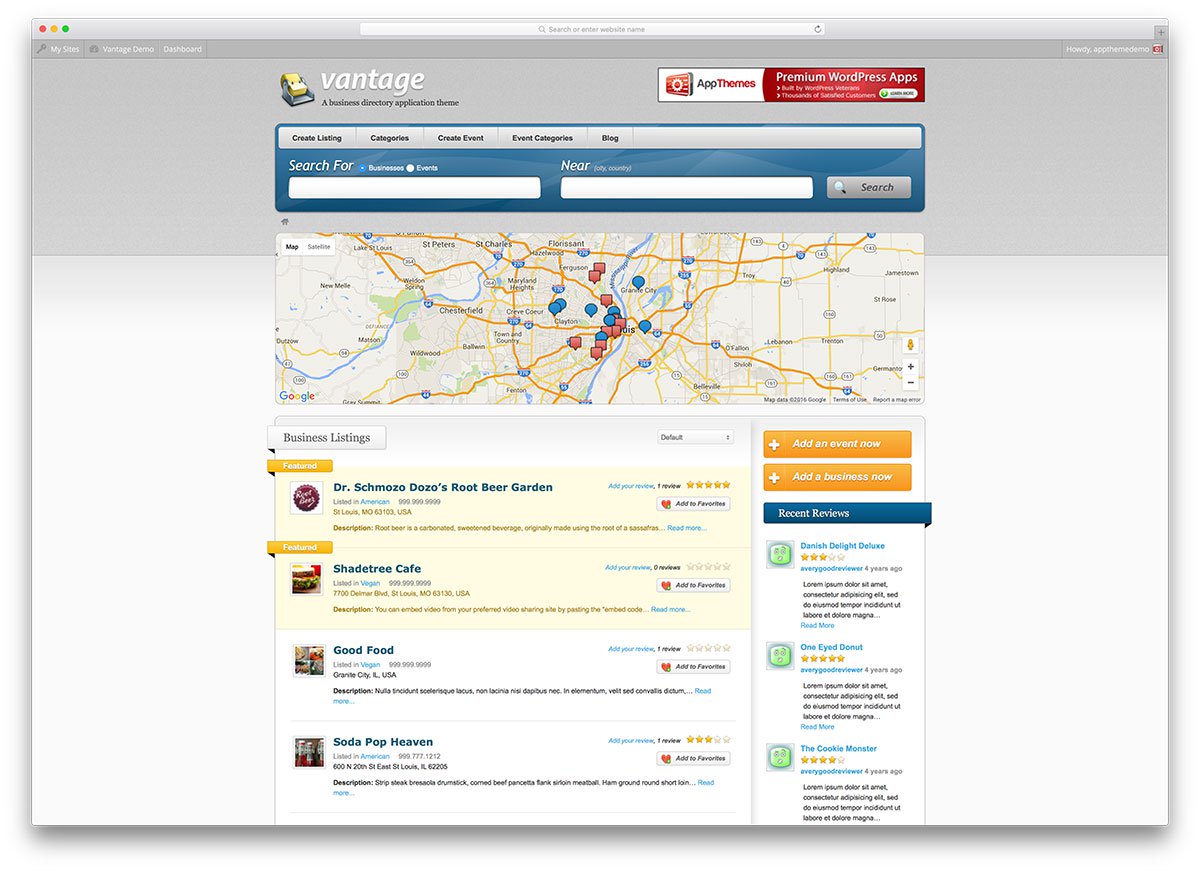 More info / Demo
Geo Places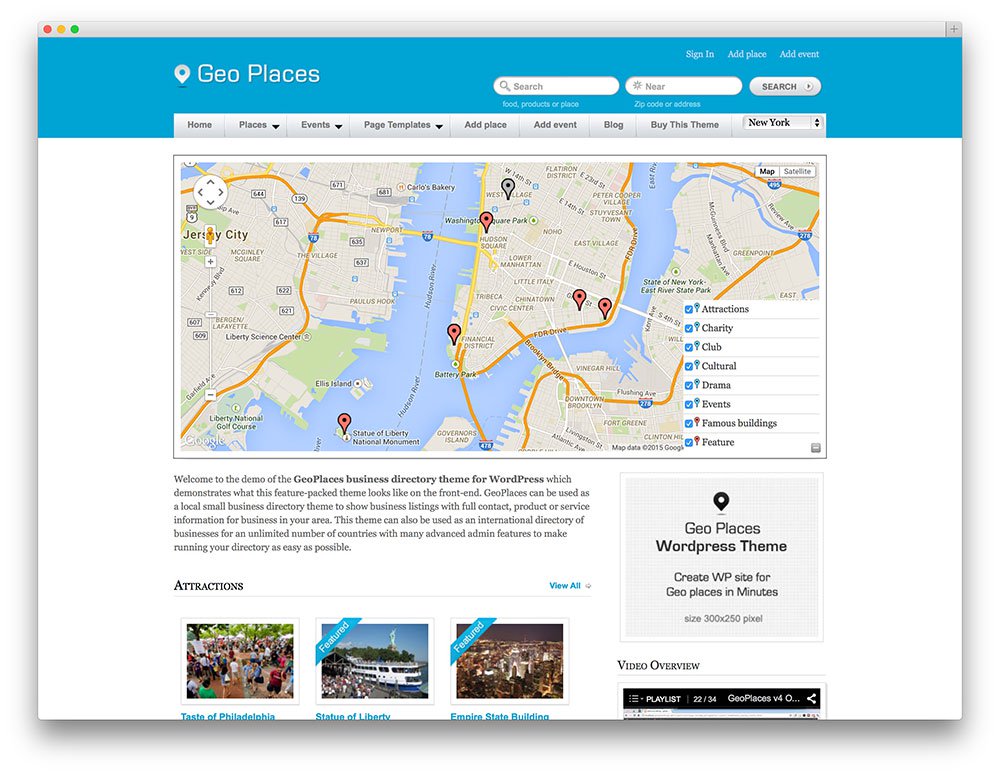 GeoPlaces is the most popular city directory theme for WordPress available today. Additionally, it provides all the tools necessary to run a modern directory website. Full places and events support, built-in monetizaton and Google Maps support are just some of the features available in this advanced directory theme. Also, Geo Places has fully manageable front-page that you can customize to suit your needs. Additionally, you can use GeoPlaces for free and paid directory submission or monetize it via Adsense or other ad banners.
Emblem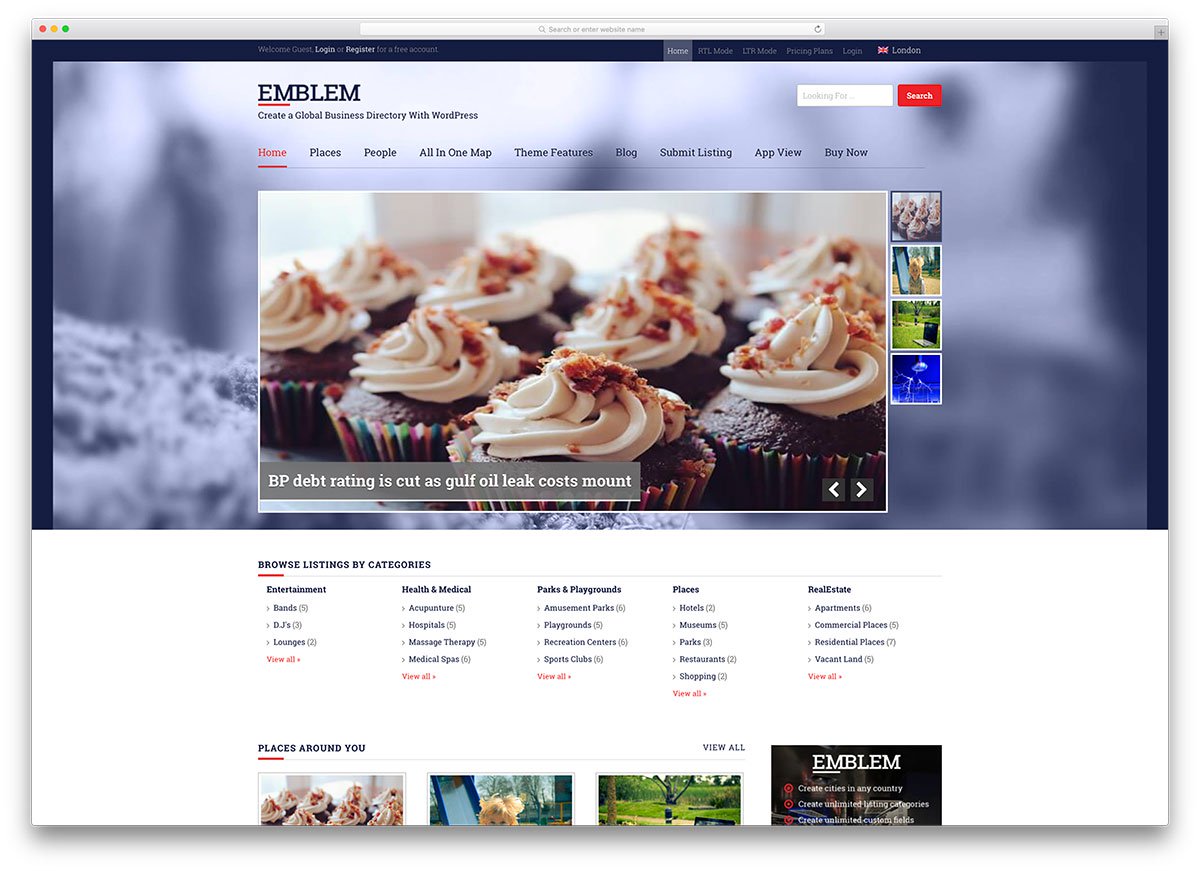 More info / Download